Positive Ample meal replacement reviews were everywhere until a couple of years ago, but with less information available recently and some big changes in the company's products, we thought it was high time to take a closer look. Stick around for the lowdown on Ample meal replacement shakes and to find out whether this brand could be the next big revolution in protein shakes or a company that's soon to be forgotten in this increasingly competitive industry…
About Ample Meal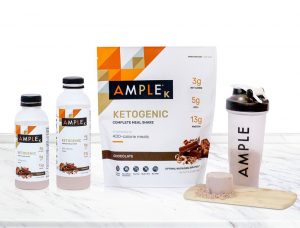 Ample was created when fitness enthusiast Connor Young went from someone with a lot of free time to focus on his nutrition and health to a busy entrepreneur struggling to find time for breakfast.
Living with others in the same situation, but without his background in health and nutrition, Connor tried his best to give his friends the tools to properly nourish their bodies with cooking lessons and even presentations. But time and again, he found that all the will in the world didn't create enough time to do the necessary work.
So, instead of educating, Connor found a new mission: to create a simple and nourishing meal replacement shake by mixing powders in his kitchen. Eventually, he found a combination that worked, and as soon as he launched Ample Meal on Indegogo, he enjoyed a huge buzz surrounding his real-food approach to the chemical and filler-flooded protein shake industry.
Popular Alternatives to Ample Meal
Ample has undergone many changes since the first round of funding, but with plenty of positive Ample Meal replacement reviews and satisfied customers who just can't get enough, we can see this commitment to providing real nutrition in every shake still holds true. 
Pros
Keto and low-carb-friendly options.
Widely recyclable packaging.
Includes probiotics for improved gut health.
Designed to fill you up as much as a 'real' meal.
Gluten and soy-free.
Cons
Non-vegan.
Currently experiencing stock issues across all platforms.
Very limited flavor selection.
Ample Meal replacement reviews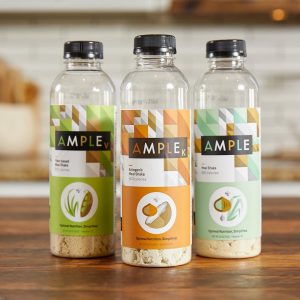 At the time of writing, Ample meal replacement reviews were a little tricky to consolidate and create a clear image of the brand. While there are many positive Ample reviews on the brand's website and beyond, many of these were published two or more again, and anything more recent seems to simply discuss how difficult it is to get hold of Ample products currently.
When customers were leaving reviews with Ample, they were overwhelmingly positive, except for a few customers who were not thrilled about the price point or found the flavor and texture didn't suit their palate. 
Reviews on Amazon tell a similar story, and those from early 2021 or before are mostly positive, with the exception of a few customers who seriously dislike the taste and texture.
The major criticism we've seen from customers is the price point and the level of waste produced by the ready-to-mix bottles. Both these criticisms come up on Ample's website, Amazon, and the company's Facebook page.
Ample Meal FAQ
1. What is Ample Meal?
An Ample protein shake is a complete meal replacement, designed to replace one or two daily meals as part of a healthy and balanced diet.
As well as being much more convenient than making a balanced meal from scratch, Ample meal replacement shakes contain a specially designed balance of macronutrients to fuel your body and keep cravings at bay for the same amount of time as a conventional meal.
Using real superfoods sourced from all over the world, Ample is boosted with a complete supply of micronutrients, such as vitamins and minerals, to ensure your body gets a good supply of everything it needs without having to micromanage every meal.
2. What are its ingredients?
Most of the proteins in Ample meal replacement shakes comes from whey and egg white proteins with additional vitamins and minerals mostly provided by powdered whole foods. Calcium, magnesium, and vitamin D3 are also added to complete the micronutrient profile.
3. How is it prepared?
Ample meal replacement shakes are one of the easiest protein shakes to prepare in their original single-bottle format as the bottles are provided with the exact amount of Ample needed for a single meal already measured out.
Simply fill the bottle with water, coffee, or your favorite smoothie and shake vigorously to mix. If you're buying the powder in bulk, then it's as simple as adding 1-3 scoops to your favorite shaker bottle, adding enough water to achieve your preferred consistency, and shaking it up to mix.
4. What are the nutritional benefits of Ample Meal?
Ample meal replacement shakes are designed to provide complete nutrition to help you feel full and satisfied even on the busiest days.
Ample's recent changes to its product line mean that it's now easier than ever to pick the right Ample meal for you, with only two options - Ample Recover or the Ample Original complete meal shake. Ample Original is designed to provide complete nutrition for anyone in a simple package, whereas Ample Recover is packed with extra protein to re-energize athletes after pushing their bodies to the limits.
Ample meal replacement reviews for these two new products are still hard to come by, and nearly all the reviews we've seen refer to older formulations such as the Ample keto meal replacement shake.
Stay tuned, though - all the customer reviews of Ample's previous products are spot on, so we're excited to try these new shakes when they're easily available again.
5. What are the side effects of Ample Meal?
Ample Meal founder Connor Young has used his academic background to try and eliminate some of the common side effects of protein shakes when formulating Ample meal, including the addition of probiotics and prebiotics to prevent some of the nasty intestinal reactions that have become notorious with this type of product.
If you're using an Ample keto meal replacement shake as part of a keto diet, then it's important to be aware of the possible side effects of a keto diet and not confuse them with something the shake, in particular, is doing to you.
Ample provides some detailed articles and blog posts about keto diets and how Ample meal replacement shakes can fit into them on its website, but you should always consult a doctor or health professional before making any major changes to your diet.
6. What is the recommended dosage?
Although the Ample Original complete meal shake is designed to provide complete nutrition and replace a meal, it's not recommended that you replace more than two of your normal meals with a replacement shake. If you intend to replace two meals, you should start with one and work your way up.
Variety is one of the keys to healthy nutrition, and there are some types of fiber and other dietary necessities that simply can't be replaced in a liquid format.
7. How long does Ample last?
Ample is designed to last 11 months from the date of manufacture when stored in a cool, dry place. Once prepared, an Ample keto meal replacement shake will last up to three days refrigerated - if you can keep your hands off it that long!
Prepared Ample will settle and separate to some extent, but this doesn't mean it's not still good, and can be ready to drink again with a few shakes.
8. Who founded Ample?
Ample was founded by fitness expert and entrepreneur Connor Young after moving to San Francisco and finding the hectic lifestyle didn't allow the time he was used to being able to spend on keeping his body in tip-top shape.
Part of Ample's success and the huge volumes of positive Ample Meal replacement reviews is this acknowledgment that a busy life doesn't always provide time to create nutritional dishes. So, Ample Meal is designed to help you get the nutrients you need in a convenient, quick package.
9. Are Ample Meal products vegan?
Because Ample Meal products use protein from whey and egg whites, they're not suitable for vegans.
10. Where is Ample Meal produced?
Ample meal replacement shakes and powders are manufactured in Arizona with raw ingredients sourced from all over the world.
All the whey protein in Ample protein shakes is sourced from grass-fed cattle.
11. Where to buy ample meal replacement?
Where to buy Ample meal replacement products and Ample protein shakes is a bit of a tricky question right now as they are out of stock across Amazon and all other platforms we've checked with no notes of when they might be back in stock.
On Ample's website, you can backorder all products with the Ample original complete meal shake showing as shipping in November and Ample Recover in August at the time of writing.
We did notice that the shipping dates are subject to change and have moved back over only a few days, so customers may need to research a replacement to see them through the long wait.
12. Where does Ample ship to?
Ample food has limited technical and shipping information available directly on its website, and its Zendesk-based FAQ and customer services are currently out of order, so it's difficult to get firm information about the shipping range and policy. Based on our experiences, Ample is likely to ship anywhere within the contiguous United States.
13. What is the returns policy of Ample?
Ample meal replacement reviews suggest that most customers have been delighted with the quality of the products they received, but just in case you're not fully satisfied, Ample offers a 30-day money-back guarantee. You can email [email protected] to organize a refund if you're not completely happy.
14. How do I contact Ample?
15. Is Ample available worldwide?
Ample is a US-based company and is only available within the contiguous United States.
Looking for other ways to up your protein intake? Check out these amazing meal replacement brands such as Ka'chava, Huel, Orgain, and Soylent.