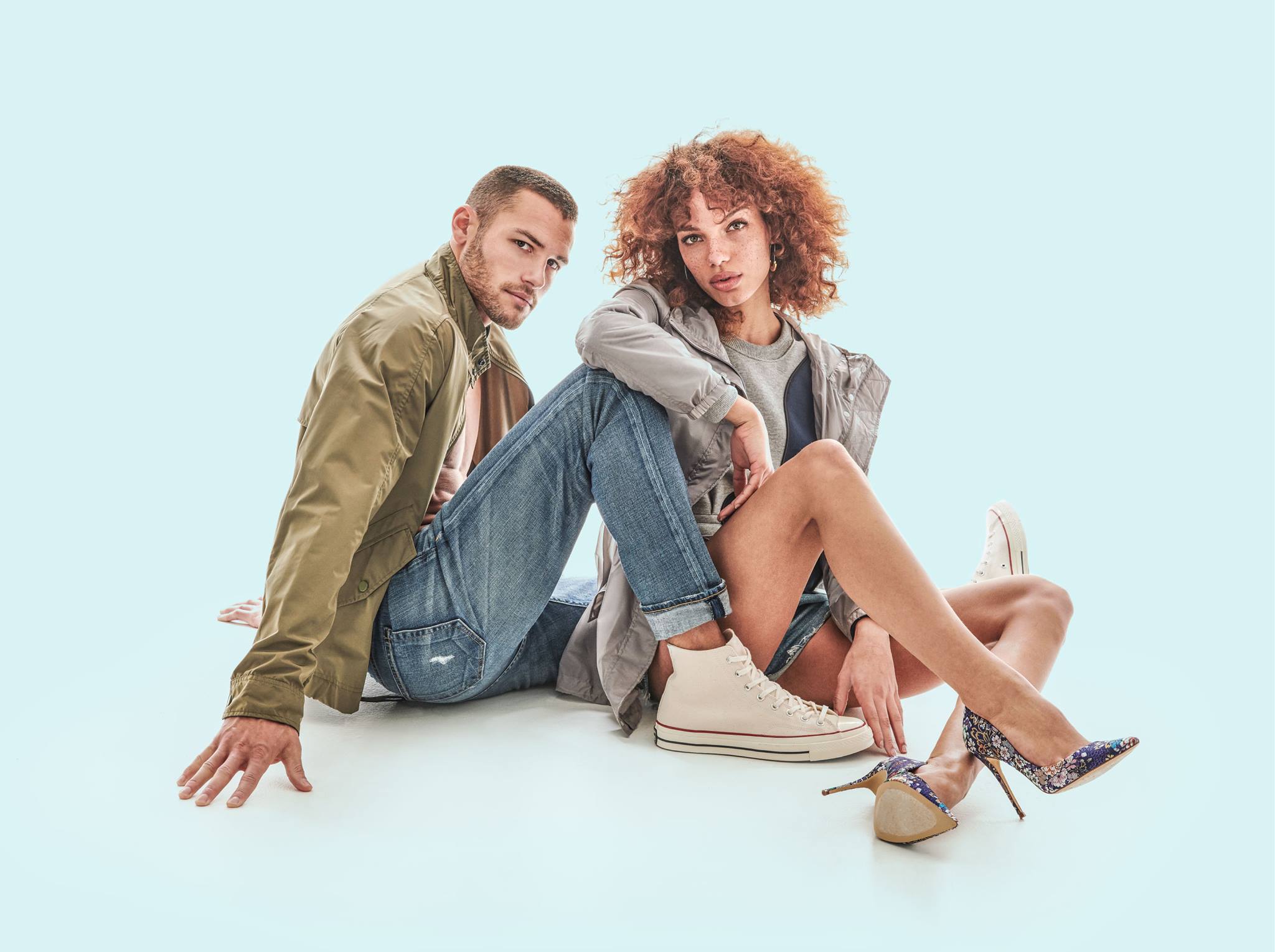 For more than 30 years, Andrew Marc maintained a tradition of remarkable garments that defy trends in fashion and remain classy. The company sells leather, down, fur, and wool outerwear. Andrew Marc started with leather production but later expanded to include fine watches and premium outerwear. Its high-quality apparel is crafted precisely with considerate detail and is ideal for different climates, body types, and activities. Over time the company has expanded to include dresses, sportswear, watches, and performance wear. This Andrew Marc review will give the scoop on the company, some of its best-selling products, customer ratings, promotions, discounts, and more to help you determine if their clothing products are worth checking out.
About Andrew Marc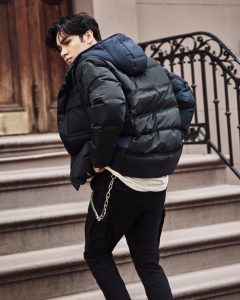 Andrew Marc was established in 1982, and since then, it has become a rich heritage of garments that defined quality, function, and fashion. The company remains committed to manufacturing products that embrace the elements and a modern sense of style.
Andrew Marc is among the pioneers of luxury leather jackets.
Even today, it remains an authentic lifestyle brand with unlimited collections in the marketplace. Its effortless designs and versatility bring functionality to everyday outerwear.
In 1986, Andrew Marc established precision International as its arm to manufacture and distribute watches. The company's luxury watches became a hit like its leather products. It's the leather jacket styles that inspire the watch designs.
In 1998, Andrew Marc expanded to include a production line for its outerwear; this new development resulted in the modernization of raincoats, down puffer coats, and trench coats. These products were made of leather or cloth and licensed under the Levy Docker's label.
In 2013, Marc New York, a diffusion label for the parent company, expanded its offerings by launching MNY performance. This label provides an extensive variety of outerwear designs made from quality materials targeting an expansive reach.
MNY is intended for a casual aesthetic and active lifestyle in fashion. Their sportswear collection consists of timeless pieces for the everyday woman.
The brand has more than 15k Instagram followers and over 47k followers on Facebook. Let's get into our Andrew Marc review to find out about its products.
Pros
Premium and classic soft leather that appeals to modern styles

Extensive collection of fur and leather alpha jackets, bomber jackets, handbags, and watches

Timeless collections inspired by the 19th and early 20th-century leather craftsmanship

Countless cold-weather clothing including gloves, scarves, jackets, and sportswear

Year-round sales, including promotions and discounts such as the 25% off sales

US customers enjoy free standard on orders worth over $50
Cons
No free shipping for international customers

Some customers are wary of the brand's customer support services

You cannot cancel your order or make changes after it has been submitted
Andrew Marc Clothing Review
Andrew Marc has been making men's and women's premier products for many years. The brand's stylish clothing products are designed to keep you looking classy and feeling warm. We will look at some of its best-selling clothing for men and women, including authentic leather, woolen, and down jackets for both genders.
Andrew Marc Leather Jackets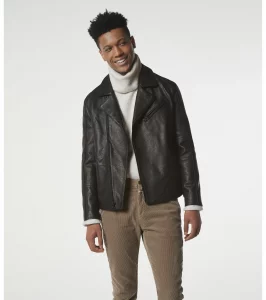 The brand makes some of the best leather jackets on the market today. The Andrew Marc leather jacket collection includes pieces made from genuine, split, full-grain, or top-grain leather. Some are crafted from multiple sources; you'll find some leather jackets made from different animal skin, including lambskin cowhide, traditional leather, and pebbled leather. The thickness also differs from thick to thin.
This Andrew Marc review found that the leather jackets come in different styles, with most of them being conservative with minimal ornamentation with one or two side pockets and several zippered, open, or buttoned pockets. Some leather jackets have zippered breast pockets. Other features include quilted linings with various patterns, including midriff, while others continue to the bottom.
The jacket's exterior styles come in different variants, with over 40 available styles. The linings of each Andrew Marc leather jacket are made of plain cloth or fleece lining. Some of these linings are sewn while others have a zip in place for easy removal.
Since leather jackets never go out of fashion. These classic cuts from Andrew Marc are stylish and versatile. With Andrew Marc jackets, there are different options depending on your body type and style preference. The designs and the quality of leather jackets also differ, depending on how much you want to spend. Their leather jackets are high-quality models suitable for both men and women.
Andrew Marc Women's Coats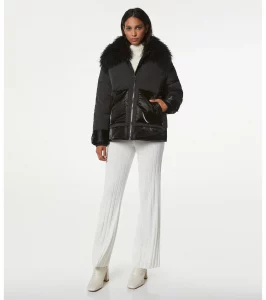 The brand designs women's coats to make you look classy and keep warm. The Andrew Marc coat collection of modern jackets is ideal for cold weather. These coats come in different sizes to meet the needs of clients.
Additionally, they are made from different materials and come in various designs. They include hooded puffer coats and water-resistant hooded coats.
Andrew Marc women's coats are made from different materials, including down, fur, leather, denim, and much more. Whether you are looking for a woman's coat for warm or cold weather, there is something for everyone.
The main difference between the brand's women's and men's coats is color and size. Men's jackets are large, while women's jackets are petite in size.
Every woman needs several winter coats in their closet. The best option is to have coats of varying lengths. Fortunately, Andrew Marc manufactures mid-calf, mid-thigh, and hip-length coats for ladies. They also have extremely long coats.
When investing in women's coats, consider the color, style, and what will complement your wardrobe. Try their coats in varying fabrics and find what works for you. You should also leave room for layers, particularly thick cardigans and sweaters.
The Andrew Marc women's coat collection includes a classic trench, masculine blazer, weekend parka, coatigan, luxe leather, tailored overcoat, polished puffer, and textured coat.
Andrew Marc Pants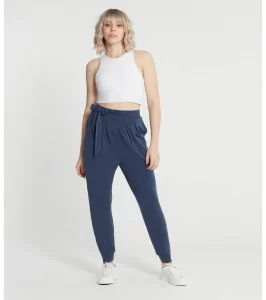 This renowned fashion giant manufactures pants for men and women. Andrew Marc pants are designed for men and women, and they are ideal for all occasions. Some of the men's pants from Andrew Marc include wool trousers, chinos, corduroy trousers, cargo pants, utility pants, jeans, joggers, drawstring trousers, and tech pants. With these different types of men's pants, you have something ideal for weekends, work, or anything in-between.
Andrew Marc makes aesthetically pleasing women's slacks fit as casual or formal wear. These pants come in different fashion styles. When choosing Andrew Marc women's pants, consider a proper fit, a color that compliments you, and a style that matches your body shape and age.
Andrew Marc women's pants include dress pants, straight pants, denim jeans, jumpsuits, culottes, and harem pants. The brand also makes women's leather pants.
The best fabrics for women's pants include cotton, wool, polyester, or a blend. For stretchy pants, spandex or related stretchy fabrics are the ideal choices.
Whether you're in search of something casual or formal, Andrew Marc has the ideal pants that will brave the elements and make you look fabulous.
Andrew Marc Down Jacket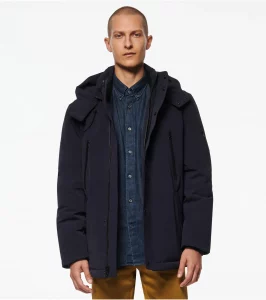 Made from heat-trapping soft fluffy down from geese or ducks, the Andrew Marc down jacket collection has pieces that will help you keep warm in cold weather. Down is an excellent insulator, and that's why these jackets are perfect for colder months.
Andrew Marc down jackets are a worthy investment for those considering going on higher altitude winter treks. These jackets will keep you warm even at -30 degrees because of the adequate layering.
When purchasing their down jackets, consider the weight. For instance, 300 grams will be warmer than 100 grams. You should also consider the fill power or downs fluffiness and its ability to trap air. Andrew Marc fill power ranges from 350 to 900. Higher fill power down jackets are warmer but more expensive.
Although no insulation is made equal, choose down jackets ideal for your needs. The brand's down jackets are known for their impressive breathability, and they allow unwanted moisture to evaporate, keeping you dry. These jackets also have superior warmth to weight ratio and incredible compressibility, making them easy to pack.
Andrew Marc makes down jackets the warmest coats on the market. The company makes down jackets from different materials, and they are available in various designs and sizes. When choosing a down jacket, ensure it meets your ideal use and location.
Andrew Marc Wool Coats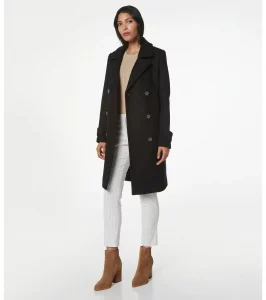 Wool coats are timeless pieces of clothing that bring a touch of style to any look. That means you can dress up or down to meet the need of any occasion. You can wear woolen coats in any season, and they will protect you from icy winds and frigid waters during winter. Wool has one major advantage over a down because it's water-resistant.
Andrew Marc wool coats are available in different options, including toggle coats, car coats, and jackets. They are durable and lightweight and include air pockets that offer natural insulation.
Popular Alternatives to Andrew Marc
Wool absorbs about half its weight in water without suffering detrimental damage or feeling wet; this feature makes wool coats the best during the rainy season. During the summer months, you can wear lightweight wool coats that will act as air conditioning on your skin and help you stay dry and cool throughout the day.
Andrew Marc makes many types of wool coats, including quilted, long wool coats, toggle coats, and double-breasted coats. The wool coats are available for men and women and come in different sizes, designs, and prices.
With unlimited options, you can choose from a range of wool coats ideal for different locations and seasons. You're ready to withstand the harsh winters and hot summers when you wear a wool coat from Andrew Marc.
Andrew Marc Reviews from Customers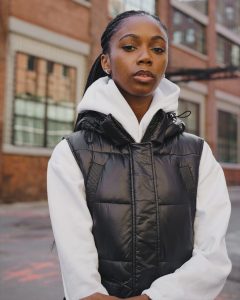 Andrew Marc products receive overwhelmingly positive reviews from customers. Some customers cite them to be durable and premium quality. Our Andrew Marc review found that these clothing can last over ten years. They maintain their sheen amid many washes and keep you warm in cold weather.
Other customers said they love Andrew Marc jackets and coats because of their unique designs, high quality, and comfortable materials. According to online reviews, most customers are satisfied with Andrew Marc purchases; some mentioned a few issues regarding shipping, quality, and size. A majority of customers speak highly about this brand.
One customer bought the Andrew Marc purse and stated she loved its quality and design. Another buyer praised the Andrew Marc puffer jacket, saying it helped get her through the coldest nights.
Customers also raved about the Andrew Marc shoes and the Andrew Marc dress collection. Their collection includes midi dresses, maxi dresses, and T-shirt dresses.
We also found a couple of negative reviews on Trustpilot. Some customers complained about their customer service.
Sign up for Andrew Marc
The simplest way to join the Andrew Marc family is to create an account. During the registration process, you will be prompted to enter your details, including your last name, first name, email address, and password. The system will request you to agree to the terms and conditions before signing up. After signing, you enjoy 20% off your first order.
You can also sign up for their newsletter to receive emails on exclusive deals and promotions.
Where to Buy
These products are available from the brand's website AndrewMarc.com. Although the manufacturer has no stores or outlets in the United States, you can find their products in some of the leading outlet malls across the nation. Their products are also available in online retailers, including Amazon, ModeSens, Bloomingdale, Macy, and Hudson Bay.
Andrew Marc Shipping and Return Policy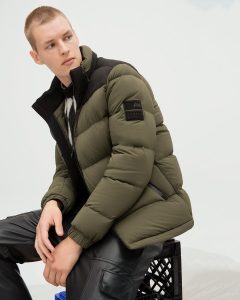 Shipping:
Andrew Marc offers various shipping options depending on your location. US orders are often processed and shipped on the same day except during the weekend.
Shipping charges and delivery times in the U.S. are as follows:
Economy, which costs $8 or free for orders exceeding $50, and orders are shipped in 59 business days
Standard needs $12, and orders are shipped in 3 business day
Express requires $20, with orders being shipped within two business days
The Priority option will cost you $35, and orders are shipped in one day
International shipping costs are calculated by FedEx and depend on the shipping method, your destination, and items you've purchased. International buyers do not enjoy free shipping.
Return Policy:
You will receive a full refund for items shipped incorrectly or damaged. US customers can return damaged or wrong products within 30 days. International returns are acceptable if done within 60 days after delivery, and the customer caters to the return shipping fees. Andrew Marc allows customers to exchange items by placing a new order for the replacement.
Promotions and Discounts
Periodically, Andrew Marc offers promotions and discounts to its customers. You can check the current discounts and promotions and use coupons and Andrew Marc promo codes at checkout to save money on your purchases.
Andrew Marc is currently offering a summer sale discount of 30%. In addition to the promotions and discounts, the company also offers free shipping for US orders exceeding $50. Prices on different Andrew Marc products are subject to change, so you should redeem your coupons or promo cards immediately. Also, remember that promotions and discounts are not exchangeable for merchandise, cash, or gift card purchases.
Contact Andrew Marc
You can contact Andrew Marc via different methods. For information about clothing, reach out to their support team by sending an email to email [email protected].
You can also contact them through [email protected]. Additionally, you can fill out the contact form Andrew Marc has provided on its website and find answers to your queries. Alternatively, you can chat with one of their customer service representatives via the Live Chat function on their website.
Andrew Marc Review: Editors Verdict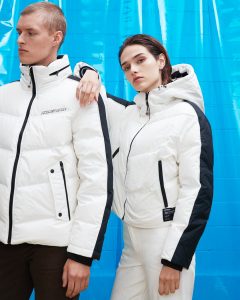 To conclude this Andrew Marc review, we find this clothing brand reliable and worth it, as it offers high-quality leather, down, fur, and wool outerwear for both women and men. They embrace modern designs, and the products are available in different materials to meet the preference of consumers.
Their clothing products are also available in different sizes. Andrew Marc has also received a high rating from buyers. If you are looking for high-quality leather jackets, worn jackets, outerwear, and watches, check out Andrew Marc.
Check out other cool brands such as Stitch Golf, Grunt Style, Fashion Nova, and Gentle Herd.
Andrew Marc FAQ
Is Andrew Marc a luxury brand?
Yes. Andrew Marc Is a premier American luxury brand that started as a leather goods label in 1982. Unlike other leather companies, this brand focuses on on-site production by ensuring oversight and selection of the finest leathers to make enviable products. Today, the brand makes both ordinary and luxury products.
Are Andrew Marc Coats water-resistant at All?
Andrew Marc Makes loads of water-resistant coats that keep you dry during rain or icy winters. They include quilted down coats, water-resistant puffer coats, and hooded water-resistant.
Does Andrew Marc run small?
No. Andrew Marc caters to the needs of different customers. Some of their coats are more contemporary fit, indicating they offer fit slims while others have room enough; the brand runs small by availing tight-fitting jackets and coats to consumers.
Are Andrew Marc coats warm?
Andrew Marc makes a variety of coats ideal for cold months. These coats are warm and designed to stand up to the coldest temperatures.