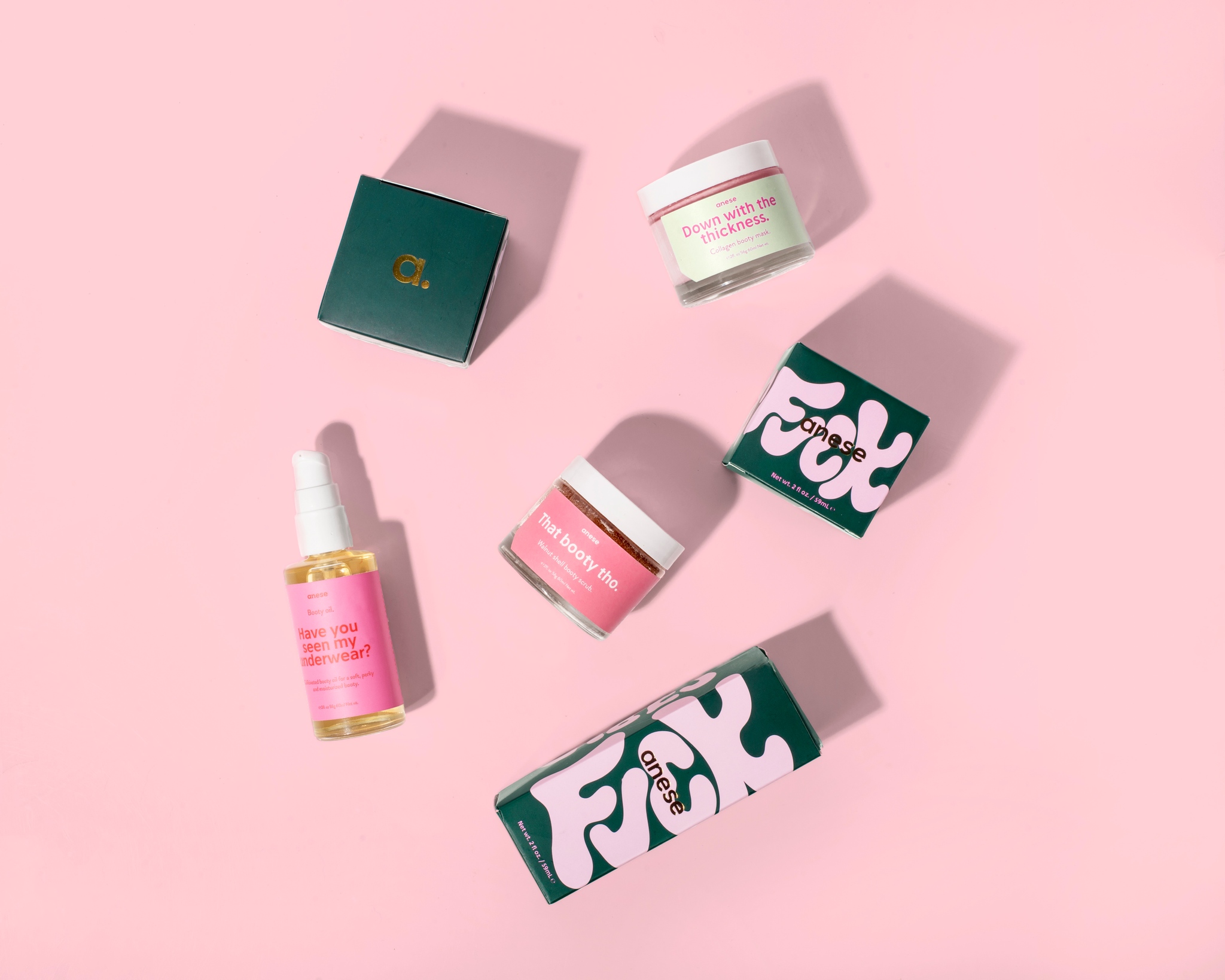 You've probably wondered why you keep coming across this brand on Instagram, Youtube, and other online spaces. Anese is a skincare brand that specifically formulates products for body treatment. It uses natural ingredients to make body-specific treatments that help remove acne, stretch marks, cellulite, and other skin conditions that require attention. We're bringing this Anese Review to find out whether the brand is worth it or not.
Anese has turned the skincare industry on its head due to its effective products with a unique packaging style. The brand makes skincare light and fun, focusing on body positivity to encourage all women to achieve their skincare goals. You'll find several positive Anese reviews all over the internet, encouraging you to patronize the brand.
Our Anese Review will provide an extensive and objective opinion about the brand's products and services. Learn more below!
About Anese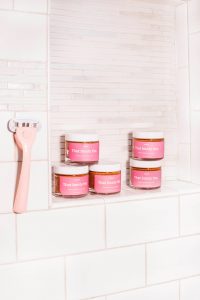 Anese is a Los Angeles-based skincare brand founded in 2016 by Lyndsee and Nick Van Gordon. The company takes a positive, light-hearted approach to skincare so you can begin your skincare journey without any fear. All their products come with blunt, witty, and exciting names that many customers look forward to. According to Lyndsee, the brand's target customer is that girl who "doesn't take herself too seriously but does take her skin seriously."
Also, she adds that the brand's distinctive and peculiar product names were inspired by the texts she shared with her friends. This brand seeks to make skincare accessible to all women with different skin conditions. It also takes a different approach by forming a welcome and personal connection with its customers. The company also operates a transparent ingredient policy.
The brand encourages women to be direct and intentional about their bodies' needs. It is also dedicated to clean and safe beauty products and uses only the most essential, ethically-sourced nutrients for their production. All the ingredients are familiar, and they offer a concise and straightforward ingredient list. Hence, you know exactly what you're putting into your body.
All their products are properly tested to prevent any irritation or negative reactions. The company is based in Los Angeles. It expressly states that any order that doesn't ship right out of their headquarters in LA is not a legitimate Anese product.
The brand was featured in DailyMail and The New York TImes,  There are many supporters and fans of Anese all over social media. It has 330k followers on Instagram and 144k on Facebook.
Pros
The comprehensive product line of scrubs, masks, creams, and oil for the "private areas" that are often neglected
Clean, Ethically-sourced ingredients with a cruelty-free policy
Glass packaging to promote sustainability and reduce waste
US and International shipping
Members are of the skin squad earn timely points and rewards
Free shipping for orders above $75
Multiple payment options including Afterpay
Cons
Limited reviews outside the website
Poor customer service complaints
No samples, returns, or exchanges
Anese Products Review
Anese distinguishes itself from regular skincare brands by offering reformed products with a unique marketing strategy with catchy, quippy product names and lovely packaging. It has been featured on respected media outlets like Nylon, Galore, Hypebae, and Refinery29. The company prides itself on products that specifically cater to body skin issues that aren't always popularized by mainstream beauty companies.
They offer butt scrubs, boob masks, acne and cellulite remover, and other skincare products, including high-powered towers to highlight your natural features. For this section of our review, we shall examine the bestseller products that Anese skincare offers. We'll also share customer reviews to show you what real users say about their products.
Anese That Booty Tho Reviews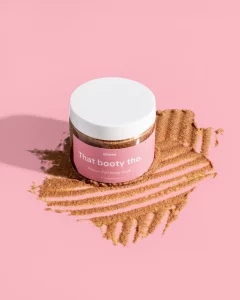 "That Booty Tho" is not the conventional name you'd expect to call a skincare product. Still, Anese manages to draw its target customers with this product. Even though we don't really pay attention, our butts take a lot of action about our daily activities. The stress can lead to stretch marks, cellulite, acne, and wrinkles lines all over your butt.
Anese offers That Booty Tho as an effective body scrub to remove all blemishes and spots on your skin. The formula consists of a smooth blend of organic walnut seeds powder which gently scrapes away rough and affected skin, leaving a renewed layer. It also helps reduce the appearance of cellulite, stretch marks, and scars on your skin.
This Anese body scrub contains Shea Butter and camellia ioleifera leaf extract, which adds moisture, leaving your skin soft and supple. Another key ingredient in the treatment is Rosehip oil. This gentle exfoliant also helps to brighten the skin and reduce hyperpigmentation. These ingredients combine to revitalize your skin and give you a better-looking behind.
If you're not confident of the appearance of your butt skin due to cellulite, scars, or acne, then this treatment is just what you need. We also found several positive Anese That Booty Tho reviews from customers, and it scores 4.5/5 stars based on 3485 reviews. Many users reported that it's highly effective, and you can buy your own scrub for $29.
In Your Dreams Anese Booty Scrub Set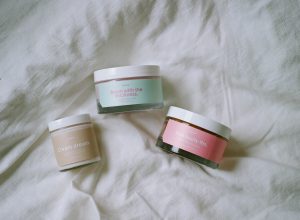 Think again if you think one product is enough to get the best skin you want. Anese offers this full essential kit to provide all the treatment you need to achieve ultimate results. The three major products in the pack are, That booty tho the signature Anese booty scrub, the Down With The Thickness mask, and Cream Dream. With this booty scrub, mask, and cream combo, you can achieve a clear, blemish-free behind.
The scrub gently exfoliates your skin, preparing it to absorb the mask and cream's nutrients and moisture. Down with the sickness is a fan-favorite booty mask that includes rich contents of kaolin clay and collagen. It helps to clean out all impurities and increase elasticity. You can apply this peach-scented product to any affected areas to immediately reform and get silky-form skin.
The third item in the kit is the Anese cream dream. As the name suggests, this cream brings your dream to reality by offering your skin premium nourishment and coverage. It doesn't contain any retinol, making it suitable for even sensitive skin types. The cream is infused with natural, plant-based bakuchiol, which is mild and even safe for breastfeeding or pregnant women.
With this three essentials kit, you'll achieve quicker results and get the soft and supple booty you want. All the products are made with gentle, natural ingredients that won't harm your skin. And, you can be part of the hundreds of testimonials if you get this Anese In Your Dreams Set which goes for $86.
Anese Booty Oil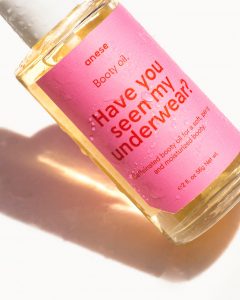 Have you seen my underwear? This is the name of the specially formulated booty oil that Anese provides. This caffeinated watermelon booty oil contains a blend of 5 natural essential oils to help dry skin. It helps firm the skin, offers moisture to hydrate it, and clears cellulite. You can directly apply the oil to your cracked skin, finding a glowing and refreshed result.
This Anese Booty oil is cruelty-free, gluten-free, paraben-free, and vegan. It contains arabica coffee bean and watermelon oil, providing a perfect fiber balance for your skin needs. With 5 stars from 236 reviews, it's clear that users only have positive comments to make about the brand. You can also get a firm and plump posterior with this Anese booty oil for $34.
Anese Booty Trio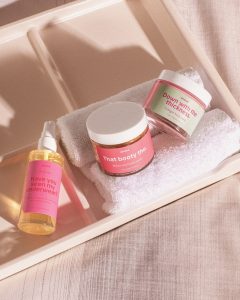 Achieving your all-round good skin takes a lot of work, and you have to be careful to use the right products. Anese offers this Booty Trio kit to ensure that you have all the products you need to consistently complete a full booty routine. It contains three exclusive products that have been carefully selected for you.
The set includes That booty trio, an essential product that helps scrub away dead cells, leaving your skin smooth and reducing the appearance of acne, cellulite, and stretch marks. This body scrub acts as an exfoliant. It also offers a clean base so that other products can effectively permeate the skin and work better.
After the booty scrub, you can continue your routine with the Down with the thickness booty mask. The mask is infused with collagen and kaolin clay to provide a nutrient and moisturizing booty mask. It also clears off acne and stretch marks, which will help to improve the texture of your skin. It's another fan favorite, and it's right at home with the Anese booty scrub. These two powerful components combined with the Have you seen my underwear booty oil.
This product is currently available on the Anese website for $88.
Anese Anti-Rub Gel Stick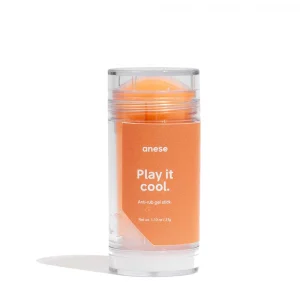 Anese offers to Play it cool, a special anti-rub gel stick. This anti-rub gel stick is every woman's dream, and it offers day-long comfort. It is an anti-friction kit that prevents your boobs and thighs from grazing to stop them from hurting. The gel stick consists of beneficial ingredients such as sea kelp and cucumber fruit, which help soothe your skin and reduce irritation or redness.
Play it cool works like an ice pack and offers a cool and calming lube to keep your skin looking fresh and glowing. This product is perfect for hotter climates like the summer. It comes in a cute handheld kit for super easy application. You should carry it along to the gym or your next hike. Also, a one-time purchase of this anti-rub stick costs $22.
Anese Reviews From Customers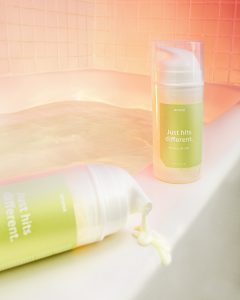 The company offers customer reviews for each product to show potential buyers what to expect from their products. The average ratings on all individual products are 4.5/5 stars. We shall also examine the customer ratings outside the brand's official website below. The Anese Cream Dream has 4.⅘ stars from 39 customer reviews on the site.
The reviews reveal that many customers are pleased with their purchase and enjoy working with the brand. Many users confirmed that the product helped with firming/plumping, dryness, discoloration, acne/blemishes, stretch marks, and cellulite. We also found users who claimed they got effective results and would recommend the brand to others.
One reviewer stated, "So I had slight pigmentation under my butt. After using this entire bottle, I have seen a 1-2 shade difference in the area where I had hyperpigmentation. It wasn't as dramatic as I had hoped, but I think it will do well with consistent use. I've seen it fade my stretch marks as well. Still, I use a heavy exfoliant beforehand and then wait an hour before applying this lotion to my exfoliated stretch marks."
Further customer reviews
Meanwhile, Down with the thickness has 4.6/5 stars with hundreds of 5-star ratings. One reviewer commented, "I have been using DWTT for almost a year now…and I swear by it! I had bad acne, and it assisted in the healing process by reducing coloration and making my bum…feel amazing! After discussing acne on the rear, I have recommended this product to many friends. LOVE IT!"
However, we noticed a few comments where users reported that the product isn't as effective as claimed. They got no changes in the quality of their skin, and it caused more acne. For instance, one customer stated,
"Regular use has shown a slight reduction in stretch marks, but I still continue to get acne on my butt. I'm going to keep using it because I do feel that it helps with firming my skin unless I find something similar at a lower price. It is quite costly for the small amount you get per container."
The testimonials also come with life before and after pictures of the user's skin when they got the package. However, the customer reviews on other sites are very few compared to the website. On Trustpilot, the brand scores 2.⅗ stars with really poor customer reviews. Similarly, on Influenster, even though Anese has 4.6/5 stars, there are a lot of poor customer comments, and many users claim that it's not worth the hype.
Sign Up For Anese
You can create a shopping account to be part of the multiple Anese customers and experience the brand first hand. With your account, you can monitor delivery and manage your order. Sign up here to be part of the Anese user community.
Where To Buy Anese
You can effectively purchase any of the brand's products directly on the website. However, suppose you're wondering where to buy Anese skincare in person. In that case, you can simply check the store locator to find a retailer nearest to your location. Revolve and Urban Outfitters are also reliable online stores where you can get Anese products.
Anese Shipping and Return Policy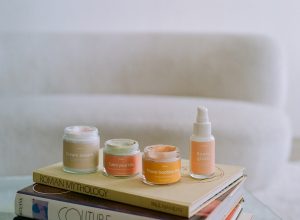 The company is based in Los Angeles, California, but they ship directly to the other US and internationally areas. All orders are processed, packed, and shipped within 2 to 3 days from when you place your order. Shipping goes through UPS/USPS mail service, and once your order has been shipped, you will receive a shipping confirmation mail.
The email will contain your tracking ID, which you can use to track your delivery on the site. Standard shipping takes 4-6 business days, costing $7. It also offers Free shipping for skin squad orders $75 and above, which ships within 5 to 7 business days. The shipping times may extend beyond this period, and there are returns or store credit for delayed shipping.
Depending on your location, the international shipping period takes between 1 to 4 weeks. Your order may also be affected by customs processing which means that your order may be delayed for sometimes. The full shipping cost will be calculated at the checkout page, depending on the weight of your package and order size. It accepts PayPal and all credit cards.
However, we discovered that the company policy doesn't accept any returns or exchanges on their products. Suppose you have any complaints concerning your order. In that case, you can simply send a report to your retailer to get a remedy. But, the brand won't offer returns for products obtained from an outside retailer.
Anese Promotions and Discounts
You can look forward to a timely Anese discount code and sales promotion as you shop through the brand's website. But, the  Anese promo code often comes with an expiration which makes it ineffective. Members get access to special rewards and bonuses, which help them save money.
Instead of one-time purchases, you can subscribe to get monthly products and save 15% of your money. Referrals come with $20 off the first purchase for the referee, and you'll also receive 1,000 points.
Contact Anese
For other requests and inquiries outside this review, you can contact the brand's customer service through;
Email: [email protected]
Phone Number: 213-335-7120
Anese Reviews: Editors Verdict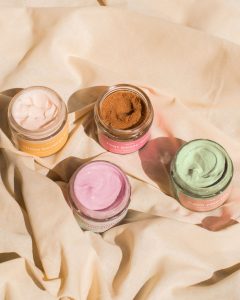 From our overall research and general Anese reviews from customers, our verdict is that the brand is a legitimate and reliable skincare company. We appreciate their great marketing strategy, making it attractive to the younger generation who are just beginning to take skincare seriously. The brand's products offer a fresh outlook on skincare, and they concentrate on areas that other brands often overlook.
We score the brand ⅘ stars for their effective and comprehensive product line. However, based on the customer reviews, there are several issues that the brand needs to pay attention to. Many customers complained of poor customer service and problems with shipping. Some users also got bad reactions after continued using some Anese l skincare products. Overall, we commend the brand's effort and look forward to its future growth.
Still on the hunt for amazing skincare and beauty products? Check out our reviews of FaceTory Review, Beardbrand Review, Coco & Eve Review, and Dr Squatch Soap Review. 
Anese FAQ
Are Anese Products Tested on animals?
None of Anese products are tested on animals. The brand has a strict cruelty-free policy.
Can I sell Anese on my own website?
No, only approved distributors are permitted to sell any of the company's products.
Does Anese have samples?
No, the brand doesn't offer any samples.
Are Anese Products vegan?
Some products are vegan, including That booty tho and Hold my drink.
Where are Anese products made?
All products are made and shipped from Los Angeles, United States.