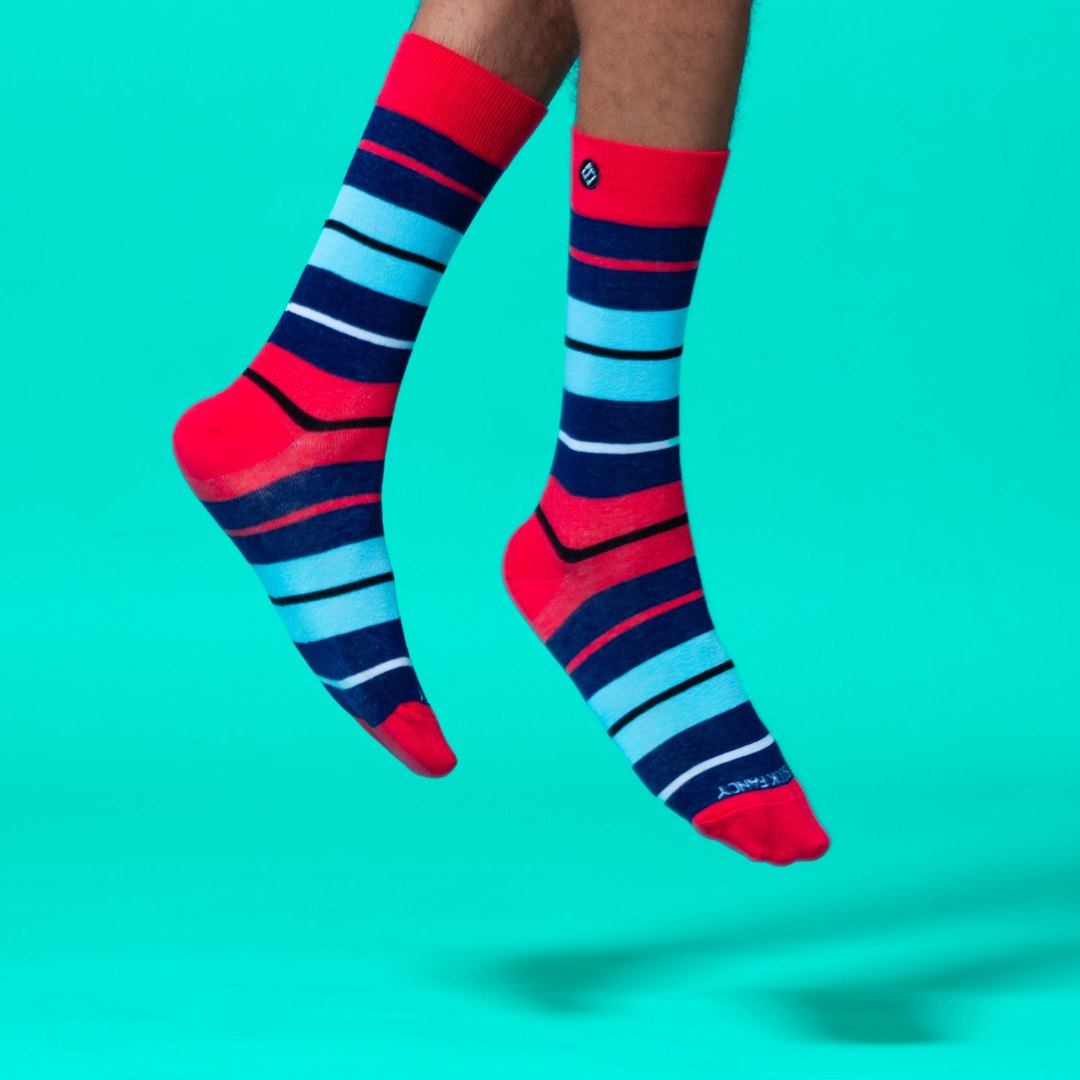 Selecting the perfect socks could be a bit challenging, after all, there are countless socks brands out there. Some socks may not hug your ankle as they should, while some may take another form after a single wash. To be certain that the pair of socks you're about to purchase serves their purpose of quality and style, you have to be well informed about the best sock brands around.
Socks are the first layer of protection for your feet. They ensure that your feet are well protected against the surface of your shoe. Also, they effectively reduce the effect of friction between the latter and your skin layer. While the fashion potential of socks is often generally overlooked, in some cases, they could be the cherry on the cake in your dressing.
10 Best Sock Brands
We have compiled a list of the best sock brands in the market that will ensure you get the right value for your money. Don't worry, we've got it all covered. You can get your new socks or replace your old ones by choosing from any of the socks brands on this list.
1. COMRAD Socks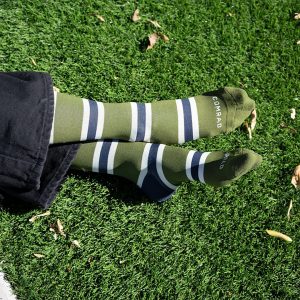 The COMRAD company was established by Andrew Ferenci in 2018. Although the company is located in California, the socks are primarily manufactured in China. It all started when Andrew Ferenci had a medical situation. His legs were always aching and swollen. His doctor advised him to wear compression socks in a bid to remedy his situation. "Ugly", "Uncomfortable" and "Costly" were the exact words Andrew used to describe the compression socks.
While also acknowledging the health benefit of compression socks, Ferenci wanted to bridge the gap between its benefits and style. Hence, the birth of this young company which has now become one of the top socks brands in the market. COMRAD socks are soft. The socks contain a mesh panel that aids the breathing of the feet and helps maintain their coolness.
COMRAD socks come in various sizes, stylish patterns, colors and prints. COMRAD offers multiple discounts and promotions to first-time customers. They also maintain their status as one of the top sock brands in the market by making their products available both locally and internationally.
Many COMRAD customers describe their products as vibrant and comfortable. Although COMRAD socks ship their products only within the US, you can access their products via retailers internationally. Overall, they are one of the top sock brands in the market. You can count on them as your trusted brand for compression socks.
2. Kane11 Socks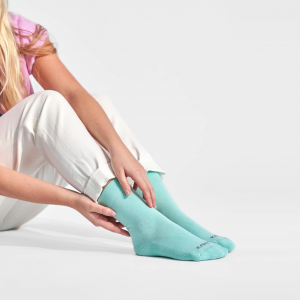 Kane11 Socks is one of the best sock brands in the market. The socks brand was established by Peter Hunsinger and Tom Kallish in the US, in 2018. The co-founders started the brand to offer solutions to why all socks don't fit right. Fascinating prospect, isn't it? Yes, it is. After doing a lot of research with the help of some experts, they understood the variations in foot types and sizes. Consequently, they were able to develop a solution for all foot types and sizes.
Kane11 uses high-quality and innovative technology to make the right socks fitting for different types of feet. They abandoned the regular sock sizing (small, medium and large) and developed the right size for every shoe size. Kane11 socks are available in their customized models. From ankle socks to calf-length socks to merino wool models. You can access a wide variety of socks at Kane11.
One major reason why kane11 stands out as one of the best sock brands is their support team. Their support team offers a timely service to their customers. Kane11 also has a live chat feature on its website. This live chat feature is user-friendly. It eases communication between the customers and their customer service representatives.
Kane11 socks also have a friendly return policy to make sure their customers get exactly what they want. Kane11 socks are only available for purchase online on their website or Amazon stores. This could be a challenge for customers that prefer to shop at physical outlets. Also, some of their customers said their products are a bit costlier compared to the average of other brands. Nevertheless, Kane11 assures its customers of quality and value.
3. Bombas Socks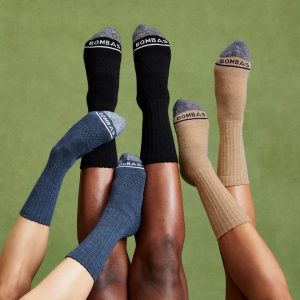 One of the best womens sock brands is Bombas Socks. It was founded in 2013 by David Heath and Randy Goldberg. The co-founders discovered that socks were one of the pressing needs of homeless people. This quickly fueled the idea of establishing the socks-only-oriented brand. Randy Goldberg and David Heath made the brand's philosophy "One purchased, One donated". This means to donate a pair of socks to the local communities for every pair purchased.
Furthermore, Bombas socks have a wide range of designs and colors for everyone. You can buy your ankle socks, no-show socks, and compression socks among others for the right prices and quality.  Their products are well tested and the fabrics are enhanced continuously. Oh, Yes! You will also be amazed that they have an international shipping facility.
You should also be aware of the excellent and reactive customer support team of the Bombas brand. They are quick to respond to the customers' complaints and find a resolution in no time. Frankly, they are one of the best sock brands in the market because of this option.
Finally, the company offers free shipping for products over $50 in the US. However, one major drawback to watch out for is the price of their products. The product's prices are a little above average because of their donation practice. Even at that, Bombas socks still present themselves as a worthy choice as one of the best sock brands in the market.
4. Darn Tough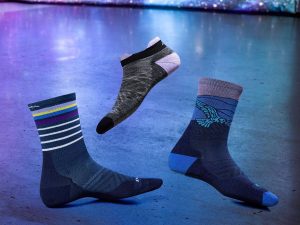 When you think of the mens sock brands, in the market currently, Darn Tough is definitely top on the chart. Over the years, the brand has established itself by giving their customers the right value for their money and producing durable socks. Darn Tough has a history that goes as far back as 1978. In that year, Marc Cabot established the hosiery mills. He made socks and sold them to other companies within the textile industry.
However, when the company's economic structure started to go downhill in 2000, Ric Cabot (Cabot's son) came to the rescue. In 2004, he began producing Darn Tough socks. This move proved to be a turning point in the history of the company. Presently, Darn Tough is among the largest employers in the socks brand market. The brand is notable for its socks' longevity and good quality.
In addition, Darn Tough socks produce a wide range of socks. You can buy your running socks, ski socks, light hiker socks, women's socks, kid socks and many others at the Darn Tough brand. Darn Tough offers a 90 day return policy to make sure that their customers are satisfied with their orders.
Should you have any complaints, you can always use the live chat feature on their website to get instant replies. Furthermore, you can contact this popular men's sock brand by phone which is also included on their website. However, their customers often complain that the return process consumes time and that they don't offer international shipping. Nevertheless, Darn Tough socks products are worth every penny spent.
5. Socks Fancy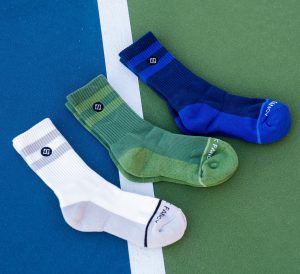 Socks Fancy was founded by Futhum Tewolde and Stefan Lewinger in 2011. The Atlanta-based company gets their supplies from a facility in China and they distribute them to their customers around the world. They operate a monthly subscription service for your desired socks and ship them to your location.
In addition, they offer a wide range of colorful and stylish socks designs. Have you seen their fuzzy crew socks for women? You have to check it out at Socks fancy. It is indeed popular among womens sock brands. Also, Socks fancy is particularly famous for having affordable price rates in the socks brand industry.
Asides from their quality assurance, they ship and deliver orders for free. Well, that comes at an expense. Customers are always worried about the delay in their shipping process and the no refund policy. Their poor customer service cannot be overlooked too. Nevertheless, this socks brand is well-rated among its customers as they continue to renew their monthly subscriptions.
6. Bold Socks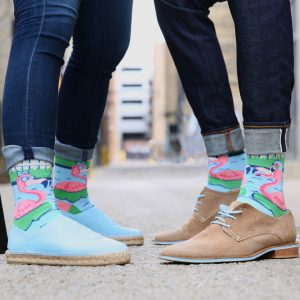 Bold socks are also among the best sock brands on the market. This socks brand is well known for valuing people over their profits. They have been producing quality socks for men, women and kids since 2011. Their socks have a wide collection of solid colors, prints and patterns. They also give back to the local community by funding the provision of water filters in a bid to improve the cleanliness of water for the people.
Additionally, if you are a fan of online shopping, then this socks brand is for you. Bold socks offer a seamless online shopping experience for its customers. You can easily navigate through their website to access their catalog of socks. Their customer service is user-friendly and ready to attend to your complaints within their working hours.
The majority of Bold socks customers gave a good review on them. A customer once said the socks' quality was even better than what she imagined. You can easily establish their trustworthiness by checking their customers' testimonials and reviews on the website.
Right now, you must be wondering how fast their delivery process is. After all, how great is a service that doesn't get to you on time? Their delivery process is very fast. They deliver to their customers within two days. Hence, when sourcing for a trusted socks brand, you can take the bold step by checking out the bold socks brand.
7. Thorlos Socks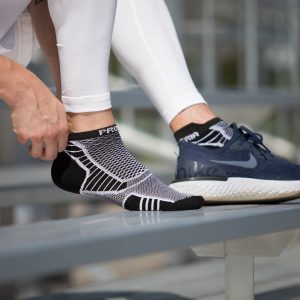 Thorlos was established in the early 1980s. It is a family-run company that manufactures socks for men, women and kids. More importantly, Thorlos socks stands out amongst the mens sock brands. Thorlos' mission revolves around making the best socks for athletes in a bid to help those with underlying foot problems. Indeed, Thorlos is a sock brand that takes into account the quality, the value of its products and the health of its customers.
At Thorlos, socks are characterized into two categories—shop socks and activity socks. Shop socks include socks for men, women and some clearance socks. While activity socks include running socks, hiking socks, running socks, tennis socks, fitness socks and golf socks. If you are on the lookout for a quality men's socks brand, then Thorlos is the right place for you. For hikers, Thorlos socks might just be the best in the market. The hiking socks are durable and help the feet to maintain their coolness during the activity.
Furthermore, the North Carolina-based company offers a free domestic shipping process for orders worth $65 and above. Their support team is also quick to respond to all your questions and complaints. They have a 30 day return policy, in case you are not satisfied with their products, you are guaranteed a full refund should you return within 30 days of your purchase.
8. STOX Energy Socks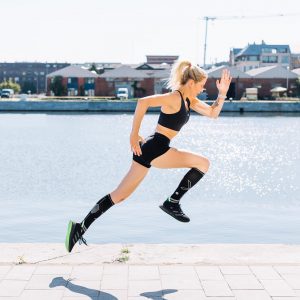 Casper Disselhoff established the STOX energy socks in 2015. The brand is one of the top sock brands in the market. They aim to bridge the gap between medical technology and fashion in their socks production. STOX energy socks can effectively manage foot problems like swollen feet, tired legs, oedema, and restless legs among others while also making you feel comfortable when you put them on.
STOX energy socks have a good collection of designs for everyone. You can order your flight socks, running socks, recovery socks, compression socks, pregnancy socks and many more at the company. STOX energy socks is a top socks brand that enhances your blood circulation and makes you feel better.
However, some of their customers' reviews aren't exactly in their favor. Some complained about their delayed delivery process, while some emphasized their poor customer service. Nevertheless, their average rating on the website is 4.6. This shows that they are worth every penny. Also, they are medically proven to be a top socks brand.
9. Harvest and Mill
Harvest and Mill is a US-based clothing brand that embraces sustainability. The brand philosophy is to make clothing by being a sustainable clothing brand. That is, they believe that there are ways to manufacture clothing directly from the earth without compromising the quality. So whichever way you see, Harvest and Mill is a sustainable sock brand. Their socks are made from organic cotton, grown and sewn in the US.
Moreso, Harvest and Mill was founded in California in 2012. Since then, they have been producing various clothings ranging from jogger pants, socks and heirlooms. You can buy your men's, women's and kids' socks from this brand. As one of the sustainable sock brands, their socks are generally cheaper than the average. Harvest and Mill socks are majorly dyed in three colors, brown, white and tan. The design is simple and sustainable.
In addition, customers of this brand are generally satisfied with their products. Even if there is an exceptional case, they can always return the product within 30 days of their purchase and get a full refund.
Harvest and Mill supports a lot of payment options for their customers. You can pay through  PayPal, Amex, Apple pay, Google pay, MasterCard, Visa and many other options on the website. They also offer a free shipping process for others worth $150 and above. Harvest and Mill is indeed a credible option when you are accessing the right socks brand for you.
10. Kind Socks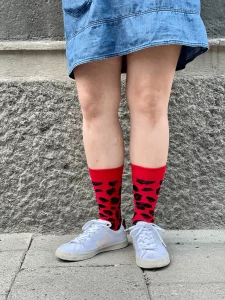 Kind Socks ranks well among sustainable sock brands. They care a lot about the satisfaction of their customers and take pride in selling high-quality sustainable socks. Kind socks are stylish and colorful. Also, they make you feel comfortable every time. The company also accepts wholesale orders and is always ready for partnership.
It is important to note that Kind socks are available for international shipping. If you are worried about the availability of their products in your country, you can always make your orders and they will be shipped to your location within 5-7 working days. Currently, all Kind socks come in two sizes which are 36 – 40 and 41 – 46. Moreover, they are working on producing more sizes and they will be available for purchase soon.
As it is with other best sock brands in the market, they have a return policy of 30 days. If you are not satisfied with their product you can return them and get a full refund within 30 days of your purchase. Also, they have a wide range of payment options that will ensure you purchase your orders at your convenience.
Best Sock Brands: Editor's Verdict
Either you want to replace your old socks or buy a new one, you should do so with the right approach. This is because socks also have their fashion appeal and health benefits for those who have foot problems. Yes, there is a sock for everyone.
This comprehensive sock brands list will serve as the right guide in your quest to keep track of trustworthy and best sock brands. It is also important to understand that these socks brands are the nicest and most durable in the market. Their products are worth every penny and their quality is assured.
Are you looking for the best shoes brands to go with your newly purchased socks? Take a look at our reviews of Cariuma Shoes, Camper Shoes and APL.