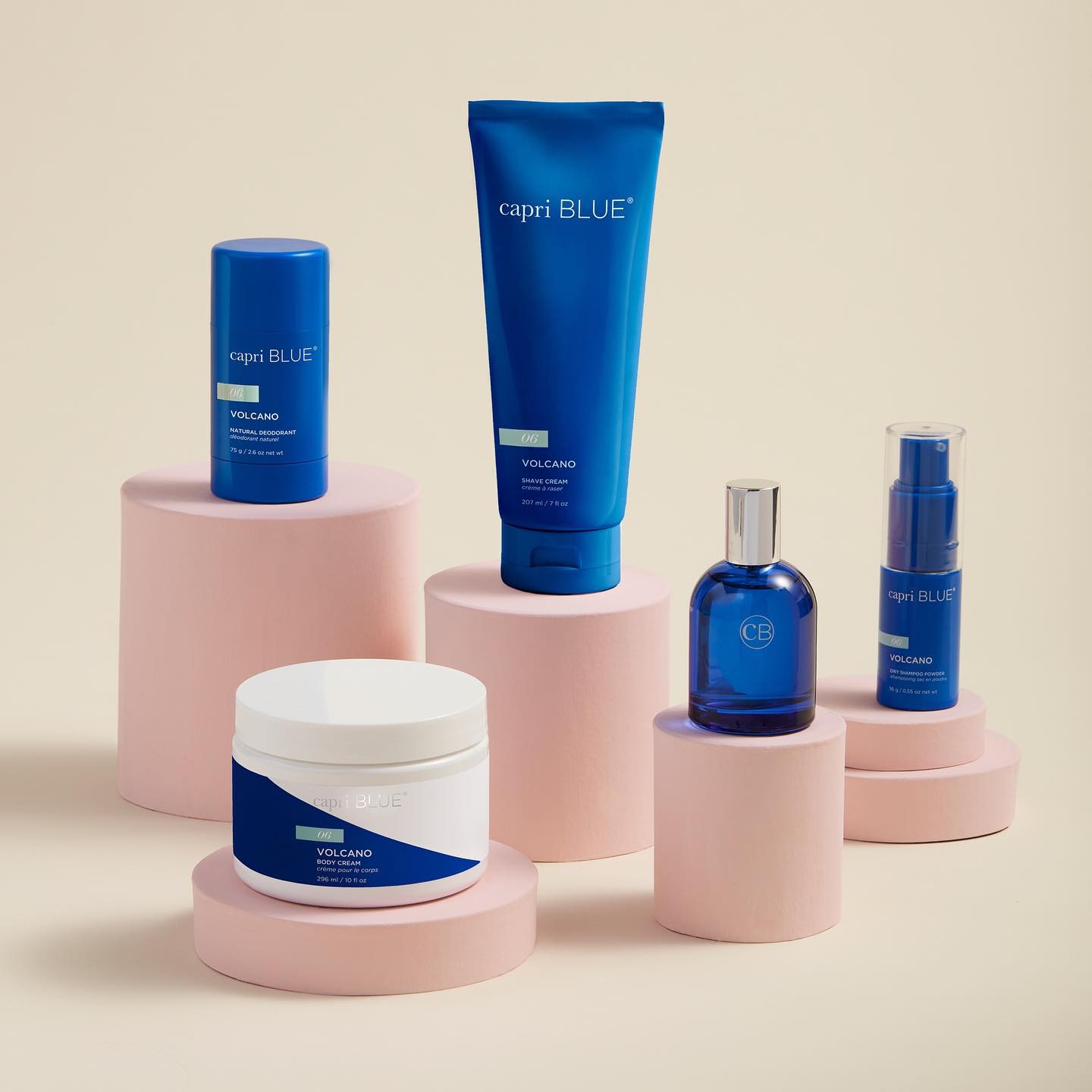 You want to get the best fragrances whenever you are shopping for one. The market is flooded with a vast collection of fragrances, making it challenging for consumers to settle for the right product that suits their needs. Capri Blue has been in the fragrance and design world for more than two decades. They offer an expansive selection of sweet-smelling products, including candles and diffusers. We will examine Capri Blue reviews from customers, their best-selling products, and more to help you make the right purchasing decision. 
About Capri Blue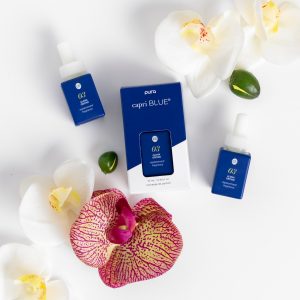 Capri Blue was created in 2012 as one of the Mississippi-based company Starkville's (DPM Fragrance) three product lines. In his statement, the company's owner Tom Reed said that Capri Blue's was tailored towards becoming trendy and fashion-forward of the three lines. The brand would focus on signature Volcano fragrance and cobalt blue jar.
DPM merged with another fragrance brand Thymes in 2017, creating a new brand, CURiO. The company has since produced Capri Blue candles alongside several other beauty and laundry merchandise under Capri Blue's brand name.
Capri Blue has been recognized by prominent media houses in the U.S., including USA Today, The New York Magazine, Forbes, and E Entertainment. The company boasts vast growing social media followers, with more than 78k Instagram followers and over 16k followers on Facebook.
Pros
Customers have access to a vast collection of distinctively scented candles
They offer cruelty-free and non-toxic products free from synthetic colors, phthalates, and parabens
Capri Blue has favorable shipping policies with free shipping for orders above $50
There are loads of positive reviews online about the quality of their products
Accepts returns, refunds, and exchanges
User-friendly website
Cons
Customers have to pay for return shipping costs
The brand's products are pricey but worthwhile
They do not offer international shipping
Capri Blue Products Review
Capri Blue is popular for using natural ingredients in its products, including paraffin and soy wax. We will walk you through some of the brand's top-selling products.
Capri Blue Volcano Diffuser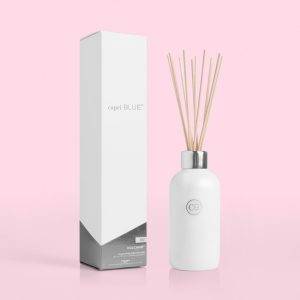 As a flameless version of Volcano-scented candles, Capri Blue Volcano Diffuser gives you the perfect pop of fragrance and adds a fresh touch to your space. If you are looking for something that will keep your space refreshed all day long, this is the ideal product for you. Thanks to the sweet tropical citrus packed in an amazing cobalt blue bottle, this product has a long-lasting and powerful scent. 
You've probably bought fragrances that could barely last you for a month. The case is different for Capri Blue Volcano Diffuser. It has been tested that this diffuser can last an average user for five months. All you need to do is flip the sticks in the oil once a week, and you are good to go. 
it measures 2.48″lx 2.48″w x 10.75″h and weighs 8 fl oz. 
Perhaps one of the most remarkable things about the diffusers found in this product is that you will always feel their fragrance in your living space. Do you know what that means? There is no fuss, no hassle, and no matches!
There is no doubt that you will find this fragrance useful and fulfilling for your living space. Everyone who visits will not hesitate to comment on how good your place smells. 
The Capri Blue Reed Diffuser offers customers instant gratification of livable fragrance. This classy silhouette is undoubtedly the iconic vessel that started everything. 
Capri Blue Volcano Perfume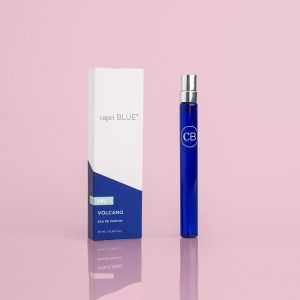 If you are looking for an on-the-go minimalistic perfume ideal for taking along with you wherever you decide to go, Capri Blue Volcano Perfume is the perfect product for you. What else would you love more than the remarkable notes of tropical fruity scent blended with sugared citrus? This perfume offers you the best opportunity to unleash the style in you.
According to Capri Blue reviews, customers love this product because it boasts vegan-friendly and cruelty-free formula, making it friendly for everyone. Furthermore, the perfume is crafted without parabens, phthalates, sulfates, making it one of the best-selling products.
Capri Blue Volcano Perfume brings a combination of ingredients tailored to ensure that you have the best product that meets your needs. Its ingredients include alcohol Denat for quick absorption, Geraniol, limonene, benzyl benzoate, citral for unique scent, polysorbate 20 to enhance its absorbing power, and Linalool. The perfume has a more concentrated cologne with a more long-lasting scent, making it worthy of every penny you'll spend.
You can make several wrong decisions in life, but choosing this perfume won't be one. The product provides value for mon, and it weighs 0.43 fl oz 4.625″H x 0.5″. 
It is also simple to use, as all that you need to do is spritz on various pressure points and boost your confidence all day long with a sweet and long-lasting fragrance. This perfume is available for you for $22. 
Capri Blue Volcano Diffuser Oil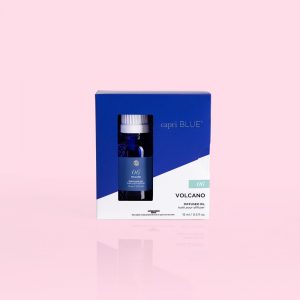 Ladies and gentlemen, it is time to transform your space into something different and unique using a blend of sugared citrus and tropical fruits. Nothing has drawn your space closer to paradise like the Capri Blue Volcano Diffuser oil.
Based on the Capri Blue reviews we found on the internet, most shoppers love this diffuser oil because the unforgettable and long-lasting scent enriches their space, leaving it refreshed as ever throughout the day. The tones of tropical fruit and sugared citrus offer a perfect opportunity for you to unleash your version of freshness to put a smile on your mates' faces and keep their noses busy. 
The product also has a classy signature silhouette, priding itself with the iconic vessel that crafted it. Indeed, this oil diffuser is the epitome of instant gratification embedded in its livable fragrance. 
The product comes in a 50 fl oz weight and measures 3.25″L x 3.625″W x 1.3125″H. The blue bottle is enough to enrich your living space with a punch of fragrance and pop color besides offering a statement for your senses for several days.
Using this product is straightforward: You only need to create a unique fragrance experience for your living space by applying between five and ten drops following the electric diffuser's instructions. In turn, you will turn your home into something more lovable and admirable. Your favorite bottle is available from the household brand Capri Blue, with prices starting from $22.
Capri Blue Volcano Room Spray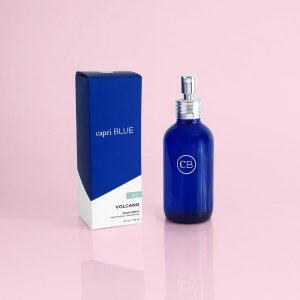 Capri Blue's products have become the destination of those looking for top-notch vibrant vessels and high-quality fragrances, and it never disappoints with its impressive collection. The Capri Blue Volcano Room Spray offers an unforgettable experience for individuals looking forward to creating an instant summer life.
The brand draws inspiration from home and fashion to craft cutting-edge products, and the Volcano doesn't disappoint here. Everything good is embedded in this product's punch of fragrance and pop color, incorporating a one-of-kind statement for your senses. 
If you are looking for the quickest way to redefine your living spaces with deeply refreshing fragrances, the Volcano offers you a unique way of achieving this goal. It combines an enticing fruity citrus scent and luring sugary notes.
Your wildest imagination about the warm and inviting, electrifying memorable summer nights becomes a reality with this fragrance. Capri Blue Volcano Room Spray is a perfect tropical fragrance to complement with diffusers or candles to yield an exotic scent that keeps your space more refreshed all year long. 
The product measures 1.5 x 1.5 x 6 inches and weighs 4 oz. It features fine-refined fragrances and pure essential oils captured in multiple ingredients, including lime, lemons, exotic mountain greens, and sugared oranges. This classy silhouette signature collection is available for $28.
Blue Jean Blue Mini Tin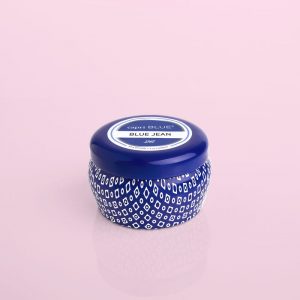 Blue Jean Blue Mini Tin is aromatic and adorable that becomes an instant sensation in your living space. The Mini Tin has proved an invaluable companion for any household, thanks to the powerful and enticing fragrance of white musk, citrus, and patchouli.
It doesn't matter where you go for Blue Jean has you covered on the go! This is one of the Capri Blue candles that offer you an opportunity to enrich your experience by creating a gratifying, relaxing, and light ambiance everywhere you go using the host of fresh scents embedded in the product.
The product is packaged in a mini blue tin, giving it the perfect appearance of artistic home décor while delivering endless bits of ultimate relaxation vibes. The products keep your house warm and inviting with their fragrance for a longer period. This candle weighs 3 oz, measures 1.75″Hx 2.75″ D, and can keep burning for up to 30 hours. 
There is something worth noting if you plan to purchase the Blue Jean Blue Mini Tin. It is recommended that you place it on a heat-resistant surface when burning. Also, refrain from dropping any wick-trimmings, foreign matter, or other material into the burning candle. It's also advisable to keep the burning candle where you can see it besides keeping it out of reach of pets and children. 
The Blue Jean is worth trying if you are looking for a high-quality fragrance that doesn't cost an arm and a leg. This fragrance is available for $12.
Capri Blue Reviews from Customers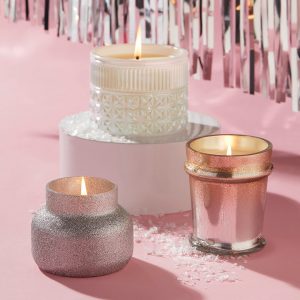 Our team also dug into various online sources to check Capri Blue reviews from customers. Our investigation went through the brand's official website, Facebook, Anthropologie, and Amazon to see what customers say about the brand. We have provided a brief insight into some of the bestsellers' ratings featured on their website.
Volcano Blue Signature received a high rating of 4.9/5 from 399+ reviews on the website. Blue Jean Blue Mini Tin was rated at 4.7/5 stars from 29+ reviews. Customers also rated Volcano Diffuser Oil at 4.9/5 stars from 36+ reviews, while Volcano Diffuser Oil received 4.9/5 stars from 93+ reviews.
Most customers left impressive reviews on the Volcano Candle Capri Blue. One customer said that they have a jar of this product in each room in their house, and the scent was therapeutic and exceedingly refreshing. They added that the aroma gives them the best feeling whenever they hit their doorstep.
Customers left equally remarkable feedback on Anthropologies' site. The brand had an average rating of 4.7/5 stars from 137+ customer reviews. Customer comments on Anthropologie show that Capri Blue has done an immense job cementing customer loyalty in the market.
Further customer reviews
One of the customers stated that Capri Blue Volcano Diffuser Oil is their favorite product. They continued saying that they had bought Volcano Oil for their loved ones, and almost everyone had something special to say about the product. The aroma enriched their whole living space, leaving the house feeling warm, comfortable, and refreshed like a blanket on a cold winter night.
The global shipping company Amazon had the lion's share of Capri Blue product reviews: 4.7/5 stars from a massive 7,190+ reviews say it all. The brand is simply the epitome of quality and perfection.
Most Amazon customers looking for a cozy seasonal vibe could not hide their obsession with the Capri Blue Fir and Firewood candles. Other customers praised the brand for the top-notch products that gave them avenues to romanticize their homes: It lasts forever!
Capri Blue received a 4.1/5 star rating from 98+ customer reviews on Facebook, with most customers praising Pura Capri Blue Volcano for its amazing scent. 
Some customers on Amazon also expressed their frustrations as some candles could not burn to the whole. The bright side is that most customers rate Capri Blue positively, indicating that buyers love the brand's divine and aromatic scents.
Sign Up for Capri Blue
Sign up for Capri Blue to enjoy fast checkouts. You will also be able to track your orders with ease. To create your account, navigate to the create account page and fill out the registration form. You'll have to enter your first and last name, phone number, email address, and password.
Where to Buy Capri Blue
Our team discovered multiple options that you can pursue to purchase your favorite candles or diffusers. You can order directly from the brand's official site Capri-Blue.com. Customers can also use third-party retailers, including Sephora, Anthropologie, Walmart, Nordstrom, and Amazon.
Capri Blue Shipping and Return Policy
The company ships to Canada and the United States, and customers within these regions pay $8 as the shipping fee for orders below $50. They ships orders above $50 for free. 
Customers who want products shipped within two days have to pay $20 for all orders below $100 and $30 for all orders above $100. The company also offers one-day shipping services where customers pay $35 for orders below $100 and $45 for all orders above $100. 
We also found that the brand accepts returns from unsatisfied customers However, you must return the product in its original form within 30 days after delivery. Customers also have to pay the return fee.
Capri Blue Promotions & Discounts
If you sign up for the brand's newsletter, you'll receive 10% off your first orders in addition to getting updates on the latest deals. You also stand a chance of winning yourself up to $500 in the form of credit when you write a review on the brand's website. 
Contact Capri Blue
You can use several channels to get in touch with the company. You can shoot the customer care desk and email through [email protected] or give them a call at 800-748-9249. The brand has a contact form on its website that you can also use to reach out to their support team. The customer support team is available from 8:30 a.m.-5 p.m. on business days. 
Capri Blue Reviews: Editor's Verdict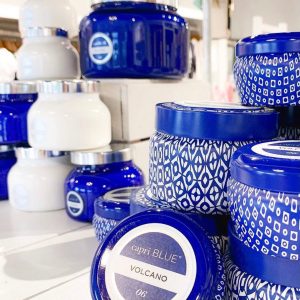 Based on the numerous positive Capri Blue reviews on the internet, we have established that this brand is worth checking out. As such, we recommend it to anyone looking for high-quality diffusers, candles, perfumes, diffuser oils, room sprays, and other sweet-smelling items.  
Customers love all their products, including Capri Blue Volcano Wax Melts, which are hand-made as well as hand-poured in Omaha, Nebraska, offer a strong and long-lasting scent experience.
The brand has amassed remarkable customer loyalty on Anthropologie, a super-hyped retailer in Canada and the U.S. The company offers iconic products with rare negative reviews. Additionally, Capri Blue boasts non-toxic, cruelty-free, and vegan-friendly products. 
If you are still searching for products that make you or your home smell amazing, consider reading our reviews such as Dossier Perfume, Elizabeth Arden, Aerin, and Habibi.
Capri Blue FAQ
What kind of oil does Candi Blue use?
Capri Blue utilizes a combination of synthetic fragrance and natural, essential oils, giving the products a diverse and complex avenue of raw materials creating unique fragrances.
Are Candi Blue candles organic?
It isn't easy to come across purely-organic candles. However, Capri Blue's candles are crafted from food-grade refined waxes to make them as natural as possible.
What is the proper way to burn Candi Blue candles?
Allow your candle to liquefy on the top before blowing it to prevent tunneling, and keep your wick trimmed to a quarter. Also, avoid dropping any debris such as wick trimmings or matches into the wax.
Does Capri Blue use lead wicks?
Capri Blue does not use lead wicks. The Consumer Product Safety Commission banned the production and sale of lead-cored wicks.