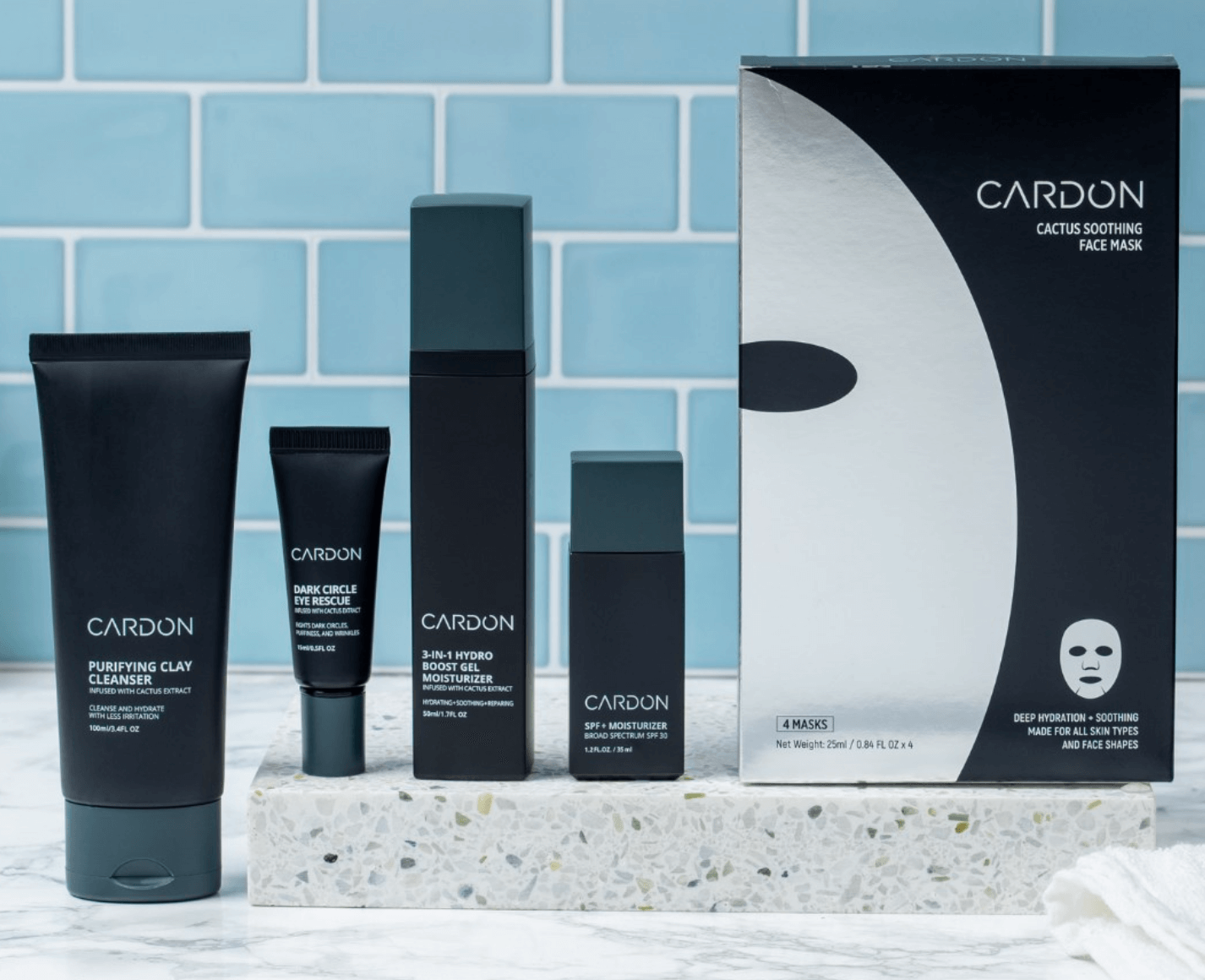 Cardon is a brand committed to starting a conversation about skincare for men. With regimes and ingredients from South Korea, the brand expects to provide American men with premium products from across the world. The company offers an extensive collection of daily skincare routines that nourish, protect, rejuvenate, and balance men's skin. We will evaluate Cardon Skincare review from customers, their products, brand philosophy, and discounts. In turn, this will allow you to find out if you can add their products to your grooming routine.
About Cardon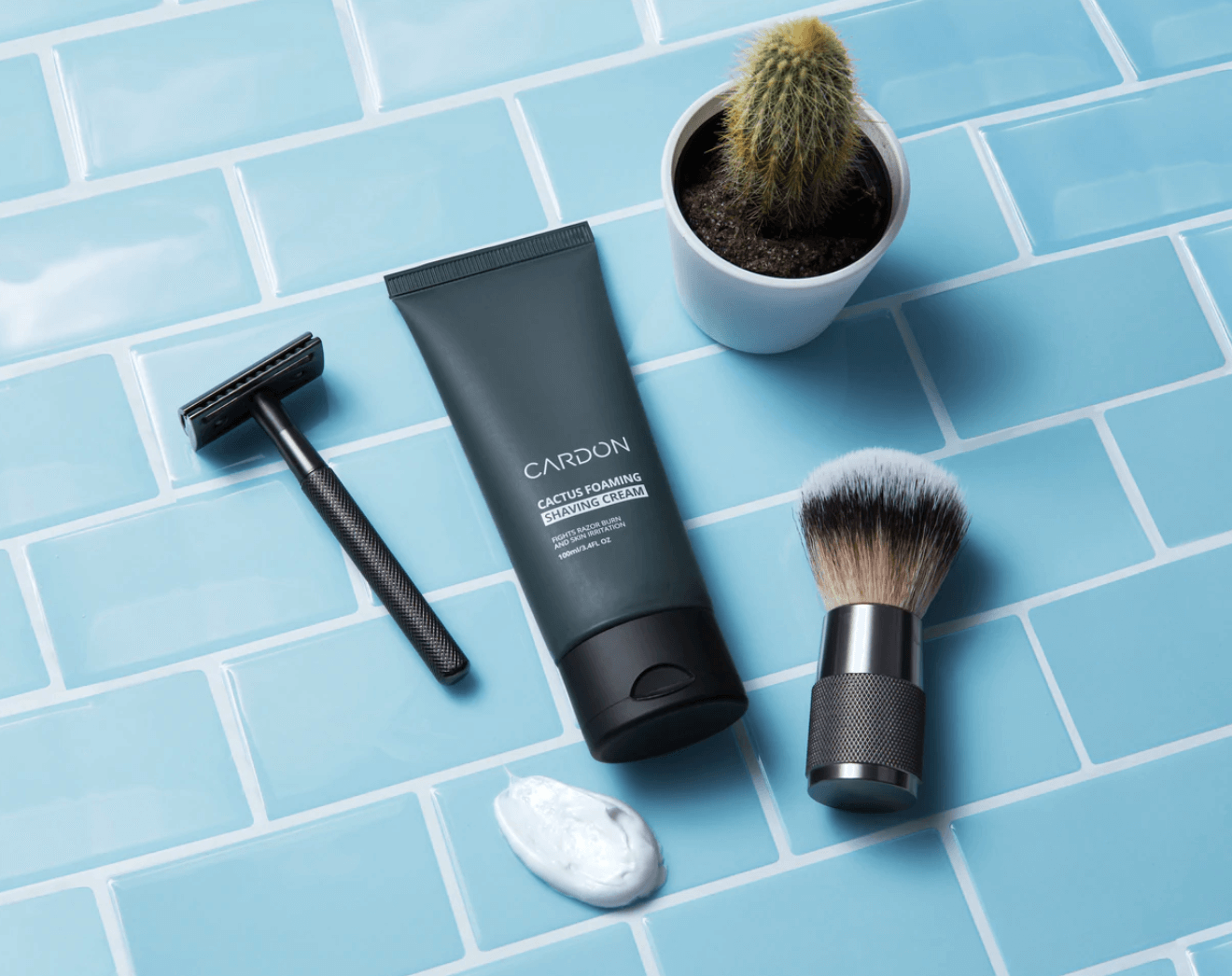 Cardon was launched in 2019 by founders Jacqueline Oak and Narae Chung. Chung moved to America to attend Wharton School of Business after years of working in the skincare industry of South Korea, the world's skincare powerhouse.
She brought the most innovative skincare formulas and the best ingredients used by men across Asia.
At Wharton Business School, she met Oak, who was her roommate at the time. With Oak's background in retail startup and entrepreneurship, the two partnered to create a brand that provides men with premium skincare at affordable prices.
They named the brand Cordon after their core ingredient, the Cardon Cactus, a plant name for its prickly nature and thistles.
The Cardon cactus is, fittingly, the core ingredient in each formula as it is famous for its moisturizing, nourishing, healing, and soothing properties. It also works well with any skin type, whether dry, oily or even sensitive.
Since its inception, Cardon has taken the American skincare industry by storm. Within a few years of operation, the brand has already won Askmen's Grooming Awards, coming in first place.
Reputable publications such as Forbes, GQ,v, Esquire, and more have also featured Cardon, recognizing the brand's potential to revolutionize the American skincare industry.
With an inventory of individual purchases and subscription options, Cardon operates from its HQ in New York. Their goal remains to provide simple methods and products that help men learn more about caring for their skin.
Pros
Cardon offers an extensive collection of efficient cactus-based products, ranging from face masks, moisturizers, cleansers, and more
All their products are vegan, natural, and cruelty-free
Cardon provides a straightforward return procedure and covers all return shipping costs
They provided free shipping to all subscribers
Customers who spend more than $30 will receive free delivery
Their skincare routines are efficient and cater to different skin types
Cons
They have limited international shipping as it only ships to Canada and Europe
They do not have phone support
The brand doesn't offer around-the-clock customer support
Cardon Skincare Products Review
After evaluating their brand philosophy and methodology, we review their popular products. Cardon Skincare products come in multiple recipes and ingredient combinations.
Each formula has its unique function and best suits specific skin types. Here are some of their top-selling products:
Cardon Dark Circle Review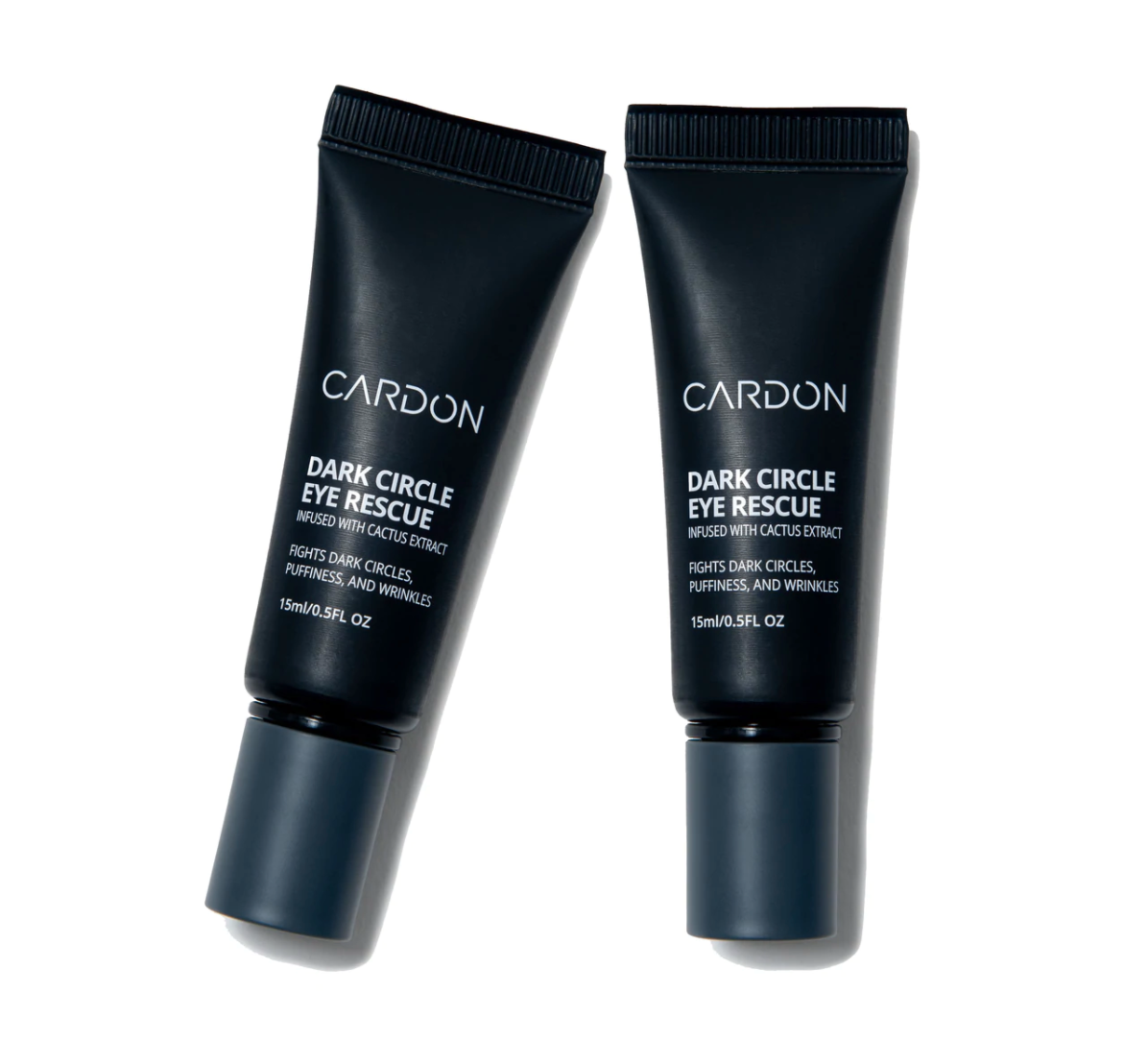 Our Cardon Dark Circle review found that this product comes in the form of an eye cream that restores elasticity, firmness, and hydration to your under-eyes.
This nourishing blend of natural extracts provides anti-aging support and helps fight the effects of dark circles and puffiness around the eyes.
Available in their collection as Dark Circle Eye Rescue cream, this product helps revitalize the skin around your eyes by reducing the appearance of puffiness, wrinkles, and dark circles around the eyes.
Dark Circle Eye Rescue has three benefits: it brightens the skin, hydrates it, and ensures mess-free application.
It contains 2% Haloxyl, which reduces dark circles and puffiness by brightening the skin around the eyes. Its Niacinamide and Hyaluronic Acid constituents provide firmness and hydration to the skin.
The product also comes with a stainless steel roller that helps to de-puff and aids the skin in absorbing all the ingredients. With Dark Circle Eye Rescue, you no longer have to stick your fingers into goop.
To use this product, wash your face and dry it. Afterward, apply the cream using the roller tip. Apply it to the area under your eyes, taking care to avoid the eyelids. Roll the cream back and forth for a few seconds until it absorbs thoroughly.
Follow up the routine with the Hydro Boost Gel during PM or SPF Moisturizer during AM.
Dark Circle Eye Rescue is silicone-free, sulfate-free, paraben-free, reef-safe, and made 100% cruelty-free. Its core ingredients include three types of peptides, niacinamide and cactus extract.
Cardon Cactus Foaming Shaving Cream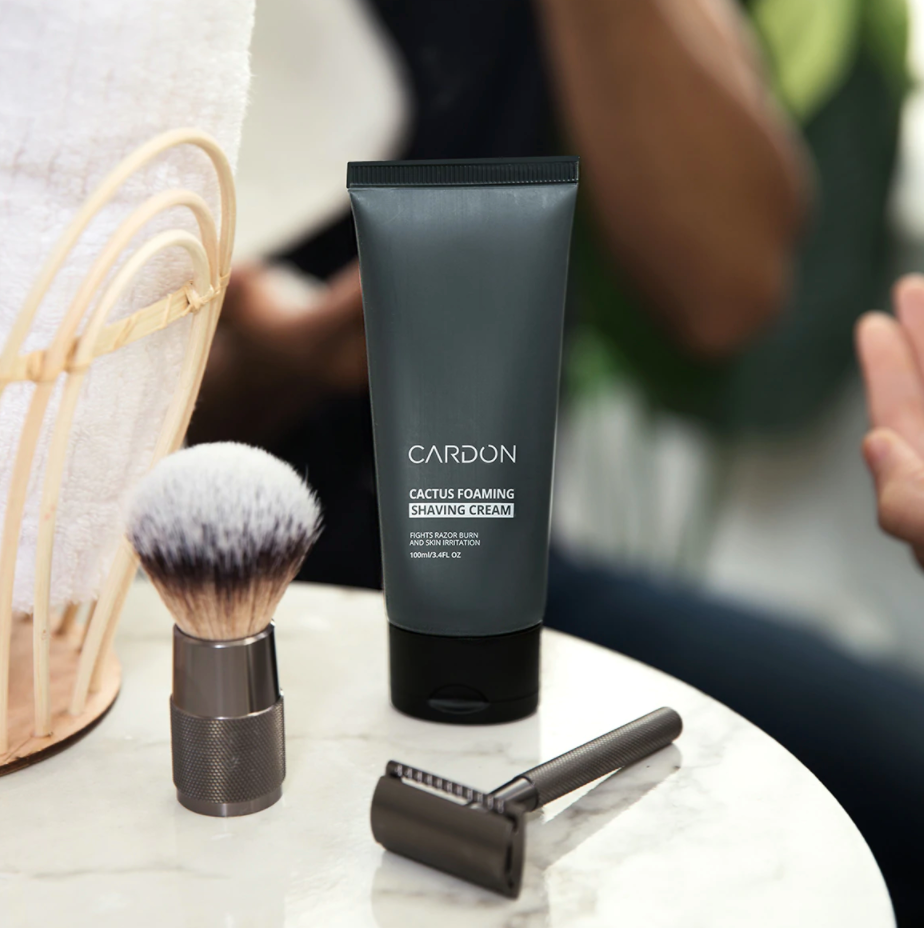 When shaving your facial hair, you tend to expose your skin to nicks, razor burns, micro-cuts, infections, and other ingrowths. These effects can result in a bad look, discomfort, and even redness.
Shaving creams like the Cardon Cactus Foaming Shaving Cream protect your delicate facial skin from the sharp blade by softening your facial hair for a smooth, clean, and safe shave.
With Cactus Foaming Shaving Cream, you can say goodbye to irritation and razor burns. When mixed with water, the cream transforms into whipped foam, which hydrates and soothes your skin.
It acts as a cleanser while creating a cushion for a slick razor glide and a comfortable close shave.
The shaving cream performs three crucial duties, to protect, soothe and offer a deep clean. Cardon Skincare reviews show that users love its whipped foam because it contains four distinct fatty acids that eradicate razor cuts, nicks, and burns through smoother shaves.
Its marshmallow, chamomile, and cactus extract moisturizing ingredients constitute over 20% of the formula and eradicate skin irritation after a shave.
Lather up your skin with lukewarm water and a nickel-sized dollop of the product until rich foam forms. When in a hurry, use it as a facial cleanser. Once you have a thick, cushiony foam, begin your shaving.
Afterward, use lukewarm water to rinse the foam residue off your face and pat yourself dry. Cardon advises users to finish off with a skin moisturizer that locks in moisture and protects the skin from harsh elements.
You can get Cactus Foaming Shaving Cream at $15.00 for a one-time purchase and $13.50 for two months frequency subscription.
Cardon Daily SPF + Moisturizer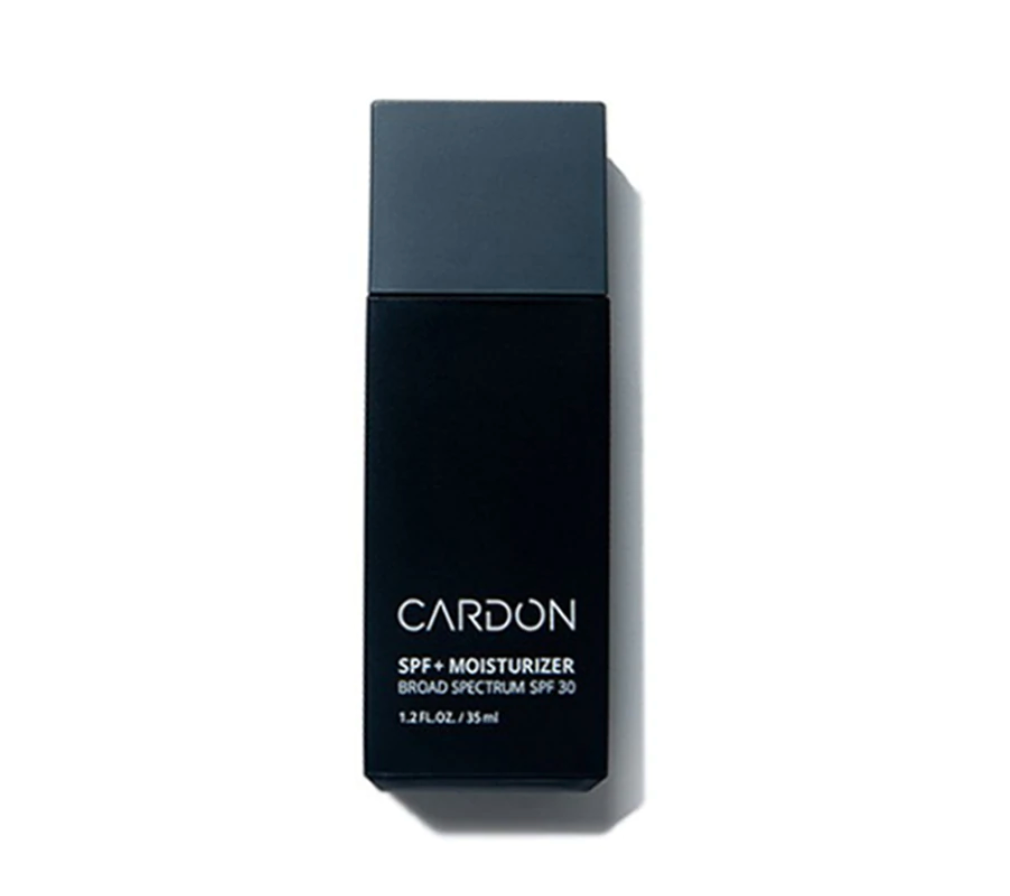 The leading cause of skin cancer and aging skin is sun damage. Besides maintaining a healthy diet, sun protection is the best defense against premature aging and cancer.
At Cardon, they believe preventing the formation of wrinkles is better than trying to get rid of them. With Cardon Daily SPF and Moisturizer, you get a two-in-one anti-aging formula that repairs, hydrates, and protects your skin from harmful UV rays.
SPF combines innovativeness, sleek design, and double dutty effects. It is fast-absorbing, lightweight, and leaves no residue due to the advanced Korean skincare technology used in its production.
Its powerful duo offers protection against UVB and UVA rays accompanied by all-day-long hydration.
Cardon Daily SPF and Moisturizer come in travel-friendly and compact bottles so users can carry them around and reapply when needed. Each bottle contains 35ml of product and can last from 30 to 45 days when used daily.
Lightly scented in fresh marine, it comes in cedarwood, lavender, amber, mint, musk, and sandalwood.
Use SPF daily as an anti-aging and UV protection treatment. Begin by squeezing onto your hand a nickel-sized amount. Dab and rub it in tiny amounts all over the neck and face for consistent coverage.
Put on SPF 15-20 minutes before going outside to prevent sunburn and reapply after every 2 hours if directly exposed to the sun.
With SPF, you can say goodbye to those chalky, greasy, and sticky stuff you hate. Cardon Daily SPF and Moisturizer go for $19.99 for a one-time purchase and $17.99 for a two-month frequency subscription.
Cardon Exfoliating Toner Wipe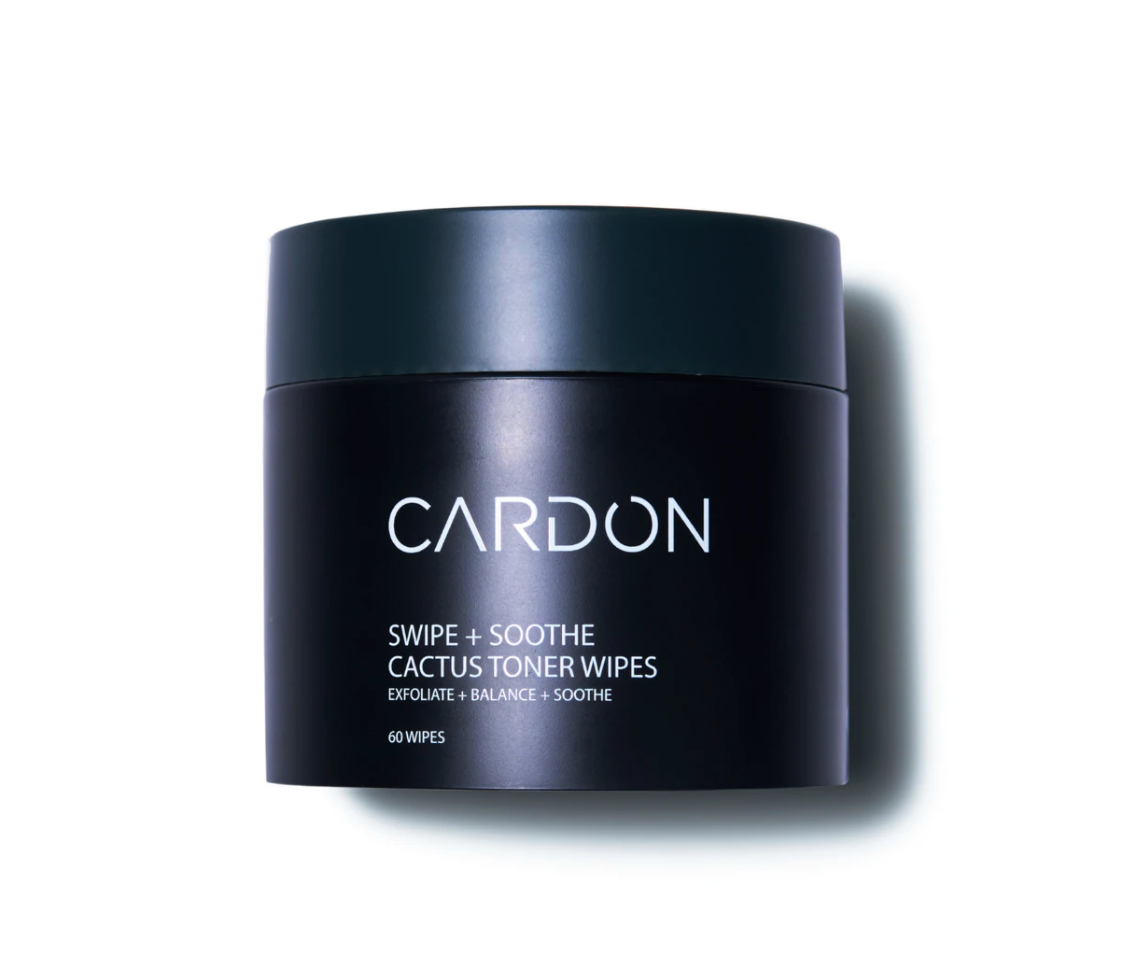 Most men tend to neglect their skin, Which leads to roughness, moisture loss, and pilling of dead cells. Exfoliating is a quick and easy way for such men to get rid of dead skin cells, improve skin's complexion and texture, and restore hydration lost throughout the day.
With Cardon Exfoliating Toner Wipe, users get to enjoy the convenience of a one-step facial treatment that exfoliates and soothes the skin.
Cardon wipes come pre-soaked in toner, containing caffeine and PHA, which helps tighten pores, manage sebaceous oil, and balance skin pH. The wipes are biodegradable and use heartleaf and cactus extracts to soothe any irritation.
They also come equipped with two sides, a rough and smooth one. Cardon reviews from customers reveal that they love this timer wipe because its rougher side gently exfoliates the skin while the smoother one soothes.
Unlike aftershaves, Cardon Exfoliating Toner Wipe soothes irritation without even drying the skin. It also helps in the hydration process while keeping your face smooth and clean. Perfect for athletes or people who love to be outdoors.
Cardon Exfoliating Toner Wipe is available at $25.00 for a one-time purchase and $22.50 for two months frequency subscription.
You need to clean your face with the Purifying Cardon Cleanser and pat yourself dry when applying. Gently exfoliate using the rougher side to remove the dead skin and dirt pile on after a long day outdoors.
Once you finish, wipe your face with the soft side to soothe and nourish your skin. Finish off with a lightweight moisturizer or an SPF. You can use this tonner to multiply the effects of moisturizers and serums.
Cardon Purifying Clay Cleanser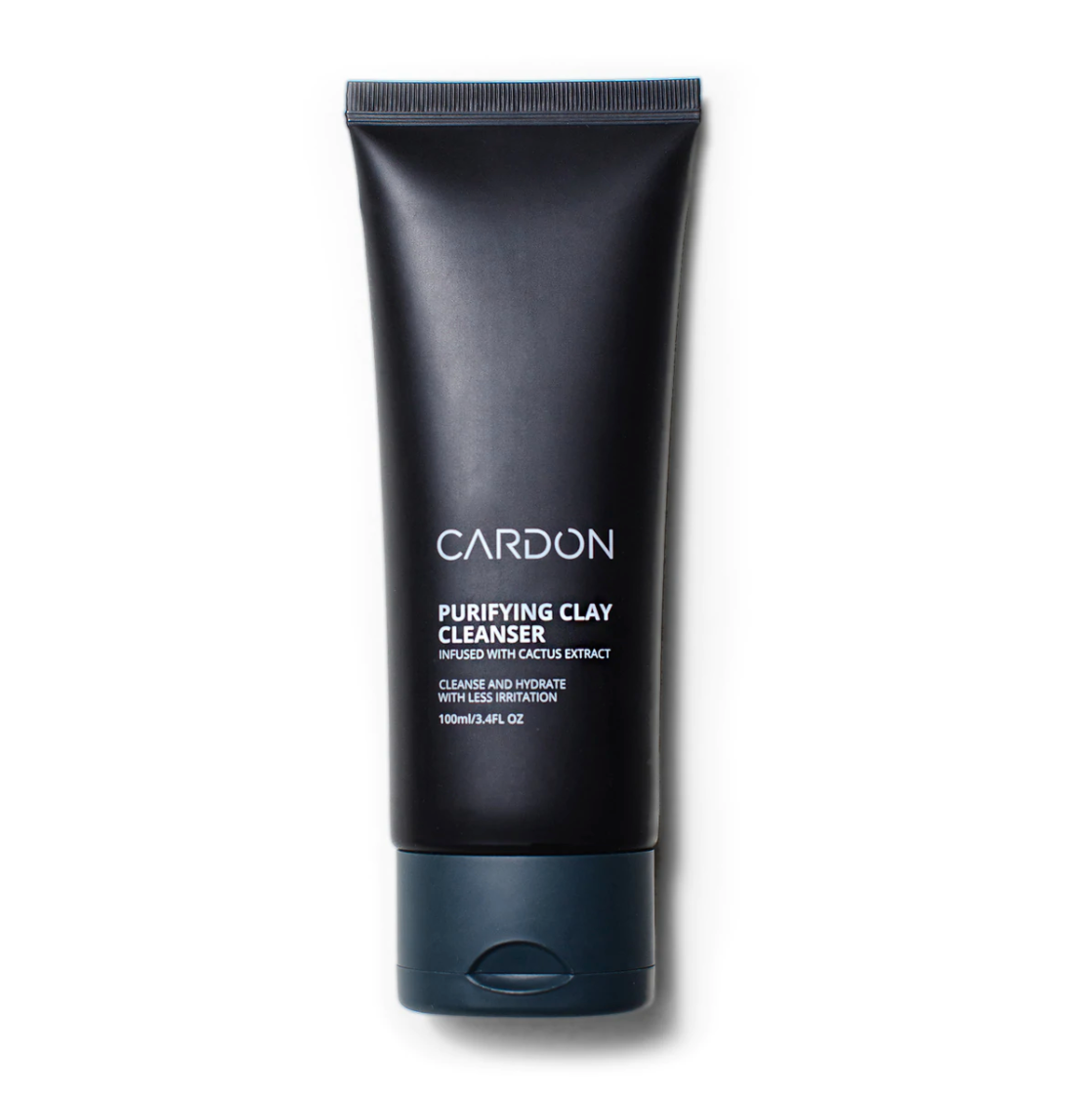 Generally, men possess larger pores and oilier skins compared to women. This aspect calls for a gentle cleanser that absorbs unwanted dirt particles and oils that may clog pores or result in pesky breakouts.
Cardon Purifying Clay Cleanser is the perfect product for this task. This cleanser is among the only products that enable deep face cleaning without causing dryness.
When it comes down to eliminating excess oil, It possesses 4X the cleaning power of charcoal. Its mineral ingredients ionize in water to clean and provide hydration to the skin while simultaneously absorbing dirt particles.
The cleanser also helps balance oil levels and sebum control without irritating the pores. Cardon Purifying Clay Cleanser comes in a 100ml/3.4FL OZ bottle lightly scented with invigorating citrus (Amber, Lime, Mandarin, Grapefruit, Musk)
To use this product, squeeze a small amount onto your wet hands and work it until it forms a foamy lather. Gently massage it on your face, keeping it away from your eyes, for about thirty seconds.
Afterward, rinse thoroughly using lukewarm water. Use this Cardon Purifying Clay Cleanser in the morning before your daily SPF routine and at night right before applying the 3-in-1 Hydro Boost Gel Moisturizer.
Cardon Purifying Clay Cleanser is 100% cruelty-free, paraben-free, silicone-free, and sulfate-free. Its core ingredients include (Kaolin, Bentonite clay, Moroccan Lava Clay), Centella Asiatica( a natural antioxidant), and cactus extracts.
Get it at $18.00 for a one-time purchase and $16.20 for two months frequency subscription.
Cardon Reviews from Customers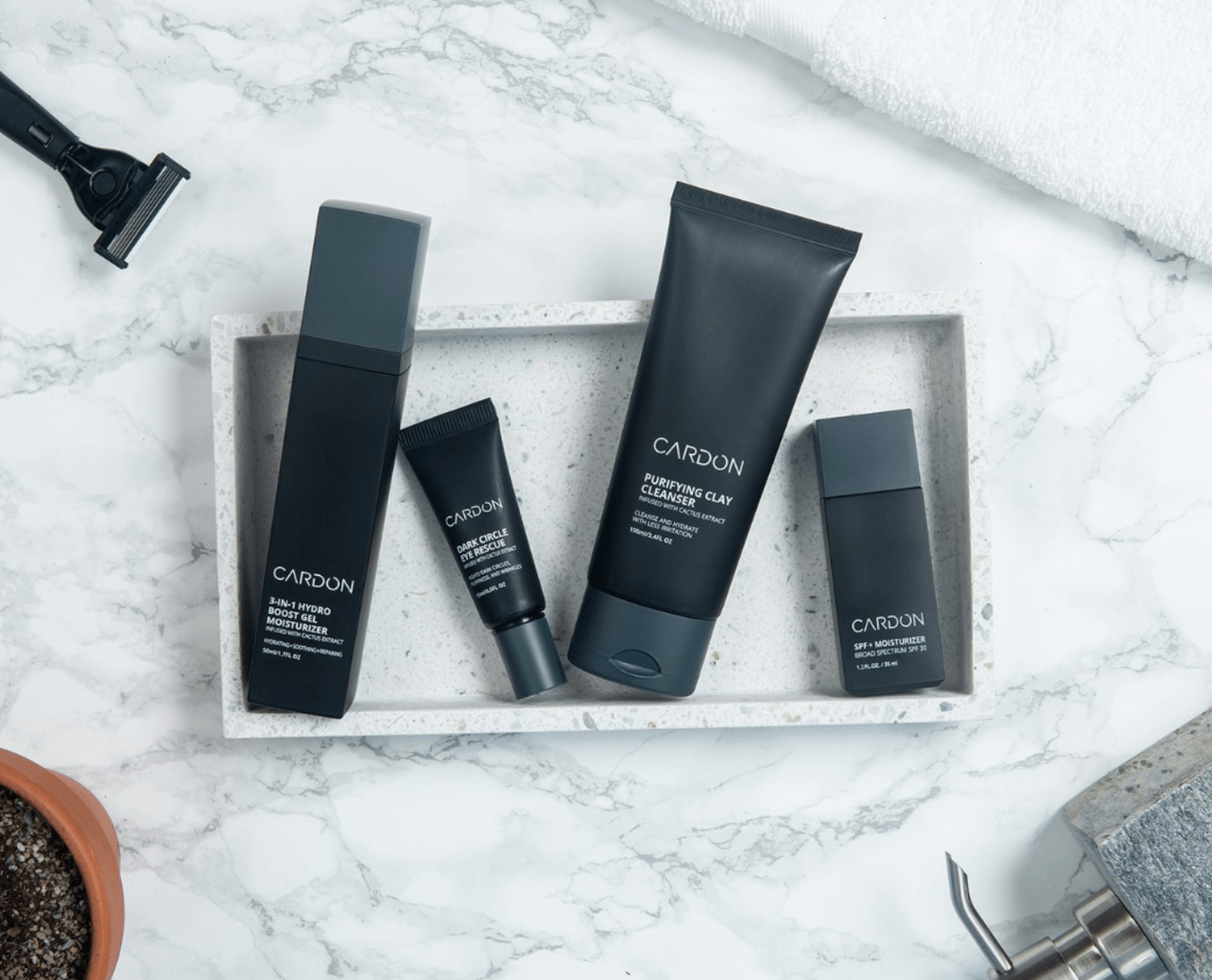 We checked the reviews that buyers have left on their site and found that most Cardon Skincare reviews from previous customers express a high level of satisfaction with the brand's products.
Users commend the brand for producing products that work magic and feel great to use. Some customers also took the time to talk about their overall experience working with this company.
One such customer said that their experience with Cardon has been great. He stated that he received regular emails regarding the status of his order, which was delivered right on schedule.
Another shopper who had purchased the exfoliating toner wipe for her husband said that it did wonders for his skin: It minimized the redness that appeared after shaving and kept him looking smooth all day long.
Popular Alternatives to Cardon Skincare
Additionally, she said that her husband loved the product so much that he recommended it to his friends.
Other customers also praised the brand's customer service, saying that their support team is friendly and helpful. Overall, most reviews were positive, as most users noticed significant improvements in their skin tone and texture after using Cardon's products.
However, a few customers complained about the toner leaving an oily film on their skin. They attributed this to the weather, where their location tends to be humid. All in all, customers who have tried Cardon products were happy with their purchases.
Sign Up for Cardon
Sign up for a free account by entering your first and last name, email address, and password on the signup page. Join the Cardon club to access their special offers and receive regular expert skincare tips.
Where to Buy Cardon Skincare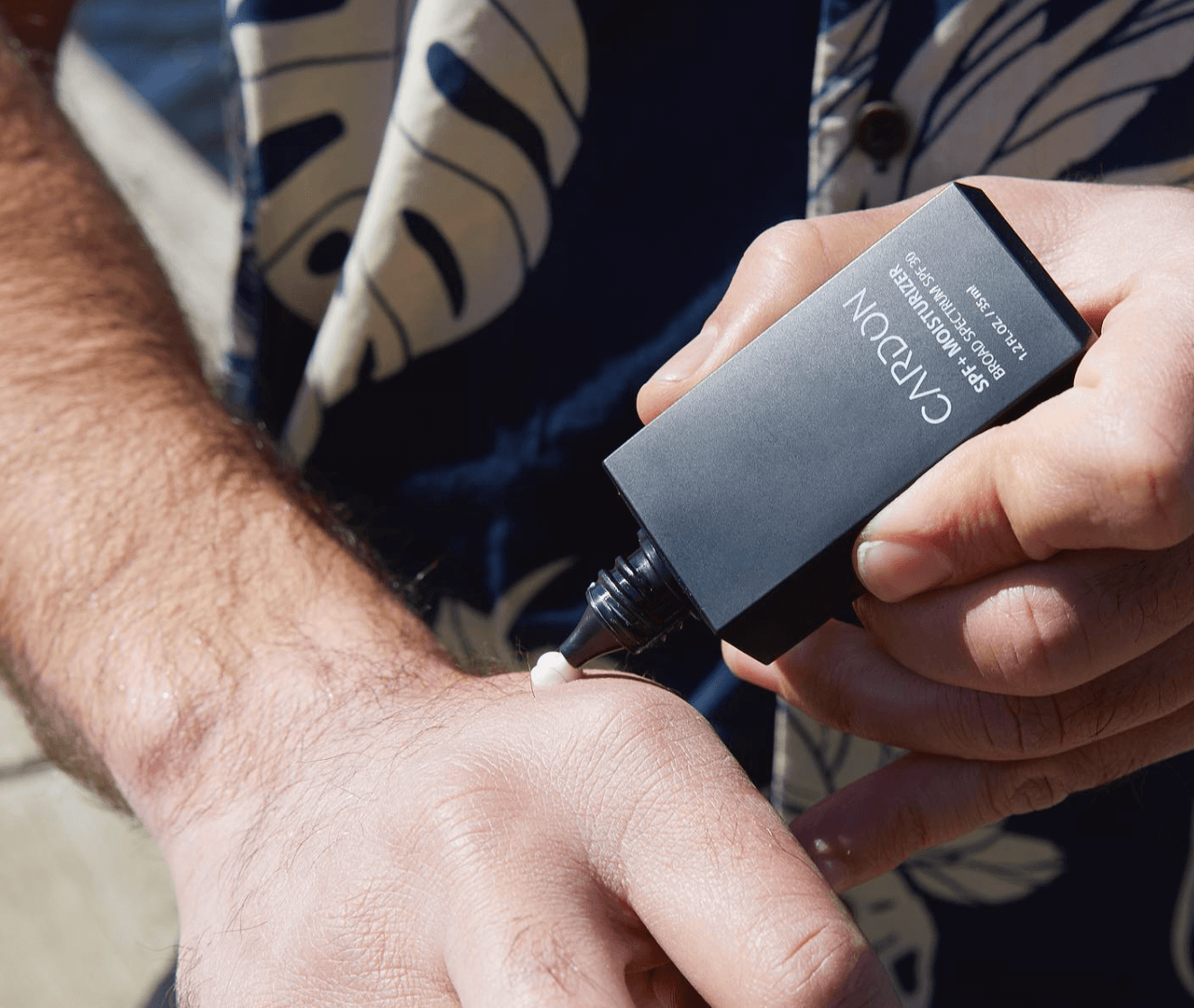 Cardon intends to provide men with easy-to-get premium skincare products by working their way to numerous locations near you. Currently, you can find them as neighborhood goods at Chelsea Market in New York, Legacy West in Plano, and South Congress in Austin.
Shops like 12 Pell, Bloom a Skincare Studio, and Brown Bar have Cardon products in stock. For online shoppers, you can get Cardon products through their e-commerce site CardonForMen.com. Their products are also available on Amazon.
Cardon Shipping and Return Policy
Cardon prived free shipping for all one-time purchases over $30 and subscriptions within the U.S. Shipping takes 3-5 workdays, with clients receiving an email with tracking details upon commencing.
Cardon also provides international shipping to Europe and Canada through DHL and USPS at a subsidized fee for one-time purchases (subscriptions excluded). If you are satisfied with your purchase, Cardon has a free 30-day return policy.
Cardon Promotions & Discounts
Cardon runs various promotions and discounts throughout the year. At the moment, you can enjoy 30% off and free delivery on your first subscription order.
Contact Cardon
You can reach out to Cardo's support team through their email [email protected] to request a return, ask questions about your order, or other inquiries. Alternatively, you can contact them on their Instagram or Facebook accounts.
Cardon Skincare Reviews: Editor's Verdict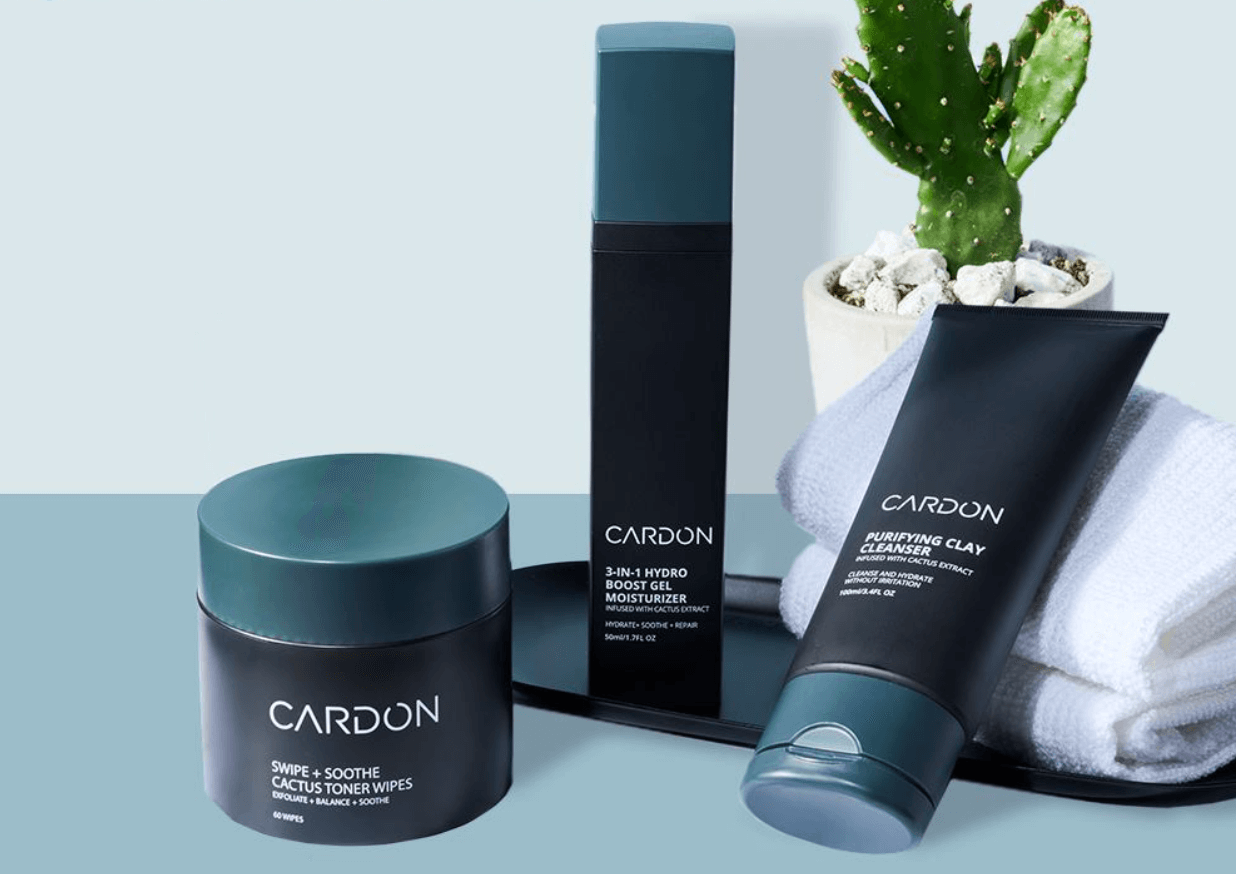 Looking at the numerous positive Cardon Skincare reviews from customers, we found that the brand has a good reputation. Customers who have tried their products have seen improvements in their skin tone and texture.
They also receive excellent support from staff members and the company. Cardon has also received award recognition, like the Askmen's Grooming Awards, where the brand garnered first place.
Additionally, reputable publications have also recognized Cardon for Men as among the best skin care products in the industry.
Based on all Cardon reviews, we find their products attractive, and their policies focused on quality and customer satisfaction. We recommend that you give them a try if you want to improve your skin's health and appearance.
Still on the hunt for men's skincare and grooming products? Check out our popular beauty brand reviews of Black Wolf Nation, Brickell, Geologie, and Supply.
Cardon FAQ
Where is Cardon made?
Production of Cardon takes place in South Korea, where the standards are a bit higher; this ensures that Cardon Skincare products are of high quality and effective.
Does Cardon work for oily skin?
Yes. Since men's skins are more oily than women's, Cardon designs its products to work for oily skin. However, their products can work for all skin types.
Can women use Cardon?
Absolutely. Cardon founders are women, and they both use these products every day. Cardon formulas function exceptionally nicely for sensitive skin due to the cactus extract ingredient that soothes the skin.
What are Cardon's Quality Standards?
All Cardon products meet Korea Cosmetic Regulation standards, which are higher than the U.S. Their products are vegan-friendly, 100% cruelty-free, and contain cactus extracts that soothe irritation.
The brand avoids using phthalates, siloxanes, parabens, formaldehyde, phenoxyethanol, silicone, sulfates, and other harmful chemicals.