If you want to boost your closet with comfortable and versatile pieces, Carve Designs is worth your attention. The brand is inspired by the outdoors, so when you visit the website, you will be welcomed with clothes that will not only make you feel stylish but will also give you the highest level of comfort. We are sure that as the summer season is upon us all over the world, you are curious to find out as much as possible about the company. No need to worry, today we are going to look behind the production process, take a close look at the products and we will also share some Carve Designs reviews from customers we collected from multiple sources.
We hope you're ready to dive deep because we've got lots of information to share with you!
About Carve Designs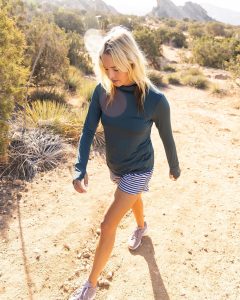 The story of Carve Designs started with a surf trip to Mexico, where the two founders, Jennifer Hinton and Thayer Sylvester met. Chilling on the beach they started to talk about boardshorts, well more exactly, the lack of well-made boardshorts that can keep up with all body types and women passionate about adventures.
Initially, back in 2003, the company only sold boardshorts and rashguards for women. Shortly after, they became a beach lifestyle brand selling surf, swim, balance, and lifestyle clothing. All of the Crave Designs items are effortless and feminine, created to fit real women with different body types and sizes.
Today, Carve Designs is one of the most popular swimwear and beachwear fashion companies, offering well-made, durable items at a budget-friendly price.
Pros
Budget-friendly prices on all items

Simple, yet feminine designs that are versatile

The majority of the clothes are made from sustainable fabrics, including recycled materials

Ethical production with special attention to employee wellbeing and fair waging

You have 30 days to return any items unless they are unworn, unwashed with the price tag still attached

Clothes are true to size
Cons
There is a $7 return fee that will be deducted from the value of your return

Order processing may take up to 3 business days
Carve Designs Clothing Review
If you want to find out more about Carve Designs clothing in terms of production, quality, and pricing, you came to the right place. Are the clothes worth your money? Is the customer service reliable? What do Carve Designs reviews say? In the next section, you are going to find it all out.
To give you the whole picture of the brand, we picked a few items from different categories and collected customer reviews from multiple sources. And now we are going to share it all with you.
Carve Designs Oahu Short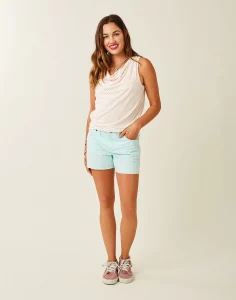 The Carve Designs Oahu Short is a perfect choice if you are after a comfortable, slightly loose-fit short to wear during the summer. No wonder Carve Designs shorts are one of the company's best-selling pieces. The Oahu Short is made of 58% Tencel, 38% Cotton, and 4% Spandex, and it is available in various sizes from 0 to 14.
The colors you can choose from are truly wonderful, ideal for daywear during the summer. The short comes in 7 different colors, including sea glass (light pastel turquoise), navy, olive, light red, saddle, and light cement or beige.
In terms of price, The Oahu Short costs $68. Reviews are very positive also. To quote a previous buyer on the official website: "The color is beautiful and so versatile, perfect length, even for the well over 40 crowd, true to size."
Carve Designs Dress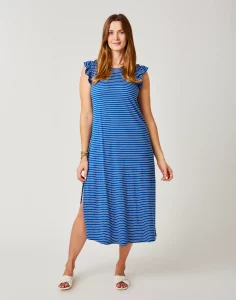 Scrolling through the Carve Designs dress section, the Maeve Dress caught our eyes. This mid-length summer dress gives an instant outfit no matter if you are heading to a brunch with your girlfriends, a barbecue party or you just want to feel comfortable while running errands in the city.
The dress gives a relaxed fit, yet thanks to the two side slits and the flutter sleeves it offers a very feminine and flattering look. The company used 60% organic cotton and 40% modal to create this dress, both being very breathable and durable fabrics that are comfortable to wear. It comes in different designs, each design creating a different vibe. The Royal Stripe, Cloud Dk. Azalea Stripe, or Navy Tie Dye Stripe make this dress a  trendy summer signature piece, while the Navy Paint Splatter and plain black designs give the dress a more elegant and classy vibe.
Price-wise, the dress costs $78.
Dylan Gauze Shirt
Next on our list is the Carve Designs Dylan Gauze Shirt, a versatile piece of garment that you can wear both on the beach and in the office. Thanks to the lightweight cotton fabric and the relaxed fit, this breezy button-up can be a perfect addition to swimwear, too. The shirt is made of 100% organic, non-GMO, pesticide-free cotton. A great choice if you want to support sustainable fashion.
A verified buyer on the official Carve Design website says: "I love these gauze tops so much that I have six different colors/prints. They are light & airy, wash well and dry quickly when laid flat, and have no wrinkles." What else would you need from a shirt? It is comfortable, versatile, high-quality, not wrinkly, and made of sustainable material. The price point? Also good! The Gauze shirt costs $58, but at the time of writing, it is on sale for $40.6.
Carve Designs Sweater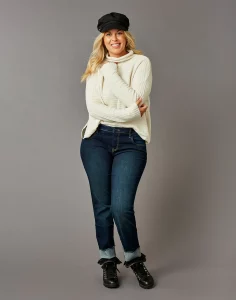 Before switching to the swimwear section, here's another popular item we need to take a look at. The Carve Designs sweater, more exactly the Livia sweater is available for $89. The sweater comes in 2 colors, light clay, and birch, both being ideal for all-season outfits. The mock neck, relaxed fit, tapered sleeves, and side slits make this garment a stylish addition to any closet. No matter whether you want to wear it during a chilly summer night in the mountains or during winter in a cozy cabin, the Livia sweater is a piece you should put in your backpack for sure.
Carve Designs Swimwear
Carve Designs offers one of the best swimwear you can find on the market. So before analyzing Carve Designs reviews from customers, we must take a look at the swimwear section.
Carve Designs Amelia Top: Orchard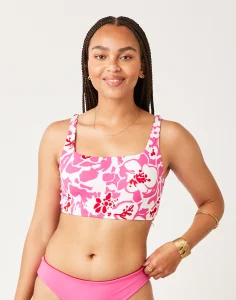 The Amelia top is one of the best sellers and we totally get why. With its crop top style and flower print, it brings back the vibe of the '90s which already explains why it is so popular. However, what makes this top truly worth buying is its versatility. It can be easily worn as a top with jeans, so you shouldn't worry too much about what to wear on your way home after a day at the beach.
When it comes to the design, you can choose from 7 different colors and prints, including black, navy stripes, clay, and other designs. It features adjustable straps, removable chest pads, and a hidden underwire, also it offers high support. Not to mention, it comes with UPF 50+.
The Amelia top can be purchased for $68.
Carve Designs Noosa 2.0: Stargazer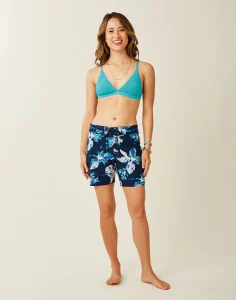 The Noose 2.0 is for days when all you want is to feel comfortable. Due to their relaxed fit and length, the shorts give the "stole-these-from-my-boyfriend" vibes, yet, the Stargazer print balances this effect with femininity. Made of 51% Recycled Polyester, 37% Coconut Carbon Poly, and 12% Spandex, the material dries very quickly and is comfortable to wear.
The sizes range from 0 to 14 and in terms of the price, the shorts cost $60.
Carve Designs Reviews from Customers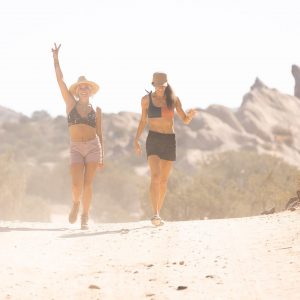 Now it is time to take a close look at Carve Designs reviews from previous buyers. What we genuinely liked was that verified customers can leave feedback under the items they purchased. This way you can easily get an idea of what to expect from a certain garment before you purchase it.
The reviews are overall positive, people are very satisfied with the brand. This is true for  both the products and the customer service. People appreciate that the company does its best to use sustainable fabrics that are not only high-quality and comfortable but durable and breathable too. Shoppers with different sizes and fits say that the clothes fit perfectly.
For example, a previous customer said about the Maui Short: "These shorts are super cute! I am enjoying the fringe edge and the woven fabric. My only other experience with Carve shorts has been the Oahu shorts; I wear a 0 in both and find the length perfect, not too short, not too long." Another customer shows her appreciation for the Dylan Gauze Shirt: "This shirt is lovely. It is the perfect lightweight top in Arizona. The pattern and colors are so pretty. I bought the Cloud Orchard in x-small. I'm 5'2″ 115 lbs. Fits beautifully. The sizing chart is correct." So if there is one thing you can be sure of, is that you shouldn't worry about the Carve Designs sizing.
Sign Up for Carve Designs
If you want to create an account on Carve Designs, head to the registration page on the official website. You will need to fill in the form by adding your personal and contact information such as your first name, last name, and email address. On the same page, you have the option to subscribe to the mailing list of the company and sign up to receive their catalog as well.
Where to Buy
Being an online brand, the most convenient way to purchase Carve Designs clothing is to visit their official website and place your order. The company does not have its own stores, but you can find the items sold by different retail partners throughout the USA and Canada. Just to give you some examples, Rei, Zappos, Walmart, or Amazon usually have Carve Designs clothing and swimwear in their selection.
You can also use the store locator feature on the company's website to find official partner stores selling Carve Designs close to your location. We searched for the US and the only result we were given was the Sun and Ski store on 6808 Memorial Drive #200 in Tulsa, Oklahoma 74133.
Carve Designs Shipping and Return Policy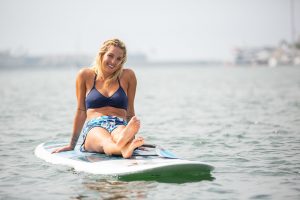 Shipping
We have also looked at the shipping information on the Carve Designs website. Currently, the company ships to the Contiguous US, Hawaii, Alaska, and Canada. Orders take up to 3 business days to process. Carve Designs relies on UPS SurePost to ship orders, which are then transferred to USPS to deliver packages to their final destination.
As a customer you have the option to choose from 3 types of shipping:
Ground shipping: Depending on your location, it may take up to 3 to 14 business days to receive your package.
Two-day shipping: If you opt for this type of shipping, take into consideration that the delivery is strongly influenced by both the time you place the order and the order processing time the company requires to ship your package. For example, orders placed before 9 AM PST Monday to Wednesday will deliver in 2 business days once the order is processed.
Overnight: The same is true for overnight shipping. Orders placed before 9 AM PST Monday to Thursday will arrive the next day. However, if you place your order after this hour, you are instructed to allow 2 business days to receive your order after processing.
Shipping rates are calculated at the checkout page and they can vary based on your location and the estimated weight of the package. Orders over $99 will be shipped free of charge.
Returns
When it comes to Carve Designs returns, things are pretty simple. All unworn, unwashed items with the original sales tag still attached can be returned within 30 days of purchase. Once your return is processed, you will receive a full refund issued to the original form of payment. However, there is a $7 return fee that will be deducted from the value of your refund. Also, you should allow up to 2-3 weeks for your return and refund to be processed.
Promotions & Discounts
Saving money on your order is always a good idea, so we're sure you're interested in tips and tricks on how to find promotions and deals on the Carve Design website.
Looking at the menu header, you will immediately spot a Sale button. If you are searching for discounts, this is where you should head to. Here you will be welcomed by a decent selection of discounts in all categories. But if you are after some extraordinary deals, check out the Deep Discount category. Just to give you an example, at the time of writing, a $225.00 jacket is on sale for only $78.75.
Contact Carve Designs
If you want to contact Carve Designs customer service, their team is available to help you from Monday to Friday from 8.30 AM to 5.30 PM. For customer issues, you can either call them at 855-585-2278 or send them an email at [email protected].
Carve Designs Reviews: Editors' Verdict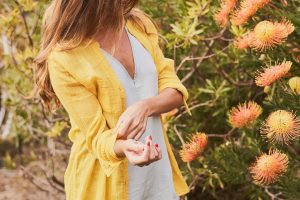 Based on all we have learned about Carve Designs, it is time to give you our final verdict and answer the most important question of all: is this brand worth your money? As you could see, Carve Designs reviews are very positive, and people are more than happy about their purchases. The clothes fit perfectly on many different body types and there are no complaints about the quality either. The company aims to use sustainable materials to create the garments and they put ethical production first within both domestic and overseas factories.
So yes, we absolutely believe that Carve Designs is a legit and trustworthy brand that is worth your money. Given the quality they offer, the prices are not too steep, you can find many budget-friendly options to choose from. Not to mention their sales section, where you find many great deals and sales on a regular basis.
If you are looking for well-made, comfortable, stylish clothes, activewear, and swimwear, do not hesitate to check out the Carve Design website.
Still looking for the best fashion brands? Check out our reviews of Faherty, Boohoo, and Chicwish.
Carve Designs FAQ
Where are Carve Design products made?
According to the company's website, Carve Designs are manufactured in both the USA and overseas. Domestic manufacturing involves California-based factories where the majority of swimwear, activewear, and rashguards are made. All overseas factories are checked regularly by onsite managers to make sure that ethical production is in place and workers are treated and compensated fairly.
Does Carve Designs use sustainable fabrics?
Being a member of the Sustainable Apparel Coalition, the company uses sustainable fabrics as much as possible. Organic cotton, modal, Tencel, and recycled polyester are some of the sustainable fabrics used in the Carve Designs items.
Is Carve Designs packaging recyclable?
Carve Designs orders are shipped in individual plastic bags made from recyclable plastic.
What if my item is damaged, defective, or incorrect?
If the purchased item happens to the damaged, defective or incorrect, you can ask for a full refund. All items are fully warranted against the manufacturer's defects or workmanship for one full year from the date of purchase. To learn about the return process, check out the Carve Designs returns policy.