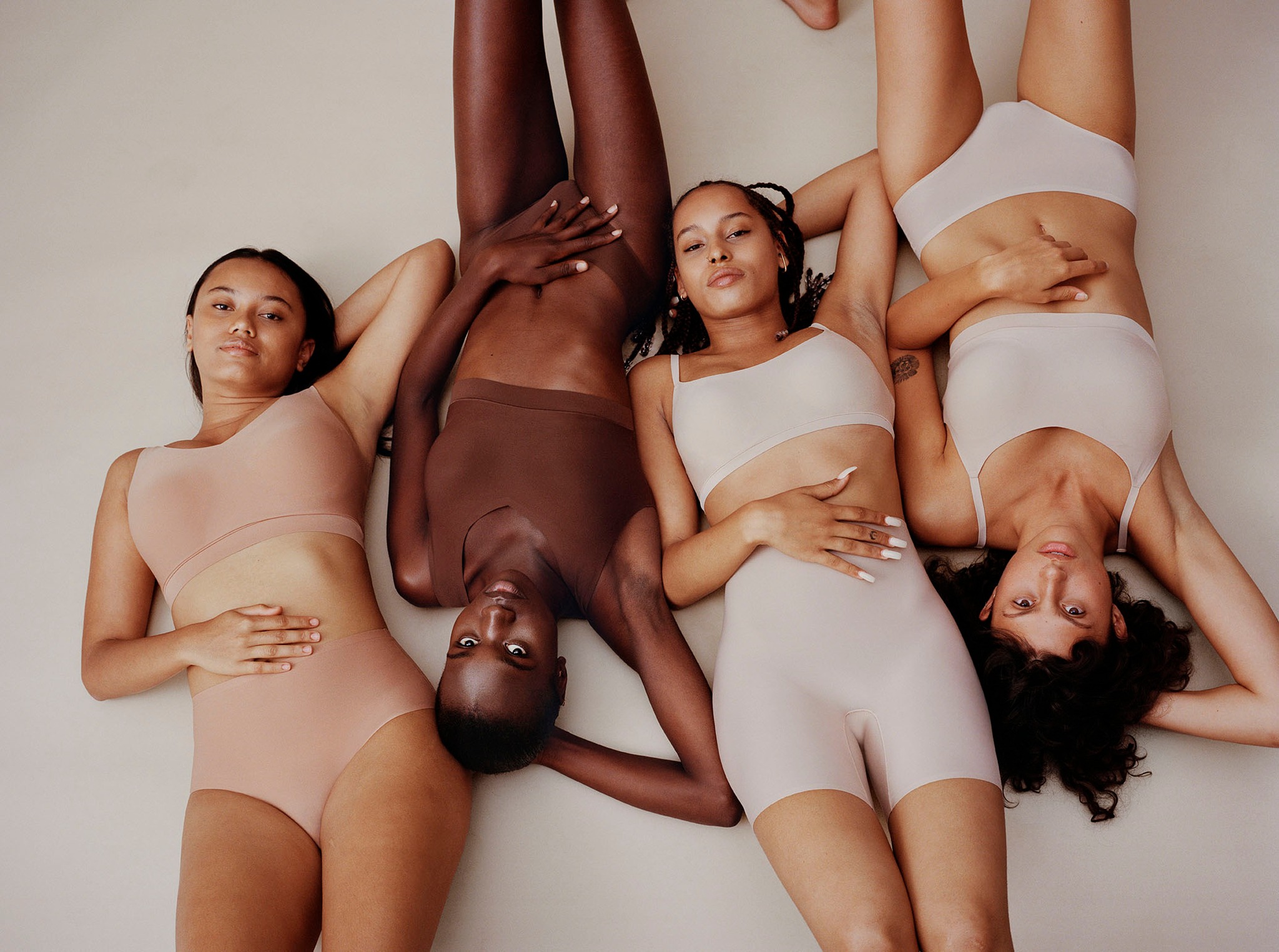 Anyone who's ever tried shopping for attractive yet supportive and comfortable underwear knows that it can be easier said than done. And when you're endowed with larger breasts, this becomes even more of a challenge! Enter: Chantelle. With a vast selection of lingerie that covers cup sizes A to I and XS to 2XL, this underwear brand promises an effortless shopping experience and underwear that will last. In this Chantelle Bras review, we will figure out what makes this company unique and help you decide whether this luxury lingerie is worth the Parisian price tags.
About Chantelle Bras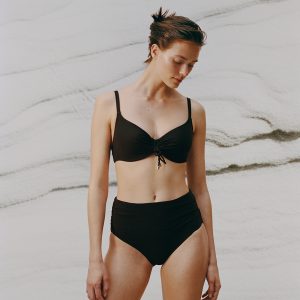 Chantelle Bras is a French lingerie brand with a long heritage that focuses on helping women find underwear that fits perfectly. Chantelle Bras takes an innovative, collaborative approach to every step of the design and manufacturing process, promising that "beauty, in all its forms, is what we care to protect."
The company has an incredibly long history packed full of innovations. Although it's only been "Chantelle" since 1949, the company that would become Chantelle Bras was founded in 1876! In 1878, the company created the first elasticized fabrics (that could be stretched in two directions), which led the company to launch "the first girdles made of those stretchable fabrics" in 1902.
1972 brought another innovation for Chantelle with the launch of the "Defi" collection: "the first seamless bra with molded cups providing real support."
For more history, check out the "Chantelle Heritage" page on the brand's website. You might be surprised how instrumental this brand has been to bra innovation in Europe, the US, and beyond.
Today, Chantelle bras have a much more modern look and feel, and you would be forgiven for thinking they're a much newer company than one that's been established for almost a century and a half! With simple styles that promise luxurious comfort and the perfect fit, no matter your size, Chantelle has worked hard to create an inclusive culture and to give customers everything they could wish for in an underwear brand.
Pros
Fantastic collection of lingerie, bras, panties, swimwear, and more.
Inclusive sizes, with cups ranging from A to I, bands from 30 to 44, and "universal sizes" from XS to 2XL.
Long heritage, with plenty of experience designing underwear and a good track record of innovation.
Available in a good selection of stockists, including retail stores for an in-person experience.
Free shipping, free returns, and secured payments.
Loads of information to help you find your perfect fit, including fit guides and the ability to book an appointment with a Chantelle Fit Expert.
Decent loyalty scheme with no need to specifically sign up.
Plenty of opportunities to grab a bargain with semi-annual sales and Chantelle discount codes.
Cons
Some Chantelle Bra reviews mention problems with returns and/or undelivered orders.
Chantelle Bras can be pretty simplistic, with few options for those who prefer to make a statement with their underwear.
Chantelle Bras can be pricey, although the brand regularly runs promotions to make products more affordable.
Some Chantelle lingerie is only available as one-size-fits-all, which seems a bit risky!
Chantelle Products Review
Now we know a bit more about the history of this lingerie brand, it's time to take this Chantelle Bras review deeper by analyzing some of the company's best-selling products and the underwear that's kept Chantelle on the map even 145 years after it was founded!
Chantelle Sports Bras Review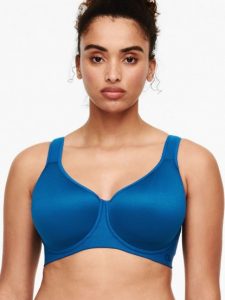 Chantelle Sports Bras are "designed for any activity." Featuring "high-tech fabrics that are moisture-wicking and breathable," these bras offer a boob-holding solution that's "equally comfortable and supportive."
When researching our Chantelle Bras review, the brand offered ten variations on the popular sports bra with cup sizes from C to H and universal sizes of XS to XL. The highest-rated Chantelle Sports Bra is the Low Impact Sports Bra, currently on a "last chance" sale that's reduced the price from $72 down to $36.
The Chantelle Low Impact Sports Bra is designed to offer "a modern, sleek high neck silhouette" and features "hidden seams and a cut-out racerback [to] give additional versatility to the athleisure look." On Chantelle's website, this bra is rated 4.4-stars across 15 verified reviews in the last three months. Reviews state "this bra is perfect," with customers calling it "comfortable and supportive without additional padding or too much compression." Multiple reviewers mentioned they'll be buying more because they were so happy with the bra.
For high-impact events, Chantelle also offers a Sports High Impact Active Bra. This sports bra comes in four colors and sizes 30D – 42G, with all combinations of cup/band sizes in between!
Chantelle Bras Minimizer Review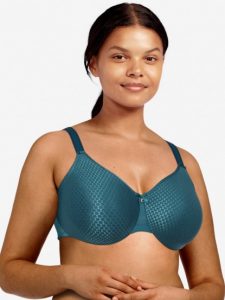 The Chantelle Bras Minimizer collection features some of the company's best innovations and is an essential factor in Chantelle's popularity in the US and beyond.
The collection promises to "minimize up to 1.5 inches" and provide "all-day comfort, life, and support for DD+ and full busts." Chantelle Bras Minimizer bras are described as "the ideal t-shirt bra" thanks to their "sleek and invisible look and feel."
But although this description might conjure images of relatively boring underwear, the Chantelle Bras Minimizer collection is anything but! There's something for every body, shape, and style in this range. Cup sizes range from B to I with bands from 32 to 44, and there are plenty of colors and patterns available to suit your preferences.
The most popular item in this collection is the Chantelle C Magnifique Seamless Unlined Minimizer, currently available at chantelle.com for $76. This bra is available in an impressive 13 colors, including a couple of leopard prints for the more daring among us!
Chantelle calls this Minimizer bra "the pillar of comfort and support for everyday wear." This bra certainly sounds incredibly comfortable with inner support panels, full-coverage cups, a wide band, and "a seamless look under any outfit," this bra certainly sounds incredibly comfortable. We were particularly impressed by how stylish this comfortable-claiming bra looks!
Editors have called the Chantelle C Magnifique Seamless Unlined Minimizer "one of the most highly reviewed products online." On the Chantelle product page, the bra scores 4.7-stars across 1,170 verified reviews (in the last three months) with an 88% recommendation rate. The Chantelle Bras reviews for this product are relatively simplistic, with customers praising the "perfect fit" and "beautiful" appearance.
Chantelle Plunge Bras Review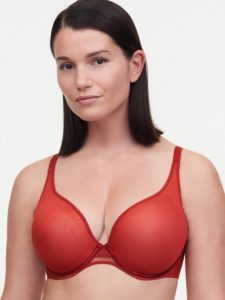 After considering minimizing bras, it only feels right to go the other direction and look at the Chantelle Plunge Bras collection. Here, the company aims to enhance the cleavage instead of hiding bigger busts away and promises "full lift and support" within the collection.
As with most Chantelle underwear, this collection offers various styles and sizes to suit everyone's style and shape. "From sheer lace to smooth t-shirt bras," there's a Chantelle Plunge for everybody!
According to the Chantelle website, the best-selling Plunge bra is the Chantelle C Ideal Back Smoothing Bra. But we noticed a higher customer rating on the Chantelle Parisian Allure Unlined Plunge Bra, so that's the one we'll look at in more detail.
This bra is available in 8 colors, cups B to I, and bands 30 to 42. It promises "the perfect balance between style, support, and comfort" with a "versatile plunge neckline" that "evokes the allure of Paris." And we must say, we love how pretty this bra is!
On the product page, the Chantelle Parisian Allure Unlined Plunge Bra scores 4.4-stars across 334 verified reviews (in the last three months). Customers praise the "perfect" fit and "pretty" styles, with many calling the bra "comfortable and beautiful." However, some customers found the straps too wide, causing them to "fall off shoulders."
Chantelle Underwear Review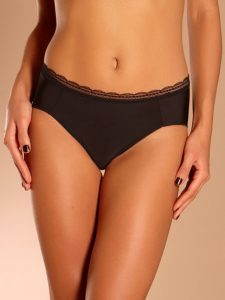 It's not all about bras with this company! Chantelle panties are the perfect option for completing your Chantelle underwear collection and come in a range of styles and shapes that make finding your perfect panties a breeze.
Chantelle underwear is designed to be the "base layer for everyday comfort." Although there are plenty of different silhouettes to choose from, each pair of Chantelle panties are "made of lightweight and soft fabrics" that are a joy to slip on.
When writing our Chantelle Bras review, most Chantelle panties are included in a "buy 3, save $12" deal or cost $20 each.
The best-selling and most popular pair of Chantelle panties is the SoftStretch Brief, which promises to be a one-size-fits-all pair of knickers that will fit anyone from size XS to XL. We were skeptical that this could be true, but with an average rating of 4.7-stars across 606 verified reviews (in the last three months), there must be some accuracy to this claim!
The Chantelle SoftStretch Brief comes from "the pioneering one-size underwear program that truly fits." It promises "luxe, high-performance fabric engineered to last, retain its stretch, and adapt to all body types." These Chantelle panties have even won awards and come in an impressive 24 colors and patterns, making them a surprisingly diverse and popular addition to the Chantelle underwear range.
Chantelle Lingerie Review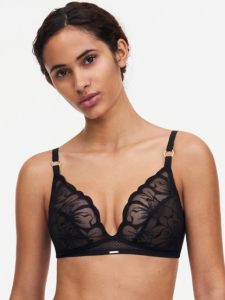 Looking for something a little sexier? The Chantelle lingerie range promises boudoir-ready underwear that maintains the Chantelle standard for comfort and support.
The most popular bra in this collection is the Chantelle Parisian Allure Unlined Plunge Bra that we looked at earlier in this Chantelle Bras review, and we can see why! But there are plenty of other "sexy" choices here in the traditionally inclusive Chantelle sizes.
One of our favorite bras in the Chantelle Lingerie collection is the Champs Elysees Lace Unlined Demi Bra. It's a bit restrictive size-wise vs. other Chantelle Bras, but it's still an impressively inclusive bra for bigger-busted ladies! This half-cup bra is available in five colors, cup sizes B-F, and bands 32-38.
Chantelle calls this bra "a true work of art," and we agree. With beautiful embroidery and vertical seams to provide uplift, this bra promises to be "both glamorous and supportive" with a "sophisticated touch" and plenty of Parisian style.
Reviews for this bra average 4.6-stars across 117 reviews, with customers stating they "love the way this bra feels and fits!"
Another popular item in the Chantelle Lingerie collection is the Chantelle C Chic Sexy Underwire Bra. A little more understated than the Champs Elysees and only available in three colors, this classic, timeless bra "allows for a sexy, low-cut neckline without sacrificing life or containment." It also has some innovative features to help keep the ladies in perfect position day or night.
Chantelle Bras Reviews from Customers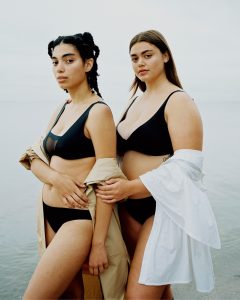 Now we've taken a closer look at specific items from the Chantelle lingerie collection, it's time to dig a bit deeper into the customer experience. To complete this section of our Chantelle Bras review, we've considered thousands of reviews from real customers.
But we don't just check out the reviews on a brand's website (as these can be subject to filtering to present a positive overview). We'll also check independent review sites and other retailers stocking Chantelle Bras to find out what people really think.
We looked at reviews on chantelle.com to see what customers are saying. There is a Chantelle Bras Reviews page showcasing ten 5-star reviews on various items of Chantelle underwear. These were published in 2019 and are from customers who "love Chantelle Bras." There is no way to expand or filter these reviews, so we guess Chantelle has hand-picked them rather than offering a more thorough look into the customer experience.
Popular Alternatives to Chantelle
Looking for an independent platform for Chantelle Bras reviews bought us to Amazon.com, where Chantelle has its own storefront. Here, we found most Chantelle Bras scoring at least 4-stars.
One of the highest-rated Chantelle bras on Amazon was the Rive Gauche Full Coverage Unlined Bra, which scored 4.4-stars across 790 reviews. A top review states, "the construction is top-notch, the fit is incredible, the support is unbelievable… It takes at least 15lbs off my frame and really enhances my bust and overall figure." And (my personal favorite), "This bra is likely the result of witchcraft and black magic but I don't care. I'm ordering another one."
These reviews are particularly impressive because many customers were reluctant to spend over $80 on a single bra but were immediately converted to the Chantelle standards of Parisian luxury, comfort, and style. It seems this underwear brand offers something above and beyond what most consumers expect!
Sign Up for Chantelle
Although there's no obligation to sign up for Chantelle, shoppers who want to make the most out of their shopping should really consider making an account. If for no other reason than to take advantage of the awesome Chantelle loyalty scheme that lets you earn points for every purchase on the site.
In addition to the loyalty scheme, you can use your Chantelle account to view your orders and tracking information.
Where to Buy Chantelle Bras
The entire collection of Chantelle underwear, lingerie, panties, bras, swimwear, etc., is available at chantelle.com. You can also find select pieces on the brand's Amazon storefront or other partnered sites like Bare Necessities.
If you want a fitting or just prefer to shop in person, you can also use the handy Store Locator tool on Chantelle's website to find a stockist nearby.
Chantelle Shipping and Return Policy
US shipping is free on orders over $95 within the contiguous 48 states. Otherwise, shipping costs $5.95. Orders are usually delivered within 3-7 business days.
If you can't wait, Chantelle also offers FedEX 2 Business Days shipping for $14.95 or FedEx Next Business Day for $24.95 within the contiguous 48 states, Hawaii and Alaska.
Chantelle offers free returns on unworn items in their original condition, with all tags attached. You can return items within 60 days of placing your order, and every item will arrive with a complimentary pre-paid shipping label to make returns as straightforward as possible.
Chantelle Promotions & Discounts
When writing our Chantelle Bras review, the company offered three promotions to take advantage of:
Up to 40%-off Semi-Annual Sale
Up to 40%-off Summer Sale
Buy 3 to Save on Soft Stretch Underwear
You can also find Chantelle discount codes and coupons by signing up for Chantelle emails or keeping an eye on the brand's social media pages.
Chantelle also offers a quality Rewards program that lets you earn 1 point for every $1 you spend on the website. Points can then be exchanged for Chantelle vouchers, starting with a $5 coupon for 100 points. Everyone with a customer account automatically earns Chantelle Rewards points, so it's easy to take advantage of these offers.
Contact Chantelle
The Chantelle customer care team is available from 7am to 11pm EST. You can call 1-800-272-7078 or email [email protected].
If you prefer, you can also write to Chantelle's New York subsidiary at:
Chantelle Lingerie Inc.
183 Madison Ave, Suite 707
New York, NY 10016 USA
Chantelle Bras Review: Editors' Verdict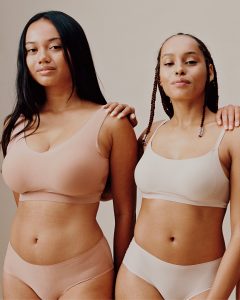 As a bigger busted lady who's constantly struggling to find underwear that fits right, supports the ladies, and looks pretty, I was very excited to complete this Chantelle Bras review. With some glowing testimonials from fashion editors, bloggers, everyday customers, and some impressive publications (Vogue called Chantelle "lingerie basics everyone should own"), this brand certainly has a lot going for it!
The first thing that struck me was the long history of this brand and the innovations Chantelle has made over the last 100+ years. It seems this is truly a brand that cares about women's comfort and isn't afraid to ask everyday women what THEY want in a bra, rather than assuming.
I was also impressed by the range of sizes available. It can be challenging to find attractive underwear once you hit DD+, so an underwear store that provides inclusive sizing is a dream come true! And what's even better is the sheer volume of Chantelle Bra reviews that agree with the company's claims of providing comfort and support.
The main downside I found for this company is the price. But although Chantelle bras are a little more expensive than I particularly like paying for underwear, it's worth comparing against other French companies (as Chantelle is headquartered in Paris). And when you do that, you'll find it impossible to find this level of Parisian style and quality for under $100…
After looking at the Chantelle sports bras and the popular Minimizer collections, I wasn't sure I'd find anything "sexy" enough for my personal style. However, when I dove deeper into the Chantelle lingerie and Plunge collections, I was pleasantly surprised by the addition of lace and other feminine elements that proved there's something for everyone here.
Frankly, I can't find anything to criticize Chantelle Bras for. This may well be the perfect underwear brand.
Are you looking for other lingerie brands? Have a look at our reviews of 10 Sustainable Underwear Brands. Or check out our reviews of Conturve, Cuup and Ruby Love.
Chantelle Bras FAQ
Does Chantelle offer plus-size bras?
Chantelle Bras come in band sizes 30 to 44 and cups A to I, so there's something for everyone.
Do Chantelle products contain nickel?
No, you won't find nickel in any Chantelle products.
How long should a Chantelle bra last?
A Chantelle bra should last between six months to a year with proper care.
How should I care for my Chantelle lingerie to make it last longer?
Chantelle Bras provides plenty of "wear and care" tips on the website to help prolong the lifespan of your products. Some of the best advice includes:
Don't wear your bra on two consecutive days – the elastic needs to recover after one day of wear.
Hand wash your bras in delicate detergent and rinse in cold water.
Never tumble dry your Chantelle underwear.
Never flip bra cups inside out.
How can I schedule a fitting with a Chantelle bra fit expert?
The best way to schedule a Chantelle fitting is by contacting the brand's Fit Experts directly via email at [email protected] or by calling 1-800-482—8202.
You can also find additional fit advice by visiting the Chantelle Fit Guide webpage.