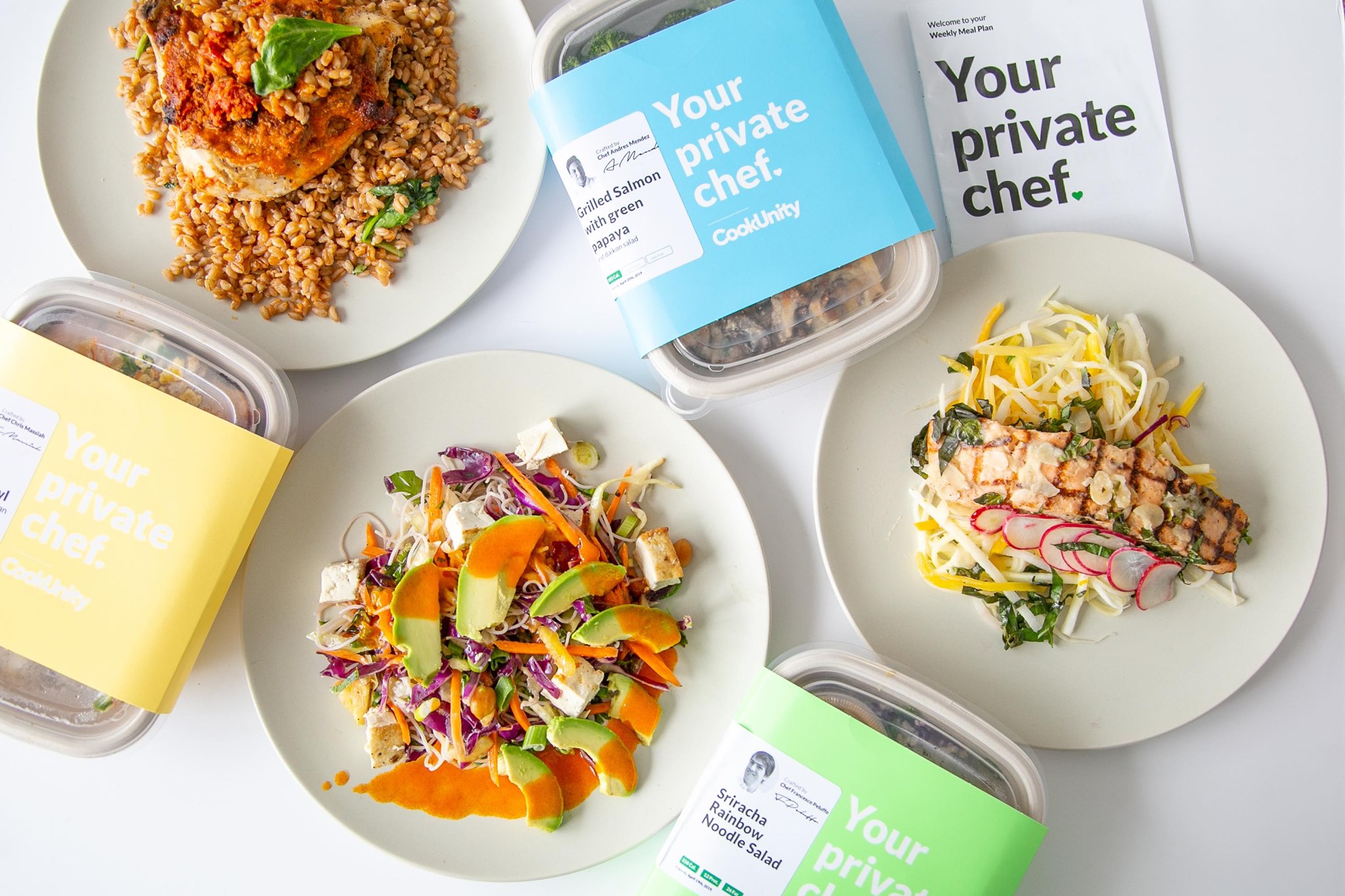 CookUnity is a pre-prepared meal delivery service that offers a convenient subscription based-plan. Their food is prepared by award-winning local chefs using local, sustainable, and organic ingredients. They package their food in recyclable material. We'll examine CookUnity reviews from customers to know what they think about the brand. We will also look at how its services work, promotions, and shipping policy to help you determine if they are worthwhile.
About CookUnity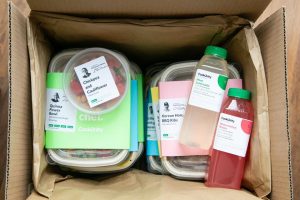 CookUnity is a chef-to-consumer platform that fulfills everybody's dream of having a personal chef to prepare worthwhile meals. The founder Mateo Marietti got this idea after realizing that food delivery options are limited in the market. 
Marietti observed that the majority of the customers choose between a plentiful variety and lower prices. Although the options in the market were convenient, Mateo realized that none was exceptional.
The meal delivery platform was born in 2015, and the focus has been to bring the taste back to the food delivery system. The company is based in New York City and extends its delicacies to other major cities like Atlanta, Austin, and LA. The brand has 57k Instagram followers and more than 12k followers on Facebook.
Before we get to CookUnity reviews from customers, here are its pros and cons.
Pros
The company offers a wide variety of meals, including vegan, under 600 cal, and keto

They package their food in recyclable and compostable materials, and the company offers more than 300 pieces in a day

They give you a restaurant-worthy experience wherever you are

Filtering options are available, easy, and robust

Their meals are prepared by award-winning chefs

The company offers high-quality and healthy meals, and they allow you to save time
Cons
The brand only ships meals within the United States

Some customers think that the prices are relatively high

Customers cannot cancel their order once the company has charged it
How It Works
This meal-delivery service platform provides ready-to-eat meals quicker, easier, and affordably. The brand connects skilled local chefs, food lovers, and farmers in one place. 
The meals are sent refrigerator-level cold and not frozen and can last for up to 7 days to ensure that you have food for the whole week. The ordering process is straightforward as follows:
Tell them what you want

Pick your favorite food

Heat and eat

Look forward to the next delivery
The brand ensures that you get healthy, delicious, and affordable food at your convenience.
Why choose CookUnity?
Meal subscription service has become the real deal in the food industry, and CookUnity has worked its way towards being unique, outstanding, and worth it. Everyone has health goals, and the brand offers them exactly what they need to meet their health goals and needs. 
The company uses high-quality, fresh, and natural ingredients to cook the food. Every meal is also prepared by top-tier local chefs. Therefore, if you choose a simple meal, you are sure that it will reach you while tasty, well presented, and very appealing. 
CookUnity menu offers the perfect solution for people on the go who don't have time to prepare their meals. In addition to delivering high-quality and worthwhile meals, the brand also has environmental safety in mind and packages food in compostable and post-consumer recyclable. They offer you a healthy meal a lot easier than you only need to heat to eat. 
CookUnity East Coast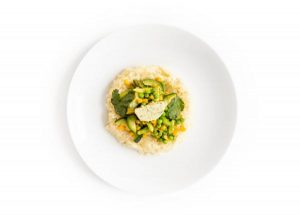 People on the east coast can enjoy hand-curated meals from a renowned food company. The menu contains serious delicacies such as beef suya and turmeric rice. This meal looks so attractive and yummy at a glance, and even more delightful when you enjoy it. It is suitable for non-vegetarians because it contains red meat (beef), which is rich in protein and vitamin B.
The chefs use jasmine rice for this particular food, which is known to have several health benefits. The rice contains phytonutrients known to improve the immune system. 
This rice offers more benefits compared to white rice because it contains higher fiber contents, beneficial plant ingredients, and nutrients. It is also suitable for pregnant women due to its high folic acid contents. Jasmine rice also supports general digestive health.
The meal also contains black-eyed peas, which are a great source of minerals and vitamins in the body. It also contains antioxidants that help in cell regeneration giving you energy. 
Additionally, the East coast meal contains extra-virgin olive oil, an ingredient that contains healthy fatty acids and antioxidants. The ingredient is known for preventing inflammation, breast cancer, type 2 diabetes, heart diseases, and more. 
The ingredient is also rich in vitamin K and E and other minerals. Consistent intake of extra-virgin oil benefits your heart, digestive system, bones, and blood sugar levels. 
CookUnity West Coast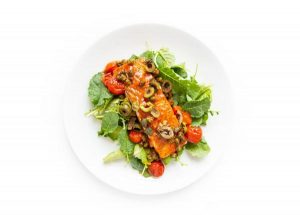 Moving on to the west coast, CookUnity offers a variety of tasty food. Non-vegetarians are spoilt for choice with the hundreds of meaty meals available. This CookUnity menu includes beef, chicken, pork, and fish, cooked in different methods and served with various accompaniments. 
If you choose the Tangy Parmesan Tilapia, you get the chance to enjoy food with low carbs and low fats. That means incorporating Tilapia fish served with professionally cooked cauliflower and other spicy natural ingredients. 
Tilapia is rich in vitamin B12, which maintains the body's nervous system, makes DNA, and produces the erythrocytes. It is a healthy addition to the meal because it is low in fat and contains omega-3 fatty acids, saturated fat, carbohydrates, calories, and sodium. 
Cauliflower, on the other hand, is an impressive and healthy vegetable rich in nutrients. The veg contains plant compounds that reduce the risk of cancer and heart disease. This ingredient is also high in fiber, a good source of antioxidants, and can aid in weight loss. If you want a low-carb alternative to legumes and grains, cauliflower is the best that you can get. 
This meal is suitable for both non-vegetarians and vegetarians who incorporate seafood and eggs into their diets. It also contains other ingredients to spice things up, such as canola oil, distilled vinegar, egg yolks, extra virgin olive oil, garlic, and grated parmesan cheese.
CookUnity Texas
The professional food delivery company also extends its hand to the people of Texas to offer their expertly created meals. It does not matter whether you are vegetarian or otherwise, CookUnity ensures that everybody gets something for their stomach.
If you don't feel meaty or poultry, you can order the mushroom and spinach enchiladas. This meal is entirely for vegetarians, and it contains less than 600 calories. It is also gluten-free, and nut-free. 
The meal contains black beans, which are active in maintaining healthy bones through building and strengthening the bone structure. The ingredient is rich in proteins and fiber. Black beans also lower blood pressure, manage diabetes, prevent cancer and heart diseases, and promote general digestive health.
Another ingredient used to prepare the vegetarian meal is the cremini mushrooms; this ingredient is low in fats and calories but rich in antioxidants, potassium, and fiber. Cremini mushrooms also have some protein content. 
Eating these mushrooms regularly helps prevent constipation problems, diabetes, high blood pressure (especially in pregnant women), heart diseases, and oxidative stress. 
Other ingredients include rice, soybean oil, salt, spinach, sugar, unsalted butter, carrot juice, and celery.
CookUnity Midwest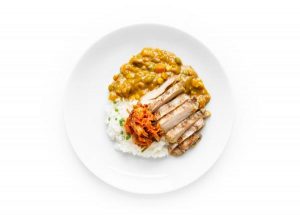 Midwest people are also not left out in enjoying the brand's various delicacies. From the farm to the kitchen table, the meals contain organic ingredients that are healthy and safe to eat. 
Poultry enthusiasts can try the Chicken Pot Pie that is 2% or less natural flavors. The meal contains chicken, chicken base, chicken broth, chicken fat, and boneless chicken thigh. 
Chicken contains high levels of proteins and amino acids, which are all major muscle generators and bodybuilders. It is also rich in vitamins and minerals that play a role in red blood cells and energy production. Chicken also has reduced cholesterol, controls blood pressure, and contains anti-cancer properties. 
The meal also contains potato starch used as a thickener because of its water absorption ability. Potatoes start as a source of carbohydrates which is the main energy source for the body. This ingredient is also responsible for improving insulin sensitivity, and digestive and colon health, and may also improve weight loss in some efforts.
The meal contains broccoli florets good for heart health and eye health, support the immune system, and hormonal balance, and contain anti-cancer properties. Other ingredients include the all-purpose flour, hydrolyzed soy, ground black pepper, carrots, onions, corn oil, sugar, salt, natural extractives of turmeric and annatto, and heavy cream.
CookUnity Reviews from Customers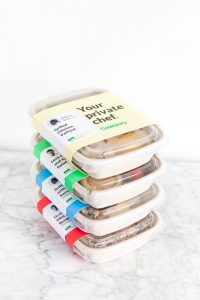 We checked CookUnity reviews to find out what other people say about the food store as a brand and the meals it offers. The brand has received a lot of positive reviews from its consumers, who are impressed by how delicious and well-balanced the dishes are. 
The comments are positive on the company's website, where customers find the food less expensive and the variety satisfactory. All consumers, vegan or non-vegan, love how the company gives them the chance to purchase the meal of their choice, and it will be delivered right to their doorstep.
On Trustpilot, 70% of the customers find CookUnity's food more advanced in flavor and technique. Most people said that they love their food because it is flavorful, varied, creative, and easy. 
They also said that the portions are also fulfilling. Other customers gave the CookUnity customer service team a 5-star rating for being efficient in processing orders and delivering on time.
We also found a few negative reviews where customers complained that they cannot cancel their orders after it has been charged. Some customers were not impressed by the prices of the meals, which they thought were relatively higher than the portions they received.
Sign Up for CookUnity
To start ordering your favorite breakfast, dinner, or lunch, you need to create an account at the company's website CookUnity.com. Once you sign-up and subscribe, the company allows you to enjoy a 50% discount on your first order.
Where to Buy
You can shop for CookUnity's delicious food directly from their official website CookUnity.com. The company is also expanding its reach within the US states. To find out if the food delivery store is available in your area, go to the delivery area page on the company's website, enter your zip code to view the menu, and you'll be notified when the company launches in your area.
CookUnity Shipping and Return Policy
Shipping:
The food is delivered at least five days from the purchase date. The company has four delivery date options. You may choose to get your meals delivered five, six, ten, or eleven days after making an order. The company works with third parties to deliver food wherever you are. 
You will receive a follow-up email with the tracking information to help you locate orders, and a text message will be sent to you once the order is about to be delivered. If you want to receive more meals than your plans, you will find them as extra and if you want more than your current plan allows, upgrade to a higher tier available in your area.
Cookunity does not offer international shipping. CookUnity cancel is also not possible once they have charged your order.
Return Policy:
If you are not satisfied with a meal for any validated reason, reach out to the CookUnity customer service team at support@CookUnity .com. Issues must be communicated within 2 days of the meal being delivered. Depending on the situation, the company will provide you with a full or partial or full refund of the purchase price for that delivery.
Promotions & Discounts
Cookunity offers a 50% discount on first-time orders and subscribers. To continue enjoying more discounts, subscribe to the company's newsletters. You'll then get updates whenever there is a CookUnity promo code. 
You can also send someone a CookUnity gift card, and they will receive an email with how to redeem it. You'll also receive a confirmation email. You have to buy your gift on the date you want the company to deliver it.
Contact CookUnity
Is there something we haven't covered in our CookUnity Reviews? If you have any questions about their food, orders, or delivery, reach out to the CookUnity customer service representatives via CookUnity contact email address support@CookUnity .com or phone at +1 (347) 835-5020213-325-5112. You can also send them a message on the brand's Facebook or Instagram page. 
CookUnity Reviews: Editor's Verdict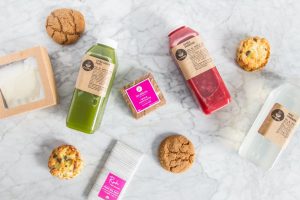 After carefully going through the CookUnity reviews from customers, we have concluded that the company is worth giving a shot. If you love flavorful meals, and you probably don't have time or the expertise to make some, don't fret. Just make an order at CookUnity and enjoy food prepared by award-winning chefs from the United States. 
This brand prepares different types of food, including low-carb, keto, vegan, and paleo. The meals you get are restaurant-worthy, and your part is only to heat and eat. 
The company gives you the flexibility to set your preference. Pause your order when the need arises or control what and when to eat. The meal options are also worth it.
Are you curious to find out about other food and drink brands? Check out our reviews of 10 Best Food Subscription Boxes, Aloha Bars, and 10 Coffee Subscription Boxes.
CookUnity FAQ
How do I get my food ready?
Your food is ready as soon as you need it. CookUnity offers food that is already cooked and chilled and delivered anywhere you are. The orders come with a card containing simple heating instructions to make it easy for you.
Does CookUnity provide nutritional information on your meals?
At CookUnity, you are allowed to tailor your food according to your dietary preference. The meal listed and ingredients used include nutritional information, such as the number of calories, saturated fat, fat, carbohydrates, protein, sugars, fiber, and sodium. If you are concerned about allergies, you will find all the information you need there.
Are CookUnity ingredients organic?
The chefs create meals using farm-fresh ingredients. The company sources organic ingredients as much as it can. Ingredients are sourced locally, organically, and from farms that believe and are committed to sustainability. Organic ingredients are fresh and don't contain preservatives to make them last longer.
The CookUnity packages are very eco-friendly, too. The CookUnity wraps and boxes for water, soda bottles, and meal trays are made using compostable materials and can be recycled. Additionally, they use gel packs that are non-GMO inside the box as a way to keep the meals cold, and at the right temperature.
Can I freeze my CookUnity meals?
Yes. You are free to freeze your CookUnity meals if you want to. The company recommends that you enjoy your meals fresh, but if you want to put them in a freezer, the choice is yours. Keep in mind that you should only freeze your food before its "use-by" date indicated on its label.
Do my meals have an expiration date?
Yes. Since the brand doesn't use chemical or artificial preservatives, you can keep them refrigerated for approximately 4 days to one week. Every meal they offer comes with a "use by" date written on the label, allowing customers to know how long they have to eat them.