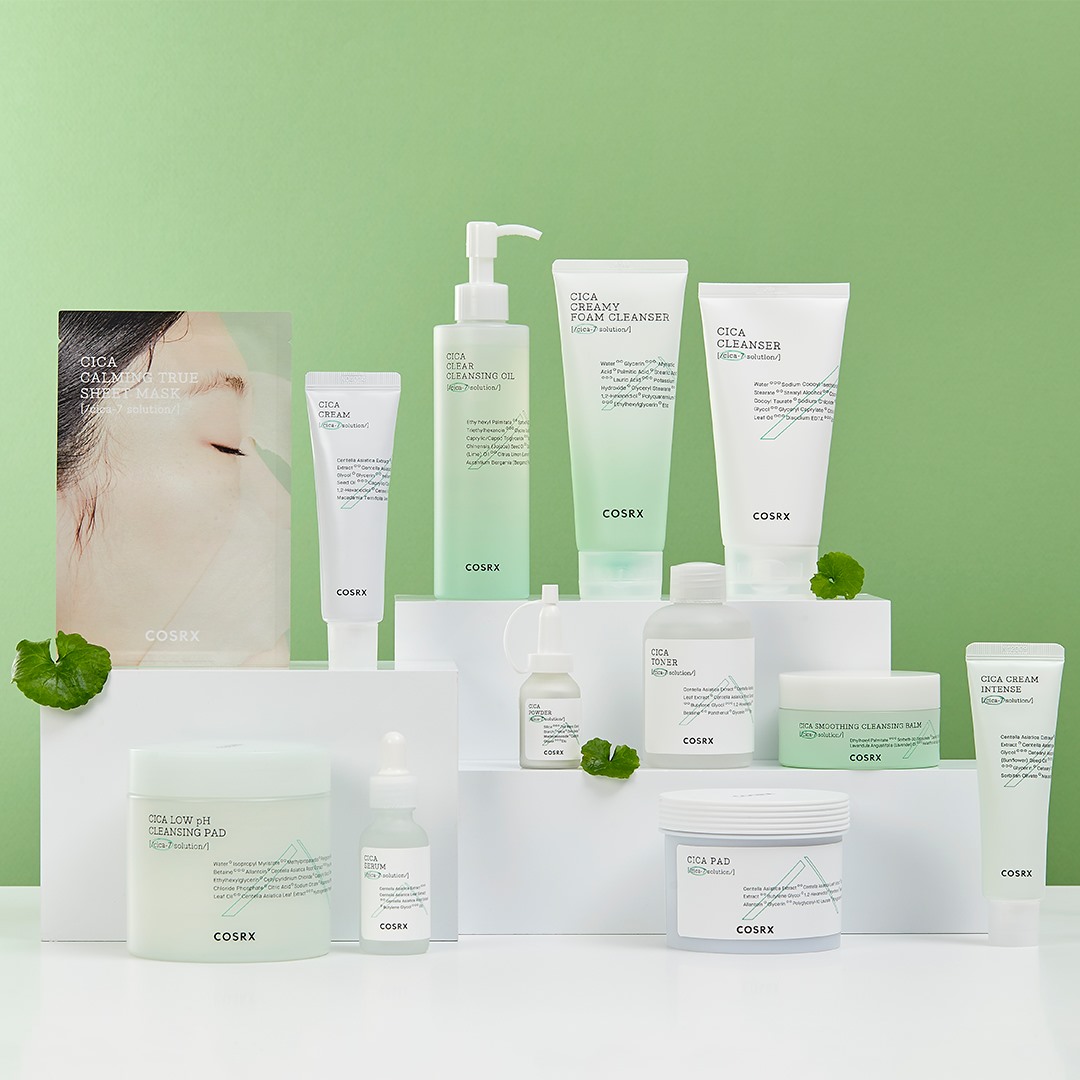 Finding an effective skincare product suitable for your skin is challenging. With so many products available, it's hard to know which ones are worth investing in. The best way to determine if a product is right for you is to try it out and see how it performs. COSRX is a cruelty-free Korean skincare brand known for selling effective products at affordable prices. This COSRX review will examine the company's bestsellers, customer ratings, discounts, and much more to help you determine if their products are worth adding to your daily skincare routine. 
About COSRX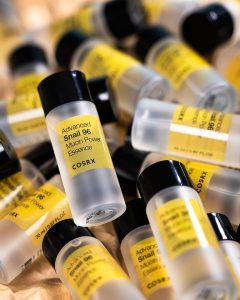 COSRX is a South Korean brand that makes skincare products for people with sensitive skin. The company was launched in 2013, but it wasn't until 2015 that it started selling its products in the United States. The founder, Sang-Hun Jun, decided to come up with skincare products to fill the gap in the market, for there were no options available for sensitive skin. The first batch produced by the brand was formulated to combat acne and black spots. After the success of their first batch, they expanded their collection, offering affordable skincare products.
Their success has been incredible: They now have eight different products available on Amazon, including toner, sunscreen, and eye serum. COSRX is one of the most affordable and reliable brands on Amazon, and it is also very popular online. It boasts of a cult following on social media, with over 405k followers on Instagram. 
The brand has also attracted celebrities like Emily Ratajowski, Alexa Chung, and Kim Soo-Hyun, who use its skincare products. Numerous media outlets have also featured COSRX, including Allure, New York Magazine, Harper's Bazaar, and InStyle.
Before we delve into this COSRX review, let's go over the pros and cons of this skincare brand.
Pros
The company offers a vast collection of skincare products specially designed for different skin concerns like acne

Their products are pretty affordable compared to similar products in the market

Numerous positive reviews from customers

The brand offers information on the ingredients used in formulating its products

The company ships products for free to Canada and the United States

They have a fair return policy
Cons
Most of their products quickly sell out

They don't offer 24/7 customer support

Some of their products are purely vegan
COSRX Skincare Products Review
COSRX, one of the most popular brands in South Korea, is best known for its effective yet affordable skincare products that K-beauty enthusiasts worldwide love. Dermatologists created the brand to provide quality skin care for acne-prone skin. The brand offers a wide range of products that vary from cleansers, toners, moisturizers, sunscreens, and even makeup items. Here are some of the best-selling COSRX skincare products.
Hydrium Moisture COSRX Skincare Set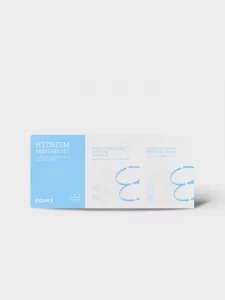 The travel-friendly COSRX Skincare Set contains the Hydrium triple Hyaluronic moisture ampoule and the Hydrium moisture power enriched cream.
The Hydrium Triple Hyaluronic Moisture Ampoule is a lightweight, oil-free formula that contains three types of hyaluronic acid to provide long-lasting hydration. It's formulated with hyaluronic acid microspheres, smaller than the typical molecules used in skincare products, and can penetrate the skin more easily. The hyaluronic acid in this formula also has a low molecular weight, absorbing quickly into the skin without feeling sticky or heavy. 
This COSRX review found that the serum also contains sodium hyaluronate, which adds moisture retention and sodium acetylglucosamine for increased skin elasticity. It also contains panthenol (vitamin B5) as an antioxidant and emollient ingredient that helps prevent moisture loss from the skin.
Hydrium moisture power enriched cream is designed to help restore moisture while protecting your skin from environmental damage. It contains three types of hyaluronic acid: low molecular weight HA, high molecular weight HA, and sodium HA. Every kind of hyaluronic acid has different properties that allow them to perform specific functions within the skin. You can add this set to your COSRX skincare routine for only $1.
COSRX Pimple Patch Acne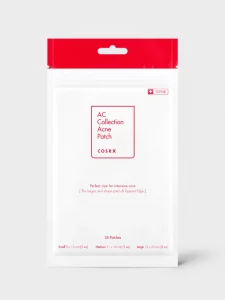 Initially designed as an alternative treatment to topical medications such as benzoyl peroxide or salicylic acid creams, the COSRX Pimple Patch Acne helps prevent bacteria from spreading onto other parts of your body or into deeper layers of skin tissue, where they can cause scarring and inflammation. You can use these patches anywhere on your face except near the eyes or lips because they contain adhesive material that could irritate sensitive areas like the eyes or mouth.
The pimple patch is a hydrocolloid patch that contains salicylic acid. It adheres to your skin and draws out excess oil and bacteria from your pores. The salicylic acid in the patch also helps dry out your pimple to heal faster. Because of their effectiveness, the COSRX Pimple Patch Acne has become one of the most popular acne-fighting products on Amazon, with thousands of positive reviews. You can get the brand's Pimple Patch Acne for only $8.
COSRX Sunscreen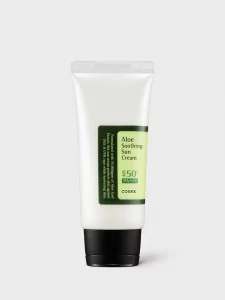 If you are looking for a sunscreen that doesn't contain alcohol, COSRX Sunscreen is the ideal product for you. This lightweight sunblock contains zinc oxide and titanium dioxide, both effective physical sunscreens. You can use this product as a daily moisturizer or an SPF during the day. It has a light, clean scent that is pleasant and does not irritate sensitive skin types.
The COSRX Sunscreen is a physical sunscreen that is both affordable and effective. It's available in two different formulas: the PA++ version, which is great for everyday use, and the PA+++ version, which offers higher SPF protection. 
Our COSRX review discovered that this is an excellent choice for those with acne-prone skin because it doesn't clog pores or cause breakouts. It has been shown to help clear up acne while protecting your skin from harmful UV rays. 
COSRX Toner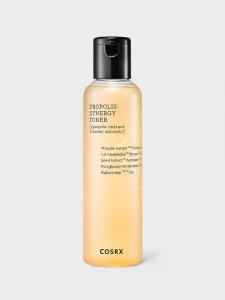 If you're looking for a toner that leaves your face feeling refreshed and clean, COSRX Toner is a great option. While it contains alcohol, it doesn't leave your skin feeling dry or irritated. COSRX Full-Fit Propolis Synergy Toner is a soothing and moisturizing toner formulated with a blend of 70% propolis extract, green tea leaf water, Centella Asiatica, and niacinamide to help hydrate and soothe irritated skin.
Propolis has long been used as an anti-inflammatory ingredient in many skin care products. This toner from COSRX contains 70% propolis extract, known for its antibacterial and anti-inflammatory properties. The high concentration of propolis means that this product can help reduce redness and irritation in your skin.
Green tea leaf water is also included in this formula as it helps to brighten the complexion by reducing inflammation, while Centella Asiatica helps to calm sensitive skin. The last key ingredient in this formula is niacinamide, known for its anti-aging properties. Niacinamide works by increasing cell turnover rate while also helping to increase collagen production in your skin. For only $2, the 150ml-bottle COSRX tone could be yours.
Lip Sleep Special Ceramide Kit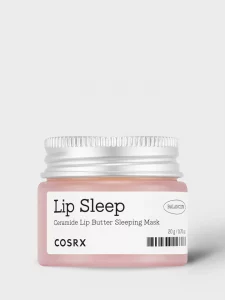 COSRX Lip Sleep Special Ceramide Kit is a unique and effective 3-in-1 solution to help you achieve soft, smooth lips. The kit includes:
A bottle of our best-selling Cica Toner

A tube of our bestselling Lip Sleeping Mask

A Lip Sleeping Mask Brush
This kit contains everything you need to maximize the benefits of our unique formula. Ceramides are naturally occurring lipids that help protect skin cells from water loss and damage. The formula contains a high concentration of ceramides that can help repair dry, chapped lips. The transparent gel-like texture is also infused with hyaluronic acid, which helps plump up fine lines and wrinkles on your lips! Achieve moisturized and smooth lips with the fantastic lip sleep for $11.40.
COSRX Reviews from Customers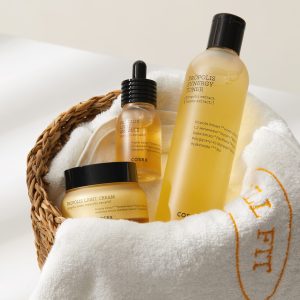 Our COSRX skincare review checked what users say about this Korean brand. We found that there were lots of positive reviews written by satisfied customers. There are over 971 reviews on the company's website, with an average rating of 5/5 stars.
Customers have said that their products helped improve their skin in general; this is mainly about their Acne Pimple Master Patch, which contributed to clear skin. Several users mentioned that these patches were also very easy to use. 
One of the customers left feedback on the brand's website, raving about the effectiveness of this product, as it eliminated those pesky breakouts. She highly recommended it and said that they are extremely thin and virtually undetectable.
There are also continuous favorable ratings on Ulta and Influenster. Most products on Ulta, including the BHA Blackhead Power Liquid and the Advanced Snail 96 Mucin Power Essence, have hundreds of reviews with a 4.5/5 star average. 
Over 14k reviews for all of their products have been posted on Influenster, with a high percentage of them having an average rating of 4.5/5 stars. Customers from both sources have stated that their skincare items are moisturizing and generally inexpensive.
Popular Alternatives to COSRX
Further customer reviews
A reviewer from Influenster stated how Aloe Soothing Sun Serum SPF 50 +PA+++ was affordable. And that they would recommend it to anyone searching for a powerful non-greasy, powerful consistency and no aroma SPF. After using it, the reviewer says that the product gave them a soothing feeling they had never had before.
This COSRX skincare discovered several customer concerns online. On their website, a few customers complained about some of their products not being vegan. On Ulta and Influenster, some users stated that a handful of their items (the Snail 96 Mucin Power Essence) worsened their skin condition, leading to breakouts and inflammation.
A satisfied customer on Amazon commented that the main thing that they love about COSRX is their focus on skincare. COSRX products are formulated with nature's best ingredients and don't contain any parabens or artificial fragrances. COSRX also has some effective acne-fighting products like BHA Blackhead Power Liquid and Acne Pimple Master Patches, which work well. So if you have problematic skin, definitely give these two a try.
Sign Up for COSRX Skincare
Want to be part of COSRX? Visit the brand's website, and then go to the top right side. Then click on Account and hit the Create button. 
You will be required to create an account as a new user, and the necessary details to create the account will be saved for future access to your account. You need to put in an active email so that you will be among the first people to be notified when COSRX has active promotions or discounts. 
Where to Buy COSRX Skincare
You can purchase COSRX skincare products on the brand's official website. Their products are also available on select third-party retailers. They include:
Sukoshi Mart

Walmart

Ulta COSRX

Nordstrom

Revolve

Soko Glam

COSRX Amazon

Yes Style
COSRX Shipping and Return Policy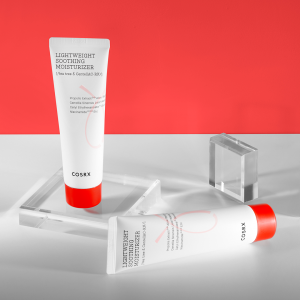 All COSRX's shipments are sourced straight from their South Korean warehouse. Their scheduled delivery time is between 10 to 35 business days, with free shipping to orders from the United States and Canada.
If you are not satisfied with the skincare product you have bought, you can return it, and you'll be eligible to receive a refund within 30 days of delivery. However, a restocking fee of 10% of the original price will be applied to all returns. 
When returns arrive at their distribution location, they are handled within 7 to 10 business days. COSRX only accepts returns for items purchased on their website. Any other products from the third-party retail stores use the return policy of the website and not COSRX.
COSRX Promotions & Discounts
Our team discovered several deals that customers can take full advantage of and save money when shopping for skincare products on COSRX's site.
Customers who buy over $100 will receive a complimentary AC Collection Intensive Sachet

Those who spend $15 or more will receive a complimentary Hydrium Moisture Set Sachet

Customers who spend $30 or more on their website can choose from two gift packs
Follow COSRX on social media or sign up for their newsletter for the most up-to-date information on available deals and discounts.
Contact COSRX
Don't hesitate to reach their customer care service if you have questions about the brand or its skincare products. You can contact them via the following methods:
COSRX Review: Editors' Verdict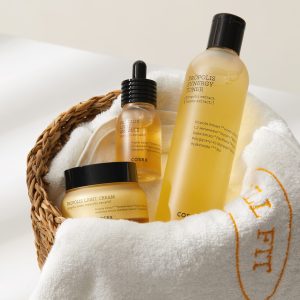 To conclude this COSRX review, we think this skincare brand is legit and worth checking. The company is popular among customers because of placing the key ingredients of its products front and center. Their products are affordable yet still effective at treating skin conditions like acne and wrinkles without causing irritation or drying your skin even more than before. 
Most people who have used COSRX products say they notice a difference in their skin after just one application. Another reason why users love COSRX products is that they don't contain many ingredients that could potentially irritate sensitive skin types.
Customers also reported that this product doesn't break them out or make them feel oily. A couple of people experienced a mild stinging sensation when they applied their products to their skin, but most of them said that it goes away after a few minutes of waiting for their skin to adjust to the formula.
If you're looking for skincare products that address any skin concern and are suitable for all skin types, you might want to consider checking out COSRX. The company has complete transparency on the ingredients featured in the skincare formulas.
In case you are looking for other beauty brands, check out our reviews of Drunk Elephant, Sacheu, EltaMD, and KVD Vegan Beauty.
COSRX Skincare FAQ
Is there a way to check for authentic or counterfeit products?
The products on the brand's website are 100% authentic and never counterfeit. They have a strict quality management system to control the quality of each product, which can help you confirm the authenticity of each COSRX product. They have all the labels of original manufacturers on their products. You can also get in touch with the company if you have any questions about the authenticity of their products.
What is the expiry date of COSRX products?
COSRX products have a shelf life of 18 months or longer. However, as you are probably aware, personal hygiene is of utmost importance for healthy living. You should replace your COSRX products every 3 to 6 months (if you follow the instructions correctly).
How do I store COSRX Skincare products?
You should store COSRX skincare products at room temperature or below. That means the refrigerator is unnecessary. The only exception is the Snail 96 Mucin Power Essence, which contains many natural moisturizing factors (NMF), so it's best to store it in a cool place out of direct sunlight.
What kind of payment does COSRX currently accept?
Currently, COSRX accepts three credit cards: Visa, Mastercard, and American Express Your card will be paid at final checkout via Paymentwall, a payment provider that allows users to process credit card payments.
Where is COSRX manufactured?
All COSRX skincare products are manufactured in Korea. COSRX is a Korean company that has been on the rise since it first launched.
They offer a vast collection of products, including vitamin C serum, blackhead masks, AHA 7 Whitehead Power Liquid, and All That Skincare products, among many others.