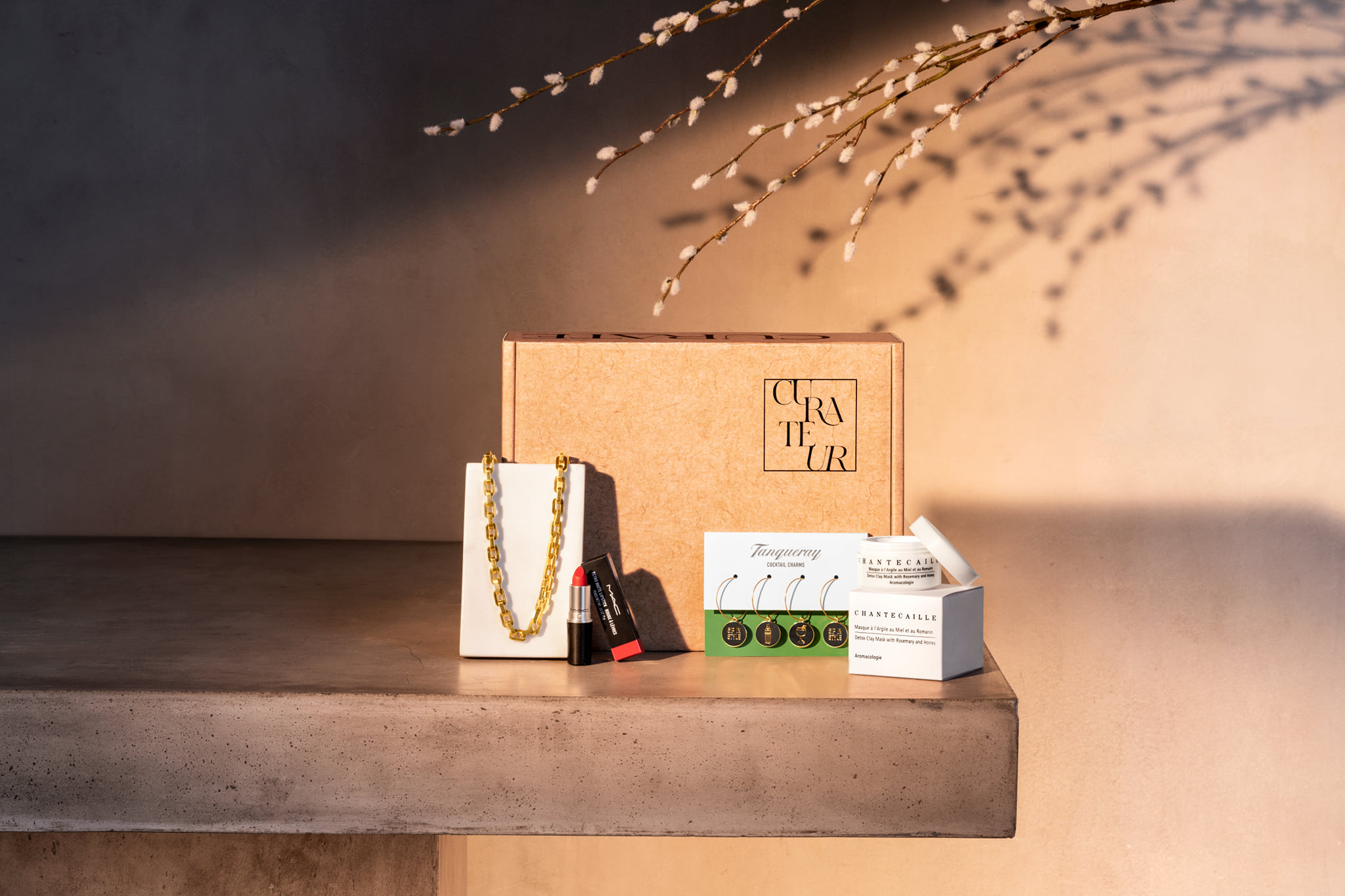 Curateur is a style box membership plan that offers seasonal packages with wellness and beauty items from various brands. As a subscriber, you look forward to these boxes, which arrive at specific intervals with four to five items on fashion, beauty, and luxury home décor. Several lifestyles and beauty care experts are subscribed to Curateur boxes, and they have many loyal fans all over. If you come across Curateur reviews, you'll find that most people have positive comments to make about this brand. Our review takes a closer look at Curateur boxes and services to show you what the hype is about.
About Curateur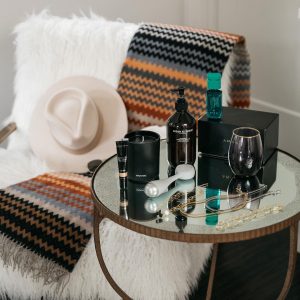 Curateur was founded by famous Fashion Icon Rachael Zoe. Racheal's background as an American fashion designer joined with her penchant for business helped her thrive in many business ventures until she finally started her own company. It was originally called Box of Style but later rebranded itself as Curateur in 2020.
Curateur is a premium and exclusive membership platform that offers women shopping, access, and special benefits. The brand aims to serve the woman-on-the-go with the best style pieces, luxury home decor, newly-released makeup products, and other items that are generally reserved for select members of society.
While the Box of Style proved a major success, the rebrand as Curateur promises more exclusive benefits for their members. It offers the everyday modern woman access to a lifestyle and taste often reserved for models, celebrities, and VIP members of society. Every subscription box offers special style and wellness goodies with elevated items that serve the modern woman's needs.
The headquarters of Curateur is Los Angeles, and when asked about her brand, Rachael Zoe states, "My mission has always been to inspire and empower all women to live lives of style and glamour and to be their most confident selves. CURATEUR will continue on that mission by creating a strong community built on the foundation of connectivity and discovery."
Pros
Quarterly subscription service with discounted offers on luxurious brands
Members can customize their curations
The site blog, The Edit, offers fashion tips and advice on elevating your style.
Membership plan comes with $120 in annual rewards
20% off your first order when you sign up
Free US Shipping
Cons
Delayed and Expensive International shipping
Limited product selection
Poor customer service
How Does Curateur Work?
Curateur is one of many subscription services, but the brand offers its customers premium and exclusive fashionable benefits. Curateur subscription service is divided into two, The Membership and The Curation. The membership costs $9.99 per month. The benefits include unlimited access to shop in the brand's specially curated market called 'The Shoppe.'
Membership also comes with $120 in annual rewards, and you can save up to 60% of your money every time you shop. When you join the membership, you get 20% off your first order and access to some of the most luxurious items, specially handpicked by Rachel Zoe. To be part of this Curateur membership, all you need is to create an account and pay the subscription fee of $9.99/per month.
In addition, the second curated subscription service that it offers is called The Curation. Curateur sends out boxes filled with five style upgrades for your home, wardrobe, and personal care needs every season. The curations include a skincare item, makeup, fashion accessories such as a bag, belt, and jewelry. And the subscription costs $99.99/quarterly or 349.99/year.
Curateur Boxes Review
Curateur offers seasonal style boxes specializing in fashion, makeup, and home decor accessories. The brand was previously referred to as Box of Style until 2020, when it became Curateur. It offers a wide collection of designer pieces from luxury brands such as Anastasia Beverly, Eddie Borgo, and Marc Jacobs.
It offers the average modern woman chic, sophisticated style, and fashion pieces popular among celebrities and fashion experts. With these seasonal boxes, you can curate your lifestyle to develop an elevated and sophisticated taste in your beauty, fashion and decor products.
You can choose between the star style box or the icon style box. The Star box requires quarterly payments of $100, which is meant to be renewed every four months. While four items in the box are selected by the team, one item is curated by the customer.
Meanwhile, the Icon style box comes with a $50 discount for customers who make an annual payment of $349. Members of the Icon package receive four prepaid seasonal boxes every year. It also comes with other exclusive benefits. First dibs on favorite items, Shoppe Products, and Icon orders are shipped out first.
Curateur Spring 2022 Box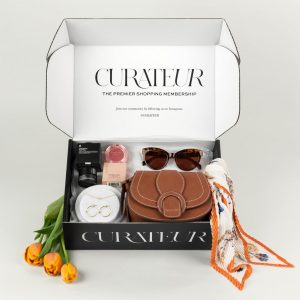 The latest release from the brand is the Spring 2022 Curateur style box. It features 5 special items curated to upgrade your wardrobe and style this spring. The brand curates all style boxes with some preselected items and choose items. Instead of one, the Curateur Spring 2022 box comes with two customers' choice items.
You can choose between a Bindya chain scarf and WYLDE Tortoise-shell sunglasses as well as mystique hoops or Soleil bracelets. Meanwhile, the chosen items involve a Perricone Advanced Eye Cream, Wanda Beauty Lip and Cheek Duo, and the Edessi Crossbody & Belt bag from the Rachel Zoe collection. The entire contents of the box retail at over $400.
Curateur Winter 2021 Box
The outgoing Curateur Winter 2021 box got a lot of praise from customers who loved the package. While the curation is completed by the brand, customers can customize their orders by choosing from 2 of 4 options to suit their taste. The four-choice items in the winter box include a silver and gold herringbone necklace, a satin robe from Thirdlove, and a metallic JJ Winters Nikki clutch bag.
Meanwhile, the preselected items in the box include a Thula Tula Blanket, Resurfacing compound, and Mascara. All five items involve makeup and skincare products, as well as clothing accessories that are meant to glam up your wardrobe during the winter season. The best thing about Curateur boxes is that every season offers eye-catching items usually more elevated than the previous season.
Curateur Products
If you subscribe to the Curateur membership plan, you can buy products in the Curateur shoppe. The Shoppe features items that have been specially approved by Rachael Zoe herself, and each product comes with a 60% discount on the retail prices. Check out some of the bestseller items in the Rachael Zoe collection below!
T3 AireBrush Duo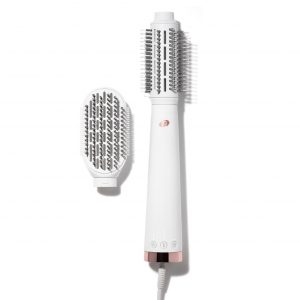 The AireBrush Duo is a lightweight hot air blow-dry built with the signature T3 IonFlow Technology. It also features a CeraGloss ceramic surface to provide an anti-frizz effect. And the EvenStream vents allow for consistent airflow and faster styling. You can choose between the paddle and round brush attachment to achieve smooth strands or bouncy waves.
The Airebrush also has 5 interchangeable heat settings and 3-speed settings. You can also use the Cool-shot button to get the desired effect while styling. It is also made for expert use and comes with a 9ft 360 professional swivel cord. This brush retails at about $180, but Shoppe offers it for $135.
Bindya Chain Scarf
The Bindya chain scarf is one of the choice items in the Curateur Spring 2022 box. However, you can also get it as a single item in the Curateur Shoppe. It features a chain link with a bright color pattern that glam up your look. You can style the scarf anyhow you want to get an instant chic look. While it retails at $65, you can get this scarf on the Shoppe for $50.
Jennifer Zeuneraille Necklace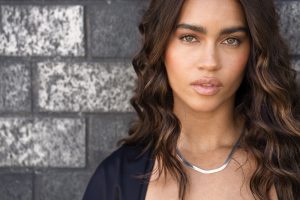 This herringbone necklace from Jennifer Zeuneraille was listed as a choice item in the Curateur Winter 2022 collection. It offers a classic minimalist style with a bright shimmer to create a standout look. The only downside is that this product is no longer available on the Shoppe product catalog. Still, you can check for similar products at discounted prices.
Curateur Reviews From Customers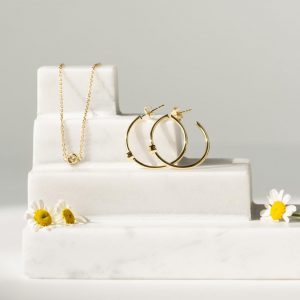 Although Curateur membership comes with exclusive benefits and discounts, it costs an expense. The customer reviews in this section will help you decide whether or not a purchase is worth it. The brand's website contains few reviews from subscribers. It has 4.7/5 stars from 297 reviews with an average of 241 5star ratings. The first customer review on the website states,
"I enjoy receiving my box because it allows me to try trendy things that I may not buy for myself or have thought about before! It allows me to stay on the Cusp of fashion, Even if my hometown might be or feels like 10 years behind New York! I would like to see some glam hair accessories, maybe even a pet item, stationery items, unique read more about reviews, always stating fun to open! perfumes, body sprays, and more rings."
Most customers enjoy shopping with the brand due to their unique, high-quality products at great prices. Curateur has 3.2 stars overall from 251 customer ratings on My Subscription Addiction. Most customers loved their purchase and stated that they always look forward to next season's box. The positive reviews also featured comments from customers who loved the brand's service.
More customer reviews of CURATEUR
We also found some complaints about poor customer service and some subscribers felt that the items were too small for the price.
One featured complaint states, "VERY HARD TO CANCEL! I am heartsick to find the yet another box that I canceled decided to "un-cancel" me, charge me, and send another box. Something needs to happen in the arena of ethics in the subscription box world. It's one thing when it's a $25 box, but when it's $100 for a box that you didn't want, didn't need in times like these where a $100 still buys something."
Overall, the brand has a great outlook with hundreds of positive reviews on the website. However, on sites like Trustpilot and Influenster, there are more negative reviews from customers. The comments mostly involve high product prices, delayed shipping, and poor customer service.
Sign Up For Curateur
You can join the Curateur membership to buy from the Shoppe for $9.99/monthly. It comes with up to 60% discount off luxury brands and $120 annual rewards. You can also subscribe for either the star style boxes or the Icon box. The star box requires a quarterly payment of $99.99. Meanwhile, the Icon box comes as a one-year renewal plan with a $50 discount at $349.99.
Once you've chosen a plan and chosen a choice item, you can complete the payment at the checkout page. You'll also need to create a membership account to fully participate in the Curateur community. You can also sign up for Curateur newsletters to get exclusive offers, product launches, and collaborations on the website.
Where To Buy Curateur
Curateur is s subscription/curation service that offers specially approved items for customers with discount prices on luxury brands. All Curateur's services are only accessible on the website. So you can choose a subscription plan and make payments promptly to be part of the community.
Curateur Shipping and Return Policy
Curateur offers domestic US shipping as well as international shipping to Canada, Uk, Australia, and other selected countries. The brand offers free ground shipping on all domestic orders within the US. The shipping period for every season's boxes include:
Spring Curations – Mid March
Summer Curations – Mid June
Fall Curations – Mid September
Winter Curations – Mid December
The brand also adds that the orders ship based on the membership status. For instance, all Icon orders ship first. Once the boxes have been shipped, you will receive a confirmation mail with a tracking ID. Delivery takes 3-10 business days for US orders, while international shipping could take up to 3 weeks, depending on your location.
For international orders, Curateur charges an extra $30 shipping rate on all curations in addition to the applicable duties and taxes in your location. The brand also states that duties are billed on each product in the box. You will get the full estimate and lumpsum cost of international orders directly in your email.
However, the brand has a zero-returns policy or exchanges on their curation boxes, individual products, or items. Any returns have to be expressly approved by Curateur itself. If you have any problems with your box, you can apply to customer care for immediate support. If your returns request is approved, you can track your returns and get a refund.
Curateur Promotions & Discounts
Curateur offers members an exclusive promo code which comes with a 20% discount on your first order. It also has a rewards program where members get $25 credit on every referral. This credit is deducted from subsequent renewal payments or add-on purchases.
Curateur Customer Service
You can contact the Curateur customer service team by filling out the message form on the website. Or you can use the chat room, which is open from Monday to Friday from 9:00am to 5:30pm.
Curateur Reviews: Editor's Verdict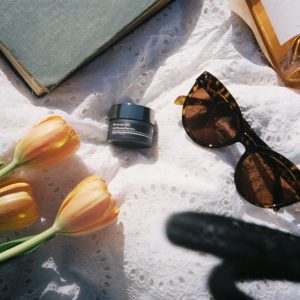 Curateur, previously called Box of Style, is a quarterly luxury subscription service that offers seasonal boxes specially curated by American designer Rachel Zoe. Each season's box includes 5 statement items relating to fashion, beauty, and lifestyle with a total value above $400. All the items in the box are curated for the average modern-day woman, and they help to spruce up your appearance.
Since its opening, Curateur has received several media praises and support from fans worldwide. The face behind the brand Rachael Zoe, a fashion icon, had a long career in the fashion industry, working with celebrities such as Kierra Knightly, Jennifer Lawrence, and Cameron Diaz before opening her own company. She now seeks to elevate the style and taste of American women through her membership service.
This review found hundreds of positive Curateur reviews from customers and critics who confirmed that purchase is worth it. The brand also has over 72k followers on Instagram, and many subscribers love the quality of their products. Suppose you're looking for a service that offers luxurious fashion and beauty brands at discount prices. In that case, the Curateur marketplace is for you.
However, we noticed a few customer complaints on poor service, delayed shipping, and overpriced products. Another downside is that Curateur doesn't have an open return policy if you're not satisfied with your purchase. Overall we score this company 3.6/5 stars.
If you enjoy subscription boxes, make sure to read our reviews of Birchbox, Bean Box Coffee and Beauty Heroes.
Curateur FAQ
How do I make selections?
If you're a first-time subscriber, you can simply click the 'Become a member' option, after which you'd be able to customize and order for a curation. If you're a returning customer, you can just log into your account to see your upcoming curation so you can update and choose a selection.
Can I purchase a curation from a past season?
Yes, some select fan-favorite boxes are available in The Shoppe marketplace.
How do I cancel my Curateur Box?
You can automatically cancel your subscription plan before the next renewal date. To cancel, simply log into your account and select my membership, then click the cancel option.
Can I gift a Curation?
The brand offers one-time gift box purchases for only active Icon or Star subscription members. It doesn't come with a renewal option, and the gift curation will be sent out the same season it is purchased.