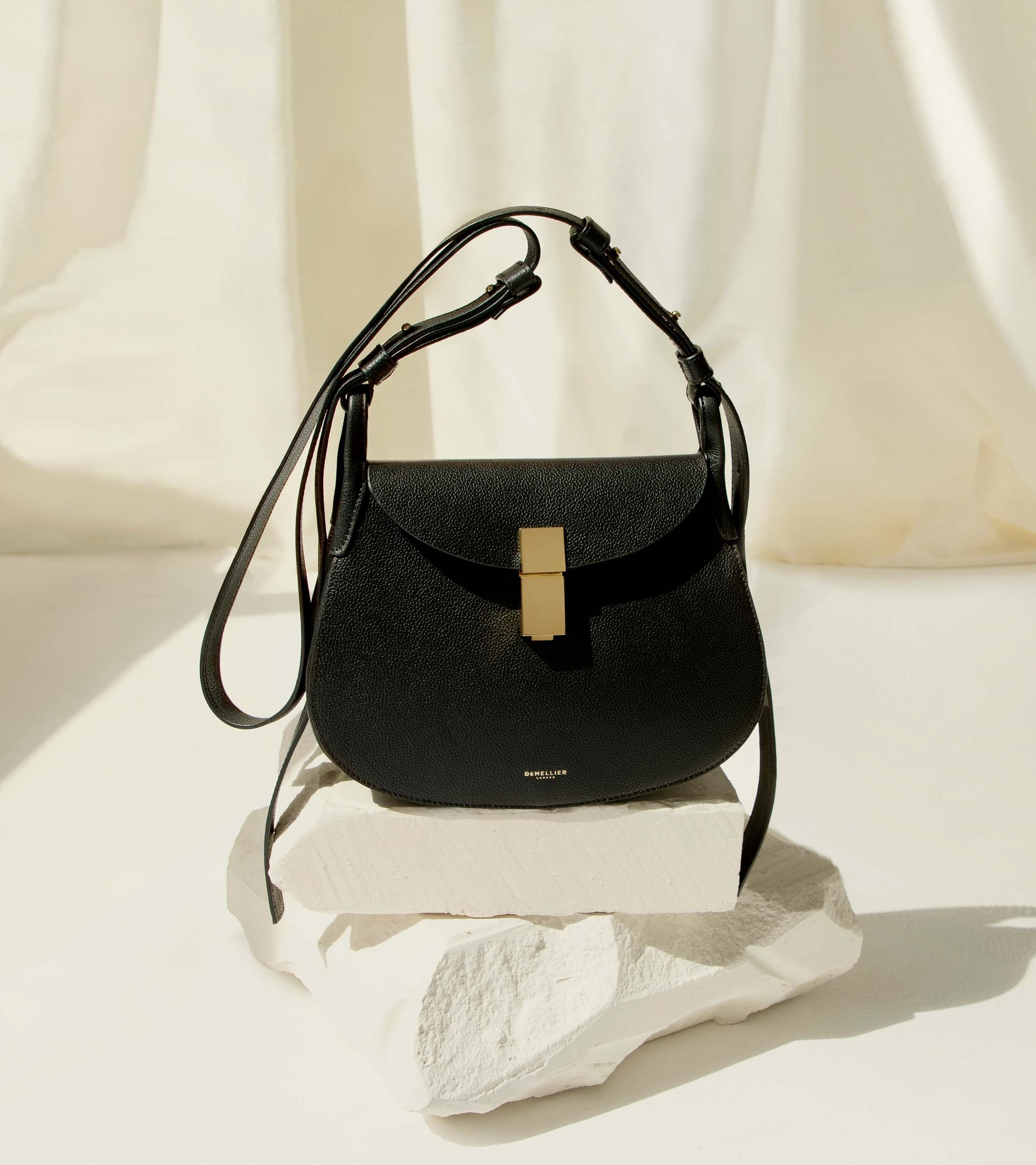 DeMellier is a luxury brand responsible for crafting some of the most stylish and well-made bags available. The company offers an extensive line of handbags for every occasion — from work to play. Its collection consists of everything from innovative designs to your traditional styles. For a brand that speaks to modernity, DeMellier does an excellent job at fusing classic craftsmanship with contemporary sensibilities. This DeMellier bag review will explore their top-selling products, customer ratings, promotions, return policy, and much more to help you determine if the luxury brand is worth checking out. 
About DeMellier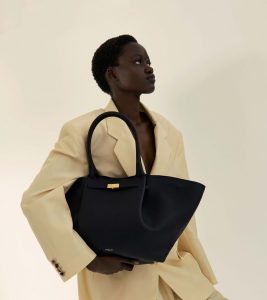 The London, UK-based company originally started as an accessories brand known as MILLI MILLU. The founder Mireia Llusia-Lindh is a Harvard Business School graduate who worked in the fashion industry as a strategy advisor in various firms such as LVMH and Burberry. Born of a creative mother and a businessman dad, she was always interested in the world of fashion and design. 
She always wanted to create new products that women would treasure. It wasn't until she got her first child that she embarked on a mission to create a handbag brand that would change the way people view and carry accessories. The idea was to have high-quality products that are not only functional, attainable, and socially conscious.
And so MILLI MILLU came to be. It was rebranded later to DeMellier in 2017 to connect better with its international fan base. If you are asking yourself: Why? The answer lies in the company philosophy. 
The company believes in connecting the old and the new. De in DeMellier represents the founder's grandmother, a descendant of Spanish nobility, while the last part comes from her first name Mellier. 
More about DeMellier
You may notice this philosophy in the design of their bags as they often mix classic and timeless with modern innovative and unique features. The result is a line of fashionable and practical handbags that have something for everyone. Think of fun shapes, architectural detailing, and fusion of different textures.
DeMellier artisans handcraft these purses in the company's facilities located in the south of Spain. They use Spanish and Italian materials, furthering the brand's reputation for creating luxury items. For that reason, it has won multiple awards over the years, such as the 2016 Walpole British Luxury Association's Brand of Tomorrow.
Additionally, it has made headlines in reputable publications such as Cosmopolitan and Vogue. Celebrities like Pippa Middleton, Kristen Bell, and Rita Ora have bought a DeMellier bag.
This found that DeMellier bag review apart from making bags, the company also believes in community service. It has a charity initiative branded as A Bag A Life. The brand saves lives by buying COVID-19 vaccines and treatment for children in need through the program.
The brand has 249k followers on Instagram and more than 27k Facebook followers. Let's get into our DeMellier bag review. 
Pros
The brand offers a variety of bags in various sizes and styles

They use genuine cowhide leather sustainably sourced

They give back to society through its A Bag, A Life initiative

Excellent customer testimonials

Crafted in Spain and customers enjoy free international shipping

Free return policy to UK and US orders
Cons
The bag is a little pricey for some people

You cannot return, cancel, or exchange personalized products

Doesn't have a live chat feature on its site
DeMellier Products Review
It's only natural for a fashion and accessories brand like DeMellier to have a wide range of products. After all, people's needs vary, and the brand wants to be able to cater to as many people as possible. So, what are some of their best-sellers?
DeMellier Clutches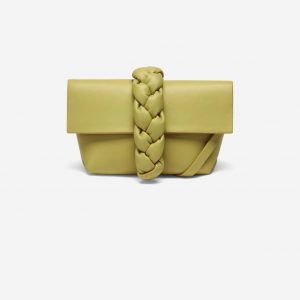 The clutches collection is one of the most popular lines from DeMellier. It's not surprising, given the attention to detail and luxurious materials used in their creation. The clutches come in different colors, sizes, and shapes to suit various occasions. 
For example, the DeMellier Mini Florence is perfect for a night out or an elegant dinner. It's small and can only carry the essentials, but it comes with a gold chain strap, so you can also wear it as a cross-body. 
These delicate metal accents complement the black cowhide leather exterior, giving it an elegant and sophisticated look. When not in use, it can get tucked away inside the bag. There is also a golden push-lock closure that helps keep your essentials safe. 
The interior is another story. It's spacious with a black cotton lining and one central compartment. You also get a zipped pocket for safekeeping. The Mini Florence clutch measures 8.9-W x 4.9-H x 2.6-D inches. That is enough space to fit your essentials without being too bulky. 
Next, there's the DeMellier Large golden logo & hardware. The black-grained leather gives it a luxurious look, while the Large golden hardware makes it stand out. It comes with a strap, meaning you can wear it as a cross-body or over the shoulder. 
We recommend complimenting this luxury piece with an equally glamorous outfit. Think of a little black dress or a power suit. If you're to carry the bag with the chain out, try to put on a casual look. 
The good thing is that it's available in nine different colors. That way, you can get one that best suits your style.
DeMellier Cross Body Bags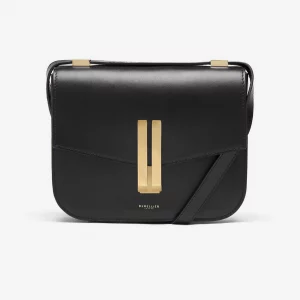 Another customer favorite from DeMellier is the Cross Body Bags collection. This line is arguably the best due to its versatility and sophisticated collection. The DeMellier Crossbody Bag collection has some of the most stylish and well-crafted bags you'll ever come across. 
For instance, the DeMellier The Mini Venice bag is one of the most popular in this line. It's a stylish piece and comes in different colors, meaning you can get one that best suits your style. The bag comes from sustainably sourced high-quality grained cowhide leather and has a cotton lining interior. 
Despite the beauty, the bag is just as functional. It features a clasp flap closure and a zipper under the flap to keep your essentials safe and secure. Inside are smaller pockets ideal for things like your phone, cards, and keys. 
Our DeMellier bag review discovered that it has two leather straps: a short one for holding the bag by your side and a longer one for over-the-shoulder or cross-body wear for easy carrying. The bag measures 9-W x 7.5-H x 3-D inches, which is the right size for a night out or running errands around town. 
If you love this DeMellier Crossbody Bag as much as we do, get it in the color that best suits your style. It's available in black, forest grain, navy grain, red grain, taupe grain, black lizard, ivory lizard, and cognac grain.
DeMellier Shoulder Bags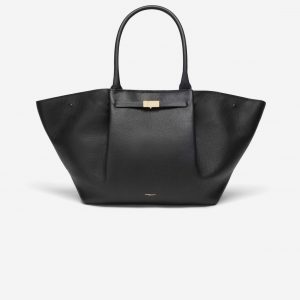 The shoulder bags from DeMellier are some of the most stylish and well-crafted you'll ever come across. They are like nothing you've ever seen before. They're perfect for everyday wear, whether you're running errands or going to work. 
The Midi Los Angeles is a stylish and functional piece available in different colors. Like the rest, this one too comes from sustainably sourced high-quality grained cowhide leather with a cotton lining interior. 
The bag has a modern tote tapered at the bottom, while the top billows out. It also features a rounded handle for easy carrying. 
Moreover, this piece has multiple ways to wear it. It has an over-the-shoulder and an adjustable, removable strap for crossbody wear. You can also carry it as a tote without the straps. 
Thanks to the magnetic closure, your belongings will be safe and secure inside. The bag measures 17.71 on the top-width x 9.4-H x 6.7-D inches. That's enough space to fit all your essentials and then some. 
If you love this DeMellier shoulder bag as much as we do, get it in the color that best suits your style. It's available in black, navy grain, red grain, taupe grain, and cognac grain.
DeMellier Tote & Work Bags
How much do you love your tote bag? If you're like most women, then the answer is a lot. After all, it's one of the most versatile and stylish bags you can own. It's perfect for work, running errands, or even travel. 
DeMellier has some of the most beautiful and well-crafted tote bags you'll ever come across. They're perfect for everyday wear and complement dresses, jeans, and everything else. 
THE MIDI NEW YORK is a stylish and functional piece inspired by amazing auburn life. It's a modern yet timeless silhouette that comes with a lavish feel. 
On the side, you'll find a gold belted detail with an engraved logo. The bag has top tubular handles that sit perfectly on the crook of your elbow or are held by hand on your side. A removable, adjustable shoulder strap is another way to wear it. You can also carry it as a tote without the straps.
Like all DeMellier bags, it comes from sustainably high-quality grained cowhide leather with a cotton lining interior. The bag has a modern tote tapered at the bottom, while the top billows out. 
Inside are two compartments that are roomy enough to fit all your essentials. Thanks to the snap closure, your belongings will be safe and secure inside.
It's available in six colors: lime small, black small, light tan small, light tan small, olive small, and taupe small.
DeMellier Mini & Nano Bags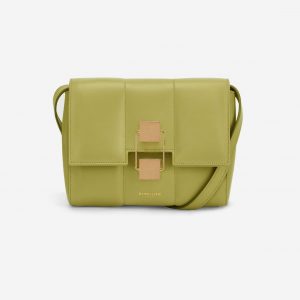 What if you don't have much to carry or want a less bulky option? It could be you want to pack small personal items such as your lip balm, keys, and credit card. In that case, you'll want to get the DeMellier Mini Bag or Nano Bag. 
DeMellier has some of the most stylish and well-crafted mini and nano bags you'll ever come across. They are perfect for those nights when you want to grab a few items and go. 
One of our favorites is THE NANO MONTREAL. It's a petite structured cross-body handbag with a modern and timeless silhouette. This bag embodies a rich cultural heritage with an artistic edge since its name is after the Canadian city.
The artful detailing is what sets this bag apart from the rest. It has an intricate gold hang-like strap with a leather tassel. The front flap comes adorned with gorgeous signature gold-plated hardware that acts as the closure. 
It's simply a convenience bag worn over the shoulder or across the body. You can also carry it by holding its mini handle.
You can also get a bigger one, depending on your needs.
DeMellier Bag Review from Customers Reviews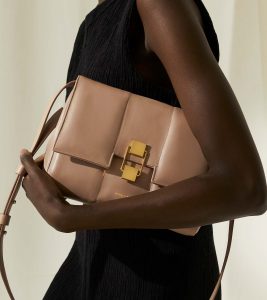 DeMellier offers high-quality and luxurious handbags. But what do customers have to say about them? We set out to find some reviews from people who have purchased and used their products. 
The brand does not offer many customer testimonials on its website. So, to get a clear understanding, we had to look at other sites. First, we turned to Reddit. 
On r/Femalefashionadvice, we found a post titled "favorite under-the-radar leather handbags/brand." One of the top comments was from a user who recommended DeMellier. She wrote that she's been using their products for years and loves them. 
She went on to say that the quality is excellent and they have excellent customer service. The user also added that their prices are a bit high but worth it because you're paying for a well-made bag that will last you for years. 
Popular Alternatives to DeMellier
Another customer said that she got herself a Florence bag, and she's loving it. She added that the prices were reasonable for a luxury brand that offers uniqueness. The comment thread is full of people recommending the brand, which is a good sign. 
We also found a DeMellier review on Trustpilot. The site has over 201 reviews with an average rating of 4.7 stars out of 5. Most of the customers who left reviews said they were happy with the quality of the product and the customer service. 
One reviewer said she got satisfied with the Mini Venice. The whole ordering process was easy, and she received her bag quickly and in good shape. She also liked the charity work by the brand. 
On the downside, some customers said that the prices were too high. Overall, the reviews were positive, with people mostly praising the quality of their products. 
Sign Up for DeMellier
To get started with DeMellier, you need to create an account on their website. You can do this by clicking on the login button at the top of the page. 
Enter your email address and password to create an account. Once you have an account, you can start shopping for bags. 
You may also sign up for their email listing to get updates on new arrivals, sales, and other news. Just scroll to the bottom of the page and enter your email address in the sign-me-up box. 
Where to Buy
Customers can buy DeMellier bags from their website DeMellierLondon.com. The brand also sells its products via authorized retailers both online and offline. They include: 
Neiman Marcus

Hudson's Bay

Shopbop

24S

Saks Fifth Avenue
DeMellier Shipping and Return Policy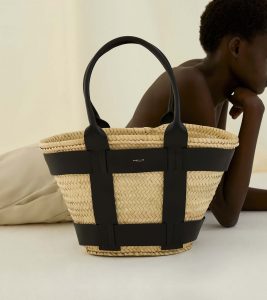 Shipping:
The brand offers free worldwide shipping. Customers in the UK, EU, the United States, Canada, Australia, and HK enjoy duty and tax-free delivery. A few locations, including the U.S., have additional options. These are:
Express Delivery in the US takes about 1-3 business days at $30

Guaranteed Next Day Delivery in the UK at £10
Return Policy:
If you're happy with the product, the company offers a 30-day return window. US and UK customers will not pay for the shipping cost. To initiate the process, people from the United States should follow the steps below:
Fill out a return form provided in the package

Package the item together with the form

Drop it off at any post office near you
Promotions & Discounts
When shopping for anything, it's always a good idea to look for promotions and discounts. That's because you can save some money on your purchase. It applies to the DeMellier bag sale, too. 
We found out that DeMellier offers exclusive deals and special treats to customers who sign up for their email listings. Ensure you scroll to the bottom of their site and enter your email address in the sign-me-up box. 
Contact DeMellier
For inquiries, you can reach out to the customer service team through the following channels: 
DeMellier Bag Review: Editor's Verdict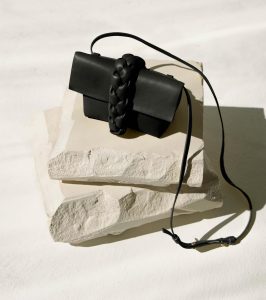 This DeMellier bag review concluded that the brand offers high-quality products. The materials are durable, and the bags have a luxurious feel. We liked the designs and found them to be stylish. 
The company also focuses on customer service, making it easy to get help when needed. The only drawback is the price. Some of the items are quite expensive. But overall, we think DeMellier is a good investment if you want a durable bag that will elevate your style.
Check out other amazing brands that sell bags such as Cuyana, Hobo Bags, Farfetch, and Dooney and Bourke.
DeMellier FAQ
Does DeMellier offer gift wrapping?
Yes, DeMellier offers gift-wrapping services. You can personalize a card with a unique message to include with your purchase.
Will there be taxes when I'm shopping from the UK?
No, there are no taxes when shopping from the UK.
How does their free monogramming service work?
DeMellier gives an option to personalize your purchase with a free monogram. Ensure you place your request before adding an item to the cart. Remember these items are non-refundable.
Where are DeMellier bags made?
DeMellier bags are all designed in London and handcrafted by artisans in Spain.