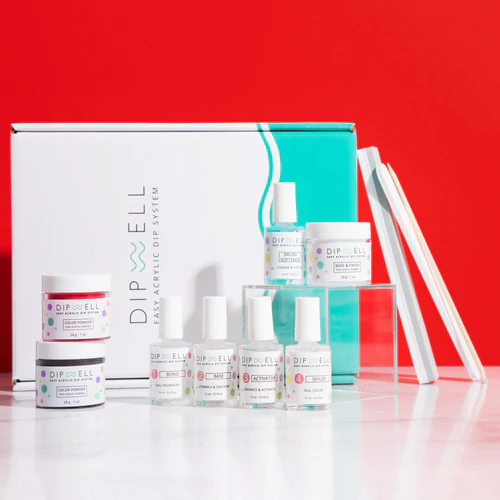 Completely cruelty-free, vegan-friendly, salon-quality nails – and all in the comfort of your own home? – Yes, please!! Dipwell has big claims about their revolution in home manicure technology, aiming to bring professional salon expertise to the DIY kit market. So, obviously, we were curious about whether their products would live up to the high expectations this brand has set. In our detailed and unbiased review of Dipwell, we're going to do a deep dive into the company to uncover whether their products meet up to the promises they've made. We'll be looking at the brand's history, ethos, and products – as well as plenty of Dipwell reviews from real customers – so you can make an informed choice about whether this brand offers the salon-quality nails you deserve.
About Dipwell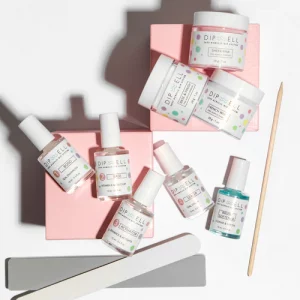 Dipwell describes itself as a family company that treats all its staff with the same level of respect.
This family atmosphere extends to their busy and established community groups and responsive customer service and they seem to pride themselves on responding quickly to feedback whether good or bad.
Dipwell reviews on Facebook and other platforms almost always receive a personalized response and an invitation to get in touch with the customer service team directly if there are any unresolved issues.
Dipwell doesn't just value their staff and customers but value the planet and the animals in it as well – all their products are vegan-friendly and cruelty-free! Neither Dipwell nor any of its suppliers test ingredients on animals.
Dipwell is fully committed to this cruelty-free philosophy and they proudly refuse to sell their products in locations that require animal testing for cosmetic products.
Dipwell's kit system is designed to offer everything you need in a single box, with the ability to top up on items as you run out of them.
The same base and activator bottles work for any color so you can have different nails as often as you like without having to shell out for a whole new set.
Customers can choose from their massive range of colors and be confident they will work in the same way as the ones they've already tried. There is even a range of comprehensive tutorials and guides, all freely available on their website, to get the most out of a limited selection or try out more complicated designs.
Pros
Vegan-friendly and cruelty-free.
Friendly and approachable customer service
Comprehensive free guides are available online.
Huge range of colors and special effect powders.
Robust social media community with real individual experiences and advice.
Comprehensive kits with everything you need to get started.
Stays on-trend by frequently adding new colors, including popular Pantone shades and Pantone Color of the Year.
Generous reward scheme for members.
Helpful and responsive to emails and other customer contacts.
Cons
Long application process with many stages that can be difficult to master.
The product can lose adhesion to your natural nails if the process is not followed exactly.
The bottled components are very sensitive and can easily become unusable unless great care is taken with them.
Dipwell Products Review
We've looked at the people behind Dipwell Nails and the way they run their company…. But what can you expect to receive when ordering?
Dipwell produces a range of kits for those just starting out with acrylic dip nails at home plus a wide range of shades and special effect powders you can combine to get the exact look you're going for.
Dipwell Kits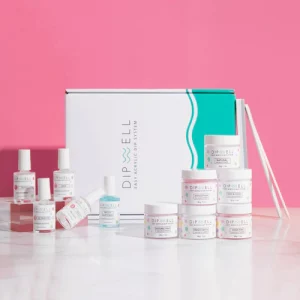 The Kits section of the Dipwell shop includes a wide range of starter kits, perfect for anyone trying acrylic dip nails at home for the first time.
Every Dipwell kit includes the five liquid bottles you will need to complete your set of Dipwell nails, a 200/280 grit foam buffer, a 100/180 grit nail file, a double-sided wooden cuticle pusher, a clear base/finish powder, and two or more color powders – that's an awful lot of accessories!
One of the great things about Dipwell kits is that you're never on your own or left confused about what an ingredient is for.
Each kit comes with comprehensive instructions, the bottles and pots are clearly labeled, and detailed tutorials are available online. If you're still not sure about anything, it's incredibly easy to contact Dipwell through their customer service and social media channels.
Whatever your favorite salon manicure, there's a Dipwell kit to suit your needs! With everything from a vibrant neon selection to a dedicated French manicure kit, plus seasonal and limited edition sets, including powders that may not be available after current stocks run out.
If you've stocked up on color powders but run out of liquid components then this is also the place to find a convenient package of all five liquids – add to your library of color from one of the 200+ options available across the website, all of which work in the same way and use the same five liquids.
The layered application process lends itself to color blending and individual powders can even be mixed together for a truly unique look.
Dipwell Naturale Collection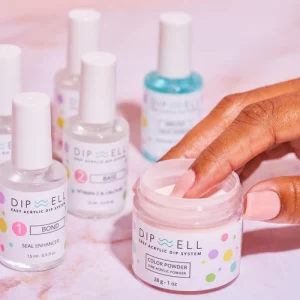 Dipwell nail colors are available in over 200 shades which are divided into color-family collections on their website. The Dipwell Naturale Collection includes a range of nude and natural colors as well as some complimentary glitter and sparkle shades… Including everything from muted fall oranges to rich dark chocolate with gold sparkles.
To help you choose between this vast collection there is a handy filter menu that allows you to sort by color and effect within the range. This makes shopping MUCH easier.
Dipwell really shows with the Naturale Collection that 'natural' doesn't need to mean boring!
Dipwell Classic Collection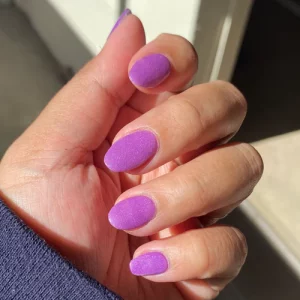 The Classic Collection from Dipwell nails contains all the bold and primary colors you will need to achieve some striking looks, plus a range of glitter and shimmer powders that are hard to resist.
Bright, sunflower yellow, and vibrant, fire-truck red can be found in this section alongside striking shimmery metallic shades and rich leather tones.
Dipwell frequently adds new colors to all of their ranges and several of their recent additions can be found in the Classic Collection – so make sure you check back frequently to ensure you're one of the first to try a hot new color and to make sure you don't miss out on limited edition shades.
Dipwell Glow in the Dark Collection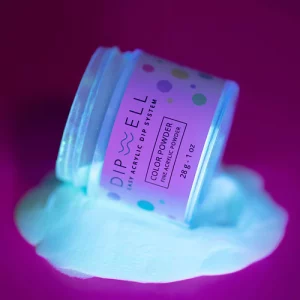 Glow in the dark isn't just for Halloween! Dipwell has a fantastic selection of Glow in the Dark colors that are perfect for any special occasion.
Dipwell directions and tutorials provide a huge range of ideas and detailed info to create some absolutely stunning looks using their range of showstopping glow-in-the-dark powders.
Use the orange, pink, and yellow powders to create a summer sunset ombre that comes to life after dark in equally rich glowing tones or stand out using a few simple lines to create a unique alien look – there are clear tutorials for both these looks and many more available right on the Dipwell website.
Dipwell directions all include handy tips, both for the process itself and for any special powders or techniques.
The glow-in-the-dark powders are charged by sunlight – which is useful to know before you spend your cash on these colors.
Dipwell Build Your Own Bundle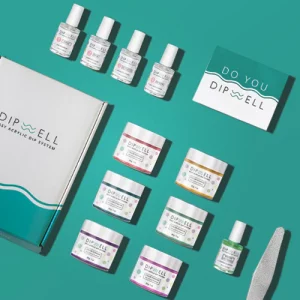 Don't fancy the color selection in any of the pre-made kits? The Dipwell Build You Own bundle is the perfect way to make sure you get everything you need to complete your home manicure while being able to choose from the entire range of Dipwell nail colors.
You get the same five liquids and comprehensive set of accessories that are provided with their other Dipwell kits but you'll also be able to choose either three or six powders from across their entire range.
The Build You Own bundle is offered at the same price as Dipwells curated bundles of the same size so you don't miss out by choosing your own colors.
If you like to stand out from the crowd or have a unique nail art idea you want to try out, then this bundle is the perfect way to ensure you have everything you need while offering the flexibility to fulfill your individual desires.
Dipwell Reviews from Customers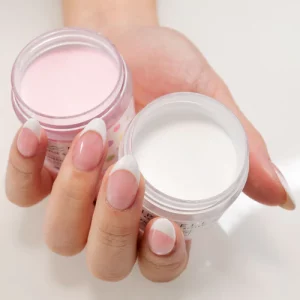 Reviews from Dipwell customers are mostly positive with a few of the same negative comments appearing across channels.
Although Dipwell kits aren't the cheapest around, many customers mention how much they have saved by doing their nails at home instead of shelling out for regular salon treatments. In one Dipwell nails review, the poster claims to have saved thousands of dollars on salon manicures since buying her first kit!
However, even in the numerous positive Dipwell reviews, we found a lot of customers commenting on the complexity and learning curve involved in the acrylic dip process. Many customers want to emphasize that it will take a few attempts to achieve a salon-perfect look.
So, don't be discouraged if your first attempt has issues, and reach out to the community for tips and tricks if you're not sure what went wrong.
Popular Alternatives to Dipwell
Further customer reviews
Many of the negative Dipwell nails reviews we looked at concerned logistical issues such as incorrect or missing items in a package, shipping problems, breakage, and leakage during transit.
These were almost always accompanied by a prompt reply from the Dipwell team inviting the customer to get in touch directly with Dipwell to resolve any issues.
Some positive reviewers also mentioned swift responses to issues with their order and replacements offered for damaged items without having to go through a complex or time-consuming returns process. Occasional logistic issues are unavoidable for any large business and it's reassuring to see that when these do happen they seem to be resolved quickly and painlessly by the Dipwell team.
One thing we noticed on services like Amazon that allow people to change their rating at a later date is that many people who initially left a negative review have returned to increase their rating and explain that either they have gotten better results as their skills improved or that logistical issues were resolved by responsive customer service.
We think this is good evidence that the product itself is a good one, as people who struggled with the product initially took the time to change their rating once their personal skills improved.
Sign Up for Dipwell
Signing up for an account is as easy as entering your details and clicking the link in your confirmation email.
In addition to streamlining your shopping process, signing up enters you into the Dipper Club… A reward-points-based scheme in which you can earn Dip Points with every purchase.
Plus, one-off actions like interacting with Dipwell's social media, referring friends, and reviewing Dipwell products will also earn you Dip Points!
These points can be redeemed for free shipping and discounts on future purchases.
Where to Buy
All of Dipwell's products can be found on their website, where you'll find the latest shades plus the Dipper Club reward scheme.
Dipwell products can also be found on Amazon and in major retailers such as WallMart.
If you're buying from anywhere other than the official Dipwell website then always check you are buying a genuine product – the Dipwell customer service team can help you with this if you're unsure.
Dipwell Shipping and Return Policy
Dipwell products are all designed, manufactured, packed, and shipped from their facility in Orange County, CA. Because items are packed to order, it takes 7-10 business days for all orders to be shipped.
Dipwell's order process automatically chooses whichever of their carriers is cheaper in your area and orders over $35 ship for free. Full shipping information and a tracking number are emailed to the address you signed up with when the package leaves their facility and you should receive your products 3-5 business days later.
For hygiene reasons with a cosmetic product, the return and exchange policy is quite complex. Full details can be found in the FAQ section of the Dipwell website – you should be sure to familiarise yourself with it before placing your order.
Dipwell is aware that their return and exchange policy may be confusing to some customers and repeatedly advise customers to email with any questions or issues they can't find an answer to.
Promotions & Discounts at Dipwell
Signing up on the Dipwell website and joining the Dipper Club will earn you a 10% discount on your first order plus100 Dip points to get you started.
Dipper Club discounts and shipping vouchers can't be combined with other offers, but you do get a full year in which to spend them on any Dipwell kit, color, or accessory.
Contact Dipwell
The best way to contact Dipwell customer support is via the Live Chat option built into the website. As long as you contact them within business hours, you can pretty much guarantee a swift response.
If you have a more complex question, a problem with an order you have already placed or received, or you would like to get in touch about a partnership then there are several dedicated email addresses you can use to get in touch, all of which can be found in the FAQ section of the Dipwell website.
Dipwell Reviews: Editors Verdict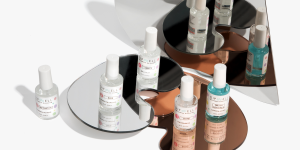 The Dipwell reviews we've looked at from around the internet tell a consistent and overly positive story, with very few problems repeating problems – most of which relate to the complex and time-consuming process of at-home nail treatments or the sensitivity of some of the ingredients.
Although Dipwell advertises their product as an easy way to achieve a salon-quality manicure at home, this may not take into account the varying skill level of customers using this type of product for the first time
We feel that, while they do provide comprehensive instructions, they could make it a little clearer that there will be a significant learning curve involved. And your first attempt may not look as good as some of the images you see online (although you will get better)!
It's also worth noting that many of the products, particularly the liquid activators, are extremely sensitive. And if they're not handled exactly according to the instructions can easily be ruined in inexperienced hands.
However, Dipwell provides a huge and detailed array of tutorials online from beginner to advanced techniques that should help you achieve the perfect salon-quality nails (even if it does require a little practice).
The final verdict
We must admit… The sheer quantity of the Dipwell tutorials may (at first) feel overwhelming to someone who has never attempted this type of DIY manicure before. And this may cause to disappointment if the results are not of the same quality as the nails featured in the Dipwell catalogs or product images. However, it's important to remember that these nails have been mechanically polished or shaped by experts.
Dipwell reviews by those with experience using this type of system describe the various kits and colors as capable of achieving results similar to those they get in a salon. And there are plenty of high praises for the range and quality of colors available.
The majority of negative Dipwell reviews we looked at seemed to be from first-time users who have experienced issues with adhesion, chipping, or difficulty shaping… Which we can't help but think are likely to be the result of lack of practice or accidentally skipping one of the many steps in the complicated process, as opposed to a comment on the quality of the Dipwell products.
Taking into account all the Dipwell reviews and product/brand information we've looked at… Our overall verdict is that the salon look is very much achievable with these products. However, it will never be as simple as brushing on a lick of old-fashioned polish and, as with any complex process, practice and studying are needed to get the best results!
Still on the hunt for perfect beauty products? Check out our reviews of Cantu, Beauty Stat Review, Bubble Skincare Review, and Drunk Elephant Review.
Dipwell FAQ
What type of products does DipWell offer?
Dipwell offers acrylic dip manicure products n a fully compatible range of kits and colors.
They produce a set of five liquids used to activate and seal all of the powders across their range which can be purchased individually or in easy-to-use kits for those just starting out.
Where are DipWell products made?
All of Dipwell's products are designed, produced, and packed at their facility in Orange County, CA.
The entire range is USA-made.
How to remove Dipwell nails?
Acrylic dip nails like the Dipwell system need to be removed with acetone to break down the layers.
There is a comprehensive page on the website detailing various methods for speeding this up and giving a clear, illustrated description of the most common techniques.
You won't need any additional tools or products to remove Dipwell nails and acetone removal can be more gentle on your natural nail than some of the methods needed for other styles of manicure.
The Dipwell directions provided with any of their kits will include detailed advice for removing your nails in the safest and most gentle way possible.
What if my product was damaged?
Dipwell's FAQ section advises customers who received a damaged product to email them in the first instance.
Several Dipwell reviews we've seen have mentioned that the response time on these sorts of queries was great and they had no issues receiving a replacement!
I am a blogger / swatcher / influencer / brand. How can I collaborate with Dipwell?
Dipwell will partner with nail, beauty, and lifestyle bloggers or public social media accounts with 1000 or more followers or subscribers. A specialized email address can be found in their FAQs to get in touch if you think you fit the bill.
Do Dipwell products have an expiry date? What is the shelf life?
Dipwell powders should last up to two years if stored in a cool, dry place and kept out of direct sunlight. The lifespan of glow-in-the-dark powders is likely to be shortened if you pre-charge the entire pot in sunlight before application.
The liquid components have a shorter shelf life and are more sensitive - they will last up to a year with proper storage and if care is taken to keep the product off the neck of the bottle and to clean the brush thoroughly after each use.