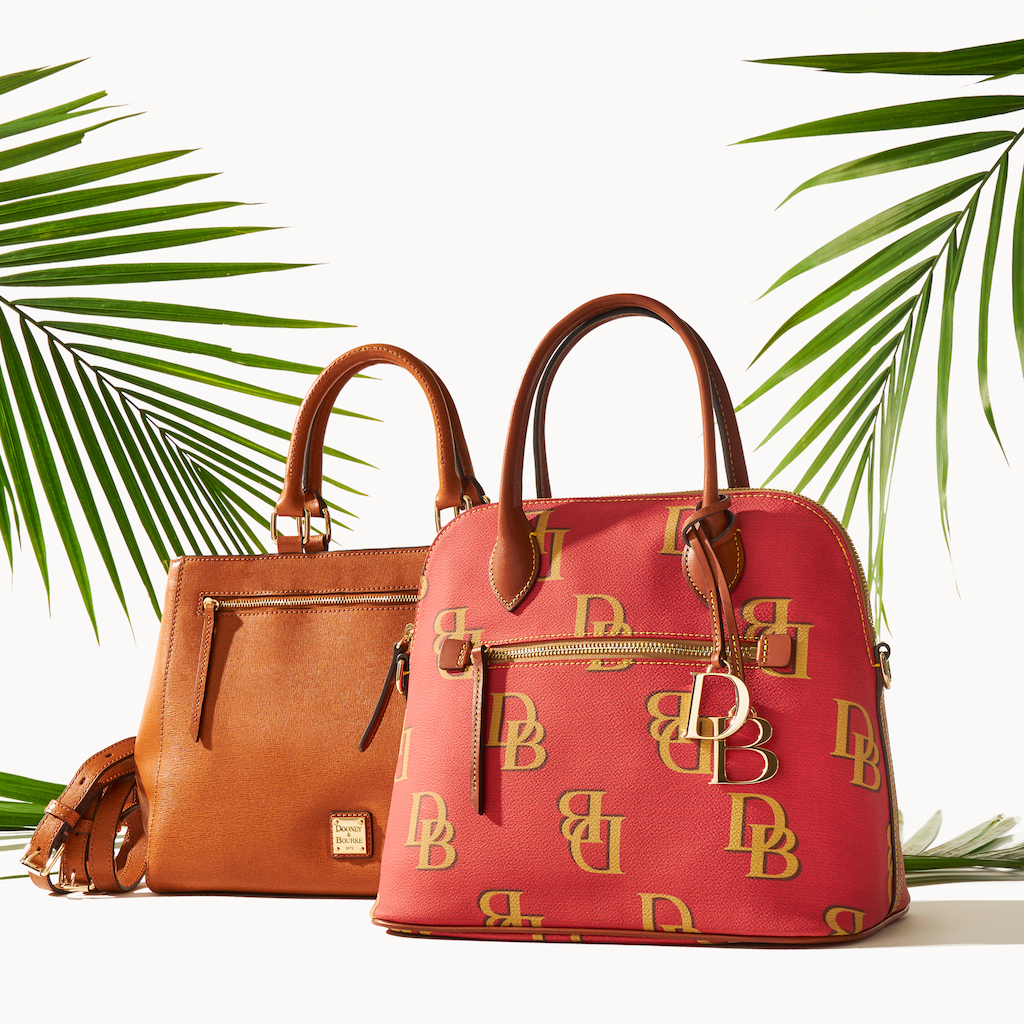 Finding affordable, high-quality leather accessories is not easy. Dooney and Bourke is a classic American brand known for selling high-quality fashion accessories for men and women at a reasonable price. Their collection includes jewelry, scarves, watches, and small leather goods. This Dooney and Bourke review will look at the company's bestsellers, customer ratings, discounts, and much more to help you determine if their products are worth the buy. 
About Dooney and Bourke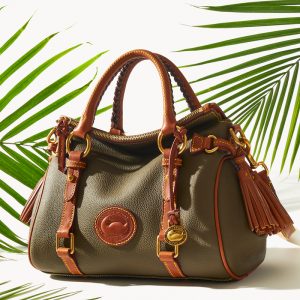 Dooney and Bourke is a classic American company that sells leather goods and accessories. When compared to other brands, Dooney and Bourke products are quite affordable. The company sells men's and women's products, such as handbags, shoes, and wallets.
The brand is popular among celebrities, with the likes of Emma Roberts and Hayden Panettiere spotted carrying a Dooney and Bourke purse. They have also been featured by famous media stations, including Rare Pursuits, USA Today, and Women's Wear Daily. 
The company was founded in 1975 by Peter Dooney and Frederic Bourke, who were both inspired by the American obsession with leather products. The duo did their research and saw a business opportunity in selling leather products and accessories.
The founders are great business partners; Peter is the innovative force behind the brand, while Bourke is responsible for the business side of the brand, including marketing. The two are a force to reckon with because they have managed to create a brand and a business relationship that has managed to last for four decades. Their company tops the tables for producing luxurious designer products. 
Further customer reviews
During the initial years, the company produced only two products. With time it expanded its operations, and in 1981, it introduced its first collection of handbags. Over the years, Dooney and Bourke have worked with various celebrities like Mischa Barton and actress Lindsay Lohan. They also introduced the famous Winnie the Pooh Dooney and Bourke design. In 2021, the company made a major stride when it partnered with Disney to produce the epic Tinker Bell-inspired line.
Headquartered in Norwalk, Connecticut, Dooney & Bourke is more than a leather brand: they are also a member of the Fair Labor Association, which works to protect the rights of workers. They also enjoy a massive social media following, with 170k followers on Instagram and over 633k Facebook followers. Carry on reading our Dooney and Bourke review for an extensive overview of the brand.
Pros
Different variety of high-quality bags and accessories are available

The company uses premium leather

Numerous positive comments from customers on the quality of the bags

Luxurious and affordable products

Frequent sales coupled with multiple promotions

The company offers a 30-day return policy
Cons
They don't offer a lifetime warranty

The company charges a flat return rate of $9.50 on domestic orders

They do not provide around the clock customer support
Dooney and Bourke Products Review
Dooney and Bourke is a classy and timeless company dedicated to selling fashionable women's and men's leather accessories. Below is a review of the brand's best-selling products. 
Dooney And Bourke Wallet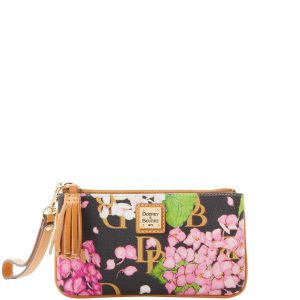 It is time to get organized with a classic and authentic Dooney and Bourke wallet, which is available in various colors, including brown, peach, mustard, and white. 
A classic example is the pebble grain large zip around the wristlet. The wallet is simple and offers you security, organization, and above all, style. It is also a compact way to carry all your essentials.
Dooney wallet is made from European pebble leather, which has an iconic texture and irresistible buttery feel. It is lightweight and weighs only 9oz. 
This Dooney and Bourke review found that the wallet has two compartments covered with one zip. There are 12 slots where you can store your credit cards and business cards. The wrist has a detachable strap that is seven inches long. It is also easy to clean the wallet because it is made from pure leather.
To clean this wallet, use a soft cotton cloth and damp it slightly with distilled water. You can then gently clean in circular strokes. This leather is durable and does not need cream and polish. 
Dooney And Bourke Crossbody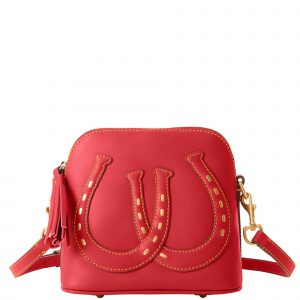 Every woman deserves to have a fashionable and affordable crossbody, and the Dooney and Bourke Crossbody should be on every woman's wardrobe. The bag is made from rich European leather, and it has a lightly waxed finish. 
The Western domed crossbody is a classy example: the bag is inspired by the iconic equestrian style. It is made from European leather with a horseshoe design finishing. It is also endowed with 18k gold-plated Italian studs, which are its most outstanding feature. This petite crossbody will simplify your everyday life.
The cross body features one slip pocket inside and two zips: one on the inside and one outside. Additionally, it has an inside key hook and an adjustable and detachable strap. The strap has a length of 23.75 feet, and the bag weighs 15 oz. 
Dooney & Bourke Crossbody is available in different colors, including red, blue, black, and brown. For only $171.00, this bag can be yours. 
Dooney And Bourke Backpack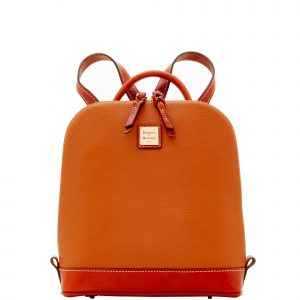 If you are looking for a modern and elegant backpack for a weekend getaway, you can never go wrong with the Dooney and Bourke Backpack: it is an all-in-one bag.
The Pebble Grain Zip Pod Backpack is a slim structured-and-modern pod backpack. The bag has two zips and several interior pockets where you can store all your girly stuff.  
The handles are made from pebble leather, which is known for its durability and rich texture. The straps are also made from leather. This feature offers you multiple carry options where you can carry the bag on your back or the side.  
This Dooney and Bourke review discovered that the bag is characterized by having two inside slip pockets and an inside phone pocket where you can safely keep your phone when going out. The straps are adjustable with a length of 12 inches and a handle that is two inches long. Weighing 1 lb 2 oz, the bag is lightweight and portable.
The durability of this bag will depend on your care routine, and pebble leather is water repellant. To clean the bag, use a soft cotton cloth damped with distilled water. You can also use a mild soap and clean gently before rinsing with enough water. Allow the bag to dry completely and store in a cool and dry place.
D&B Backpack goes for $223.50, and it is available in beige, teal, and gray. You can pair it with Dooney and Bourke pebble grain continental clutch.  
Dooney And Bourke Satchel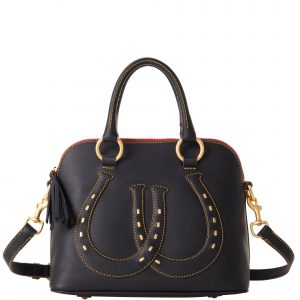 If you are looking for a stylish satchel to complement your outfit, the Western Domed Satchel is the ideal option for you. The bag will make you stand out from the crowd, and you might influence someone to buy it. 
The Dooney and Bourke Satchel has a unique equestrian style, and it is made from European leather. It also has a refined finishing of 18k gold-plated Italian studs. Additionally, the satchel features aesthetically pleasing curves, smooth handles, and protective feet.
The bag is also lightweight and weighs 1 lb 14 oz. The leather used to make this satchel is not water repellant, meaning it temporarily darkens when damp and returns to its original color when completely dry. 
The care routine is simple because the surface of the bag is waxed, which helps to keep off the dirt. Use a soft cloth and gently buff the surface to remove dirt and minor abrasions. 
Available in black, brown, and orange, the bag is worth $223.50 and can be paired with the monogram pendant key chain for a perfect classy look.  
Dooney And Bourke Wristlet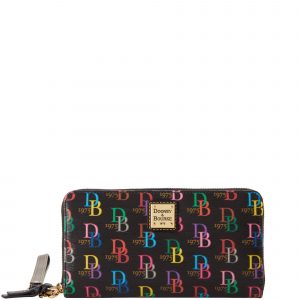 The type of wristlet you carry says a lot about your personality. If you are looking for a classic and durable leather wristlet that matches your personality, head over to Dooney & Bourke Dooney. The brand has a wide variety of wristlets for men and women. 
Their Hydrangea Monogram Small Carrington stylish wristlet is one of their top-selling pieces. It is a small wristlet made from coated cotton with a classy, silky finish. At the same time, this wristlet is perfect for carrying accessories like lip balm on a sunny weekend or in warm weather.
This collection features a detachable wrist wrap and four slots where you can store your credit cards. There is also a slip pocket inside and a lined top zipper closure. 
It's easy to care for the Dooney and Bourke Wristlet because it is made from polyvinyl-coated cotton fabric, which is water-repellant. If the wristlet is stained or becomes soil, use soft cotton or a toothbrush damped in distilled water and smeared with mild bar soap. Apply the soap in a circular motion and rinse with distilled water to remove any traces of soap. Do not apply any creams, cleansers, or polishes. 
Dooney And Bourke Watches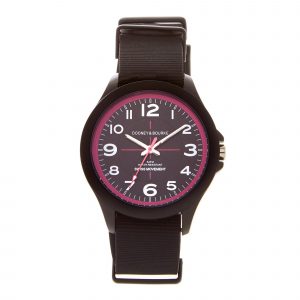 Whether you are catching a train or hitting the gym, Dooney and Bourke Watches will be with you every step you take. The soft rubber strap is paired with a comfortable matching case and a dial with complementary colorful accents. 
The Watches Poppy Sports Watch is made using a soft rubber strap, and it comes with a matching case for comfortable all-day wear. The watch is available in complementary colorful accents like yellow, white, orange, and black. 
Available at $128.00, the watch weighs 2 oz, which is part of the reason it is comfortable. To ensure this watch remains in its good working condition, use a damp, soft cloth to clean it from time to time. It is not water-resistant, so do not immerse it in water when cleaning it. You can pair the watch with the Alto Hidden Handle Brief or Florentine Medium Duffle.  
Dooney And Bourke Shoes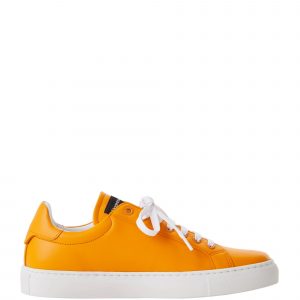 Ideal for outdoor activities, Dooney and Bourke Shoes are one of the brand's most popular products. The shoes are perfect for those having an evening game to catch up on or those who want to showcase their skills during the golf season.
The Women's Classic Lace Up is an everyday sneaker. It is handcrafted in Portugal using the finest calfskin leather. These shoes are timeless and comfortable, and you can wear them all day long, thanks to the cushioned innersole that guarantees you maximum comfort.
The shoes have a padded back collar cushion and tonal stitching. Furthermore, they come with white laces and are lightweight, with a pair weighing 12 oz. You can get these shoes for $159.00 and pair them with your favorite denim or dress, depending on the occasion.
The leather used to make these shoes is made from 100% cowhide which is water repellant. To clean the shoes, use a soft cotton cloth slightly damped with distilled water and gently clean in circular motions. Allow the leather to dry out completely and store appropriately, and do not use creams and polishes to clean.  
Dooney and Bourke Review from Customers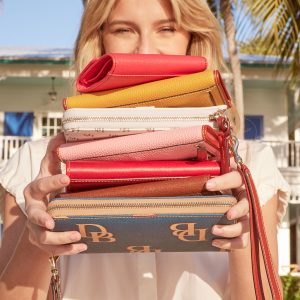 Our team checked the brand reviews from customers and found that most left positive reviews. Women who have bought their handbags and shoes are satisfied, with a high percentage promising to get a second and even a third pair. 
The Dooney and Bourke reviews that the team analyzed are in line with what is written on the company's website. Most of them point to durability, authentic, and high-quality products. 
One customer from Amazon was pleased with the elegant handbag she had purchased from the company. She bought a medium-sized handbag that perfectly suited her needs because it was neither big nor small. The quality of the handbag aligned with her expectations because Dooney and Bourke produce high-quality products. 
Popular Alternatives to Dooney and Bourke
She continued by saying that she loves the fact that it is made from pebbled leather that is not rigid, and the bottom of the bag was perfect for her because it did not touch the bottom. The customer left a five-star rating, and she highly recommended the bag. 
Another customer stated that she owns multiple bags from this company. They had bought several bags from their US store and reliable online stores, and they said that they would come back to order more bags. According to this customer, the Dooney and Bourke Barrel Bag is a high-quality bag that turns heads because it makes her look classy. Her only challenge is when she wants to order a Dooney and Bourke product online. The customer complained that their customer support team was slow to respond to her queries because it's not available 24/7. 
Because of these issues, Dooney and Bourke do not score high on TrustPilot and Sitejabber.
Sign Up for Dooney and Bourke

 
If you would like to be part of the Dooney and Bourke family, visit the company's official website and create an account. You will receive a 10-percent discount on your first order when you subscribe to their email list. You'll also get updates on upcoming deals and new arrivals.  
Where to Buy 
You can purchase Dooney and Bourke products from their official website at Dooney.com. Check their Store Locator page to find nearby stores.
Shipping and Return Policy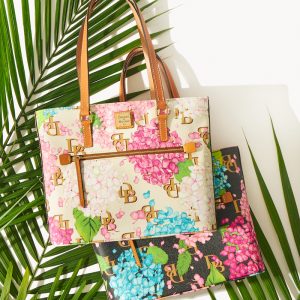 The company ships its products worldwide. Customers should allow 24-to-72-hour processing time after making an order. There are certain times of the year when there are delays in shipping, and it may take between 4 and 5 days to process your orders. 
The company offers several shipping options to choose from, and customers enjoy free shipping for orders above $119.
If you are unsatisfied with the item you just bought, don't worry: the company offers a full refund within 30 days of shipment. Returned products should be new and unused. They also charge a flat rate of $9.50 on all domestic orders, with the processing of returns taking between 5 and 10 business days. 
Promotions & Discounts
Our team discovered several promotions and discounts available to customers to help them save money when shopping for Dooney and Bourke products.
Customers enjoy free shipping for orders above $119

The company offers 10% off on your first order when you sign up for their email list.

You'll get 1% cash back for online purchases sitewide

Customers enjoy up to 60% off Gretta Collection after copying and pasting the code provided.
Dooney And Bourke Customer Service

 
To know more about Dooney and Bourke products, visit the company's website and fill out the contact form, and their support team will get back to you. You can also call Dooney and Bourke Customer Service representatives at (800) 347-5000 or send them a message on the Dooney and Bourke Facebook and Instagram page.
Dooney And Bourke Review: Editor's Verdict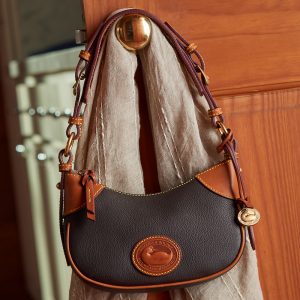 If you are looking for dazzling and durable leather products, check out Dooney and Bourke. This Dooney and Bourke review recommends their products because they are classy and high-quality. The company also has many positive reviews from customers who are content and satisfied with their products. 
Are you still looking for other brands that have stylish bags? Check out our reviews of DeMellier, Hobo Bags, Cuyana and Beis Travel.
Dooney & Bourke FAQ
Are Dooney bags good?
Yes. Dooney produces elegant, vibrant, and affordable bags that everyone should have in their closet. Reviews from customers also show that people love their products because they are good.
Is Dooney & Bourke Made in the USA?
Yes. Since the company was launched in 1975, they have been making bags with a highly-skilled team of craftsmen and designers in Norwalk, Connecticut, in the United States.
How do I clean Dooney & Bourke smooth leather products?
To clean Dooney and Bourke leather, use a soft cotton cloth slightly damped with distilled water. Gently clean in circular motions and allow it to dry completely.
How do I clean Dooney & Bourke vinyl products?
You should clean their vinyl products using a soft toothbrush. Dampen the toothbrush using distilled water and apply ivory soap to the surface. Gently rub the soiled areas and take care not to use much pressure.