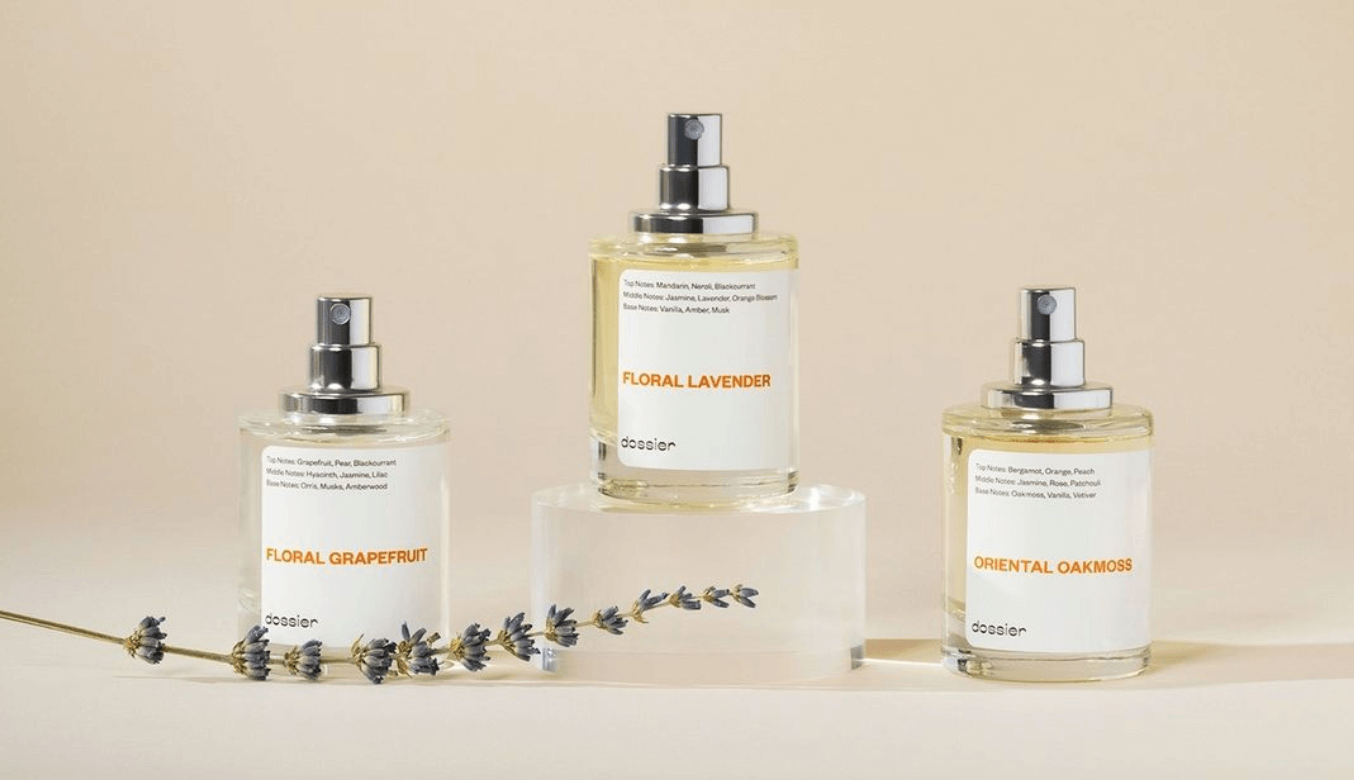 A good perfume is an accessory that can complement your style and wardrobe while emphasizing your individuality. The popularity of perfumes is growing every day because they help fight body odor and boost your morale. However, when looking for a fragrance, it's crucial to go for a branded, original perfume. Dossier offers a range of premium fragrances at affordable prices. If you are looking for inexpensive luxury fragrances, read on as this Dossier Perfume review will help you know the ins and outs of this brand and its top-selling products to determine if it is worth checking out.
About Dossier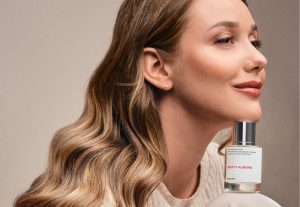 Headquartered in New York, Dossier was founded in 2018 by Daniel Schwartz after becoming tired of expensive perfumes. He researched the process of making luxury perfumes and realized he could craft the same scent at a fraction of the price using better ingredients.
Recognizing this finding as a great business opportunity, Schwartz launched Dossier, and in April 2019, its eCommerce store opened. The brand aims to make the iconic perfumes people love available to them with the same high-quality feel and luxe scent, but without the pricey packaging, markups, or celebrity endorsement fees.
Dossier's formulations are clean and non-toxic, without harmful chemicals. Instead, the brand uses natural ingredients to create highly pleasing unique scents, with each perfume smelling and lingering like their overpriced competitors.
This cruelty-free and vegan brand is transparent about the source of the ingredients they use in each perfume and its pricing. They also offer valuable information about the perfume industry.
The company uses higher concentrations in its perfumes than most brands on the market to ensure a long-lasting effect. People have gravitated towards inexpensive fragrances, and Dossier currently has a healthy following of 138k on Instagram.
The Business of Fashion, an online magazine dedicated to the fashion world, featured this company for its clever strategy of including samples on their perfumes to reduce used returns.
The brand doesn't cut corners or sacrifice quality when developing its perfumes. Regardless of the price, they ensure every fragrance they sell is of high quality and sourced from Grasse, the world's perfume capital and the center of the French perfume industry. Read our extensive Dossier Perfume review to find out more about the brand!
Pros
Accepts returns, refunds, and exchanges
They offer loads of promotions that help you save money
Their perfumes are eco-friendly, vegan, and cruelty-free
High-quality and affordable products
The brand is transparent about where they source the ingredients they use in their products
Their products do not contain chemicals and feature clean, non-toxic ingredients
Cons
They don't ship internationally
No live chat function
No phone support
They don't offer 24/7 customer support
Best Dossier Perfume Review
The brand has a variety of perfumes with irresistible aromas suitable for every occasion, season, and scent preference. If you are looking for the best Dossier Perfume, our beauty experts will round up some of their top-selling fragrances to help you find your signature scent.
Dossier Woody Sandalwood Perfume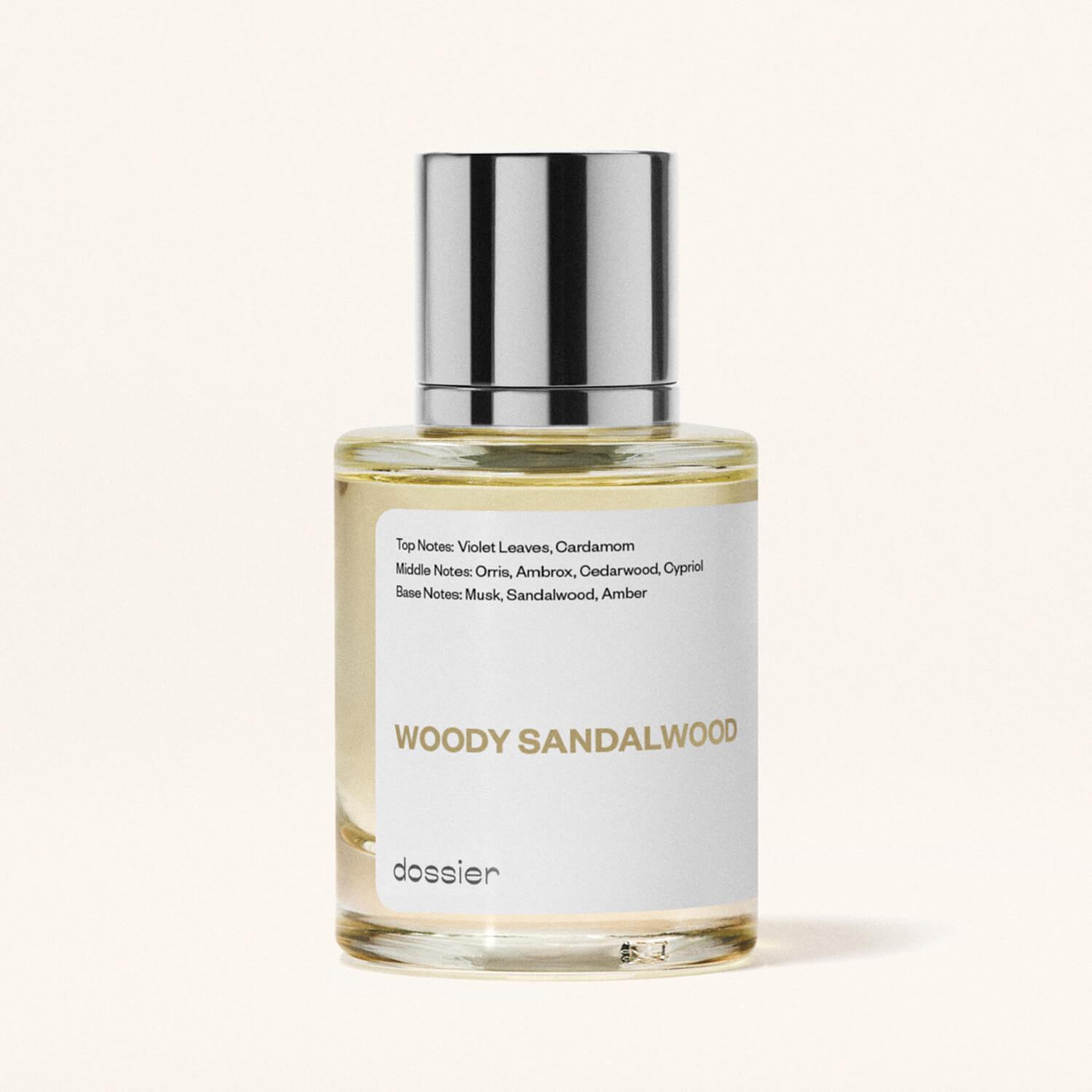 Available in a 1.7-oz bottle, the Dossier Woody Sandalwood Perfume is a tribute to the underused precious nature of Sandalwood. As the second player in the industry, this scent has capitalized on the high-quality Mysore sandalwood from India.
Inspired by Le Labo's fragrance Santal 33, this perfume evokes beach strolls and pastel sunsets fading slowly into pale azure-blue afternoon skies while it is gracing your body.
The subtle scent from this perfume features delicate floral notes and warm earthy undertones. The complex note of Dossier Woody Sandalwood Perfume excellently strikes a balance between sharp and exhilarating with soft and comforting.
Qualitative and minimalistic, this perfume will bring to your mind the comfort that a warm hug provides and conveys a deep feeling of inner sensuality unrivaled by any comparable scent.
In addition to boosting your memory, the sweet, soft scent of the Dossier Woody Sandalwood Perfume induces calmness and relaxation while promoting positive thinking, clarity, and concentration.
You can also use Dossier Woody Sandalwood Perfume as a mood booster. Its refreshing, sweet scent can energize and uplift your mood. You can bring out your sensual side by getting this perfume that goes for $49.
Dossier Oriental Oakmoss Perfume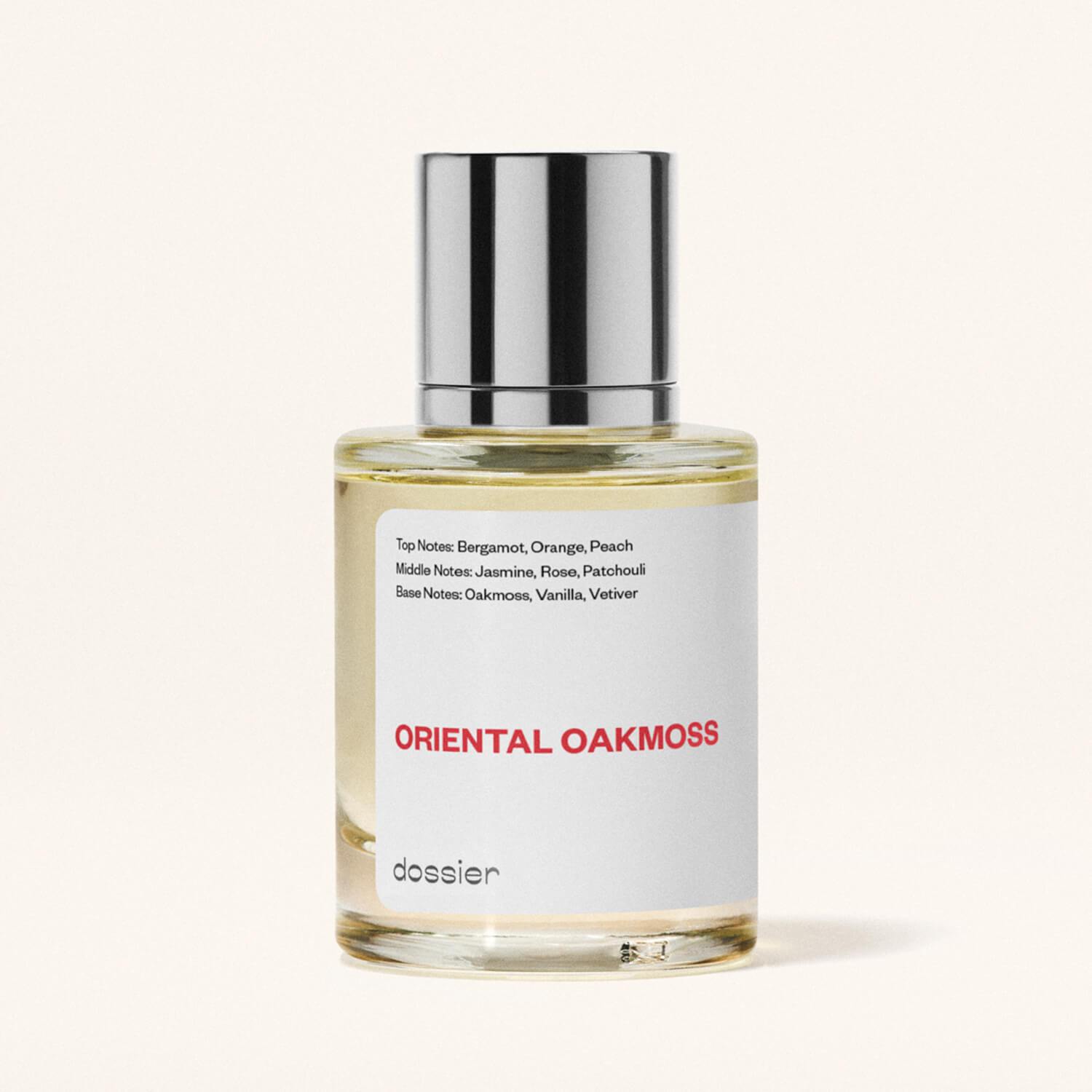 This perfume draws inspiration from one of Chanel's luxury scents: Coco Mademoiselle. Dossier Oriental Oakmoss Perfume got inspiration from the Chypre; this is one of the iconic perfume structures with a formulation that blends oakmoss, patchouli, rose, and bergamot.
The re-balanced raw materials of  Dossier Oriental Oakmoss Perfume give more room for a burst of floral coupled with a warm oriental base.
This multifaceted fragrance is ideal for the evening, as it is sensual and sophisticated. Wearing this spicy and exotic perfume will help you feel your best and get a boost of confidence, which is crucial when you want to impress your new potential partner.
You'll undoubtedly enjoy the soft notes of orange and peach as you delight in this puckish fragrance. Oriental Oakmoss was created to take your senses on an exciting adventure and inspire your playful side, which can lead to longer connections in your new relationship.
Wearing Dossier Oriental Oakmoss Perfume can also help you make a great first impression. You don't want to be dressed to the nines and not smell fresh, as you won't make a good impression.
Oriental Oakmoss will help you complete the package by showing others around you that you care about your looks and take care of yourself. People believe you take pride in the way you dress and your hygiene.
So you have to make a good first impression when going out on a date, and this perfume can help you with that.
How it feels like wearing Oriental Oakmoss
Our Dossier Perfume review found that this fragrance can also evoke feelings of love and happiness, and you can make it your signature scent to ensure you are memorable.
Dossier Oriental Oakmoss is available in a 50-ml bottle, and it is paraben and phthalate-free, colorant, and UV filter-free.Because it's a vegan fragrance, no harmful animal agriculture processes that cause untold damage to our planet were involved when creating this perfume.
As such, by using this product, you'll be doing your part of reducing carbon emissions and helping with the transition to a cleaner and more sustainable world.
You can add Dossier Oriental Oakmoss to your perfume collection for only $29.
Dossier Woody Sage Perfume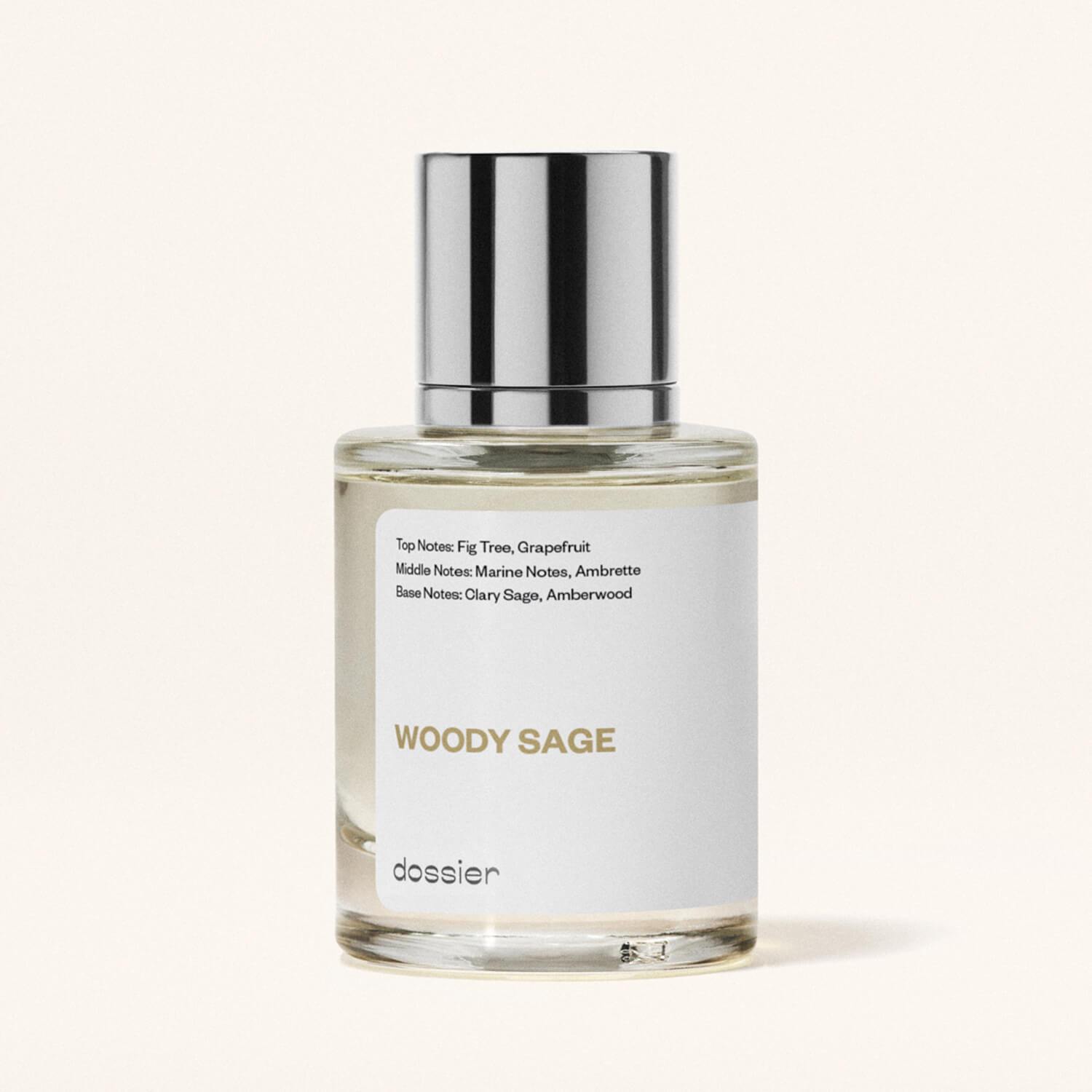 This complex fragrance perfume draws inspiration from the 100-dollar Jo Malone's Wood Sage and Sea Sale, and it features multiple layers. Woody Sage opens with uplifting notes of zesty grapefruit and fig tree pierced by the fresh scent of the sea.
The clary sage emerges as you go greater depths with the notes. The result is a mixture of aromatic raw materials coupled with floral, earthy, minty, and camphorated notes.
Dossier Woody Sage Perfume was designed to evoke the feeling of freedom, pleasure, and escape into nature, and it's a breath of fresh air when you stand atop a seaside cliff.
You only need $29 for this imaginative fragrance, and you'll be ready to go on a thrilling journey to the ocean shore. Woody Sage Perfume is available in a 50-ml bottle and contains vegan and clean eco-friendly ingredients.
Dossier Musky Oakmoss Perfume
Inspired by the $335 Creed's Aventus, Dossier Musky Oakmoss Perfume is an enticingly classic fragrance that you will reach for over and over again as it will energize your day. This perfume is fresh and refined, and it has a sort of British phlegm, as it conceals high sophistication under a casual look.
You'll notice inspiring notes of apple, pineapple immediately when you apply this fragrance. After some time, it will slowly turn into the classic Chypre note, which is a mixture of five notes: Patchouli, oakmoss, rose, bergamot, and amber.
The scent will eventually fade with a soft and subtle musk-infused undertone guaranteed to leave you craving for more. Our Dossier Perfume review discovered that the retail price of this 1.7-oz fragrance is $49.
Dossier Candles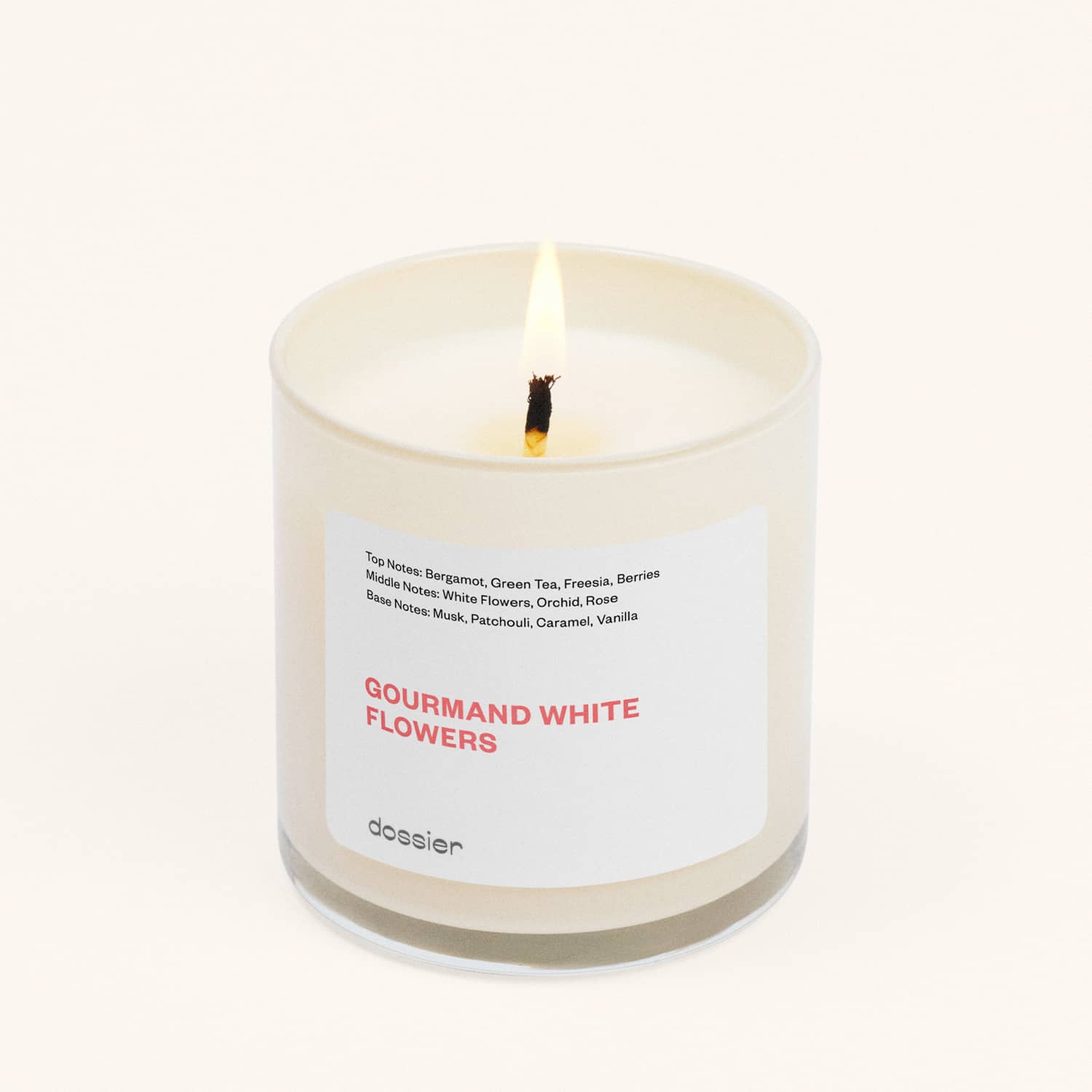 Dossier offers a range of scented candles that subtly add a superb fragrance to your space and mask unpleasant odors. These 5-oz candles have a 25-hour burning time and burn in a linear pattern.
When you light these candles, the main scent characteristics will be less forward and present and more subtle and permanent. The flame will mix with the wax, which will affect your scent perception.
Your first burn should last between 2 and 3 hours, and then allow the wax to melt across the top surface. The scent of these candles becomes much stronger when you light them for the second time.
Inspired by Dior's Sauvage Perfume, Aromatic Star Anise Candle can increase your focus to help you become more productive. Lavender, star anise, geranium, and bergamot will give your space a sophisticated and outdoorsy atmosphere.
While the candle is burning, you will inhale subtle black pepper and woody tones. This scented candle can help relieve stress and anxiety and improve the quality of your sleep and life.
When life feels too overwhelming, light this candle, and your stress will go down. In turn, this will allow you to go about your day.
Powdery Hawthorn Candle draws inspiration from Tom Ford's Metallique Perfume, and it does not feature paraffin wax. Hawthorn powder will recreate the powdery scent of ancient fragrances and cosmetics found in women's upper-class private dressing rooms.
Aery floral notes and talcum powder will meet and evoke clean, light, vintage comfort, and breeziness.
You can spark rich, mystical vibes when you light this candle during the day or night. Other scented candles that Dossier offers are Gourmand White Flower Candle and Floriental Vanilla Candle.
Dossier Perfume Review from Customers
Our Dossier Perfume reviewers also checked what customers think about this brand and the fragrances they sell. Buyers have left reviews on each product on their site, with most of them having good things to write about the company and their products. The average score of all products is 4.6 out of 5.
A high percentage of customers stated that they love their perfumes and candles because they are inexpensive and smell great. The majority of customers have also left a 4.5-star rating on Amazon, with a significant number of people saying they love the products because they are vegan and cruelty-free.
Others commended the brand for including a sample for testing the product.
While most reviews were positive, a few customers left negative feedback. Most of the complaints were from buyers who did not like the size of the products they ordered.
Sign Up for Dossier
To get up to 20% off when you and a chance to win $500, you have to visit Dossier's site and subscribe to their email and SMS.
Shipping and Return Policy
Shipping 
The brand ships everywhere in the continental United States but don't deliver to American overseas territories or P.O. boxes. Once you place your order, Dossier will take between one and two business days to process.
You will have to wait for 2 to 7 to receive your order. Of course, this depends on your location. They ship orders from their Pennsylvania-based warehouse.
The brand ship from Monday to Friday, except on holidays and weekends, and they offer free shipping if you order three or more fragrances. You will have to pay a shipping fee of $9 if you order one or two items.
Once the company ships your order, they will send you a confirmation email with details on your perfume or candle order status with a tracking number. By clicking this number, you will be redirected to the tracking page of the carrier, where you will be able to follow the progress of your parcel.
The carrier might take 1 to 2 business days to register shipments status. So, if your tracking number is not working or updating, you can drop them a line, and they will investigate.
Dossier allows you to change your shipping address after placing your order; however, you can only do this within one hour after placing your order. They cannot make changes after one hour because of the automated nature of their fulfillment.
Popular Alternatives to Dossier
Carriers
Keep in mind that if your package was either via UPS or FedEx, you can request a redirect, but you will incur an additional fee. If you want to change your shipping address after placing your order, you might want to contact USPS or FedEx to facilitate your request.
If you give the wrong shipping address, the brand won't be responsible for misdelivery, and they cannot make changes on their end. You can also cancel your order if you change your mind; however, this is only possible if you do it within one hour after placing the order, and they have not fulfilled it yet.
You can do this by reaching out to their support team during business hours between 9 a.m. and 5 p.m.
Return Policy
You can return new and gently used fragrances within 30 days after delivery, but you cannot return the product after this time frame. Dossier Perfume return is free of charge, and they will give you the money you paid for the product, except for the shipping fee.
The brand encourages you to try out its perfumes risk-free, as they may include a sample of the product you order. If you do not like the fragrance, you can return it and get a refund or exchange it for another one.
The company sends returned orders to Give Back Box, a nonprofit organization (NPO) with a mission to provide a convenient and effortless method of donating household items.
Promotions & Discounts
You will enjoy 20% after subscribing to the company's mailing list. When you purchase products worth $78 or more, you will receive a 10% discount. You'll receive a 15% discount if you sign up and order four items that total at least $99.
You can look for a Dossier Perfume coupon code online and enter it before checking out to get a discount on the item you want to purchase. That means you will get your favorite perfume or candle for a lower price.
Using a Dossier Perfume discount code during check-out is a great way to save money when shopping at this online store. Shopping for perfume has never been this fun.
Contact Dossier
The company has a highly-skilled support team that works hard to ensure you have a thrilling shopping experience. You can reach out to Dossier Perfume customer service representatives via their email [email protected] or using the contact form on their site.
Dossier Perfume Review: Editor's Verdict
To sum up this Dossier Perfume review, we find this brand worthwhile. Their products are high-quality, made from clean, organic ingredients, and reasonably priced. Tons of customers praise the brand and its products.
Dossier also prioritizes transparency and donates used products to charity. Additionally, they have loads of promotions that allow you to save money when purchasing fragrances.
Their customer support team is also responsive and ready to answer any question you may have about the fragrances they offer. For these reasons, we recommend this brand to anyone looking for a long-lasting fragrance at an affordable price.
If you love perfumes, check out these amazing brands such as By Kilian, Habibi, Elizabeth Ardens, or Byredo.
Dossier Perfume FAQ
Are Dossier fragrances long-lasting?
As Dossier fragrances were made after designer ones, they are long-lasting, and sometimes the scent lingers longer than the designer perfumes, depending on the composition.
Are Dossier fragrances tested on animals?
Dossier perfumes are all vegan, therefore none of their products are tested on animals.
How long will the Dossier fragrance bottle last? 
This will depend on each individual and how much they use. If a 50 ml bottle is used once a day, it can last up to 3 months.
Does Dossier also provide a sample with the 50ml bottle?
Dossier is working on reducing the use of plastic, so they will no longer send out samples. They trust that you'll love their perfumes, but in case not, you can just send them back and they will refund you.
How should I store my Dossier perfume?
Perfumes should always be kept away from heat or light, best stored in a cupboard and dry place. The products shouldn't go through drastic changes in temperature.