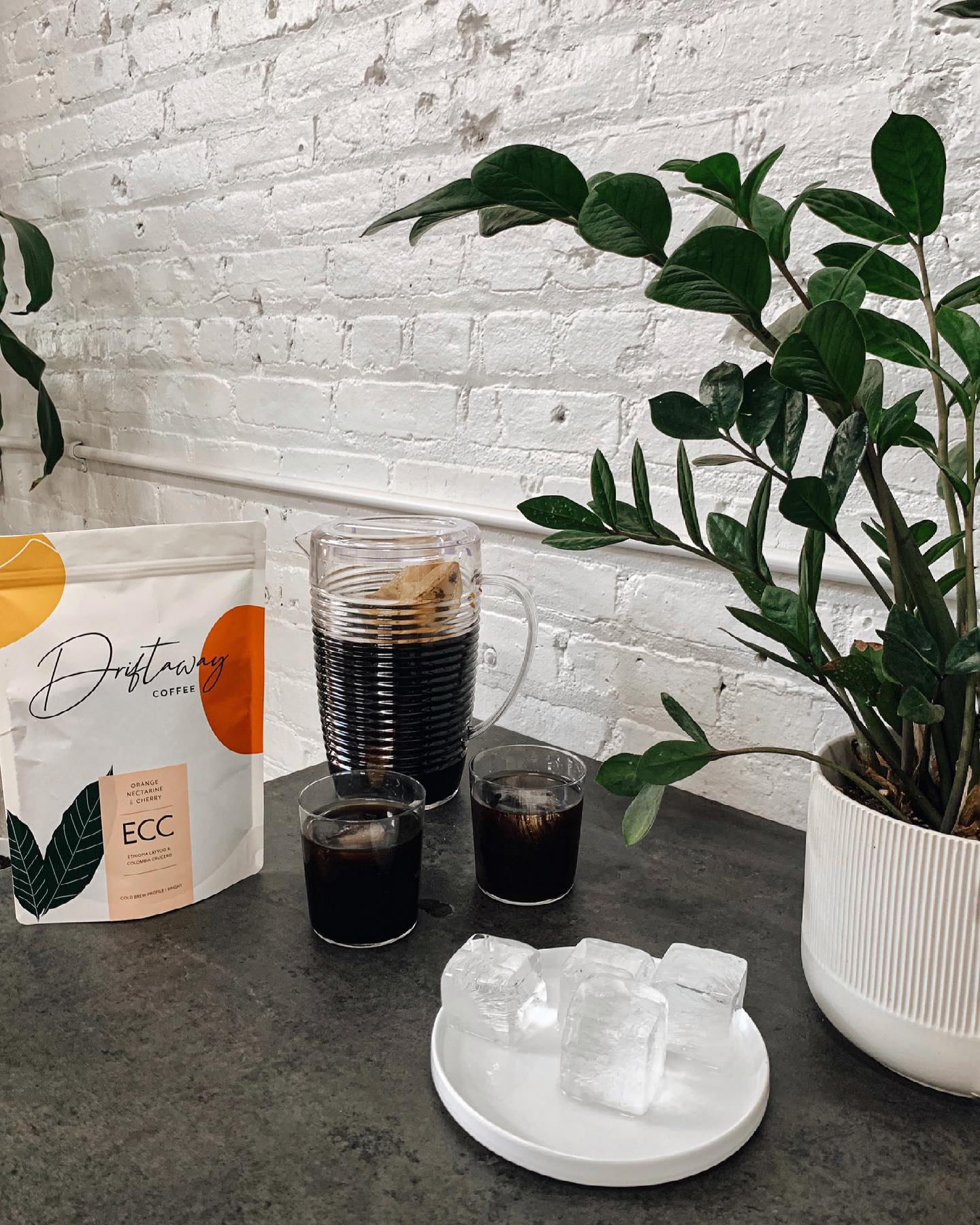 Based in Brooklyn, NY, Driftway Coffee is a sustainability-focused roaster that offers gifts and subscriptions in a socially conscious and environmentally friendly manner. Not only does it have your best interest at heart, but the interests of the whole planet as well. Driftaway Coffee turns renewable plant-based materials into 100% compostable packaging for its coffee to conserve the environment. We will dive deep into the ins and outs of this company, including Driftaway Coffee reviews from its customers, its top-selling brews, subscriptions, and more. In turn, you will be better informed to decide if this brand is worthwhile. 
About Driftaway Coffee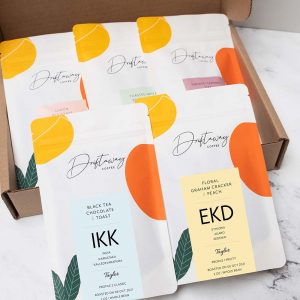 Like other inspiring stories behind significant brands out there, Driftaway Coffee founders did not start where they are today. While Suyog Mody had an inkling of what he wanted to become- an entrepreneur, Anu Menon did not have the same dreams. 
Our Driftaway Coffee review found that the two met at Georgia Tech while studying engineering. The duo went on to work at a digital marketing agency- SapientNitro; Anu worked for the same company for six years and Suyog for eight years. The itch of wanting to have something bigger and better kicked in, and the two began talking about possible ideas for finding work that mattered. 
After several months of intense research into other people's success stories, Anu and Suyog decided to start a coffee brand that would fulfill their desire and passion for creating great coffee. The duo put their heads together and began small by roasting coffee beans at their Brooklyn apartment. They further established their global connections with growers and partnered with small farmers.
The brand is renowned for connecting coffee fanatics to the amazing farmers who grow their favorite roasts. The company has landed in the spotlight of several major publications such as GMA, Vogue, and Town and Country for its sweet coffee flavors and subscription plan, since its foundation in 2012. Although the brand started as a "passion project," it has been well on its way to the top due to its two distinguishing factors: it only sells coffee online and personally roasts its beans.
Today, the brand offers nine types of coffee beans through its monthly coffee subscriptions and accessories for making delectable cups, such as droppers, grinders, and timers. USA Today ranked Driftaway Coffee as the Best Monthly Subscription Boxes for its high-quality coffee and what it offers. 
Pros
Ethically sources its coffee
Offers international shipping
Manufactures coffee that makes you feel connected to it
They provide detailed information on the farm, region, and workers
Offer new coffees monthly from all over the world
They offer free shipping on all orders
Cons
Offer only nine types of beans
Only sells online
Does not accept returns or exchanges
Driftaway Coffee Products Review
The brand rotates coffees every four weeks and ensures its customers get something new each time because they discover exciting coffees from all over the world. With that in mind, in our coffee subscription review, we will look at the bestsellers. Checking their flavor profiles, the types of roasters, and the brand's sustainability. They also have a great tasting kit for whoever is not sure what type of coffee to go for! 
Driftaway Single Bags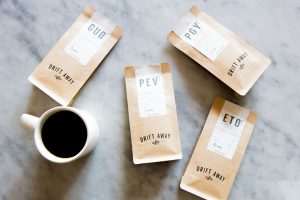 Who doesn't love a freshly roasted coffee in the morning? Driftaway Single Bags comes with a variety of coffees from various countries worldwide. If you're a coffee lover this is the right pack for you. Burundi farmers grow the Burundi Kayanza Buhorwa (BBK) with tasty notes of Chai Spices, Orange, and Brown Sugar on the hills of Muramvya. BBK coffee is available in two light roast options: juicy or fruity tastiness. 
Farmers from Guinea grow the Papua New Guinea AAK Cooperative (PHA) with savory notes and taste profile of Milk chocolate, Brown sugar, and Caramel. In Peru, Cajamarca Walther Acuna (PWA), coffee-producing villages produce coffee with Red Grape, Floral, and Milk chocolate tastes. 
Farmers in southern Ecuador blend Dark Chocolate, Rich, Almond, and Toast to create the Ecuador Mitad del Mundo (EMM). Customers have two options of bold medium-dark roasts. Driftaway Single Bags are available in either whole bean or ground coffees with options of 12OZ, 1lb, 2lb, and 5lb. 
Driftaway Cold Brew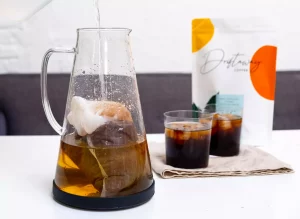 Coffee lovers who would live to expand their palate should try Driftaway Cold Brew. This product offers you an opportunity to savor the brand's variety of coffees without having to pay the total cost. 
Café-level cold brew at home is an alternative way to recreate the feel of your local café. It brings out a delicious and mess-free brew in an easy-to-make manner. If you are wondering: How can I get my cold brew to taste exactly like the one in your local café? Driftaway Coffee does it for you. The brand uses cold water to extract coffee flavors more slowly, adds the proper coffee, and grinds it to the correct coarseness. Furthermore, another similar brand that offers cold brew is Eight Ounce Coffee.
The company further pre-weighs and pre-grinds the Cold-brew New for you, seals it in their mesh bags, and delivers it to you. Driftaway Cold Brew comes in three different blends of coffee: bright, balanced, and bold options. Driftaway Coffee reviews show that customers like the Bright Cold Brews because they are African coffees in floral and fruity notes that offer a refreshing taste. Balanced cold Brew is a light-medium Central America roast with a perfect balance of citrus-like acidity and chocolate tasting notes. At the same time, bold cold brews are dark roasted coffees with rich, bold cocoa and dark chocolate flavors.
Driftaway Coffee Gear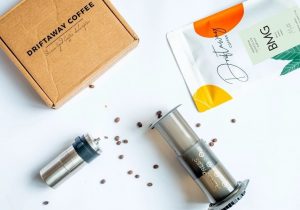 The brand offers a variety of coffee accessories, including brewers, grinders, kettles, and scales. The 58-dollar Porlex Mini Burr Grinder features sturdy construction, and it's designed to grind coffee beans into the ideal tasting, ready-to-brew material. It is among the best coffee bean brands. You can choose the grind setting that suits your preferred brew method, and then sit back and relax as the conical burrs do their job. Real coffee drinkers will appreciate this tool!
If you prefer single-serve, the Driftaway AeroPress Coffee Maker is ideal for you. This coffee maker is easy to clean and blends pour-over and immersion methods to create a wonderful cup of coffee. Made from sturdy BPA-free plastic, this coffee maker costs $35. 
The Baratza Encore Burr is undoubtedly the ultimate entry-level grinder for those who want to start their coffee journey. It gives a perfect grind for manual/drip brew and grinds fine enough for espresso. The $249 Baratza Virtuso+Burr features a digital timer with an all-new LCD that supports fine grinds for espresso and French press.
The 46-dollar Hario Buono Stovetop Gooseneck stainless steel kettle easily pours coffee and blends well with your kitchen counter. The brand also offers the Hario Scale With Timer; this simple and aesthetically appealing no-fuss scale that lets you view weight and time while making pour-over. 
Driftaway Coffee Explorer Kits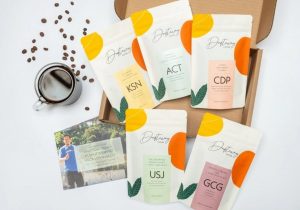 Driftaway Coffee Explorer Kits combines five single-origin coffees with various tasting notes based on the coffee's roasting method and origin. The fruity light roast originates from African countries like Rwanda, Ethiopia, Kenya, and Tanzania, while farmers produce the classic medium roast in South American countries like Colombia and Brazil. The balanced light-medium roast stems from Central American countries like Nicaragua and Guatemala. The bold medium-dark roast varies every month but is always dark roasted. Lastly, the extra bold dark roast coffees balance sweetness with toasty and smoky notes.
Driftaway Coffee Subscriptions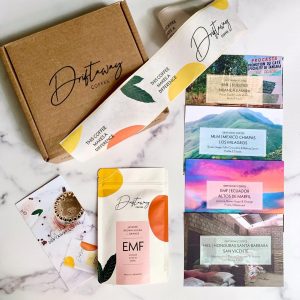 The brand's subscriptions are personalized to the customer's taste. The freshly roasted origin coffee subscription connects buyers to coffee farmers, and it contributes to sustainable livelihoods for the farmers.
Based on Driftaway Coffee reviews, buyers praised their subscriptions, saying they loved how they started with an explore kit that features five coffees from different parts of the world. Next, you have to rate the product you love the most before they mail you the coffees similar to the ones you prefer. 
Finally, you will get an opportunity to rank and keep track of the coffees you love most. Their subscriptions allow you to customize replenishment frequencies and various sizes on how much you consume.
The company also invites subscribers to a virtual tasting with James McCarthy, the World Brewer's Champion. Furthermore, they will receive an informative postcard with each order they make. Interested to know about the difference between Driftaway and Atlas Coffee Club subscriptions? Check out our reviews of Atlas Coffee Club vs Driftaway.
Driftaway Coffee Reviews from Customers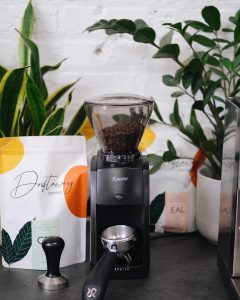 Are you looking for the best coffee brands in the US? Many customers do and they gave their honest reviews of the brand. We checked Driftaway Coffee reviews on the brand's site to see what people who have bought their products had to say and found that customers are dazzled by their coffees. Most buyers rave of the fresh savory flavors that kick-start their mornings and the unmatched quality of their products.
Major publications like The Vogue and Forbes have done a pretty good job on what the company does and why it is worthy of the success it has achieved so far. We also felt the need to do a bit of digging to find out what direct consumers had to say about the brand, and we were particularly concerned about the taste and quality of their coffee.
A high percentage of customers on Amazon gave the brand 4.7/5 stars and stated that their coffee is of "great quality." One customer said that the coffee tasted much better than the regular cup of joe; they continued saying that it is super smooth and has low acidic content.
Popular Alternatives to Driftaway Coffee
Most consumers became returning customers and referred their friends and families to taste their products. Customers love the tasting kit and samples that come with a collection of coffees that lets them try out various products they offer, allowing them to find out which ones suit their preferences. 
Customers also commended their thoughtful touches, such as detailed origin notes, personalized coffee bags, and the option of directly contacting your coffee farmer. Many buyers also had good things to say about their customer service, with a high percentage saying they are helpful, friendly, and quick to respond to queries.
However, a couple of customers were not impressed by the brand because they do not offer returns and exchanges, so they left negative feedback. 
Sign-up for Driftaway Coffee
Signing up for Driftaway Coffee is a seamless and easy process that requires you to provide an email address and create a strong password. Signing up for their newsletter will allow you to get updates on their forthcoming subscriptions and deals. 
Where to buy Driftaway Coffee
Driftaway Coffee strictly operates on a direct-to-customer policy. As such, you only purchase their coffee at their official website Driftaway.Coffee. There are also several tasting kits on Amazon, and you can buy them through a reseller. However, we recommend purchasing their products from their website
Driftaway Coffee Shipping and Return Policy
Shipping
The coffee company delivers its products within 4-8 business days after performing a tracking scan for international and domestic orders. You do not have to pay customs duty since the value of each package is small; however, international customers might have to pay for customs duties or taxes once the coffee reaches its destination.
Return Policy
This coffee company does not accept any returns from customers since coffee is a fresh food product. However, the brand urges you to email [email protected] to fix your orders. 
Driftaway Coffee Promotions and Discounts
Joining their mailing list will allow you to get the latest and best deals the company offers. By joining the Driftaway Coffee Perks Loyalty Program, the brand will grant you 1 point for every 10$ you spend on its site. Apart from the free charges on all U.S. shipping orders, when you refer a friend, you get a free kit, together with 20$ to use for your next purchase.
All subscriptions begin with a tasting kit of freshly-roasted whole bean coffees sourced from all over the world. These tasting kits have four different coffees with unique tastes that come with specific tastes that match the consumer preferences.
Our reviewers did not find any Driftaway Coffee coupon code, but keep checking online to see if they offer one. With a Driftaway Coffee coupon, you'll save money when buying their products.  
Contact Driftaway Coffee
For all inquiries about shipping and return policy or any general questions, email their support team at [email protected]. You can also call them using their phone number: (347)762-8576. Alternatively, use the chat function on the brand's site to talk to a customer service agent in real-time. 
Driftaway Coffee Reviews: Editor's Verdict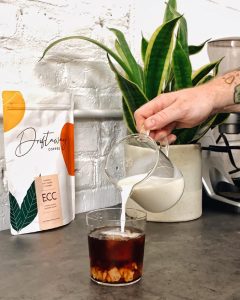 Based on the many positive Driftaway Coffee reviews that customers wrote online, we find this brand lives up to its hype. They make great coffee that suits the preferences of different coffee lovers. 
If you have been looking for a brand that stays true to its value while highlighting the coffees they love, look no further. We found the information provided on every coffee as detailed, informative, and helpful. Our team applauds the brand for its transparency and feels that they are doing an excellent job of making consumers feel closer to the coffee. 
If you are still unsure of where your loyalties lie, try the Driftaway Coffee Explorer Kit. Get ready to enjoy a kit that comes jam-packed with a collection of divinely pressed coffee flavors without having to commit to a whole bag.
We believe that this coffee brand has upheld its mission of contributing to both the planet and its consumers and has become a force for doing good. We continue to applaud the brand for its contribution to sustainable lives for the underrated coffee growers and for offsetting carbon emissions as a contribution to the Alto Mayo Protection Forest.
Their support team is also responsive and always glad to assist its customers to get the coffee that suits their preferences. For these reasons, we find Driftway worth checking out.
If you are looking for more coffee brands, check out our reviews of Bulletproof Coffe, Eight Ounce Coffee, Death Wish Coffee, and Angelino's Coffee.
Driftaway Coffee FAQ
Does Driftaway Coffee offer decaf?
Yes. Driftaway decaf coffee helps improve sleep and lowers anxiety, reduces the risk of getting type 2 diabetes, and it's lower in acidity than usual coffee.
Where are the Driftaway Coffees from?
The company sources their coffees from small farmers worldwide in places like south and central America and Africa before personally roasting them in Brooklyn, New York. To find the list of current coffees they offer, head over to their Current Coffees page. You will also find their older coffees archived on this page.
What is the quality of Driftaway Coffee's products?
The quality of these products is the highest among the coffee brands. It depends on your specific taste, however, the majority of the coffee blends are amazing. Their customer service is also outstanding.
Are the Driftaway Coffees whole bean or ground?
All coffees this company offers are available as either ground or whole bean. The company gives you the option of choosing your coffee from 3 different grind sizes. They, however, recommend that you buy entire bean coffees if you possess a burr coffee grinder. A burr coffee grinder is much more consistent than a blade grinder; they cut the coffee in two stages, making the gains smaller while traveling between the burrs.
How does Driftaway Coffee compare to other coffee brands?
Are you thinking of Atlas Coffee Club vs Driftaway and how the two compare? Driftaway has a unique flavor and the brand offers a personalized coffee experience. This type of personalization you wouldn't find with any other brand. You can choose the type of coffee, the frequency of your delivery, and the grind.