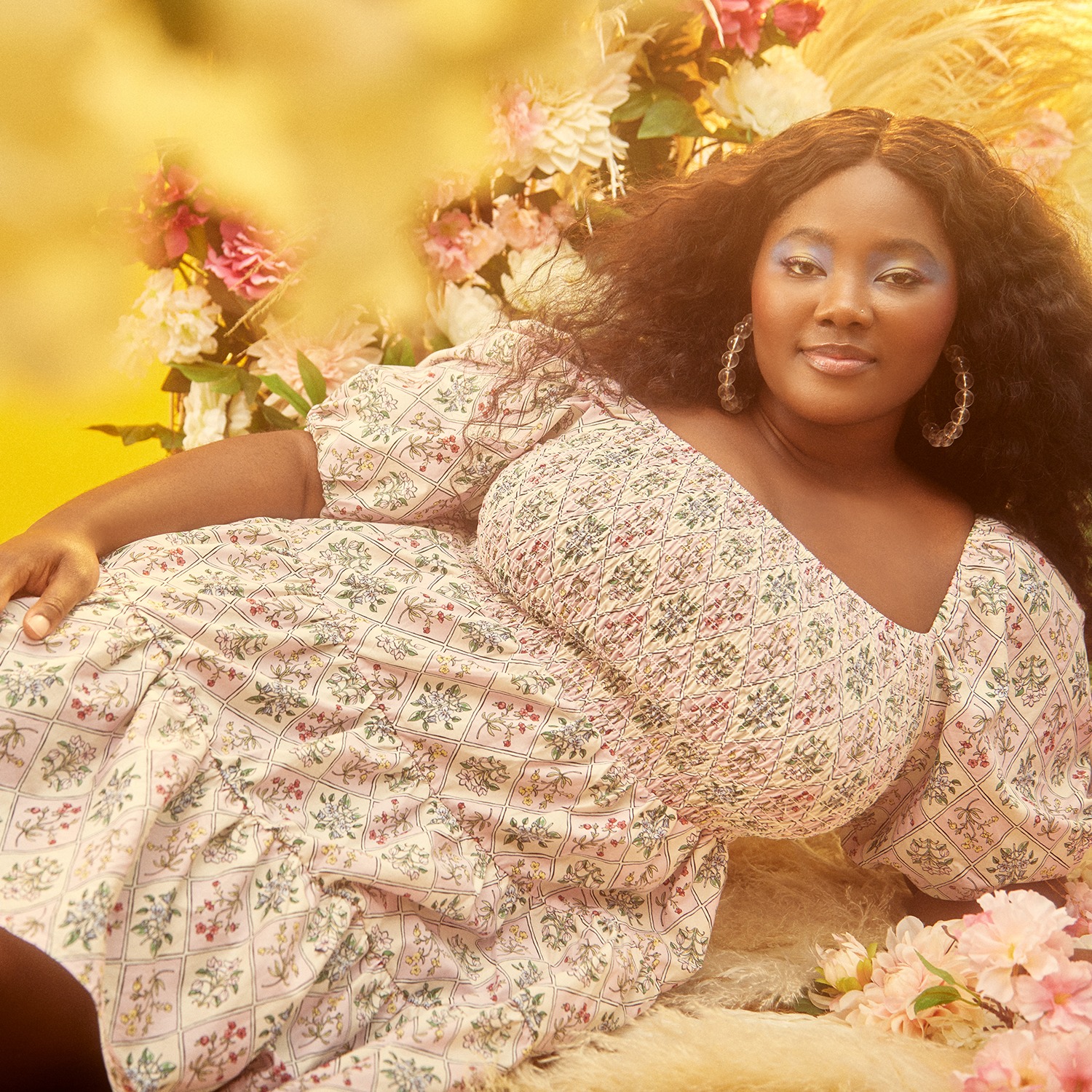 If you are a plus-size woman, then you understand the hustle of finding the right outfit. Many clothing companies are reluctant to stock plus-size clothes because they require more money, fabric, and patterns. Eloquii is a plus-size women's company that has stepped in to prove fashion can fit any size. We will give you the low-down on this clothing company, including Eloquii reviews from customers and its best-selling clothing items, to help you decide if you will add their products to your wardrobe.
About Eloquii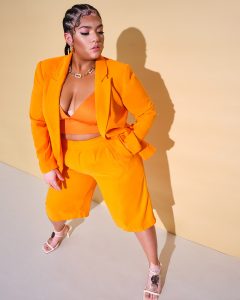 Eloquii is a plus-size clothing company based in Columbus and New York. The company was initially launched in 2011 as a limited brand that managed to gain a loyal following. After one and a half years, it shut down and decided to focus on its main business. 
After closing down, a few key members of the Eloquii team were not ready to give up on the company. A few individuals from the management team saw a beaming opportunity in the clothing line. They sought the help of an investor to keep the company going. 
One year after shutting down, Eloquii received a new lease of life and began its operations. In 2013, their original customers started demanding the company's return. Due to unavoidable circumstances, the company kept its relaunch under wraps until it had something substantial to offer its customers. 
Luckily, their return was bigger and better, and they managed to launch a new clothing line for plus-size women. From bright prints to crop tops, the company is here to prove that fashion can fit any size. They are more passionate than ever to create fashionable outfits for plus-size women. 
Over the years, Eloquii has been looking for new ways to serve its customers and acquire new ones. As they continue making plans to expand, the company recently announced ongoing plans to have the brand acquired by Walmart. 
Walmart decided to acquire Eloquii because of the potential in the plus-size market. It is estimated that plus-size women's apparels are worth $21b, and it is one of the fastest-growing industries in women's apparel. 
Eloquii has gained popularity, with some of its pieces being worn by celebrities like Rebel Wilson, Chrissy Metz, Lauren Ash, and Aidy Bryant. Their popularity is also evident on their social media pages, where they have garnered 380k followers on Instagram and 376k likes on Facebook. 
Before we delve into the Eloquii reviews, here is an overview of the pros and cons of this clothing company. 
Pros
They offer a wide variety of clothing to choose from dresses, skirts, jeans, suits, and tops

The company has different sizing options that range from 14-28

The brand is recognized by several A-list celebrities

Their designs are available in a range of fits to suit your body type

Multiple financing options are available via Affirm

The brand offers local and international shipping
Cons
They do not accept returns on items listed as final sales.

The company does not offer around-the-clock customer service

If you order different clothing items, they may have different delivery times
Eloquii Products Review
Eloquii dresses are designed to offer a distinctive and stylish look for plus-size women. The following is a review of the brand's bestsellers. 
Eloquii Party Dresses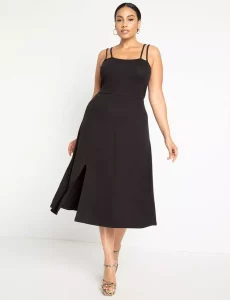 Summer time is that time of the year when people want to party, unwind, and forget all worries. If you want to go out and look your best, check out the Eloquii trendy party dresses. 
This clothing company has a wide array of Eloquii dresses for all your party needs. The High Low Ruffled Dress is one of the stunning party dresses. The dress is perfect to wear during summer for any outdoor event. 
As the name suggests, it is a high low ruffled dress, and it features a close-fit bodice. The waist has an elasticized seam separating the upper and the lower part. The lower part is an A-line skirt with a high low flounce hem.
It is a fully lined dress with flutter sleeves; this Eloquii dress is made from 100% polyester, an easy-to-clean material that is wrinkle and abrasion-free. 
You can style this dress in different ways, depending on your creativity. Since it is an off-shoulder dress, pair it with a white pearl necklace, a pair of sunglasses, and a small brown backpack. 
The second idea is to pair it with hanging mustard earrings and a yellow-green handbag. You can also complete the look by pairing it with silver accessories. For only $139.95, this dress could be yours.
Other party dresses include Ruched One Shoulder Dress, Cross Front Flutter Sleeve Dress, Gathered Skirt Dress, and One Shoulder Ruched Dress.
Eloquii Casual Dresses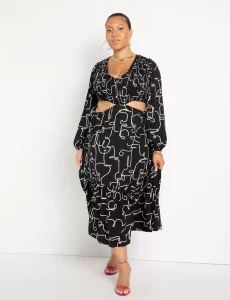 A casual dress should be relaxed, occasional, and spontaneous for everyday use. There are several Eloquii casual dresses to choose from for your everyday wear. 
The Eyelet Tie Front Full Skirted Maxi Dress is a high-quality casual Eloquii plus size dress; it is a full-front maxi dress and a close-fit bodice. The entire dress features a non-stretch woven floral eyelet.
The waist has an elastic band that separates the dress into two. On the lower part of the dress, you'll find a full skirt that flows up to the ankle. The upper part consists of a sweetheart neckline and an elastic finish at the shoulder.
This dress is available in soft white and foxglove colors. These are chilled colors, which make it easy to pair the dress with short-heeled black open shoes. It is made from 100% cotton, which makes it comfortable and high-breathable. 
You can wear the dress to a beach wedding or any informal event like a thanksgiving party. Available at $149.95, it can also be a great graduation dress with proper accessories.
Other casual dress options include Knot Front Pleated Skirt Dress, Puff Sleeve Easy Tee Dress, Smocked Bodice Midi Dress, Twisted Bodice Mini Dress, and Cross Front Flutter Sleeve Dress.
Eloquii Tops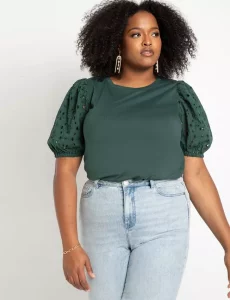 Finding the perfect fit top is a daunting task, especially for plus-size women. At times, it's hard to find a top that is comfortable and reveals your feminine side. Eloquii offers an extensive collection of blouses and shirts for plus-size women made from different materials. They are also available in different designs. 
The Combo Sleeve Tee is your everyday top; it is available in blush and black. These neutral colors make it easy to pair the top with anything. Made from 96% cotton and 4% spandex, the top features a close fit and a neckband crew neck, and it also has a hit at the hip. 
If you want to step out for an outdoor weekend event, you can pair the top with your favorite denim jeans and white sneakers. You can also wear the top to work and pair it with your favorite palazzo pants or khaki pants. The black top can go well with a white or orange blazer. 
For appropriate care during washing, turn the top inside out. Machine wash it using cold water. You can mix the top with like-colored garments. Do not tumble dry, but you can lay flat to dry and cool iron if need be. You can get this top for $54.95. 
Other pieces you'll find in the Eloquii top collection include Notch Collar Blouse, Overlay Detail Tank, Flocked Organza Sleeve Top, Denim Puff Sleeve Top, and Boxy Tunic.
Eloquii Jeans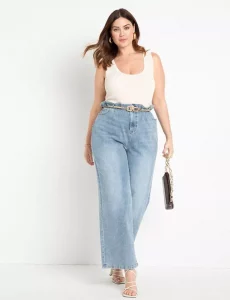 If you are looking for fit-to-feel jeans, check out the Eloquii plus size jeans section. When it comes to plus-size jeans, the company does an incredible job: they use high recovery fabric to manufacture jeans that fit different body shapes. Eloquii jeans are not just made to look good but to feel good. 
There is no better way to welcome summer than with a classy pair of Cutoff Denim Shorts from Eloquii; this short is available in beetroot purple, and you can get this pair of shorts for $74.95. 
It is made from 98% cotton and 2% spandex, which makes it comfortable and easy to clean. The shorts feature a booty short length with four pockets: two on the side and two at the back. The finishing consists of a double-fold stitch. 
There are various ways you can pair this unique denim short. You can pair the shorts with a black top and a black and white checked hat. You can also wear it with a white top and rose gold earrings. Additionally, you can style it with a white off-shoulder top and brown round earrings. All these pairing outfits are available in Eloquii at affordable prices. 
Other types of Eloquii plus size jeans you can try are Distressed Denim Shorts, Classic Fit Bell Bottom Flare Leg Jeans, and Classic Fit Olivia Sculpting Skinny jeans, among other options. 
Eloquii Outerwear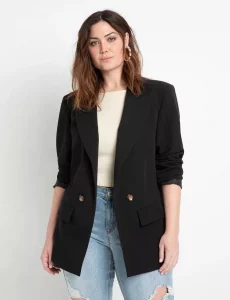 The Eloquii clothing company has a wide variety of quality jackets and coats for any occasion. You can wear their outwear when going to the office or for a casual date.
Throw On Duster is a premium choice of outerwear; it is available in oxford tan and evening blue, and you can get it for $139.95. From the name, you can tell that it's a throw-on sweater duster. No complications to this outfit, as you simply throw it on your body. 
It is an easy and relaxed fit with long-side vents. If you are 5'10,'' the sweater will flow to midi-length below the knees. This sweater duster is made from 80% viscose, which is soft to touch and drapes well. It is also made from 20% nylon, allowing it to have excellent strength and abrasion resistance. 
This outwear is versatile, and you can pair it with your favorite palazzo pants, dress, or skirt. The colors are neutral and can match any outfit. 
Other clothing items in the Eloquii outerwear collection include Tweed Blazer, aux Leather Moto Jacket, Long Relaxed Blazer, Sleeveless Faux-Leather Trench, and Cutout Detail Tie Waist Blazer.
Eloquii Reviews from Customers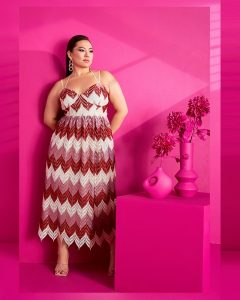 Our team checked Eloquii reviews to see what women who have purchased their clothing items say about the brand. The company has received many positive remarks on its website from customers who are happy with its products.
Many customers love the brand because they cater to the clothing needs of plus-size women. Big women are aware of the struggles they go through before they get clothes that fit. They are thankful to Eloquii because they offer high-quality clothes that provide a perfect fit. 
The High Low Ruffled dress is a top-selling dress, with a 4.8 rating out of 5/5 stars. Customers were quick to note that it is a beautiful daytime dress they can wear to a tea party or baby shower. They also stated they love how it is made from high-quality material. 
Popular Alternatives to Eloquii
The Relaxed Straight Leg Jeans that come with Slit is another clothing item with a high rating, as it scored a rating of 5/5 stars. Customers love this pair of jeans because it is unique. They mostly commend the contour waistband design and the relaxed slit, which make the outfit stylish. It is also easy to style it with any top because it is available in white, which is a neutral color. 
Most of their jackets and coats have a four or five-star rating on their website. The Ultimate Suit Blazer is quite popular among many plus-size, and it has 4.6/5 stars out of 43 reviews. One customer refers to it as a life saver. She said she purchased the skirt and jacket and wore it to her med school interview. It was a last-minute decision because it was hard to find the right fitting dress.
We also saw some negative Eloquii reviews from a couple of unsatisfied customers. They complained that the clothing company does not accept returns on any item listed as final sale. Others said when they ordered different products on their site, each item had a different delivery time. 
Sign Up for Eloquii
To join the Eloquii family, head to their official site and find the create account page. Here, you'll find a registration form that requires you to provide your name, email, and password. Fill out these details to create your account.
Do not forget to check the box to receive special offers and news about announcements and events. 
Where to Buy
You can buy Eloquii products directly from their website on Eloquii.com. Their clothing items are also available in Walmart locations. 
Shipping and Return Policy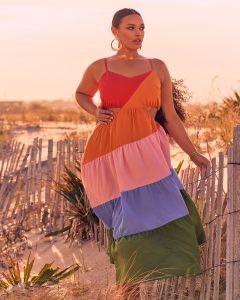 Shipping:
The company ships locally and internationally. If you are shipping within the U.S., you have three shipping options:
Standard service ships within 5 to 8 business days

Priority service takes 2 to 3 business days

Receive your order within one business day if you choose expedited service
Return Policy:
If you are not satisfied with the clothing items you have bought, you can return them to Eloquii within 30 days from the date of purchase. The item should be new and unworn, and you must include the original invoice. 
For international Eloquii returns, contact customer service, and they will be glad to help you process your return. 
Eloquii Promotions & Discounts
Eloquii has several promotions and discounts available to customers that will help you save money when shopping for their products.
50% off selected styles when you use the code WEEKEND at checkout

Free standard US shipping on all orders $125 and above

40% off everything else when you use the code WEEKEND at checkout

Visit the brand's Sle page, where you'll find select clothing items at discounted prices
Contact Eloquii
To know more about Eloquii products, or if you have any questions, contact the company through their phone number 1-844-693-5678. You can also send them an email through [email protected], and they will respond within 48 hours. 
Alternatively, you can send a message through their online form or send them a message on their Facebook or Instagram page. Eloquii customer service representatives are available from Monday to Friday from 10 a.m. to 5 p.m.  
Eloquii Reviews: Editor's Verdict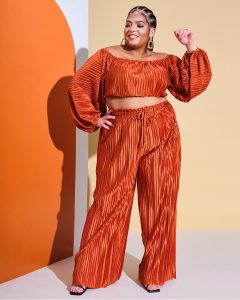 After checking Eloquii reviews on the internet, our team thinks this company proves that fashion can fit any size, and it's worth checking out. Plus-size women love their clothes because it has saved them from the hustle of searching for clothes that fit. 
Eloquii clothing company is convenient because they offer a wide variety of clothing items, including dresses, skirts, tops, and jeans. They also indicate their sizes, and if you are not sure about your size, you can use the size chart available on every outfit and shoe page. 
Their site also provides cover models, and they indicate their height and size, allowing customers to get a view of what they want to buy. 
We, therefore, recommend Eloquii to plus-size women looking for comfortable and fashionable clothes. 
Are you looking for more amazing clothing brands like Eloquii? Read our reviews of For Love and Lemons, Donna Karan, DKNY, and Ssense. 
Eloquii FAQ
Where does Eloquii ship from?
If you are wondering: Where does Eloquii ship from? The company is headquartered in Columbus and New York, and they ship their clothing items to Canada, the United States, and other countries.
How does Eloquii sizes run, and how do you know what your size is?
Eloquii sizes run from 14 to 28; the company offers a figure-conscious and sophisticated fit. If you don't know your size, check the Eloquii size chart available on every product. If you are still unsure about your size, the company recommends ordering one size up. They also provide details on the model's height and size for comparison.
What sizes are Eloquii shoes?
Eloquii shoe sizes range from 7 to 12 with a D/E (W) width. Fitness research shows that shoes are 30 percent wider than a standard shoe width. The company's knee boot has a circumference of 19" on the widest part.
Does the Eloquii brand offer price adjustments for any item that has recently gone on sale?
Yes. Eloquii offers a price adjustment for full-price items on sale for the last seven days. Be sure to review the company's full price adjustment policy.