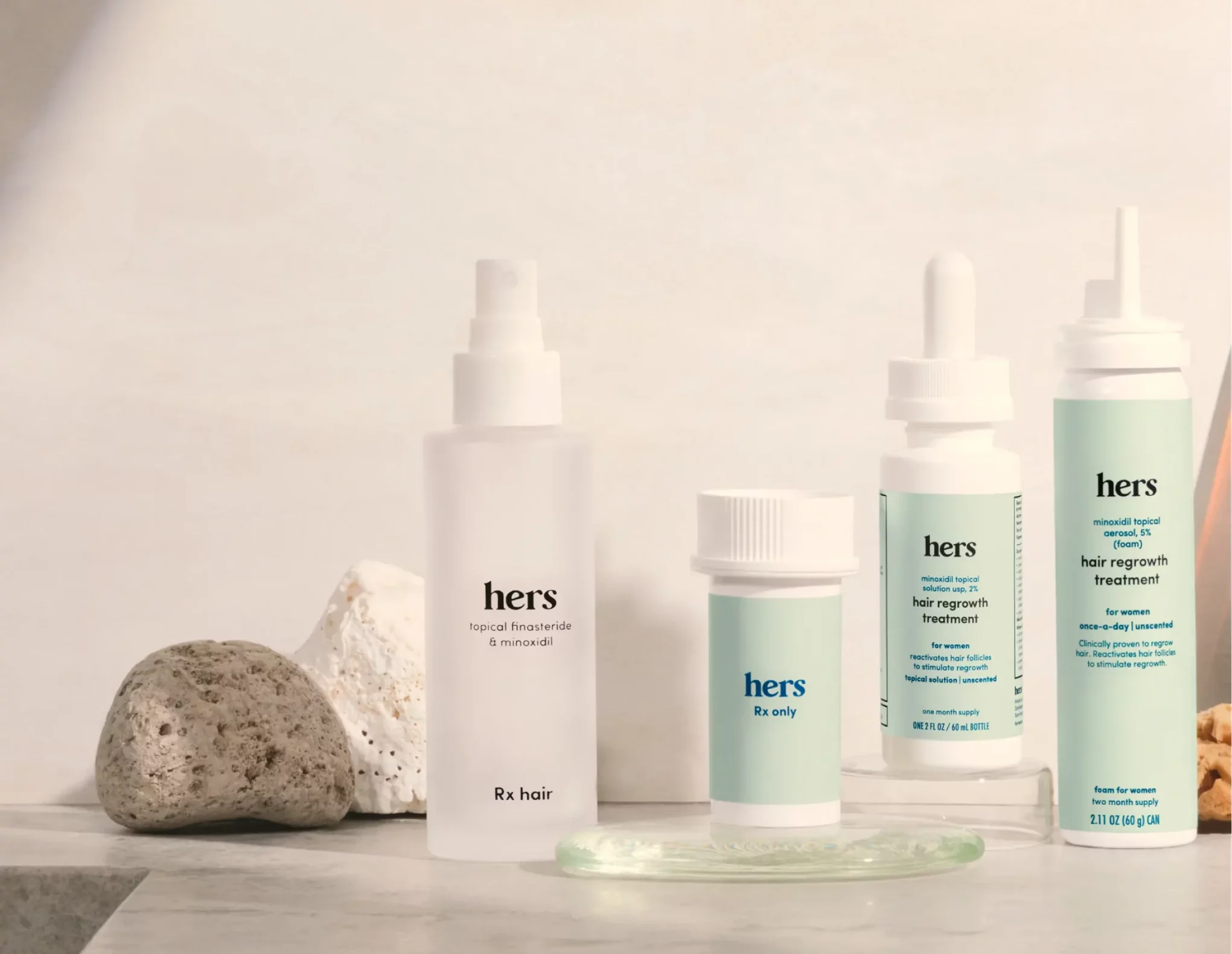 Headquartered in San Francisco, CA, For Hers offers health and beauty products for women. The brand focuses on selling modern women solutions for their hair, skin, health, and sex. It also offers mental health services, supplements, nutritional deficiencies, and primary care products. This company connects women with medical practitioners to assist them in their specific problems and then ships the prescribed medication to their customer's homes. The telehealth company also sells over-the-counter medicine to customers who can access their physical stores. We will take an in-depth look at this company, including For Hers reviews from customers, its mission, bestsellers, promotions, and return policy. You can then decide if its products are worth purchasing.
About For Hers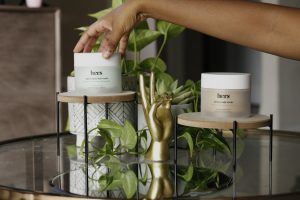 For Hers is the female version brand for the famous Hims company that targets to offer men with health and wellness solutions. The two digital health lines offer solutions to both men and women relating to sex, skin, nutrition, and primary care. 
The genius behind these brands, Andrew Dudum, launched them in 2017. The founder realized a gap in accessibility for certain healthcare products, especially to the average person, due to lack of funds, and in other instances, because of stigma. He decided to take matters into his hands and make skin and health care products readily available to all.
For Hers aids women with solutions for both the mind and the body at an affordable price. Most of their products cost 80% less than those found on the market. And to sweeten the matter, you can order and receive the treatment in the comfort of your couch. Being led by a board of qualified women medical advisors, the brand does its best to ensure that women's health stays in tip-top shape.
Additionally, this company offers detailed blogs that feature information about mental health, sexual health, pleasure, and treatments. According to For Hers reviews, readers love the blogs because they are well-researched to educate women. They also openly address topics that are perceived as taboo.
Pros
The brand offers a collection of wellness products directed to cater to women's physical and mental needs
Women can access health care discreetly in the comfort of their homes
The company offers prescriptions directly through its website and ships the medicine to its customers' physical addresses
The brand offer women with informative and educative blogs that openly address certain topics
Products are cheaper compared to similar products in the market
US customers enjoy free shipping
Cons
The company only ships its products within the United States
They don't accept returns on beauty, personal, intimate, perishable, and discounted items
They do not offer around-the-clock customer support
For Hers Products Reviews
Before we check For Hers skincare reviews from customers, we'll look at their best-selling products to find out their benefits, the ingredients they feature, and what makes them unique from other products on the market. For Hers is a similar brand to DS Laboratories, which also offers products for hair growth. 
For Hers Hair Care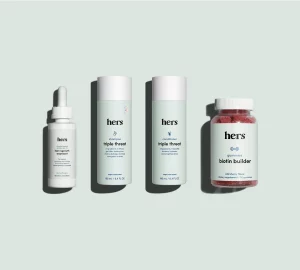 If you have specific hair goals, Hers Hair Care products are designed to promote healthy hair growth and regrowth. If you are struggling to thicken your hair, the 2-pack Hers Thickening Shampoo is the ideal product for you: it cleans, strengthens, and makes the hair fuller. The shampoo controls hair shredding, and you won't have to find your hair everywhere.
The shampoo cleans up the scalp and shrinks the hair follicles to help the hair appear thicker and stronger. For best results, use the shampoo alongside the brand's Biotin Gummies. These gummies are rich in vitamins for thicker hair, better skin, stronger nails, and essential nutrients for the body. 
What's a shampoo without a conditioner? Hers Conditioner is best used together with the brand's shampoo. Their conditioner locks in moisture to keep the hair hydrated, soft, and strong. The conditioner features a combination of ingredients such as argan oil, seed oil, sunflower, coconut oil, and amino acids. With time, you will notice thicker and fuller hair. The conditioner smells amazing and doesn't make the hair greasy. 
Once or twice per week, promote healthy hair using Hers Hair Mask, as it reduces hair damage and breakage. The product also contributes to thickening and strengthening the hair to give you shinier and healthier hair. Masking your hair also reduces frizz, adds moisture, and promotes a healthier scalp.
For Hers Skin Care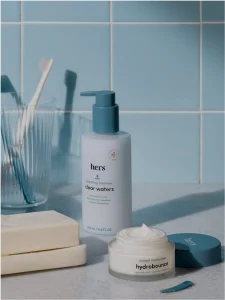 A good looking skin adds pride and confidence to the modern woman. That's why women need to treat wrinkles, dark spots, fine lines, acne, etc. from time to time. For Hers Skincare products are quality over-the-counter options prescribed by qualified dermatologists to help promote general skin health. Hers Acne treatment is available in luxe prescription gels and oral medication. 
Hers Tretinoin is a cream designed to treat acne; the tinoin levels vary depending on what the medical provider thinks suits your skin problems best. 
Tretinoin is also known as Retin A (vitamin A derivative), and it speeds up cell production, reducing the chances of getting pimples or having them stick to the skin for a long time. It also treats wrinkles, black spots, uneven skin tones, and blemishes.
For anti-aging purposes, the Anti-aging RX creams work the magic behind the stubborn wrinkles, fine lines, and spots and refresh your complexion to look youthful once again. The product contains tretinoin as the base ingredient, which increases the skin's turnover speed while reducing the appearance of wrinkles and blemishes. The product also evens out the skin's color, treats acne, dark spots, and more, making the skin appear smoother and younger. 
The brand's anti-aging cream also contains Niacinamide, which helps build keratin, a protein that keeps your skin healthy and firm. The ingredient also minimizes blotchiness, redness, fine lines, and wrinkles keeping your skin looking youthful. Azelaic acid contents in the product help clear pores from irritation causing bacteria. The acid reduces the skin's inflammation, making acne less visible and less irritated. 
For Hers Sexual Health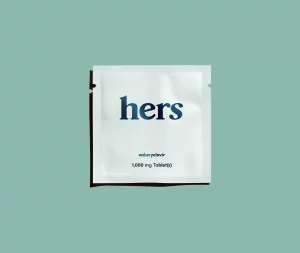 All women should keep their sexual health in control, and For Hers is the solution as it offers effective sexual health products. The brand offer solutions for birth control, low sex drive, infections, and more. Women encounter common yeast infections in their day-to-day lives, and that's where Hers Yeast Infection treatments come in handy. 
One of the most effective treatments for yeast is the Hers Miconazole antifungal; this involves a 3-day treatment that controls the growth of the fungus causing the infection. The product contains benzoic acid, an ingredient with strong antibacterial activity and has effects on the proliferation of yeasts and bacteria.
For Hers reviews show that women love this brand because it allows them to access effective birth control pills online. They give you a medical professional to talk to and guide you on the best pills to use. The company has reduced the hassle of having to drive yourself to the hospital for a doctor's appointment or waiting in line for long hours. 
Because every woman has unique needs, the company links you up to a practitioner who listens to your specific needs and guides you accordingly. The medical providers are licensed and qualified to help you choose the right plan available. 
For Hers also offer condoms and lubricants for couples to spice up their love lives. The latex condoms have a thin, hexagon, and strong design that offers a natural and smooth feel.
For Hers Supplements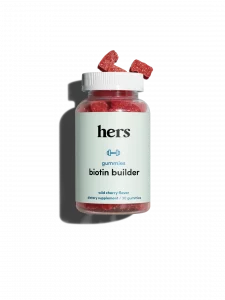 For Hers offer supplements for stronger hair and nails, as well as good health and wellness. They include wellness gummies, supplement powders, and mental health supplements.
One of the products for mental health is Focus Finder. As the name suggests, this supplement helps your mind focus and get ready to work, helps keep you in the mood for a busy weekend or any other activity that requires you to be assertive and alert. You will stay energized and refreshed all day long. The supplements feature naturally-derived green-leaf tea caffeine, mint essence coating, and a bottle containing 30 pieces.
Popular Alternatives to For Hers
The wellness gummies support hair and nail growth, sleep, and general immunity. To fight insomnia, Melatonin Sleep Gummies offer a sweet-tasting way to let you sleep faster and calmer than ever before. The product contains melatonin as the main ingredient, which is a natural hormone that gets you to sleep within a short time. 
Chamomile flower extract is another ingredient found in the product, and it's responsible for soothing and relaxing the mind. Combined with L-Theanine amino acids, the two ingredients help you calm and unwind. 
To add to a healthy lifestyle, Collagen Powder offers you healthier, hydrated, and more glowing skin. Additionally, the powder supports muscle recovery after a workout or any other straining activity. The product contains 18 different amino acids, and each bottle has 30 servings. It is also clean and free from gluten, GMOs, soy, and other additives.
For Hers Reviews from Customers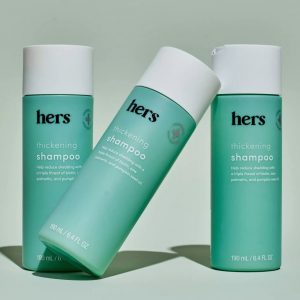 We also checked reviews online to get a clear picture of what users think about the company and its collection. Hers Skincare reviews on the company's website reveal that customers are impressed by how effective their products are and how kind they were to their skin. Many customers also praised hair and health products, with a high percentage saying that appointments have become private and treatments cleaner through the company.
Most of their products have 4 or 5-stars on Amazon, with more than 60% of the customers saying they love the company's products for their effectiveness. Customers who have used the brand's hair care products stated that their hair became healthier and softer with less shedding. 
Although we also came across a few customers complaining about the customer service, the majority of users said that the products are exactly what they needed. 
We also found For Hers reviews on Trustpilot, and most customers described their products as amazing and well-thought-out. They love how the products are clean and natural with no additives and harmful chemicals. Some customers found the wellness gummies delicious and effective on the spot.
Sign Up for For Hers
Sign-up today and enjoy the professional medical assistance to your problem right away. To get started with For Hers products and services, you need to register an account on their website. 
The company requires you to familiarize yourself with its terms and conditions before checking the box provided to complete the registration. You will then be able to browse through the list of the products they offer and get updates on upcoming discounts and deals.
Where to Buy For Hers
You can only shop for their entire collection by visiting their official website ForHers.com. Some of their products are available in retailers, including Bed Bath and Beyond and Target.
For Hers Shipping and Return Policy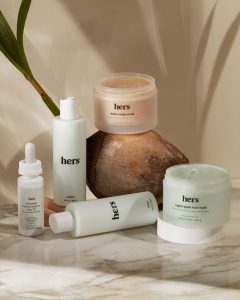 Shipping
For Hers is a company that values time because of the nature of its products. Therefore, the company ships orders within a day. It also offers same-day shipping and delivery in some areas within the United States. The company offers free shipping within the United States, and they don't ship orders internationally. 
Return Policy
The brand offers returns and refunds, with the return window period ranging from 60 to 90 days depending on the product. The products must have been used according to the doctor's prescription to qualify for a refund. The order should also fall within the return period, and the customer must have submitted the refund request together with the order number to [email protected]. Returns cannot be processed after the return period.
Promotions & Discounts
When you get a For Hers coupon or promo code and use it during checkout, you will get a discount. During our investigation of Hers reviews, we found out that the brand is currently offering a 15% discount for first orders using a promo code. For Hers is also giving a 40% discount to customers who buy complete hair kits.
Contact For Hers
To make further inquiries about the brand and its products, you can contact the company via phone at 1(800) 368-0038 or email them at [email protected]. You can also use the live chat feature available on the company's website to talk to one of their customer service representatives. The customer service team is available for you from 5:00 a.m. to 8:00 p.m. PST, every day of the week.
For Hers Reviews: Editor's Verdict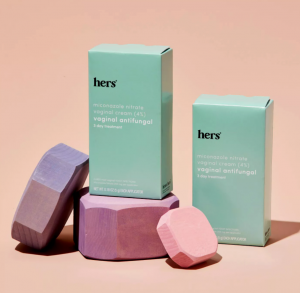 After checking For Hers reviews, we have concluded that this brand is worth checking out. Firstly, the brand has made women's health care accessible to all regardless of their status in life. The company's products are 80% cheaper than other healthcare brands in the market. 
For Hers vision is to empower ladies to stay focused on their mental, sexual and physical wellness, while limiting the wait time for their online appointments. The company also provides women with blogs to educate them even on topics that are believed to be private. For Hers is on a mission to eliminate female healthcare stigmatization and this is a point worth noting.
According to For Hers reviews, customers report exceptional experiences and talk about the transformative results the products offer. The company has allowed women to receive hassle-free medical assistance from qualified medical providers in the comfort of their homes. After that, you get the medication as prescribed delivered right to your doorstep. 
For the above reasons and more, we agree that the company is worth giving a shot and its products worth the buy.
 Are you in need of further health and wellness products? Check out our honest reviews of Keeps, Function of Beauty, Briogeo, and DevaCurl. 
For Hers FAQ
Are Hers hair care products for every hair type?
Yes, For Hers hair products are effective for all hair types. The company formulates products that are safe for all hair types. The products are vegan, cruelty-free, gluten-free, paraben-free, sulfate-free, and color-safe.
How can I reduce the side effects of my skincare Rx?
It takes the skin some time to get used to the prescription of skincare treatment offered especially for products containing tretinoin. The medical provider advises you to use the treatment 2-3 nights for the first weeks and increase the usage as the skin adjusts. Always follow the specialist prescription at all times. If you experience persistent side effects, it is good to consult the doctors through the company's website.
Does Hers test on animals?
The company is committed to responsible actions and this is why they don't test products or ingredients on animals. The company doesn't also allow third parties to test products on animals on its behalf. Their non-prescription products are PETA certified and leaping bunny cruelty-free.
When can I expect a response from my medical provider?
Due to the high volume of patients and longer waiting times, your doctor will give you an appointment time. You must be on schedule to avoid rescheduling your appointment when you are late. When you connect, make sure you stay on the call a little bit longer as the doctor winds up with the visit on schedule. Medical providers respond to the patients within 24 hours.
What is Hers acne treatment?
It includes a prescription evening cream offered in different strengths to help control acne. The cream features ingredients such as Tretinoin, Clindamycin, Zinc Pyrithione, Azelaic Acid, and/or Niacinamide. They are also free from parabens, gluten, sulfates, synthetic fragrances, and other additives.