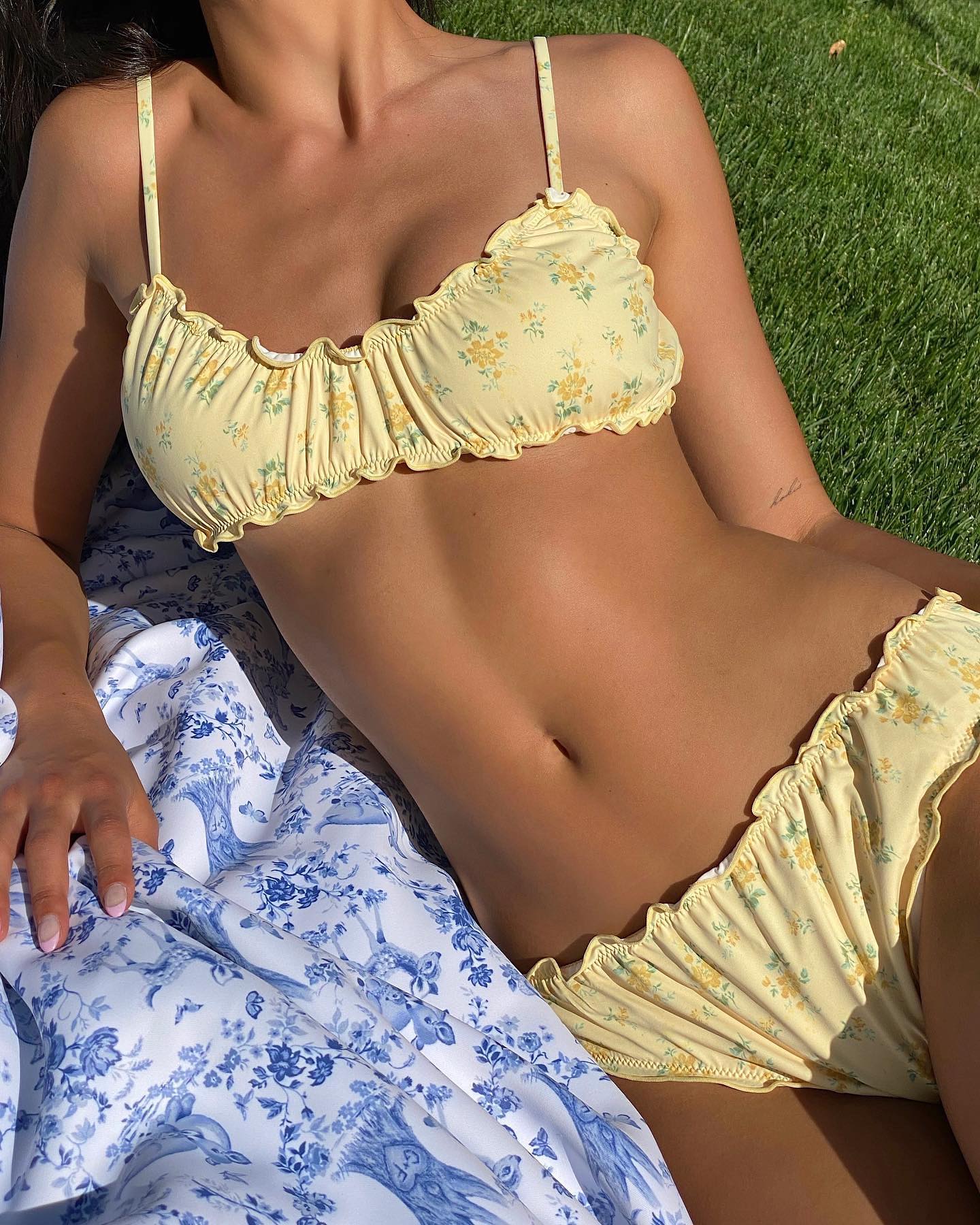 Frankies Bikinis is famous for its beautiful feminine designs, the inclusive range of styles and sizes, and last, but not least, the innovative fabrics the clothes are made of. With their trend-led designs, the company became very successful and today is collaborating with such fashion icons and powerful women as Gigi Hadid, Naomi Osaka, and Hailee Steinfield. But is this enough to trust a brand? What do Frankies Bikinis reviews say? Are the clothes high quality? How about the customer service or the price tags?
Today, you are going to find the answers to all your questions about the history, values, prices, products, and policies of Frankies Bikinis. And as we always do, we will take close look at items and analyze customer reviews, too. At the end of our review, we will give you our 100% honest and unbiased opinion about the brand and let you know whether or not Frankies Bikinis is worth your money.
About Frankies Bikinis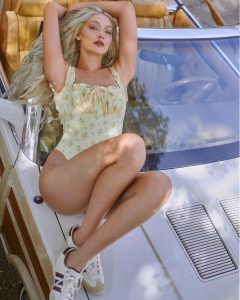 Frankies Bikinis is a mother-and-daughter success story. The brand was founded in 2012 when the duo Mimi and Francesca Aiello began designing stylish bikinis in their Malibu home. Thanks to their trendy and versatile designs, success came quickly and the small family brand became an internationally recognized company in a heartbeat.
Innovation, style, and inclusivity are what define Frankies Bikinis the best. The company's goal is to create stylish and comfortable garments that empower women and boost their confidence. They not only push their limits when it comes to creativity, but they also push the boundaries of the fashion industry with innovative sustainable practices. The majority of the fabrics used in Frankies Bikinis garments are recycled materials or come from sustainable sources.
The brand was featured in Flaunt, Lane Creatore, and Women's Wear Daily, and has significant number of followers on Instagram, Facebook, and TikTok.
But before we dive deeper into our Frankies Bikinis review, let's take a quick look at the most important pros and cons of the brand:
Pros
Women-led fashion brand selling inclusive clothing for all body types

Most of the fabrics are sustainable and recycled

Items are easy to combine, you can miss and match styles and designs

Quality clothing
Cons
Definitely not a budget-friendly brand, prices tend to be quite steep compared to other beachwear brands

Some customers complain about items running small
Frankies Bikinis Products Review
In the following section, we are going to share our opinion on some random items we picked from the Frankies Bikinis website. We are going to discuss the designs, the materials, the price tags, and most importantly, how previous customers rate the clothes.
Frankies Bikinis One Piece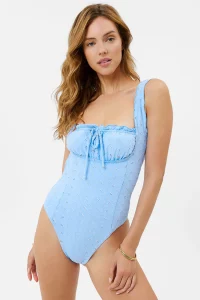 When it comes to swimwear, the Frankies Bikinis one piece swimsuits are ideal for those who are not particularly into two-piece bikinis. If you don't mind a little more coverage here and there, you cannot go wrong with these swimsuits. They are available in many designs and colors, suiting well any shape or body type.
Looking at the one-piece swimsuits on the Frankies Bikinis website, the very first impression is that all designs are very flattering. As a previous buyer named Rachel mentions: "Cut outs are so flattering, I usually don't love one pieces but the open back and center hole give sexiness that sometimes takes away that feeling when you wear a one piece". We won't argue with that.
The selection is not huge, but all swimsuits are different. From the very basic black swimsuits to the colorful one-piece with unexpected cuts and straps, you can find everything.
The sizing ranges from XS to XXL, while the prices start at $175 and go up to $195. Frankies Bikinis cannot be considered a go-to budget-friendly brand for swimsuits, but the quality justifies the high price tag. Most reviews are very positive, and almost all pieces got a 5/5 rating.
Frankies Bikinis Romper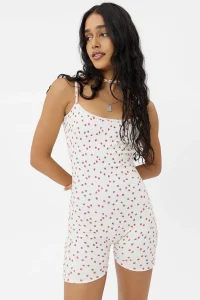 A Frankies Bikinis romper can be your go-to, instant outfit for days when you find yourself in front of your closet wondering what to wear. These garments are comfortable and simple, yet, thanks to their feminine design, they look very flattering on the body. They allow you to move freely, do sports, enjoy the beach or a lazy afternoon in the city. No matter what your plans are, if you are into ready-to-wear clothing, you need to explore the romper section of the Frankies Bikinis website.
You can choose from sleeveless, short-sleeved, or long-sleeved body suits and rompers that are available in different colors and prints. The colors range between $135 and $250. The cheapest item is the Rose Terry Romper which comes in both black and white. This short-sleeved romper with button close is made of 94% Nylon and 6 % Spandex made in Italy. Just to make a comparison the most expensive item is the Rose Knit Romper made of knit fabrics that include 55% Acrylic, 29% Polyester, 9% Nylon and 7% Wool.
Frankies Bikinis Collection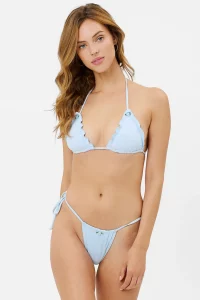 Now let's take a close look at the Frankies Bikinis bikini collection, the category you most likely are the most excited to read about. This section of the brand is so popular that you can even find Frankies Bikinis dupes all across the internet.
When you see the collection for the first time, you might be surprised by how feminine and chic the designs are. Small flower prints, decent straps, and bows make these bikinis sensual and beautiful. They are undoubtedly cheeky, flattering, and sexy, but they have a softness and elegance that can be noticed in each piece. They show skin but are not too harsh. For each design and color, there are multiple types of tops and bottoms you can choose from. This allows you to miss and match pieces and create a bikini that fits you the best.
When it comes to tops, you can choose from 7 different styles such as bandeau, bralette, crop top, halter, one shoulder, tankini, and triangle. For bottoms, you can choose from 3 types of coverage: cheeky, full coverage, and skimpy.
Price-wise, bikini tops start at $65, while the cheapest bottom is $80. The most expensive tops cost $130, while the most pricey bottom will cost you $100.
Frankies Bikinis Tops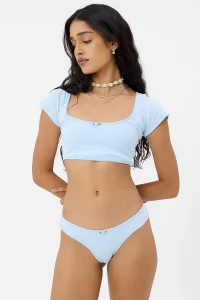 Many Frankies Bikinis reviews are saying how versatile and well-made the bathing suit tops are. These pieces are one of the best-selling items by the brand, so they are worth a closer look. As we mentioned above, you can choose from different styles when it comes to tops. No matter whether you like the classic triangle top or you would like a versatile crop top that you can easily wear on your way to the beach or back home, Frankies Bikinis has got you covered.
There is a wide range of colors to choose from. Just to give you an idea, there are many designs in baby blue, pink or white, but you can also find exciting prints such as strawberry cream or rainbow.
Bottoms Active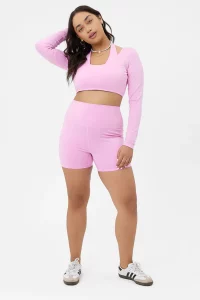 Before we share our collection of Frankis Bikinis reviews from customers we collected from multiple sources, there is one more category we need to discuss. Activewear, more exactly activewear bottoms are very popular among buyers. Looking at the collection, we can immediately see that these pieces are well-made and of high quality. The majority of Frankies Bikinis activewear is made of sustainable fabrics such as recycled polyester.
Besides being sustainable, these bottoms are flattering too. So if you plan to work out in these or do any sports, you will 100% feel at your best. When it comes to designs, there are 5 different colors or patterns you can choose from such as black, white, baby blue, baby pink, and plash plumeria which is a feminine design with white flowers on black and a pinch of baby pink.
Looking at the selection, there are biker shorts, tennis skirts, and leggings. Price-wise, bottoms range between $70 and $115.
Frankies Bikinis Reviews from Customers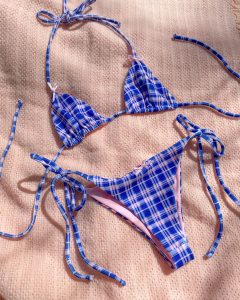 To be able to give our unbiased opinion about the brand, we also looked at Frankies Bikinis reviews from customers to see how their experience was with the company. On the official Frankies Bikinis website, there are not many reviews, however, the majority of feedback is very positive. Items got an exceptional rating ranging from 4/5 to 5/5.
Items in the swimwear category got probably the most reviews. People are obsessed with the feminine designs, flower patterns, and versatility of the pieces. They appreciate how easy it is to miss and match certain pieces. People say that items are comfortable to wear.  There are no complaints quality-wise either.
Looking at the activewear section we found some positive reviews there too: "These are hands down the best biker shorts I've ever worn. I've tried every activewear brand there is and these are by far my favorite! The fabric is so buttery and the fit is flawless! Perfect rise and the perfect length and SO flattering. Obsessed!"
The only issue that is frequently mentioned considers sizing. A few previous buyers complain about how the items run small. So in case you are between sizes, it might be a good idea to size up.
However, on independent review websites such as TrustPilot are given a lot of dissatisfaction with color fading and the company's return policy. They say it is rather complicated to return the items because of many strict rules. But Influensters love it.
Sign Up for Frankies Bikinis
We have also looked into the sign-up process on the Frankies Bikinis website. You can either sign up to get 10% off your first order with your email address or create a permanent account. To do this, you will need to head to the registration page on the official website and fill in the form. First, you will need to add your name, email, and phone number, then create a password for your account. Once you're done, you can sign in and enjoy shopping.
Where to Buy
With the help of the store locator on the company's website, you can easily find a nearby Frankies Bikinis store or a partner retailer selling Frankies Bikinis. According to the website, Frankies Bikinis has two official stores in the US:
New York City – Soho: 112 Mercer St, New York, NY 10012. The store is open from Monday to Saturday from 11 AM to 7 PM, and on Sundays between 12 PM and 7 PM. Store contact number: (646) 496-9715
Montauk: 786 Montauk Hwy, Montauk NY, 11954. You can visit the store from Monday to Friday between 10 AM and 6 PM, or on Saturdays and Sundays from 8 AM to 6 PM. Store contact number: (718) 374-6858
The store locator also helps you find the closest partner retailer to your location. Just to give you some examples, many Nordstrom, Bloomingdale's, Cattivo, and South Moon Under stores have Frankies Bikinis.
Obviously, if you prefer online shopping, the most convenient way is to visit the company's website at frankiesbikinis.com and place your order.
Shipping and Return Policy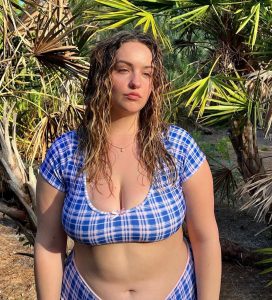 We're sure that at this point you're curious to find out more about the shipping and return policy of Frankies Bikinis. When it comes to shipping, the company needs 1 to 2 days to process your order and get it ready to be shipped. Once the package has left the warehouse, you will be given a tracking number which will help you to check on the shipping status of your order. Depending on your location, the shipping process may take as little as 1 day or a maximum of 9 days.
But the greatest news is that shipping on all orders is free! So you don't need to worry about large shipping fees no matter where you live.
In terms of Frankies Bikinis returns, the return policy is just as straightforward and customer-friendly. From the date of the purchase, you have 30 days at your disposal to return the unwanted items. The criteria are that all items must be unworn, and unwashed, with the original tags attached. Once your return got approved, you will get a full refund in the original form of payment.
Promotions & Discounts
If you want to save money on your order and you're looking for a Frankies Bikinis discount code, make sure to subscribe to the company's mailing list. This will give you an instant 10% discount that you can use on your first order. For this, enter your email in the subscription box you can find at the bottom right of the website. Shortly after, a coupon code will land in your inbox.
There is also a student discount you might benefit from. It gives you 10% off on your order. To unlock the Frankies Bikinis student discount you are instructed to register and verify your student status with Student Beans.
Frankies Bikinis Customer Service
If you want to contact the Frankies Bikinis customer service, you have multiple options to choose from. To help you find the option you prefer, here's the list including them all:
You can email the company at [email protected]
You can call them at (888) 959-0519
There is a live chat available on weekdays from 8 AM to 5 PM PST you can use to get in touch with Frankies Bikinis
To reach out to the company with customer issues you can also fill in the contact form on the contact page
Frankies Bikinis Reviews: Editor's Verdict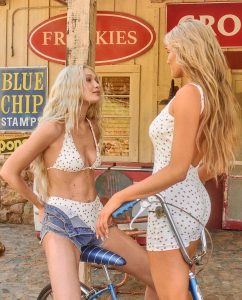 Now that we looked at the company from every angle, it is time to give you our final verdict. Are Frankies Bikinis worth your money? Should you trust customer service? Are the products truly good quality enough to be worth the extra money?
Based on the information we gathered, including Frankies Bikinis reviews from customers, our opinion is that you really shouldn't worry about quality when purchasing from Frankies Bikinis. All of their items are well-made, most of them created from eco-friendly, sustainable fabrics. The only downside is the high price tag which unfortunately makes the brand less inclusive and more exclusive. However, if you can afford it, you surely won't be disappointed, as these garments are durable and they will elevate your look for years to come.
Do you love swimwear and underwear brands? Check out our reviews of 10 Sustainable Underwear Brands, Ruby Love, Andie Swim, and Hanky Panky.
Frankies Bikinis FAQ
Is Frankies Bikinis ethical?
Being one of the best sustainable brands, Frankies Bikinis can be definitely considered an ethical brand. The company does not only use eco-friendly materials, such as recycled materials but the garments are also manufactured locally. This allows Frankies Bikinis to reduce its carbon footprint. Moreover, using eco-friendly materials means a limited amount of chemicals and significantly less water waste, too.
Is Frankies Bikinis true to size?
According to Frankies Bikinis reviews from customers, the items are usually true to size. You can also find a size chart on the company's website that you can relate to. Obviously, if you are still not sure about the sizing of a garment you can always contact the Frankies Bikinis customer service via the options listed on the website.
What are Frankies Bikinis made of?
According to the product descriptions and the company's communication, Frankies Bikinis are made of high-quality fabrics and delicate crochet details. Among the sustainable fabrics used to create the designs, you will find recycled plastic, recycled polyester, and sustainable viscose.
How do I care for my Frankies Bikini?
To help you take good care of your Frankies Bikinis purchases, each garment comes with a care label. These are located inside the garments and they give you specific instructions on how to effectively maintain the longevity and quality of each particular item.