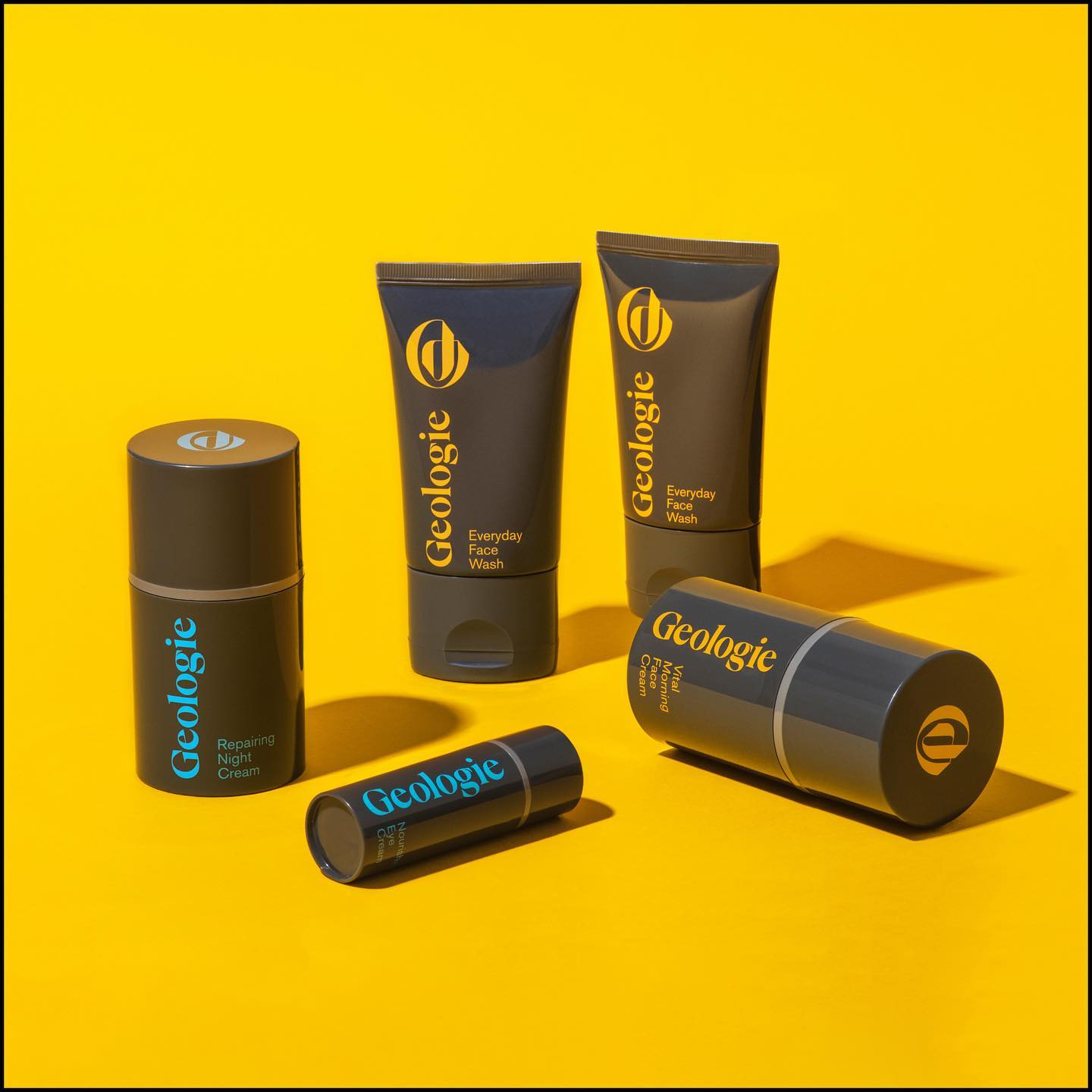 Located in New York, NY, Geologie has a mission to provide effective personalized regimens to every man. It works by identifying customers' specific skin profiles and tailoring its products to meet individual needs. Despite being in the industry for a relatively short time, Geologie has made quite a name among customers. It has featured in major publications such as Men's Health, New York Post, and Forbes. But is it worth the hype? We'll look at Geologie reviews, some of its bestsellers, promotions, and more. From this, you'll be able to decide if this brand is right for you.
About Geologie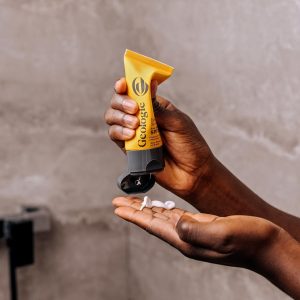 Two friends (Nick Allan and Dave Skatt) set out to create a line of cosmetics that would make it easy for men to get great skin. With an industry focused on women, the market for men's skincare was relatively untapped. That means men hardly get products solely tailored to their needs. 
With the desire to change that, the duo set out to create Geologie in 2018. Since then, the company has seen growth and has headquarters in New York. Currently, the brand offers a range of skincare products that are not only effective but also affordable. 
Its mission is to create personalized skincare products that are not only effective but also honest and of the highest quality. These products contain all ingredients that your skin needs for nourishment, protection, and restoration. They do all that without fillers, fads, or compromises. 
Geologie is an inclusive and diverse brand and caters to all types of skins and tones. It has something for every skin type, whether it's normal, dry, oily, sensitive, or a combination. 
The company has a team of experts passionate about helping men get the best skin of their lives. They offer assistance when assessing and identifying your skin type to get the best products for your desired results. The brand wants to make a difference in the world of men's skincare and provide solutions that give results without any hassle.
Before we examine Geologie reviews and their top-selling skincare products, let's look at the pros and cons of the brand. 
Pros
The brand offers a personalized routine and ingredients for all skin types
The ingredients are natural, which is good for your skin
The company offers a loyalty program for repeat customers
The products cater to all types of skin and tones
They offer 50% off the initial trial purchases and another 30% off all subscriptions to healthcare workers, first responders, military, and teachers
Internationally shipping is available to Australia, the United Kingdom, and Canada
Cons
They do not offer free shipping
The premium products come with a hefty price tag, but they are worthwhile
You can only claim for damaged items within 15 days after delivery, which is a short period
Geologie Products Review
With an industry that's bent on women, it's no wonder that men's skincare gets viewed as either luxury or an afterthought. That means men hardly get products solely tailored to their needs. And if they do, it's often a doubting and long process to get there. Geologie is a brand seeking to change that by removing the guesswork in getting great skin. With that in mind, here are the best-selling Geologie skincare products.
Geologie Cleansers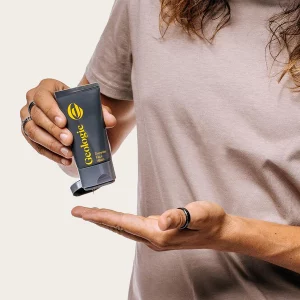 One of the best-selling products from the brand's skincare line is its cleansers. These products help remove dirt, dead skin, oil, sebum, and sweat from your skin. They do all that without irritating or damaging your skin in the process.
They also mitigate skin conditions such as acne, helping you get clear skin. The brand's cleansers are suitable for all skin types. That is especially helpful if you have sensitive skin that can't handle harsh ingredients.
While soup can also help your skin, it contains harsh surfactants that may leave you feeling dry, tight, and irritated. That's not the case with Geologie's cleansers, as they are gentle with balanced pH levels.
The brand has a variety of cleansers to suit everyone. For instance, if you have sensitive skin, the Sensitive Face Cleanser is the ideal product for you. This Geologie Face Wash comes with natural ingredients such as citric acid and Coco-Glucoside, which help soothe your skin.
Cleanser ingredients
The cleanser is also free of sulfates, parabens, and other harsh chemicals, meaning it won't strip your skin of its natural oils, leaving it feeling dry and irritated. If you have normal-to-oily skin, you can try the Bergamot Cedar Exfoliating Cleanser 2-Pack.
This product contains natural ingredients, such as Bergamot, Lavender oil, and Juniper Berry. They work together to cleanse and detoxify your skin without stripping it of its natural oils.
The face wash also removes dead skin cells, dirt, and impurities from your pores. It also helps you avoid inflammation and breakouts, thanks to the face wash's anti-inflammatory and antibacterial properties.
The best part about this product is that it comes in a 2-pack, so you can save some money and have a face wash for on-the-go. It will cost you $15 for the 2-pack and $7.50 for the travel size in a one-time purchase.
You don't have to endure the process of trial and error to find the best cleanser for your skin. Geologie makes it easy by letting you take a quick quiz that establishes your skin type. The company then provides tailored recommendations to give you the perfect product for your needs.
Geologie Moisturizers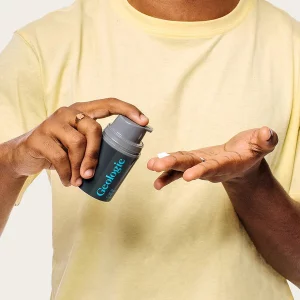 After cleansing, it's time to lock in moisture with a good moisturizer to help keep your skin hydrated and looking plump. Moisturizers also protect your skin from environmental damage, such as pollution and UV rays.
The brand has a variety of moisturizers to suit all skin types and needs. They include morning face creams and repairing night creams to hydro-gels.
The Active Recovery Hydro-Gel Moisturizer is an active moisturizer that features natural ingredients that help soothe and repair any sun-damaged skin. Some of the main active ingredients include 0.05% Allantoin, 2% Hyaluronic acid, 1% Squalane, and 3% Niacinamide.
The product moisturizes your skin and provides plenty of other benefits. For instance, the Niacinamide will hydrate, decrease redness and hyperpigmentation, and promote elasticity. In turn, you'll achieve an even skin tone and a youthful complexion.
On the other hand, the allantoin helps soothe any irritation, while the Squalane prevents aging. Hyaluronic acid helps your skin retain moisture, ensuring it stays hydrated all day long.
Retinol night cream
The Retinol Night Cream contains 0.2% retinol, a form of Vitamin essential for maintaining healthy skin; this ingredient helps with cell turnover and fights visible aging signs and breakouts.
The result is that your skin looks softer, smoother, and more youthful. The cream also contains other natural ingredients such as shea butter, coconut oil, Aloe Barbadensis Leaf Extract, 3% niacinamide, and 2% hyaluronic acid.
These ingredients work together to hydrate, soothe, and repair your skin while you sleep. You'll wake up to a rejuvenated complexion and ready to take on the day.
The best part is that these products offer two packaging options: The 15ml Active Recovery Hydro-Gel Moisturizer travel size pack needs $30, while the 50ml pack costs $55.
Geologie Routines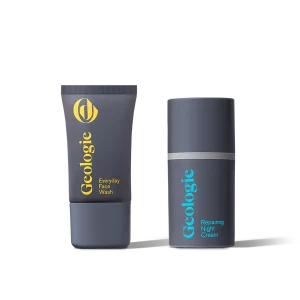 Apart from providing individual products, Geologie also offers routines to help make your life easier. The routines are simple 2-step skincare routines tailored to help customers with combinations. They are a set of trial blends that can help you achieve healthy and beautiful skin.
The routines may include a face wash, toner, serum, and moisturizer. That means you don't have to go through the guesswork of trying to figure out which products work best together.
This Geologie skincare review found that the brand offers a Complete Skincare Trial Routine ideal for those with sensitive skin. It contains four award-winning products that work together to fight aging, acne, dark circles, and sun damage.
The set includes Sensitive Face Wash, Vital Morning Face Cream, Nourishing Eye Cream, and Repairing Night Cream. Each product comes with clinically-proven ingredients that are gentle and provide desired results.
The ingredients
For example, the Nourishing Eye Cream features 2% kojic acid, 2% hyaluronic acid, and 1% caffeine. The caffeine helps with reducing puffiness and dark circles, while the hyaluronic acid provides long-lasting hydration.
Everyday Face Wash is a gentle cleanser that contains glycolic acid and 2% salicylic acid. These two work together to fight acne, brighten your complexion, and unclog pores. The wash also fights inflammation.
The Vital Morning Face Cream contains 5% SPF10, 3% niacinamide, and 2% hyaluronic acid. The purpose of this SPF10 is to protect your skin from the sun, so it helps you to fight visible signs of aging. The final product in the routine is the Repairing Night Cream which contains 0.2% retinol, 3% niacinamide, and 2% hyaluronic acid.
Unlike most other routines in the market, this Geologie routine provides a two-minute everyday guide, helping you understand what order to use the products and how long each step should take. This guide is available on the brand's website and makes using the routine an effortless procedure.
The set is available in two options: a 30-day trial set that contains 15ml of three products and one 20ml and a 90-day set with two 50ml, one 10ml, and one 60ml product. The trial set costs $50, while the 90-day set needs $150.
Geologie Sun Protection
The brand also offers sunscreens designed to protect your skin from harmful sun rays. Its sunscreens have ocean-friendly SPF 30 and provide broad-spectrum protection.
The sunscreen comes with nourishing ingredients such as 1% hyaluronic acid, glycerin, 1% niacinamide, and zinc oxide. All these ingredients work together to provide you with healthy and protected skin. Additionally, it's also oil-free, cruelty-free, water-resistant, vegan, and lightweight for daily use.
The company also offers a combination of sunscreen and the Active Recovery Hydro-Gel Moisturizer. With these two products, you get moisturizing hyaluronic, restoring niacinamide, and protection from harmful UV rays. By using these products, your skin will look revived while feeling fresh throughout.
There is no need to endure the summer heat and clogged skin pores: Grab the Broad-Spectrum Face Sunscreen SPF30 and have a worry-free day out in the sun.
Geologie Reviews: Customers Reviews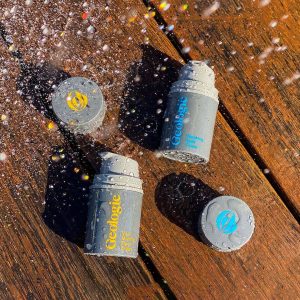 With all the talk about skincare, it's critical to know what other people say about the brand. Our Geologie skincare review checked customer feedback from different platforms to see what customers think about its products and the company itself.
On the brand's website, there are over 1,000 reviews with an average rating of 4.8/5 stars. People love that the products are gentle yet effective and have seen a difference in their skin after using the routine.
One customer said he didn't believe that a new product would make a huge difference in as little as one month. He added that the pores on his skin are now nearly invisible, and the skin under his eyes looks brighter.
Popular Alternatives to Geologie
Further customer reviews
Another happy customer from Trustpilot wrote that the routine helped with his acne scars and made his skin softer. He recommends it to anyone looking to improve their skin's health.
We also looked at the Better Business Bureau awards and found that the company has an A+ rating. It had no complaints filed through the BBB, indicating that the brand has responsible business practices.
However, there were a few negative comments. Most of the users complained that the brand does not offer free shipping and some of the products are pricey.
Generally, the negative Geologie reviews weren't about the product. They seemed to be more about services and prices. Overall, most people who've tried the brand are happy with the results.
Sign Up for Geologie
Customers interested in joining the Geologie family need to visit their site and sign up. All they have to provide is a valid email address and their first name.
Where to Buy
The best place to buy Geologie products is on their official website Geologie.com. Alternatively, you can find them on Amazon.
Geologie Shipping and Return Policy
Shipping: 
The company offers several options for shipping, including Standard and Expedited. Currently, they do not offer free shipping, and you'll need to pay $4.95 as the shipping fee.
The company offers international shipping to select countries. Western European customers receive their orders within 10-14 business days, while Latin America takes 7-17 business days. Middle East customers can expect their orders within 7-14 business days.
Return Policy:
The company offers a 14-days return window for all 30-day trial orders, limited to US-based customers. All you need is to send an email to [email protected] or make a request using the live chat function on their website. Cash Back takes 3-7 working days to process once the return gets received.
Promotions & Discounts
Geologie offers a variety of ways to save on their products. The most common is through their subscription model, where customers enjoy discounts on different products.
Currently, they have two special offers, and they are:
The company offers 80% off the initial trial purchases and another 30% off all subscriptions to healthcare workers, first responders, military, and teachers.
The brand offers 80% off the initial trial price and another 15% on all subscriptions orders for students.
Contact Geologie
If there's anything we haven't covered in this Geologie Reviews, you can reach out to the customer service team through the following contact methods:
Geologie Reviews: Editors' Verdict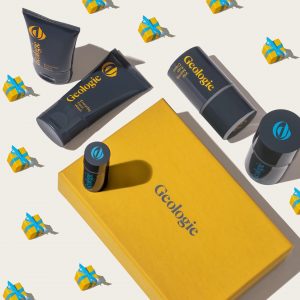 Based on our research and the feedback we gathered from Geologie reviews from customers, we find the brand to be a reliable skincare provider. Most of the feedback we found was positive, with people raving about how their skin has improved after using the products.
The brand does not believe in one size fits all solutions. We liked this personalization aspect since it offers every man an opportunity to get a tailored product. Also, we were impressed how the company is willing to offer free trials and subscriptions to allow its customers to try before they buy. Ideally, this business model enables customers to make informed decisions about whether or not they want to commit to a product.
The only downside we could find was the lack of free shipping. However, we don't think this should be a deal-breaker, considering the low cost of shipping. We recommend Geologie to any man looking for an effective skincare routine.
If you're still looking for other brands that cater to men's skincare, check out our reviews of Dollar Shave Club, American Crew, Lumin, and Disco.
Geologie FAQ
Is Geologie a good brand?
If you are wondering: Is Geologie a good brand? The answer is yes. Most of the customer feedback we found was positive, affirming that the brand's products are effective.
Does Geologie skincare work?
If you are asking yourself: Does Geologie skincare work? Yes, Geologie products are effective. Based on customer reviews, the products helped improve their skin condition.
Why do I get the same four products every time I take the diagnostic?
While the regimens contain four core products, the specific formula for each is unique based on your answers. You'll get a personalized regimen even if the products seem the same.
How will I know that I received the right products for me?
The only way to know for sure is to try them out. If they don't work as expected or you have some reaction, stop using them immediately. You can then reach out to their customer support team.
Are Geologie products ever tested on animals?
No, the company does not test its products on animals, nor do they contain any animal by-products. It strictly adheres to cruelty-free policies.