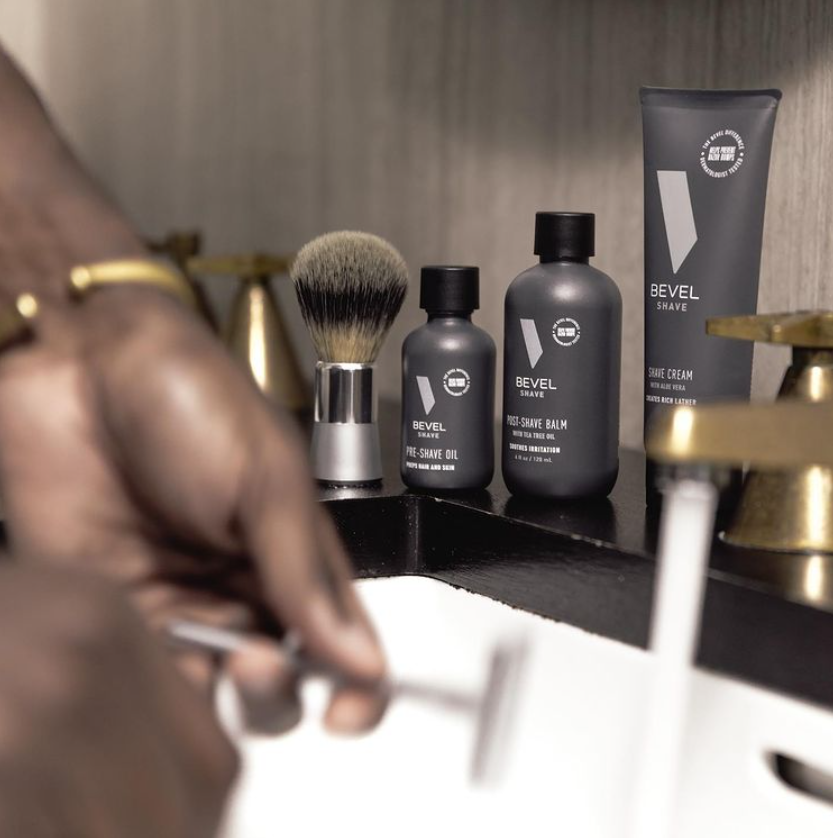 Created to cater to the needs of men of color, Bevel is a health and grooming brand that specializes in shaving products. While the brand grew to serve the needs of marginalized communities, its ever-expanding client base extends to people of all races. This Bevel review will cover some of their top-selling shaving products to help you get the full scoop on what they offer.
Known for the understanding of different skin tones types and needs, Bevel has been in operation since 2013. Its goal is to build the world's most customer-focused health and beauty products brand that inspires unparalleled consumer loyalty.
If you take pride in your skincare and would like to learn more about Bevel to find out if it takes your best interest at heart, this review has got you covered.
About Bevel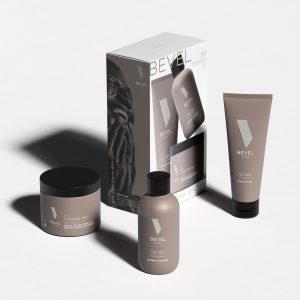 Tristan Walker launched Bevel under the umbrella of Walker & Company after realizing that there were no shaving options that cater to his needs as an African-American. Through Walker's frustrations with skin irritation that affects 80% of minorities, he started Bevel to solve this problem.
He set out to design a system that could shave coarse and curly hair without leaving the dreaded razor burn that had tormented him since he was a teenager. Walter wanted to create a high-quality, stylish system that would cater to this market. Besides shaving products, this company provides instructions on using their products and releases tutorial videos that help you create different styles and shave effectively to reduce post-shave irritation.
Bevel initially specialized in shaving systems, which were available in a subscription-based model. It's now available in retail stores, and it has expanded its line of products to include skin, hair, and body products.
Our Bevel review found that the company clinically tests all the products they offer to ensure top quality, and they continue to disturb the shaving club market. Although Bevel's collection is designed for black men, many women also use their products. Its community has grown significantly, and the award-winning grooming brand has gained several high-profile admirers, including Magic Johnson, Nas, music producer Ryan Leslie, and Big Daddy Kane.
Pros
Their shaving products are of high quality and effective in lessening bumps and skin irritation
They have a rewards program
You can use the razors on your head and face
Products have a sleek, stylish design
They offer a 30-day money-back guarantee
Instructions and tutorials are available to help you master your shave
Cons
The razor does not come with a stand
The company only ship to a few countries
They cannot reship or reroute a shipment once processed
Does not offer phone support
Bevel Gear Review
Our reviewers checked some of the popular products in the Bevel gear to help you determine if they can serve your grooming needs.
Bevel Trimmer Review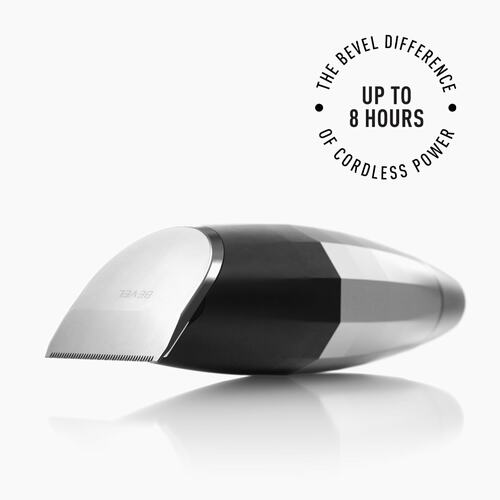 Featuring a built-in hookup for set-up, Bevel Trimmer boasts up to 8 hours of cordless and consistent power. Our Bevel trimmer review discovered that this battery-powered cordless trimmer has a custom-faceted body and soft-touch grip, and it offers 360° non-slip handling and superior control.
The Bevel trimmer has a LED ring that varies depending on the charge remaining and whether the charger is plugged in or not. When plugged in and the trimmer is charging, you will see a rapid blue flashing. If you see solid blue lighting, it means that your Bevel Trimmer is fully-charged, and a slow blue flashing indicates that the tool is still charging and has over 15 minutes of charge.
Suitable for at-home grooming and barbershop needs, the trimmer comes with a T-Blade attachment, which helps you create cuts faster. It also allows for easy handling and perfect access for trimming around your mustaches, beards, back of the neck, around the ears and cutting designs into your hair.
Additionally, the Bevel T-Blade stays cool during prolonged use and repels oil, dirt, and any build-up that can result in irritation. The trimmer has an in-built mechanism that allows you to adjust the blade without the need for a screwdriver — it will only take a thumb-turn of a dial.
Cleaning the trimmer is a breeze, as you only need to use a cloth to wipe the blade or brush it if you are going for a deeper clean. However, you have to hold its base firmly, ensuring it stays in place. It is also reasonably priced and makes for a perfect gift for your friend, son, husband, or father.
Bevel Safety Razor Review
Designed to shave you at the surface of your skin, Bevel Safety Razor helps to give your skin a smooth, fresh appearance. Our Bevel safety razor review found that it has a perfectly weighted brass handle that glides across your skin without additional pressure.
People throw billions of disposable plastic razors every year, which contributes to the pollution of the oceans and landfills. The environmentally friendly design of Bevel Safety Razor means that it's free of plastic, and you can safely recycle or reuse it.
While doing our Bevel Razor review, we also discovered that the safety razor uses a single blade to help prevent the tendency of razors with multiple blades to pull out the hair under your skin. In turn, this tugs and nicks your skin, leaving you with raised bumps.
Bevel Safety Razor is easy to clean and has a sleek design, with a shiny silver head and a matte silver metal handle. For best results, you may have to change the blade frequently, even within a single shave if necessary.
The razor is suitable for coarse and curly hair, and it gives you a perfectly smooth shave when you use it with shave cream and a quality brush. Pre-Shave Oil helps you create a lubricating layer that reduces cuts and nicks that can lead to dark patches and spots.
Once you finish shaving, be sure to apply alcohol-free Post-Shave Balm as it provides an instant soothing effect. It also speeds up the healing process after shaving and closes pores to prevent chemicals, dirt, or bacteria from getting in.
Bevel Shave System Shaving Brush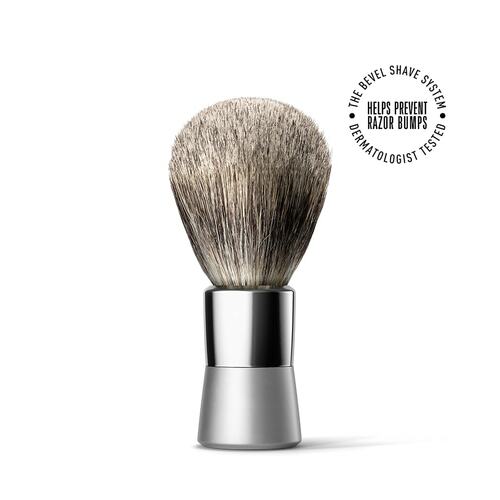 The Bevel Shave System Shaving Brush is an essential tool for men as it allows them to exfoliate their skin with ease, which is crucial when wet shaving. This shaving brush helps you remove dead skin to avoid clogged pores. And clogging pores can lead to the development of acne and pimples.
The shaving brush also helps you lather faster, and thicker lather means a more emollient and hydrated lubricant on your face. It helps lubricate areas that your fingers cannot reach, and the bristles do a great job of lifting your hairs to get the lubricant everywhere you want to shave. In turn, the hair on your face will become softer, allowing the razor to glide over your hairs to cut them with ease.
Additionally, our Bevel Shave System review found that this brush makes shaving more enjoyable, as it helps you calm down and have a thrilling shaving experience. Most importantly, this shaving brush can help you save money, as it is cost-efficient with your shaving cream and soap. That means you will use less shave cream and soap to work it into a suitable lather, helping you save lots of money in the long term.
Remember to soak the brush in hot water for a minimum of 20 seconds to saturate before you begin lathering. Lastly, this shaving brush thoroughly preps your neck and face before picking up the razor to start shaving and gives you the perfect shave.
Bevel Shave Starter Kit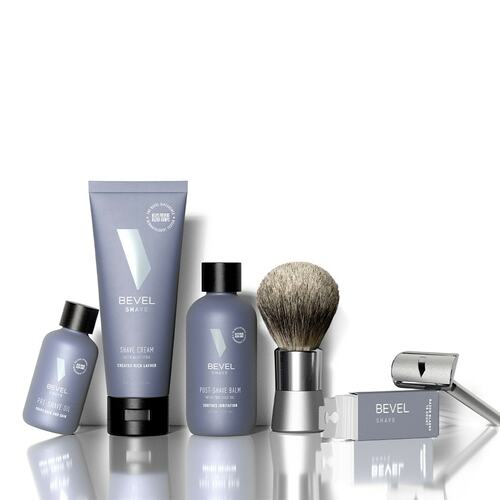 If you are new to shaving or want to overhaul your routine, The Bevel Shave Starter Kit gives you a chance to streamline. Whether you are the type of person whose whole routine takes less than five minutes, or you spend more than one hour in front of your mirror, creating a shaving routine is challenging. That is where this shaving kit comes in — it provides a high-quality and premium shaving experience by taking the guesswork out of what you need to use and improving the effectiveness of your shave.
The Bevel shave kit features everything you need to enjoy an easy, smooth shave, including the Bevel Safety Razor, 20 Blades, Post-Shave Balm, Shave Cream, Pre-Shave Oil, and the Shave Brush.
The Complete Bevel Shave System was designed to cleanse, protect, and nourish your skin whenever you are shaving. Buying this kit will help you save $34.80 that you would have otherwise used if you purchased each product individually.
Bevel Skin Care Review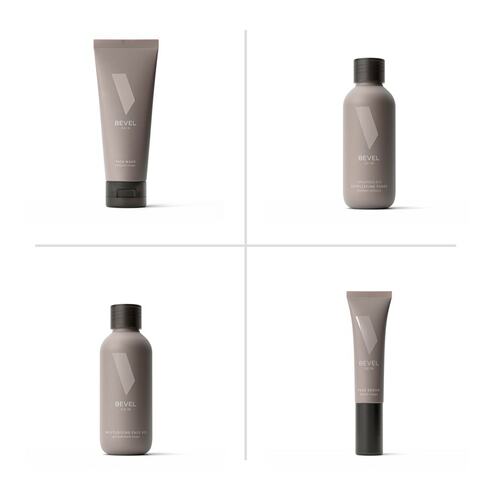 Suitable for all skin types, Bevel offers a Skin Starter Bundle that includes everything you need to reach the skincare goals you have been yearning for to forget about dull, uneven skin texture and tone. Our Bevel Skin Care review found that this kit contains five products that feature quality and safe ingredients that improve your skin.
The kit contains Face Wash for cleansing, revitalizing, and hydrating your skin for a healthier, fresher look. This product does not contain silicones, dyes, sulfates, parabens, or phthalates. However, it features hazel extract, which helps ease irritation, injury, and inflammation. It also reduces the chances of developing razor bumps, improves skin tone, and speeds up the recovery process if you have blemishes and scars due to shaving.
In addition to niacinamide and tea tree oil, the Face Wash features coconut water, which has moisturizing properties that soften your hairs before shaving to prevent ingrown hairs. This ingredient is also a natural toner and helps reduce the clogging of pores.
The Skin Starter Bundle also comes with Moisturizing Face Gel that helps reduce oiliness and dryness without a greasy finish. The face gel contains vitamin C, an ingredient that speeds up the healing process and reduces discoloration due to its antioxidant properties that protect you against skin damage and signs of aging. It also contains honey, which acts as an antimicrobial and antibacterial to prevent breakouts and soothe and lessen redness or swelling from blemishes and irritation.
Exfoliating Toner
2-IN-1 Exfoliating Toner is another product you'll find in this skincare kit, and it loosens and breaks dead skin cells clogging your pores. It also reduces the appearance of dark spots and improves your overall skin tone and texture. The Exfoliating Toner features witch hazel extract, niacinamide (vitamin B3), and aloe vera, an ingredient that acts as an anti-inflammatory and antimicrobial to soothe your skin and protect it from UV rays.
Moreover, the kit contains Face Serum, which is absorbed into your skin swiftly to reduce discoloration and dark spots. The face serum features sodium hyaluronate, which soothes skin inflammation and helps improve skin texture. It also contains glycerin, which allows your skin to attract moisture and keep a soft, smooth, and glowing finish.
The fifth product in the Skin Starter Bundle is the Bald Balm, which moisturizes, mattifies, and helps protect your melanated skin from sunburn. This product features green tea and vitamins B3, C, and E.
Bevel Body Essentials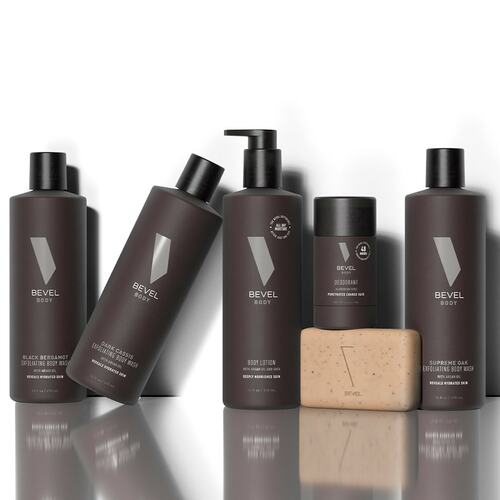 Ideal for men who want to keep their skin fresh and clean, Bevel's Body Essential Bundle comes with four products that will help you look and feel great. The set includes Exfoliating Bar Soap that gently cleanses and exfoliates your skin without leaving it dry. The soap contains cocoa and shea butter that helps reduce skin dryness, lessen scarring, even skin tone, and soften your skin.
The kit also features a lightweight ultra-hydrating body lotion filled with shea butter and argan oil, which moisturizes your skin, protects it from UV damage, improves wound healing, and softens your skin. Additionally, it comes with a hydrating body wash to soothe and exfoliate your skin, and this product is available in three signature scents. The body wash contains jojoba esters, an ingredient that allows gentle exfoliation if you have rough, flaky skin and reduces dryness. It also leaves your skin with a soft, hydrated, and non-oily finish.
Packed in a 2.5-oz-bottle, the Aluminum-Free Deodorant included in this set does not contain any toxic ingredients harmful to your body. The deodorant does not cause armpit irritation, and it allows your body to sweat freely and naturally. It also helps to increase the natural detoxification of your body through sweating.
Designed for the skin and underarm hair, the key ingredients in this deodorant are shea butter and coconut oil, which helps to prevent the loss of vital moisture and protein from your hair. Keep in mind the packaging of the Body Essential Bundle may vary.
Bevel Reviews from Customers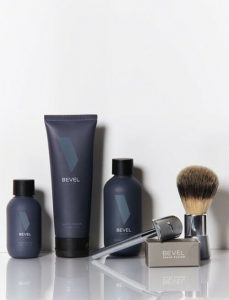 Most of the reviews left by customers on their site are positive, with the average score of most products being 4.5 or 5 out of 5. A high percentage of people who have used Bevel's products stated that they love their quality and efficiency.
All Bevel's products have an average score of 4.5 on Amazon, with many customers from this digital retailer stating they are worth the money. There were a few negative reviews on Trustpilot, and one of the customers complained that the company should promote their products to all minorities, not just African Americans.
Sign Up for Bevel
To get the ball rolling with Bevel and enjoy a premium grooming experience, you need to sign up with Bevel. The sign-up process is straightforward, as you only need to provide basic information, such as email address and name, and you can choose to subscribe for the weekly style and grooming tips when registering an account.
Where to Buy Bevel
You can buy Bevel grooming products at their official website GetBevel.com. Also, you can find their full range of products on Target and Amazon. Other places where you can find selected products are Sally Beauty and CVS.
Bevel Shipping and Return Policy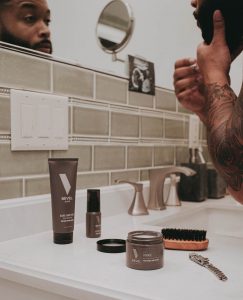 Shipping
The company ships its products to Canada, American overseas territories, and the United States. They only ship to APO/FPO/DPO addresses and charge $7.83 to ship to America for Standard delivery, with the deliveries taking between 3 and 5 business days. It will cost you $10.26 for Express delivery, which will take two business days. Customers from Canada will have to pay shipping costs of $9.95, and the deliveries take between 3 and 5 business days.
Return Policy
If you are not satisfied with the product after making a purchase, you can return it within 30 days from the date you'll receive it. The item has to be in good condition, and any duty and shipping fees are not refundable. You must include all the items in the return if you bought bundled or multi-part products.
Bevel Promotions & Discounts
Our Bevel review found that the company offers a rewards program that allows new customers to get $10 off the first purchase they make. After that, you'll earn points every time you shop, share Bevel on Facebook or Twitter, and refer a friend.
You can redeem these points and use them to receive a discount when checking out. Bevel grants customers Gold VIP status when they buy items worth more than $500.
Contact Bevel
If you have any questions about their products, you can reach the support team via [email protected] or [email protected]. They also have Twitter and Facebook accounts that you can use to drop them a line.
Bevel Review: Editors Verdict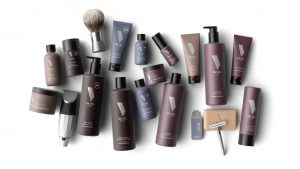 To sum up this Bevel review, this grooming brand is worth checking out. Suitable for African-American men who struggle with razor burn and bumps, its products are safe to use and effective, as they contain ingredients that are not harmful to your skin and body.
The brand has set itself apart from the rest in the industry by providing high-quality products, an exhilarating shopping experience, and a responsive support team. Most online customer reviews are positive, although you will also find a few negative ones.
For those reasons, we recommend this grooming brand to any black person looking for products that will best serve their grooming needs.
Looking for other grooming brands for men? Read our comprehensive reviews of American Crew Review, Manscaped Review, Bravo Sierra Review, and Bulldog Skincare Review.
Bevel FAQ
Does Bevel test on animals?
We are pleased to say that Bevel does not test on animals and all of their products are 100% cruelty-free.
How often should I shave with Bevel?
Bevel suggests you shave daily and here is the reason why. If you skip a few days, it might lead to razor bumps.
Leaving the hairs to grow too long will make the shaving process more difficult and shaving shorter hair is much easier. Bevel also supports shaving daily as it exfoliates the skin and removes dead skin cells.
Is Bevel good for women too?
Good news, Bevel is great for women too! The long handle makes shaving legs hassle-free. You can use the Bevel Razor all over the body and it is designed to reduce razor bumps as well as irritation.
Women's skin tends to get more sensitive, especially on some areas of the body.
Can Bevel get rid of my dark spots/hyperpigmentation?
Bevel products contain shea butter, lactic acid, salicylic acid, and tea tree oil as well as vitamin C and E which are all ingredients known to help with dark spots and hyperpigmentation.
Bevel recommends using the razor and the Restoring Balm to help reduce the appearance of dark spots and hyperpigmentation.
How does Bevel help prevent & reduce razor bumps?
Bevel products were specifically designed to help prevent and reduce razor bumps. Most of the razors and products on the market do not consider curly or coarse hair when creating a formula.
Bevel thought about all of this and by continuously using the razor, you will see major skin improvements.