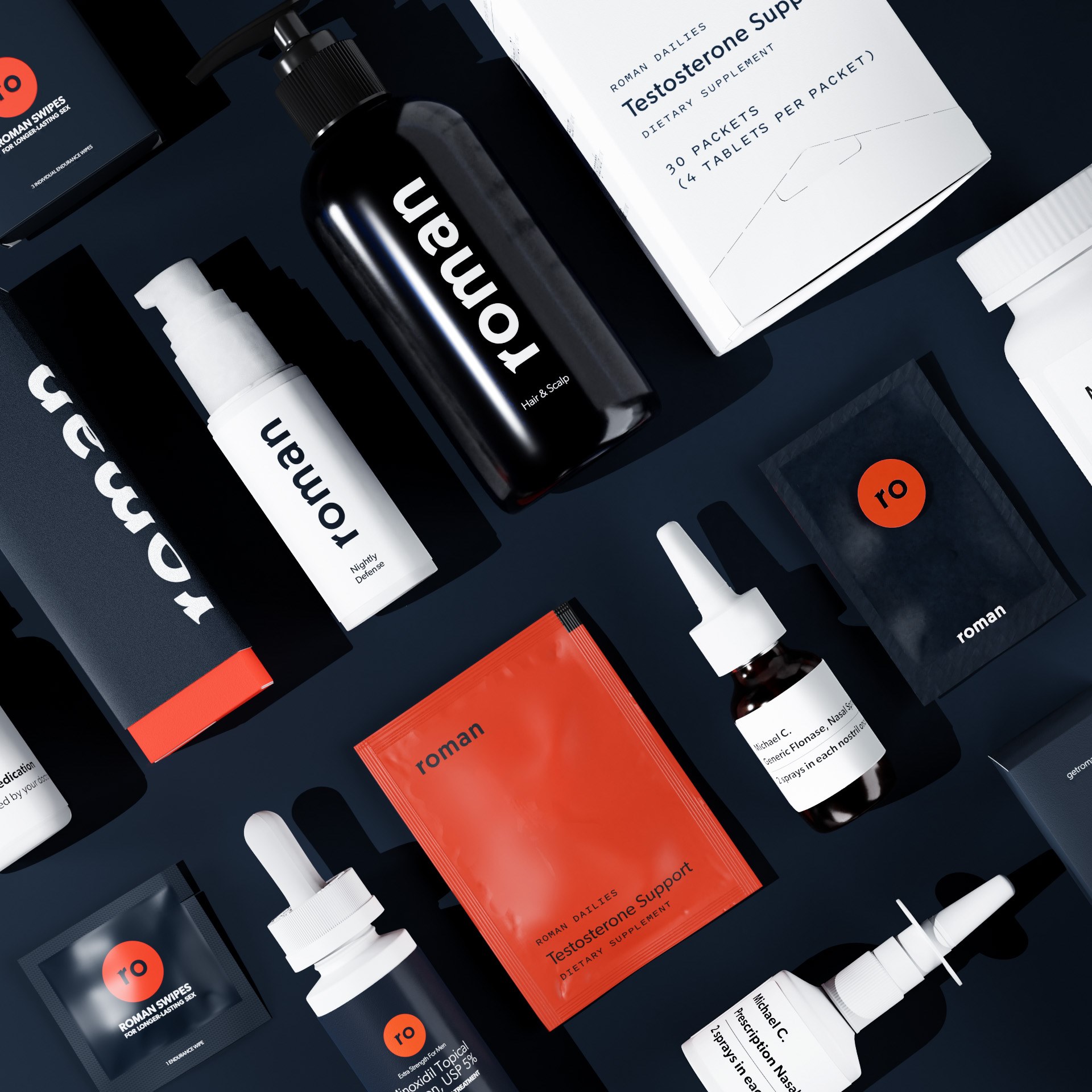 For those of you who wish to receive a health care consultation without the worry of visiting a doctor's office or a clinic, Roman is your answer! Roman is a digital healthcare facility that offers the latest solutions for active men who wish to live a hassle-free, healthier, and happier life. Get Roman reviews to show that it is widely applauded as a one-stop digital platform that offers men all health and related services including consultation, evaluations, treatment plans, pharmacy, and also medicines. Men's health service has never been easier and more accessible.
To offer effective medical solutions to men, Roman is touching the lives of men and their partners, one happy customer at a time. It's a digital consultation and pharmacy with a wide range of products so customers can receive their preferred treatments and medicines from the comfort of their homes. Get Roman reviews to applaud the facility for its products, services, and a team of expert professionals who know and do their job right.
About Roman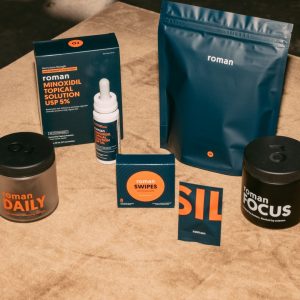 Roman was founded with the belief that health is personal, and that a healthier lifestyle is the secret to a successful life. Healthcare for men, especially sexual and mental health is often stigmatized, and creating a platform where such and other healthcare concerns for men are catered to by a team of experts is essentially at the core of what is Roman all about. Mental health services are hard to come by and revealing your medical history to anyone can be difficult at times.
They offer online consultation which, along with saving time, is also more direct with a set of online assessments available for each condition. With roman, say goodbye to long hours of waiting and discussing to sort the condition, their online automated consultation system will take care of this for you.
So, what is Roman and how does it work? It's for male adults who experience physical and sexual health conditions, including erectile dysfunction, premature ejaculation, weight and male pattern hair loss, dandruff, allergies, and related physical and sexual health concerns that hinder living a comfortable life.
In their list of services and facilities, expert experience and satisfaction are the priority. They offer a personalized experience where the patient is catered to not only with care but also empowered with correct information and transparency.
With this aim, Roman set out to create a platform that offers high-quality care and medical solutions to men without the need to physically visit a doctor's office and Get Roman reviews to affirm the same. After all, health is personal and a healthier lifestyle leads to a successful life.
Pros
Everything is digital, no need to go to a clinic
It's a one-stop personalized treatment program that offers easy and quick scheduling of appointments
It's an affordable alternative to other medical services
Treatment plans are customizable
Scheduling and follow-ups are taken care for you
Roman prioritizes the customer and offers a response rate of 24-hours
Discreet packaging delivered to your doorstep
Option to subscribe to monthly subscription plan for restocks
Cons
Get Roman services are not covered by insurance
Primary consultation is not free
Get Roman works as a mediator between you and the expert healthcare practitioner so it may not be reliable long-term as the availability of the same practitioner may not correspond with your medical need of the time
Delivery can sometimes take longer than stated
The facility is available only in selective states making it less accessible
Roman Hair + Skin Review
Hair and skin conditions are more common for men than it's accounted for and they can come in their way of living a happier, healthier life. With a range of hair and skin treatments available at only a click away, Roman ensures that they facilitate the customer into a life that is full of comfort, ease, and pleasure. They have created a facility for hair and skin treatments that the customers can avail themselves of from the luxury of their homes.
Hair Loss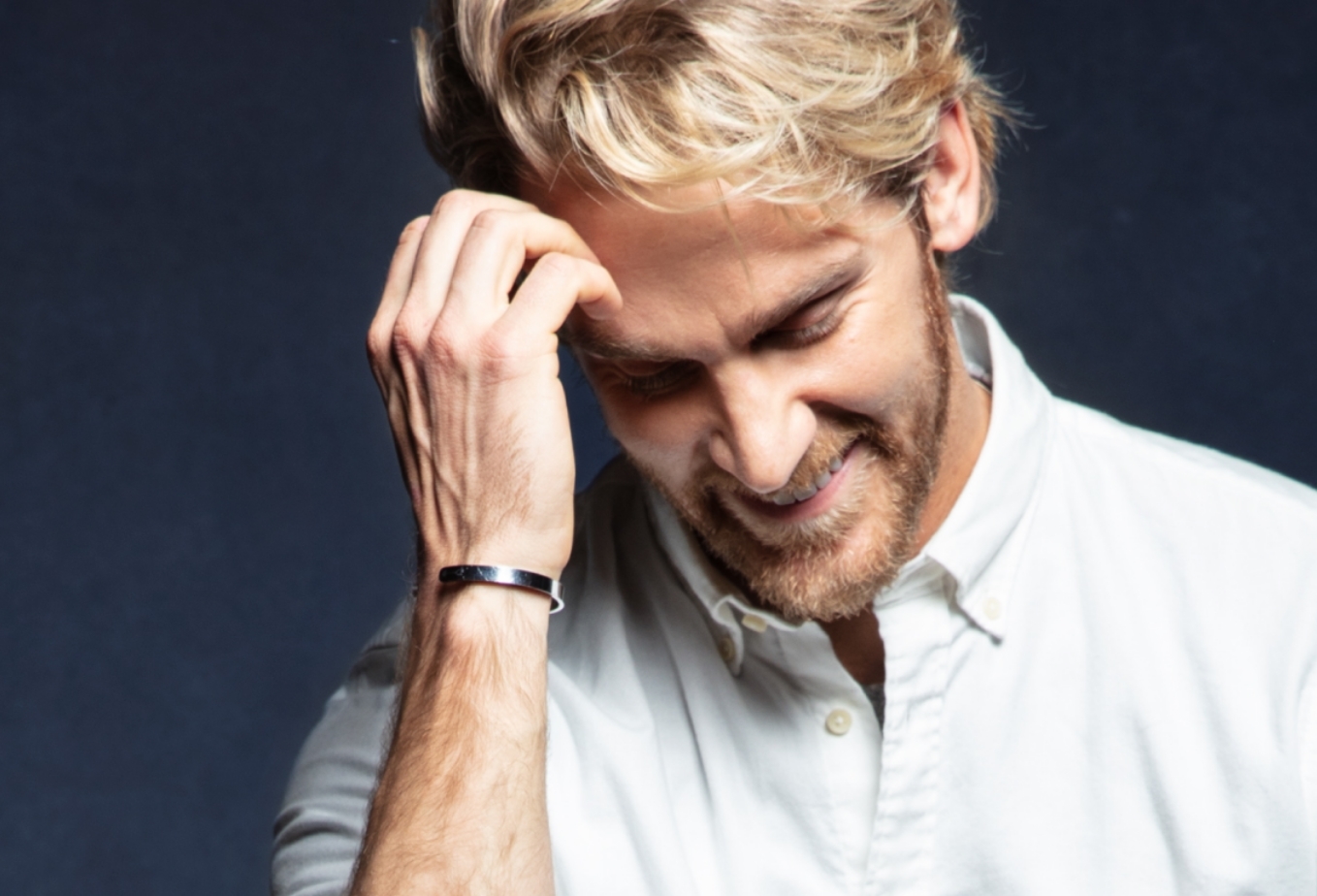 Let's not underestimate the power of healthy hair in a man's appeal. Men can experience baldness and hair loss at any age due to a variety of causes. Baldness starts to show itself when thicker, darker hair, especially on the front of the head, is replaced by finer, thinner, and lighter hair that grows slowly before they stop growing at all. This is due to dihydrotestosterone (DHT), a testosterone hormone that targets the hair.
Get Roman offers a hair loss treatment plan that begins with one simple appointment via the sign-up page below.
Eczema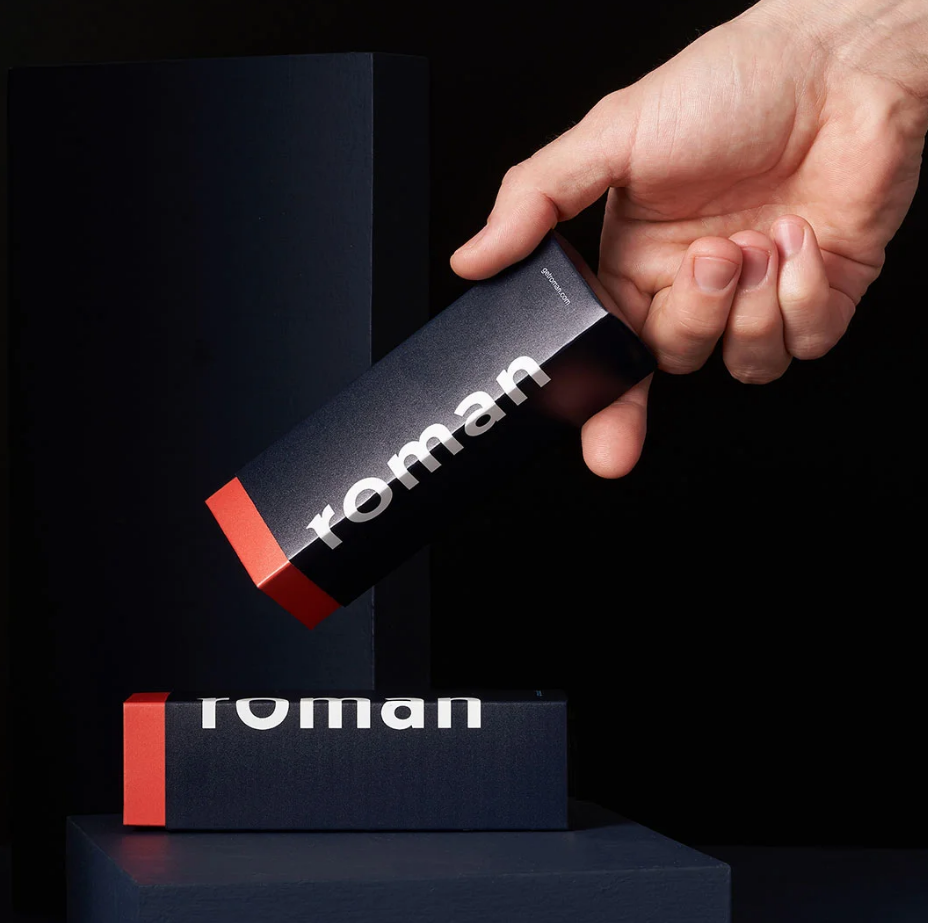 Eczema is a skin condition causing the skin to become itchy and get red. It's a common health condition in young adults and men can too experience it at any age. A combination of immune system activation, environmental triggers, allergies, and genetic medical conditions can become the cause of Eczema but the condition is completely treatable.
Get Roman offers medical consultation to assess whether you are suffering from Eczema and will prescribe a suitable treatment plan too. It's a convenient way to control and manage Eczema flare-ups.
Roman Sexual Health Review
Conversations around men's sexual health always happened in a hushed tone. Both the founders wanted to create more awareness around it. Get Roman's most sought-after services today are for ED treatment and related sexual health conditions including the psychological well-being of its customers.
Erectile Dysfunction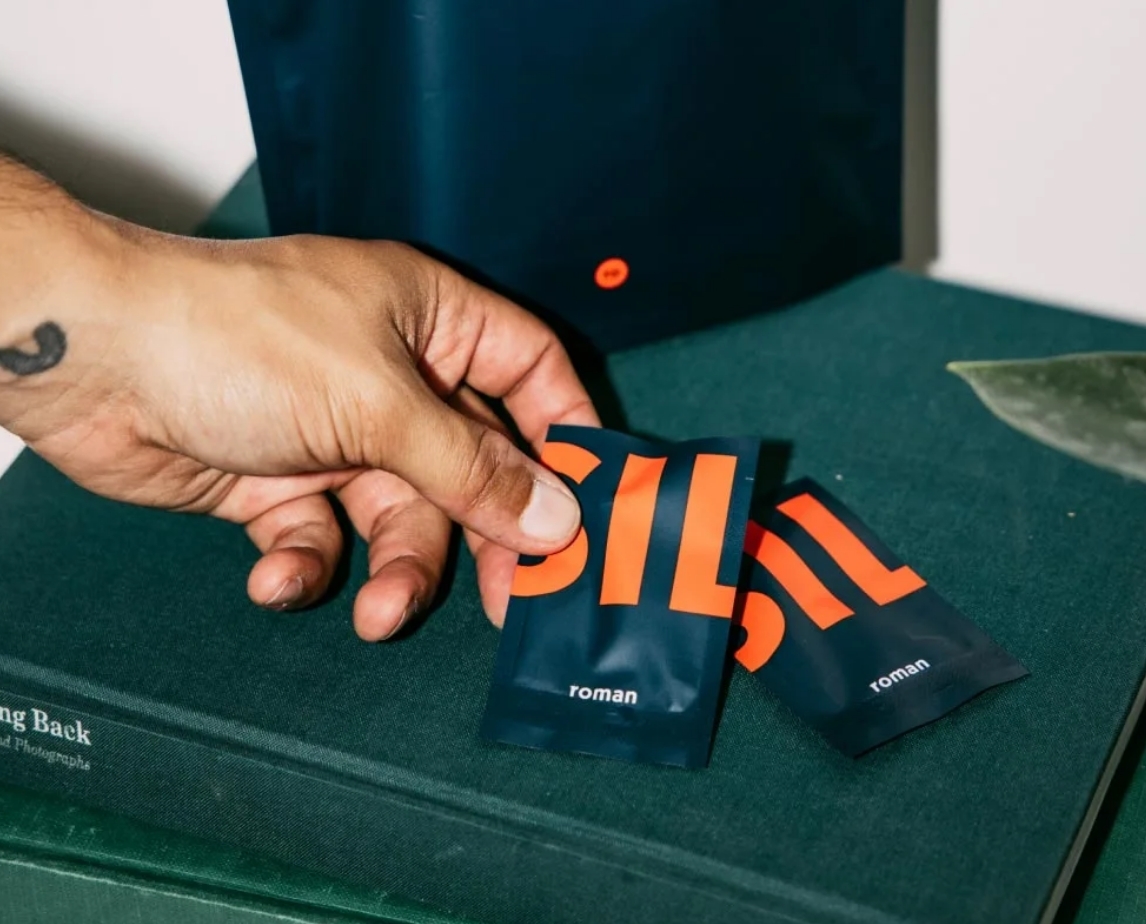 Erectile Dysfunction (ED) is the inability to get or maintain a full erection. It's a common sexual health condition for millions of men in the United States and nothing to be embarrassed about. There are several causes as to why ED can occur, including too little or too much blood flow, partially to the PDE5 enzyme.
Roman offers three ED Treatment products formulated for you to enjoy a satisfying sexual life with your partner. At Roman, your sexual life does not need to be put on hold.
Premature Ejaculation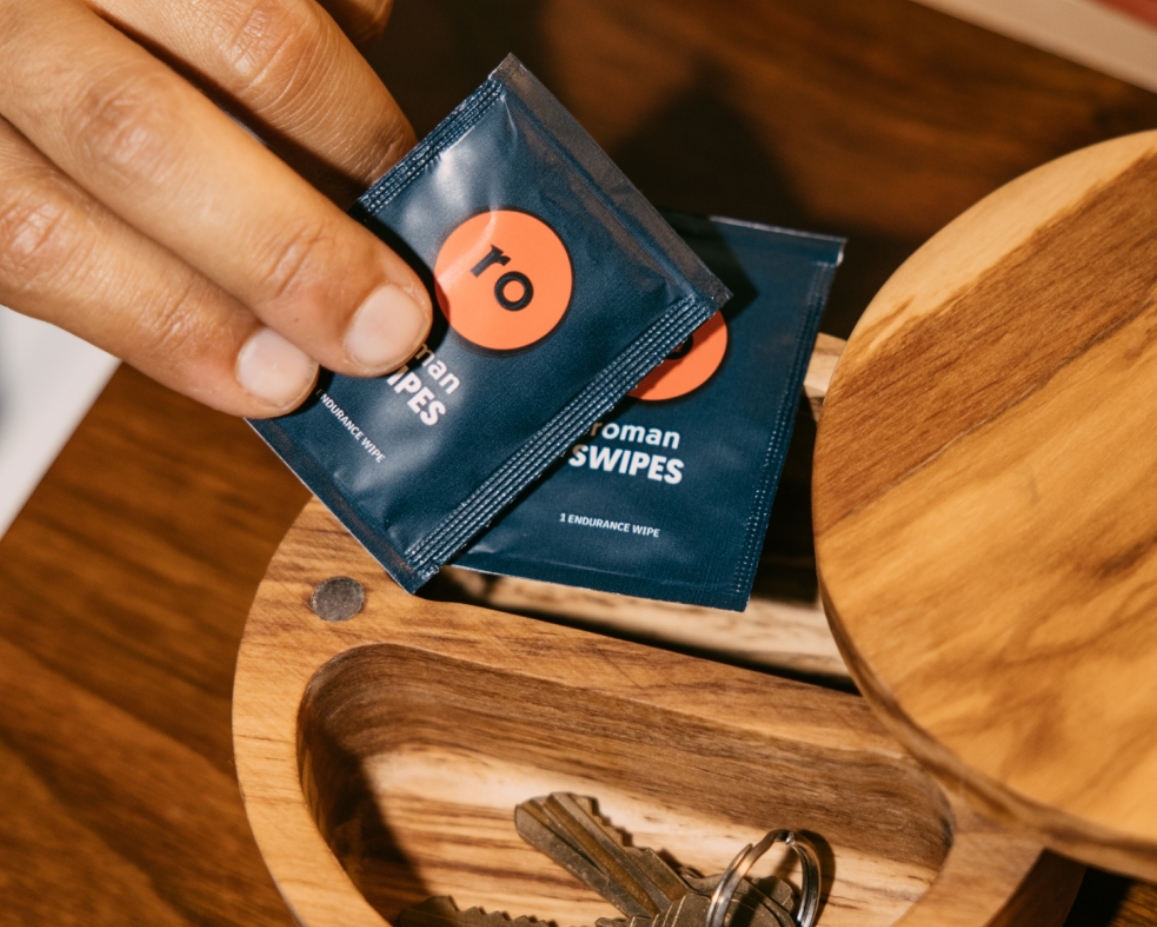 The pleasure of lasting longer is orgasmic and we want everyone to experience that. Premature ejaculation can be a cause of frustration between partners as it makes one ejaculate faster than one minute. There are many reasons for it and Roman offers prescription medication and OTC medication for it, including getting Roman wipes that can keep the mess sorted for you and your partner.
Roman Daily Health Review
At Roman, the company believes that taking care of your daily health is necessary for living a healthy life. Matters of the heart cannot be ignored and they've found that stress is a common factor in many health conditions including cardiovascular well-being. Roman created two supplements that can be consumed as part of your daily health must-haves:
Heart Health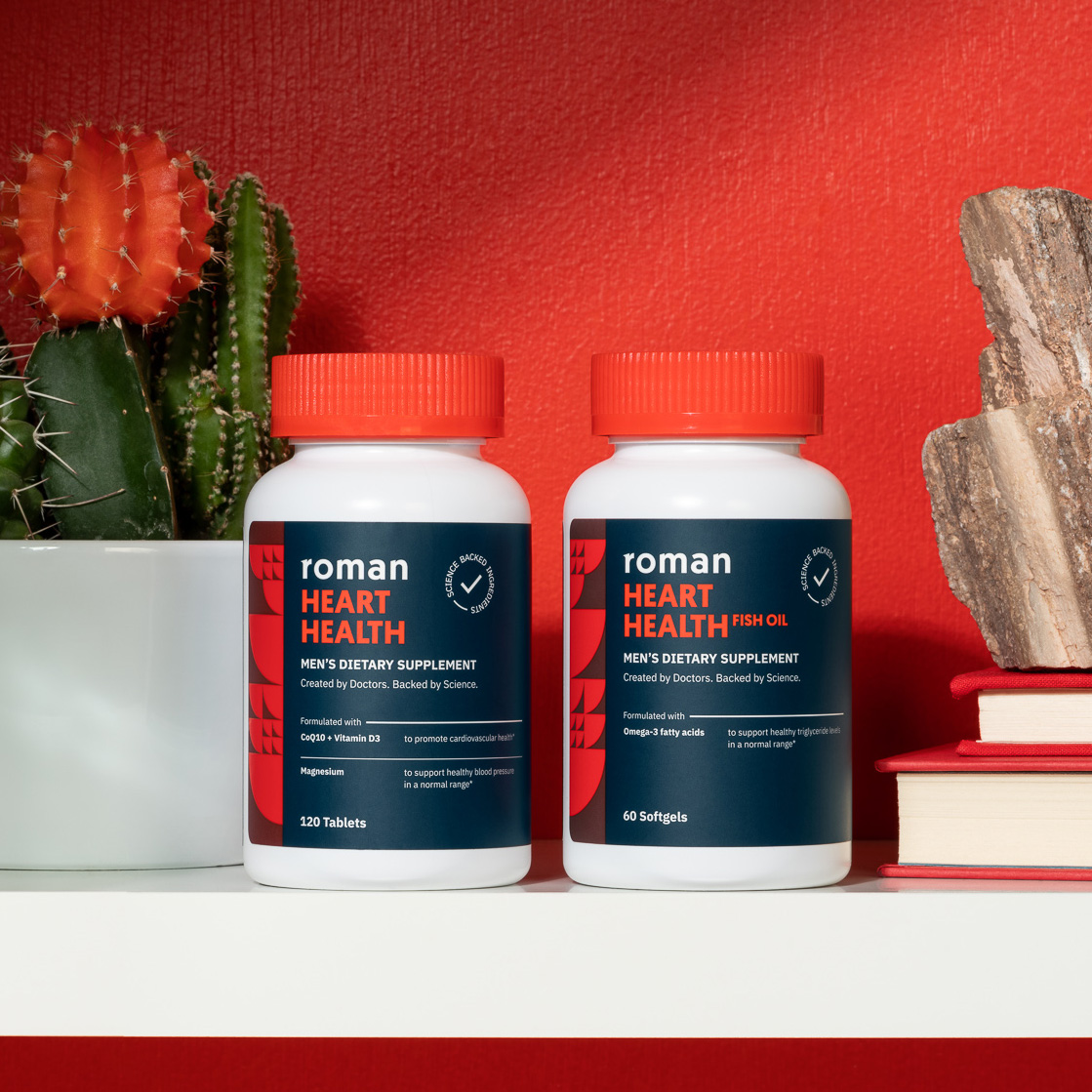 Wellness of the heart is a love language dependent on real nutritional demands. To improve the well-being of the heart, Roman offers Heart Health supplement tablets that are formulated with ingredients that support the cardiovascular system, including fish oil soft gels. It is beneficial for blood, hence promoting a healthier heart.
Stress Relief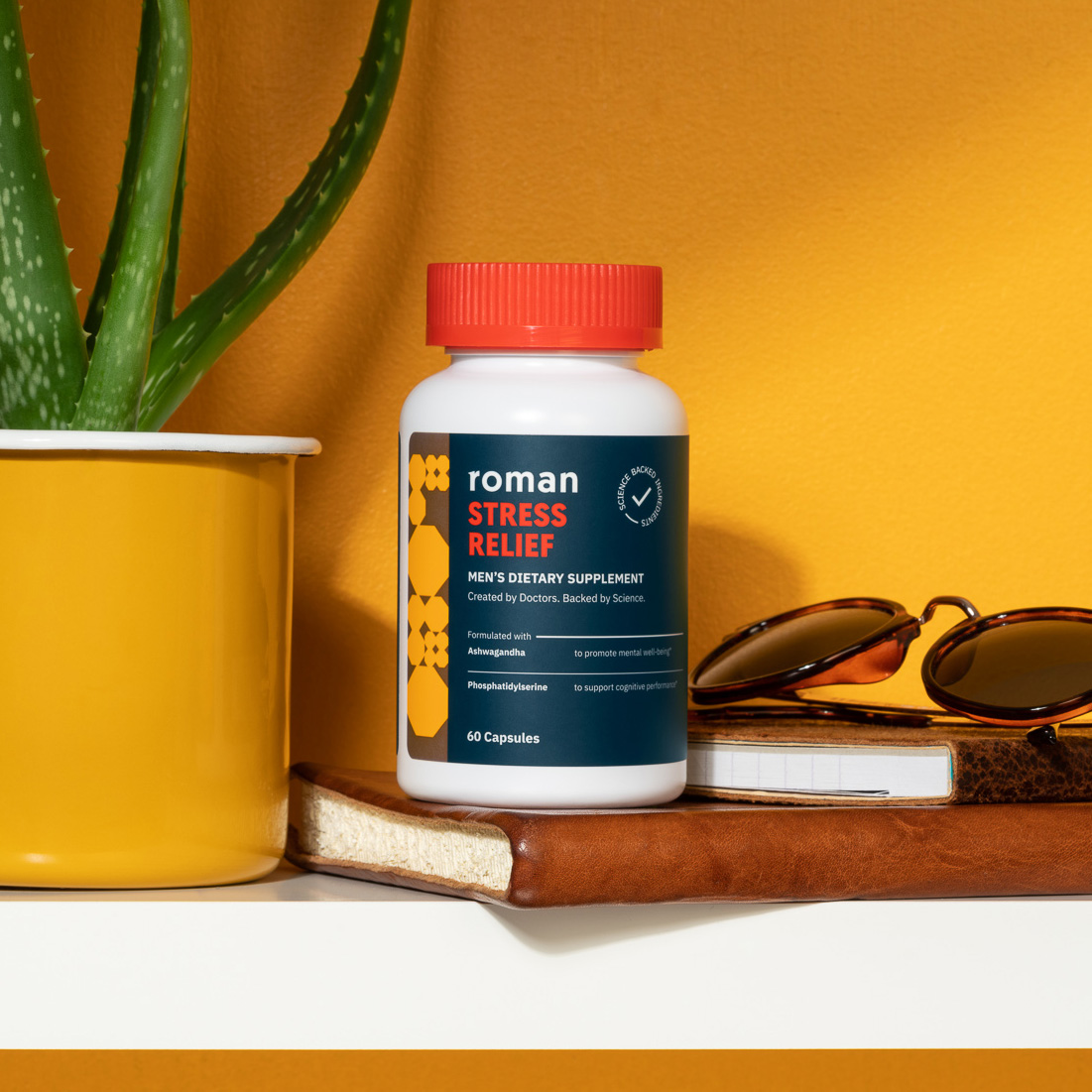 Stress is the main cause of many health conditions for men including hair loss, ED, and Eczema. With priority given to living a healthier life, Roman ensures support for its customers to be able to take a deep breath, sit back, and let their nerves rest.
Roman Stress Relief nutritional supplement is formulated with the same intention. With ashwagandha –and organic evergreen shrub– as the main active ingredient, it supports balancing stress levels.
Get Roman Reviews from Customers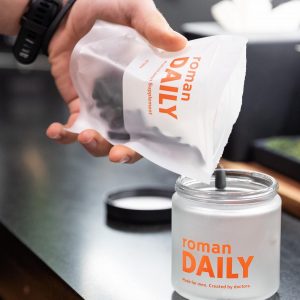 Get Roman reviews are filled with its customers who visited the online facility in an attempt to get their ED concerns sorted. ED is not uncommon and the use of Viagra must not be consumed without a prescription. Both of these are also valid concerns for teenagers and young adults who may not know the cause as to why their genitalia is having difficulty in performance.
Customers who receive their medical services with getting Roman, have appreciated it for being transparent, discreet, and for helping in raising more awareness around ED with specific medical products available to treat the issue. Viagra is not prescribed only after a thorough assessment, it is also available in small to large doses, and is affordably priced between $2-$10. After the consultation, customers have prescribed an appropriate doze to try and check which dose is more suitable to treat their ED.
It allows customers to be able to assess for themselves if the prescribed dose is working out for them or not, or whether the dose needs to be increased. It is also moderately priced, making it more affordable for our teenage and young customers.
Before Get Roman, ED was not as commonly and openly discussed and there was a lack of awareness and a sense of embarrassment around it. Today, customers are aware of what is Get Roman and how can the facility help them live a healthier and happier life.
How to Sign Up for Roman
They offer a quick and easy sign-up experience for our first-time visitors. Please visit the website to create your account with them and experience what is Roman from the comfort of your home.
Roman Shipping and Return Policy
As per their policy, all sales are final. At Roman, they believe in offering quality care and do not accept returns, and exchange of products for reuse or resale. If you detect an error in your prescription or are unsure about it, we encourage you to contact them at [email protected].
Roman Promotions & Discounts
They offer an unmatched customer experience and like to surprise their customers with promotional and discount codes. To receive one for yourself, sign up on the website today or write to them at [email protected] and their team will share more information with you.
Contact Get Roman
They love to hear from their visitors, and their customer service is definitely quite great. To get in touch, you can write to them anytime, from anywhere at [email protected].
Alternatively, you can also visit their FAQ page to get quick responses to your queries.
Get Roman Reviews: Editors' Verdict
For those of us who particularly do not enjoy having to visit medical facilities but need to discuss our erectile dysfunction issues, and other health conditions,  Roman is the perfect solution.
With a wide range of health care services for men, a team of doctors and nurse practitioners, with the added benefit of availing the facility to schedule, consult, and get a consultation online, Roman can quickly become your favorite platform for all of your health concerns. Customers like the idea that they do not have to revisit the clinic to update their prescriptions. Plus they get their treatments in discreet packaging.
Their team deals with queries patiently and makes sure that all your concerns get responded to with satisfaction.
Get Roman is more affordable than other viagras available in the market without having to compromise on the quality of getting treatment. We recommend Get Roman products and services to anyone who wants to avail the facility of online consultation, having their prescription medication taken care of for them, and also for getting in touch with a wide network of medical professionals.
If you are looking for other healthcare solutions, check out our reviews of For Hims, Persona Nutrition, and Physician's Choice.
Get Roman FAQ
Is Get Roman FDA approved?
They work with only FDA-approved wholesalers and FDA-approved ingredients for their pills.
Do I need a prescription to use Roman?
No. You do not need an existing prescription to use roman products. Their team of doctors and nurse practitioners will write you a prescription if they consider it important, safe, and necessary after you have consulted with them.
Does Roman replace my primary care provider?
Roman is a digital medical center that offers its customers the complete experience from consultation to ongoing monitoring of the treatment. We recommend all visitors and customers avail themselves of our services in addition to their primary care providers (PCP).
Get Roman is not a replacement for your current PCP and we consider it important that your healthcare providers are up-to-date with your care received through roman. Their offer an online service through which our team will facilitate updating your medical care provider with medical information from Roman.
Is Roman covered by insurance?
Unfortunately, Get Get Roman costs including our services, products, and medications offered through roman is not free of cost. However, Get Roman has designed online assessments that serve as preliminary consultations and those are free for all its visitors.