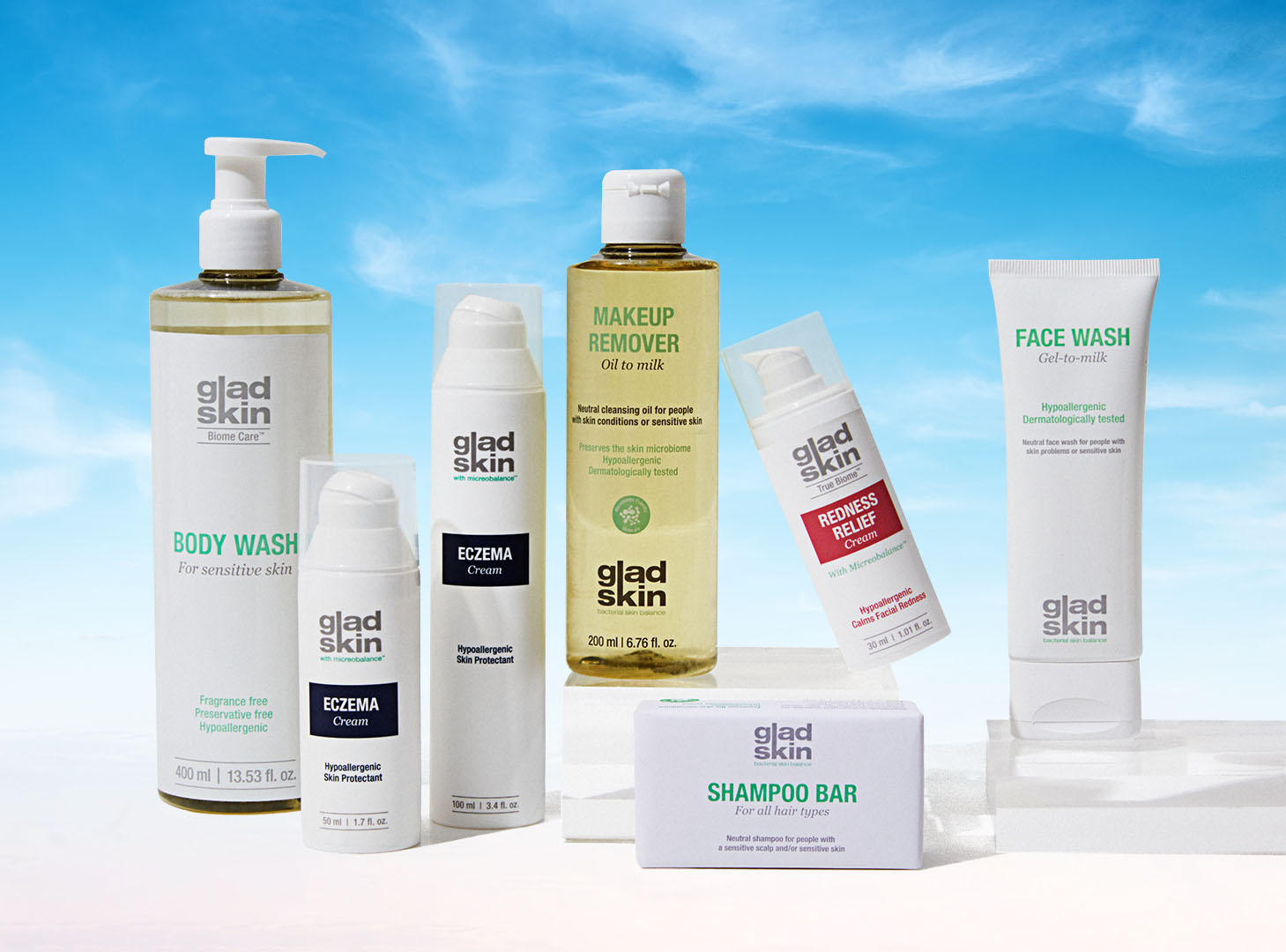 Gladskin, founded in 2005, was the product of a revolutionary discovery about how to maintain a healthy skin microbiome. In other words, Gladskin seems to be a savior for people who suffer from inflammatory skin issues such as eczema and acne. It's created products that restore skin health with no sacrifice. Gladskin has a passion for driving out harmful drugstore 'solutions', that supposedly worsen skin. In our Gladskin reviews, we talk about their mission, which is to make healthy, balanced skin an option for everyone.
These claims of miraculous results even on the most stubborn skin conditions are hopeful and intriguing. However, it begs the question. Is this a lot of false information hidden behind scientific jargon?
We're taking a close look at genuine Gladskin reviews, individual product breakdowns, and answering your most frequently asked questions. Reading this review will allow you to decide if Gladskin is the answer to your skin-related prayers.
About Gladskin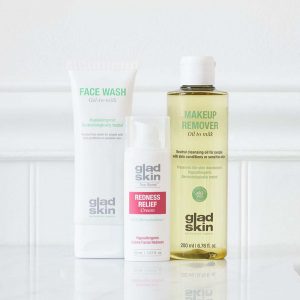 Gladskin was founded in 2005, as a brand under the Micreos firm, which develops antibacterial products that will (hopefully) eventually replace antibiotics in the future. It's famous for developing the Staphefekt enzyme. Micreos created Gladskin to make this accessible to everyone, due to its incredible benefits.
As an anti-bacterial enzyme, Staphefekt kills bacteria which is known to aggravate inflammation. At the same time, it protects the good bacteria. This perfect combination results in reduced itchiness, redness, and swelling. Skin is left looking and feeling incredible.
Having ultimate faith in their products, Gladskin claims that most typical drugstore products that claim to help with eczema actually make the situation worse! Skyler Stein, leader of Gladskin USA, claims that the brand thinks "smarter, not stronger". The use breakthrough science and endolysins in their products. These are known to balance bacteria that cause eczema flare-ups. This means there is no need for damaging steroid creams that temporarily 'solve' these issues.
The brand has grown significantly and offers a plethora of products for people with inflammatory skin conditions. The website helpfully displays all products, categorized by the problem. Their products include eczema creams and body washes for adults and babies. There are also gels and cleansers for sufferers of acne and rosacea treatments. Plus even preventative cleansers for healthy skin maintenance.
Pros
Gladskin's products are free from harmful ingredients such as fragrances and parabens, as well as steroids which are a common treatment for eczema
Cruelty-free and vegan!
The Gladskin website displays customer reviews, which proves faith in their products
The ingredient lists of each product are clear and seem minimal
Gladskin has an innovative approach to treating conditions such as eczema
Gladness Guarantee - promises money back to customers who are unhappy with the results of their products
Cons
Many people feel that it is pricey for the amount of product included
Gladskin Product Reviews
Although a brand overview, looking into their philosophy and background information is important – it doesn't quite help you to understand whether their products are quality or not.
To understand Gladskin and its products, we need a total breakdown! We have selected some of the bestselling products from the brand to see what's worth the splurge.
Gladskin Eczema Cream
Retailing at $35 for 1.7oz and $55 for 3.4oz, this eczema cream from Gladskin is on the pricier side when it comes to eczema treatment. Suitable for use on all ages (over 3 months), in any area including the most sensitive eczema-prone areas, this cream is steroid-free.
Eczema cream with Micreobalance is the result of dermatologists' discovery that eczema flare-ups are mostly a consequence of skin imbalances. This product claims to balance the skin, in order for healing.
Boasting moisturizing effects and significant symptom reductions, 65% of users noted improvement within just 3 days.  91% of mild to moderate eczema sufferers noticed it in 7 days.
This product has 1000s of returning customers, with Gladskin eczema cream reviews claiming that it was the only product to entirely clear their eczema! It's also important to note, that rave reviews came from a wide range of ages, about a variety of affected areas.
If you can't already tell… we're pretty impressed with this product! But if you're not totally convinced yet – the container of this product is air-free for ultimate freshness. This means there is no need for preservatives either.
If you have struggled with eczema flare-ups and think you've exhausted every treatment, we definitely recommend giving this product a try!
Gladskin Redness Relief from Rosacea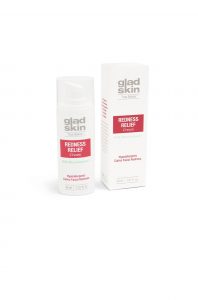 This Gladskin rosacea cream retails at $19 for 15ml and $35 for 30ml. This can seem costly but customers claim "a small portion goes a long way" with this product.
Just like other Gladskin products, this cream aims to correct bacterial imbalance on the skin. It reduces redness from rosacea using Micreobalance protein. It's also free of the bad stuff like preservatives and sulfates. Plus it's cruelty-free and dermatologist recommended.
Customer reviews completely supported claims of reducing skin redness. Some buyers even claiming a noticeable difference just hours after initial application!! We couldn't believe it either.
Gladskin also claims that this cream is makeup-friendly, meaning that you can apply makeup over the top, just 5 minutes after applying. Customer reviews validated these claims too, as well as noted a calming and cooling effect.
What's more, is that we even struggled to find negative reviews…
However, some buyers did complain that the thick "sunscreen-like" consistency left their skin feeling slightly oily. This is important to note if you're someone who has naturally oily skin.
Gladskin Face Wash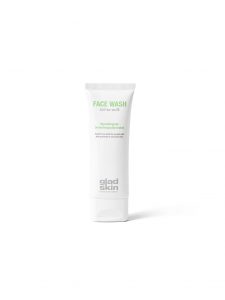 Gladskin's face wash for sensitive skin will put you out $16 for 75ml, which is fairly steep if you ask us. However, it does boast a fragrance-free formula that is hypoallergenic and not tested on animals, which always deserves brownie points.
This cleanser contains ingredients that will not disrupt the balance of the skin's microbiome or wash away healthy bacteria. It aims to prevent flare-ups of inflammatory conditions. Customer reviews support these claims. Most buyers noticing a significant reduction in eczema symptoms.
This product should be applied to dry skin. This is interesting and not a common instruction with face washes. However, it seems to work!
Most buyers stated that this cleanser leaves skin feeling clean, without drying the skin or leaving them with a tight feeling. This feeling can be common among many other face washes. Another great product from this impressive brand, we say.
But we can't ignore the obvious elephant in the room. Some customers noted that $16 dollars is not justified for such a small amount of product and we've got to say we totally agree!
Gladskin Makeup Remover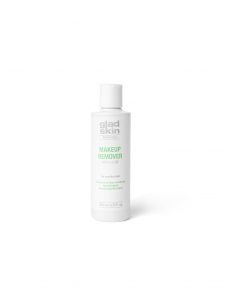 This oil-based makeup remover from Gladskin is $20 and comes with 200ml of product. Cleanly formulated with only four ingredients. Just like all other Gladskin products, it is free from fragrances and other harmful ingredients.
It's designed to remove makeup effectively, without removing good bacteria or disrupting the balance of your skin's barrier. This product seems to do exactly that! Buyers love this product, with claims of fast removal of waterproof makeup with no sign of irritation. Yes, even on the most sensitive skin.
Gladskin also states that despite being oil-based, their makeup remover is suitable for people with sensitive eyes Including those that wear contact lenses. The lack of oily residue left behind after use impresses buyers. This means that contact wearers can use it too!
Although there are not as many customer reviews on this product as there are for other Gladskin products, negative reviews with consistent claims are virtually non-existent.
If you're looking for a good makeup remover that won't irritate your sensitive skin or exacerbate eczema symptoms, this one's for you!
Gladskin Reviews from Customers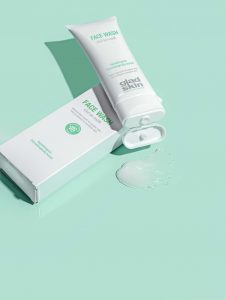 Due to the review section on the Gladskin website, we have already taken a sneak peek into what genuine buyers really think about the brand and some of its most popular products. The results were overwhelmingly impressive.  Gladskin products seem to do exactly as they claim!
In fact, on the website, none of the products at the time of writing have rated an average below 4 stars out of 5. This is not common to see and says a lot about the way that Gladskin products achieve their elected purpose. The eczema range from Gladskin is the most popular. It seems to have many loyal, returning customers who will simply not go anywhere else.
However, it would be silly to stop there. In order to get the full picture, we need to visit some more reviews sites to see what everyone else has to say…
On TrustPilot, Gladskin rated a mediocre 3 out of 5 stars overall, which differs quite significantly from the average on the Gladskin website. Positive reviews were much more common, discussing the formula and effectiveness of the products such as fast relief for inflammatory conditions and improved acne.
Popular Alternatives to Gladskin
However, negative reviews were extremely surprising. There were several complaints about formulas irritating skin, a worsening condition, or products just simply not working. Though these were still significantly outnumbered by positive reviews, it is worth mentioning despite Gladskin's clean formulas.
Other review websites such as Amazon rated Gladskin products four out of five stars on average, with positive reviews praising effectiveness. Hypoallergenic claims were challenged though. Several reviews consistently claiming that eczema and rosacea creams caused an allergic reaction or worsened their problems.
On a whole, it is undeniable that most customers love their Gladskin products and swear by them.
Sign Up for Gladskin
You can easily sign up for Gladskin in a matter of seconds. Simply enter your name, email address and create a password and you're good to go!
If you want to make an account at Gladskin, you can join by clicking here.
Where to Buy
You can buy Gladskin products directly from the Gladskin website. There are three separate Gladskin websites, so where you go will depend on where you're from.
US customers can purchase their Gladskin products from Gladskin.com. European customers should visit gladskin.eu and UK customers can go to gladskin.co.uk.
Some Gladskin products are also available on Amazon, however, when buying through third-party retailers you cannot always be sure that you're purchasing a genuine product.
Gladskin Shipping and Return Policy
Orders made to Gladskin before 10 am on business days will be processed within 1-2 days and then shipped out. Shipping time will differ depending on where you are located and in some areas in the US, orders can take up to 7 business days to arrive. However, you can find the tracking number of your order in the confirmation email sent immediately after purchase.
If you're unhappy with your Gladskin product, reach out within 60 days of purchase and the process will begin. Simply email [email protected] to start a return. It is important to note, however, that initial shipping costs cannot be refunded.
Promotions and Discounts
Gladskin doesn't offer promotions or discounts on their products. However, several coupon websites claim to offer small discounts such as 10% on certain products from the website with a Gladskin promo code.
Gladskin does offer free shipping on orders over $30.
Contact Gladskin
Gladskin has a number of ways that you can contact them, for any reason.
You can reach Gladskin customer service by emailing [email protected]. But if you're after a faster response live chat is available on weekdays from 10 am to 5 pm EST, by clicking the grey icon in the bottom right-hand corner.
If live chat isn't your thing and you want to speak to somebody over the phone, you can reach Gladskin customer services on weekdays at 1 (888) 802-1668 between 10 am and 5 pm EST.
Gladskin Reviews: Editor's Verdict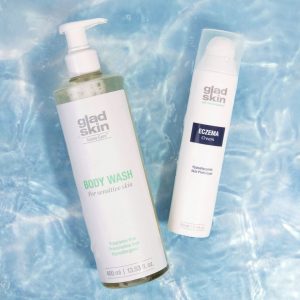 Overall, Gladskin has revealed itself to be an excellent brand that delivers products that work and achieve exactly what they're designed to do.
It is clear from a short browse on their website, that the brand trusts in the quality of their products and relies on their effectiveness to continue selling them. This is evident through the admirable Gladness Guarantee and explicitly displayed customer reviews! Gladskin has nothing to hide.
Customer reviews speak for themselves with this brand. Though there were some claims of irritation, most reviews discuss the life-changing effects of Gladskin's products. This isn't hard to believe with their skin-loving ingredients, free of parabens and sulfates!
Sometimes the Gladskin reviews were inconsistent with reviews on third-party sites, however negative reviews flagged no consistent, noteworthy issues with this brand's quality, customer service, or logistics.
Although, it is impossible to ignore the high price tag on some of the small-sized products. This did not seem to be justified a lot of the time. Gladskin could definitely work on this area to make their products accessible to everyone, especially as they are designed to be a long-term part of a skincare routine.
Gladskin set out to improve symptoms of inflammatory skin conditions, replacing the need for steroid creams and other harmful 'treatments'. In some ways, they exceeded this goal, as Gladskin certainly seems to be a game-changer for long-term sufferers of eczema, acne, and rosacea!
Gladskin has more than earned our stamp of approval.
Are you interested in learning more about other skincare brands? Consider reading our reviews of Clinique, Aesop, First Aid Beauty, and Bubble Skincare.
Gladskin FAQ
Does Gladskin test on animals?
No. All of Gladskin's products are cruelty-free and vegan!
Can I use Gladskin products while pregnant?
Gladskin recommends that you speak to your doctor before using Gladskin products while you are pregnant. Although there is no evidence to suggest that their products are harmful, the brand has done no testing on this.
Can I use Gladskin products during a flare?
Yes! Gladskin products are designed to alleviate the symptoms of eczema, so using the product during a flare should help to soothe the skin and improve its condition.
Can I use Gladskin products even if I don't have eczema?
Gladskin's products are designed to moisturize and cleanse, as well as heal eczema. Even if you do not suffer from eczema or any inflammatory skin conditions, you can use Gladskin products to moisturize and cleanse your skin.
Can I use the Gladskin eczema cream with other products?
Gladskin eczema cream is totally fine to use in combination with other products. For maximum benefit though, it is recommended that you apply your eczema cream on clean skin and allow it a few minutes to dry before applying additional products.