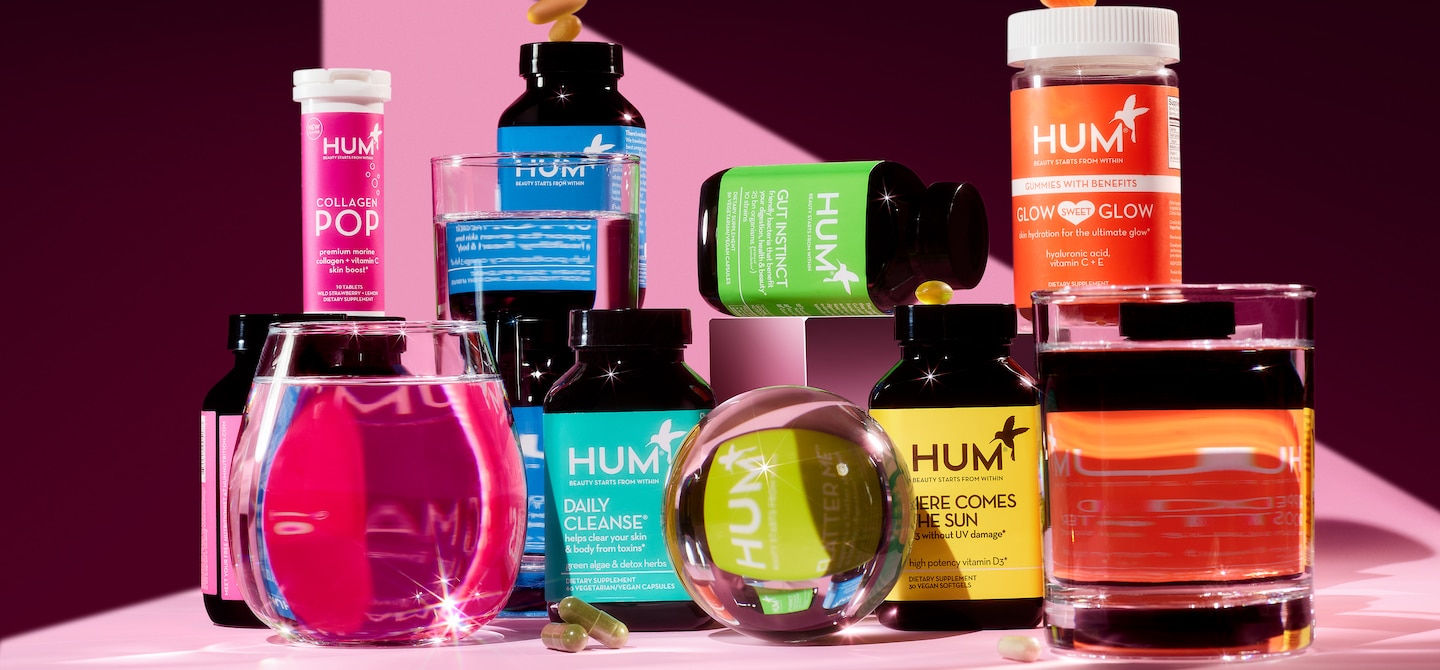 Recently, there's been a rise in personalized health and beauty products, with quick, "3-minute" quizzes promising to uncover everything from the nutrients you should be taking to your metabolism and even your perfect foundation shade! But when so many companies promise to uncover your unique problems (and solutions) in just a few minutes, how can we trust them to really deliver? We'll have a look into this within the HUM Nutrition reviews!
HUM Nutrition is one of these very companies. Their website claims to be able to offer a free, personalized nutritionist who's been selected based on the answers you give to their super-quick and easy health quiz. But while we're always skeptical of big promises, there does seem to be a lot of research and science-backed evidence to suggest the quality and effectiveness of their products.
Read on for our detailed, unbiased HUM Nutrition review, so you can make an educated decision before taking the plunge. We'll cover everything from how effective HUM Nutrition customer service is to the customer reviews!
About HUM Nutrition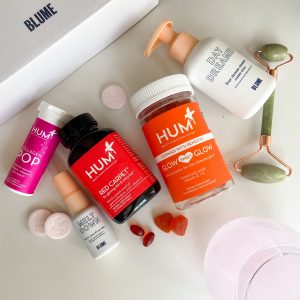 HUM was founded by Londoners Chris and Walter in 2012. The intention was to develop an effective, long-term solution for skin and health problems that people could rely on.
These days, the HUM Nutrition team is comprised of professional, experienced nutritionists with all the RDs, RDNs, PhDs, MSs, etc. you would expect from a trustworthy nutrition brand. We like that all the nutritionists have a photo, name, qualifications, and even a full bio that gives them a really personal feel and helps establish trust from the get-go.
The idea behind HUM Nutrition is to take a quick, 3-minute quiz that asks questions about your diet, daily routine, and even how you relax, along with your health and beauty goals. You'll then be recommended three formulas that should help you achieve your goals.
In addition to the three initial recommendations, you'll also be paired with a HUM nutritionist who will prepare a full personalized nutrition report with loads of extra information and advice. Before writing our HUM vitamins review, we naturally took this quiz ourselves and were particularly impressed with the ability to "contact" our personalized nutritionist with any extra questions. So, are HUM vitamins good? Read on to find out!
Pros
Free, professional nutritional advice just for taking the quiz (and no request for bank details!)
Plenty of information on all the nutritionists, including their qualifications and background
Personalized recommendations for vitamins and supplements
Non-GMO, gluten-free, and no artificial sweeteners or colors
Formulated with clinically proven ingredients with triple-tested results (with all the proof available on the HUM website)
Monthly, subscription-free plan available
Cons
To receive discounts you'll need to sign up for the 3-month subscription plan
Not covered by health insurance
Not suitable for anyone under the age of 18
HUM, Clinical Science, and Results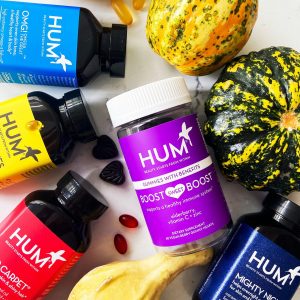 One of the biggest selling points of using HUM Nutrition is that all their products have been thoroughly tested for clinically-proven results. These clinical trials hit the "gold standard" of double-blind, randomized, and placebo-controlled experiments, where even the researchers don't know whether the participants have received a placebo or the real thing to avoid unintentional tip-offs or bias. HUM Nutrition is one of the best vitamin supplement brands around.
In addition, HUM Nutrition reviews every product in-house to further verify the efficiency of the final formulas. Results include:
82% reported fewer breakouts after 60 days of HUM Daily Cleanse.
96% reported improved sleep after 60 days of HUM Mighty Night.
88% reported an improvement in non-cystic acne after 60 days of HUM Skin Squad.
90% reported greater skin smoothness after three months of HUM Artic Repair.
HUM Nutrition Products
HUM Nutrition has a product philosophy and mission to make you look and feel amazing. They believe health is "more than popping a pill" and has worked hard to build up high-quality, clinically-proven formulas packed full of the micro-nutrients you need, based on your answers to a short health and wellness quiz.
Every product has been developed in collaboration with some of the best nutritionists and researchers in the country, and plenty of scientific analysis takes place before a new supplement or nutrient is added to the collection.
What's more, HUM Nutrition supplements are made from real bioavailable actives that have been extracted from nature, and many of the products are vegetarian or vegan, with very few exceptions. This sustainable culture and product pride is something we really like to see in any health brand these days, and the reviews on HUM vitamins suggest we're not the only ones!
In our HUM Vitamins reviews, we're going to look at some of the best-selling HUM vitamins and supplements. You'll know exactly what you're getting and can have an idea of what makes the HUM range so special.
Collagen Supplement – Collagen Love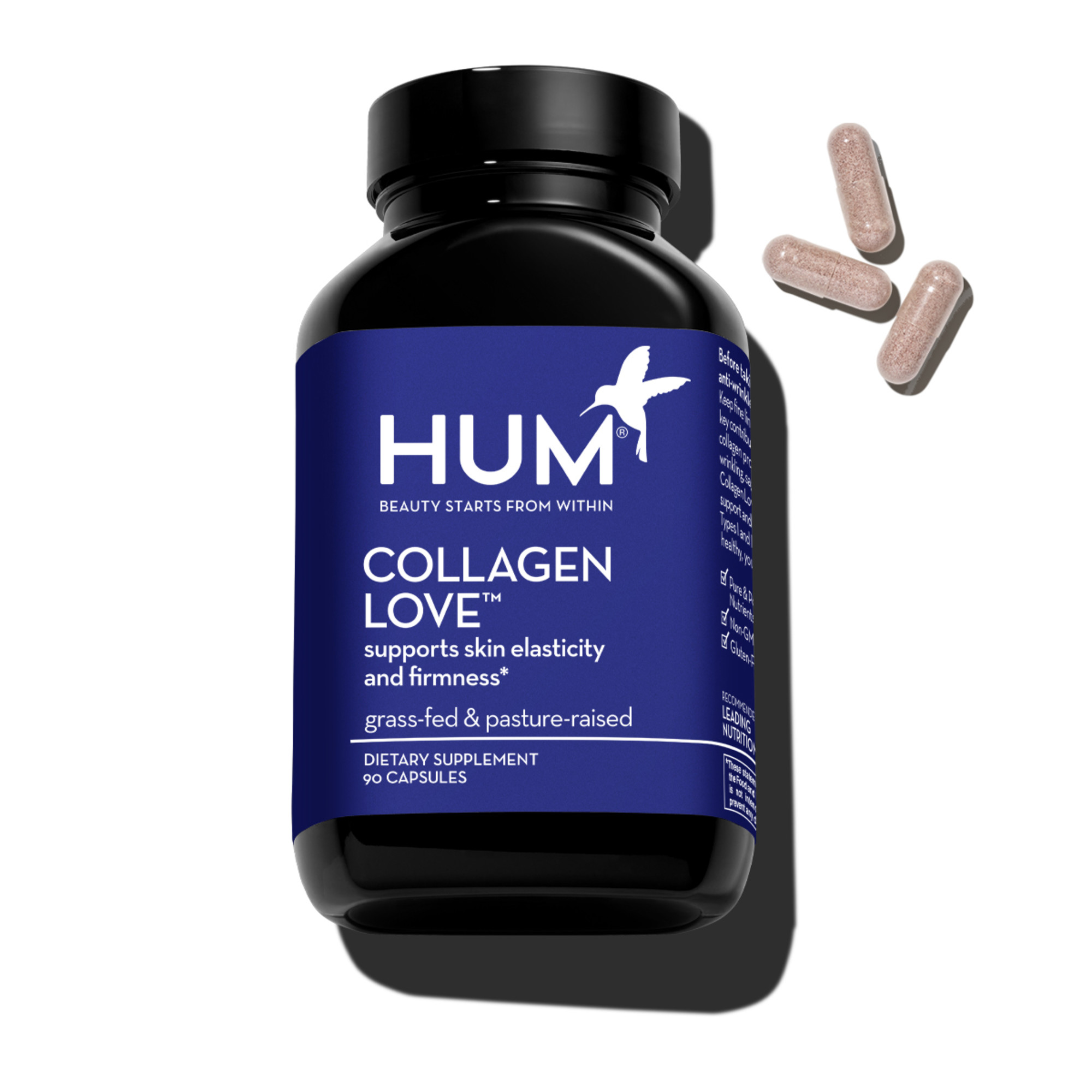 Starting our HUM Nutrition reviews with a Collagen supplement. Collagen Love is one of HUM Nutrition's best-selling supplements; designed to support skin elasticity and firmness and help slow down the visible signs of aging. From a personal point, I cannot rate this product highly enough. Not only did it improve my overall skin health, but it also improved my joints and I've felt more confident and capable than I have in years! I've got to agree with so many of the other HUM Nutrition Collagen Love reviews, and give this product a huge 5/5.
HUM Collagen Love is mainly comprised of Collagen Types I and III, sourced from grass-fed, pasture-raised beef. In addition to collagen, the product also contains Vitamin A, Hyaluronic Acid, Chondroitin Sulfate, plus red wine and grape seed extract… These superfoods create a powerful anti-aging formula that reduces the appearance of fine lines and wrinkles, boosts immunity, and helps boost the body's moisture retention, plus so much more.
Here Comes the Sun – Vitamin D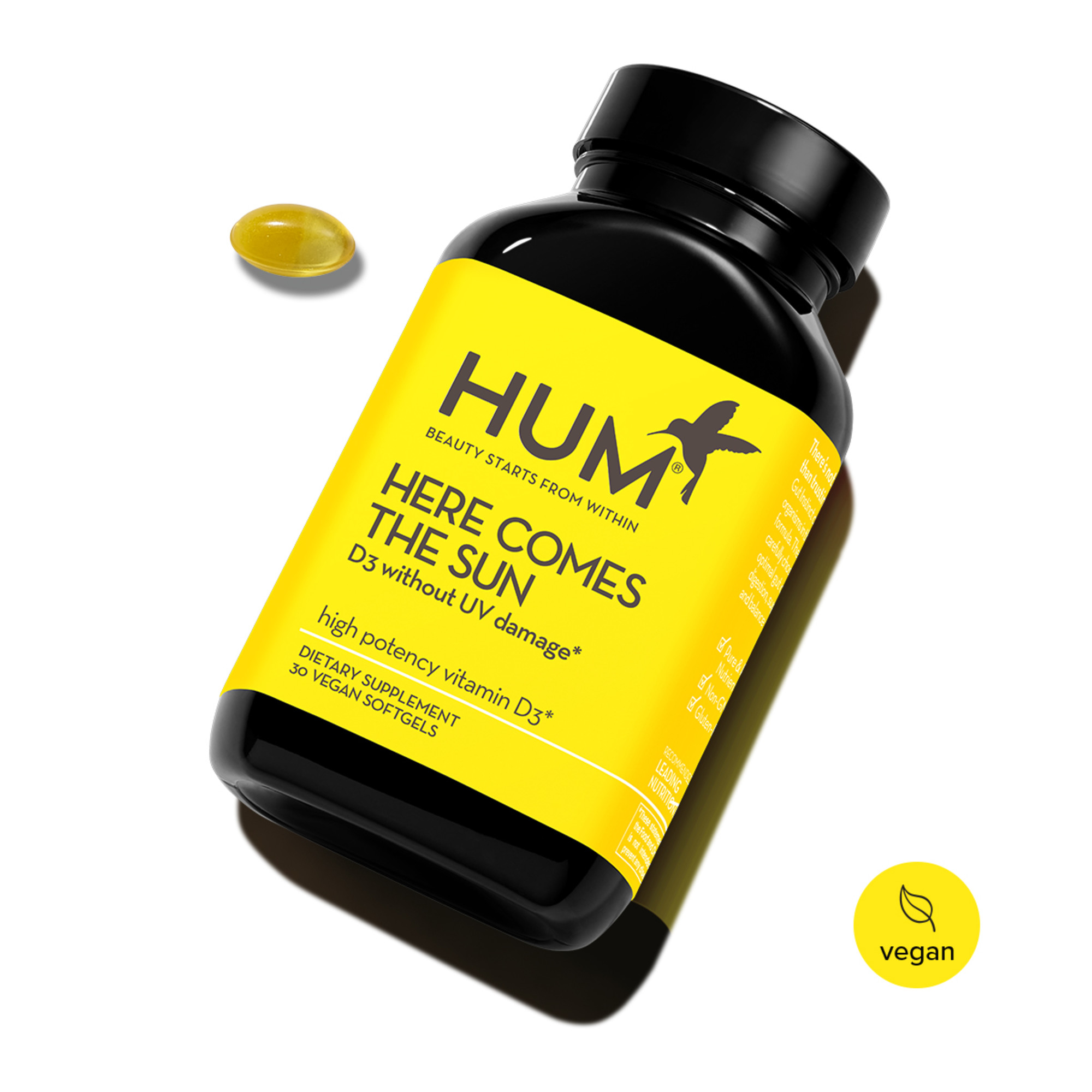 We had to include this important supplement from our HUM vitamins review. Whether you suffer from SAD or just don't get out of the office/house as much as you'd like, HUM Nutrition's potent Vitamin D3 supplement is practically sunshine in a bottle!
Okay, so Here Comes the Sun is no substitute for the actual benefits of getting outdoors and into the sun, but it has been carefully formulated to help boost mood, support your immune system, and aid in calcium absorption to improve bone health. It's just great for your overall health.
This product contains virtually no ingredients for a 100% natural and vegan Vitamin D boost. And, because it's a soft gel capsule, it's easy to swallow.
HUM Nutrition Here Comes the Sun reviews are overwhelmingly positive, with an impressive 4.6 stars and plenty of reviewers commenting on a huge improvement in mood, energy, and general health… Even from a few who suffer from Vitamin D deficiencies!
Red Carpet, for Skin and Hair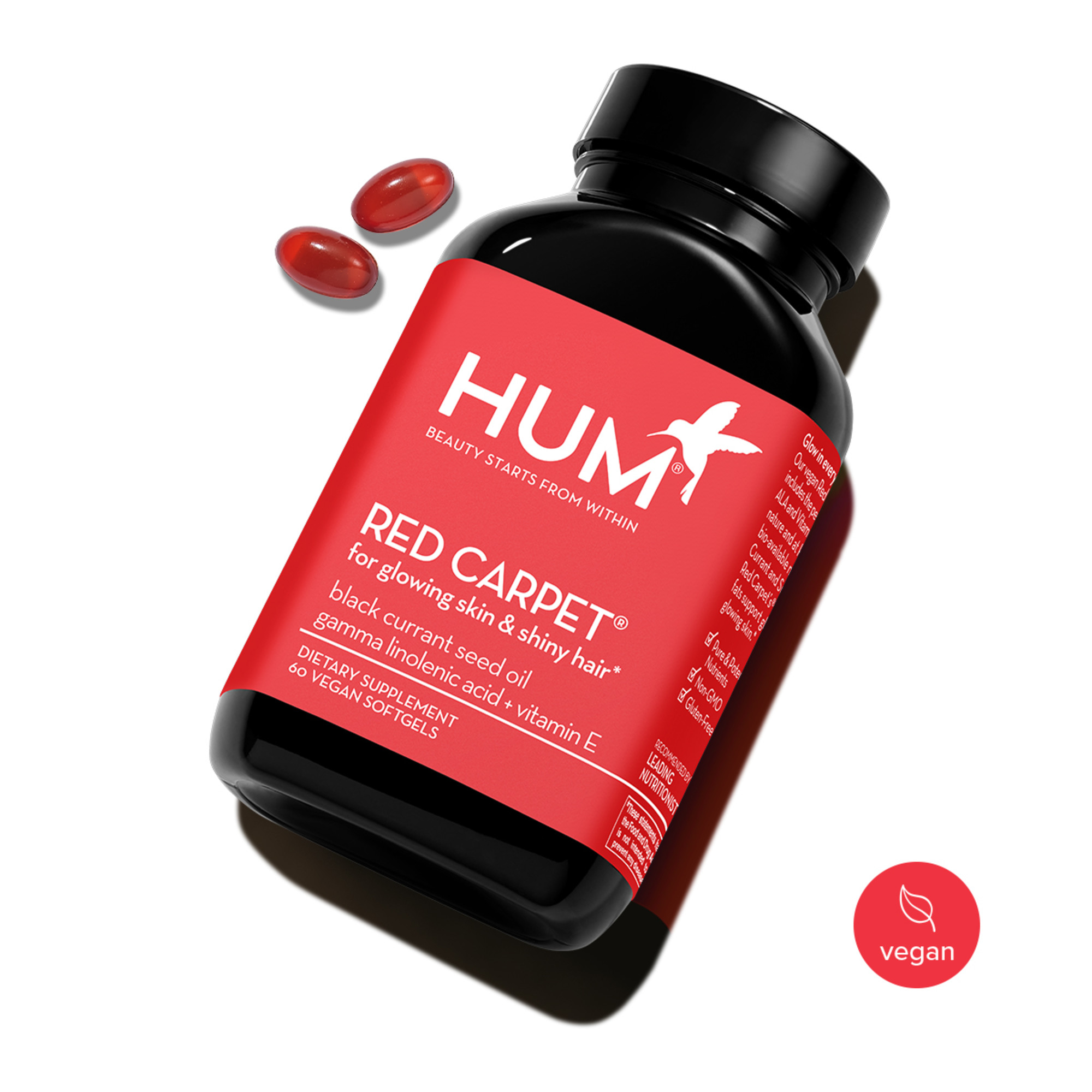 Next in our HUM Nutrition reviews is the Red Carpet supplement.  It claims to offer hair and skin the "VIP treatment." So, naturally, in our HUM Nutrition Red Carpet supplement review, we focused mainly on how the vegan softgel tablets affected these areas.
The supplement is comprised mainly of black current seed oil. This oil is rich in omegas 6 and 3 fatty acids which help moisturize the skin and boost your overall health. HUM Red Carpet also contains Vitamin E, which is an essential vitamin for maintaining healthy, glowing skin and shiny, luxurious skin.
The HUM Nutrition Red Carpet reviews are filled with lots of happy customers, with 94% of HUM Nutrition Red Carpet reviews reporting the product made their hair feel "stronger, shinier, or healthier." The supplement has an impressive 4.6-star rating across 228 reviews, with the only negative reports suggesting it can make your face and hair more oily than normal, which makes sense based on the product's goals.
OMG! Omega the Great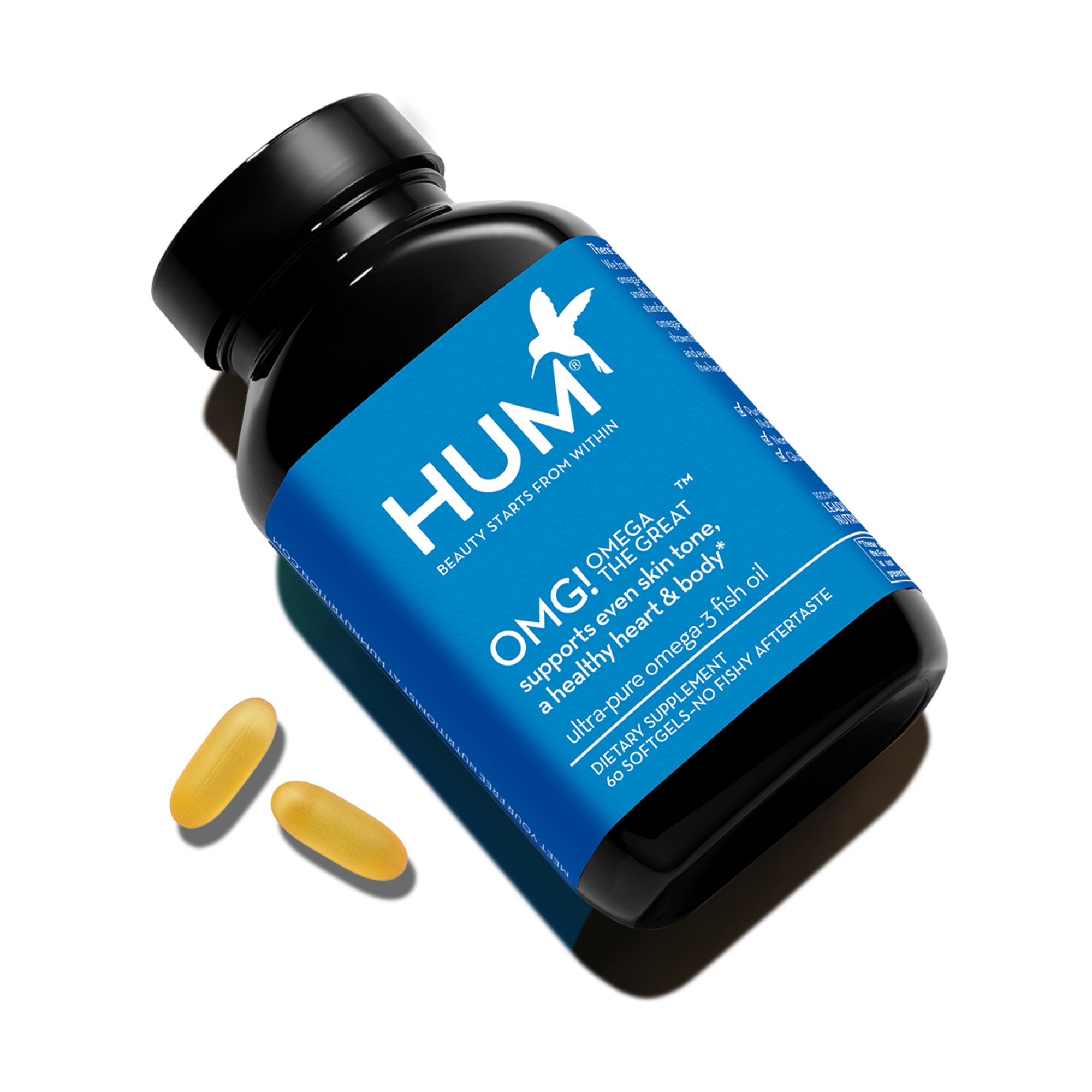 We couldn't complete our HUM nutrition review without mentioning maybe the best-named supplement we've ever come across… HUM OMG! Omega the Great is designed to support an even skin tone, as well as a healthy heart and body (without the fishy aftertaste our grandparents might be familiar with!).
This is one of HUM Nutrition's few supplements that aren't suitable for vegans, as the omega-3 for the soft gel is sourced from sustainably farmed small fish. But although it isn't vegan-friendly, the ultra-pure omega 3 in this supplement does contain an "ideal ratio of EPA and DHA" to brighten and even your skin tone, in addition to supporting a healthy brain and heart (we all know fish food is brain food!).
The HUM Nutrition reviews on this product reach 4.7 stars, with reports of a swift improvement to skin conditions and a complete absence of any fishy taste or smell. The downside is that you do need to take two capsules with food and, although they're soft gels, the large size can be a bit off-putting if you're not a huge fan of pills.
Fan Club – Multi-Symptom Menopause Supplement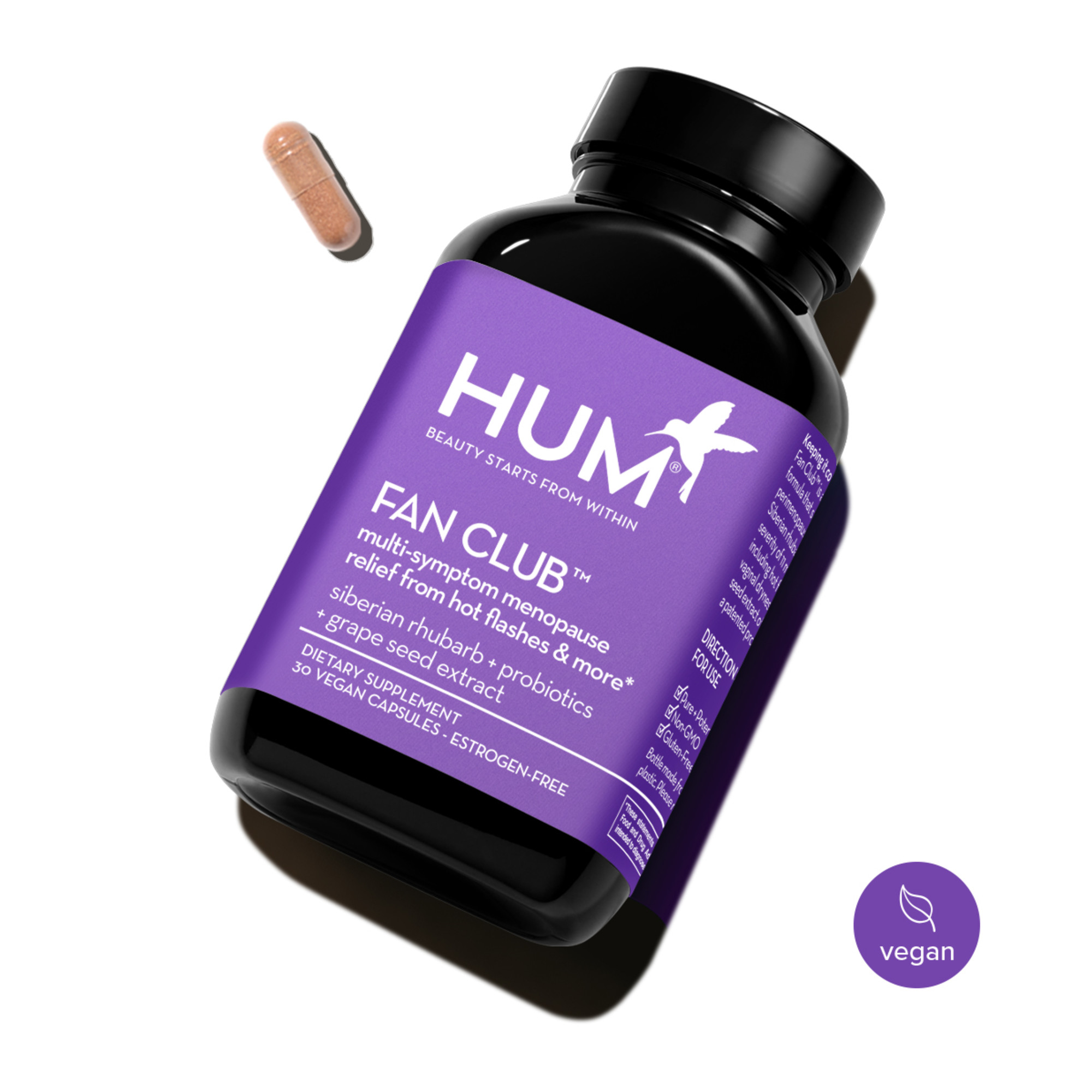 HUM Nutrition, of course, offers a menopausal supplement. But HUM Fan Club isn't your everyday tablet; it's suitable for vegans and addresses 11 symptoms of menopause and perimenopause to provide an all-around solution that will help you take control of the next stage of your life!
What we love about the HUM multi-symptom menopause support is that it's an estrogen-free, non-hormonal probiotic that's been extensively studied and made with premium ingredients to target and relieve so many symptoms that many of us probably know a little too well!
Popular Alternatives to HUM Nutrition
HUM Fan Club is made with just three natural, vegan ingredients:
Err 731 Siberian Rhubarb Extract – Decreases the severity of hot flashes, vaginal dryness, night sweats, fatigue, and irritability.
Lactobacillus Plantarum (DR7) – Helps support and balance the gut-brain axis, improving mood and helping to maintain healthy cortisol levels.
Grape seed extract – Reduces stress and anxiety and helps ease many of the symptoms of menopause. You might remember this ingredient from other HUM supplements, including our HUM Nutrition Red Carpet supplement review.
The HUM Fan Club reviews boast 5-stars, although at the time of writing there are only 7 customer reviews on this one. There's also plenty of clinical evidence of the pill's effectiveness, including an 83% reduction in hot flashes based on a clinical study of 109 women.
HUM Nutrition Reviews from Customers
Of course, we can't sample every single HUM Nutrition product, so when writing our HUM vitamins reviews, we spent a considerable amount of time reading through customer HUM Nutrition reviews to see what real people think of the products and overall service.
From what we've seen, all the reviews on HUM nutrition's supplements are very positive. I think the lowest rating we saw was 4.6 stars (out of 5), which is an impressive report. What's more, each product contains details on clinical trials and plenty of ingredient information to help boost buyer confidence.
Sign up for HUM Nutrition
One of the best things about HUM Nutrition is how easy it is to sign up. You can either shop their full range of products and select what you think is best for you, or take the quiz to be matched with a nutritionist and receive an initial recommendation of three products.
There are two options when purchasing vitamins and supplements with HUM Nutrition. The first is a no-commitment option that you can cancel at any time. Assuming you don't decide to cancel your order, your products will be automatically shipped to you every 30 days.
The second option is to take advantage of the 3-month plan. This plan provides automatic shipment every 30 days for three months and provides shoppers with an additional 25% off every order.
You can cancel the 3-month plan before the full 90 days are up, but you'll be charged an early cancellation fee, which basically recoups the additional savings, so you end up paying the same as if you'd purchased the monthly plan until the point at which you cancel.
Where to Buy HUM Vitamins
Are you curious about where to buy HUM vitamins? Of course, you can pick up HUM Nutrition products from humnutrition.com. But the range is also available with various retailers including Sephora, Amazon, Cult Beauty, Nordstrom, and others, both online and offline.
Shipping and Return Policy
Assuming you pick up your products directly from HUM Nutrition, domestic shipping within the US takes 2-7 business days (depending on your location).
International shipping usually takes 2-3 weeks, although HUM customer service suggests checking with your local postal services to ensure there are no shipping delays if you're ordering an international delivery.
Domestic shipping costs $5.95 for orders under $50. Orders over $50 are shipped and handled totally free.
All international shipments are charged a flat $10.95 shipping fee, and HUM will not be responsible for any customs, duties, or exchange rates.
If for any reason you're unhappy with your order, HUM provides a 30-day return window. Unopened products will receive a full refund, if you've opened them, you'll only be eligible for store credit. Either should be issued within 5 business days, and you'll be updated throughout the process.
You can find more information on the HUM Orders & Shipping page.
Promotions & Discounts
You already know where to buy HUM vitamins, let's see the promotions. HUM Nutrition doesn't offer many promotions or discounts, so the price you see will usually be the price you get. The time of writing this is around Black Friday, so they do have a rare 50% off your first purchase currently.
One offer they do have constantly, however, is 25% off every order if you purchase the 3-month plan. HUMnutrition pricing is a bit more affordable like this. Remember, you can cancel this plan at any time, but if you do cancel before the 90-days end, then you'll forfeit any discount and will have to pay a cancellation fee to cover the difference.
That said, if you want to try different products within 90 days, you can change the products in your order via your account or the Member Support Team, which is a nice touch.
The other promotion HUM provides is their Refer a Friend program. To take part, all you need to do is share your personalized referral code up to 15 times. Every time someone uses your code (and spends $39+), you'll both receive $10 store credit.
HUM Nutrition Customer Service
Spontaneously referred to as "Member Support," the HUM Nutrition customer service team is incredibly helpful and easy to get hold of. The team is available 7 days a week between 7 am to 6 pm (the time zone isn't totally clear).
You have three options for contacting Member Support:
Telephone: (888) 647-888
Email: [email protected]
Live chat: Click the "chat" box in the bottom right-hand corner of any page on the HUM website to be connected to a representative.
HUM Nutrition Reviews – Editors' Verdict
In all honesty, when we started looking at HUM Nutrition reviews, we were a little skeptical. The idea of finding the perfect supplements to make us look and feel amazing after a simple 3-minute quiz felt a bit pie-in-the-sky, and who isn't a little worried about big claims of perfect products?
HOWEVER, our actual experience of HUM Nutrition was that this is an incredibly well-researched, reliable, scientific nutrition brand that seems to genuinely care about getting you the nutrition you need to match almost any wellness goal.
The reviews on HUM vitamins are incredibly positive, and we particularly loved the transparency of the brand… Not only can we see every ingredient that goes into each product (and why it's been picked), but they also include details of clinical trials, the background of all the RDs, and answer pretty much any question we could think of almost immediately.
Honestly, we couldn't be more impressed, and personally provided a 5-star HUM Nutrition collagen review (honestly the best collagen product I've ever tried). And other HUM Nutrition reviews across the web seem to agree!
Still on the search for health supplements for full-body wellness? Check out our reviews of Ritual Vitamins, Persona Nutrition, Flo Vitamins, and Beekepers Naturals.
Disclaimer: This website does not provide medical advice. Our health-related articles are based on information coming from the brands' websites and online reviews.
HUM Nutrition FAQ
What makes HUM Nutrition different?
HUM Nutrition offers targeted solutions for your personal skincare, wellness, and health goals. The vast majority of their products are vegan-friendly, and always 100% cruelty-free.
To get started, HUM Nutrition will ask you to take a 3-minute quiz. You'll then be matched with one of the nutritionists who will provide you an initial recommendation of three products, and will also email you with a more detailed recommendation and analysis. You can speak to your personalized nutritionist at any time, and (other than actually buying the vitamins and supplements), all advice is totally free.
Is HUM Nutrition sustainable?
HUM Nutrition is focused on providing sustainability for you and the planet. This goes for each and every ingredient used in their products, as well as the company as a whole.
In fact, HUM Nutrition packages its products in bottles made from 100% ocean-bound plastic, and the brand even won the Marie Claire Sustainability Awards 2021.
In addition to bottles made from ocean-bound plastic, HUM Nutrition also uses boxes made from SFI and FSC certified materials, envelopes made from recycled newspapers, and naturally biodegradable/compostable green wrap instead of bubble wrap.
Are the HUM products vegetarian/vegan?
Many HUM Nutrition products are suitable for vegetarians and vegans, however, there are a few exceptions:
OMG! Omega the Great: Uses fish oil from mackerel, salmon, and anchovies.
Here Comes the Sun: Features a gelatin capsule that's derived from beef.
Collagen Love: The collagen comes from beef.
In all instances where meat or fish is used in HUM Nutrition products, great care has been made to ensure it's as sustainable and cruelty-free as possible.
Can children take HUM Nutrition products?
Because nutrients can behave differently in bodies that are still developing, HUM nutritionists do not recommend their products for anyone under the age of 18.