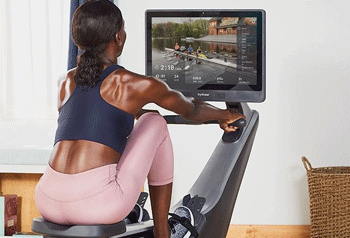 In the 80s, our parents were all about aerobics programs on TV, which promised increased flexibility and higher cardio endurance. Over the last decades, brands have innovated and brought to life sports machines that mimic the movement of actual outdoor sports. One of them, Hydrow Rower, was created to change in-home fitness by delivering the most real-like rowing experience directly to users' homes. We bring you this Hydrow Rower review to potentially help you with your fitness goals.
Featured in numerous media outlets, including USA Today, GQ, and Vogue, Hydrow Rower is taking the at-home fitness market by storm. But with a price tag of over $2,200, plus a monthly membership fee, the main question is: is it worth it? In this Hydrow Rower Review, we will take a close look at the brand's machines and accessories, customer reviews, promotions, and more, to help you decide if the Hydro rowing machine is really worth your time and money.
About Hydrow Rower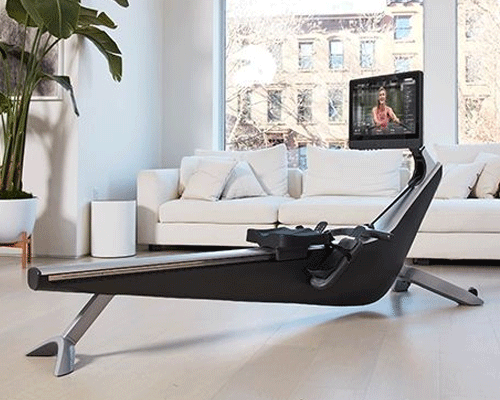 Hydrow Rower, the one and only Live Outdoor Reality rower, was created to "push the body and release the mind" while giving an authentic community experience even when exercising from home.
As the name suggests, the brand focuses on rowing, a complete cardio and strength training workout that engages 86% of the body's muscles. Compared to 44% for cycling and running, this is nearly double the muscle engagement, which means that, in theory, you would need only half the time you'd spend on running or cycling to train when using the Hydrow rowing machine.
The brand has thought of every fitness level and age with a machine that is perfect for those who wish to start a low-impact yet complete sport. In their lives and recorded videos, Hydrow Rower features world-class athletes who compete for the US National Rowing Team to guide and motivate you through the workouts in real-time.
Every live row is recorded so you can have it in your on-demand library, plus there are unguided journeys through unexpected scenic waterways that allow users to come across sea creatures, boats, and other life encounters. The Hydrow also has a lot of live rowing workouts, such as yoga, pilates, and strength training guided by elite trainers and coaches.
More about Hydrow
Founded in 2017 in Cambridge, Massachusetts, by former USA rowing national team coach Bruce Smith, the company promotes humanitarian qualities. Every one of your rows counts towards donations that Hydrow Rower makes to Water.org, an organization that works towards bringing clean and safe water to developing countries.
The brand has been featured in Entrepreneur, Men's Health, CBS News, Mercedes, and New York, and connects thousands of users of any age and any fitness level from the comfort of their home. Before we explore in detail our Hydrow Rower review, let's highlight the pros and cons of the brand:
Pros
Hydrow Rower offers live classes, racing, and competitive challenges for ultimate motivation
Includes pilates, yoga, and strength training workouts to complete rowing sessions
Large screen with full HD screen resolution, comfortable and quiet operation
Every rowing session counts towards a donation to the Water.org organization
30-Day risk-free trial available
Free standard shipping
Payment in installments available with Klarna
One year warranty
Cons
Ships only to the USA
It is quite expensive
Cannot play your own music
Hydrow x Mat Package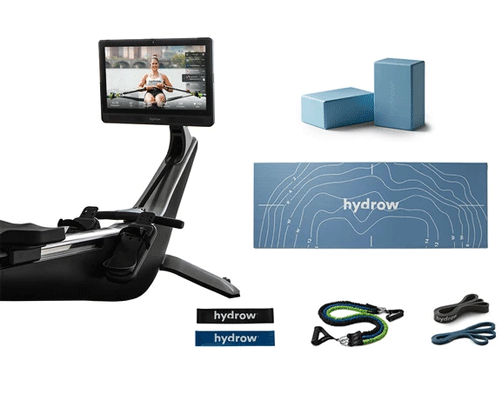 The Hydrow x Mat Package retails for $2.245 and includes the Hydrow rowing machine along with a free Long Black Machine Mat that usually retails for a whopping $79.99.
You can try this package for 30 days with a risk-free trial, and if you don't love it, the brand will refund your entire order. When you purchase the Hydrow x Mat Package, it comes with free standard shipping and a 1-year home use warranty. You can also add unlimited profiles to one membership.
The good news is that the Hydrow x Mat Package can be purchased with several installments as low as $63/month with Klarna to help you access great workouts at an affordable monthly fee.
Hydrow Starter Package
The Hydrow Starter Package is made for rowers of all levels and ages and includes:
the Hydrow Rower, RRP $2.245
a Machine mat to use under the rower, RRP $79.99
a Heart Rate Monitor (Polar OH1), RRP $79.95
Bluetooth Headphones (Jaybird Tarah Pro Wireless), RRP $129.99
One year Home Use Warranty
You can purchase the Hydrow Starter Package straight from the brand's website for $2.520, and the company offers the possibility to pay in installments as low as $70 per month.
When you order the Hydrow Starter Package, you will enjoy Free Standard Shipping, and this package allows you to add unlimited profiles with one membership. If you are not completely satisfied with your Hydrow, it comes with a 30-day risk-free trial so that you can return it for a full refund.
Hydrow Pro Package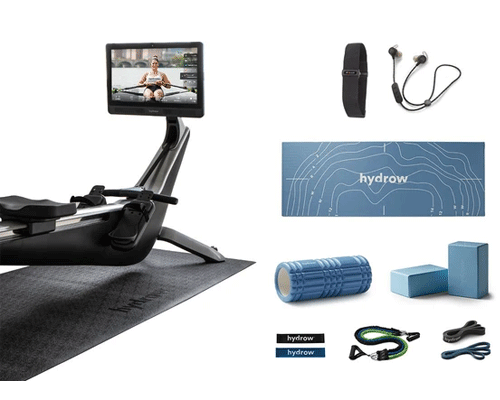 Hydrow also offers a Hydrow Pro Package which includes:
the Hydrow rowing machine, RRP $2.245
a Machine mat to use under the rower, RRP $79.99
a Heart Rate Monitor (Polar OH1), RRP $79.95
Bluetooth Headphones (Jaybird Tarah Pro Wireless), RRP $129.99
One year Home Use Warranty
Free standard shipping
Unlimited profiles with one membership
30-day risk-free trial
The brand has also added many workout accessories to complement your rowing workouts with the yoga, strength training, and pilates training sessions they also offer.
In the Pro package, you can also find an "On The Mat" Kit which includes a performance foam roller, along with:
A Multi-Use Workout Mat to use next to the rower
2 Yoga blocks
2 Mini workout bands
Long workout bands
Three resistance bands
The Hydrow Pro Package retails for $2.705, and you can pay in installments as low as $76 per month with Klarna.
Things To Consider Before Buying Hydrow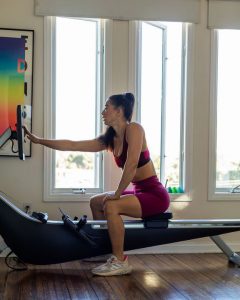 Before you purchase a Hydrow Rower, it's a good idea to look at the rower's specificities, including the type of resistance it uses, technical specifications, capacity and comfort, and the monitor characteristic, to see if the machine is really worth your time and money.
Resistance Type
Hydrow uses an electromagnetic resistance mechanism, which means that the Rower is very quiet, as well as smooth. Your new fitness equipment needs to be connected to power at all times and requires a standard US 120V electrical power outlet to function.
Technical Specifications
To help you in your purchase with this indoor rowing machine, we thought it would be interesting to share some technical specifications about the dimension, weight, and more, so you know if you have enough free space at your home.
Unpacked, the Hydrow measures 86″L x 25″W x 47″H from the floor to the top of the screen, and the fact that you can store it vertically with the brand's Upright Storage Kit makes it easier to live with such a big workout machine day in day out.
The machine weighs 145 Lbs and can withstand weight up to 375 lbs (170 kgs), making it a perfect rowing machine for a significant part of the population. This rower fits up to a 36" inseam (91 cm). It's just perfect for your rowing workouts.
Build Quality
This review has found that all the Hydrow rowers are built in regard to commercial-grade quality standards. This means that they are designed to endure heavy use whether you use them at home or a gym, so you really do get a real return on investment. The body has an aluminum and steel frame, so very sturdy.
Aside from the high quality of build, the rowers' components are water and sweat resistant and designed to be long-lasting.
Monitor
Hydrow Rower comes with a big, bright monitor (1920 by 1080 resolution) that you attach to the rower with four screws, and on which you can follow instructors rowing live or on-demand workouts. You can adjust the monitor by pivoting its head up to 30° up and down and 50° left and right, to adjust it to your height perfectly.
Comfort and Capacity
Created with people of all ages and fitness levels in mind, the studio rowing sessions are great to ease yourself into the sport of rowing. The brand recommends using the rower whether you are a:
fresh beginner
a novice who has trained on rowing machines at the gym
someone who has rowed regularly in College and has stopped
an athlete from another sport who is looking at rowing as a low-impact alternative
Since rowing is a low-impact sport that follows fluid movements and moves with you, it's ideal both for beginners and experts. No pounding or jerking, no whirling, bouncing, or spinning furiously – the Hydrow Rower is a machine that matches your movement gently for ultimate comfort.
Set-up process
When you purchase the Hydrow Rower, you can usually order the in-home delivery and assembly service. However, due to the current sanitary conditions, the service cannot be added to any Hydrow order at the moment, which means that you have to set up the machine on your own.
Fortunately, the brand has covered its basis, and you can find a complete, step-by-step video about unboxing, assembling, and setting up your Hydrow Rower from the very moment you receive it.
Storage
To keep your Hydrow machine efficient for as long as possible, the company recommends storing it in a dry, indoor, climate-controlled area away from damp or weathering elements. Bear in mind that storing Hydrow outdoors voids the 1-year home use warranty with which the rower comes.
You can safely store your Hydrow upright with the brand's Upright Storage Kit, which retails for $69.99 and allows you to store your Hydrow in 30 seconds once you are done using it.
Hydrow Rower Membership
When you purchase the machine, it comes as a bare item. This means that you need to buy the membership separately, and no months of membership are included in the Starter or Pro package.
At the moment, Hydrow offers two memberships:
Standard Monthly Billing: $38/month + tax
Prepaid Yearly Membership: $456/year + tax
The prepaid membership period starts when you use the Activation code on Hydrow. It is so easy to gift it to someone.
Alternatives To The Hydrow Rower
Hydrow Rower may not be the first indoor rower on the market, but it is the one that offers the most complete and effortless experience this review has found. Plus you can't beat that amazing aluminum and steel frame the rower has!
Some of the Hydrow competitors include:
Echelon Smart Rower
Bluefin Fitness Blade
NordicTrack RW900
Women's Health/Men's Health Bluetooth Rower
Schwinn Crewmaster
Although the price can be a deciding factor when purchasing a rowing machine, it is essential to look at all the added features, value, and overall return on investment.
Certain factors make Hydrow stand out from the rowing machine crowd:
Hydrow is the only rowing company that offers a Live Outdoor Reality experience, with live and on-demand workouts.
Hydrow Athletes are real rowers, competitors, and trainers for the national teams.
Extensive library of workouts that include rowing, pilates, yoga, and strength training, with daily updates and additions
Reactive electromagnetic resistance allows for a uniquely quiet fitness experience.
Very active Hydrow community with virtual teammates to engage and motivate you.
Hydrow Rower Review from Customers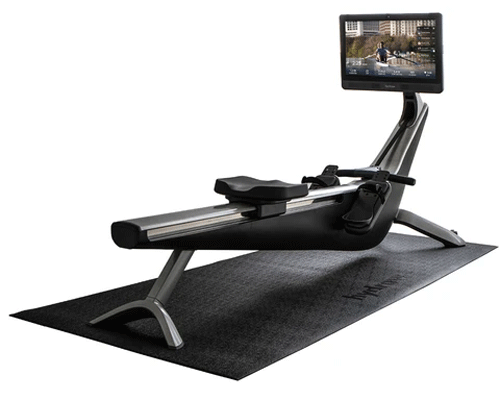 With almost 4500 reviews on Trustpilot that amount to an excellent 4.7-out-of-5 grade, this review has found that most Hydrow rowers' users practically rave about its quality and ease of use.
"Hydrow has been a game-changer for me," one review read. We've been through hundreds of customer reviews, which were all very recent (say, three weeks old at the earliest), and were surprised at just how many fans Hydrow Rower has amassed with their immersive rowing machines. Indeed, customers love the atmosphere created by the Hydrow workouts: "I love the guided workouts. The instructors are wonderful and make the workouts feel more like a party/social gathering than a workout!". Another one reads: "I love our new Hydrow! I am returning to working out after many years of little to no exercise, and I am also new to rowing. The instructors do a great job of explaining how to row and all the different mechanics. The intro to rowing and fitness builder programs is just the right level for me."
Coupled with proper nutrition, it seems like one could easily shed excess pounds without even noticing using Hydrow: "Awesome, I would highly recommend it! I have lost 5 pounds in a week, and I look forward to using it every day!" Another customer writes: "I'm really enjoying this machine! I was never a morning workout person before, and now I look forward to getting up early. It's a balance of a hard workout, but also very relaxing. My first week in, I feel motivated and excited for my rowing journey!".
Popular Alternatives to Hydrow Rower
Further customer reviews
However, we have also come across some reviews of customers who would like the possibility of adding their own music or being able to go through more detailed analytic data, so do keep that detail in mind. Some folks really enjoy listening to their music when exercising and that is not possible with this machine.
Overall though, a vast majority of customers seem super-pleased with their Hydrow exercise machine. In fact, one user writes: "I have a lot of gym equipment, but by far, this is the best. Great engagement and motivation from team Hydrow. Easy to use and one of the best workouts. Prior to getting, I had been using a bike for about 11 miles a day for a few months and instantly felt a more complete workout the first-week using Hydrow. "
The conclusion: customers seem to love their easy full body workout machine.
Hydrow Rower Promotions & Discounts
For this Hydrow Rower review, we have found that the company offers coupon codes from time to time, which we highly recommend taking advantage of. At the moment, you can use the code "ROW100" for $100 off your order. The company also offers a discount for military customers with the documentation to prove their status.
Where to Buy Hydrow Rower
If you would like to purchase your own rower, you can do so straight from the brand's official website. Additionally, the company has retail partners, which include:
Best Buy
Kinetic Solutions (Canada)
Fitness Town (Canada)
Precor Home Fitness (Alaska)
Shipping and Return Policy
Shipping
At the moment of writing, Hydrow only ships their rowers within the continental United States. However, the brand has retail partners in Alaska, Hawaii, Canada, and the United Kingdom.
When you purchase a Hydrow Rower, you will enjoy free standard delivery on your order with delivery partner CEVA. An adult must be present to accept the delivery, and you will be able to schedule your delivery online or via phone.
Returns
If you are not satisfied with your Hydrow order for any reason, you can return your item under the 30-Day Risk-Free home trial policy of the company. If you are eligible for a return, you will receive a full return on the indoor rowing machine, the accessories, and the membership payment you have made during your trial month.
The 30-Day Risk-Free trial only applies to first-time orders of one Hydrow Rower purchased directly through the official website for home use.
If you do not qualify for the 30-Day Risk-Free home trial, you can return your Hydrow within 14 days of delivery for a replacement or a refund. However, because of the rower's size and weight, any cancellation or return after shipment will be charged an additional return shipping fee of $250, deducted from the amount of your refund.
Hydrow does not accept returns on the following items if worn, used, or purchased as a sale item:
Apparel
Headphones
Heart rate monitors
Upright storage kit
Water bottles
Other Body-use fitness accessories like Hypervolt Massagers
Contact Hydrow
If you need to contact the Hydrow support team for any questions that have not been addressed in this Hydrow Rower review, you can do so via:
Hydrow Rower Review: Editor's Verdict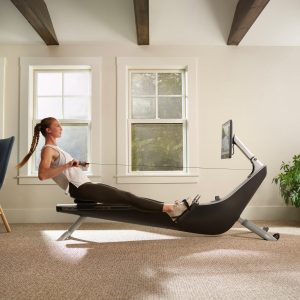 Offering immersive, full-body workouts with excellent and motivating classes and instructors, Hydrow Rower is absolutely worth it for folks who want to get in shape from the comfort of their homes.
We really like the expertise of the instructors, scenic settings, smooth operation, and of course, a full-body workout that the Hydrow Rower offers. But if the high price is stopping you from trying it? With its 30-day risk-free trial and a 1-year home use warranty, we say give it a go, and if you end up not liking it, you can return it.
Reaching your health and fitness goals can be challenging, which is why we have more options! Perhaps you'll like Aventon Bikes, PVolve, V Shred, or Crossrope Jump Rope
Frquently Asked Questions
Is Hydrow good for weight loss?
Yes, absolutely. Rowing machines are great for weight loss. It strengthens your muscle and cardiovascular system and it's an all-in-one workout to improve your health.
Can you watch Netflix on Hydrow?
At the moment it is not possible to stream Netflix on your Hydrow monitor. These were made to stream the workout content and show your statistics.
How long does it take to see results from using a Hydrow?
If you haven't used the machine before, then you would be seeing results in the first week already if you're consistent with rowing. This will depend on person to person, but for a dramatic result, you would have to be consistent for 90 days at least.
Is 20 minutes of rowing a day enough?
Yes, 20 minutes of rowing daily is enough and it will give you a full-body burn.