There are several natural and clean beauty brands on the market. Innisfree stands out to customers. It is an all-natural skincare brand that formulates products with natural ingredients specially sourced from the magical island of Jeju. The brand is centered on promoting healthy beauty. It advocates for eco-friendly, green living, which helps promote the balance of nature. It offers a unique line of skincare products, including creams, scrubs, masks, and other products. This Innisfree Review provides extensive details about the brand's activities and products. We'll also look at the customer reviews to confirm whether or not a purchase is worth it.
About Innisfree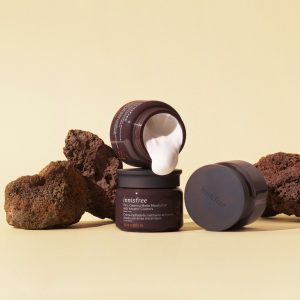 Innisfree was introduced in 2002 by Amore Pacific, South Korea's leading skincare and cosmetics company, as the company's first eco-friendly brand. 'The Lake Isle of Innisfree,' a poem by W. B. Yeats inspired the brand name. This poem abandons the urban lifestyle and yearns for a simple life on the island surrounded by nature's goodness.
Jeju island is a magical abyss that offers a euphoric escape from the active and bustling life in the city. Due to the unique ecosystem resulting from its volcanic background. The brand is committed to preserving and protecting the environment through sustainable and eco-friendly approaches.
The company uses the slogan, "'Clean Island, where clean nature and healthy beauty coexist happily." It does not use any harmful ingredients or toxic preservatives but uses a plant-to-bottle production method. Also, it practices upcycling by creating effective beauty products out of discarded coffee foil.
Pros
All-natural Korean brand with a wide selection of skincare products
Clean and ethically-sourced ingredients obtained from Jeju Island
Eco-friendly and sustainable production process
Effective skin care products for all skin types.
Offers frequent point rewards and sales promotion
Free shipping for orders above $50
Cons
Limited reviews outside sponsored sites
Poor customer service complaints
Innisfree Skincare Products Review
Innisfree is South Korea's first all-natural brand, with many of its components ethically sourced from Jeju island. The company's product line includes makeup and skincare products for ladies and men. And some bestseller items such as The Super Volcanic Pore Clay Mask, Olive Real Cleansing Foam, and Wine Peeling Jelly Softener. Also, the Green Tea Seed Serum is the brand's best-selling product worldwide.
In addition, Innisfree is the first K-beauty brand to launch two inclusive cushion foundation products with 14 different shades. It is also committed to eco-friendly and sustainable practices which embrace safe, clean, and natural beauty. This section of our review will examine some Innisfree skincare products to show you the brand's selection. Find out more below!
Innisfree Sunscreen Review
To prevent sunburns and hyperpigmentation, Innisfree offers this daily UV defense sunscreen with SPF 36. It is created with a water-based formula that absorbs into the skin without making a white cast film and also offers light hydration. The product provides fair coverage, and a single application provides day-long protection.
The key ingredients in sunscreen include Green Tea, which offers soothing hydration and nourishment, Cica to help soothe the skin and remove all signs of irritation, and Sunflower Seed oil to provide light moisture. This blend of ingredients is infused with reef-friendly components to create a water-based formula that offers a seamless non-white cast finish.
It is formulated without 15 chemical and toxic components that have been proven dangerous to human health and coral reefs. For instance, no parabens, mineral oil, silicone, sulfates, talc, or artificial colors are included in the formula. You can get this vegan, light-textured sunscreen cream from Innisfree for $15.
We found this Innisfree Sunscreen review from a verified user stating, "This Sunscreen does NOT leave that weird white cast on melanated skin. It goes on smoothly, and it absorbs fast. I'm on my third bottle of this product, and I will continue to repurchase it."
Innisfree anti-ageing Mask Review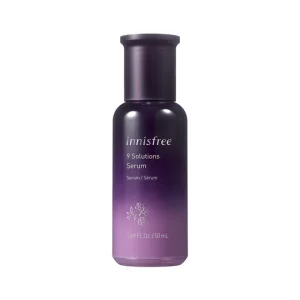 The brand offers 5 different solutions for anti-aging to add to your routine. This collection includes the 9 solutions eye cream, face cream, toner, emulsifier, and serum. The Jeju anti-aging 9 ingredients elixir includes the highly potent Jeju mushroom called "Yeungjucho," also known as "the gods' elixir of youth."
To achieve younger-looking skin, you can perform your complete skincare routine with these essential creams. After applying the solution, you can cover your face with a slim, cotton sheet mask to absorb extra moisture and allow the product to set into your pores. Innisfree offers transparent sheet masks to improve your skin's reception to products.
This Innisfree anti-aging mask review also recommends getting the entire 9 solutions collection for optimal results. It also comes with various positive reviews from customers who got better and younger-looking skin. It's suitable for all skin types and helps to reduce signs of aging and irritation on the skin.
Energy Essence Discovery Innisfree Skincare Set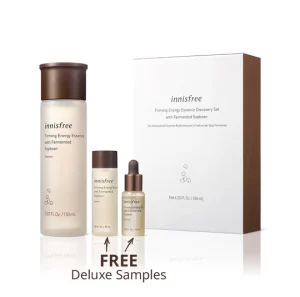 Innisfree also offers a firming Energy Essence discovery set specially formulated with fermented soybean. The island of Jeju is surrounded by soybeans rich in natural protective antioxidants. This set includes the firming energy essence and firming energy oil. It also comes with two travel mini products of the energy essence soybean product.
The essence offers anti-aging benefits, hydrates the skin, and reduces the appearance of fine lines, wrinkles, or any signs of irritation. It creates a new and improved skin quality with prolonged use. You can add this Innisfree skincare set to your daily skin routine to meet all your skin goals. The formula is free of any parabens or toxic artificial ingredients that can harm your health.
After cleansing, you can use your bare hands or a cotton pad to apply the firming energy essence on your face, depending on the condition. Then, pour 2-3 drops of the oil on your palms and rub them over your face. You will get immediately glowing skin, and you can gently pat your face with your palms to allow the product to absorb into the skin. Get your own Firming Energy Essence Discovery Set for $39.
Innisfree Cosmetics Review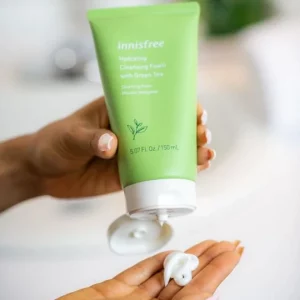 If you're just beginning to develop an interest in skincare, Innisfree is a perfect brand to start with. This K-beauty brand offers enriching natural cosmetics products that provide health benefits for your skin. All the key ingredients in Innisfree products are ethically-sourced from the ethereal Jeju Island, which many consider as a hub for healing.
The brand offers the custom Korean skincare ritual with the double cleansing method to deep cleanse your skin without leaving it stripped. For the first step of the double cleansing routine, the brand offers a range of cleansing oils to remove makeup, sunscreen, or other excess oils and products on your face.
With the cleansing foams, you can follow up the first step by flushing out extra dirt and impurities on your skin. One of the bestseller Innisfree foam cleansers is the Hydrating Cleansing Foam formulated with green tea. Green tea offers specialized skin moisture to keep the skin clean, soft, and hydrated. The product is especially suited for normal, dry, and oily skin types.
It also contains green tea root extract, a natural surfactant that provides a gentle cleanse with the use of microbubbles. You can get the cleansing foam for $10, and it comes with several positive reviews from customers.
For our Innisfree cosmetics review, we noted that the brand's cleansing products are free of parabens, sulfates, silicones, or mineral oils that can harm your skin. It is also vegan-friendly and 100% cruelty-free.
Innisfree Men's Skincare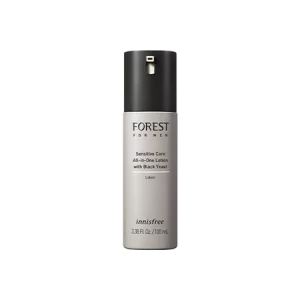 It's also vital for men to pay attention to their skin, and Innisfree offers a unique line of skincare products. Many men require specialized products which are designed to address their individual concerns. The Forest for men line includes several products which attend to multiple concern areas.
The brand offers the Forest for Men Sensitive Care All-in-one Lotion for men dealing with sensitive and irritated skin. The lotion helps reduce the appearance of pores and excess oil from the skin. With a blend of natural Centella Asiatica, the cream leaves your skin looking smooth and matte all day long.
It also helps you cut back the time you'd spend on your skincare, and you can simply apply the product to your skin after cleansing. The all-in-one benefits of the lotion are due to the black yeast, which helps to form a protective barrier on the skin.
It offers calmer and less irritated skin without causing any damage. You can also get masks, cleansers, exfoliators, and other skincare products to set up a perfect skincare routine that suits your schedule.
Innisfree Reviews From Customers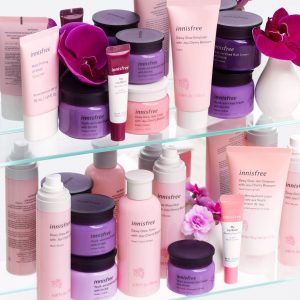 You can check the brand's customer reviews to see what actual users say about their products. There are multiple customer reviews on the brand's website on individual products, and many users give positive feedback on the results they got.
For bestseller products like the Hydrating Cleansing foam, customers scored 4.8/5 stars with 101 reviews. The product has an average of 5-star ratings from verified buyers. A middle-aged customer with a sensitive skin condition said, "Nice creamy cleanser that won't leave your skin clean but not stripped. Good for combo skin! The scent is light and unremarkable and is not left on the face after rinsing."
Also, for the 9 solutions anti-aging cream, customers gave 4.6/5 stars with 32 reviews. We couldn't find any negative comments and all the customers loved their purchase. Some customers also appreciated that their skins started to improve even after a short use period. It effectively helps to lift and firm the face.
However, there isn't much buzz on Innisfree skincare products outside the brand's website. The customer reviews on Trustpilot, Sitejabber, and Facebook are very few. They do not provide an accurate overview of how customers perceive the product. On Facebook, Innisfree has 4 stars ratings with 27 customer comments. On Sitejabber we also saw some customer service complaints from all three low ratings.
A distressed user stated, "Good products, but hate the customer service. I have spent more than 850$, and all my rewards points are missing. I have emailed them over 8-10 times regarding the issue – I was first given the runaround, and now they just stopped responding – instead of trying to help me. This is such fraudulent behavior."
Sign Up For Innisfree
If you're interested in using Innisfree's products, you can shop on the brand's website. You can create a personal shopping account to save your order history and manage your delivery. Sign up to log into the website and continue shopping anywhere and from any device.
Where To Buy Innisfree
Innisfree is an exclusive Korean Skincare brand that offers a wide selection of products. Due to Covid, all the physical stores are closed. However, you can shop directly from the website. Innisfree also partners with Sephora to make its products available to US customers. Other external retailers listed below may also have Innisfree products.
Ultra Beauty
Amazon
YesStyle
Soko Glam
iHerb
Innisfree Shipping and Return Policy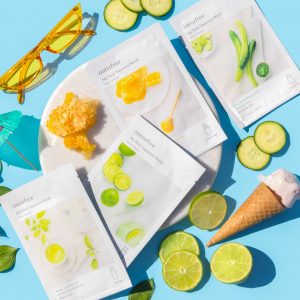 Although Innisfree is a Korean-based skincare brand, the company's shipping policy extends to all 50 states in the US, including Alaska and Hawaii. The brand offers free shipping without any promo code for all orders $50 and above. However, shipments less than $50 cost a ground shipping rate of $7.95. The brand also offers 2 Day shipping for $14.95 and next-day delivery for $24.95.
Processing may take up to 4 days from when you place your order, and the brand will tell you the approximate time you should expect delivery on the checkout page. Innisfree USA orders ship through UPS, and the brand does not process shipping during weekends or major holidays. Once your order is shipped, you will receive a shipment confirmation mail with your order details and tracking ID.
To track your order and follow your delivery date, you can sign in to your account and enter the tracking number to see where your package is. You can contact Innisfree customer service representatives for more information on the brand's shipping policy.
We also checked Innisfree's return policy to see the available options if you're not happy with your purchase. The brand's return policy extends to 45 days of delivery. And, any return applications after this period will not be accepted. For your product to be eligible for returns, it must be new and unopened or gently used and undamaged.
The returns instructions expressly state that your order must be returned in the original packaging it was received for new products along with the order information. Orders obtained through sales or subscription are not eligible for returns except if it comes damaged or defective from the manufacturer. You're responsible for the total shipping and handling costs except if the damage or reason for returns is the brand's fault.
Innisfree Promotions and Discounts
You'll come across several sales promotions and discounts through the brand's website. They offer point rewards that can be redeemed into real credit on your orders. You'll get 200 points when you sign up, and the brand offers 7 points on every $1 you spend. They also provide pointal rewards when you leave a review or follow the brand's social media account.
In addition, there's an ongoing sales promotion offering 5 free masks on every 10 sheet masks you purchase. You can also subscribe to the brand's newsletters to get a notice when there are any new promotions or discounts.
Contact Innisfree
If you want to correspond with the brand's customer service representatives, you can mail them through [email protected].
Innisfree Review: Editor's Verdict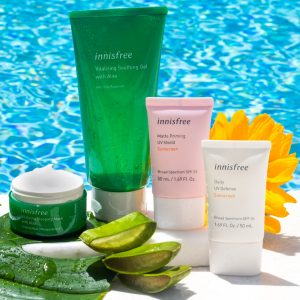 Innisfree is a well-established K-beauty store that offers an extensive skincare line with clean and eco-friendly products for both female and male customers. The brand's products are primarily made with ingredients ethically sourced from the famous Jeju Island in South Korea. It shows a great dedication to eco-friendly production. It seeks to protect the environment while introducing an all-natural, plant-to-bottle skincare line.
The company has great support from customers worldwide, with 870k followers on Instagram. It has also been featured on Allure and Glossy Co. Based on our detailed review of Innisfree products and services, this Innisfree review rates the brand 4.5/5 stars. It is a solid skincare brand for people just starting out their routine, offering an extensive product line with varied options.
Innisfree is also a perfect option for anyone committed to natural skincare. It offers a rich blend of natural ingredients in all its products. The only downside is that it may not be suitable for users who are used to high active ingredients in their skincare routine. There are also minor complaints of poor customer service and delayed shipping.
To explore other beauty brands, consider reading our reviews of Dr Squatch Soap, Lumin, Fig & Yarrow, as well as Glamglow.
Innisfree FAQ
What is a Sheet Mask Club
The Sheet Mask Club is a subscription plan to auto-replenish your sheet mask order every 30, 60, or 90 days depending on what you opt for, with a membership fee of $40.
Is Innisfree Cruelty-free?
Yes, the brand is 100% cruelty-free and doesn't use animal-derived products in its formulas.
Is Innisfree really organic?
Innisfree provides skincare products made with ethically-sourced plants and organic ingredients.
Is Innisfree phthalate free?
Innisfree is phthalates-free and doesn't contain mineral oils or artificial substances.
Does Innisfree contain parabens?
No, the products do not contain parabens