Based in Los Angeles, CA, King Ice sells celebrity-ready jewelry in different designs fashioned by Hollywood icons. From bangles to necklaces, trendsetters can find a range of accessories inspired by Morty, Rick, Notorious B.I.G, Wu-Tang Clan, and more. If you are in the market for a new drip and wondering: Does King Ice live up to the hype? To answer this question, we'll look at King Ice reviews, the company's history, the brand's bestsellers, and promotions. Read on to determine if their bling is worth purchasing.
About King Ice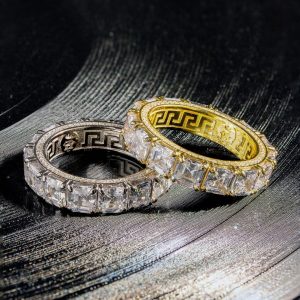 Co-owned by Cuong Diep and Derek Belay, King Ice was founded in 2007. The company curates trends from streetwear and hip-hop culture in the accessory and jewelry business. For more than ten years, the brand has been the top industry tastemaker when it comes to creating premium wearable art designed to bridge the gap between people, culture, and artists. 
The company sells uniquely designed accessory collections, including pins, rapper-style grillz, watches, bracelets, chains, and pendants. Many things have changed over the brand's history, but its DNA has always remained the same: it has a passion for culture, a spirit of innovation, and unparalleled quality.
The company has produced numerous viral collaborations with different brands, including Odd Future, Death Row Records, and Snoop Dogg. King Ice 2020 collaborations include Run DMC and 2Pac. 
Additionally, King Ice has partnerships with Microsoft Xbox, Sony PlayStation, 20th Century Fox, Viacom, and Warner Bros, and they have produced iconic events and top-selling collections.
They also have some remarcable and unique jewelry collections as Rick and Morty and Chucky.,
Over the years, this brand has reigned supreme over the jewelry and accessory industry. This is seen through its 486k Instagram followers and over 181k likes on Facebook. Several online magazines have also featured King Ice, including T3 and Hypebeast.
Before we get to King Ice reviews to see what shoppers think about their celebrity-inspired jewelry, check out its pros and cons. 
Pros
They offer an extensive collection of celebrity-inspired jewelry

The brand designs for both women and men

US customers enjoy free shipping

They provide a lookbook for inspiration

International delivery is available to select countries, including Brazil

They have a fair return policy
Cons
The company doesn't cover shipping costs for returns

Customers pay a 15-dollar restocking fee for refunds

They do not provide 24/7 customer service
King Ice Products Review 
King Ice allows you to cop the celebrity look while staying within your credit card limit. The brand offers iconic jewelry pieces, such as bracelets, chains, earrings, cufflinks, and watches. With that in mind, here are some of the best-selling King Ice jewelry pieces. 
King Ice Chains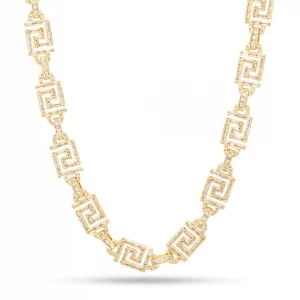 In addition to being a stylistic detail, chains symbolize your social status and class. The King Ice chain collection consists of modern and retro-style pieces that pay tribute to streetwear and hip-hop roots. You'll find Cuban, choker, diamond cut, and tennis chains; these chains come in different lengths, materials, and thicknesses.
King Ice chains are available in three sizes 36″, 30″, and 24″. The main color variants are Blackout, Rose-Gold, Yellow-Gold, Gold, and Silver (Sterling Silver or Silver-plated). Our team found that most customers love King Ice gold chains because they complete their look and attract attention. 
The Men's 2.5mm Franco Chain is one of the brand's bestsellers. Lil Wayne, Kanye West, and Jay Z have all rapped about this chain; it's no surprise that King Ice offers this iconic accessory. 
All the hottest celebrities wear this chain because it features dozens of interlocking links, making it ideal for music videos. Once you wear this necklace, you only need to spit out some mad verses to make the song a hit. 
This model was named after Franco, an Italian designer who invented the chain's design. He succeeded to make the V design by interlocking the curbed chains. This design is convenient and trendy since it prevents tangling.
Pair your accessories
You can pair this accessory with the brand's chain pendants, such as the sad cowboy emoji embellishment, which is a tribute to the rapper and singer Lil Nas X. The 2.5mm Franco Chain gold chain retails for $68.
If you are looking for a bold way to show your success, check out the 10mm Miami Cuban Chain. Featuring thick links, this dazzling accessory will turn heads and catch some attention. It's made from stainless steel, and the chain is reinforced with a strong lobster clasp.
This trinket is available in 14k gold and white gold. For only $70, the 10mm Miami Cuban Chain could be yours.
King Ice Bracelets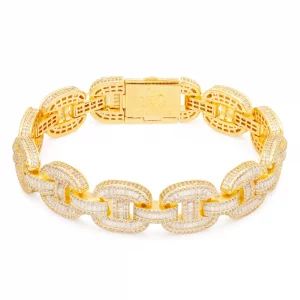 Bracelets make an excellent accessory because it goes with virtually any outfit. The brand's catalog of gold, wrap, premium, hip hop, and mala bracelets combine quality materials with unique designs to deliver some of the most authentic, sought-after styles on the internet. 
The company has an expansive collection of high-end bracelets at an affordable price to help you make a statement, express yourself, and dress up. These include diamond cut, tennis, Franco, and Cuban bracelets. King Ice bracelets for men use high-quality material, from their 14K gold plated hip-hop-inspired bracelets to their matte-finished onyx stones.
The brand's Iced Bike Chain Bracelet has a width of 14mm, and it comes in white gold plating and 14k gold plating. The bracelet comes iced with clear-handset CZ stones, and larger CZ stones embellish the bracelet's pins. There are also smaller stones covering the rollers and inner plates. 
The bracelet features a fold-over clasp, and the Greek Key design engraved on the inner side of each link gives a perfect finish. You can get the 14mm Iced Bike Chain Bracelet for only $200. 
You can pair the 10mm Miami Cuban Bracelet with the Miami Cuban chain. Available for $45, this bracelet comes with 10mm thick links, with each link rounded and connected to provide you with a sleek, stylish look. Wearing and removing this bracelet is a breeze, as it features a tongue-box clasp, which is iced with handset CZ stones.
King Ice Earrings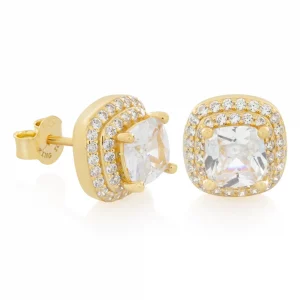 Earrings are among the oldest body modifications, and they have stayed a staple among streetwear and hip-hop communities. Over time, these accessories have morphed to include classic and popular styles of all colors, sizes, and shapes. 
King Ice is recreating classic styles and introducing new earrings to the hip hop and streetwear communities. Offering everything from diamond hip hop to 14K gold King Ice earrings, their line of products provides the iconic icy look popular within streetwear urban fashion.
The Princess-Cut Stud Earrings are the most popular men's solid gold stud earrings. These earrings allow you to embrace your inner femininity like Lil Nas X and Lil Drake. They have a gold-set CZ stone, which is the focus of attention.
You can pair these earrings with the brand's tennis chain, and they will also shine through a shirt and a casual ensemble of jeans. The Princess-Cut Stud Earrings are available in three different sizes and come in either white gold plating or 14k vermeil plating. You can get this accessory for only $20. 
Designed for women, the Emerald Cannabis Leaf Hanging Earrings feature a minimal design and high style. These stylish earrings come with handset stones and polished leaf segments at the back. You can get these cannabis leaf earrings for $50 and pair them with your everyday outfits and the King Ice Jewelry watch.
King Ice Grillz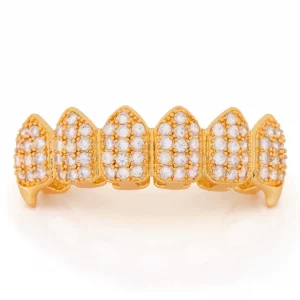 There is no denying that grillz are here to stay. King Ice grills will make you look like your favorite rapper in their latest music video. 
The Single Tooth Cap Grillz is ideal for people who cannot commit to permanent diamond-studded teeth. Set in 14k gold plating, they offer that commercial-style dazzle on par with toothpaste advertisements. Available for $15, the grillz also features silicon mold max and comes with instructions. 
If you are looking for a bad-boy look, you can pair it with the brand's Buddha necklace to add the 'humble brag' touch that hip-hop artists are currently sporting. 
The Iced Studded Grillz allows you to make a hip-hop fashion statement; this 14K gold grill features handset stones that will make your mouth sparkle. Designed to fit snug in your mouth, each grill is nickel and lead-free. 
These grills also feature an array of white crystals, and they will add an intimidating factor to your photo shoot. This accessory is designed for top and bottom teeth. You can get these King Ice grills for only $50.
King Ice Rings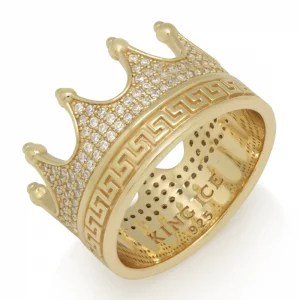 From bling to rose-gold rings, the brand's collection of style, designs, and colors takes its inspiration from leading high-end designers and creative minds that keep producing the most modern iconic rings for the streetwear and hip-hop communities. King Ice rings are designed to draw attention when you are touring the clubs or walking down the streets of your hometown.
The 3mm Wedding Ring is the perfect bling to give your fiance. Available in white gold plating and 14k gold plating, this King Ice ring is covered with VVS Diamond Simulate stones. The ring weighs 4 grams and has a width of 3 millimeters. It's made from .925 Sterling Silver, and you can get it for only $ 21.25.
The Rolex Link Ring comes in 14k gold plating, and it's made from stainless steel. The ring features polished inner links, and the links on the edges contain a satin finish. This 10mm ring retails for $20. 
King Ice Rings Brilliant-Cut Ring offers the perfect, refined hip-hop look. It's made from .925 Sterling Silver, and the handset VVS Diamond Simulate stones provide the perfect shine. It weighs 6g and has a width of 4mm. Available in rose gold plating, white gold plating, and 14K gold plating, you can get the Brilliant-Cut Ring for only $60. 
King Ice Reviews from Customers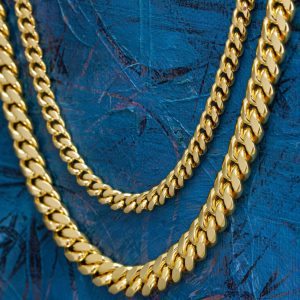 We combed through the web to find King Ice reviews to check customer testimonials. Our team found a couple of reviews posted online for their collection. Here are the ratings of some of the brand's top-selling pieces:
The 4mm Tennis Chain necklace scored 5/5 stars from 114 reviews

The Men's 4mm Rope Chain had a rating of 5/5 stars out of 138 reviews 

The Men's 2.5 Franco Chain received a 5/5-star rating based on 181 reviews
So far, the reviews our team came across are encouraging, as tons of customers report that they looked stunning after wearing King Ice jewelry. Other shoppers raved about the quality of their necklaces, as they proved alluring, shiny, and visually appealing when hit with sunlight. 
One of the customers stated that she only gets her chains from King Ice. She recently bought their 4mm Tennis Chain for her boyfriend on his birthday. She loved the quality of the necklace. Another customer said the 2.5 Franco Chain put a lovely oomph behind their outfit.
Popular Alternatives to King Ice
We also visited Sitejabber and found that the brand received 4/5 stars from 1,595 reviews. There was a mixed response, as some shoppers commented on the company's high level of quality, while other buyers were not happy with their purchases. 
Some YouTubers (such as NameBran and Affordable Jewelry) left a fair review of the brand and its products. They stated that King Ice has a decent selection of high-quality accessories than other brands on the market. 
Some customers complained that King Ice doesn't cover shipping costs for returns, and shoppers pay a $15-dollar restocking fee for refunds.
We couldn't find many reviews on TrustPilot, but the opinions in this case are split. Customers mostly complain about the service, while the product quality is still out of the question.
Overall, the positive King Ice reviews outnumber the negative ones. That means King Ice is a notable contender in the celebrity jewelry market.
Sign Up for King Ice
You need to create a customer account to join the King Ice community. Visit their site and click the profile icon. Doing this will take you to the King Ice login page. Once you are here, select the Create account option and fill out the registration form. 
Once your customer account is activated, you can log into your account and enjoy faster checkouts. 
Where to Buy
You can buy King Ice products on their site KingIce.com. Their jewelry collection is also available at Urban Outfitters and Zumiez. 
King Ice Shipping and Return Policy
Shipping:
King Ice offers free shipping on US orders. The company also provides other shipping options, including international, 2nd Day Air, and Express delivery for a fee. The company will send a tracking number via email to help customers track their orders.
Return Policy:
The company accepts refunds and exchanges for solid gold chains. However, you must return the items within 14 days after making the purchase. King Ice will only accept exchanges within 30 days of purchase after the 14 days have elapsed.
You cannot return mystery boxes, one-hitters, earrings, grills, and solid gold pendants, as they are final sale items. Shoppers are responsible for the return shipping costs, and they will also pay a 15-dollar restocking fee for refunds. 
Promotions & Discounts
This brand is currently offering 15% off on sterling silver chains and bracelets. Use the King Ice discount code ICEA25 at checkout to get 25% off. King Ice also has a sale outlet, where you'll find select items at a discounted price. 
Contact King Ice
Contact the King Ice customer support team if you have questions. You can reach out to them through the methods below:
Using the Live Chat feature available on its site

Email their customer service representatives at [email protected]

Calling them via 626-339-3642 
King Ice Reviews: Editors' Verdict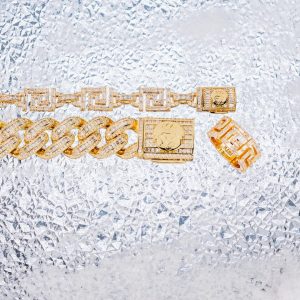 After checking the web and discovering many positive King Ice reviews, we believe this brand is worth the hype. With big-name collaborations like Wu-Tang, Snoop Dogg, and Nickelodeon, King Ice is undoubtedly on-trend in the classic Hollywood style. 
The brand offers dozens of rapper-style accessories, including rings, necklaces, and bracelets. Their collection is more budget-friendly than the 1,000-dollar accessories offered by exclusive designers, including Ben Baller and the Jeweller. 
We, therefore, recommend King Ice to anyone looking for affordable celebrity-inspired jewelry.
If you love jewelry, check out our Lightbox Jewelry, David Yurman, Ginette NY, and Daniel Wellington. 
King Ice FAQ
What is the warranty on my order?
All its products have a lifetime warranty covering manufacturer defects and breakage. However, King Ice watches have a one-year warranty. Missing stones are covered for a year after the purchase date.
How can I confirm if my King Ice Jewelry is authentic?
The brand takes quality seriously, and authentic pieces have a Lion Tag or King Ice stamp. The company offers both gold-plated and solid gold jewelry. You'll find material information in the detail section under each product page.
How do I use my King Ice grillz?
If you have purchased King Ice grillz but are wondering: How do I use them? Using your grills is a cinch: you only need to bend them like the curve of your teeth.
Does King Ice offer custom jewelry?
No. Currently, King Ice doesn't offer custom jewelry.
Can I select a different King Ice chain for my pendant?
King Ice pendants come as a set and are paired with a proper width chain. The brand has an immense range of designs in hip hop pendants that feature themes ranging from cartoon characters to animal pendants.