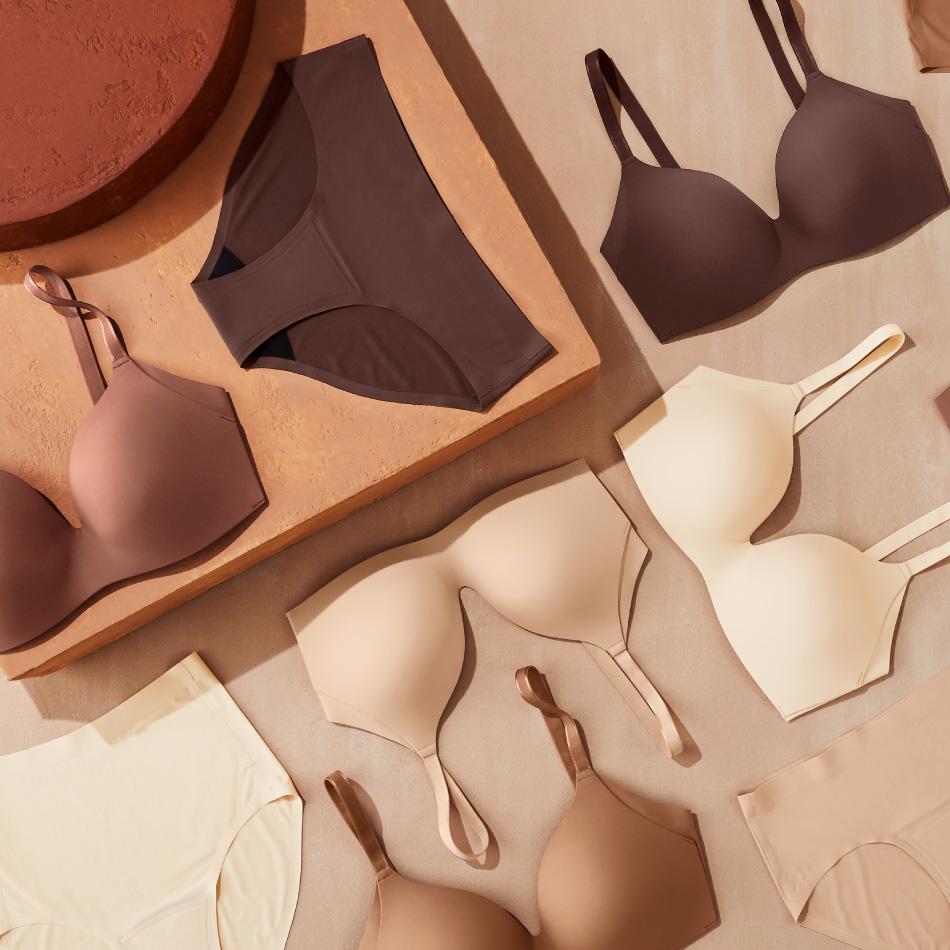 We all have that pair of underwear that doesn't fit right: a bra that's too snug, undies that keep slipping down as you walk, or a pair that cuts off your blood circulation. Well, not anymore! Knix, a women's underwear, and loungewear brand, strives to take away these challenges with their intimate collection branded "Unapologetically free." The company designs underwear that makes you feel comfortable in your skin: free from judgment, free from self-doubt, and free to be yourself. In this KNIX review, we take a closer look at the brand, its collection, customer reviews, and FAQs to help you make the right purchase decision. 
About Knix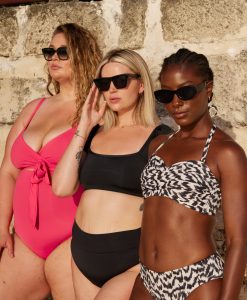 Knixwear is a Canadian intimate apparel brand designed for women of all ages and sizes. The company, launched by Joanna Griffiths in 2013, strives to transform the underwear market from too much frill and not enough function into revolutionary solutions to life that makes the challenging aspects of everyday life more graceful. 
With women's needs in mind, the brand designs super-absorbent, leakproof, and anti-odor underwear for women who don't want unnecessary discomfort such as blood, sweat, or leaks from bladder issues, working out, or breastfeeding.
Every product they design is human-centered, where they use patented technology and cutting-edge processes to ensure you get the best they can offer. From sexy and supportive wireless bras to overnight period protection, Italian textured leakproof underwear to absorbent athletics wear: the brand keeps on giving. 
Pros
Safety

: All Knix products are PFAS free. The main fabrics in their bras and underwear are OEKO-TEX® certified to ensure they don't contain any harmful substances.

Variety of Clothing

: Knix provides more than just bras and underwear. They also offer activewear, loungewear, shapewear, sleepwear, maternity and postpartum clothing, tanks, bodysuits, bottoms, and leggings.

Choices

: Knix offers many colors and sizes for all types of women

Sustainability

: Knix acknowledges the need for environmental sustainability as they aim to reduce degradation by staying vigilant to their impact on the environment throughout their production, transportation, and consumption processes.

Discount

: For your first purchase or order, you get 10% off.

Knix products are

easy to wash

.
Cons
Fitting Challenges

: Despite the comprehensive sizing chart plus customer support through a virtual booking for measurements, many women complained about their fit.

Too Snug

: The garment is often too snug at purchase.

Expensive

: Compared to other high-end women's lingerie brands, Knix is on the upper end.
Knix Bras Review
If you're looking for a snug fit bra with no underwire, comfortable, supportive, versatile, and available for cups A through G, then you need the Everyday Bras. These bras include a variety such as the Pullover, Seamless, Contour, V-neck, High Neck, Evolution, Racerback, Infinity, and Deep-V.
Let's take a look at two popular choices in this category.
Evolution Bra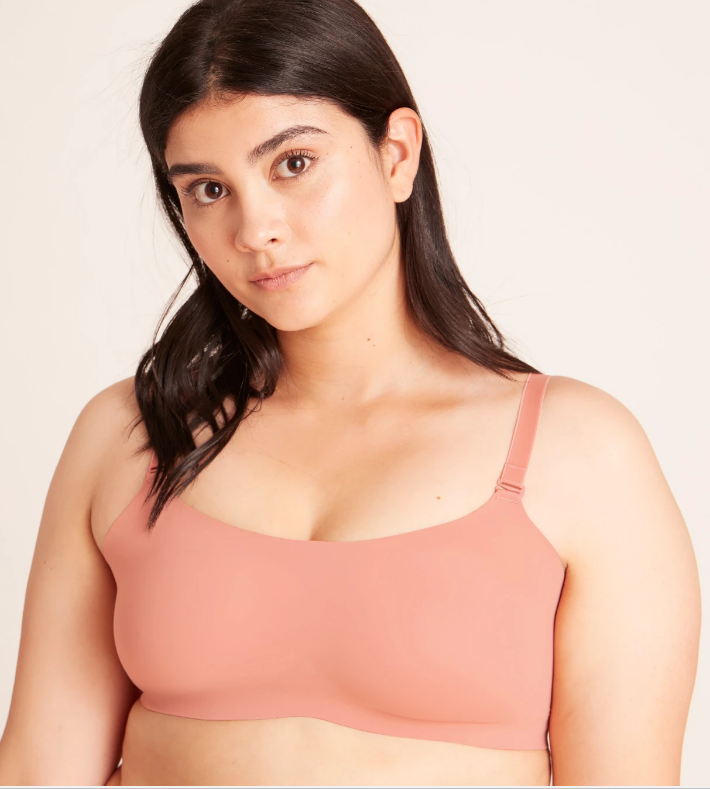 The Evolution Bra is a reversible wire-free bra that offers you 360° support and comfort to get you through the day. This season, the bra comes in two core colors: black or beige, with a selection of limited edition colors. 
The bra is un-padded to offer you ultimate comfort and versatility. Its lack of seams and a four-way performance stretch fabric allow the bra to adapt to your unique shape, making it even more supportive. What's more, with its high neckline, the bra helps avoid spillage.
The Evolution bra is excellent for low impact activities such as yoga, dance, or jogging since it's designed to be quick-dry, anti-odor, and moisture-wicking, keeping you fresh and dry all day. It's also suitable for pregnant women for the same reasons, plus, the bra continuously adapts to the ever-changing breast size. 
As for lactating mothers, the bra is nursing-friendly thanks to the removable straps, which you can also switch up its appearance from a regular bra to a racerback by simply crossing the straps. 
Washing the bra should be pretty straightforward: with a composition of 60% nylon and 40% spandex, you simply wash cold with a mild detergent and lay flat to dry. 
Knix Lace WingWoman Contour Bra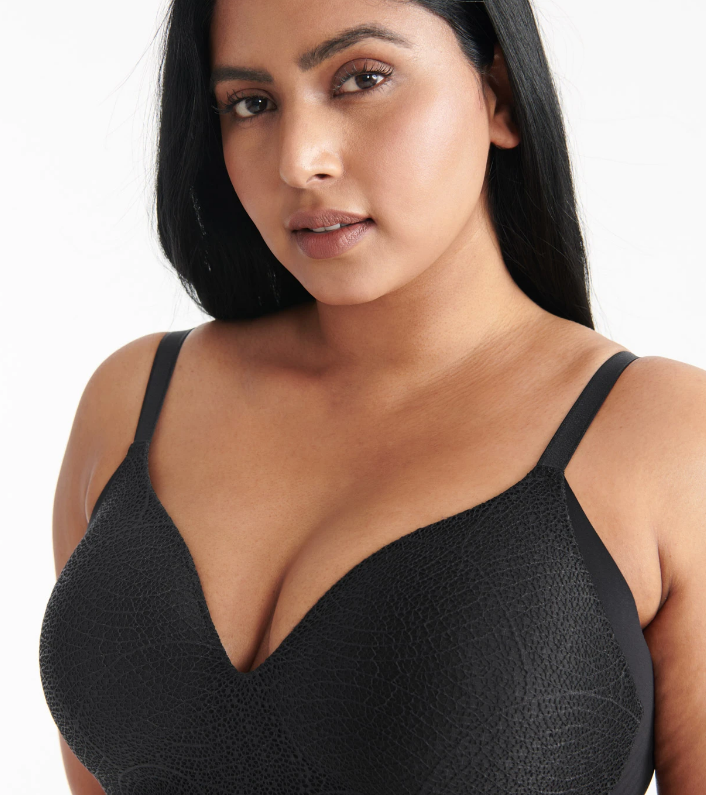 The WingWoman Contour bra is an everyday bra designed to provide full breast coverage without pesky back or side spillage. With a plunging neckline, molded foam cups, and ultra-soft lace, the bra offers a natural, wireless, low-cut lift with great breast separation and extra side coverage.
What's more, the bra has lightweight padding and stretchy yet breathable lace to ensure the bra continues to provide comfort, shape, and definition.
You'd also be delighted to know with 72% nylon and 28% spandex; you can machine wash the bra with cold water and a mild detergent.
Knix Sports Bras Review
Even though the Everyday Bras can get you through some low-intensity workout, you need a bra that supports your breast movements as you power through more intense workouts. Let's review the two top activewear. 
Catalyst Sports Bra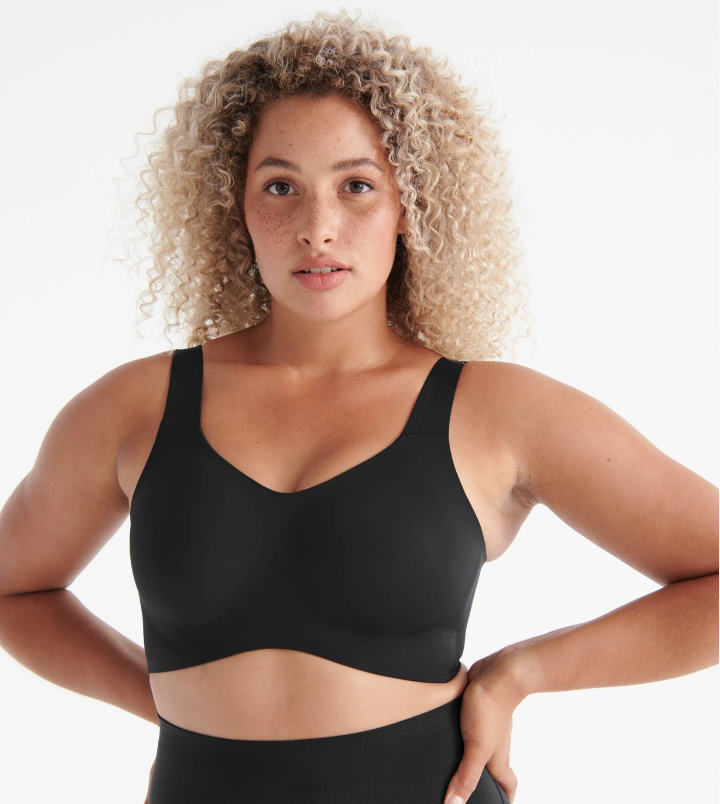 The Catalyst Sports bra is their most supportive high-impact sports bra. The bra has molded cups that separate and cover the breast fully to offer maximum wireless support and reduce breast movements by 76%.
What's more, it's designed with a Tri-Flow™ ventilation system that enhances breathability with increased airflow right between the breasts. Thanks to its body and a lining fabric composition of nylon and spandex, the sports bra is easy to wear and remove.
The bra also provides adjustable ladder straps to ensure the bra fits securely for additional comfort and support. 
Longevity Bra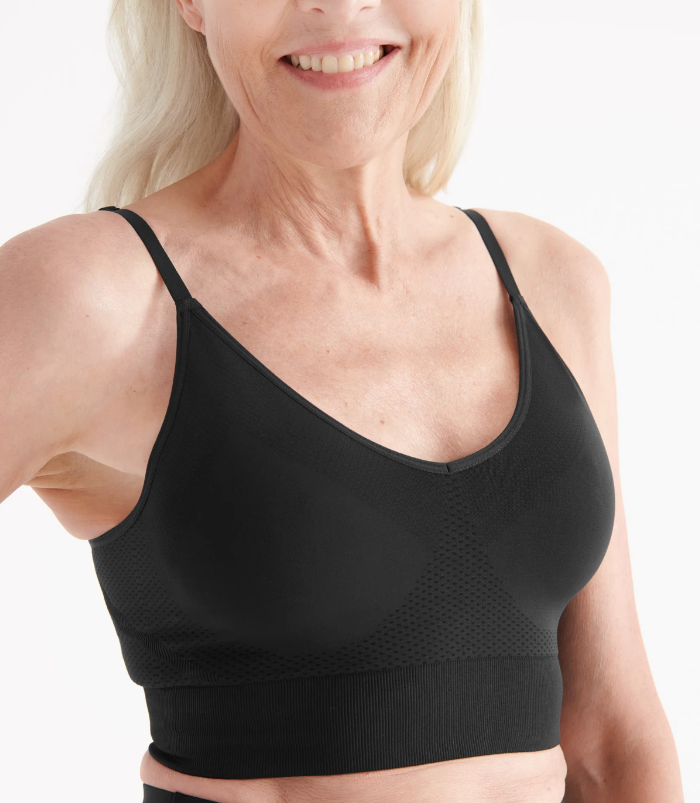 If you want highly absorbent activewear, then the longevity bra is your pick. With a composition of 92% nylon and 8% spandex, the bra offers a four-way stretch with moisture-wicking fabrics and anti-odor technology. 
You can choose to wear the bra under your workout gear or alone as the undergarment is functional and flattering. The bra has a soft design with a snug fit that supports and lifts the underbust during a workout. Moreover, it also features adjustable straps so you can adjust them to your liking.
Knix Loungewear Review
Besides the primary products: Knix bras and underwear, they also provide cozy, comfortable, and soft loungewear. 
Good to Go Jogger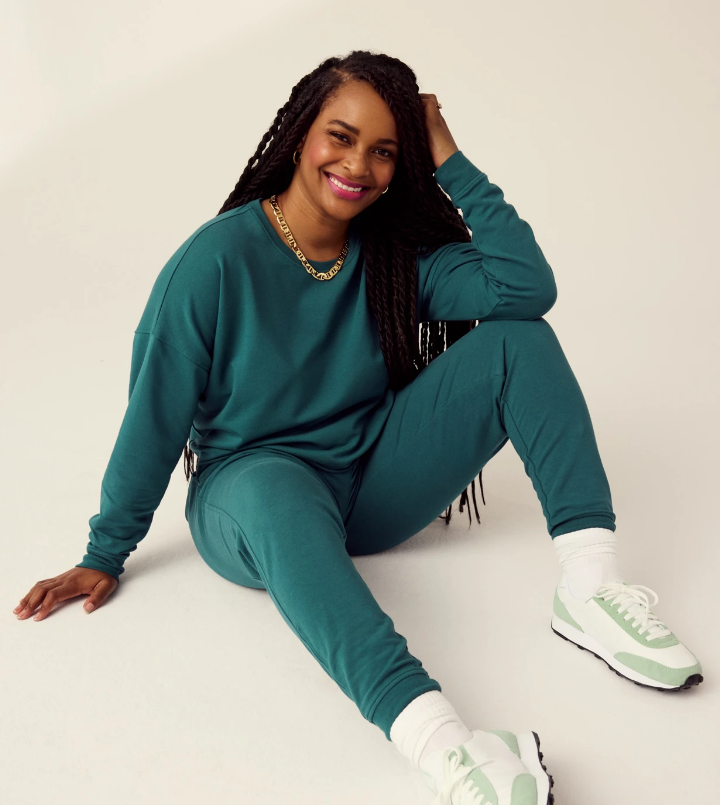 The Good to Go Jogger collection is made from 48% cotton, 48% modal, and 4% baby French terry, all of which are super soft. They have a chic design with flattering high-waist pants and crop-like sweaters, suitable for staying in or going out. 
The sweats offer convenience with side seam pockets on the pants, versatility with an adjustable drawcord waist, and stylish design with cuffed hems and tapered legs. 
You can machine wash the Jogger with cold water and tumble dry on low, but don't bleach or dry clean. 
Good to Go Crew Neck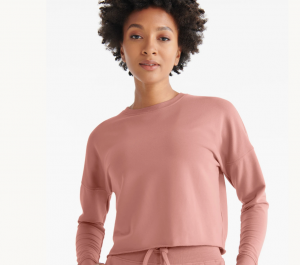 The Good to Go Crew Neck loungewear is equally soft as it's also crafted from modal, cotton, and baby French terry fabric. The clothing has a stylish modern design with an oversized comfort fit, a crew neck collar, and dropped shoulders. For more polish, the loungewear also has a raw edge hem right at its natural waistline.
As per the date of writing, the clothing is only available in one color: cinnamon, but they could restock. 
Knix Reviews from Customers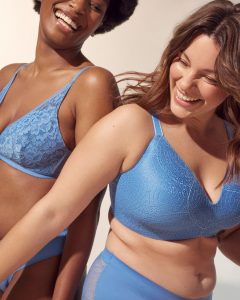 Let's see what is the overall Knix review result from customers! With an excellent rating of 4.7/ 5 from Trustpilot, you can already tell that most of Knix underwear reviews are positive. Notably, the quality of their underwear, from its ultra-soft feel, comfortable fit, and super absorbent material. That's not all; Knix bras reviews are also great as many customers remain amazed as to how wireless bras can be as comfortable, supportive, and leak protective as the Everyday Knix bras. 
Popular Alternatives to Knix
From recent reviews, customers seem thrilled to have bought from the brand with great reviews such as "amazing products," "5+ stars", "fantastic company," among other great reviews. One positive review that stood out writes, "I LOVE KNIX! They have awesome products. I am in the process of switching over my whole underwear drawer! They are sized well, feel like regular underwear, and keep their shape. The protection is super. I have recommended them to all of my friends. My only regret is that I didn't try them sooner! "
Unfortunately, despite the great reviews, some customers still struggle to find the right size. Others complain about the leakproof underwear that only supports light flow since its technology doesn't apply to the sides of the underwear. 
Sign Up for Knix
To sign up, you'll have to get on the website and create an account which you'll use to interact with the brand or shop from their website. Once you have an account, you can sign up for a referral link that gets you a 15% discount when you refer a friend, and they make their first 15% off purchase. 
Where can you buy Knix underwear?
It's important to highlight in our Knix review the ways you can buy sustainable underwear (such as period underwear) and loungewear products, right? You've heard great things about Knix products, and you can't wait to get some for yourself. So where can you buy Knix underwear? As of the date of writing, Knix has five retail locations, two in Canada and the other three in the USA. 
294

Queen Street

West

2076 W 4th Ave,

Vancouver

, BC V6J 1M9

2929 Main St,

Santa Monica

2121 Fillmore Street,

San Francisco

CA, 94115

4545 La Jolla Village Dr

San Diego

, Ca 92122
You could also buy Knixwear online from their website or on Amazon.
Knix Shipping and Return Policy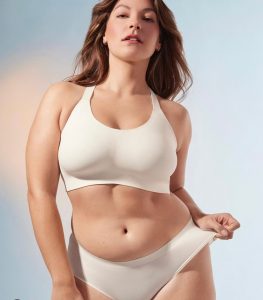 For all US orders, you'll get free shipping for orders worth over $75 and a fee, $7- $8 for orders under $75, depending on location. If your orders are higher than $700, you'll also be subject to customs duty upon receipt. The delivery time stands at 3 to 10 business days.  
For international orders, you'll get free shipping for goods worth over $150, but a fee of $20 applies for goods less than $150. Delivery time stands at 10 to 25 business days. Note that customers will be responsible for custom duty once goods are shipped from Canada.
For Canadian orders, you'll get free shipping on orders above CAD 95 but a shipping charge of CAD 10 for orders under that threshold. The shipping fee will also increase for orders to NWT, Nunavut, and Yukon. Unlike DHL for the USA and international orders, they ship via Canada Post; the delivery time will be 3 to 5 days to the GTA, 3 to 10 days for urban areas, and 6 to 15 days for remote areas. 
Where does Knix ship from? Goods are shipped from Canada, which is why you'll note delivery days are shorter for those in Canada and longer for international orders. Also, there will be a payable custom duty for US and international orders. 
All orders placed after 1 pm won't be processed until the next business day: Monday. Also, note that during holidays also due to COVID-19, there may be changes regarding delivery times, shipping prices, and processing times. 
Returns and Exchanges
Most Knix products are eligible for return or exchange within 30 days of delivery, including bras, tops, leak-proof nursing pads, underwear bottoms, bodysuits, masks, reusable pads, and shapewear. 
As for their swimwear, you're eligible for return or exchange only if the clothing has its original sanitary strip and tags attached. Other clothing like sleeping, socks, and loungewear like leggings and t-shirts are also eligible for return or exchange, but they need to be unworn and have tags attached. 
If you purchase an item during a sale or from the last call section with a discount of 20% or higher, you can only exchange the item for another or get store credit. Hence, no returns or refunds. 
Knix Promotions & Discounts
Knixwear has promotions and discounts all the time. First up, they have a sign-up deal where you get a 15% discount off your next order when you refer your friends, and they purchase with 15% off from their first order. 
They also have a Black Friday Warehouse Sale from November 24th, 2021, at noon EST. You get to enjoy a variety of Knix's latest and favorite collections at discounted prices of up to 50% off. Note that the discounts will only apply if you shop online and while stocks last. 
Lastly, they have the Cyber Monday promotion where they offer a 20% discount on select items. You can shop online or in-store. 
Contact Knix
For all your questions and feedback, get in touch with Knix's Customer Empowerment Team via a Live Chat option from 8 am to 8 pm EST on Saturday through Wednesday, and 8 am to 9 pm EST on Thursday and Friday.
You could also call them directly between 8:30 am to 7:30 pm at 1 (647) 691-5544. 
For returns and exchanges, you can contact them via email at [email protected] or [email protected]. For business inquiries, contact the marketing and press team at [email protected] or [email protected]. 
Knix Review: Editors' Verdict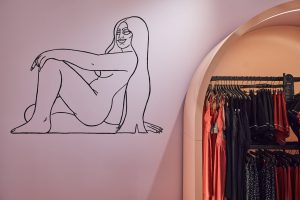 Knix has a mission to make women feel confident and free in their skin, and they've gone above and beyond to do so. The brand offers leakproof underwear and nursing bras, ultra-soft and comfort fit clothing, and chic activewear and loungewear with four-way stretch, all justifying their high price point. 
What's more, as they aim to provide women with what they need, they endeavor to source their fabrics ethically and protect the environment against degradation. 
That said, customers can appreciate associating themselves with this brand.
Want to explore more underwear brands? Check out our reviews of MeUndies, Modibodi Underwear, Tomboy X, and Tommy John Underwear.
Knix FAQ
What's My Knix Size?
Finding the perfect underwear and bra size can be daunting, and because Knix sizing is slightly different from the standard sizing, it's best to check out their detailed size charts from their website. Knix also provides comprehensive guidelines on how to measure yourself accurately.
Alternatively, if you're unsure about how to measure bra size, Knixperts can help you with that; you simply book a virtual fitting appointment, and they'll guide you further.
How to Wash Knix Underwear?
Wash your Knix underwear in the machine with cold water and mild detergent. Do not bleach and lay it flat to dry to avoid unnecessary stress on the fabric.
Are Knix underwear disposable? The idea behind the creation of Knix underwear is that it should be reusable rather than disposable. Hence, the fabric information and care guidelines are attached to every type of underwear.
What's the Difference between Leakproof and Essential Underwear?
Leak-proof underwear is designed to be super absorbent, where instead of your usual pads or tampons, you can simply wear leak-proof period underwear to sweat, leaks, and light to medium days. On the other hand, essential underwear is a practical, day-to-day type of undergarment that doesn't protect against leaks but essentially offers support and comfort only.
How Should I Prepare for My Virtual Fitting?
For your virtual fitting, you should wear a bra with light or no padding and a snug t-shirt to ensure accurate measurements. You'll also need a soft measuring tape or a piece/ cord, string, or ribbon with a measuring tape or ruler.