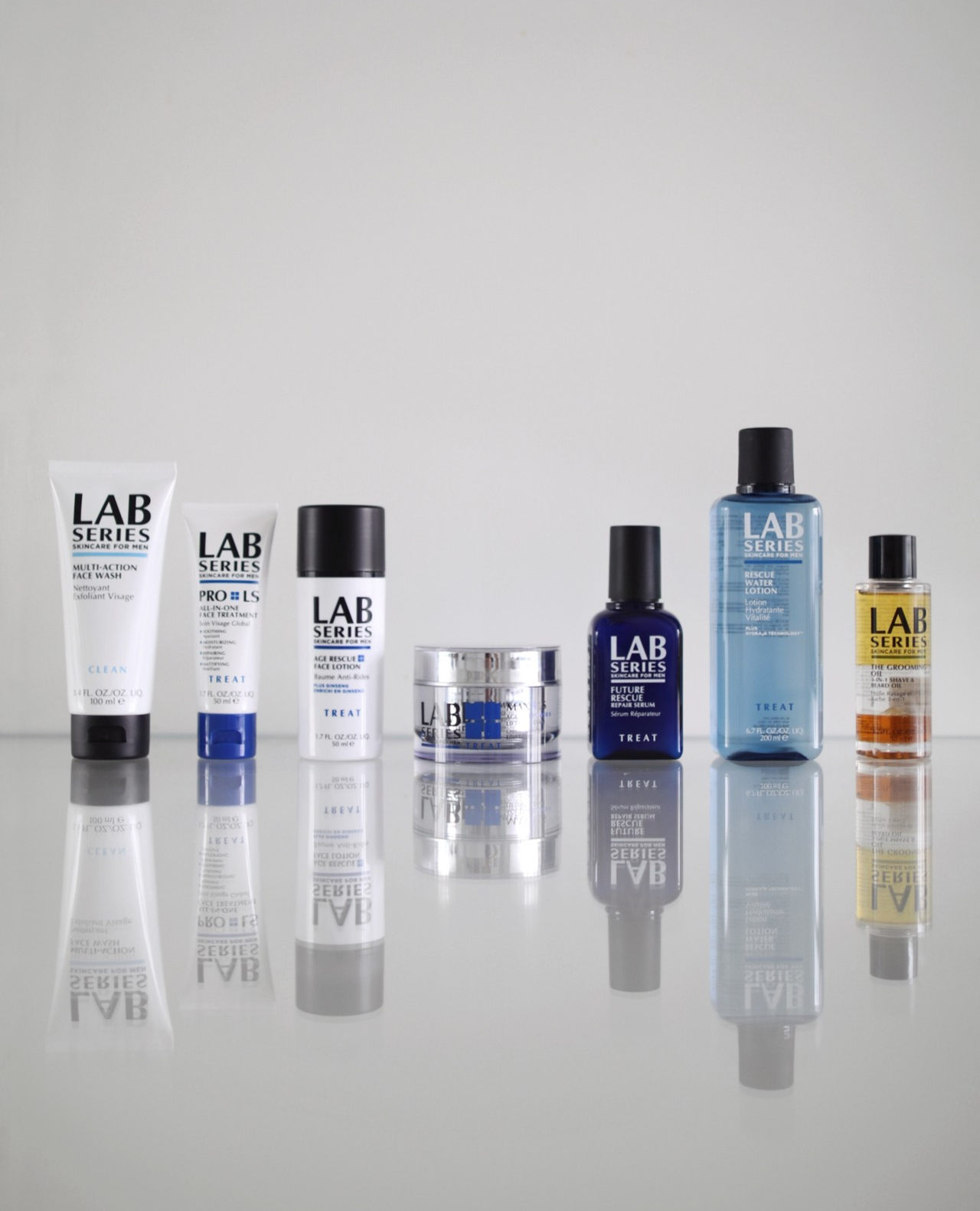 Lab Series is a men's skincare and grooming brand offering a range of products for the male skin. In a world where skincare regimes have become a crucial part of a daily routine, Lab Series is a pioneer in the industry. Its products do not try to impose looks, philosophies, or lifestyles but enhance inclusivity to let customers shape their image. With over 30 years of experience in the field, Lab Series is a brand that knows a thing or two about men's skin. This Lab Series review will look at the company's bestsellers, customer feedback, return policy, and more to help you decide if it's worth checking out.
About Lab Series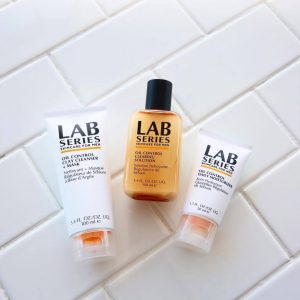 Lab Series has existed since 1987 as part of The Estée Lauder Companies, founded by Joseph Lauder and couple Estée. With a lab specifically dedicated to researching and understanding the science of men's skin, the brand was able to formulate products that addressed the unique needs of guys. Science is their foundation and the driver of every product they create.
The company prides itself on innovating a 2-way approach to male skincare: Pro LS and Max LS. The two formulas are not only research-based but also cater to different skin types. 
Pro LS offers fast and effective skincare products that act as all-in-ones for the busy modern man. On the other hand, Max LS provides rich and nourishing solutions to reduce aging.
Lab Series also has a strong focus on sustainability. As mentioned on their website, they use sustainable materials such as recyclable packaging made from responsibly sourced boards and certified by FSC. They also have a refilling program that allows customers to replenish their favorite products without having to repurchase the entire product.
This Lab Series review found that the program aims to reduce environmental waste and ultimately help preserve the planet. It is simply setting an example within the industry by working to reduce our carbon footprint.
Over the years, Lab Series has seen growth and continued to develop new technologies and formulations to meet the needs of its customers. Currently, it ships products to over 30 countries worldwide. The brand has over 28k Instagram followers and more than 164k followers on Facebook. 
Pros
The brand offers an expansive collection of skincare products for men, including serums, creams, and cleansers

They provide two skincare types for treating different concerns

The company is a division of a renowned and trusted beauty company

They offer alternative payment methods such as Afterpay, where customers can pay in installment

The company offers a subscription model for customers seeking regular deliveries

Customers enjoy free standard shipping and returns on all US orders
Cons
There is a limit to the number of products a customer can place at one go

They do not ship worldwide

Pricey compared to close competitors
Lab Series Products Review
The skincare industry is predominantly geared toward women. As such, men's skincare needs get overlooked. In recent years, however, that has changed as the market for men's hygiene and grooming products has grown. 
Lab Series is one of the brands at the forefront of this industry, providing customers with a range of skincare products specifically designed for men. But what are some of their best-selling products?
Lab Series Daily Rescue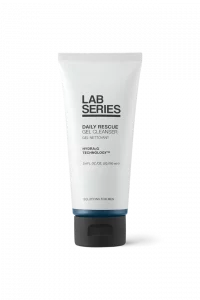 Your skin goes through a lot daily. It gets exposed to pollutants and UV rays, which can cause damage. As you age, your skin also produces less collagen, which leads to visible sagging and dullness. As a man, it can be hard to find products that target all of these concerns. Lab Series Daily rescue has got you covered.
The Daily Rescue collection comprises cleansers, water lotions, energizing essence, repair serum, emulsion, cream, and eye treatment. All this works to ensure that your skin is clean, hydrated, and free from damage.
The products are suitable for all skin types and are safe to use on sensitive skin. They are also dermatologist-tested and free from harmful chemicals.
The Lab Series Rescue Water Lotion is designed to hydrate, soothe, and brighten your skin. It contains ingredients like Matricaria extract, Betaine, Witch Hazel extract, Clary extract, and Yeast extract.
Ingredients
The Matricaria extract is a natural anti-inflammatory agent. It contains natural healing and protective properties such as tannic acid that helps soothe the skin. It also has antioxidant properties that help to protect the skin from damage. 
The Betaine in the lotion is a natural humectant. It helps to lock in moisture and keep the skin hydrated. Additionally, it prevents wrinkles and fine lines by fortifying the skin's natural moisture barrier.
The Witch Hazel extract is a natural astringent. It helps to tighten the pores and reduce inflammation. The Clary extract contains phytoestrogens that help balance hormones and improve the overall health of your skin.
Yeast extract is a natural source of vitamins and minerals. It helps to nourish the skin and keep it healthy. The Daily Rescue Collection from Lab Series is an all-in-one skincare solution for men. It contains various ingredients that work together to cleanse, hydrate, and protect the skin. 
The rescue water lotion will cost you $38.00 for a 200ml/6.7oz bottle.
Lab Series Max LS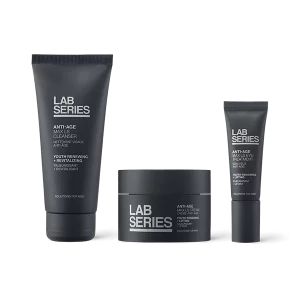 Another popular collection from Lab Series is the Max LS. The products in this range reduce the visible signs of aging.
As we age, our skin produces less collagen and elastin. Less collagen production leads to wrinkles, fine lines, and a loss of firmness. Additionally, the skin's natural moisture barrier deteriorates, leading to dryness, flakiness, and a loss of radiance.
As much as aging happens to everyone, most products in the market cater to women. The Max LS line from Lab Series contains several products aiming to address these concerns. It comprises a range of products designed specifically for men's skin.
Our Lab Series review found that Max LS includes eye treatment, lotion, anti-aging set, cleansers, serum, and cream. All the products contain patented technologies and ingredients that work together to improve the skin's health. 
One of the most popular products in the range is the Lab Series Max LS Power V Lifting Serum. The serum contains a patented technology called V-shaped lift. It targets the essential areas of the face that are most prone to sagging and wrinkles. 
The V-shaped lift works by tightening the skin and reducing the appearance of wrinkles. Additionally, it helps improve elasticity and gives it a more youthful appearance. 
The Lab Series skincare for men also contains a blend of natural extracts such as Polygonum Cuspidatum Root Extract, Whey Protein, Myrtus communis Leaf Extract, and Coleus Forskohlii Root Extract. There are also several fruit ingredients like the Sweet Almond Seed Extract, Lentil Fruit Extract, Apple Fruit extract, and Watermelon extract. These ingredients work together to improve the appearance of the skin.
The Max LS Power V Lifting Serum is suitable for all skin types. It is dermatologist-tested and free from harmful chemicals. The serum retails for $81.00 for a 27ml/1oz bottle.
Lab Series Oil Control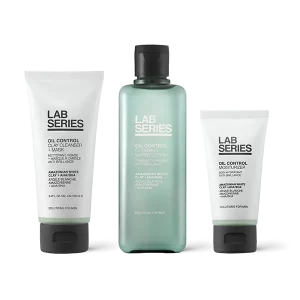 Another all-in-one series from Lab Series is the Oil Control line. Your skin produces oil to protect itself from environmental damage and infection. However, excess of it can lead to breakouts, blackheads, and enlarged pores. 
The Oil Control line from Lab Series contains a range of products that help control excess oil production. They work by absorbing the extra oil, regulating sebum production, and mattifying the skin. 
The products in this category include cleansers, masks, water lotions, and moisturizers. All the products are specifically for men's skin and are free from harmful chemicals. One popular product in this range is the Lab Series Oil Control Moisturizer. It contains a blend of natural ingredients that work together to control oil production.
Some of the key ingredients in the moisturizer include Zinc PCA, Kaolin, and Laminaria Saccharina Extract. Zinc PCA is an oil-absorbing mineral that helps to control sebum production. Kaolin is a clay mineral that helps absorb excess oil and mattify the skin.
Laminaria Saccharina Extract is a seaweed extract that helps to control oil production and soothe the skin. This Lab Series men moisturizer is suitable for all skin types. It is non-comedogenic and will not clog pores. It retails for $38.00 for a 50ml/1.7oz tube.
Lab Series Grooming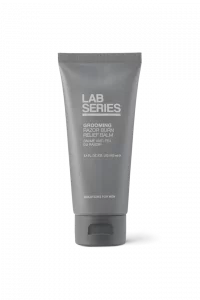 The Grooming line from Lab Series contains a range of products that help you groom your hair and beard. The products in this range include electric shave, burn relief balm, shaving cream, and shave gel.
The Lab Series Cooling Shave Cream is a refreshing shaving cream that contains Menthol and Peppermint Oil. These ingredients cool and soothe the skin, leaving you feeling refreshed and invigorated.
Other ingredients in this Lab Series shaving cream are Shea Butter, Coconut Oil, Algae Extract, Soybean, Sterols, and others. All these ingredients help to protect the skin from razor burn and irritation. 
Shea butter and coconut oil are rich in vitamins and fatty acids that help to nourish and hydrate the skin. Algae extract is a natural antioxidant that helps protect the skin from environmental damage.
Soybean sterols help to reduce inflammation and redness. The Cooling Shave Cream retails for $28.00 for a 1190ml/6.4oz tube. 
Lab Series All in One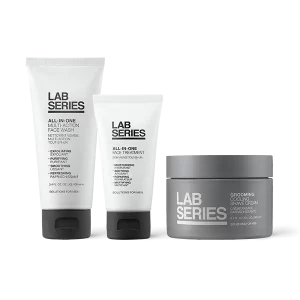 Lastly, the all-in-one line contains a range of products that you need. The products include a face wash, treatments, and sunscreen lotions. All the products are oil-free and non-comedogenic.
This Lab Series for men skincare offers the Multi-Action Face Wash. It is a gentle cleanser that removes dirt, oil, and impurities from the skin. It works by forming a non-drying cream that acts like an exfoliating scrub.
The face wash also contains exfoliating beads that help unclog pores and prevent breakouts. Additionally, it contains ingredients that help to control sebum production.
The main ingredients include Myristic Acid, Silica, Glycerin, Behenic, Acid Lauric Acid, Stearic Acid, and Palmitic Acid. It also has several oils such as Matricaria Flower oil and Peppermint oil.
The Myristic Acid and Silica work by removing excess oil from the skin. It also has hydrating properties that help to prevent the skin from drying out. Glycerin and Behenic Acid help control sebum production. 
The Silica derived from crushed quartz helps exfoliate dead skin cells and unclog pores leaving your skin looking polished with a smooth texture.
You don't have to spend lots of time on your skincare routine if you use the all-in-one line from Lab Series. The products are quick and easy to use. They are also affordable, with most products retailing for less than $30.
Lab Series Review from Customers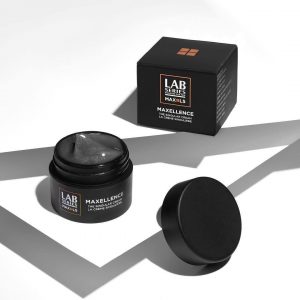 There is no doubt that Lab Series is a high-quality skincare brand. They work to solve men's unique skincare problems. But what do customers think of the products?
We took to the internet to find out what customers had to say about the products. There were many positive reviews about different products and thoughtful improvements. 
Popular Alternatives to Lab Series
For instance, most products have over 4/5 star ratings on the brand's website. The Invigorating face wash has a 4.4/5 star rating from over 160 customers.
One customer said he used it for years, and it's the best. Another said he has tried many face washes before but keeps coming to this one because it doesn't dry out his skin. 
The brand has an average 6.6/5 star rating from over 422 customer reviews on Amazon. Since the comments were on different products, we selected a few for this review. They include: 
Cooling Shave Cream has 4.5/5 stars from over 300 customer reviews.

Power Pore Anti-shine & Treatment has an average 4.5/5 star rating from 50 customers

Multi-Action Face Wash has 4.5/5 stars from over 153 customers

Max Ls Power V Lifting Serum has 41 comments with a 4.5/5 start rating

Age Rescue Plus Face Lotion has an average of 4.5/5 star rating with over 122 reviewers

Max Ls Daily Renewing Cleanser has 4.5/5 stars from over 126 customer
While the majority of the reviews were positive, there were some complaints. Most customers complained that their products were expensive.
Overall, customers seem to be happy with Lab Series products. They claim that they are effective and offer good value for money.
Sign Up for Lab Series
To get started with Lab Series, sign up on their website. You will need to provide your email address and create a password. Once you have created an account, you can start shopping for men's skincare products.
You can also sign up for their newsletter to receive exclusive offers and discounts. Just enter your email address at the bottom of the page to subscribe.
Where to Buy

 
Customers can buy Lab Series products from the brand's website LabSeries.com. You can also find them in select retailers. These include:
Amazon

Sephora

Walmart

Hudson's Bay

Macy's

Shoppers Drug Mart

Nordstrom

Bloomingdales
Lab Series Shipping and Return Policy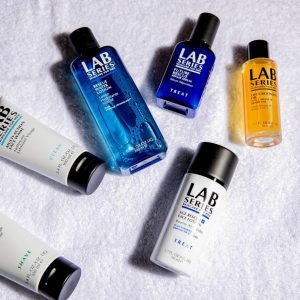 Shipping:
Lab Series only ships to addresses within the United States and its territories apart from Palau. It also provides free Standard shipping on all orders. Others are as follows: 
2nd business days delivery at $10.00-$15.00

Overnight delivery at $15.00-$20.00
Return Policy:

 
If you are unhappy with your order, the first thing to do is call Lab Series at 1-866-316-4819 or contact them via live chat. You will receive further instructions on how to proceed with your return. You can also request an exchange instead.
Promotions & Discounts

 
Lab Series offers various discounts and promotions throughout the year. Right off the bat is the free shipping and return on all products. Next is the subscription, where you can get 15% off your first order.
Customers can get 4 Deluxe Samples free when they make a purchase worth over $45. The company also offers 10% off plus free shipping when you subscribe to their auto-pilot program. Expect discounts on your birthday. 
Contact Lab Series
For inquiries, you can reach out to Lab Series through any of the following contact methods:
Email: [email protected]

Phone: 1-866-316-4819

Fill out the form on the website

Live Chat: Available on their website
Lab Series Review: Editors' Verdict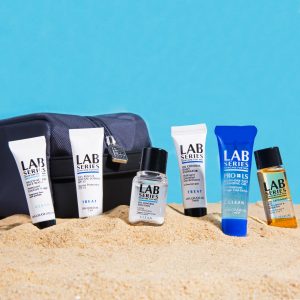 After reading through customer feedback, this Lab Series review can confidently say that the products are good and customers are happy with them. We liked the research-driven approach to product development and the dedication to providing science-backed products.
While we saw a few negative reviews, they were mostly about personal preferences and a few about the price. Overall, we believe Lab Series is a good brand, and its products are worth trying out.
Are you looking for other popular skincare brands? Read our reviews of Go To Skincare, Facetheory, REN Skincare, and Glow Recipe.
Lab Series FAQ
Is Lab Series good?
Yes. Lab Series is a good brand, and its products are worth trying. There are lots of positive reviews online, which shows that users love their skincare products.
Is Lab Series cruelty-free?
No. Some of Lab Series's products get tested on animals. The brand offers items where animal testing is a requirement by law.
Is Lab Series just for men?
Lab Series designs its products exclusively for men. They have dedicated years to researching the science of man's skin.
Where is Lab Series made?
This review did not find any information about where Lab Series makes its products. It could be only available to corporate insiders.