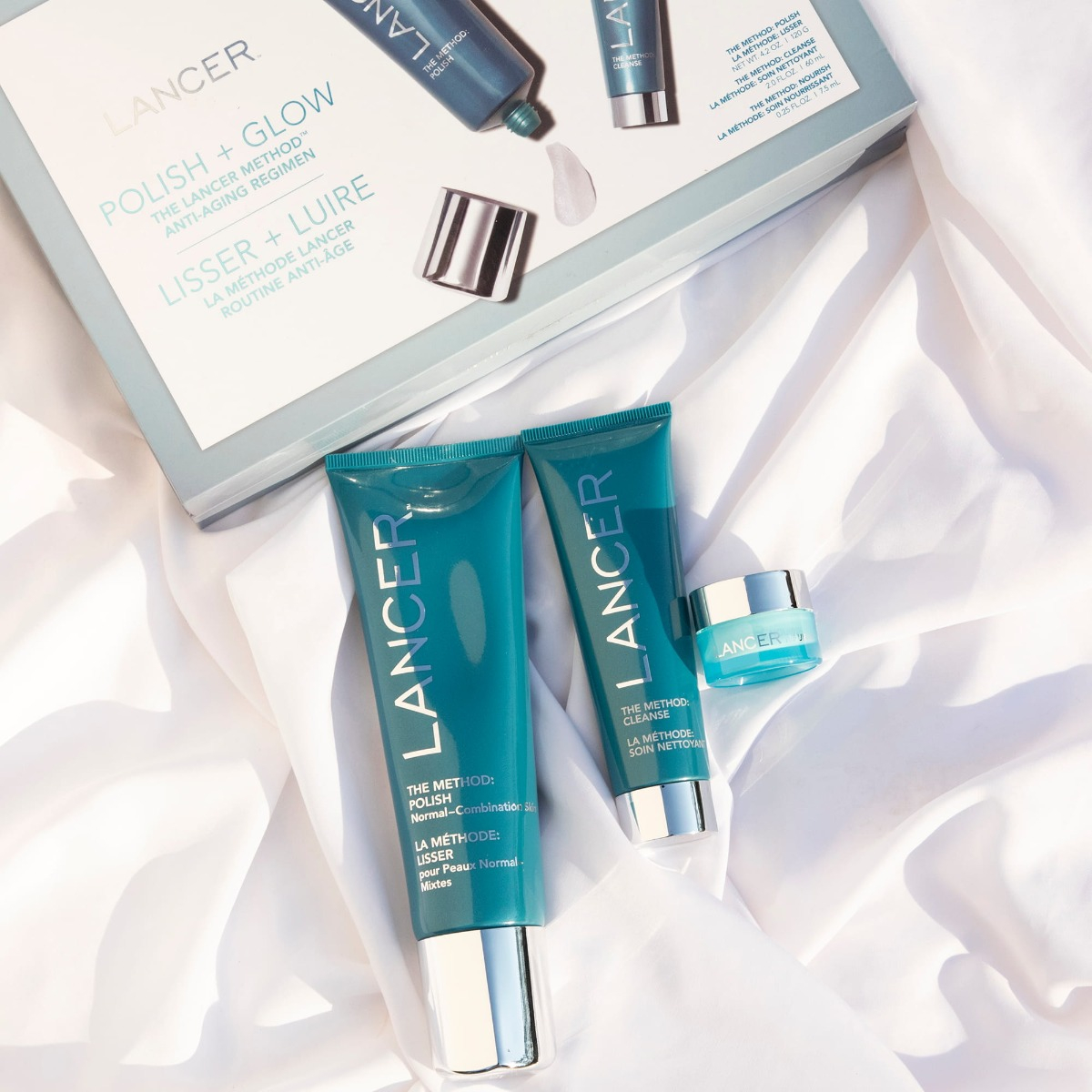 Lancer Skincare sells products that solve common skin problems, such as collagen loss, crepiness, dark circles, fine lines, and redness. While many gurus and dermatologists market alteration as a solution, Lancer believes restoration is the way forward. Their skincare products show users results by speeding up the skin regeneration process. Is this company worth the hype? We will take a comprehensive look at Lancer Skincare reviews, the brand's history, bestsellers, promotions, and more to answer this question.
About Lancer Skincare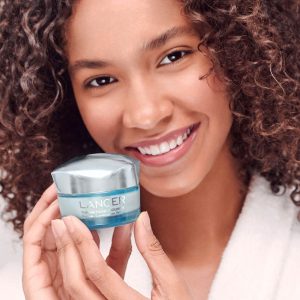 Lancer Skincare was founded in Beverly Hills, CA by Dr. Harold Lancer. He is a board-certified dermatologist who has been practicing for over 35 years. His clients have included some of the most famous faces in the world, such as Oprah Winfrey, Kim Kardashian, and Jennifer Lopez.
The philosophy of Lancer is simple: to create products that help its users achieve beautiful, healthy skin. Their products are designed to work with the natural biology of the skin to encourage cell turnover and promote collagen production. They also use high-quality ingredients backed by science.
The company offers a wide range of products for different types of skin. The results that their products can achieve are impressive. Users report softer, smoother skin with a more even tone. They also report a decrease in the appearance of fine lines, wrinkles, and dark spots. 
The brand has 170k Instagram followers and more than 45k followers on Facebook. Numerous notable media outlets have also featured Lancer, including Forbes, Women's Health, and People. 
Before we jump into Lancer Skincare reviews, we will fill you in on the brand's pros and cons.
Pros
They offer a range of cruelty-free skincare and face products formulated by an experienced dermatologist

30-day money-back guarantee

Their skincare products do not contain palm oil, synthetic fragrances, synthetic fragrances, parabens, or gluten

The brand's products are accessible worldwide

Their products use potent natural ingredients

Customers say their skincare products are effective
Cons
They do not offer International shipping on their site

Steep price points

They don't accept exchanges
Lancer Skincare Products Review
Lancer products are suitable for all skin types, including sensitive skin. We'll look at some of their top-selling products, including cleansers, moisturizers, and devices and tools. Read on for the full scoop. 
Lancer Skincare The Method
The Lancer Method is a 3-step exfoliation/polishing, cleansing, and moisturizing process. It was developed with interlocking chemistry to ensure each skincare product enhances the efficacy of the other two products and the overall results.
The Lancer Method helps your skin act younger by speeding up cell turnover, feeding your skin essential nutrients, and supporting natural collagen regeneration. Ideal for all skin types, The Method: Body Set adapts Dr. Harold Lancer's groundbreaking skin care anti-aging method by going beyond the usual cleansing and moisturizing, and it delivers a complete and effective anti-aging solution for the skin below your neck. 
This Lancer Skincare set goes for $200, and it's formulated to exfoliate, cleanse, and nourish your skin. Each of the three skincare products is designed to address the needs of the skin on your body.
The Method Contents
The Method: Body Polish is a warming daily exfoliator that features chemical exfoliants (retinol, ascorbic acid, and salicylic acid) and physical exfoliants (bamboo stem powder and quartz crystals). It removes dry and dull surface cells, leaving your skin smooth, soft, and visibly renewed. The product contains shea butter, which provides a silky-rich texture that balances the exfoliants. 
The Method: Body Nourish is a luxuriously rich body moisturizer that features peptides and 10% glycolic acid to help even out your body's complexion, smooth your rough skin texture, and firm your sagging skin. 
Their Body Cleanse is an ultra-hydrating body cleanser that features glycolic and salicylic acid to exfoliate your skin and watermelon seed oil to cleanse without stripping essential moisture on your skin. The product also contains marula oil and kigelia fruit extract, ingredients that deeply moisturize your skin and help with shaving. Once you rise off, your skin will be hydrated, soft, and supple.
Other Lancer Skincare sets include The Method: Normal-Combination Set, The Method: Oily-Congested Set, and The Method: Sensitive-Dehydrated Set. 
Lancer Skincare Cleansers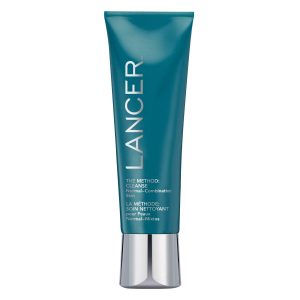 Next up on our Lancer Skincare reviews, we have the cleansers. With our modern lifestyles and chemical-laden environments, cleansing has never been more crucial than it is now. Luckily, there is a range of Lancer Skincare products you can use in your regular facial and body cleansing routine.
Their Cleanse Sensitive-Dehydrated Skin is a gentle ultra-hydrating cleanser that you can use every day, and it's the second step you'll find in The Lancer Method. This cleanser is rich in lavender oil and amino acids, which allows it to remove sebum, surface dirt, and impurities from your skin. Ideal for sensitive skin, this cleanser is a great way to keep your skin hydrated and soft. The products contain licorice Phytocompounds, coconut oil, and oat extract that visibly soothe irritation while helping you combat the appearance of redness.
The Method: Cleanse Oily-Congested Skin is an energizing daily cleansing gel and one of the Lancer Skincare products in The Lancer Method. It contains lilac stem cell compound, tea tree oil, salicylic acid, and jojoba. These ingredients allow the product to cleanse away sebum, surface dirt, and impurities.
Face cleansing
Cleansing your face with this product will give your skin a chance to rest; this eliminates tension and stress from the day while allowing your skin to breathe. It's essential for skin that tends to be oily or acne-prone because stress can make them more prone to breakouts.
The skin produces excess oil as it goes through puberty and adulthood. Cuts, stress, and various other factors can cause production to increase. When you cleanse with this skincare product, this can prevent excess oil from being produced.
Several skin care issues can be prevented or treated by using this cleanser. For example, you can treat clogged pores. You can also prevent and treat acne by regularly cleansing with this product.
The sun can harm the skin and cause wrinkles, discoloration, and cancer. Using this cleanser washes away dirt and other impurities that can allow the sun easier access to damage your skin.
Lancer Skincare Moisturizers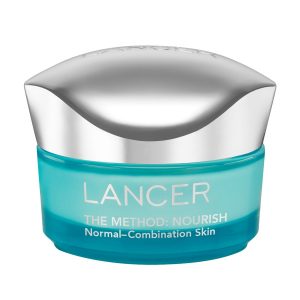 Lancer offers an extensive collection of moisturizers formulated to prevent dryness in the skin. They have creams, oils, hydrating masks, and serums. The Lancer Skincare ingredients in their moisturizer are cruelty-free and natural. 
The Method: Nourish Oily-Congested Skin is an ultra-light daily moisturizer and the third step in The Lancer Method. Moisturizing your skin every day with this product can help reduce the appearance of fine lines and wrinkles. This is because moisture helps plump the skin, making lines and wrinkles less noticeable.
It can also help to fade dark spots and blemishes over time. This is because the moisturizer can help to improve your skin tone, making discoloration less noticeable. Additionally, using this moisturizer to keep your skin hydrated can also help prevent breakouts. We all know that dry skin is more susceptible to developing blemishes and breakouts.
Omega Hydrating Oil is a lightweight, balancing oil formulated to deliver essential hydration, antioxidants, and polyphenols to your skin. It is suitable for all skin types, and it promotes a softer, healthier-looking complexion.
Using Omega Hydrating Oil can help to reduce inflammation. This is because it can help soothe and calm the skin, reducing redness and swelling; this can be especially beneficial for those with conditions like psoriasis and eczema. 
The oil is formulated with a fermented complex, and the nourishing blend of fermented oils includes Licorice, Shiunko, olive, and argan. Essentially, this blend helps to lock in moisture and softens the look of those fine lines while leaving your skin with a dewy glow.
When used in conjunction with sunscreen, Lancer moisturizers can help protect your skin from the harmful effects of the sun. They create a barrier on your skin's surface that can help lock in moisture and protect your skin from the harmful sun's rays.
Lancer Skincare Eyes & Lips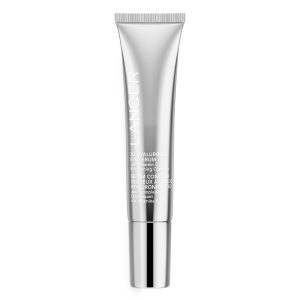 The skin around your lips and eyes are often the first organs to show the signs of aging on your face because it is delicate and needs treatment that soothes and plumps without irritating. Lancer Skincare products include eye lifting cream, eye serum, and lip serum with natural ingredients, such as SuperOx-C, hyaluronic acid, and diamond powder.
The 3D Hyaluronic Eye Serum is a concentrated, lightweight serum formulated to target the appearance of wrinkles and fine lines, dark circles, and puffiness. This non-sticky formula features vitamins B3 + E, SuperOx-C, and 3D Hyaluronic Acid; these ingredients help to ensure the delicate skin surrounding your eye area looks brighter, tighter, and smoother. 
Considering how sensitive the skin is around the eyes, this eye serum is exceptionally mild on the skin. The serum helps lessen the appearance of aging, while the metal applicator delivers a cooling effect.
Popular Alternatives to Lancer Skincare
This eye serum is very concentrated, and it's beneficial at treating issues with the eye area, including crow's feet, due to its potency and ability to be used in conjunction with heavier eye creams.
When used as part of your face care routine, this eye serum is a lucky charm for the "Future You." It offers your skin an additional dose of tender loving care. Due to its fluidity, this eye serum can readily and weightlessly enter your skin, making it ideal for people with oilier skin types.
Formulations
Formulated to create lush and youthful-looking lips, the Volume Enhancing Lip Serum is an advanced lip treatment that provides hydration for visible plumpness. Additionally, the stimulating formula helps define lip contours and smooth out vertical lip lines' appearance. Applying this lip serum will leave your lips conditioned and smooth with a glossy sheen highlighting your natural lip color.
 Lancer Volume Enhancing Lip Serum features hyaluronic acid microspheres, which is a plant-based humectant that helps your lips attract moisture, creating the appearance of density and volume. It also contains Sichuan pepper extract that offers a tingle and cooling sensation.
Lancer Skincare Devices & Tools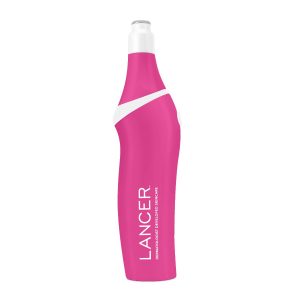 With revolutionized tools and procedures, the Lancer Dermatology team provides patients with a personalized, world-class experience. You can also experience professional results at home with Lancer Skincare devices and tools that use the technology featured at the Beverly Hills-based Lancer Dermatology Clinic.
The Pro Polish Microdermabrasion Device is the first device that Lancer Skincare launched, and it allows users to experience optimal exfoliation on their bodies and faces. Safe for all skin types, the device combines diamond tip technology and deep vacuum suction.
The Pro Polish features a patented 180-degree swivel neck designed to target hard-to-reach areas. It also has three suction settings that allow you to enjoy a customized treatment at home. The device renews overall skin texture and tone with little to no downtime. The brand also sells replacement tips and filters.
The brand's At Home Facial Kit allows you to polish your face like a pro. This powerhouse three-piece set is ideal for oily-congested skin, and it's highly effective at exfoliating, plumping, and smoothing the skin, leaving you with a youthful-looking complexion. The swivel neck and face/body tips help you target hard-to-reach areas. 
The kit comes with the Lift & Plump Sheet Mask designed to improve the suppleness and hydration of your skin, leaving you with a tighter, more lifted appearance. It also features The Method: Polish, which is the brand's top-selling daily exfoliator. 
Lancer Skincare Reviews from Customers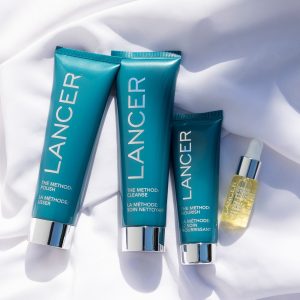 We searched the web to see Lancer Skincare reviews from customers. Our team checked the brand's official website, Sephora, and Nordstrom.
We found the following ratings on the brand's site:
The Method: Body Cleanse had a rating of 4.5/5 from 37 reviews

The Method: Body Polish scored 5/5 stars out of 52 reviews

The Method: Body Nourish had 5/5 stars from 81 reviews

The Method: Nourish Oily-Congested Skin scored 5/5 stars from 34 reviews
Most of its products on its site are rated 4.5 or 5/5 stars, with customers praising them because of their effectiveness. 
On Nordstrom, the Eye Contour Lifting Cream scored 4/5 stars out of 20 reviews. Buyers said they love this product because it lightens dark spots and reduces wrinkles around their eye areas.
Another customer raved about their Advanced C Radiance Treatment and stated it's the most transformative skincare product they have used. They saw results quickly after using the product, as their skin tone evened out and dark spots faded, leaving them with glowing skin. 
We also saw some negative comments, with most customers complaining that while their products work like a charm, they are pricey.
Sign Up for Lancer Skincare
To join the Lancer Skincare family, you need to register an account. Don't forget to sign up for the Lancer Skincare newsletter to get notifications about promotions and new product launches. You'll also earn rewards on every purchase and enjoy speedy checkouts. 
Where to Buy
You can purchase their products from their website LancerSkincare.com. Lancer products are also available in select retailers. These include:
Selfridges

Neiman Marcus

SAKS Fifth Avenue

Bloomingdales

Nordstrom

Sephora
 Check the Lancer's Store Locator page to find a store near you. 
Lancer Skincare Shipping and Return Policy
The company offers free ground shipping on contiguous US orders. UPS 2nd Day Air costs $18 while UPS Next Day Air needs $35. All orders shipped to Hawaii and Alaska are charged 2nd-day shipping rates.
The company offers a 30-day money-back guarantee that allows customers to return items and get a full refund if they are not satisfied with their purchase. Send an email to [email protected] to initiate the process. The company does not accept exchanges.
Promotions & Discounts
While doing our review, we found the following promotions:
Free US ground shipping

There is a Lancer Skincare sale on select products on their Promotions page

Join their rewards program and start earning points 

Every order comes with a free sample

Customers get a gift when they spend $150 or more

Subscribe to save

 

5%
Contact Lancer Skincare
If you have questions about Lancer products, get in contact with the company using the following methods:
Call them at 310-363-7667 (international) or (800) 899-0744 (toll-free)

Email their support team at [email protected]

Send a direct message to the Lance Skincare Instagram or Facebook page
Lancer Skincare Reviews: Editors' Verdict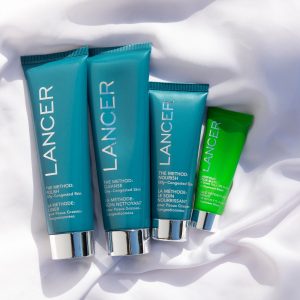 Based on the numerous stellar Lancer Skincare reviews we saw online, this skincare brand is worth checking out. People who bought their products had good things to say after using them. While some customers complained that their skincare products are expensive, they praised them for their effectiveness. 
If you are looking for a reputable skincare brand to help you achieve beautiful, healthy skin, then Lancer Skincare is a great option. Their products are backed by science, and their results are impressive. 
Looking for other beauty brands? Check out our reviews of Espa Skincare, Clearstem, Cardon Skincare, and Annmarie Skincare. 
Lancer Skincare FAQ
Does Lancer Skincare test on animals?
Lancer Skincare is a cruelty-free brand, meaning it doesn't test its ingredients or products on animals. They also do not sell their skincare products to countries that test on animals.
Are Lancer Products Vegan?
The brand is not 100% vegan because some Lancer products feature animal-derived ingredients.
What are parabens? And are Lancer products paraben-free?
Parabens are a group of preservatives commonly used in cosmetic products. Lancer products do not contain parabens because these chemicals cause skin irritation and increase the risk of cancer. Parabens can also harm fertility and reproductive organs.
Are Lancer Products Gluten-Free?
Yes. Lancer Products are free from gluten, making them safe to use. Skincare products with gluten can lead to an exacerbation of celiac disease.
What is the difference between The Lancer Method and other skincare regimens?
Developed with Interlocking chemistry, The Lancer Method ensures each product increases the effectiveness of the other ones and the overall results. It's successful since it makes your skin act younger, making it look younger.