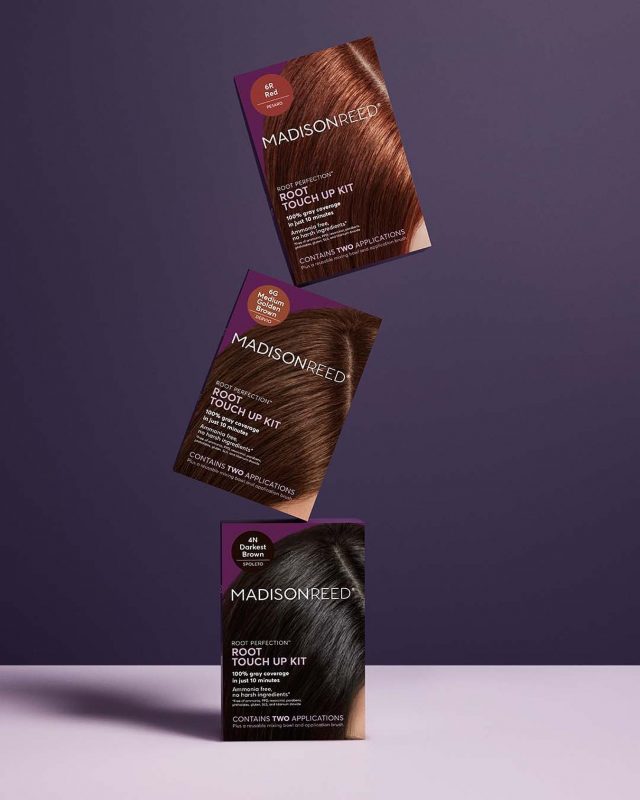 No matter how much we repeat to ourselves that appearances do not matter, most of us still try to look our best on almost any occasion. And it's no wonder why – research shows that there is a clear connection between looking good and feeling good. And when it comes to looking our best, virtually nothing matters as much as having the right hairstyle. Unfortunately, hair dyes eventually end up stripping the moisture out of our hair, leaving it frizzy and matt-looking. Well, most dyes do anyway. With this Madison Reed Hair Review, we are hoping to find out that their products work and will not leave you disappointed.
These products are free from harsh chemicals and packed with hair-nourishing ingredients. Madison Reed promises to color your hair in a healthy and gentle way while leaving it with a salon-like multi-dimensional color with zero grays. So, is Madison Reed good? To check if this brand is really as great as it seems, we take a close look at the brand, its popular products as well as ingredients. Our Madison Reed hair review also includes lots of customer feedback, so read on!
About Madison Reed
Madison Reed is an American hair color brand that focuses on one simple mission: to provide the most luxurious hair color made with ingredients that users can actually feel good about. To achieve that, the company has partnered with honest and transparent manufacturers in Italy which are operating under strict EU laws and regulations.
The brand was created by Amy Reed and named after her daughter as a way to emphasize the integrity value of the brand. The company aims to empower women with its high-performance hair care products that add gloss and shine as no drugstore product can. In fact, the company sets itself as a body-empowering brand with the motto "Confident is the new beautiful". Of course, confidence is more than skin-deep – or should we say hair-deep – but no one can deny that great-looking locks help boost self-esteem! That's what this Madison Reed hair color review is about, to help you decide whether these products will help with your self-esteem.
On Instagram they currently count more than 110k followers, while their Facebook page has over 250k likes. They are also featured in top publications such as Forbes, Beauty Matter, Glossy, The New York TImes.
Pros
More than 55 hair color options
Gentle yet effective haircare products with zero harsh ingredients
Provides salon-like vibrancy and shine and excellent gray coverage
Madison Reed membership with auto-delivery every 4 weeks
It is possible to try the coveted hair color directly on the website with a selfie
Real beauty stamp: Madison Reed does not retouch their models' photos
Cruelty-free products
Cons
Pricier than other ammonia-free hair color brands
Possible hair loss if allergic to some of the ingredients
Color result not always accurate
Madison Reed does not ship internationally
Madison Reed Hair Color Review
Madison Reed brings women permanent, sophisticated, salon-level hair color with 100% grey coverage while playing on complex tonal color and superior condition and shine. Although they are mostly targeted at women, they also offer hair color products for men in their Madison Reed Mr. Hair Color for Men range.
The Madison Reed hair dye seems to be a great product to care for hair health with its Smart 8-free hair color formula. This innovative formula is free of:
ammonia
PPD
resorcinol
parabens
phthalates
gluten
SLS
With more than 55 colors in the range, all made with gentle ingredients, the brand seems to cater to women and men of practically all styles and ages. If you have gray hair, these products will work wonderfully for you.
Permanent Hair Color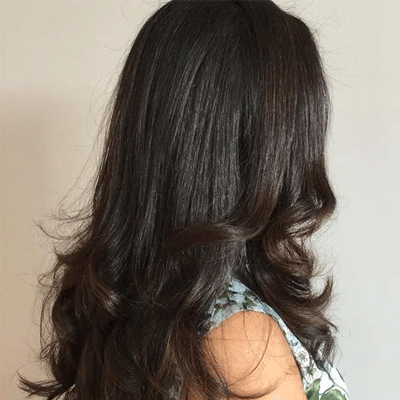 The Madison Reed Hair Color Kit is created at the forefront of innovation with a caring formula and more than 55 shades in the range.
The company's first-ever Smart 8-Free Permanent Hair Color was formulated as a fully harmless product and seems very appealing to anyone who'd like to hide gray hair. Moreover, it's perfect for people who wish to amp up their style with brand new glossy hair color.
We like the fact that Madison Reed goes a step further than most hair dye brands. They implemented hair-nourishing ingredients in their permanent colors like keratin, argan oil, and ginseng root extract.
Root Reboot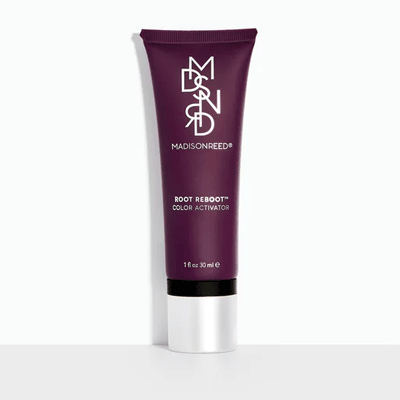 For when greying roots reappear, Madison Reed has just the perfect product: Root Reboot, a hair kit that allows customers to extend the time between color appointments by up to two weeks.
Root Reboot is a long-wearing, liquid color that expertly camouflages fast-growing gray roots while restoring beautiful, shiny, natural-looking color in just 10 minutes. It retails for $25 (or $22 on auto-delivery).
Root Reboot features:
a precise sponge-tip applicator for clean results and a no-fuss, no-mess application
7 universal colors that blend seamlessly with existing permanent color for two weeks without altering the underlying hair color
a clean formula with no ammonia, parabens, resorcinol, PPD, or gluten
Color Reviving Gloss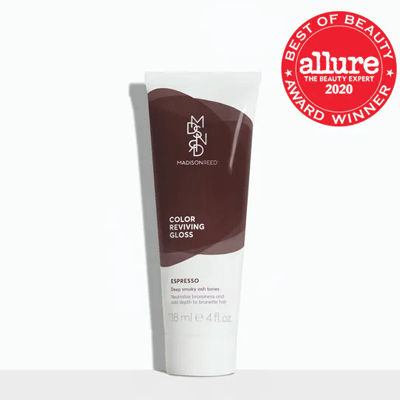 Color Reviving Gloss is a product that Madison Reed has designed to add shine and refresh faded tones on color-treated hair, while deeply caring for it at the same time. It's important to note, however, that this product is not intended to offer gray hair coverage on the full head.
How to use:
Apply directly to dry hair, wait 20-35 minutes, and wash out
Use every 2-4 weeks or 6-8 shampoos
If you need to reduce the warmth or brassiness of your hair color, this product can correct the tone without lightening or removing the color with specific cool-toned colors.
The Gloss retails for $30 (or $25 on auto-delivery).
Root Touch Up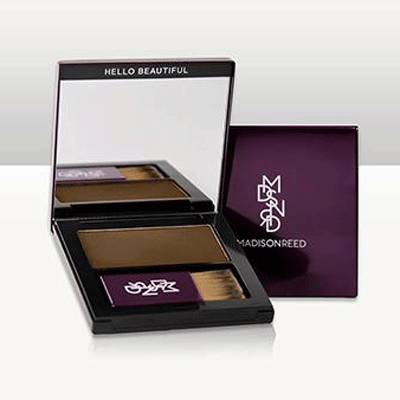 The Madison Reed Root Touch Up is a "makeup for hair" product that can be used over natural or colored hair on the roots, up to 2 inches away from the scalp. This is a micro-milled powder pressed with water and waxes that can be used both on hair and eyebrows as it is temporary. When used on hair, it can be fixed for longer wear using hairspray.
Root Touch Up:
lasts one to two days
washes out with your next shampoo
sweat, rain, and pillow-proof
perfect for creating highlights and lowlights to blend away dark roots if your hair is lighter color-treated
available in 6 shades from the lightest blonde to the darkest hair color
Root Touch Up retails for $30.
Madison Reed Reviews Highlights
If you prefer doing highlights in the comfort of your home, they offer two great options:
Light Works, an active 2-step kit designed to create highlights at home
Toning Glaze, focuses on refreshing faded highlights.
Light Works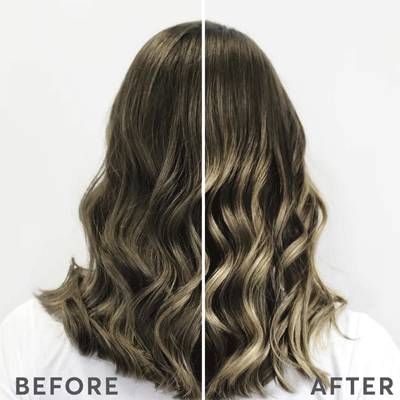 If you feel like getting some salon-like highlights, Madison Reed's ammonia-free 2-step kit can be a great solution for natural-looking balayage highlights.
The Light Works kit is best used for:
hair with already existing highlights or balayage (not a full head of highlights though)
light blonde hair to dark brunette hair, whether natural or color-treated
redheads who want soft golden-toned highlights
Do note that the Light Works kit should not be used if you/your:
hair has been treated with a chemical hair straightener, relaxer, keratin treatment, perm, or all-over bleach
are looking for very light highlights and your hair is very dark
have or want rainbow-colored highlights like blue, peach, or silver
want to touch up all-over bleached hair
have black hair, natural or color-treated as you might see little to no lightning with Light Works
are looking to cover up gray hair, as it is not intended for grey hair covering
The Madison Reed Light Works kit prides itself on its precision with a clay-based formula and a precise applicator that allows for a no-mess application, and a salon-secret toning glaze that enhances condition and shine.
Light Works retails for $45, or $36 on auto-delivery.
Toning Glaze
The Toning Glaze focuses on treating faded highlights by enhancing the color without interfering with your base color, reducing brassiness, and conditioning the hair as if you had just stepped out of the salon.
Toning Glaze retails for $22 (or $18 on auto-delivery).
Madison Reed Shampoo And Conditioner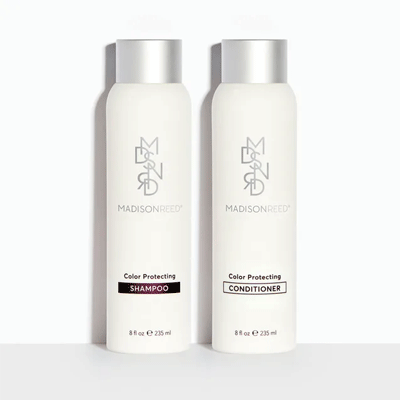 In our Madison Reed reviews, we found the shampoo and conditioner which is specifically formulated to nourish and protect colored hair. The Color Protecting Shampoo retails for $26 (or $24 on auto-delivery) for 8 oz., and the Color Protecting Conditioner retails for the same price.
The Color Protecting Shampoo locks in color with its sulfate-free formula and provides UV protection to prevent fading. It also contains argan oil, keratin, and ginseng root extract to strengthen the hair with long-term use. Importantly for those with sensitive scalps, it is free from:
sulfates
parabens
phthalates
gluten
The Color Protecting Conditioner is formulated with keratin, quinoa, honey, ginseng root, and aloe to repair and strengthen damaged hair and replenish the protective lipid barrier.
The Conditioner and Shampoo are also available as a bundle for $40, or $37 on auto-delivery.
Madison Reed Color Chart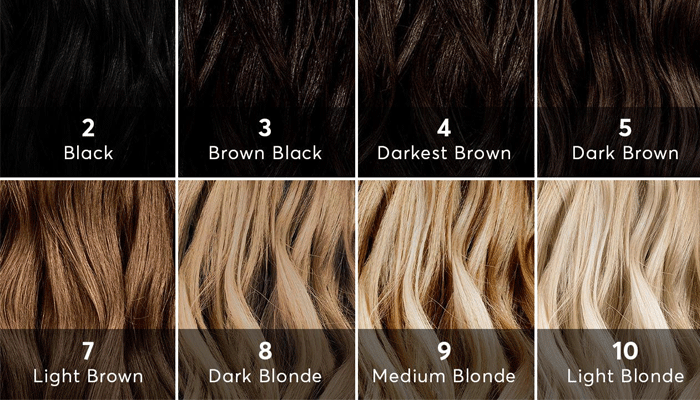 Madison Reed color chart on the website enables you to choose your own hair color like a pro. Moreover, they offer online assistance with licensed colorists to help you select the most suitable hair color for yourself. The brand has also implemented a very useful quiz that helps you determine the best color according to your skin tone, your hair type, or current hair color. In total, more than 50 shades are available, and best of all, they're all illustrated with real customers' photos and samples. If you've been wondering which shade is suitable for you, then the Madison Reed color chart will surely help with that.
On the website, there's a thorough explanation of how to best choose your color through a breakdown of hair color levels; with a range from level 2 indicating the deepest black to level 10 being the lightest blonde. Hair tones are also precisely described with letters such as NGV, which stands for Neutral Gold Violet, a mix of the colors used to get the Amalfi blonde hair color.
Madison Reed Promo Codes
While researching for our Madison Reed hair review, we have not noticed any deals running for these products. However, the brand offers free standard shipping for new customers on their first order when they sign up to the mailing list.
If you often dye your hair, for grey hair-covering or a new look, you might like to look at the Madison Reed membership that is available straight from the brand's website as it can save you quite a bit of money (for instance, auto-delivery every four weeks on hair color makes the price drop from $26.50 to $22).
Thicker or longer-haired women can also add a second tube to their order for the lower price of $14.
Madison Reed Hair Review from Customer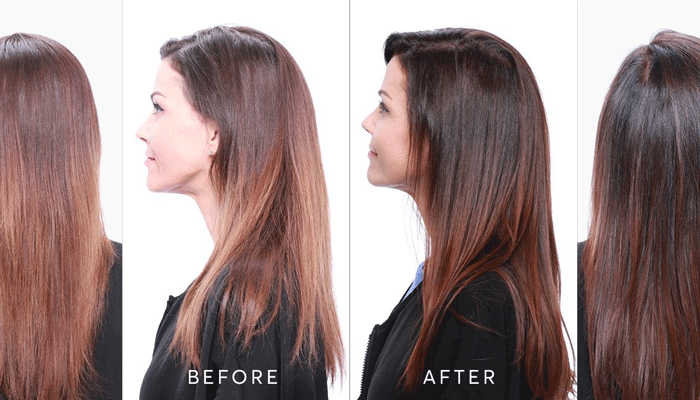 At the first glance, Madison Reed's customer reviews seem to be positive. Many users claim that their hair looks healthier after using Madison Reed hair dye. At the same time, quite a few report that the product smells great, and some say that the depth of color is fantastic.
However, since many brand websites filter and censor their reviews, we also checked customer reviews on other famous review websites, including Trustpilot and Makeup Alley.
To our surprise, we found that Madison Reed reviews have a 1.7/5 star on Trustpilot (as of this writing), where a large part of the 50 reviews express concern and disappointment after trying the product. Some customers report that the hair color did not manage to cover their grey hair.
While others complain that they had hair loss problems after using Madison Reed hair color. This may sound alarming, but it's good to remember that some people can have an allergic reaction to any hair dye or barrier cream. For this reason, we highly recommend patch testing the color before using it (this goes for any hair color you purchase, not just Madison Reed).
Further Madison Reed reviews
On MakeupAlley, The reviews are much more balanced. Yes, there are some bad experiences, but none complain about hair loss, which is interesting. They typically complain about rougher hair texture and the color not covering all of their grey hair. There are also many positive reviews, all of which seem genuine.
Overall, we'd say that the reviews are mixed. Although some customers love the multi-dimensional, salon-like colors that Madison Reed hair color products provide, others are not so pleased with the quality of the product. In the end, it's good to keep in mind that coloring your hair depends on many factors, including the natural color, thickness, porosity, and overall health of one's hair. Check out eSalon if you love these types of brands!
Where To Buy Madison Reed
If you'd like to treat yourself to Madison Reed hair color products, you can buy the brand from:
Madison Reed website
the Refinery29 website
Madison Reed Color Bars provide in-person help from licensed hair colorists
What Is Madison Reed's Shipping Policy?
The company only ships within the United States of America and some of the U.S. territories including Puerto Rico, the Virgin Islands, and Guam.
Excluded US territories are:
American Samoa
Northern Mariana Islands
Federated States of Micronesia
Marshall Island
Palau
Customers from APO, DPO, and FPO locations can order from Madison Reed but should bear in mind that standard shipping time frames are not applicable, which means that you will get your order between 2 and 6 weeks later. Expedited shipping is also not available for non-state addresses.
Standard Shipping
 If you order from Madison Reed and are based on the US mainland territory, standard shipping takes 3 to 7 business days, starting from the day the order is shipped.
Some Madison Reed products are required to ship by ground, like the Loud + Pro volumizing mousse and the Light Works Balayage Highlighting Kits, and they can also not be shipped to APO/FPO/DPO addresses.
Expedited Shipping
If you choose expedited shipping, you will get your order between 1 business day and 3 business days with FedEx or UPS. Expedited shipments cannot be delivered to Alaska, Hawaii, or P.O. boxes.
If you order from Madison Reed, you will receive an email with tracking information as soon as your order ships. Standard shipping uses FedEx, and orders are then handed off to your local Post Office (USPS) for delivery, using the same tracking number for both.
You can also find your tracking information through your Madison Reed account, in the section Your Order, clicking on the purple box labeled "Track my box"
Contact Madison Reed
Is there anything we haven't covered in our Madison Reed reviews? Customers can contact Madison Reed directly through their website, by means of a chatbot, and through the phone number indicated on the website: +1 816 439 8014.
Additionally, you can almost instantly connect with Madison Reed on various social media: Facebook, Instagram, Pinterest, Twitter, and YouTube.
The Madison Reed licensed colorists are available to help out customers all week:
from Monday to Friday, from 6 am to 6 pm PT
Saturday and Sunday, from 8 am to 5 pm PT
Is Madison Reed Legit? Editors' Verdict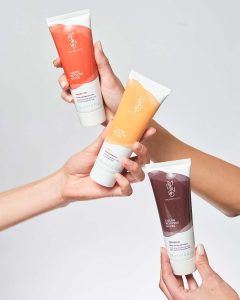 Madison Reed and its beautiful color range are seemingly worth the deal. The brand offers products formulated to care for and color the hair in the most harmless way possible. At $26.50 apiece, the Madison Reed Permanent colors are priced above the drugstore average. However, the company does focus on bringing salon-grade hair color into our homes so the pricier tag is understandable.
Curious about our final verdict? Is Madison Reed good? Based on our research for this Madison Reed hair review, which not only included looking at dozens and dozens of customer reviews on various sites but also at the ingredients that the company uses in all their formulations, we have to say that yes, we do think they're worth it.
If you're after that sophisticated and vibrant color and gloss, Madison Reed is definitely worth trying out. Just remember to still do your own research if you have a sensitive scalp, and make sure you follow the Madison Reed instructions to a tee!
Check out other amazing haircare brands such as Cantu, Briogeo, DevaCurl, and eSalon.
Frequently Asked Questions
How Long Does Madison Reed Last?
If you choose to use the Madison Reed Permanent Hair Color, your new style will last until your hair grows out. Color Reviving Gloss used to freshen up the hair color, lasts between 2 and 4 weeks, or 6-8 shampoos.
Can You Mix Madison Reed Colors?
With more than 55 shades in the Permanent Hair Color range by Madison Reed, it seems that the brand has thought of every undertone to really suit every type of hair, skin tone, and personality.
You can mix two different hair dyes, but once the Radiant Cream Color and the Activator have been mixed, they should be discarded after the standard processing time listed in the Madison Reed instructions as they are single-use.
Can I Return Madison Reed Hair Color?
If you are not satisfied with the hair color result that you have gotten after using a Madison Reed Permanent Hair Color product, you can start by contacting the customer service team so a professional colorist can help you by finding a suitable solution for your hair – online or in a Madison Reed Color Bar.
However, customers do not necessarily need to contact Madison Reed; they can return their product straight away, which is a nice touch for people who are dissatisfied with a product. The downside is that Madison Reed does not provide return labels.
Will Madison Reed Damage My Hair?
Looking at the ingredients used in Madison Reed's 8-Free Permanent Hair Color formula, the brand's products should not damage anyone's hair as some of the most damaging ingredients like ammonia or phthalates are excluded from the ingredients list.