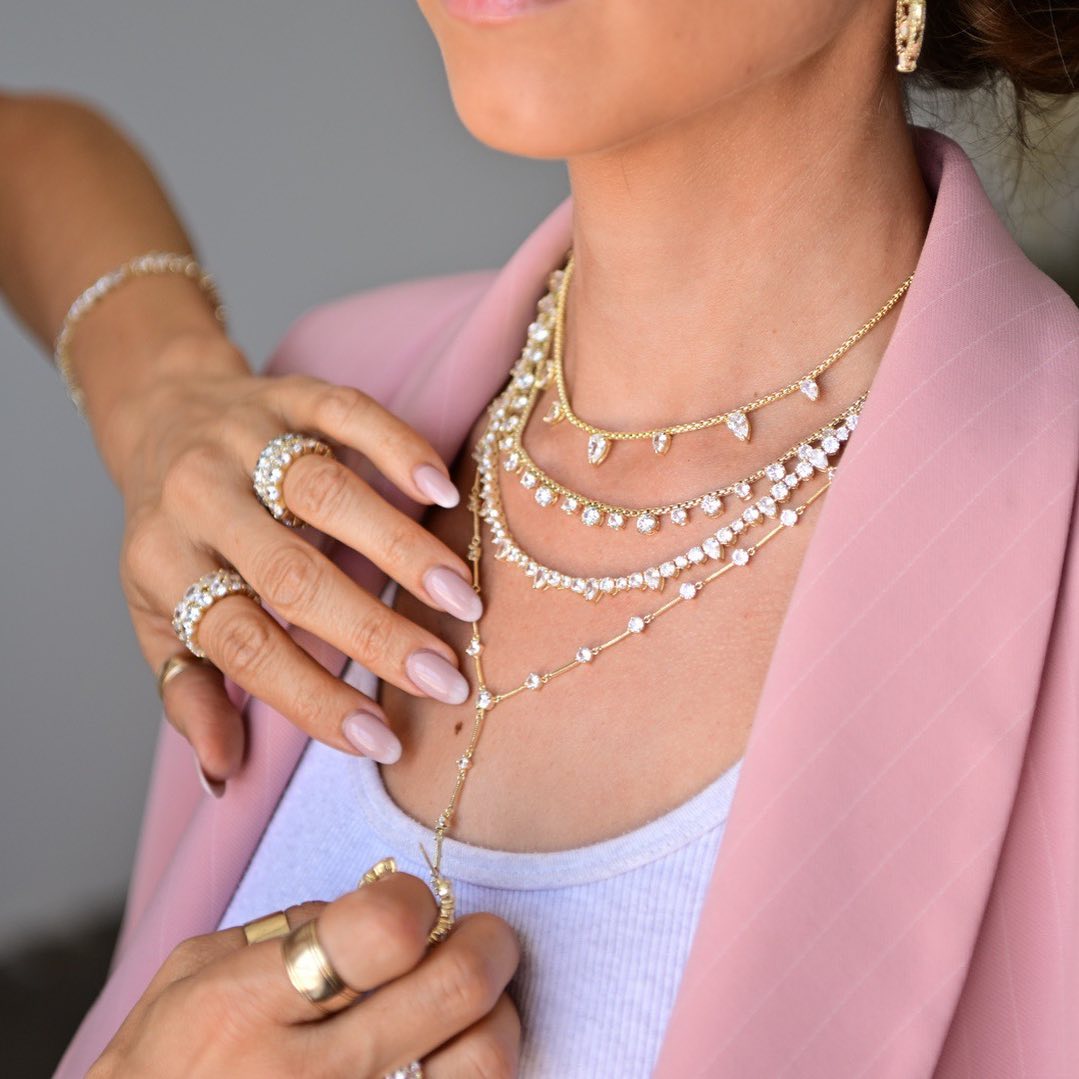 High-quality jewelry has a way of making women feel beautiful and confident. You wear jewelry as a symbol of status, wealth, and power. However, finding affordable and luxurious jewelry is not an easy task. Melinda Maria offers an expansive collection of quality jewelry at competitive prices. We'll take an in-depth look at this brand, including Melinda Maria jewelry reviews from customers, its best sellers, shipping policy, history, and discounts to help you determine if its collection is worthwhile.
About Melinda Maria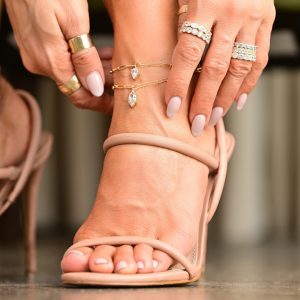 Melinda Maria is all about glam and class at a friendly price. The brand understands the pressure, time, and money that celebrities invest to be on the red carpet. There are affordable ways to pull a celebrity look without robbing the bank.
Melinda Maria is an LA-based jewelry designer passionate about selling Hollywood-inspired jewelry. She started her company in 2010 to inspire women to be confident, fashion-oriented, and beautiful.
Melinda has over 14 years of experience in the fashion and beauty world. Her journey and love for gemstones inspired her to start a brand that handcrafts high-quality jewelry. Melinda managed to design her first piece when she was only eight years old, and the rest of her journey is history.
She has grown and expanded her brand to what it is today. Melinda Maria jewelry has a common feature: all their pieces are made from 18k gold plates or silver plates. Their jewelry is also handcrafted, with the option of getting a custom-made piece.
The brand's jewelry is highly celebrated by A-list celebrities and has been featured on the red carpet. Celebrities like Taylor Swift, Michelle Obama, Selena Gomez, and the Kardashians have been spotted rocking some of their pieces.
Several media sources have featured Melinda Maria, including InStyle, PopSugar, and PageSix. Their influence is also evident on their social media pages, as the brand has over 298k Instagram followers and more than 111k followers on Facebook.
Before we dive into Melinda Maria jewelry reviews, check out the company's pros and cons.
Pros
The brand offers a wide range of jewelry to choose from

They offer personalized jewelry

Free shipping on all domestic orders

Afterpay payment option is available

The company contributes part of its revenue to female-led organizations

All their products come with a two-year warranty
Cons
Their prices are a bit higher compared to other retailers

They have a short return period

You cannot return items listed as final sale or custom-made jewelry
Melinda Maria Products Review
Melinda Maria is the go-to place for people looking for fashionable and affordable jewelry inspired by their favorite Hollywood Influencer. Here are some of the top-selling Melinda Maria jewelry.
Melinda Maria Necklaces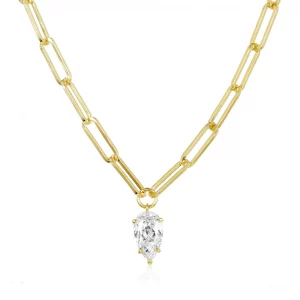 Necklaces can transform your outfit and add a touch to your personality. For some extra sassiness, check out the Melinda Maria necklace collection. The brand has a range of necklaces, pendants, and chains designed to match any outfit.
You can never go wrong with the Cosmo Star and Moon Necklace. Don't worry about your zodiac sign because this necklace will help you align your stars.
This Melinda Maria necklace features an alignment of a crescent moon, a star, and a constellation of the burning sun; it has a minimalist approach with sparkling white and gold diamonds. This piece of jewelry will be an upgrade to your necklace collage.
Several celebrities, including Rihanna and Meghan Markle, have been seen rocking the Moon and Star necklace. You can get this necklace for $58.
The Melinda Maria Star Lariat Necklace is another top-notch piece you might want to add to your accessories. It is a piece of perfect jewelry that matches any outfit or occasion. It's time to turn heads with this dreamy accessory; you can get it in gold or silver plating.
This necklace features an 18k gold or silver plate over brass; the top part has an alternating star and moon diamonds. It also has a hanging pendant with little stars and a crescent-shaped moon. For $120, this visually appealing necklace could be yours.
Melinda Maria Earrings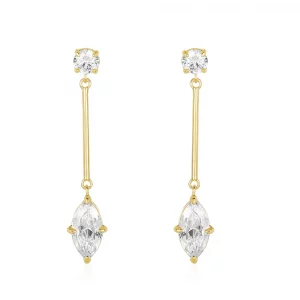 Earrings are essential pieces of jewelry that highlight the beauty of women. Melinda Maria earrings add charm to your appearance by making you look fashionable, trendy, and pretty.
The Pyramid Pave Earrings will make you reminisce about the days of Cleopatra and other women of power. Inspired by Egyptian queens, these aesthetically appealing jewelry pieces are ideal for classy women.
They come in a triangular shape decorated with white crystals. If you want to look bold and confident, wear these earrings. Available for $62, you can wear these earrings when attending a wedding event and pair them with the baroness necklace for a sassy look.
The Grace Huggie Earring is a staple for many celebrities, including Hailey Bieber and Scarlett Johansson. It is a simple piece that features a merge of shimmering diamonds on an 18k earring band. The earring is available in gold and silver and retails for $58.
Unique and striking, you can buy or gift your other half the Slick Pave Earring. It is a dazzling piece with hundreds of shimmering crystals on an 18k gold or silver plate. The earring is simple, and you can wear it for a night event for people to get a glimpse of those tiny shimmering sparkles.
The earring costs $68, and it will arrive in its original packaging with the tags still attached, so you can rest assured you are receiving nothing short of a quality piece of jewelry.
Melinda Maria Hoops & Huggies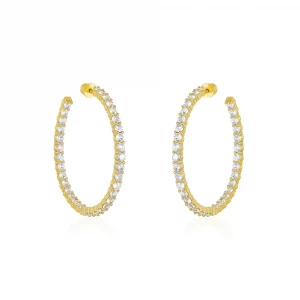 If you are a lover of hoops and Huggies, Melinda Maria has got you covered. Be bold and beautiful with the Cloud Triple Link Hoops. These elegant earrings are a showstopper. They feature one hoop surrounded by Diamondettes and two hoops made from carefully selected and handcrafted enamel.
The enamel is a spice to the earring; it highlights the gold and silver metal brass. Express your chic side with these hoops for $85.
You don't have to wear boring jewelry: get the Big Ass Hoops and stand out from the crowd. Melinda Maria jewelry reviews show that people love these jewelry pieces because celebrities like Khloe Kardashian and Jennifer Lopez have been spotted rocking them.
You can also make a statement with these four-inch stunners. The hoops are approximately 4 diameters aligned with 2mm bezel set Diamondettes. It comes in gold and silver for $88.
Strawberry Huggie Earrings is a beautiful, handcrafted piece of jewelry to add to your collection. It is designed for those who love summer, strawberry fields, and rainbow skies.
These huggie earrings are 3mm long and feature a hanging strawberry attached to an 18k gold or silver plate surrounded by Diamondettes. The strawberry has tiny green and pinkish crystals. It is perfect for any day or night occasion, and you can get it for $85.
Melinda Maria Rings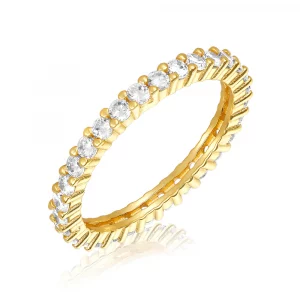 You don't have to wait for a man to put a ring on that finger. Every woman deserves some pampering and self-love. You can say I do to yourself and life with Melinda Maria rings. The brand has a wide selection of shimmering rings.
The Slick Pave Ring is a striking jewelry piece that you can pair with the Slick Pave Earring; this ring has an impressive diamond count, and don't be surprised if it gets featured in Money Heist.
The ring is chunky, and it is surrounded by a sparkling array of crystals on an 18k gold metal. You can also get it in silver, and it is an extravagant accessory that will get everyone talking and turn a few heads during that dinner party.
If you love to wear several rings, you can pair this striking piece with the Pod Ring or Titus Ring. You can get this ring for only $78.
The Atlas Thick Band Ring is a perfect blend of bold and simple. It features a chunky wide rim that is available in gold and silver. The inside of the ring is inscribed with the initials M.M.
This ring may be simple, but you can add a personalized engraving. The Atlas ring makes a perfect promise ring to yourself or a close friend, and it retails for $48.
Melinda Maria Bracelets & Anklets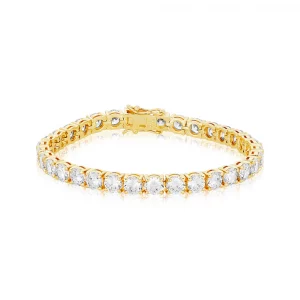 Melinda Maria designs a wide range of unique bracelets and anklets. Pimp that set of beautiful manicures and rings with a charming bracelet or bangle.
The Baroness Bracelet is a glamorous accessory that will make you look classy. It is adorned with shimmering gold and white Diamondettes; this bracelet comes in different colors. The emerald and silver bracelet will give you a wealthy duchess vibe.
If you want to match this accessory, pair it with a classy, sophisticated piece of jewelry, such as the Grace Huggie silver earring. The baroness bracelet needs $98.
Women wear anklets for various reasons. If your reason is beauty, Melinda Maria is here for you. The Sahara anklet is a good place to start; this is your average type of jewelry, and it features a chain embellished with stunning diamonds. The diamonds are alternated to make your feet gorgeous. You can add this stunning piece to your jewelry collection for $52.
Lily Link Chain is an exquisite piece of jewelry with rectangular chains attached to an 18k gold or silver plating. You can pair it with your favorite Melinda Maria ring for only $34.
Melinda Maria Jewelry Reviews from Customers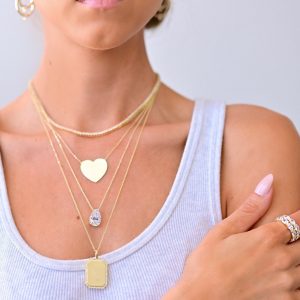 Our team went online and searched for Melinda Maria reviews; we checked the company's website and other platforms that sell their products and found that customers have left numerous positive comments.
On the brand's website, the Samantha Chain Necklace is a top-selling piece with over 907 reviews and a five-star rating. Customers love the necklace because it is versatile and it matches any outfit. One buyer said she never takes the chain off unless she wants to shower. Once in a while, she showers with the necklace, but it has never faded; this made them obsessed with it.
Popular Alternatives to Melinda Maria
Customers also raved about the Gabriella Spiked Hoop Earrings. It has a five-star rating from over 775 reviews. Shoppers praised these earrings because they are lightweight and of high quality. Many customers love the black and gold piece, and they turn heads whenever they wear them.
On Amazon, the Mini Nicole Gold Earrings are a top-seller with a five-star rating. Customers love these earrings because they are cute and go with anything. Most of them stated they receive compliments whenever they wear this gorgeous piece of jewelry. One customer said a stranger once stopped her to ask where she bought the earrings.
On independent review website such as TrustPilot, Influenster, and Sitejabber, there are not many reviews, but the few that exist do not speak in favor of the brand.
Overall, the positive Melinda Maria jewelry reviews outweigh the negative feedback. That means most customers are happy and satisfied with their jewelry.
Sign Up for Melinda Maria
Want to join the Melinda Maria community? Visit the company's official website and hit the Account button. Then, click Create one and provide the required details to create your ]Melinda Maria account.
Remember to subscribe to their newsletter and get a 10% off on your first order. Once you complete the registration, you will be the first to receive emails with active promotions and discounts.
Where to Buy
If you are interested in buying Melinda Maria jewelry, visit their official website MelindaMaria.com. You can also find their collection at select retailers, including Amazon and Nordstrom.
Melinda Maria Shipping and Return Policy
Shipping:
Melinda Maria ships its jewelry worldwide, and they offer free shipping on all domestic orders. Standard shipping is free and takes 3 to 5 business days. FedEx 2nd Day is free for orders worth over $150; you'll have to pay $10 for orders under $150, and this shipping option takes two business days. The Standard Overnight option takes one business day and needs $30, while international shipping takes 4 to 14 business days.
Return Policy:
If you are not happy with your piece of jewelry, Melinda Maria allows you to return the unworn item within 15 days from the date of purchase. The company may extend the period to 7 days if you are unsatisfied with your order. The company doesn't accept returns on final sale items and custom-engraved jewelry.
Promotions & Discounts
Our team discovered several promotions and discounts available to customers. Melinda Maria coupon codes allow you to save money when buying jewelry on their site. The company also offers free shipping on all domestic orders.
Additionally, you'll get a 10% off when you sign-up for their newsletter and earn $10 in points when you refer a friend who spends $50+ on their first purchase. Moreover, you'll receive 10 points when you join the MM Club, and the company allows you to earn points in various ways that are redeemable at 100 points for $10. Best of all, new customers will get 15% off their first order.
Contact Melinda Maria
To know more about Melinda Maria products, or if you have any questions, contact the company through their phone number +1 323 937 4591. You can also send them an email through [email protected]. Alternatively, you can send them a direct message on their Instagram or Facebook page.
Melinda Maria customer service representatives are available from Monday through Friday, from 9 a.m. to 6 p.m. PST.
Melinda Maria Jewelry Reviews: Editor's Verdict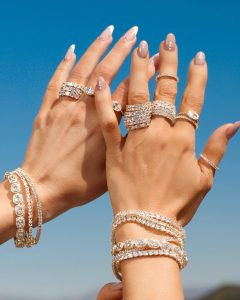 Based on the numerous positive Melinda Maria Jewelry reviews we saw, our team thinks that this company lives up to the hype. You will rarely find a jewelry company that balances quality and price, but Melinda Maria has managed to do that.
There are also numerous positive comments from customers who love their products because they are high-quality. Their jewelry pieces are stylish and affordable, a perfect combination.
Many customers appreciate their large selection of stunning, attractive, elegant, and eye-catching necklaces, earrings, bracelets, rings, and anklets. We recommend their products because with Melinda Maria, what you see is what you get.
Looking for other jewelry brands? Read the Baublebar Reviews, Aurate New York Reviews, KWIAT, and Angara Reviews. 
Melinda Maria FAQ
What is the Melinda Guarantee?
Melinda Maria offers a lifetime warranty on all their jewelry. If you purchase any item and it gets damaged, broken, or worn out, the company will repair your jewelry free of charge. If the company cannot fix it, they will replace it with an item of equal value.
What is Melinda's BFF Pricing?
Melinda Maria wants to make it easy for you to access their products. You don't have to purchase their jewelry through retailers who hike prices because they will sell to you directly. Melinda's BFF prices are already included in the elegant pieces on their website.
What are Maria Melinda products made of, and what plating do they use?
Unless specified on the product page, Melinda Maria products are hypoallergenic and nickel-free. The brand's silver jewelry is sterling silver plated, while the gold ones have been 18K gold plated over brass.
What is the engraving policy?
Their engraving policy requires you to use respectful and decent language. The company will cancel any order with inappropriate engraving.
How do I know my right ring size?
The company uses standard ring sizing. If you are not sure about your size, contact any of their stylists via the Live Chat function between 9 a.m. and 6 p.m. PST, from Monday to Friday.