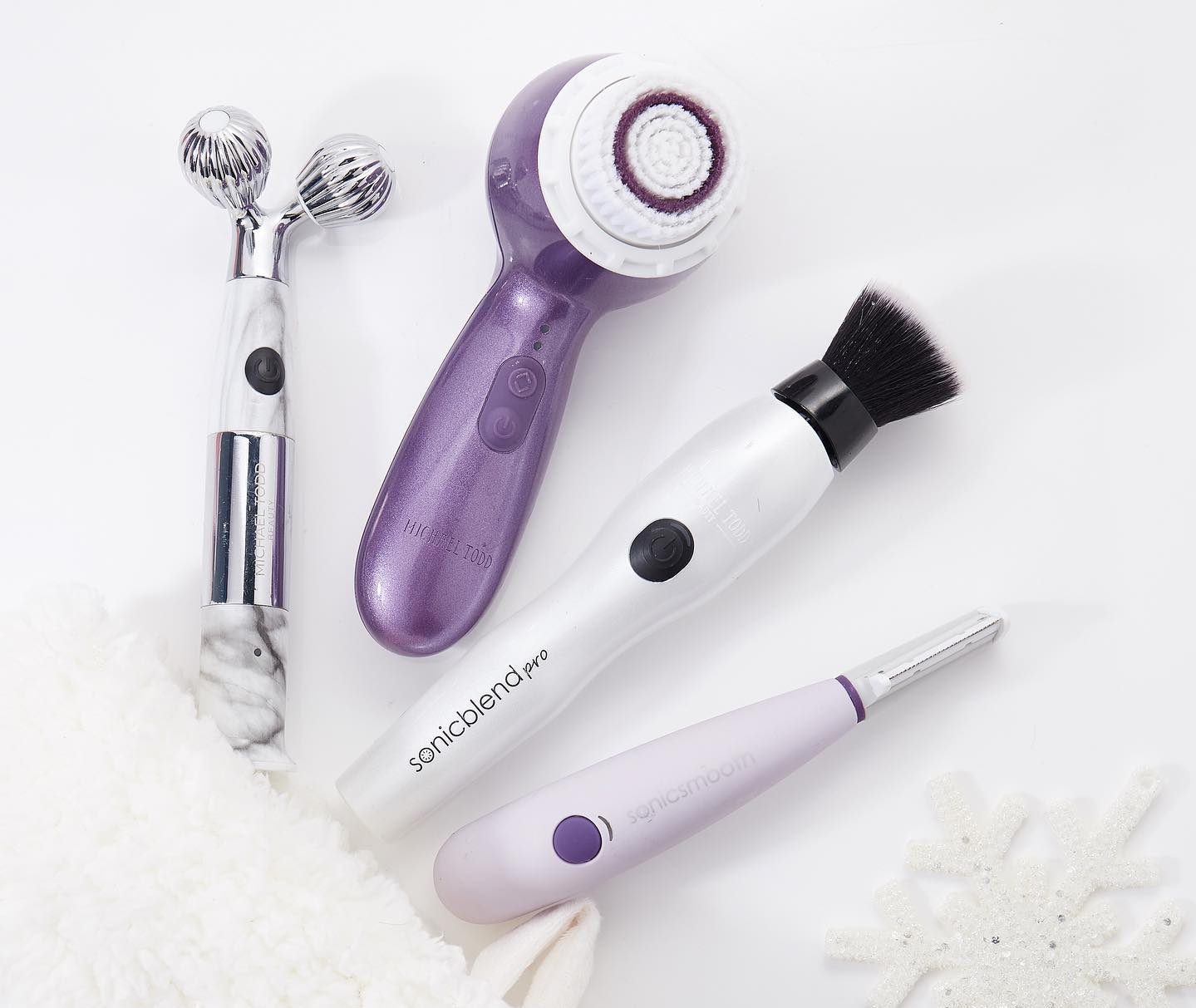 If you've been looking to spruce up your skincare and beauty routines, you've probably gone through a tone of Michael Todd Beauty review. From their beauty devices like sonic brushes and microdermabrasion systems to organic skincare products and accessories, there's a lot of ground to cover.
What's great about this brand is that they believe everyone should be able to enjoy spa-quality beauty and skincare treatments from the comfort of their home as they aim to transform your skin with its products.
Keep reading as we provide an in-depth unbiased review detailing all the essential topics from product and tool reviews, location information, return and refund policies and much more.
About Michael Todd Beauty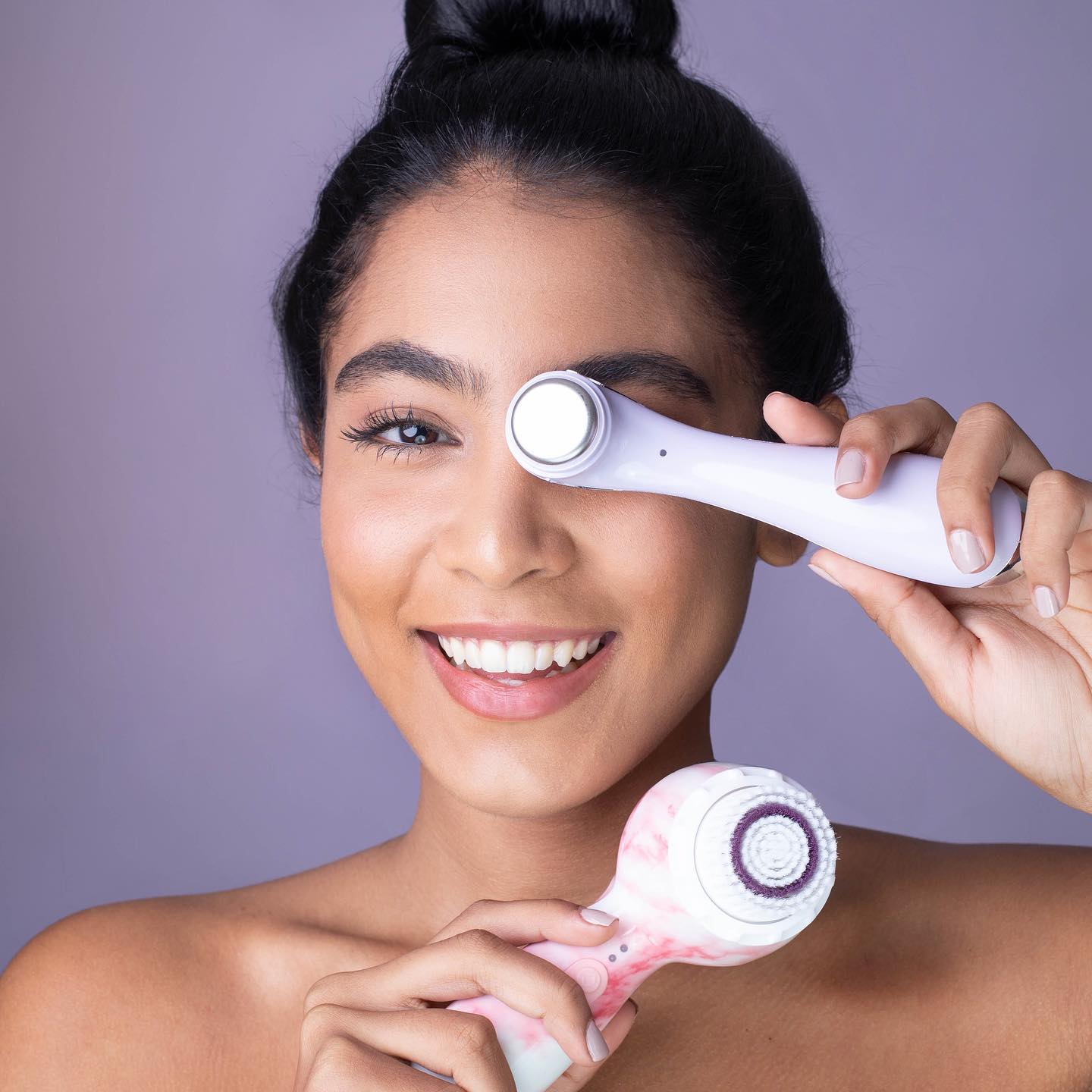 Co-founded in 2008 by Lewis Hendler, Michael Todd Beauty is a prestigious beauty brand that solely focuses on beauty tools, accessories, and skincare products.
They develop beauty devices ranging from sonic cleansing brushes for the face and body to microdermabrasion systems, steamers, extractors, pedicure tools, organically based skincare products, and much more. All their devices are backed by science and steered towards simplicity and accessibility to customers who wish to use these treatments at home.
This award-winning beauty brand also focuses on innovation, functionality, and aesthetic appeal as most of its tools embrace a myriad of colors, some of which have marble effect designs.
In terms of functionality, the brand has gained global recognition and prestige thanks to its three-in-one tools and the first-ever sonic antimicrobial protection that reinvent the shopping experience for tomorrow's customers while addressing the concerns of today's skincare customers.
Pros
Wide Array of Products: The brand provides many beauty tools such as derma planning systems, microdermabrasion tools, contouring devices, serum infusers, pedicure tools, facial hair trimmer, skincare delivery system, cleansing, and makeup brushes.
All-Inclusive: Michael Todd Beauty has beauty devices and organically skincare products suitable for all skin types and tones.
Multiple Accessories Available: Their expansive accessories catalog features a myriad of accessories such as Clarisonic compatible brush heads, shower caddies, and infusion heads.
Gentle: Compared to other brands, their brushes are much gentle to the skin.
Ionic Technology: Instead of on and off switches, their tools embrace ionic technology that automatically goes on upon contact with skin and off when away from the skin.
Ergonomic Handling: All the tools have stylish designs that are easy to grip and help prevent slipping.
Antimicrobial Protection: The brand has the first-ever sonic antimicrobial protection to help disinfect the tool after every use.
Cons
Pricey: The cost of the tools in the brand is significantly higher than competitor brands.
Difficult Charging: A matter of great concern amongst its customers is that the tools sometimes don't hold as much charge as it's presumed.
Not all tools are waterproof.
Michael Todd Beauty Skincare Products Review
Let's start our Michael Todd beauty review here! The brand has approximately 14 variants of beauty tools. From cleansing brushes to cleaning shower systems, contouring devices, microdermabrasion systems, pedicure Smoothing tools, makeup application brushes, and many more.
Let's have a look at the most common of these beauty tools.
Michael Todd Beauty Soniclear Elite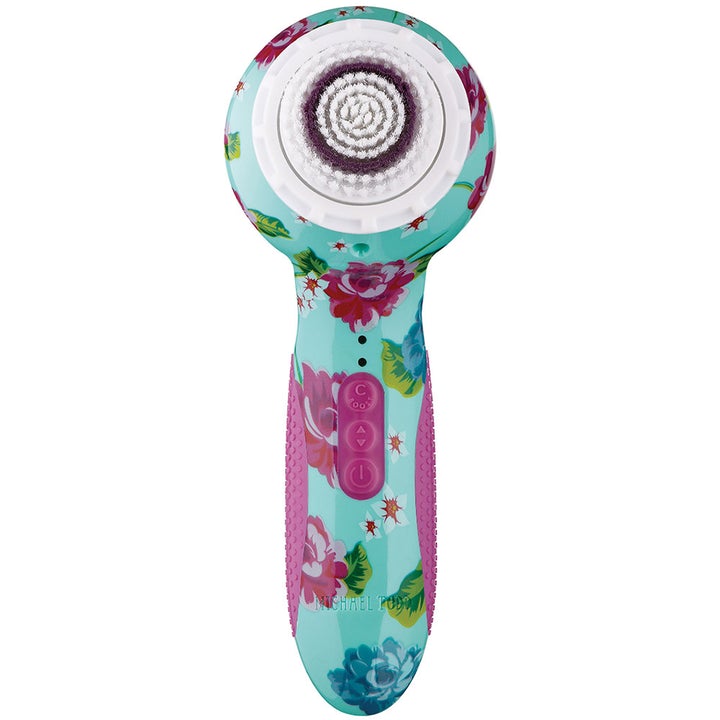 The Michael Todd Beauty Soniclear Elite beauty gadget is a face and body cleansing brush that works using sonic technology to gently cleanse the skin to remove dead skin cells, sweat, oil, and make-up. With its soft bristles, the brush can be used to remove pore-blocking residue, prevent breakouts, minimize blackheads, and gently exfoliate the skin leaving it radiant, smooth, and refreshed.
The brush operates as a three-in-one tool with three distinct brushes: a face brush, a body brush, and a serum infusion head that helps to improve the absorption of skincare products such as serums. What's more, the gadget also has six-speed settings to customize your cleaning needs.
Upon daily use, you may notice a healthy-looking complexion with considerable skin improvements such as less noticeable fine lines and wrinkles, pore size reduction, improved skin textures, and minimal appearance of dull or rough patches.
The gadget is multi-patented and dermatologist-recommended for use on all skin types and tones. What's more, the Soniclear antimicrobial brush can maintain freshness and cleanliness for up to six months without you having to replace it.
Besides antimicrobial protection and serum infusion, the brush is also water submersible, waterproof, and has an automatic timer. With a three-year warranty, Michael Todd Beauty offers a full package of one Soniclear Elite cleansing brush, one antimicrobial face brush, a free sensitive face brush, one serum infusion head, a wireless charging cradle with a charging cord, and wall adapter, plus a hard shell travel case.
Michael Todd Beauty Sonic Refresher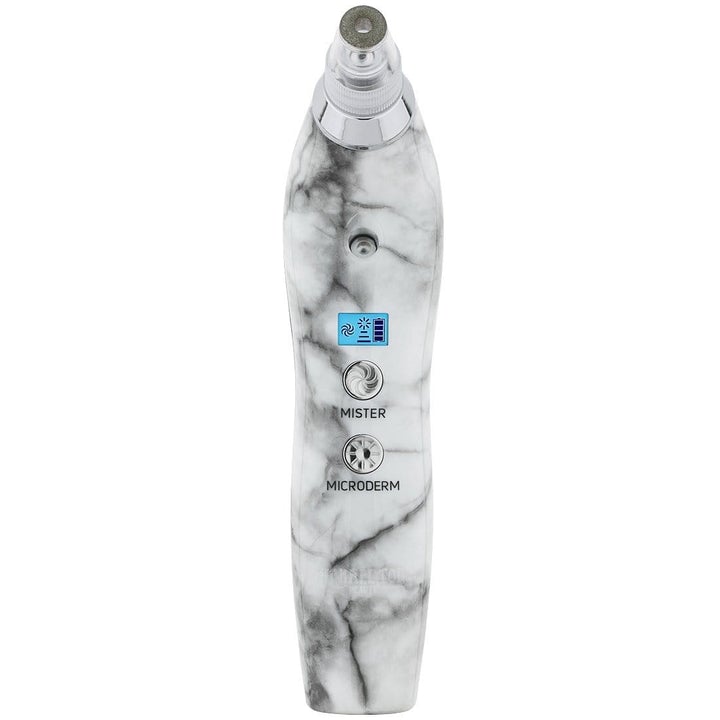 From the numerous Michael Todd Beauty Sonic Refresher reviews, this device remains one of the most sought-after beauty tools. It's the world's first at-home wet and dry sonic three-in-one microdermabrasion system and it comes in three distinct colors: white marble, pink orchid, and black metallic.
The gadget offers a patented diamond-tipped microdermabrasion system with wet/dry MicroMist technology and pore extraction capabilities to help rehydrate, rejuvenate, refine, and reset your skin to a finer, fresher appearance.
For microdermabrasion, the refresher includes three heads of varying sizes and strengths all tipped with laser-cut diamond bits mounted on sturdy metal tips. As for the MicroMist, the refresher offers an optional wet setting that douses fine mist to the skin allowing for enhanced skin soothing and hydration.
The Sonic technology engineered in this tool has three settings: low, medium, and high to allow for customization and treatment for any skin type. Lastly, the device allows for wireless charging and access to operating modes via an LCD screen.
Sonic Eraser Pro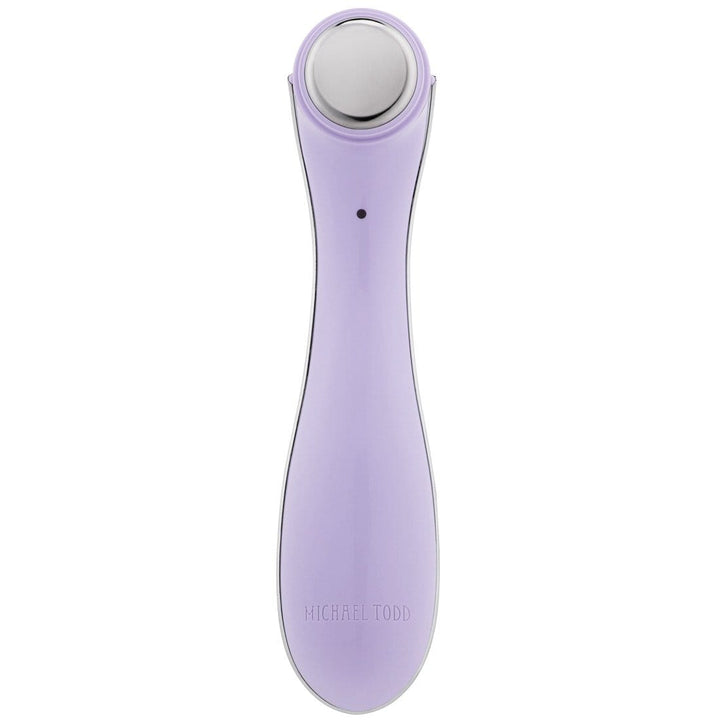 Here's another device we must speak about in this Michael Todd Beauty review. The Sonic Eraser Pro is also a three-in-one device that offers a trans-epidermal skincare delivery system that helps your skin absorb your skincare products better leading to brighter, smoother, and firmer skin. The Sonic Eraser Pro is a non-invasive tool featuring triple infusion technology: thermal, sonic, and ionic to ensure ease of use, greater functionality, and worth for your money.
The thermal technology gives off gentle heat of about 107° F over your skin to help open up your pores, while the Sonic technology provides a gentle abrasion of 30,000 movements per second to help the skin better absorb a combination of skin products such as serums, moisturizers, and anti-aging creams. With these two technologies, you can increase moisture, brightness, and elasticity on your skin leading to a healthy-looking complexion.
As for the ionic technology, this simply means the tool automatically turns on when placed on the skin and off when removed.
Pedimax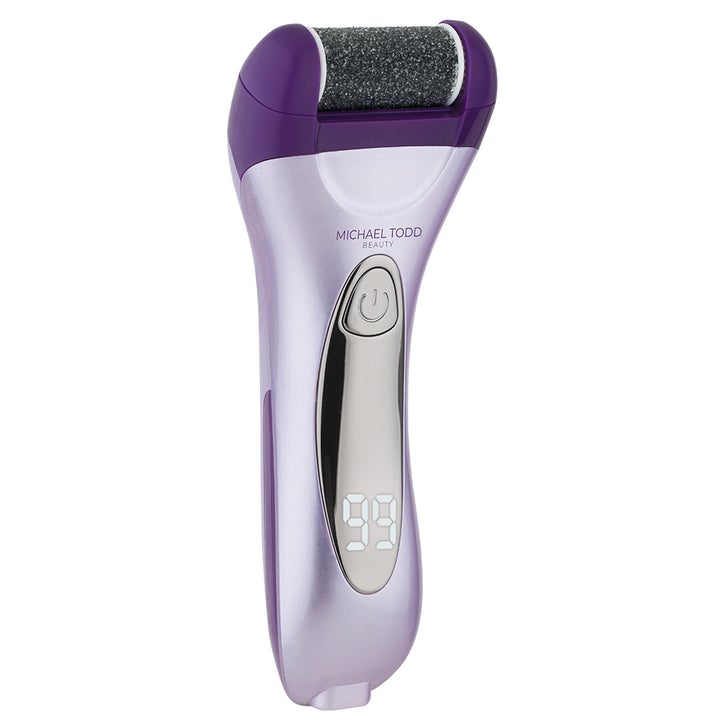 Pedimax is an expert pedicure smoothing tool that has 360° rotating disc action that helps exfoliate and smoothen your rough, cracked, callused, and dry feet. The Pedimax has three interchangeable smoothing heads: coarse, medium, and low that allows you to work on your feet as you deem fit.
The beauty tool offers dual treatment where you can more aggressively work on removing dead, tough, and unsightly skin on your heels while another treatment works to smoothen, polish, and finish the spa-like treatment to your liking.
The Pedimax device is also convenient as it comes with a USB charging cord for a cordless, battery-free, and USB rechargeable experience. Lastly, the tool has a sleek design with arched sides to offer you an ergonomic handle on the tool and an LED indicator to display your battery levels during your pedicure treatment.
Sonic Sculpt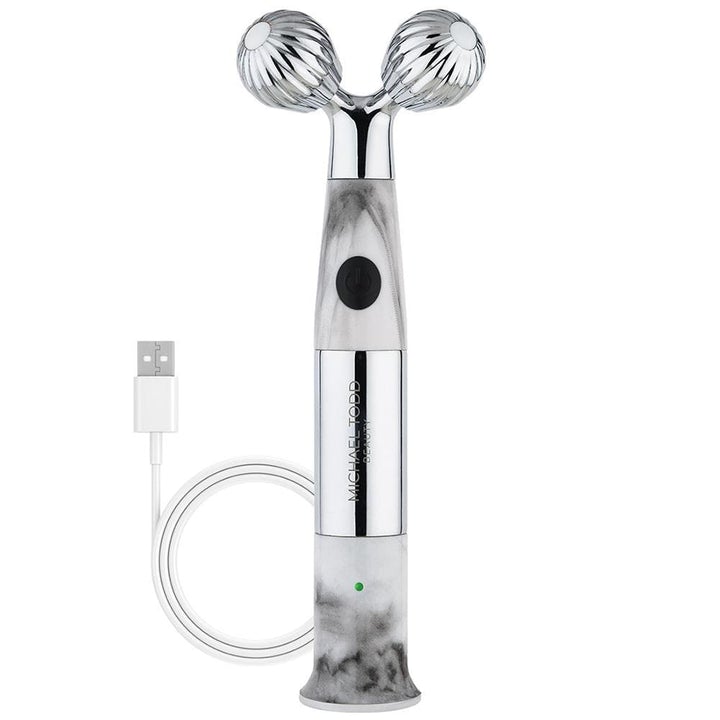 The Sonic Sculpt is a unique face and body contouring device; the world's first and only ice and heat roller that uses sonic technology to soothe, lift, relax, firm, and plump the skin in one go. With electrical muscle stimulation, the tool sends tiny signals to your face and body to stimulate collagen production, relieve muscle tension, reduce fine lines and wrinkles, depuff the skin, lift sagging areas of the skin, and encourage skincare products infusion.
This beauty tool has a sleek design with an ergonomic grip and medical-grade stainless steel globes, that are also detachable to allow you to temper them to your liking; either frozen, heated/warmed, or used at room temperature.
The Sonic Sculpt also features high-frequency sonic movements with three intensity settings to customize your contouring and treatment. Lastly, the tools also have 180° dual rotating treatment probes that allow for massaging at different angles.
Michael Todd Beauty Reviews from Customers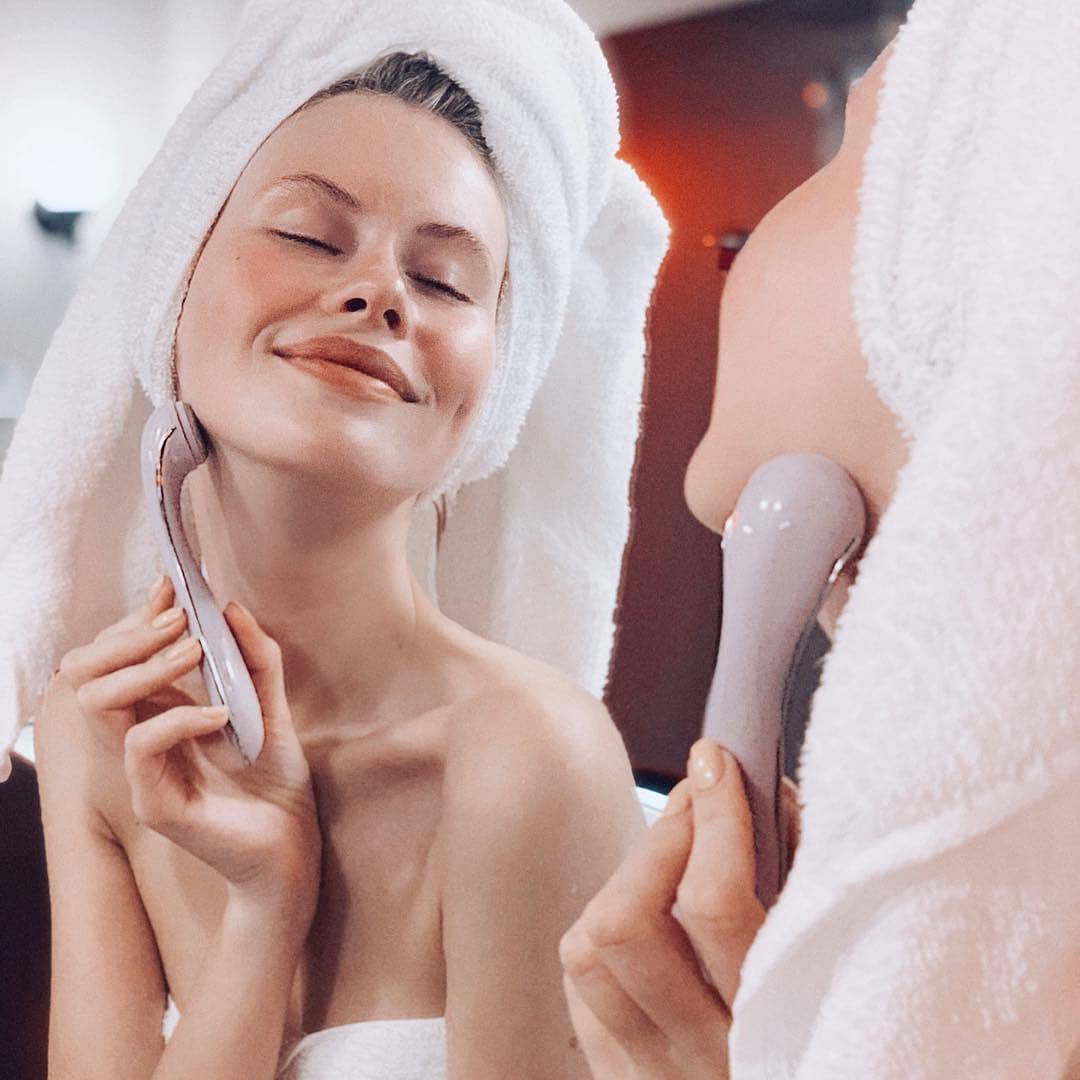 The brand boasts of over 5000 5-star reviews from its customers, not to mention the excellent reviews from major blogs and companies such as the Strategist, Cosmopolitan, Allure, and The People. From the positive reviews, many praise the brand for their impeccable products that work amazingly even for sensitive and conditioned skin for those with rosacea, acne, eczema, among other skin issues.
In general, Micheal Todd Beauty has great reviews online, for example, 'I love my Michael Todd Beauty tools. They help me keep my skin in fantastic condition. It really does allow you to bring the spa home. I can get spa-quality results by myself from dermaplaning with my SonicSmooth to cleansing with my Soniclear Petite and then applying my makeup with my Sonicblend. I'm looking forward to trying the SonicRefresher as well. Great quality product, easy to use, and fabulous results!'
On the other hand, negative reviews are also a ton. Reviews recorded from the trust pilot plummet the brand's review score to as poor as 2.4 out of 5 as many of their customers complain of horrible customer care, defective devices, and poor packaging.
On our end, we can say the brand does have great and quality tools especially the Soniclear Elite which seems much better than the Vanity Planet brush. The Soniclear Elite offers deep yet gentle cleaning on the epidermis without damaging the upper layer of the skin, something of concern with the Vanity brushes as they're much harder on the skin.
Sign Up for Michael Todd Beauty
You can create an account with the brand where you become one of the subscribers and get 15% off your first order. To sign up, simply create an account using your first name, last name, email address, and password.
With the subscription, you can enjoy many perks such as:
Shop and save where you get first-hand information on offers
Early access to new products, deals, and your favorites.
Ease of swapping products for another, skipping orders, changing frequency of orders, delay processing dates, and canceling of subscription.
Where to Buy
You can get Michael Todd Beauty products directly from their website. Easily shop from their website catalog and enjoy delivery to your shipping address.
Also, because the brand is well known across the nation, you can get the products from prestige retailers such as Macy's, Amazon, Ulta, Walmart, and leading beauty stores.
Michael Todd Beauty Shipping and Return Policy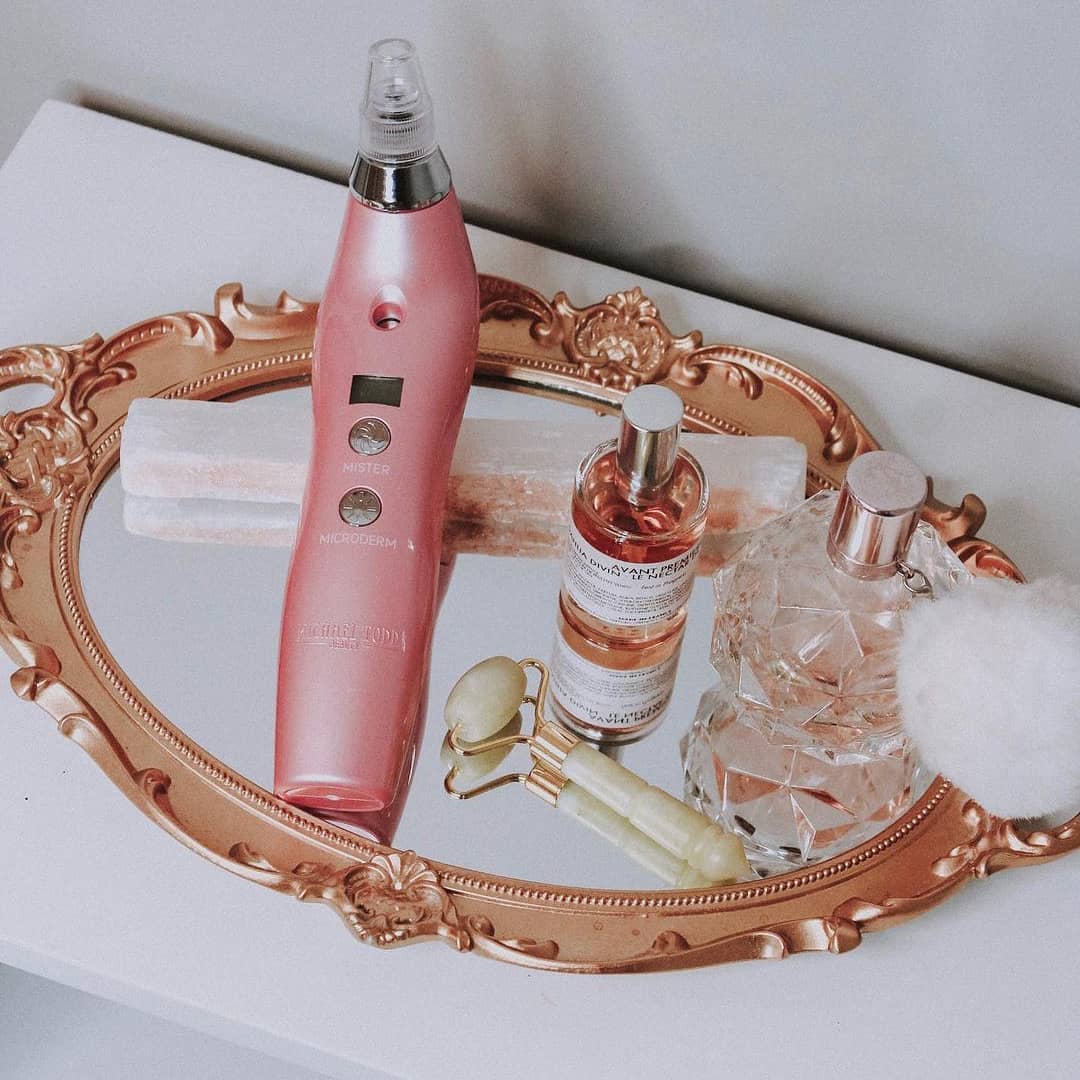 As updated on January 18th, 2022, the Michael Todd Beauty brand allows for returns of any of its products. The policy states that upon dissatisfaction with a product, you may return the item to the store within 30 days of purchase or receipt of the order in exchange for a full refund, store credit, or exchange of the item.
That said, there are other policy matters you'll have to adhere to. First, any item marked as "Final Sale" can't be returned or exchanged. Second, for the full refund, there's a 30-day money-back guarantee for all products excluding beauty tool accessories. Third, you can only exchange a product if the order originates in the US.
If or when you decide to return an item, ensure the product is postmarked within 30 days of the purchase date. Then, email customer service at [email protected] to get a Return Merchandise Authorization (RMA) number. Without this number, you can't return the item successfully.
After obtaining the RMA number, return the product to its original packaging and send it to this return address:
Michael Todd Beauty
Attn: Returns
RMA Number
584 NW University Blvd.
Suite 600
Port St Lucie, FL 34986
United States
You'll be responsible for the shipping fees.
Product Exchange Details
Upon return, if you choose to get either a refund or exchange, you'll have to wait at least fourteen (14) days from the receipt of your item to process your return or exchange. The refund will also take one or two billing cycles to appear on your credit card statement, depending on your credit card company.
For any order sent to an undeliverable, incomplete, or incorrect address you are eligible for a refund less the handling fee. If you want the order reshipped, you might have to pay a shipping and handling fee of $29.95.
Finally, all Michael Todd Beauty tools have a three-year warranty valid from the original date of purchase. However, it's only viable if the item was purchased from an authorized retailer and registered on the brand's website within 90 days of purchase. Contrary to this, you can't exchange or exchange the item as you must provide proof of purchase to verify eligibility.
For any queries regarding their shipping and returns policy, contact their customer service team at [email protected].
Promotions & Discounts
The brand has multiple promotions throughout the year from New Year, Valentines, Easter, Christmas, Thanksgiving, and November Black Friday season. You can get loads of promotions and discounts for all and sundry to enjoy.
Besides those, there are other discounts you could enjoy such as "Bundle and Save". This is an initiative by the brand to bundle alike or complementary products to get a lower price for both. For example, for a cleansing brush and a makeup application brush, you can get both for $99 instead of $234 when you buy them separately.
You also get a whopping 15% when you subscribe to the brand and open an account. Lastly, you also get one-off offers such as free shipping for products worth over $50.
Other promotional programs include the referral and ambassador program. With the referral program, you invite a friend to sign up to the brand and purchase something at 15% off and you get the same discount.
As for the ambassador program, you get to be part of the Michael Todd Beauty community of partners where you help share and market the brand to earn an affiliate commission on goods sold through your influence. The ambassador program offers great perks such as early access to products for reviews, discount codes, and you also get featured on the website.
Contact Michael Todd Beauty
The brand has no direct line of communication but you can contact them via their contact form. You can contact them about product inquiries, partnerships, marketing, and wholesale. Note that because it's a huge brand, they may receive a huge volume of inquiries which may delay their response time.
Michael Todd Beauty Review: Editor's Verdict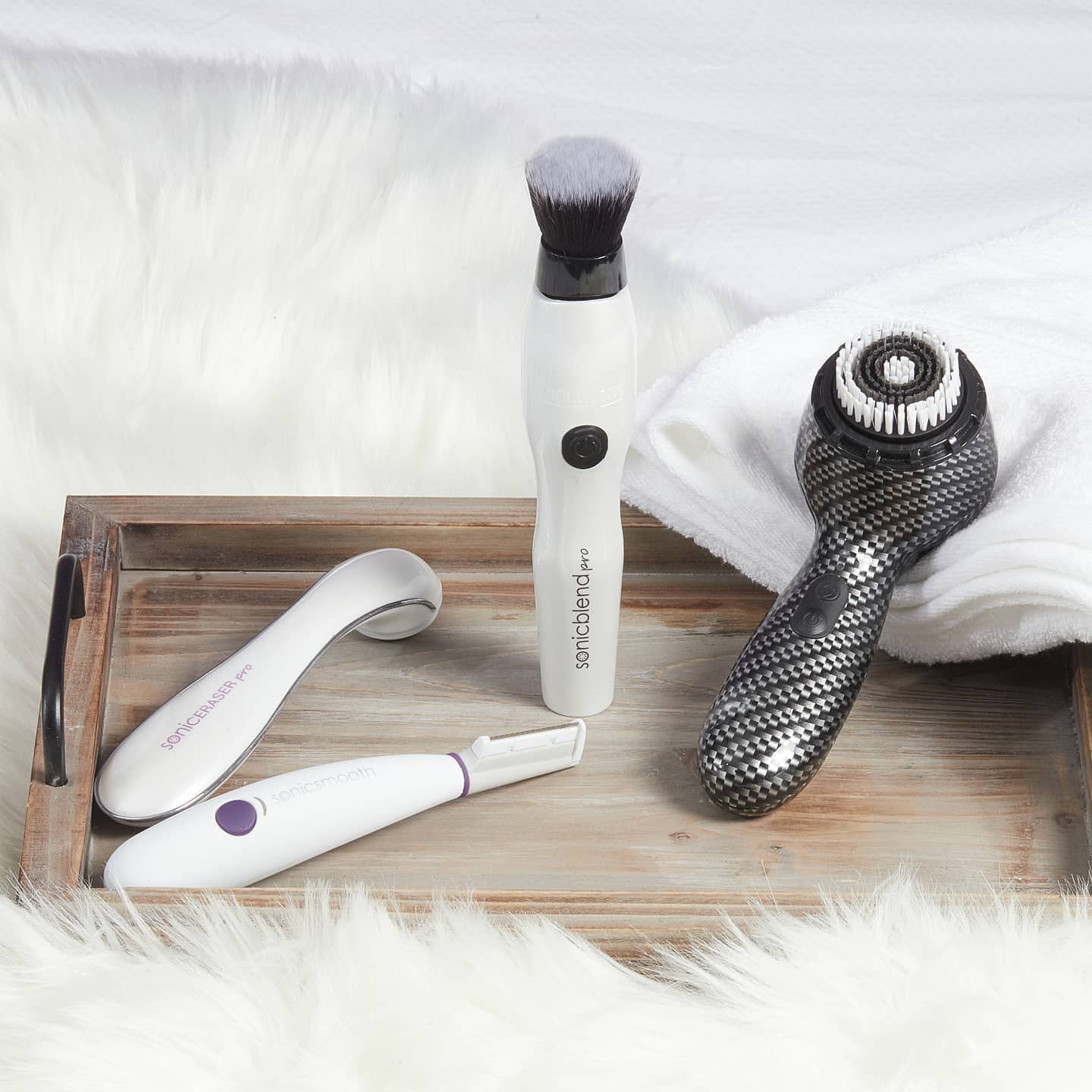 From the Michael Todd Beauty review above, you will note that the brand put much thought into its products: the tools, accessories, and skincare products.
The brand tries to introduce and reinvent more and more tools to help your daily life become much simpler and functional, from a cleansing brush stronger than your fingers to dermaplaning and microdermabrasion systems that are dermatologist-approved.
Their products may be on the higher side compared to its competitors but it may also be worth it as the brand invests in innovation, durability, and sustainability. They try to include everyone into their products with the availability of interchangeable heads, different speed settings, antimicrobial protection, and complimentary services such as face steamers usable with the microdermabrasion tool.
All in all, the brand is customer-oriented as they provide products suitable for all skin types and tones, usable for all genders, and organically based skincare products.
Still on the hunt for perfect skincare products? Read our popular reviews of City Beauty Review, Dime Review, SolaWave Review, and Lume Review.
Michael Todd Beauty FAQ
Is Michael Todd Beauty cruelty-free?
Yes, the Michael Todd Beauty brand skincare products are cruelty-free as they don't test on animals.
How do I use Michael Todd Soniclear Elite?
Using this gadget is as easy as one two three. First, wet your face then apply your favorite cleanser to a wet brush head. Power on the Soniclear and allow the brush to clean your face and neck in an overlapping circular motion.
Once you're satisfied with the cleaning, place the brush aside and rinse your face. Rinse the brush head as well to get rid of the cleaning agent. Enjoy smoother, silkier, and cleaner skin.
Who owns Michael Todd beauty?
The founders of Michael Todd are Lewis Handler and Michael Friend. Lewis is Chairman and Michael is the CEO.
How often should I use Michael Todd Sonic refresher?
As it is quite a powerful tool on the skin, it is recommended to be used once a week.