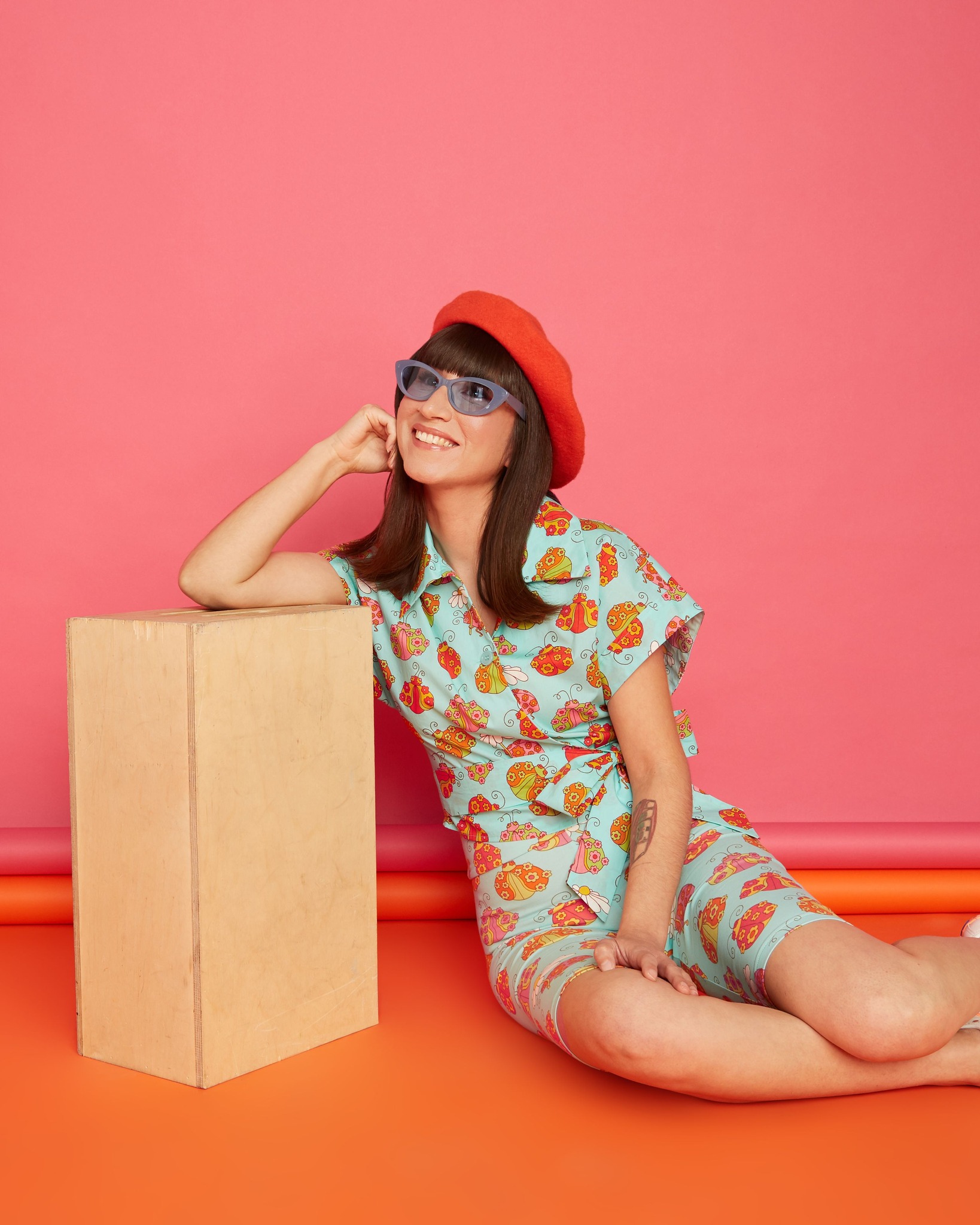 Known for its unique, vintage-inspired designs and extensive size range, ModCloth is an online retailer with a collection that carries signature items and hard-to-find pieces from big and small designers. Its unique selling proposition focuses on vintage and retro clothing styles, which are hard to come by in contemporary fashion. We'll highlight Modcloth reviews from customers, the brand's top-selling products, promotions, and more to help you learn more about this clothing company; this will allow you to decide if their collection is worth adding to your closet.
About ModCloth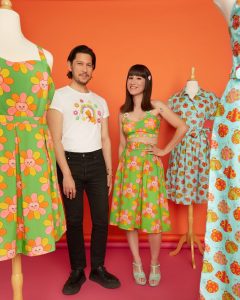 ModCloth is well-known for its vibrant and eye-catching designs. Within its range of casual clothing, dresses, accessories, and shoes, shoppers feel as if hunting through a packed bin full of vintage treasures. 
Since its inception in 2002 by Eric Koger and Susan Gregg Koger, the brand has seen numerous ownerships trying to find its place in the fashion market. Recently it has gone back to independent ownership thanks to Nogin, an industry veteran and expert in the online fashion world. Nogin's experience and connections have already helped ModCloth rapidly grow in recent years. 
Since its breakout in 2002, the brand has championed a feminine, fun, and vintage fashion aesthetic. From the outset, ModCloth set the industry standards about size inclusion, female leadership, and anti-photoshopping policies long before it became the norm. Nogin always admired the brand's unique product assortment and mission to uplift and empower women through its values. 
Currently, Nogin's mission aims at helping ModCloth amplify its brand and continue its innovativeness while remaining true to its essence. With independent ownership, the brand is reinvigorating the innovative and independent mindset. This new beginning is also evident in how the company communicates with its customers.
The brand has more than 678k Instagram followers and over 157k followers on Facebook. It encourages women to always express themselves through flattering styles and bold prints. Brand was allso featured in NY Post, ALLUsefullInfo, and USA Today.
The company is headquartered in Los Angeles, California, and has offices in San Francisco, Brooklyn, Berlin, and Manchester. The brand sells its products through its website, mobile app, and select retailers. Their signature apparels are hand-stitched and designed in Portland, Oregon. 
Pros
They have an extensive assortment of attires, from shoes to clothing and accessories
They offer a unique collection coupled with a curated list of designers
The brand enables affordability with its spectrum of prices
Their outlets offer great deals
They have received numerous positive customer reviews regarding their product quality
Their collection is made locally
Cons
Currently, the brand only ships in the United States
They have a significantly short return window
They do not have brick and mortar stores
ModCloth Collections Review
The brand offers a unique collection of apparel and accessories for women of all sizes. It has built a reputation for being one of the most customer-centric brands by availing a wide range of sizes, inclusive of plus sizes. Below is a review of some of their most popular collections.
Modcloth Dresses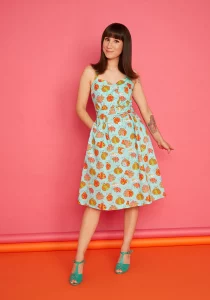 There is always something special about pretty vintage dresses. ModCloth has a wide variety of these with beautiful designs, colors, and patterns. The designs are unique, the quality is commendable, and the prices reasonable.
ModCloth dresses come in different silhouettes and styles and represent various eras. They are perfect for occasions like weddings, parties, and formal events. You can also find more casual dresses for a day out or running errands, and the best part is that they have plus-size options for all these styles.
Modcloth vintage dresses allow you to pick one inspired by an era and style that speaks to you. They have dresses from the 1920s, 1930s, 1940s, 1950s, and 1960s to the 1990s. You can also find modern dresses with a vintage twist.
On the other hand, their designs range from short and knee-length to long and mid-length dresses. There are also plus-size maxi dresses, which are perfect for summertime. The long dresses have various sleeve options such as short sleeves, long sleeves, and sleeveless.
The vast array of colors is also impressive, with something for everyone. You can find black, white, and red dresses, while some come in more funky and unique colors. The patterns are also varied with floral, dots, stripes, and other prints.
Modcloth Cardigans
ModCloth has the cutest and most stylish cardigan designs, with a wide range of colors, patterns, and styles. The cardigans are perfect for layering in colder weather or on their own in more mild conditions.
The cardigans come in different lengths, such as cropped, waist-length, and hip-length. They also have long cardigans that go down to the knee or below. The sleeve options include short sleeves, three-quarter sleeves, and long sleeves.
The colors are varied with everything from neutrals like black, white, and grey to more vibrant shades like pink, green, and blue. The patterns are diverse with stripes, polka dots, floral, and other prints. In terms of brands ModCloth cardigans come from, they have their in-house brand and other popular brands like Banned, Daisy Street, Royal Monk, Voodoo Vixen, and more.
The cardigans utilize different materials such as cotton, wool, and acrylic. They also have a range of designs from simple and classic to more funky and modern styles.
Modcloth Plus Size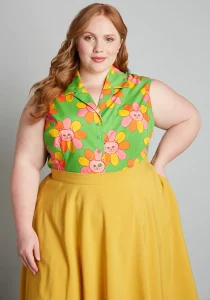 ModCloth is one of the most inclusive brands when it comes to size, with a wide range of plus-size clothing for women of all shapes and sizes. The ModCloth plus size collection includes dresses, tops, bottoms, swimwear, and lingerie.
The brand offers plus-size options in all its collections, which means that customers can find plus-size versions of their popular dresses, cardigans, and other items. The sizes range from 2X to 4X.
Based on ModCloth reviews, customers praise their plus-size collection because it is not only stylish but also affordable. You can find items under $60 as well as more expensive pieces. The quality is also impressive, with most items made from high-quality materials. Brands like Royal Monk and Banned also have plus-size options available.
If you are looking for stylish and affordable plus-size clothing, then ModCloth is a brand to check out. Modcloth is one of the few brands that offer a wide range of unique, stylish, and affordable plus-size clothing.
Their dresses, cardigans, and other items are perfect for any occasion. You can also find plus-size options from other popular brands like Royal Monk and Banned. ModCloth is the brand for all customers seeking out fashionable and well-crafted plus-sized attires.
Modcloth Shoes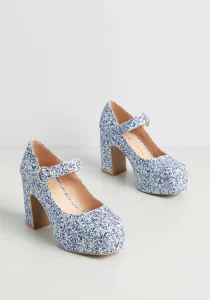 The company also has a great selection of shoes. They have a wide range of styles, colors, and brands. Their footwear is perfect for any occasion, whether to work, school, or even a special event.
ModCloth shoes come in different styles, such as flats, heels, and boots. The colors are diverse, from neutrals like black, white, and gray to more vibrant shades like pink, green, and blue. The brand includes their branded shoes and other popular brands like Nike, Adidas, and Vans.
The shoes utilize various materials such as leather, fabric, and rubber. They are also available in a range of sizes from 5 to 12. Designed for women who love fashion, the shoes are stylish and comfortable. The designs are also unique and bold, with many of the shoes being one of a kind.
If you are looking for stylish and affordable shoes, then ModCloth is a brand to check out. You can find shoes for any occasion, whether you need knee-length boots or simple flats for a casual day at the house. The footwears are also available in a wide range of sizes, meaning customers will undoubtedly find the perfect fit.
Modcloth Swimsuits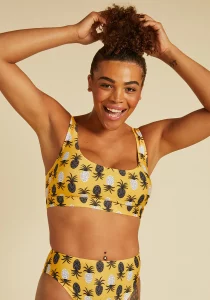 Aside from dresses and shoes, ModCloth also has an impressive selection of swimsuits. The swimsuits come in different styles, colors, and brands, with the size ranging from 2 to 24.
ModCloth swimsuits come in one-piece, two-piece, and cover-ups. The colors are varied with everything from neutrals like black and white to more vibrant shades like pink, blue, and green. The designs are also unique and range from classic to more modern styles.
The swimsuits use materials such as polyester, spandex, and nylon. They are also available in a range of sizes from 1X to 24. ModCloth bathing suits cater to women who love fashion and want to look their best. Even plus-size women can find a swimsuit that fits their body type. Such an extensive collection is definitive of a brand that cares about inclusion and diversity.
Modcloth Wedding Dress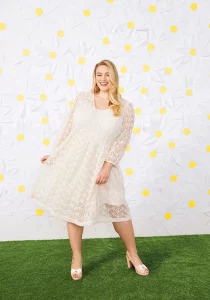 Wedding dresses are one of the essential pieces of clothing for a woman. It is a special day when you want to look your best. At ModCloth, they have you covered with their extensive range of wedding dresses.
Aside from the traditional white wedding dress, ModCloth also has a range of colorful wedding dresses. The colors include shades of pinks, blues, and greens dedicated to bringing out your personality. Some designs even include prints for women who love unique styles.
Other designs include slit dresses, long-sleeved, and off-shoulder dresses. The wedding dresses come in different styles, such as ball gowns, mermaid dresses, and A-line dresses. The materials used for the dresses include satin, lace, tulle, and chiffon. They are also available in various sizes from 0 to 28, which cater to plus-size women.
The ModCloth wedding dress collection consists of pieces that are cherry tops for women who love fashion and want to look their best on their special day. With its collection featuring in-house designs and styles from other famous brands like BHLDN, Ella Rosa, and Stone Cold Fox, shoppers have unlimited options. You can find a perfect wedding dress for your big day regardless of your budget, style, or size.
Modcloth Reviews from Customers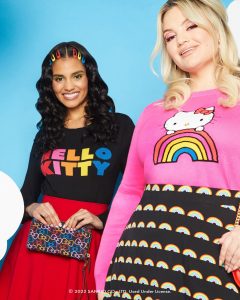 ModCloth reviews from previous customers paint a clear picture of what people think and say about the company. The brand has received numerous rave reviews, with most people praising the quality of their clothes, shoes, and accessories. Many people also like that the brand caters to women of all shapes and sizes with their plus-size collection.
The company has also received praise for its excellent customer service, with many people saying they had a great experience. Most customers say they love shopping at ModCloth because their website is easy to use and navigate, and it features a clutter-free layout.
Another factor that has received praise from customers is that the brand has included various brands in its collection. This measure gives customers more options to explore. One such customer said she found her dream wedding dress on the website. She praised the company's excellent customer service and the wide range of sizes available.
Another woman on the hunt for plus-size swimwear was also happy with her purchase from ModCloth. She said that the swimsuit she bought fit perfectly. She also stated that she liked its quality.
Overall, reviews from customers are overwhelmingly positive, with most people saying they would recommend the brand to others.
However, there are some complaints on independent review websites such as TrustPilot and Sitejabber, mostly regarding shipping.
Sign Up for Modcloth
Open an account with ModCloth by heading to their sign-up page and filling out the registration form. The site will ask you to provide your basic details, including your email address, password, first name, last name, and date of birth. Also, sign up for their emails to receive 15% off your first purchase. You'll also enjoy exclusive first looks at their newest arrivals and early access to the brand's special sale events.
Where to Buy Modcloth
Since the closure of its physical stores in 2020, ModCloth is now predominantly an online store without any retail. You can only shop for their clothes, shoes, and accessories through its website ModCloth.com.
Modcloth Shipping and Return Policy
Return Policy 
The ModCloth return policy allows customers who are not happy with their purchase to return the items for a refund. In domestic returns, the items must reach the brand within 28 days of shipping. Also, the brand will deduct from your refund a return shipping fee and a fuel surcharge fee.
On the other hand, international ModCloth returns have a 60-day window, beginning the day after the arrival date of your order. In domestic and international returns, the items must be new, unused, and unwashed to remain viable for return.
Shipping Policy
ModCloth offers various shipping options: They include:
Standard Shipping: In this method, delivery takes anywhere between 7-21 business days, depending on the location. For international destinations, it can take up to 60 workdays.
Express Shipping: For this method, delivery takes anywhere between 3-10 working days once the shipment leaves its fulfillment center.
The estimated delivery period for Canadian orders is between 3 and 5 business days. The delivery time for Europe and Latin America orders is 5-7 business days, while the delivery time for Asia and Africa ranges between 7 and 9 business days.
Modcloth Promotions & Discounts
The brand offers gift cards of different amounts that you can use on your next purchase. They are currently offering 10% Off Gift Cards that you can take advantage of and save money.
The company also offers a 20% discount on the latest styles to the hospital or government employees, military members, medical providers, nurses, teachers, students, and first responders. Get verified by ID to receive the discount. Use a ModCloth promo code at the checkout to save money when shopping at their online store.
Contact Modcloth
The best way to reach customer support is by using the live chat feature on their website. You can also call their customer care team at 888.495.9699 or email them at [email protected].
ModCloth Reviews: Editors' Verdict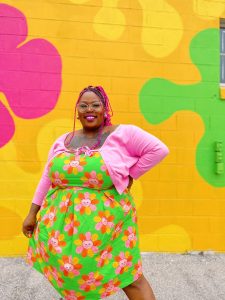 After reading various ModCloth reviews, it is evident that the store offers a remarkable shopping experience. The website is user-friendly with an attractive and cutesy interface. The clothes are fashionable and of good quality.
We can, therefore, say that ModCloth is a great online store for women's clothing, shoes, and accessories. The only downside is that they do not have physical stores where you can try their clothes on. But other than that, it is a great place to shop for fashionable and quality clothes.
Are you interested in other fashion brands? Check our reviews of Anine Bing, Shinesty, and Curateur.
Modcloth FAQ
Is Modcloth legit?
If you are still wondering: Is ModCloth legit? Yes, Modcloth is a legitimate company. The company has tons of positive reviews from satisfied customers, which shows that it is trustworthy and reliable. ModCloth has also been in operation for more than two decades.
Where does ModCloth ship from?
Modcloth ships from different fulfillment centers depending on your location. For domestic orders, they ship from their warehouses in Pennsylvania. The company ships from its warehouses in the United Kingdom, Canada, and Australia, for all international orders.
Is ModCloth American made?
No. Although based in America, ModCloth is not fully American-made. The company has its headquarters in Pittsburgh, Pennsylvania but its clothes come from China, India, Bangladesh, and Vietnam. This disparity is due to the various brands that ModCloth collaborates with and sells its products. Some of these brands are based in America, while most are overseas.
How ethical is ModCloth?
The brand supports ethical practices. Although its environmental rating has been poor, the brand is in the process of making a comeback with policies that will help it improve its ethical procedures. With various programs already in motion, they have a better future ahead.