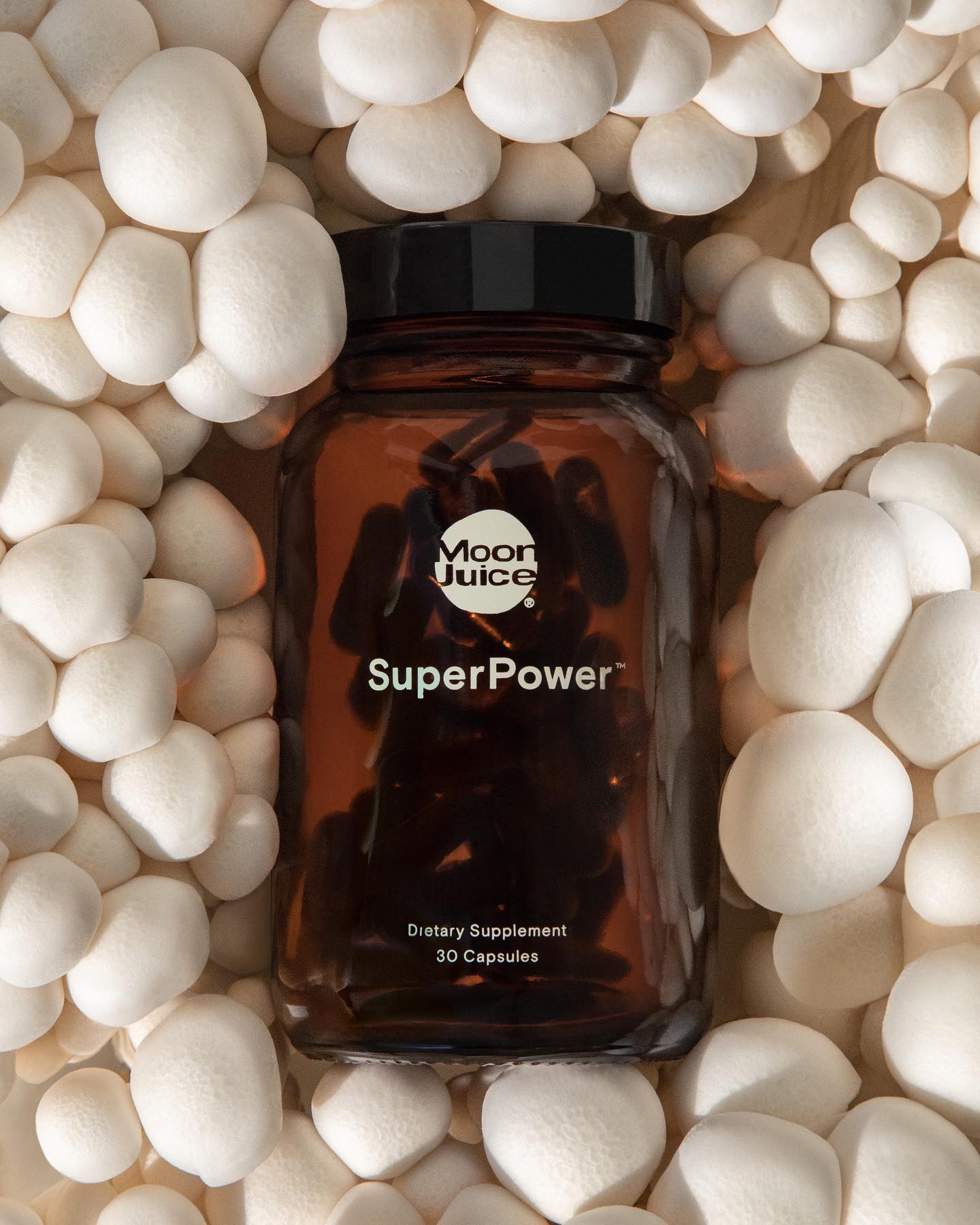 Headquartered in Culver City, CA, Moon Juice is one of the leading beauty and wellness brands that sell adaptogenic supplements, foods, and skincare products that treat biological ailments naturally. The company believes that the best and first thing you can do for our planet starts with yourself. But are its products worth investing in? We will give you the low-down on this beauty and wellness company, including Moon Juice reviews, promotions, and its best-selling products, to help determine if you should put this brand on your radar.
About Moon Juice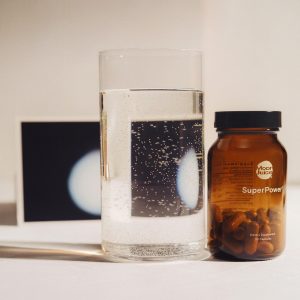 Amanda Chantal Bacon founded Moon Juice in 2011; she's a mother and self-proclaimed wellness expert. The company was born from her experience with stress and the imbalances it brings. Bacon experimented with a natural concoction and brought her autoimmune condition that she was diagnosed with over ten years ago into remission. She spent many years working and traveling in the realm of culinary, intending to bring a level of accuracy to the world of healthy foods. 
MoonJuice began as a juice shop located in Venice, California, and it only sold adaptogenic drinks and organic, cold-pressed juice. Bacon decided to expand the product line and include supplements and skincare products. In 2011, Bacon moved into Moon Juice super beauty; the company launched SuperYou Moon Juice, a capsule product line that includes adaptogens that improve energy, focus, and mood while relieving stress. Soon after, the brand started offering skin care products, including Collagen Protect, Acid Potion, and Plump Jelly. 
In its decade-long journey, this California-based business established three stores. The brand has 366k Instagram followers and over 60k followers on Facebook. Before we jump into Moon Juice reviews and its best-selling beauty and wellness products, check out the brand's pros and cons.
Pros
They have an immense range of effective topical products and adaptogen supplements

Their products are vegan, organic, and free from gluten

Subscription discount allows customers to save 10% on products

Free US shipping on orders worth over $50

Afterpay payment option available

They accept returns
Cons
Some of their products are not vegan

Customer support is not available around the clock

Some users reported strong tastes, smells, and breakouts
Moon Juice Products Review
If you are asking yourself: What is Moon Juice? It's a beauty and wellness product line that consists of all-natural topical treatments, supplements, and powders. With that in mind, here are its bestsellers.
Moon Juice Acid Potion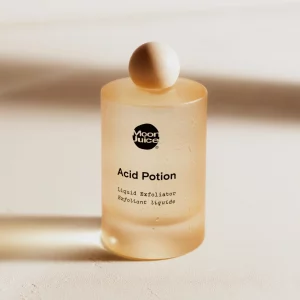 Cell turnover slows with time, and that's where Moon Juice Acid Potion comes in. This liquid exfoliator speeds things up by unclogging pores, removing dull skin, and stimulating collagen. Additionally, this product allows creams and serums to penetrate deeper into your skin. 
Its powerful 25% AHA + BHA complex mixes glycolic acid to break down gluey dirt and dead cells while helping stimulate collagen production. The lactic acid in this formula brightens skin tone and helps encourage cellular turnover, while the willow bark-derived salicylic acid helps the product penetrate and unclog pores. 
Adaptogenic Reishi and Niacinamide (B3) are the magic, as they help hydrate and restore the barrier. They also soothe redness and irritation. This liquid exfoliator does not contain harmful ingredients, such as pesticides, petroleum, parabens, and phthalates. 
This Moon Juice Acid Potion comes in a glass bottle featuring a recyclable cap; the bottle is packaged in an FSC-certified outer carton. You'll need $42 for a one-time purchase. But with a monthly subscription, you'll get this liquid exfoliator for $37.80, meaning you will save 10%. Customers from the United States will also enjoy free shipping.
Moon Juice Sex Dust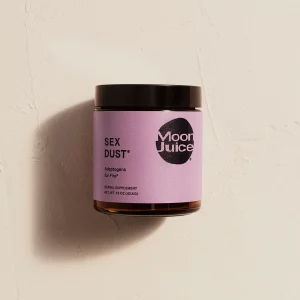 Formulated to target stress and support creative energy and a healthy hormonal balance, the Moon Juice Sex Dust is a blend of herbs and adaptogens. It combines Maca, Cacao, Schisandra, Epimedium, Shilajit, and Shatavari. 
Cacao triggers the release of endorphins, which are natural stress relievers and pain fighters. Essentially, endorphins work to help you feel happy. Cacao is also packed with flavonoids, nutrients that help to prevent blood clots, improve blood flow to your brain, and help lower your blood pressure. These flavonoids also help increase insulin sensitivity, which reduces your risk of diabetes.
Wildcrafted Shilajit is a mineral-rich resin traditionally used as a libido booster and an aphrodisiac. This ingredient boosts the production of sperm while increasing your sperm count by around 62%. Because it features powerful antioxidants and minerals, shilajit ensures proper blood flow to your genitals. Therefore, this ingredient helps you maintain your erection and prevents premature ejaculation.
Shatavari is an ingredient that supports juiciness and healthy hormonal balance. Epimedium, on the other hand, helps ignite desire while strengthening sensation.
To ignite creative energy with the Moon Juice Sex Dust inside and outside your bedroom, blend it into a warm mug and run a bath. Each container has about 15 servings (1 teaspoon each), and you can get this caffeine-free product for a one-time purchase of $38. Alternatively, you can subscribe and get a 10-percent discount.
Moon Juice Super Hair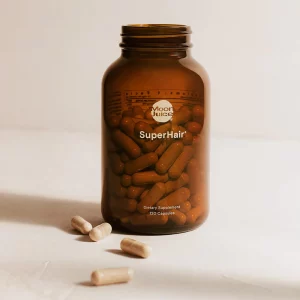 Designed to promote healthier, thicker hair, Moon Juice Super Hair is your go-to multivitamin plus hair magic. This strength hair supplement contains bioavailable vitamins, including vitamins K, E, D, C, B, and A; these vitamins address the nutritional deficiencies inhibiting healthy hair growth.
The product also contains adaptogenic substances, such as ginseng ashwagandha. These two ingredients help balance stress hormones while reducing oxidative stress effects, which contribute to hair loss.
Additionally, Moon Juice Super Hair features saw palmetto and pumpkin seed, ingredients that help prevent a hair-destructive hormone called DHT. As such, it helps support healthy hair follicles while promoting thickness.  
The horsetail found in this product provides silica, which ensures you have strong, thick hair. Also, horsetail's impact on calcium and collagen for bone regeneration is helpful for hair appearance and health. Furthermore, its antioxidant properties are beneficial for hair health. 
This hair supplement features other micronutrients, such as Kelp and Biotin. Kelp is enriched with iodine, which is essential for thyroid hormone and endocrine balance. Biotin, on the other hand, supports healthy keratin infrastructure, which is linked to smooth texture. 
You can get this strength hair supplement for $60 as a one-time purchase or $54 if you subscribe. 
Moon Juice Magnesium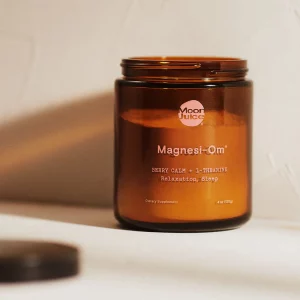 Every cell in your body requires magnesium to function, and more than 50 percent of human beings are deficient. Moon Juice Magnesium features three bioavailable forms of magnesium and L-Theanine that restore cellular balance for sleep, relaxation, brain health, and regularity.
The product contains Acetyl Taurinate and Chelated magnesium gluconate, ingredients that promote cognitive function and muscle relaxation. It also features magnesium citrate, which supports regular bowel movements.
The L-theanine in this supplement provides cognitive support for mental clarity and feelings of alert relaxation without over-stimulation. Additionally, this magnesium supplement features beetroot juice powder, which contains essential minerals, including magnesium, potassium, and iron. These three minerals ensure your body is in good shape and healthy. 
Beet juice powder also improves exercise endurance and athletic performance because it features nitrates, which increase the oxygen you can use during heavy exercise.
Moon Juice Magnesium is packed with citric acid, an ingredient that helps with mineral absorption and energy metabolism. Moreover, it's sweetened with monk fruit extract, which features zero fat, zero sodium, zero sodium, zero carbohydrates, and zero calories. This ingredient promotes heart health, longevity, and weight loss. It also prevents cancer and fights against diabetes. 
This natural magnesium powder supplement dissolves in the water right out of the gate and tastes like berries. You can get it for only $42 as a one-time purchase.
Moon Juice Super You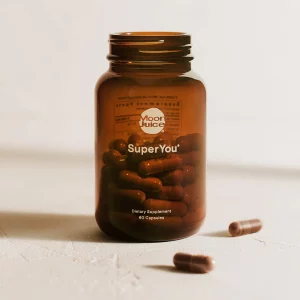 If you are looking for a supplement that will help you decrease the effects of stress to boost your mood, energy, and focus, check out Moon Juice Super You; this product will help reduce cortisol by up to 24 percent to ensure reactive and proactive stress support.
The product features four potent adaptogens used TCM and Ayurveda, which work together to help alleviate physical, hormonal, mental, and emotional manifestations of stress. Once the stress response is activated, these adaptogens will help regulate cortisol. Ashwagandha then comes in to reduce irritability and help your body cope with stress. 
Energy often gets depleted as stress continues. And prolonged stress can negatively impact your skin and hormones. Shatavari, also known as Asparagus Racemosus, has long been used to promote healthy hormonal balance. Amlak helps protect your skin from oxidative stress.
The Moon Juice Super You retails for $49 as a one-time purchase. You can get it for $44.10 if you subscribe.
Moon Juice Reviews from Customers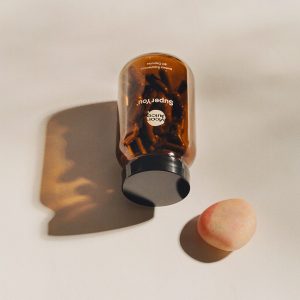 Our team looked at Moon Juice reviews associated with the brand's bestsellers and found loads of positive comments on its website. Most customers wrote that their products produce fast results. 
Moon Juice Collagen Protect scored 4.7/5 stars out of 756 reviews. Buyers loved how this vegan collagen supplement and creamer protects their natural collagen. One of the customers praised the products, saying it helped hydrate their skin from the inside out while minimizing fine lines. 
The Moon Juice Super You had a 4.8/5-star rating out of 2285 reviews on the brand's webiste. One customer stated that since they started taking this supplement every morning, they noticed a big difference in their attitude, which made them happy. Another buyer said it helped reduce depression and anxiety without any side effects. They also loved how it evoked a stronger feeling of stability for them.
The Moon Juice Super Hair had 4.8/5 stars from 1274 reviews. One customer stated they had used this hair supplement for about two weeks and were already seeing a difference, as less hair was falling out. They finished the review by saying they would continue using the product. 
The Moon Juice Sex Dust received 4.5/5 stars from 586 reviews. A customer shared that this product is magic; they used to have low libido issues, which took a toll on their relationship. The customer visited many doctors without getting the help they needed. They decided to try Sex Dust and saw an improvement after using it for a month.
Popular Alternatives to Moon Juice
Further customer reviews
The Moon Juice Magnesi-Om had 4.8/5 stars from 1318 reviews. Most customers said this magnesium supplement helps them sleep. Others loved its taste and how it enhanced their feelings of calm.
A customer said they had experienced sleeping issues for over 12 years and have tried numerous sleep aids and supplements to avoid taking Ambien with no success. They tried Magnesi-Om and were happy with the results. They recommend this product to anyone with a sleep disorder.
We also visited Influenster and found that Moon Juice Beauty Dust scored 4.2/5 stars based on 43 reviews. One of the customers stated that this powder blends easily and tastes good. They also noticed a difference in their hair and skin after a couple of weeks of daily use. The customer concluded by saying their body was undoubtedly missing these nutrients. 
Most Moon Juice reviews from Amazon had a 4/5-star rating or higher. For instance, Moon Juice Pearl scored 4.5/stars from 87 reviews. One customer left a 5-star review and stated they use this product regularly in their weekly face mask.
We also saw several negative reviews on Moon Juice written by customers who were not satisfied with their purchases. Some buyers complained that some of their beauty and wellness products are not vegan. Others reported strong tastes, smells, and breakouts.
Sign Up for Moon Juice
To join the Moon Juice community, head to their website and create a customer account. Click on the Account button and select the Create Account option from the drop-down menu. You'll then have to fill out your basic details in the registration form to complete the signup process.
Sign up for their newsletter to receive information about future promotions. 
Where to Buy
You can purchase Moon Juice products directly from the brand's website MoonJuice.com. You can also place your order online and collect it at one of the company's locations: Moon Juice Venice, Melrose Place, or Silver Lake. Additionally, their products are available at online retailers, including Amazon, Nordstrom, Urban Outfitters, The Detox Market, and Sephora. Don't forget to check out other superfoods.
Moon Juice Shipping and Return Policy
Shipping:
Moon Juice ships its products to France, Canada, and the United States. They offer free shipping on US orders worth more than $50 via FedEx. Once you place your order, the company will ship it within 1 to 4 business days. But expect delays due to the COVID-19 pandemic.
Return Policy:
If you're unsatisfied with your Moon Juice order, you can return the product within 45 days of purchase. To start the return process, go to their website and find the Return Center section. You'll then have to provide your order number and email before selecting the items you want to return. 
Promotions & Discounts
Customers receive a 10-percent discount on their first order after signing up for their email newsletter. The company also offers monthly subscriptions that give you 10% off when you buy their beauty and wellness products. Additionally, US customers will enjoy free shipping when they subscribe. 
Moreover, you'll save 20% off on Moon Juice Stacks if you subscribe. Register an account and start earning points and rewards, including a birthday bonus, extended free returns, sales, and early access to product launches.
Contact Moon Juice
If you have questions regarding Moon Juice or its products, their support team is available Monday to Friday between 9 a.m. and 5 p.m. PST. You can reach them using the following contact methods:
Live Chat function on their site

Email: [email protected]

Social media: Twitter, Facebook, or Instagram
The company also has three physical stores. If you want to speak with one of their customer service representatives, here are the phone numbers of their brick-and-mortar stores:
Silver Lake: 213.908.5407

Venice: 310.399.2929

Melrose: Place 323-852-3414
Moon Juice Reviews: Editors' Verdict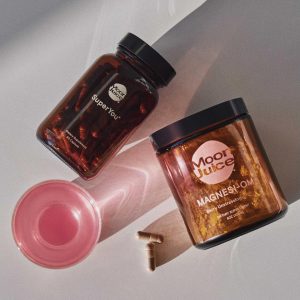 After checking Moon Juice reviews, we find this beauty and wellness brand worth it. Their products are highly sought after because they are produced naturally. Many customers stated this made them feel comfortable trying them out. A high percentage of buyers left positive feedback because they were happy with the results. 
The brand publishes tested recipes on its site to ensure customers use their products correctly. Their monthly subscriptions also help customers to get their products at discounted prices. 
We, therefore, recommend Moon Juice to anyone seeking high-quality health and beauty supplements. 
Check out our superfood brands reviews like 310 Nutrition, Revive Superfoods, Rhythm, and Suncore Foods.
Moon Juice FAQ
Is it okay to mix different proteins, dusts, and pantry items together?
Of course. The company highly encourages alchemizing to help you find the appropriate balance for your body.
Are Moon Juice products organic?
Moon Juice sources organic ingredients whenever possible, and the company indicates all organic ingredients on these products.
Are Moon Juice products vegan?
Moon Juice products are 100% vegan, except for Beauty Dust and Pearl.
Are any of Moon Juice ingredients clinically tested?
Yes. The company uses the most potent plants, starting with the highest quality ingredients. They study the history of the ingredients they use and partners with organic, sustainable farms. They import their plants whole, and they are custom extracted at a Pacific Northwest-based facility using local spring water; this facility is powered by wind.
Does Moon Juice offer samples?
Yes. Every order you place on their website comes with a pre-selected sample.