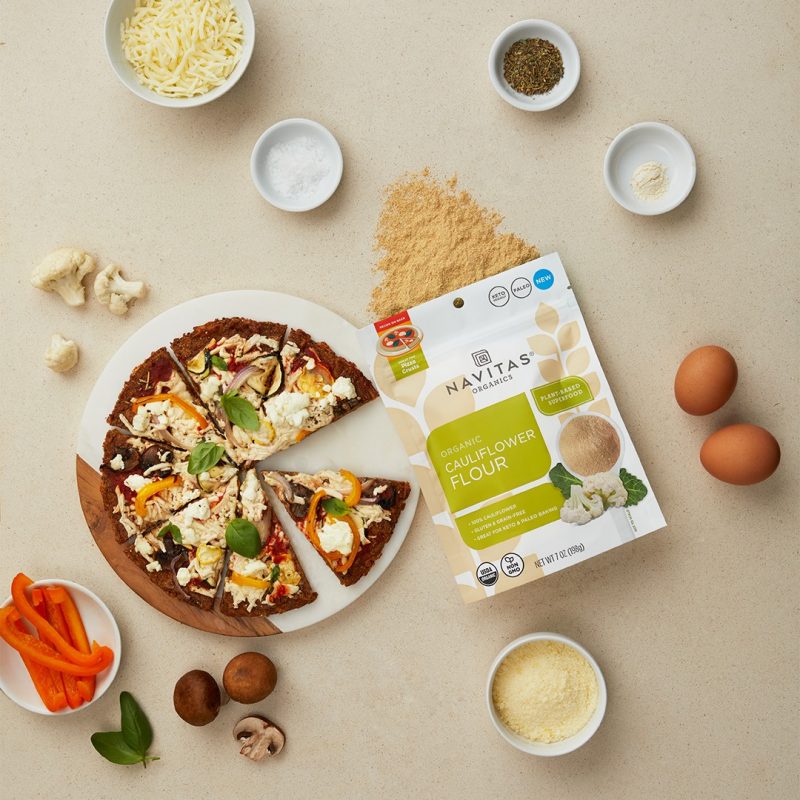 Navitas Organics reviews rave about the flavors and simplicity of this massive range of organic superfoods, but how deep do those ideals go? 
Most of us who choose a more plant-based lifestyle do so for ethical as well as health reasons and it's important to know we're not improving our own health at the expense of someone else's.
We've done all the legwork for you so you can enjoy the food that makes you feel good without having to worry about where it's coming from.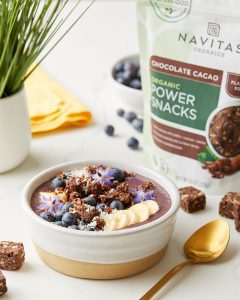 Navitas Organics was founded by Zach and Meghan Adelman after Zach's zest for travel led him to the remote Peruvian Andes and the superfood secrets known to the remote communities living there.
Zach's personal journey soon led to a unique collaboration with those farming communities to bring Navitas Organics maca powder and the power of its main ingredient to a wider audience.
Zach and Megan's company, Navitas Organics, was founded in 2003, the same year their son was born, and they have enjoyed watching both grow alongside each other, viewing the company as both an extended family and a firm legacy to leave to their son and the world.
For Zach and Megan, it wasn't just about bringing little-known superfoods to a new market, but about promoting indigenous knowledge, farming in a way that doesn't damage the environment, and giving back to the communities that shared their way of life. 
It's worth noting that, while Navitas Organics promotes a plant-based lifestyle for themselves and their customers, the regenerative organic agricultural practices they use are ecosystem holistic and often include the farming of animals as an integral part of the practice.
While we think this shows they care more about the effects of their farming on local communities and the ecosystem as a whole than about the vegan image: it might conflict with some customers' ideals if they prefer to promote animal-free farming methods.
More about the brand
Navitas Organics is committed to sourcing its ingredients from locations in which they are traditionally grown and feeding back into the communities that have historically produced them. They partner with small, local farmers, providing education, tools, and seeds as well as paying fair-trade or better prices for the product itself.
This might sound fantastic, but sourcing each ingredient from a different location (and in some cases processing them in yet another) adds a lot of miles to the clock for each pack. We also noticed that many products come with hard-to-recycle plastic packaging, which has caused a few negative Navitas Organics reviews to be written and may put off some consumers. 
Superfoods certainly provide more bang for your buck in terms of specific raw nutrients but it's usually possible to get everything you need from more locally sourced food at the cost of a little less convenience.
Pros
Massive range of superfoods and nutrient-dense combinations.
Organic, fair-trade, and cruelty-free.
The entire production chain for each product is made clear.
Excellent customer reviews.
Community programs for growers and producers.
Detailed and informative website and FAQs.
Cons
More expensive than many equivalents.
Layered plastic packaging can be difficult to recycle.
High food miles.
Navitas Organics carries over 50 products made from 18 different superfoods. Many products are available as either individual powders or as part of specialized blends that target particular health and wellness issues.
We've chosen a few delicious and nutritious Navitas Organics products to spotlight below so you can get a better idea of how diverse the range is.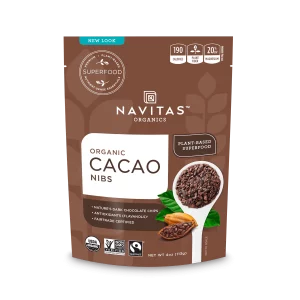 Navitas Organics cacao nibs are a fantastic way of adding a chocolatey crunch to everything from ice cream to your morning cold oats without all the added and highly processed sugar that comes with so many pre-packaged toppings.
Made from crushed cocoa beans and nothing else, Navitas Organics cacao nibs are a fantastic all-natural replacement for chocolate chips in all your favorite baking recipes or a delicious snack by themselves.
Speaking of snacking, if you're not a dab hand in the kitchen, then another best-selling product, Navitas Organics power snacks, has got you covered. With nine superfoods, including the same organically farmed cacao you'll find in Navitas Organics cacao nibs,  Navitas Organics Chocolate Cacao Power Snacks are a fantastic source of slow-release energy from fruit sugars with all the delicious chocolatey taste of something much more naughty.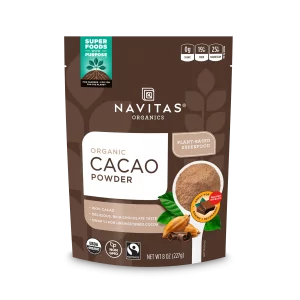 Navitas Organics cacao powder is a one-for-one replacement for anywhere you would use cocoa powder without any of the nasty fillers sometimes found in other products or the ethical concerns that sometimes come hand in hand with cacao and chocolate products.
You can use Navitas Organics cacao powder in your favorite hot cocoa recipe or for an added kick of natural caffeine in your favorite brownies and cakes. If you fancy getting a bit more adventurous, why not pair it with other products in the powdered superfoods range such as Navitas Organics acai powder, and create the next great smoothie recipe? 
Acai berries can be purchased as Navitas Organics acai powder, made from 100% organic, Brazilian acai berries, or in the Cacao+ Antioxidant or Superfood+ berry blends. The Navitas Organics Cacao+ Antioxidant Blend can be used in place of cocoa powder in your favorite chocolate recipes just like the pure cacao powder to boost the goodness even further.
As well as being a source of natural caffeine, cacao is a fantastic source of vitamin C, fiber, and minerals – so you can stop feeling guilty about both caffeine and chocolate in one product choice!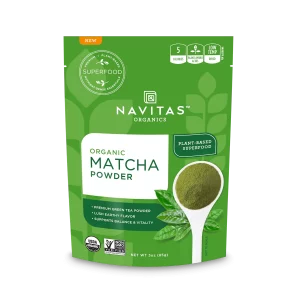 Navitas Organics matcha powder is made from high-quality culinary grade matcha, making it a versatile product without the price tag you might expect from ceremonial grade matcha usually found in tea stores.
Before we continue, it's worth understanding a little more about the grades of matcha and why they can vary in price so much. We often think of grading as directly correlating with the quality of a product, especially if we see a price difference. But matcha isn't graded by quality, it's graded by use.
Ceremonial grade matcha is made from only the youngest leaves with all traces of stem removed and has an extremely mild and slightly sweet flavor. It's meant to be used exclusively for making tea, with no other additives, as anything else would drown the subtle flavors and aromas. 
Because the farming and harvesting of ceremonial grade matcha is more intensive and time-consuming, it usually has a high price point. There's nothing wrong with using ceremonial grade matcha as an additive in recipes but many would consider it a waste to consume it in any way other than on its own.
More on the Matcha Powder
Culinary grade matcha, like that used in Navitas Organics matcha powder, is harvested and processed to produce a stronger and more robust flavor profile with more bitter notes than ceremonial grade. It can still be made into a delicious tea on its own, but the classic matcha taste is strong enough to hold its own in a smoothie or latte – or even after being cooked into your favorite blondie brownie recipe. There are five kinds of culinary-grade matcha – each harvested and processed in a different way to bring out different aspects of the unique flavor of green tea leaves.
Ceremonial and culinary grades are barely the tip of the matcha iceberg and it would take an article by itself to really understand all the traditions and diversity of this unique substance. With Navitas Organics matcha powder you can be confident you're getting premium culinary grade matcha every time without having to become an expert yourself.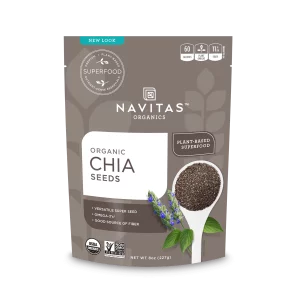 Chia seeds are the classic no-muss-no-fuss superfood, providing protein, minerals, fiber, and healthy fats with virtually no taste and a satisfying crunch. These tiny seeds have provided a staple food to the people of Mesoamerica for generations and Navitas Organics chia seeds are produced in Mexico, Argentina, and Paraguay – all locations where the plant natively grows.
Why not try sprinkling them on top of your favorite oat and yogurt breakfasts for a poppy-seed-like crunch and a nutritional boost or incorporating Navitas Organics chia seeds into almost any baked goods recipe for extra crunch and vitamins without affecting the flavor?
One of the easiest ways to get all the benefits of chia seeds is with a refreshing drink of chia water. Chia seeds absorb a massive 10x their own weight in liquid when left to soak, producing a jelly-like consistency that can help fill you up between meals. Sweeten the deal even more with some fresh berries or citrus fruit for natural sugars and flavor.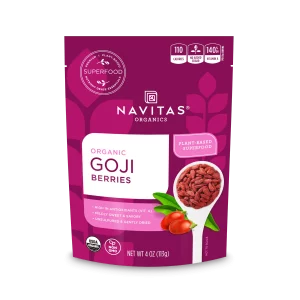 Navitas Organics goji berries are grown in the Tibetan Plateau regions they are native to, and low temperature dried to preserve all the natural goodness that has led to them being a staple crop in the region for thousands of years.
Unlike many other dried fruit manufacturers, Navitas Organics doesn't add any sulfur during the drying process and every package contains 100% organically grown goji berries.
While Navitas Organics goji berries can, of course, be enjoyed directly from the bag as a healthy and nutritious snack, they are one of the most versatile culinary berries and can be enjoyed in a huge range of both sweet and savory recipes – in some regions, they're traditionally consumed as part of a delicious chicken soup!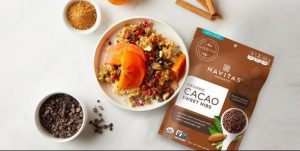 We haven't talked much about Navitas Organics reviews from customers in the products section… And that's for the simple reason that they're nearly all the same!
Right across the board, whether customers are reviewing raw dried fruits and seeds or Navitas Organics power snacks, the reviews we've seen are overwhelmingly positive with regards to the flavor, simplicity, and transparency of the product and company.
It's impressive that we've seen the same kinds of reviews where Navitas Organics products are sold on third-party websites such as Amazon, where the brand don't have the same control as on their own website.
What's more, when there are negative reviews in the Navitas Organics online storefront, customer services have responded with detailed and personalized replies, explaining anything that wasn't clear to the customer or suggesting alternatives to something that didn't work for them.
The only negatives we've seen (other than people simply not liking the taste of the product) are references to the packaging and the occasional damage to products during shipping, though these items seem to have been swiftly refunded or replaced.
Further customer reviews
When it comes to the packaging, we're not the only ones who've noticed that, for a company with such high ethical credentials, Navitas Organics uses a lot of difficult-to-recycle materials and offers some very small (and therefore overpackaged) product sizes.
The triple-layered plastic film bags allow products to stay fresh longer and travel the long distances necessary to reach you from their diverse countries of origin, but this type of bag is considered one of the most difficult to recycle and many municipalities will not collect it. 
Several customers have pointed this out in reviews and, while Navitas Organics does respond to most of these, it doesn't seem like there's much inclination to change to a less wasteful packaging style or material.
You can sign up for the Navitas Organics email newsletter on the website to receive 20% off your first subscription order, plus you'll receive regular company updates, recipes, and information about upcoming events and sales.
You can unsubscribe from the mailing list at any time and easily make changes to any subscription or repeat orders through your online account.
Where to Buy
Navitas Organics products can all be purchased on the brand's website. Items are also available from a range of third-party online retailers and select retail stores including Wholefoods, Target, and Kroger. You can find your nearest physical stockist using the store locator on the Navitas Organics website.
Navitas Organics has a simple flat-rate shipping policy with orders of any value up to $49 shipping for just $8.95 within the contiguous United States. Orders of $49 or more (after discounts and promotions) ship for free.
Standard shipping takes around 7 days from dispatch to doorstep, but if that's not fast enough for you then select expedited air shipping for $9.95 on orders of $49 or more, or $18.95 on orders under $49. Expedited orders should reach you on the second day after your order is processed.
Shipping to Alaska, Hawaii, and other US territories is $8.95 standard or $28.95 expedited regardless of the order total.
Promotions & Discounts
There are many ways to save on your Navitas Organics superfood staples, including regularly checking the 'On Sale' section of the website and signing up for exclusive discounts included in the email newsletter.
You can also get a massive 20% off every order through the subscribe-and-save service which allows you to curate a personalized regular delivery of all your Navitas Organics favorites. 
Simply choose the 'subscribe and save' radio button on the product page before adding it to your cart and your total will automatically be changed to reflect your 20% saving.
You can choose to get your subscription orders every 30 or 60 days and can alter the frequency or contents at any time by logging into your account. You will be charged on the same date each month as you made the original order and subscription orders can be canceled free of charge until 12 pm EST the day before renewal. 
Navitas Organics offers detailed information and FAQs on their website that are likely to cover all common questions. If there's anything you still need to speak to the customer support team about, you can contact them via email, by using the online web form, or on a toll-free phone number.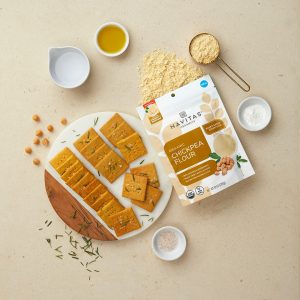 It's been quite the international journey learning about all the amazing Navitas Organics products, their origins, and the wide range of ways to use them and we certainly feel like we've learned something with every product.
Compared to some supplements and powdered food products we've seen, it's refreshing that you don't have to dig through layers of small print to find out exactly where what you're putting in your body has come from.
To top it off, Navitas Organics reviews from customers are almost universally positive. Many customers are as excited as we are to see a company putting something back into the historic producers of our favorite foods instead of taking the biggest bite for themselves.
Our only major gripe with this company is the size and material of the packaging and the potential impact of this on the environment combined with the massive food miles clocked up by a pantry full of items with such diverse origins. 
We can't help but wonder how much of the benefit from the organic farming methods used to produce each food is turned into an environmental deficit if our municipality doesn't recycle multi-layered plastic packaging or we're buying multiple products in the smaller pack sizes for snacking?
Overall, our verdict is that Navitas Organics is a top-tier source of organically grown superfoods that are easily worth the premium price tag, but we'd be a lot more interested if the environmental impact was as positive at home as on the farms that grow them.
Still considering reading about other superfood brands such as Anthony's Goods, Pure Food Company, Ancient Nutrition, and Matcha Love.
What kind of food testing does Navitas Organics do?
Navitas Organics uses third-party, independent laboratories to test the nutritional content of all their products as well as testing for heavy metals and microbial inclusions.
Because organically grown products can vary by batch, these tests are performed frequently to ensure a consistent product reaches its customers and all nutritional information is as accurate as possible.
Are all Navitas Organics products organic?
The entire Navitas Organics product range is USDA-certified organic and is grown using traditional methods without any use of pesticides, preservatives, GMO products, or chemical fertilizers.
Are Navitas Organics safe for children?
Excepting food intolerances and allergies, all Navitas Organics products are safe for people of all ages. If you have any questions or concerns about specific foods and your child's health then you should consult a healthcare professional.
Are all Navitas Organics vegan?
While Navitas Organics is not a vegan company, all of its products are made from pure plant ingredients and are certified vegan.