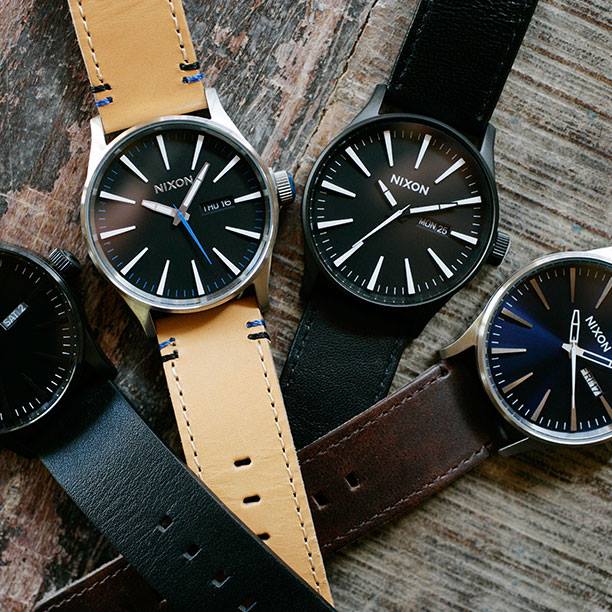 A watch is not just an accessory that lets you know what time it is: it reflects your style and says a lot about your personality. As such, finding the right watch is crucial. Nixon is a watch brand that has always been about more than just telling time. The company sells watches for women and men, bags, clothes, and accessories. Our in-depth Nixon Watches review will examine the company's best-selling products, shipping and return policies, promotions, customer ratings, and more. Keep reading to decide if this watch brand is worthwhile.
About Nixon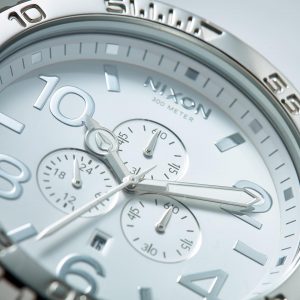 Founded in 1998 by Andy Laats and Chad DiNenna, the company has been customers' lifestyle accessory brand of choice. It has its headquarters in Encinitas, California.
As a California-based brand from the 90s, Nixon has the contextual clues of chill vibes in its DNA. That's evident in its products, designs, and marketing. The company started with watches sold in specialty boardsport and designer watch retailers. 
The brand was attractive to the youth of that time as it symbolized rebelliousness. Since then, the company has trimmed its head's proverbial sandy blonde hair locks, and it now has a more refined look. Continue reading our Nixon watches review to find out more!
Pros
The brand offers a variety of watches designed for women and men

Customers have the opportunity to design their watches

The company has acclaimed fashion item

They offer free return

Financing options available

They ship internationally
Cons
The watches are a bit pricey

You cannot return or exchange custom and engraved watches

They don't provide 24/7 customer service
Nixon Products Review
Nixon has seen growth over the years and built a name for itself. The brand boasts 668k followers on Instagram and more than 
1.2 million Facebook followers. But what are some of the products that have made this brand famous? We'll look at some of their bestsellers. 
Nixon Men's Watches
Interestingly, Nixon was one of the first brands to introduce big-faced watches. But instead of being just chunky and overly engineered, they were more fun and lighthearted. The big faces Nixon mens watch collection was a hit among the younger generation. 
The first product line that has given Nixon an excellent reputation is the men's watches. The company has a broad selection of timepieces for any man. You can find both dressy and casual watches. 
This Nixon Watches review discovered that their men's watches come in different colors, materials, and styles. You can always buy one that reflects your style and personality. Whether you're looking for a sophisticated and classic timepiece or more fun and youthful design, Nixon has covered you. 
The Nixon Watches Sentry Leather is one of this collection's most famous men's watches. Historically a sentry was a military guard who kept watch., It's only fitting that this timepiece got named after such an important figure. 
The Nixon Sentry Leather comes with a hardened crystal, stainless steel case, and a 100-meter water-resistant rating. It's a simple and elegant watch you can wear on any occasion. 
There is some timeless presence to this watch. The thick black leather strap gives it a sophisticated look that adds a layer of maturity to your overall outlook. But if you want something more fun and daring, you can pick one of these watches available in colors. 
You don't have to be late again with one of these on your wrist. You can get this Nixon at $175. Other available excellent choices for men include Re-Run, Corporal Stainless Steel, Sentry Stainless Steel, Time Teller, and Heat.
Nixon Women's Watches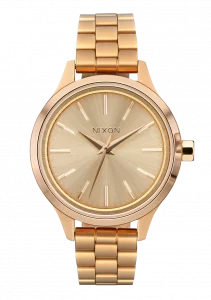 Next on our Nixon watches reviews are the women's watches. Designed with the modern woman in mind, Nixon Watches women reflect the latest trends in fashion. Like their male counterparts, these too come in different designs, colors, and materials. You can find both casual and dressy watches. You can also design your own. 
One of the most popular watches from this collection is the Nixon Watches Women Kensington; this timepiece has a 37-mm case and 16-mm band. It's a mid-sized watch that's perfect for everyday wear. The Kensington has a 50-meter water-resistant rating, making it suitable for swimming and snorkeling. 
This watch is designed with a minimalist approach. The focus is on the essentials, which results in a clean and clutter-free design. The color choices complement the understated elegance of Kensington. You can pick from all-black, rose gold, and silver tones. 
No matter what your outfit is, this watch will surely match it. It's a versatile timepiece that you can wear on any occasion. You can get this Nixon watches women at $149!. Other top choices from the women's collection include Time Teller, Heat, Grateful Dead Time Teller, Optimist, Staple, Re-Run, and Sentry Stainless Steel.
Nixon Bags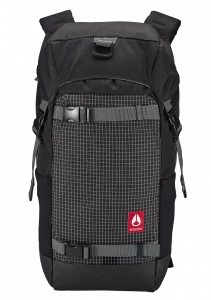 Aside from men's and women's watches, Nixon also has a line of bags. The bags are functional and stylish, reflecting the same aesthetics as the brand's watches. 
The company offers a wide range of bag styles, including backpacks, messenger bags, duffel bags, and hatch bags. You can have one that best suits your needs. One thing we liked about this collection is that it has a bag for every occasion. 
The Nixon Hauler 35L Backpack is perfect for short hikes and everyday use. It's a lightweight backpack that can carry all your essentials. The main compartment is spacious enough to fit a laptop, books, and other stuff. You can also have your water bottle in the side pockets.
The large compartment has internal organizers, skate straps, and zippered shoe/towel section. They help you keep your board secure and separate wet and dry gear. A small removable mesh pocket is also attached to the strap to help you keep your small travel hand sanitizer.
The Hauler 35L Backpack comes from durable materials, meaning it can withstand everyday use. The bottom is a water-resistant TPE, the body is 200D polyester, and the interior is a recyclable PET. You can get this backpack in four colors: black, navy/multi, dark olive, and black/charcoal. 
The shoulder straps are comfortable to wear even when carrying a heavy load. This backpack also has a sternum strap that helps distribute the weight evenly. The Nixon Hauler 35L Backpack is available at $130. Other options include Wizard Stick Beverage Sling, Bandit Bag, Hatch Bag, Grateful Dead Mode Pack, and Ransack Backpack.
Nixon Headwear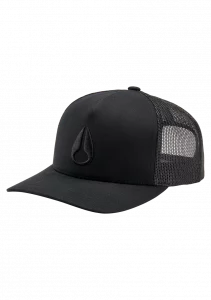 It would help if you had a stylish hat or beanie from Nixon to complete your elegant casual look. The company offers a wide range of headwear for both men and women. You can find different styles, such as snapbacks, beanies, and 5-panel hats. The materials used for the headwear are of high quality. 
They are made from wool, acrylic, polyester, and cotton. The designs are also eye-catching. Some hats come with unique prints, such as animal prints and camo designs. 
One of the most famous headwear from Nixon is the Men's Iconed Trucker Hat. It's a classic trucker hat with a twist. The front panel is 100% cotton, while the mesh is polyester. It also has an adjustable snapback closure.
This Nixon headwear is available in different colors, such as charcoal/black, black, khaki/black, dark olive, orange/black, and black/offwhite. 
You can also find hats with unique prints, such as zebra and leopard. For only$22, the Men's Iconed Trucker Hat could be yours. Other products you'll find in the Nixon Headwear collection include Narrows Full Brim, Mikey Tech Strapback, Mikey 5 Panel Hat, Team Trucker Hat, Keep It Clean Trucker, and Quinny Strapback.
Nixon Watch Bands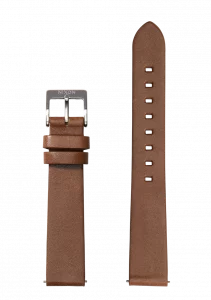 Perhaps your old Nixon watch just needs a new band. Or maybe you just want to mix and match different colors and styles. Whatever the reason, Nixon offers a wide range of replacement watch bands. 
The company offers different materials for the watch bands, such as leather bands, leather, rubber bands, and sustainable brands. You can also find NATO-style straps made from nylon. The colors are also eye-catching. 
You can find bands in shades such as black, olive, navy/blue, fire, and ocean blue. The NATO-style straps are available in different designs, such as stripes and camo, and you can get the 20mm FKM Rubber NATO Band for $40. 
Other popular options in the Nixon Watch Bands collection include: 
23mm FKM Rubber Band

23mm Vegetable Tanned Leather Band

16mm Vegetable Tanned Leather Band

16mm Pineapple Leather Band

Grateful Dead 23mm Leather Band

23mm Nylon #TIDE Band
Nixon Watches Reviews from Customers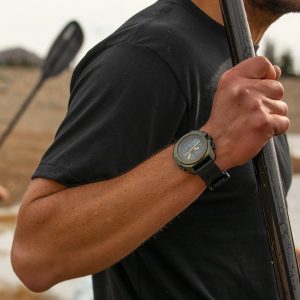 Part of saving time is being able to read reviews from other customers before making your purchase. In turn, this will give you a rough idea of what others think about the quality of the product, as well as the company's customer service. To get a clear picture, we scrolled through the internet to see what users had to say. 
The internet has nothing but good things to say about Nixon Watches. Customers loved the quality of the materials used and the attention to detail. They also liked the unique designs and the wide range of colors and styles available. 
On the brand website, most products have an average of 4.8/5 star ratings. The Nixon Watches Kensington has an average rating of 4.9 stars out of 5 from 300 customers, while the Nixon Watches Sentry Leather has 4.8/5 stars ratings from over 1,000 reviewers. The Nixon Watches Time Teller Acetate has 4.78/5 stars from 300 customers, and The Nixon Watches Time Teller has a 4.8/5 star rating from over 1500 reviews.
One customer from Amazon said he was thoroughly impressed with the quality and the little details of the Nixon Gold Watch they had purchased. He stated that it was worth every penny and would highly recommend it to anyone looking for a new watch. 
Popular Alternatives to Nixon
Further customer reviews
Another customer said she was looking for a gift for her boyfriend and found the perfect one in Nixon Watches. She added that the style complemented his official and casual looks. 
Nixon Watches have positive reviews on Amazon. The average rating for Nixon Watches is 4.2 out of 5 stars. While the comments were few, they were mostly positive. 
While most reviews said positive things about Nixon Watches, we saw a few negative ones. Most customers complained that their products are expensive but worth every dime. Others complained that the company does not accept returns or exchanges on custom and engraved watches.
Sign Up for Nixon
To get started, create an account with Nixon. You will need to provide your email address, password, and full name. You may also sign-up for the Newsletter to get the latest news and offers from Nixon. 
Where to Buy
The best place to buy Nixon Watches is from the official website Nixon.com. Their products are also available across the globe from authorized stores. You can find the closest retailer near you using the Store Locator they have provided on their site.
Nixon Shipping and Return Policy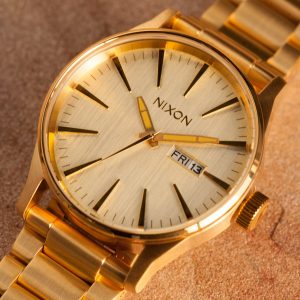 Shipping:
Nixon ships everywhere in the United States, including Alaska, Puerto Rico, and Hawaii. Charges are as follows:
Free ground standard shipping takes 2-7 business days 

2 Day Shipping at the cost of $15.00

Next day air delivery at $25.00
Deliveries in Puerto Rico may take a little while.
Return Policy:
Nixon ensures customer satisfaction and offers a 30-day return policy from the date of purchase. All returns must be in a new, unused, and undamaged condition with all original packaging and materials. All return shipping costs are free.
Promotions & Discounts
Nixon offers numerous saving opportunities. For example, first-time users get 10% off their first purchase. All you need is to sign up for their email listing.
Another offer is the 15% discount for students above age 16. Additionally, military personnel, first responders, and medical professionals enjoy reduced prices on their purchases. All you need is to verify your status with ID.me. With a Nixon Watch voucher, you can get your favorite watch at a discounted price.
Contact Nixon
Do you still have questions after reading through this Nixon watches review? For inquiries, reach out to the Nixon customer support team through any of the following communication channels: 
Chat: Online web portal

Phone Number: 888) 455-9200

Message: Leave a message through the brand's Contact Us page

Social media: Facebook, Instagram, or Twitter page 
Nixon Watches Review: Editor's Verdict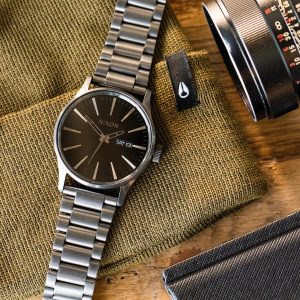 To sum up, this Nixon Watches review can confidently say that the brand is a force to reckon with. With an average rating of 4.8 out of 5 stars, it's safe to say that people love Nixon Watches. 
The best thing is that the company offers a wide range of timepieces for both men and women. You may also find the perfect gift for that special someone without breaking the bank. 
We loved that Nixon offered free shipping and returns on all orders in the United States. We highly recommend this brand to anyone looking for men's or women's watches.
While some of its products still have the laid-back surfer vibe, most of them now look sleek and elegant. The designs reflect the trends of today's society while still maintaining unique classic sensibilities. Additionally, they are now out of those sports stores and now in high-end retailers across the globe.
Nixon now offers more than just watches: it has an entire line of clothing and lifestyle accessories, including headwear, wallets, belts, and backpacks. They all come with the same high-quality craftsmanship and attention to detail that the brand is known for.
Nixon's philosophy
Nixon's philosophy is simple: they believe in making the little things better. It might not sound like much, but it's a philosophy that has guided them from the beginning. Whether it's watches or cups or any of their other products, the brand strives to make each one just a little bit better than the last.
Of course, making the little things better doesn't mean that Nixon ignores the big ones. They've always been about more than just watches. Their products reflect the unique style of each customer.
Nixon's history is one of innovation and growth. They have used the talent of the creatives such as athletes, makers, musicians, and artists to bring their vision to life. For instance, they have worked with Leila Hurst, John Florence, and Zion Wright. 
This Nixon Watches review also found that they have collaborated with renowned entertainers such as Metallica, Star Wars, and Mickey Mouse. While it's normal to work with different people when expanding a product line, it's impressive for two guys in a garage to gain such an expansive network.
Are you looking for other brands that sell jewelry or watches? Read our reviews of David Yurman Jewelry, Holden Rings, Lord Timepieces, and Hamilton Watch.
Nixon FAQ
How do I service or repair my watch?
Nixon offers a full range of service and repair options for their products. Head over to their Online Repair Center to submit a request. If the repairs are under their warranty policy, they will take care of it free of charge.
How do I care for the coating on my Nixon watch?
To keep the coating looking fresh, avoid exposing it to harsh chemicals or cleaners. Nixon recommends using a soft, lint-free cloth to clean the watch.
How should I store my watch when not in use?
Nixon recommends storing your watches in a cool, dry place when not in use. Avoid areas with high humidity or extreme temperatures. It would be best to avoid contact with sharp objects or surfaces.
What temperatures can my watch safely withstand?
Nixon Watches can withstand temperatures between 14 and 113 degrees Fahrenheit (between -10 and 45 degrees Celsius). You might want to avoid contact with hot surfaces to keep them in tip-top shape.