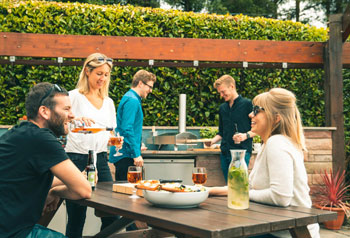 Backyard pizza ovens are becoming increasingly popular additions to outdoor kitchens. With their help, you're able to quickly make delicious, restaurant-like quality pizza that can feed a lot of people. Whether you're having a big family gathering or hosting an intimate dinner or pizza party, then a good pizza maker is a must. If you've been researching which outdoor pizza ovens to get for your backyard, we're sure you've come across a brand called Ooni. And you're lucky to be reading our Ooni Pizza Oven review before you decide to purchase.
Marketed as the world's first portable wood-pellet-fired pizza and featured in Forbes, Ooni has certainly been making waves within the pizza industry. But is Ooni Pizza Oven right for you? Our Ooni Pizza Oven review will give you all the info you need to know about this company, including details on their bestsellers, where you can get them, what we think about them, and more, so you can decide for yourself if they're worth the buy.
About Ooni Pizza Oven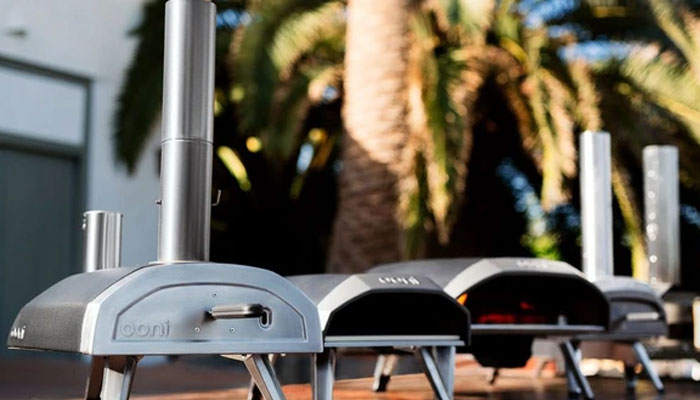 Kristian Tapaninaho and Darina Garland, a husband-and-wife team, formed Ooni back in 2012. It all started with a little problem Kristian was having: his homemade pizzas lacked the restaurant-quality flavor that comes from cooking at a high temperature. After looking for a wood-fired pizza oven to use in his backyard and realizing that the options were prohibitively costly as well as cumbersome, Kristian started experimenting with making his own outdoor pizza maker. A series of drawings and many prototypes later, he developed the world's first-ever portable wood-fired pizza oven.
Today, Ooni is a multi-award-winning company with goods sold all over the world. Ooni's success and innovative products have led to collaborations with some of the world's most reputable retailers and distributors.
As people prefer to stay at home and spend more time enjoying themselves from the comfort of their gardens, the demand for pizza ovens has increased. Ooni pizza oven has proven to be very popular among pizza lovers. This year, some of Ooni's gleaming ovens have sold out online for weeks at a time. Suppose you're interested in purchasing a portable pizza oven from this brand and are fortunate enough to find them in stock.
In that case, it's easy to become overwhelmed by the variety of styles, prices, and cooking experiences available. Hopefully, our Ooni Pizza Oven review will help you decide if it's worth purchasing a pizza oven and, if you choose to buy one, which pizza oven is best suited to you.
Pros
Small and compact portable pizza oven
Can be easily stored away
Moveable so you can cook in different parts of the house
Cheaper than most other pizza oven products
Cons
Can only cook one pizza at a time
The waiting period between cooking each pizza
Ooni Pizza Oven
Ooni develops, manufactures, and sells pizza ovens. Their models, which are sold all over the world, heat up quickly and cook delicious pizza in around 60 seconds. This is possible because the Ooni pizza oven heats up to over 950 F in just 15 minutes, which is the temperature needed to produce restaurant-quality pizza. At those high temperatures, it's easy to make excellent pizza at home in about a minute or two.
Ooni Fyra 12 Wood Pellet Pizza Oven
The Ooni Fyra is a simple model to assemble and use, making it ideal for beginners looking for a low-cost pizza oven. It doesn't use logs or gas, but rather wood pellets fed into the oven through a hopper, so once lit, there are no problems with handling the flames or keeping it burning. The fuel bags are easy to transport and come in a resealable bag, so they won't get damp – ideal if you want to take your pizza oven camping or traveling.
Ooni Fyra is an amazing option to choose from outdoor pizza ovens. Remove the grate from the back of the oven, fill it with pellets, and ignite it with a firelighter. Once you have used your infrared thermometer and checked that the temperature is high enough, the pizza takes about 90 seconds to cook. It takes about 5-10 minutes for the pizza oven to return to temperature, giving you plenty of time to assemble the pizza dough for the next one.
Ooni Koda 12 Gas Powered Pizza Oven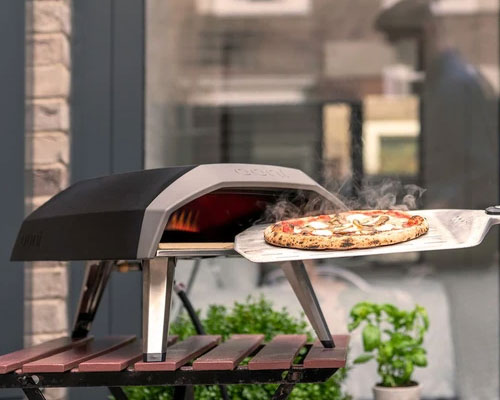 The Koda does not need any real assembly. All you have to do once it's out of the box is stretch its three collapsible legs, slide in the stone, and attach its regulator to a propane tank. The pizza stone in the oven is ready in about 15 minutes after it's been unpacked. In terms of placement, the Koda is designed to be an outdoor pizza oven and needs 3 feet of clearance on all sides. Ooni also mentions that it works best when shielded from the wind, which is something to keep in mind if you like camping out in the open.
While it only takes 60 to 90 seconds for the Koda to thoroughly cook a 12-inch pizza, you will have to keep an eye on it. To ensure that the crust bakes uniformly and does not burn, the pizza must be rotated every 20 to 30 seconds. Suppose you enjoy making and sharing Neapolitan pizza with friends in the comfort of your garden. In that case, the Ooni Koda provides an excellent experience at an affordable price. Its authenticity, flexibility, and portability make it a perfect gift for the pizza connoisseur in your life who enjoys making homemade pizza.
Ooni Koda 16 Gas Powered Pizza Oven
The setup is effortless for Ooni Koda 16 oven: just flip out the legs, place it on a stable surface, and connect it to a propane tank. Then, after about fifteen minutes, you'll have a perfect cooking temperature for cooking pizza and more. This oven maintains the joy and vitality of a live flame, fully fulfills its central concept, and is simple to use.
Because of the oven's upper shell configuration, all of the heat is diverted inwards, allowing the baking surface to comfortably reach 850 degrees in the middle and up to 1000 degrees near the back. The Koda 16 also has a large cooking surface so it's great for making bigger pizzas for family gatherings. Spinning your dough mid-cook is a critical feature of this oven and the larger mouth is ideal for this.
Ooni Karu 12 Multi-Fuel Pizza Oven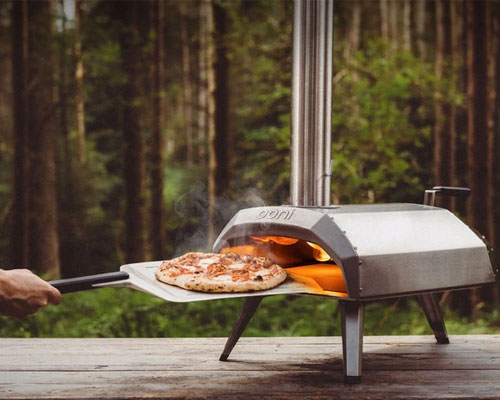 The Karu 12 was introduced in early 2020 but it quickly became one of the brand's most successful products due to its versatility – with this multi-fuel transportable oven, you can cook with charcoal, wood, or gas. It only weighs 12kg as well, making it a compact option for camping trips or weekend getaways.
The oven's simplicity is the first thing that hits you. It should take you no more than a few minutes to set up right out of the box. The oven's design ensures a safe draught of air, and the center of the stone reaches temperature in 20 minutes. The oven and fuel door handles stay cool to the touch during cooking, and the oven door is built to be removed and replaced with one hand while the other is poised with a peel filled with dough.
Ooni chose a thinner pizza stone that can lose heat when the door is opened several times during cooking to reduce the weight of the oven and make it portable. The good news is that it doesn't take long (around five minutes) to return to the proper temperature to the stone so you can continue cooking. As the name suggests, the Karu 12 outdoor pizza oven consistently produces 12-inch discs of deliciously cooked pizza dough with minimal effort.
What Else Does Ooni Offer?
Ooni genuinely is your one-stop shop for Pizza products. As well as being one of the leading brands when it comes to pizza ovens, they also offer a plethora of other products such as:
Pizza Peels and Pizza Stones.
Cast Iron Cookware.
Prep & Cook Tables.
Infrared Thermometers.
Pizza Cutters and more.
Ooni Pizza Oven review by Customers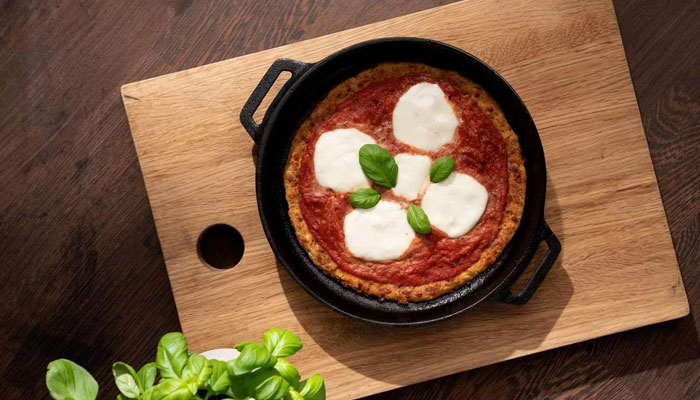 Of all the reviews conducted, the consensus is excellent. Three out of four people love the product and would recommend it to others. Here is a breakdown of those pizza oven review results:
Reviews – 899
Excellent – 73%
Great – 3%
Average – 2%
Poor – 1%
Bad – 21%
We have selected a small handful for you to read for yourself.
"Loving my Ooni pro. Starting to experiment with it now too. I think my head prefers the idea of pellets; however, lifestyle prefers the speed and simplicity of gas. I had a small issue with the grate, which the customer service team sorted brilliantly. Without question – no one is perfect, but when people sort issues as well as this, you have to think someone really has taken time to make the whole experience great. Go get your own Ooni – you won't regret it."
"We have been delighted with our Ooni Karu, which we purchased last summer. When we discovered a broken stone, Ooni replaced it quickly under their warranty program. Great company."
"I opened up a warranty claim for a broken baking stone. Within a day, I received a reply, via email, from Tim. Tim resolved my issue swiftly and enthusiastically. His reply was friendly, professional, and straight to the point. I could not have had a more pleasant experience having my warranty issue resolved. I have been using the oven often, and after finding my groove, this oven puts out a great pizza. The temperature it achieves is more than adequate to bake the classic Neopolitan pizza. The dough videos they produced are spot on."
Further customer reviews
After reading each review, it is clear that not only are Ooni's products great but their customer service is also. Our opinion is that if you are in the market for a pizza oven, then Ooni is one of the leading brands you should consider. This said, like all companies, they aren't perfect, but they do appear to deal with problems politely and efficiently.
Their products are some of the best within the industry and there is something for all cooking levels as well, so even if you're brand new to pizza making, Ooni has an oven out there for you. We have found one or two fundamental issues, such as the oven cooling down quickly when the door is open, but that is a common issue amongst all portable ovens. A resolution has not been found within the industry.
The key question, though, is: do Ooni ovens offer good value for money? The answer to that is yes, but like anything, only if you will make use of it. We like to put these types of things into equations to illustrate a point. Let's use campers as an example as they are one of the leading purchasers of portable pizza ovens.
Let's say the pizza oven costs you $300, and the average cost of a pizza to buy from your local restaurant is $20. This means that you have to use your pizza oven 15 times before you begin to save money. You can quickly work out how many times you go camping on average per year and multiply that over the next five years. That should give you an indication of if you are getting value for money.
Where to buy Ooni Pizza Ovens
Ooni retailers include several independent stores. They recommend contacting in advance about specific products to avoid unnecessary journeys and disappointment. You can find their products in outlets such as John Lewis, Lakeland, Godfreys, or Selfridges.
You can also shop online at Ooni.com, where you'll find all of their products listed. They offer free shipping and returns and a three-year guarantee on their products. Don't forget they also provide their pizza guarantee, so if you're not satisfied after 60 days, they will repurchase the product from you.
Contact Ooni
Ooni can be contacted through their online support portal or via email at [email protected]. You can also arrange a call with them through their website. They also have a live chat facility that is staffed 24/7 to ensure support is covered worldwide. Their headquarters can be found at:
Unit 5, 189 West Main Street, EH52 5LH
Broxburn
United Kingdom
Ooni Shipping and Return Policy
Some products are in stock and ready to ship right away, while others (primarily ovens) will ship in 6-8 weeks. More precise delivery times will be shown on the goods page, where you press the add to cart button. Their warehouses have an average dispatch time of 5 working days (Mon-Fri). When your order is ready to ship, you will receive shipping confirmation. Your order will usually arrive within 1-5 days, depending on your location.
FREE SHIPPING: They offer FREE shipping on all orders over $35 to the lower 48 states.
FREE RETURNS – if you change your mind and the item is unused and in original packaging.
GREAT PIZZA GUARANTEE – if it doesn't make great pizza – They'll repurchase it from you.
They have warehouses on the West Coast in Nevada and the East Coast in New Jersey; your order will be shipped from the warehouse nearest to you, reducing both your wait time and Ooni's carbon footprint. These are even more reasons to own an Ooni pizza oven.
Ooni Pizza Oven Review: Editors' Verdict
Ooni pizza ovens are super light, making them the ideal portable pizza ovens. Unlike permanent brick or wood-fired ovens, they can be quickly picked up and moved. They're not only great for backyard cooking but are fantastic for camping too.
Perhaps most importantly, Ooni ovens are specifically designed for maximum airflow, so they can hit and sustain temperatures over 900 degrees Fahrenheit. This means they really do make restaurant-like quality pizzas, with a crispy crust and juicy toppings.
They are powered by readily available fuels including wood pellets, charcoal, and propane gas, and they're quite affordable. Starting at $250, they are a fraction of the cost of building and installing a permanent wood-fired pizza oven. Truly some of the best transportable pizza ovens are currently on the market!
Check out some more home & lifestyle brands below Made In Cookware, Bespoke Post, and Ruggable.
Frequently Asked Questions
What temperature do Ooni ovens heat to?
The Ooni pizza oven can reach temperatures north of 932 degrees F, which means you can cook a Neapolitan-style pizza in your Ooni pizza oven in 60 seconds or less! Check the temperatures on your infrared thermometer to find out for yourself.
Can you use Ooni pizza ovens indoors?
Most of Ooni's products are designed for outdoor usage only as moisture indoors can affect the results. Always check the product description for each item for complete details.
Where are Ooni pizza ovens made?
All Ooni products are designed in Scotland, manufactured in China, and sold in the UK, EU, and the US.
What else can I cook on my Ooni pizza oven?
You can cook just about anything in your Ooni pizza oven. It is ideal for any food that can cook quickly at a high temperature: Think up to 13" pizzas, flatbreads, seafood, meat, vegetables, and more!