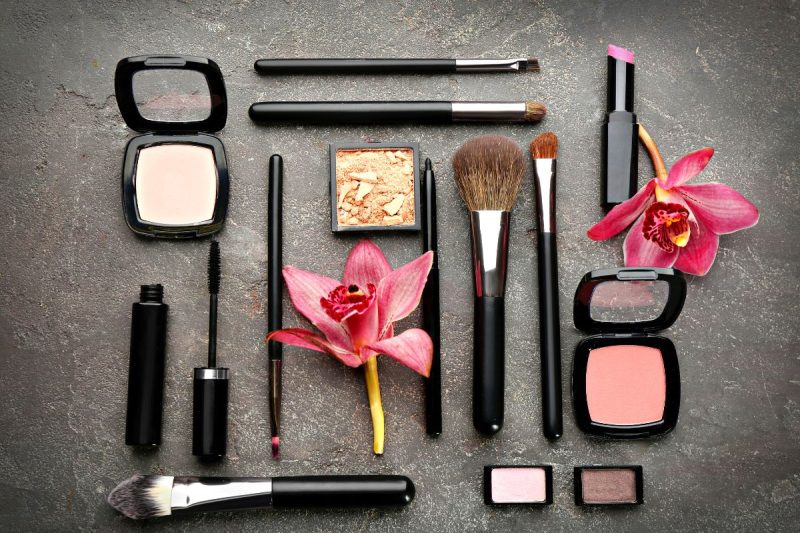 With the continuously growing number of makeup brands, the makeup industry is quickly expanding. Regardless of what kind of makeup you are after, there are lots of brands you can choose from. From budget-friendly to high-end products, you can find everything on the market. During the past years, organic makeup brands have become very popular, as there is a strong need for clean cosmetics makeup products.
Today, we are going to give you some great tips on where to shop. Below, you will find 10 organic makeup brands. These based on our judgment and customer feedback are  high-quality go-to options that are worth your trust and money.
10 organic makeup brands
If you are here to gather some inspiration and tips on where to shop for clean, organic makeup products, we have got good news for you. We selected 10 remarkable makeup brands that are focused on creating high-quality products from organic ingredients. Also, there are some vegan options as well. But now, without further ado, let's take a close look at each!
1. RMS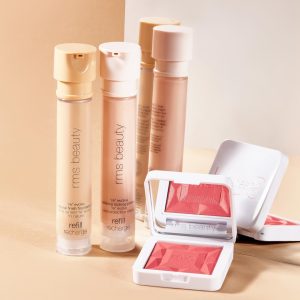 RMS Beauty offers a broad range of 100% natural beauty and skincare products. This company understands perfectly the needs of those who are looking for clean products and does its best to deliver clean cosmetics that illuminate and hydrate the skin. In terms of makeup, RMS was founded by Rose Marie Swift, who is a passionate makeup artist with tons of experience in the industry. During her career, she has worked with numerous supermodels, actors, and photographers. So you can be sure that the products come from someone familiar with the world of beauty and makeup.
Looking at the ingredients, RMS products are rich in nutrients and antioxidants. The company includes high-organic oils in its products. Also, the company avoids using high heat during production and uses only natural preservatives. Furthermore, all RMS Beauty products are cruelty-free and non-GMO. When shopping for makeup, there's a lot to choose from. From foundation to lip products, you can find here everything you would need to build a makeup routine.
2. 100% Pure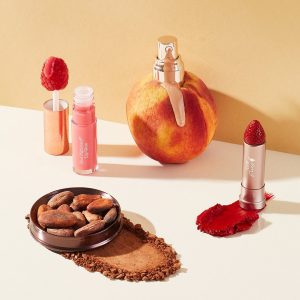 Next on our list of the best organic natural makeup brands is actually one of the most popular organic vegan makeup brands, 100% Pure. Now, we think the name of the company already tells a lot about the company and foreshadows what kind of products you could expect. The brand was founded by the trio Susie Wang, James Wang, and Ric Kostick. Its mission since the beginning is to create 100% pure cosmetics and makeup that are made from the purest, healthiest, and most importantly, non-toxic ingredients. And above all, cruelty-free, and environmentally friendly. The company is fully vegan, as they do not source any ingredients from animals. They also avoid using FD&C coloring agents and heavy metal dyes. Instead, they get the beautiful pigments used in their makeup products from fruits, tea, vegetables, and cacao.
Also, if you are someone who likes to dive deep into the ingredients list, 100% Pure provides a detailed ingredient glossary that you can study. Among their makeup, you will find beautiful eyeshadow palettes, and other vegan and clean makeup essentials.
3. Juice Beauty
Juice Beauty is one of the organic vegan makeup brands that are worth your attention. What sets it apart from other makeup brands on the market is that this company offers antioxidant-rich skincare makeup that is result-oriented. There is makeup and there is skincare makeup and there is a huge difference between the two. Juice Beauty goes beyond typical makeup and delivers products that not only cover the skin but improve it as well, including skin imperfections. Karen Behne founded Juice Beauty in 2005 and since then the company has earned many honors and awards. Today this company is considered one of the most successful skincare companies in the world.
Did you know that Juice Beauty was the very first brand to use only natural ingredients in its products? Especially at the beginning, these were mostly fruits, that's where the brand got its name. Also, Juice Beauty products are available in various sizes. This way you don't need to invest too much if you are unsure about a product. Also, all products are suitable for all genders and skin types, so everyone can find their perfect match.
4. Kosas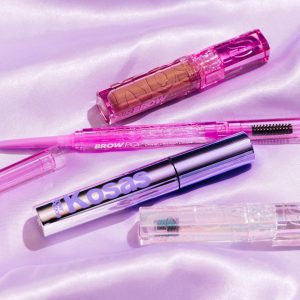 Luckily, there are more and more organic makeup brands that create clinically-proven makeup that not only covers skin imperfections but also improves the skin itself. Kosas's mission is to create high-quality makeup from carefully selected natural ingredients. Among these components, you will find Avocado Oil, Jojoba Oil, Meadowfoam Oil, mineral pigments, caffeine, Pink Algae, vitamins, and many more. Also, all Kosas products are vegan, gluten-free, cruelty-free, and Leaping Bunny certified. Moreover, they don't contain any talc, aluminum, parabens, petrolatum, phthalates, or sulfates.
These makeups are ideal for those who appreciate "no makeup makeup" looks and prefer lighter coverage. However, they also work well when it comes to hiding blemishes or soothing inflammations and skin redness. The Kosas lip products are especially popular thanks to their active hydrating ingredients. For instance, the Kosas Wet Lip Oil Gloss is packed with Hyaluronic Acid, Peptides, and Evening Primrose Oil.
5. Vapour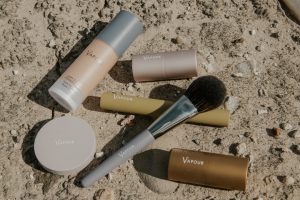 When it comes to organic vegan makeup brands, Vapour Beauty has a well-deserved place on this list. The company uses only natural and healthy components that are organic, and ethically sourced. The goal of the brand is to offer high-quality makeup that is clean, it is good for the skin, and also delivers an environmentally-friendly alternative to makeup products that are toxic and harmful to both human health and the environment. Vapour is a relatively new brand on the market, founded in 2016 by the duo of Krysia Boinis and Kristine Keheley. The two founded the brand intending to revolutionize the makeup industry by delivering sustainable and pure organic skincare and skin-friendly makeup products.
Committed to eco-friendly production, Vapour makeup products are free of silicones, parabens, and over 1400 banned ingredients. Among the components, you will find various natural ingredients. For instance, the Vapour Beauty Luminous Foundation includes Frankincense, Myrrh, and Lotus, while their Blush Powder is rich in antioxidants and amino acids that smooth and calm the skin.
6. Chantecaille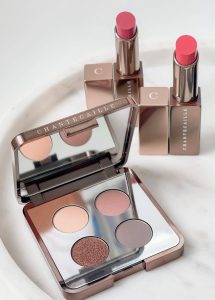 Among the top organic makeup brands, Chantecaille is a well-known premium luxury brand that offers high-quality makeup, skincare products, and fragrances. Compared to other organic natural makeup brands, Chantecaille goodies come with quite steep price tags. What makes these products special is that they are all sustainably sourced, vegan, and cruelty-free. Furthermore, the company does not use any synthetic colors or fragrances. Also, the products are free of phthalates, sulfates, mineral oils, petrolatum, palm oil, and GMOs.
The products are packed beautifully, and they are truly luxurious. But that is not all. Based on customer feedback, people are also satisfied with the products and formulas. They appreciate the company's effort to create clean products and the fact that they do not need to compromise on quality. A big favorite is the Chantecaille Blur Finishing Powder which offers a long-lasting, weightless, flawless finish. Also, in case you are looking for a lightweight, creamy foundation and you don't mind spending some extra money on it, the Chantecaille Future Skin foundation might be something you will like. This gentle, innovative foundation is based on a formula that includes aloe, chamomile, arnica, rosemary, green tea, and rice barn.
7. Besame Cosmetics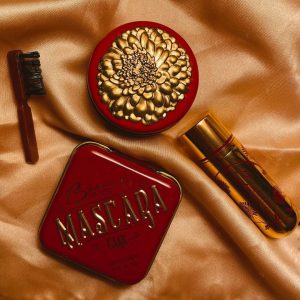 When discussing the best organic makeup brands, we must mention Besame Cosmetics. This company was founded in 2004 and offers a broad selection of historically inspired, highly-pigmented, luxurious makeup with a unique touch of 20th-century glamor. However, Besame Cosmetics' makeup products do not only look classy and elegant, but they are also high-quality. The founder, Gabriella Hernandez got her inspiration by looking at her grandmother's beauty routine. She quickly realized that there is an existing need for some class in the minimalist and modern makeup industry. She founded the company with the mission to add some timeless elegance, class, and even romance to makeup that make women feel more special.
Besides the breathtaking look of the products, their quality is top-notch as well. Nothing proves this better than the fact that the brand provided shades in such world-famous successful movies as the Black Panther, The Avengers, Mad Men, or the American Horror Story.
8. Vert Beauty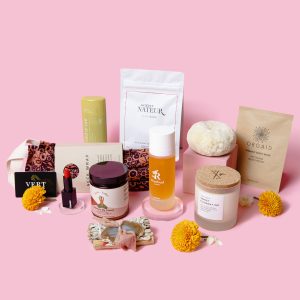 We are slowly getting close to the end of our list of organic natural makeup brands. Luckily, we still have some free spots to include one of the top organic makeup brands, Vert Beauty. This company is a go-to place if you don't necessarily want to purchase from a certain brand, instead, you would like to take a look at different companies' products. Vert Beauty offers a well-curated collection of organic brands that are focused on supporting natural beauty. This company is a Colorado-based online cosmetics and makeup boutique or emporium.
To give you some insight, on Vert Beauty you will find brands that offer clean, organic, and vegan products that are created from carefully selected high-quality, skin-friendly components. But not only! Vert Beauty has some of its own makeup products such as the highly popular Vert Beauty Organic Eye Pencil which is a natural vegan wonder. The formula is enriched with mango and meadowfoam seed oils, both famous for their nourishing and protecting effects. No matter what type of makeup or beauty products you are after, checking out the selection on Vert Beauty is never a bad idea.
9. Wander Beauty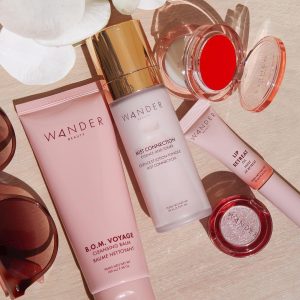 Another example of the best organic makeup brands is Wander Beauty. This female founded high performing makeup brand screams gorgeousness and seductive confidence. The company was founded by two working moms who realized they were struggling to fit their makeup routine into their busy schedules. When creating Wander Beauty the main goal of the duo was to put emphasis on convenience. They believe that if makeup products are convenient enough starting from packaging to formula, women can build an effortless makeup routine that they can put on anytime, even on the go.
Wander Beauty products are all free of parabens, mineral oils, and synthetic fragrances that cause skin irritation and are harmful to the skin. They make sustainable choices during production and use clean ingredients that are carefully selected from organic sources. Just to give you some examples, Wander Beauty products are rich in such components as peach leaf extract, trehalose, castor oil, rosa canina fruit oil, niacinamide, vitamin E, and a broad range of other goodies that nourish, protect and improve the skin.
10. Bite Beauty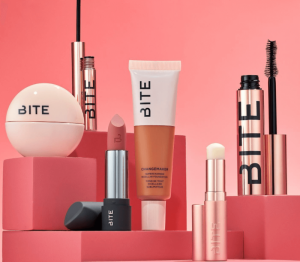 Last, but not least, let's take a look at Bite Beauty. Bite Beauty is one of the best organic vegan makeup brands that mainly specializes in lip products, but not only. If you are after some high-quality vegan lip balms, lip glosses, and musks, Bite Beauty has got you covered. Also, they have a decent selection of face and eye products, to complete your makeup.
What makes this brand special is that they sell handmade products created from natural ingredients. All products are vegan and cruelty-free, also they do not contain any harmful components such as phthalates, sulfates, or parabens. Instead, they are loaded with such goodies as mango seed oil, agave nectar, mango seed butter, acai and mangosteen extracts, and many other healthy and clean ingredients.
Top Organic Makeup Brands: Editor's Verdict
We hope you found some favorites among the top organic makeup brands in our selection. These brands all put focus on using clean, healthy, and natural ingredients and practice a sustainable, ethical approach to the makeup industry. Their communication is transparent regarding the components they put into their products, so you can be sure that you won't be misled when making a purchase.
And the best is that thanks to the advanced and innovative production, buying from organic makeup brands doesn't mean compromising on quality and results. These products are just as good and just as pigmented as others, but at the same time, they offer a healthy alternative to both your skin and well-being.
If you love makeup brands, check out our reviews of Natasha Denona, Jouer Cosmetics, Kylie Cosmetics, and Grande Cosmetics.