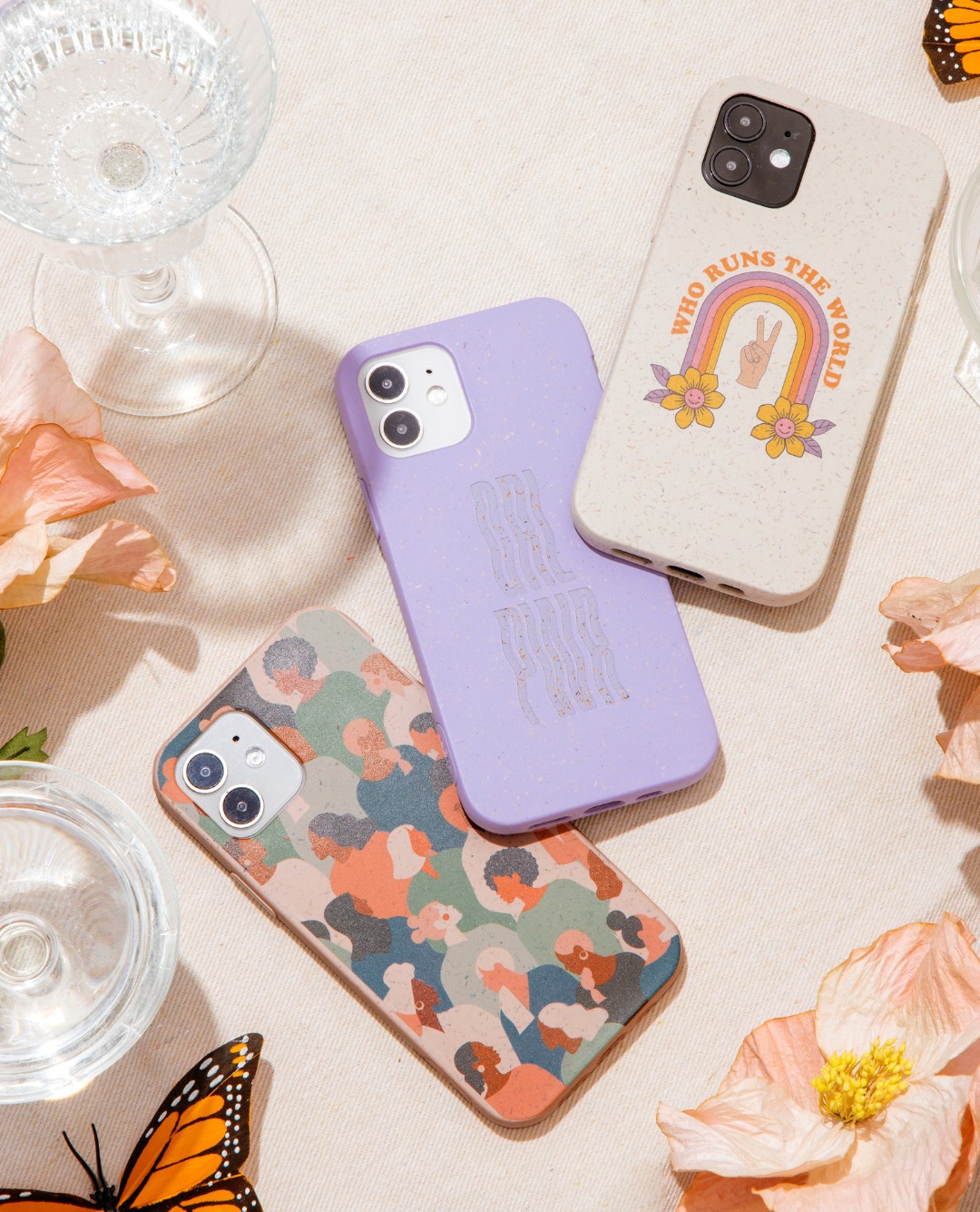 We invest more and more time and money in our electronic devices, so much so that we can safely say that our cellphones have earned the status of pocket assistants and BFFs. But what happens when you buy a $1000+ smartphone, only to drop it a week later? We also have to mention that your screen is cracked now. The solution is to have a good-quality phone case such as Pela. We come to you with this Pela Case Review to see whether this brand is worth it or not.
Featured in the likes of Forbes, Martha Stewart, and Mashable, the Pela phone case is picking up steam, but is it worth the hype? Not only is this phone case touted as being extremely durable, but it's also biodegradable and even compostable. Great for your phone and pretty great for the planet too, or so it would appear.
We have taken a close look at Pela products and reviewed quite a few of them. Read our unbiased Pela Case review to find out about the products, customer reviews, and if overall the brand is good enough.
About Pela Case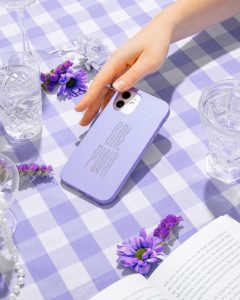 Pela Case is a phone case protection brand that emerged for the first time in 2010. Jeremy Lang, the brand's founder, was on a family vacation in Hawaii when he saw firsthand how plastic waste destroys our oceans. He then naturally started experimenting with new materials to create an alternative to plastic that could be used in everyday products, including smartphones, which would help create a waste-free future.
In Jeremy's words, "I started Pela when my son Cole dug up some plastic on the beach in Hawaii, and I started wondering about the impact of plastics on our planet."
After years and years of experiments, Jeremy Lang brought to life a material that he named Flaxstic®, an alternative to plastic. Once the new material was created, he wondered what to make of it and chose to use it for a product he used every day: a phone case.
This eco-friendly focus has earned the brand various certifications. Among which is the B Corp Certification and 1% For The Planet Certification. To this day, Pela phone case has also donated to multiple organizations to better the Earth, including Water.org, Surfrider Foundation, and Save The Waves Coalition.
Featured in Buzzfeed, CNN, Martha Stewart, Forbes, and more, the Pela Case products are on their way to changing the world. Through core values of courage, community, and creativity, the brand focuses on designing high-quality phone protections and accessories that can help upgrade your life and better the planet.
Pros
Highly durable phone cases
100% Biodegradable and Compostable Flaxstic® Material
A wide array of models and styles available
Regular sales and discounts on the Pela Case website
B Corp certified, 1% For The Planet Certified, and Climate Neutral Certified for a low carbon footprint
The brand donates to eco-friendly organizations like Water.org, Surfrider Foundation, and Save The Waves Coalition
Cons
Pricier than average phone cases
Shipping can be a bit lengthy
Pela Case Products
In their wide eco-friendly case range, Pela offers protection for various phone models for Android and iPhone, AirPods cases, and a variety of accessories, all aimed at helping you keep your phone protected for years.
Pela Phone Case Review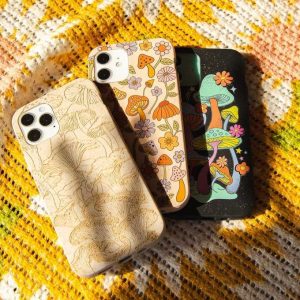 Pela Case offers quite a wide selection of phone cases for Huawei, iPhone, Samsung, and Google Pixel phones, including:
Huawei P20 Lite, P30, and P30 Pro
Google Pixel 2, 2XL, 3, 3A, 3XL, 4, 4A, 4XL
Samsung Galaxy S7 to S10+
iPhone SE and 5/5S to iPhone 12 Pro Max
The Pela phone cases retail between $39.95 and $49.95 depending on the brand, phone model, engraving on the case, and color.
No matter what phone model you own, you can rest assured that the Pela phone case will protect your phone. The flexible Flaxstic® material is a combination of plant-based biopolymers, flax straw waste, and recycled materials. The biodegradable phone case is quite durable, offering good day-to-day protection. Although it's far from indestructible, so the Pela case drop test might fail.
Pela's phone cases design is also beautifully and meticulously crafted, with precision cuts around the speakers, charger, volume, and power buttons. There's also a wide array of styles available, which is always a nice plus.
AirPods Cases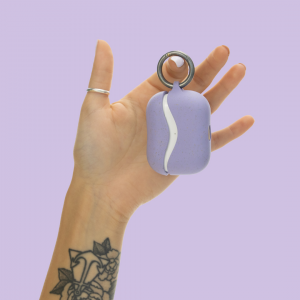 Pela Case has brought to life the world's first compostable Apple AirPods case. The brand's AirPods cases feature Flax shive and a plant-based biopolymer as the base of their compostable cases. This results in 100% biodegradable and eco-friendly items.
The AirPods cases are durable enough to protect your AirPods from drops, scratches, and dents and comfortable to hold in your hand, with a flexible and non-slip material.
The Pela AirPods Case features:
Flaxstic®: a blend of compostable bioplastic elastomer and flax straw materials
Material free of phthalates, BPA, cadmium, and lead
A lower carbon footprint and lower greenhouse gas emissions than traditional plastic
Whether you own AirPods or AirPods Pro, the Pela Case retails for $24.95 and comes in six beautiful colors: Black, Cantaloupe, Green, Honey, Lavender, and Neo Mint.
Pela Accessories
Aside from their eco-friendly and sleek Phone and AirPods cases, Pela also offers a range of accessories, including:
Pela Grip
Card Holder
Pela Canopy Zero Waste Liquid Screen Protector
Ethos Radiation Reduction Tool
Eco-Friendly Pela Grip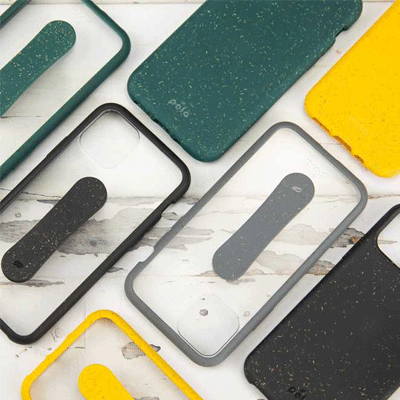 The Pela grip is a 100% compostable and plant-based grip. This features an adjustable loop that allows you to hold your phone comfortably and prevents it from any accidental drop.
You can also use it as a phone stand to stabilize your phone while watching a movie on the go.
The Eco-friendly Pela Grip retails for $14.95 and comes in ten trendy colors, including Purist Blue, Neo Mint, Lavender, and Cassis.
Eco-friendly Phone Case Card Holder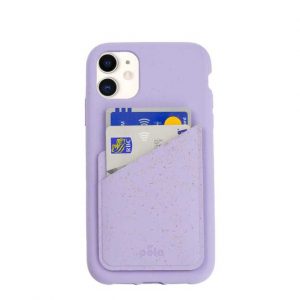 The Pela Card Holder retails for $19.95 and comes in 7 colors that include a classic Black, Neo Mint, Cantaloupe, Cassis, Green, and Shark Skin.
It is a very flexible addition to your Pela Case that you only need to peel and stick on the back. Its strong adhesive helps it stick securely, and the cardholder is 100% compostable and eco-friendly.
Designed to complement any of the Pela cases, it holds two IDs or credit cards. Some of the customers claim they're able to add a third card to the Pela cardholder.
The Pela Card Holder is not compatible with:
iPhone 12 Mini Cases
The iPhone 5/5S Cases
iPhone 6/6S/7/8/SE Slim Cases and Clear Cases
Canopy Zero Waste Liquid Screen Protector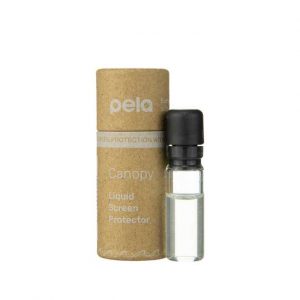 The Pela Liquid Screen Protector is an eco-friendly revolution when it comes to screen protection. With 832 customer reviews that amount to an almost perfect 5/5 mark on the Pela website, the Liquid Screen Protector is a product that comes in a reusable glass vial and cork and has enough liquid to protect a minimum of 3 phones.
It retails for $59.95 and is made of 5% active ingredient and 95% ethanol, all green and eco-friendly. It is the world's first zero-waste screen protector and only requires a cloth to be applied to your phone's screen. Wipe the screen with the wet cloth for about 30 seconds. Wait two minutes and wipe off any excess product with a dry cloth. Voilà!
The liquid fuses on a molecular level to the glass and requires reapplication every 8-12 months to keep the screen strong. Do not apply the liquid to a non-waterproof product; however, feel free to protect tablets and watches at will!
Ethos Radiation Reduction Tool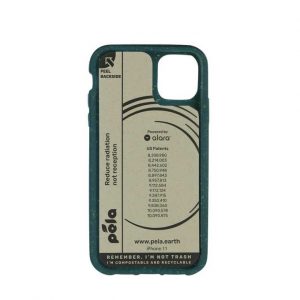 The Ethos Radiation Reduction Tool is an innovative tool that protects you by redirecting up to 80% of the electromagnetic field that comes from your cell phone.
It is recommended to use Ethos with a Pela Case as the patented Alara technology pairs specifically with the Pela cases to redirect harmful radiation away from your phone. Ethos is available for purchase at $29.95 for iPhone 7 and earlier models only.
Pela Case Review from Customer
When we looked up customer reviews for our Pela Case review, we were very pleasantly surprised to discover that the brand, aside from promising the world's most eco-conscious phone protections, actually ticks all the boxes.
With an excellent 4.7 out of 5 average mark on Trustpilot, it seems like the Pela Case is the future of phone and AirPods cases. It is enough to read a few of the customers' reviews to be convinced that Pela Case is the way to go:
"I love this brand, its mission, and its products! We need more brands like this, because they respect the planet and try to do their best to make people choose the zero waste planet."
"Love pela case and their products! My phone case is so smooth and very grippy which is nice so the phone doesn't slip. Got my dad an Apple Watch band, and he said he loves it better than the Apple ones! Great company and great for the environment, which is so amazing."
"I love my pela case! Had been searching for an environmentally friendly phone case when I got a new phone a couple of years ago and stumbled upon Pela. I was a bit hesitant because I drop my phone so much that I needed something durable. It has been almost 2 years with the same case, and I have not been disappointed. I love their message and what the company stands for."
Further customer reviews
However, there were some complaints from the European customers regarding the shipping. It appears that for some buyers the shipping comes from the USA despite the website claiming the stock is from Europe. It's worth mentioning that Pela does have separate websites for different regions to ensure the fastest shipping and best customer experience.
Overall, an overwhelming majority of customers seem to love Pela cases and appreciate the beautiful design and eco-friendly materials the company offers.
Where to Buy Pela Case
If you would like to treat yourself to a Pela case, you can get the complete and latest collection from the official Pela Case website.
Alternatively, a selection of the brand's cases can be purchased from Amazon US, Amazon Canada, Amazon EU, and Apple.com.
Shipping and Return Policy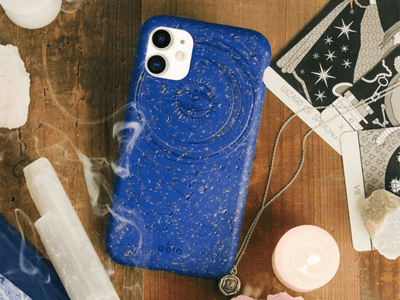 Shipping
Pela Case offers free shipping for all orders over $35 in Canada, the United Kingdom, Europe, and the USA. For any order under $35, you will pay a flat rate for Canada and USA orders and a rate depending on the country for international orders.
Allow 24 to 72 hours for your order to be processed, after which you can expect your order to arrive:
USA: Between 8-14 business days, and down to 2-4 business days with the fastest shipping option
Canada: Between 14-21 business days
International: 14-21 business days
If you need your Pela Case sooner, the company also offers faster shipping options for flat rates ranging between $7 to $10, depending on the destination country.
Returns
If you are not happy with your Pela Case order within 90 days of receiving it, the brand's 100% Satisfaction Guarantee allows you to contact the team at [email protected] for an exchange or a return. The costs of postage for any return or exchange incur to the customer.
Contact Pela
If you need to contact the Pela Case support team, you can do so via:
The Pela Case team is available to answer all your questions from Monday to Friday, from 8 am to 4 pm PST, and responds to every inquiry within 24 hours, excluding weekends and holidays.
Pela Case Review: Editors Verdict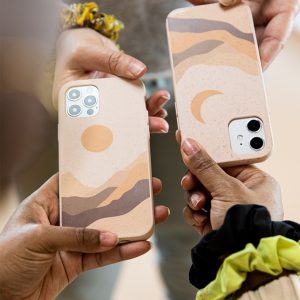 Pela is touted as a revolutionary brand, the first ever to create truly eco-friendly phone cases and accessories. Because of this, we did expect mostly positive reviews, however, we couldn't have predicted that the brand would have practically perfect ratings – and all over the web, not just their website!
After going through all of the brand's products and specificities and finding out that the company has created a truly innovative material that keeps your phone protected until its lifespan is over, we have to say, we're sold. Sure, the price is higher than some other phone protection brands on the market, but how many of those alternative options actually boast a completely eco-friendly, biodegradable, and 100% compostable design? Pretty much none.
Another thing we like about Pela is the wide array of case models, styles, colors, and patterns available. Virtually all smartphone models are covered as well as most preferences.
Now that we are at the end of the Pela Case review, we can say that this brand is definitely worth trying out!
Looking for high-quality phone accessories or handy gadgets? Perhaps you'll like Gazelle Phones, Casetify, or Ridge Wallet.
Frequently Asked Questions
Are Pela Cases Protective?
The brand prides itself on protecting phones and AirPods against most drops and accidents, including wear and tear, however, like most phone cases, they're not indestructible or waterproof.
The Pela Cases are designed for a sleek and slim fit that adds almost zero extra bulk to your phone. Their signature Flaxstic® material adds to your phone's protection, but Pela does not guarantee that your phone will not break while using a Pela case and so it does not cover damages.
How Long Does A Pela Case Last?
Highly protective, the Pela Cases are designed to last the lifetime of your phone, estimated at around 2 years, more or less depending on wear and tear and how often you put on or take off the case.
How do I dispose of my Pela Case?
As Pela cases are compostable, you can just place them in your backyard compost or compost bin. You would have to double-check if you're city allows for compostable bioplastics. If that is not an option, Pela 360 program lets you send the old case to them where they can recycle the cases. Just message Pela at [email protected].
Do Pela cases get dirty easily?
Pela cases just like any other phone case can get dirty. It is important to care for them. Do not soak them, boil or bleach them.
How should I clean my Pela Case?
The darker cases will stay pretty clean for a longer period. You can use isopropyl alcohol to wipe off any stains. If it's just mild dirt, then a sponge and warm, dish soapy water will be enough.