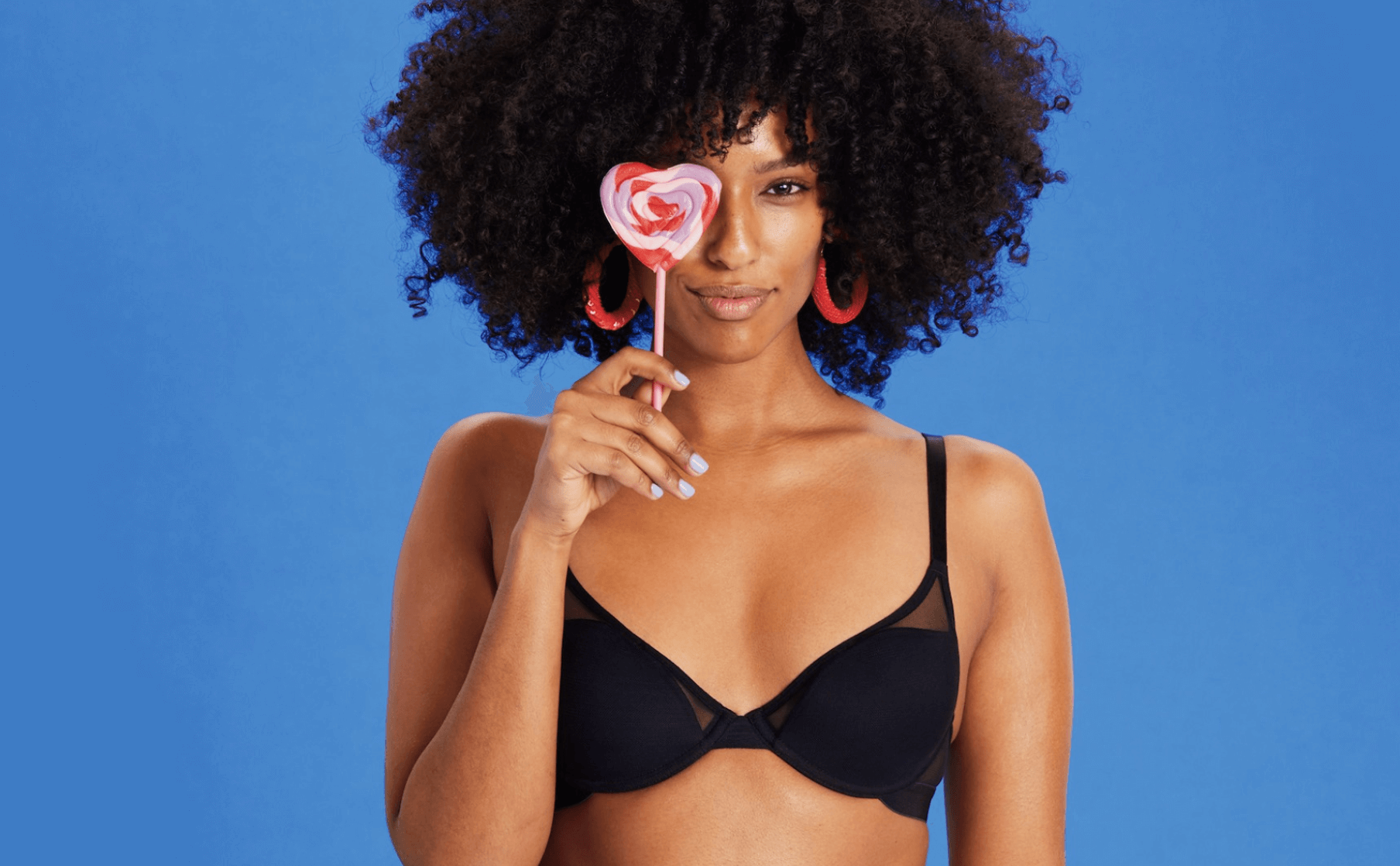 There's no greater support for many women than a good fitting bra, and the fact that it adds appeal to their outfits makes it even better. However, not all women are comfortable shopping for a bra because local vendors usually have limited stock for people with specific chest sizes. The most common bra sizes are between 34B to 36C. Smaller bra sizes are usually hard to come by, whereas Pepper seeks to make a difference. The company offers bras made especially for women with small breasts, with designs that appeal to different aesthetics. This Pepper Bra review goes through the brand's products and services to give you an idea of what to expect.
About Pepper Bra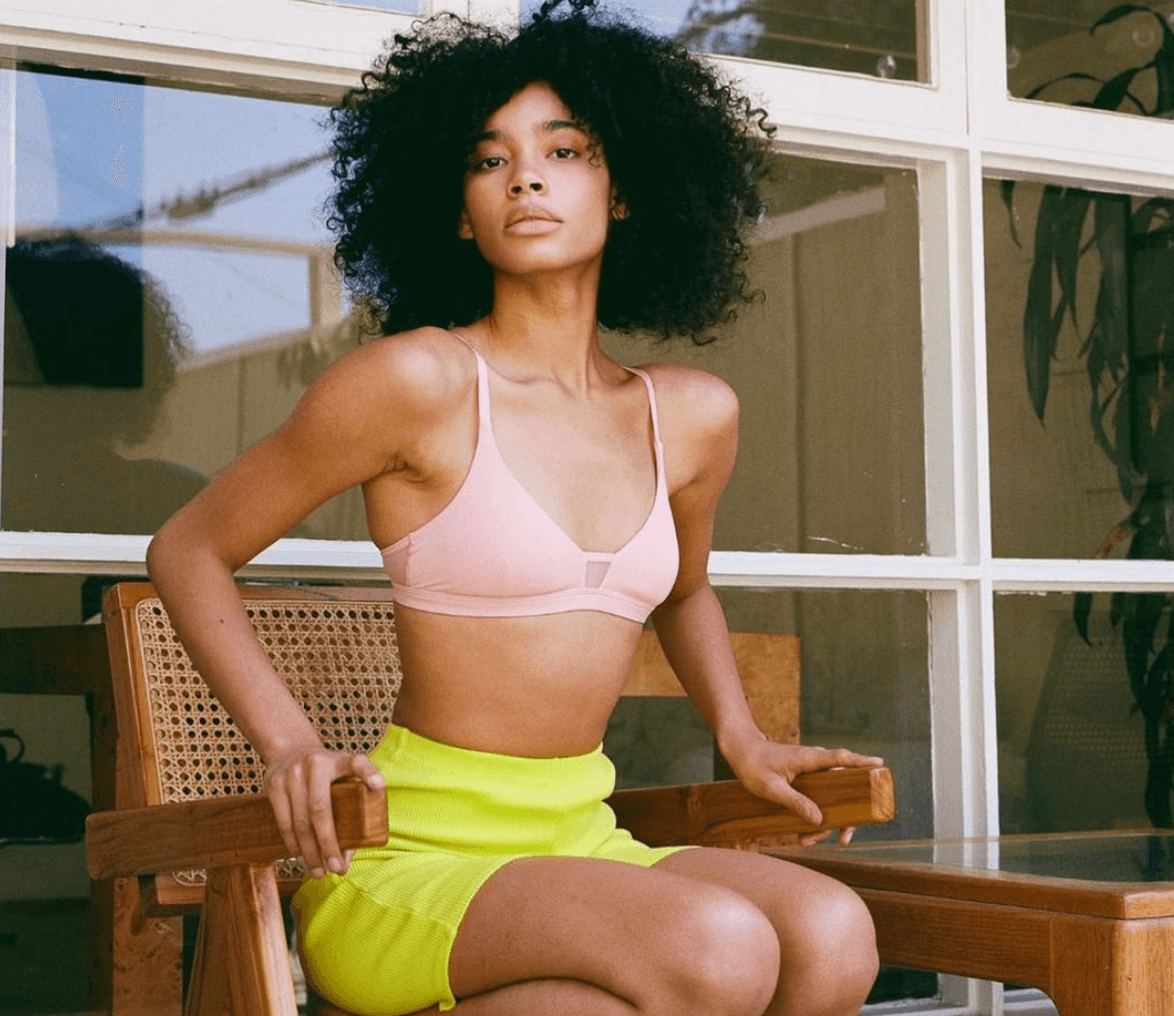 Pepper was founded in 2017 by co-founders Jacklyn Fu and Lia Winograd due to their never-ending hunt for mature, well-fitting bras for smaller cup sizes.
Co-owner Jacklyn Fu shared that she was inspired by her own experience with being called small-chested and never finding a bra that fit to create Pepper.
The idea behind Pepper is to celebrate women's bodies and eradicate all the harmful perceptions around women's bodies. The industry standard bra size is an average of 36C, and it is usually a chore for women to find bras below or above this size grade.
However, Pepper offers small-chested women attractive and comfortable bras.
Pepper bras offer a confidence boost, with ultra-flattering styles that fit the body perfectly to people with small breasts. The company has gained an enormous reputation and is featured in publications like PopSugar, Bustle, Business Insider, and Glamour.
It has also been mentioned on CNN, and the brand has almost 161k followers on Instagram.
Pepper Bras are designed in Colombia, a country with a long tradition of lingerie manufacture. The company employs single moms and women who help to maintain their families.
It is dedicated to using ethical and sustainable methods and products and reducing its carbon impact. The brand's motto is that "everyone deserves to feel good in their own skin."
Pros
Specially produced for women with smaller cup sizes
Offer many limited and uncommon bra cup sizes
Comes in different color options
Free returns for orders above $99
Offer discounts for bundle sets
Cons
No international shipping
It comes in only three designs
It may be hard to find your perfect size
Pepper Bra Products Review
Pepper offers bras and accessories that are comfortable, flirty, fun, and flattering. They create stylish products and designs that help boost women's self-esteem. They are specially made to fit women will small cup sizes, unlike traditional bras that don't usually fit well.
The brand offers three different bra styles: the All You Bra, the Limitless Wirefree Bra, and the Laidback Lace Bra. These are the only three bra designs they offer.
However, they offer other intimates such as thongs, bralettes, and accessories. Check out our extensive review of Pepper products below!
Pepper Laidback Lace Bra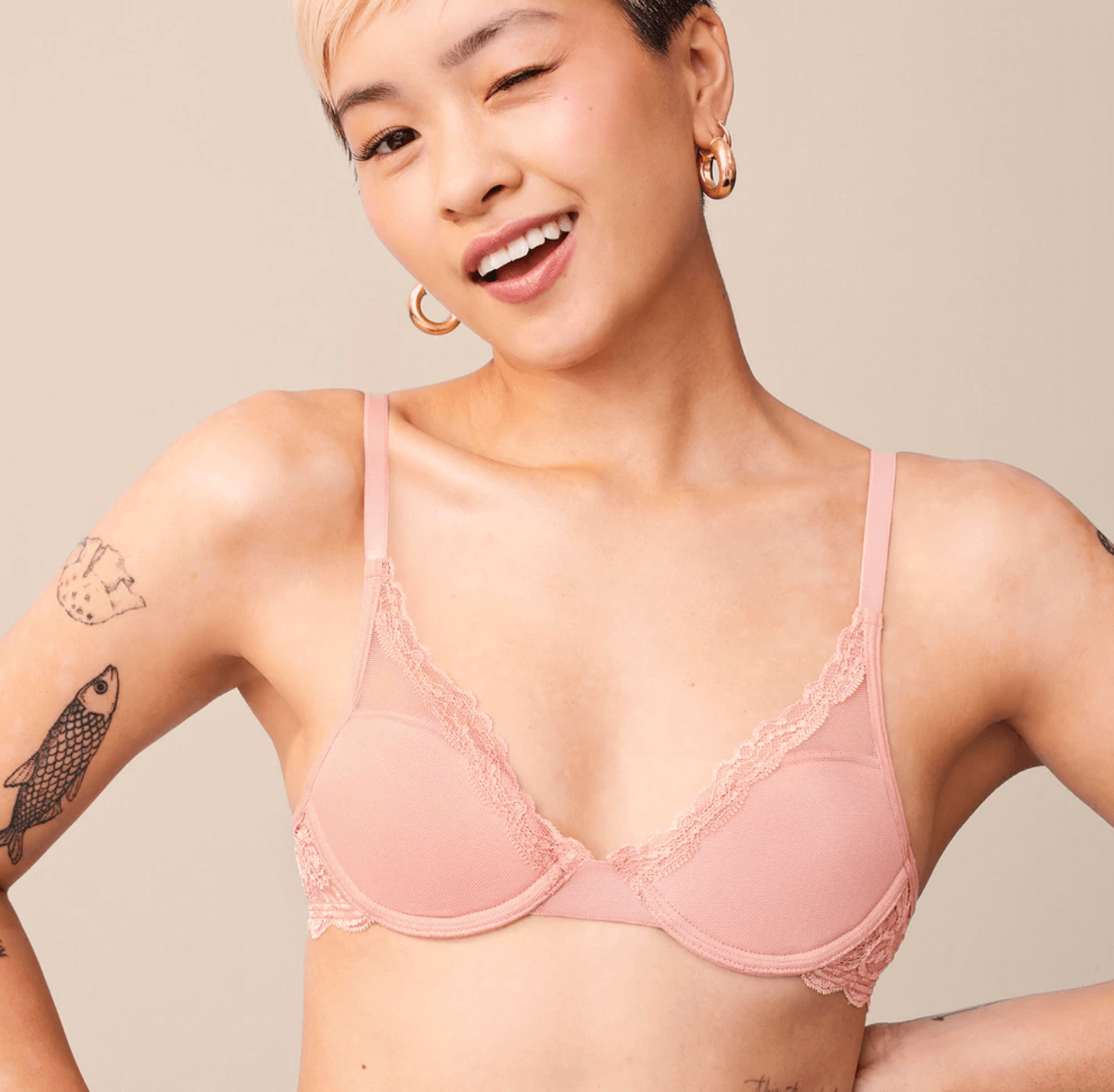 The Pepper Laidback Lace Bra is a charming and sensual bra created to help you feel good about yourself. It is designed with an effortless fit so you can wear it however and wherever you please. The style is made to compliment all body figures and provide your boobs with adequate support.
For instance, the bra is perfect for a casual fit under a shirt and sweatpants, or you can dress it up with an open blouse for a sophisticated outing. It features shallow cups that aren't as deep as regular bras to ensure a snug, cozy fit.
It also includes an elastic band at the bottom of the bra, so you don't have to keep yanking at your bra.
The Pepper Laidback Lace Bra is made with their distinctive, authentic lift design, which helps to secure the bra to your curves and body. It comes in Coral Cloud, Beige, Sienna Rose, Black, and Blush Crush color options.
The bra also has a beautiful design, and it comes at a price point of $54.
Pepper Mesh All You Bra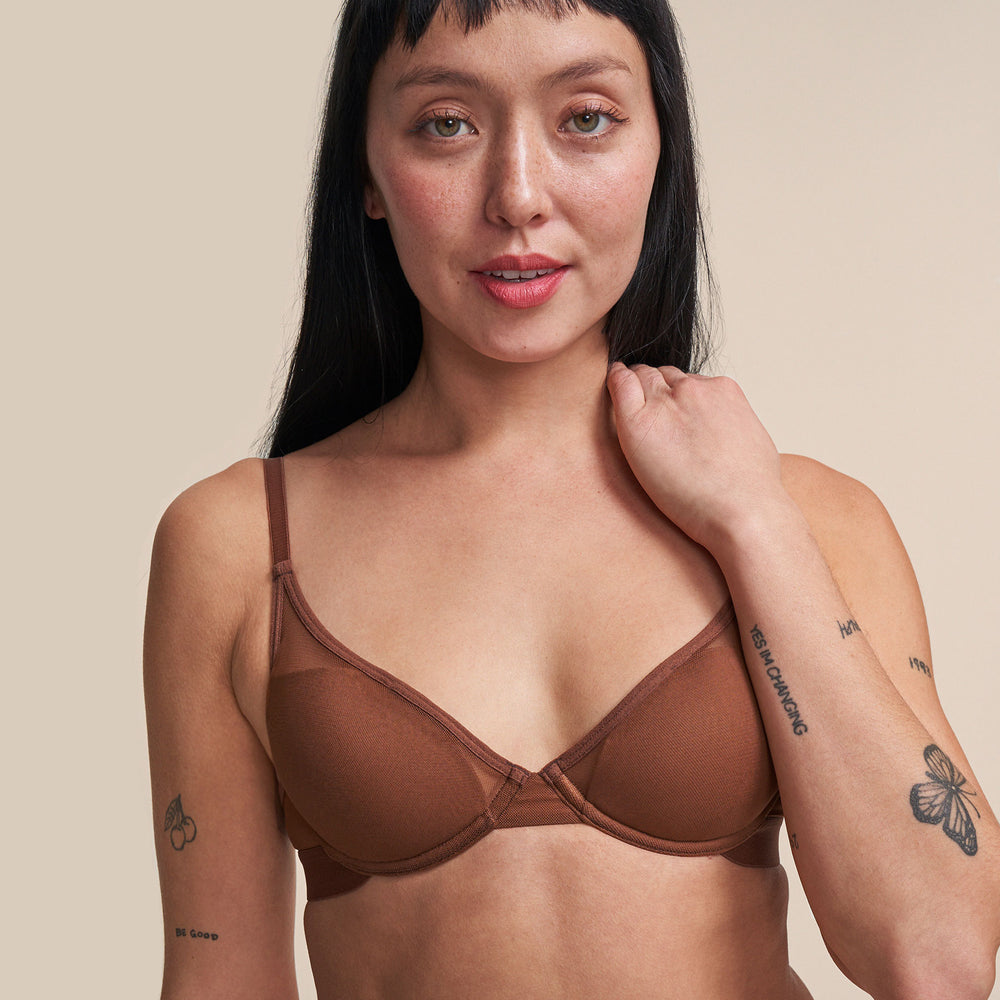 One of Pepper's bestsellers is the mesh All You bra, and it is the second of the three selections of Pepper bras. The bra consists of a soft underwire that accentuates your breasts and allows you to appreciate their natural form.
Pepper aims to remove all the harmful narratives associated with tiny breasts and encourage women who have them to enjoy their bodies.
It offers an ultra-flattering comfortable fit without the awkward gaps and the heavy push-up padding. The bra is also created with Pepper's Authentic Lift design, which hugs and lifts your curves like a pair of elastic yoga pants.
It comes in seven different colors, including Black, Tuscan, and Cola, so you can freely customize your styles.
Pepper Mesh All You Bra has an exquisite style, making it perfect for any sort of shirt. It is well-suited for daily wear, and it offers many style varieties to keep things interesting. If you care for a comfortable yet, stylish bra, the Mesh All You bra is available in different sizes for $50.
MVP Multiway Strapless Bra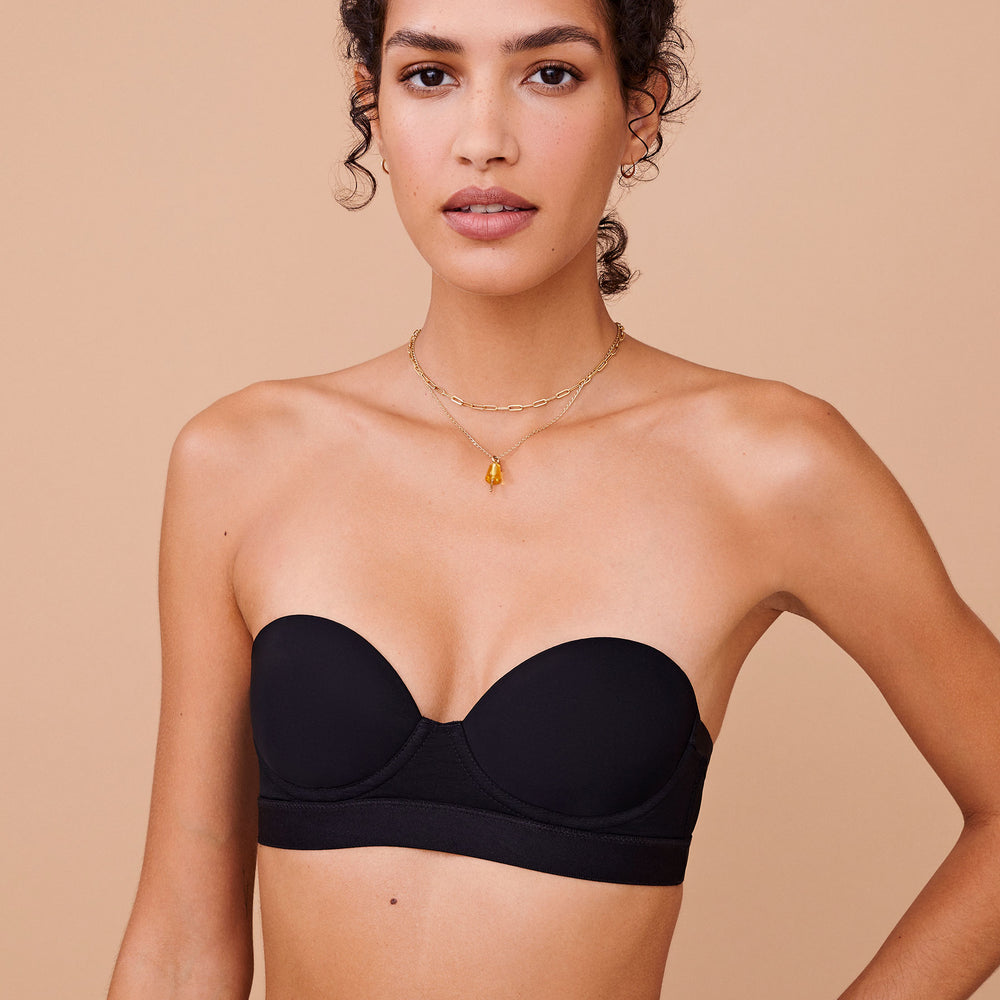 The Multiway Strapless bra is designed with an extra soft fabric that offers a lift to small boobs while also looking natural. Even though the bra does not have any straps, it hugs the body perfectly and provides full coverage.
The bra is an MVP for small chested women because it was made especially for A.A., A, and B cup sizes.
Pepper's only strapless bra design but incomes in three color options such as Tuscan, Black, and Sienna Rose. If you're dressing for a night out, you don't have to worry about your bra straps coming out of your strappy dress.
It presents you with several styling options, and the bra comes in neutral options so you can wear it under see-through clothing.
The bra consists of a silicone no-strip with polyester material. It fits true to size in your regular bra size. If you want to purchase the Multiway strapless bra, it comes at a price point of $60. It also comes with positive reviews from many users.
The Everyday Lace Bralette Trio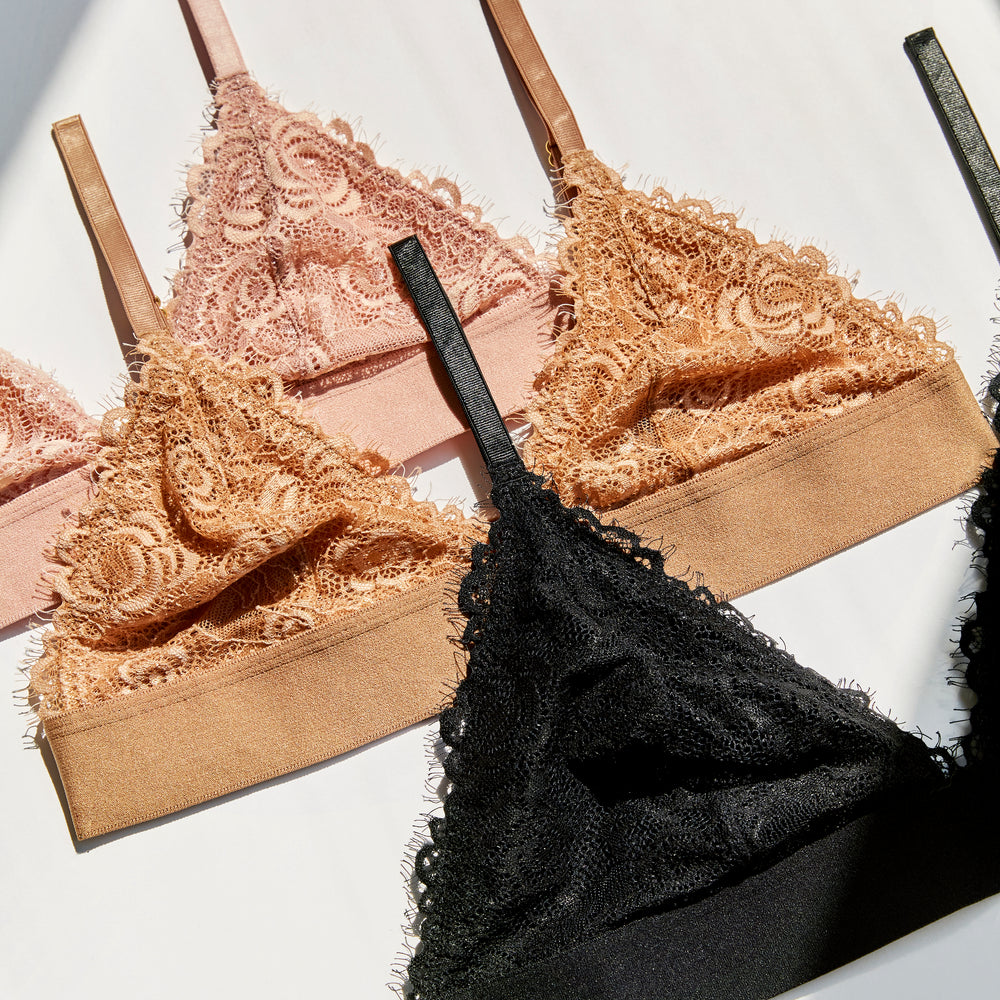 Pepper offers the lace bralette pack as an alternative if you're not a big fan of bras, whether with straps or not. It consists of a lacy material that offers a sensual style that turns your everyday bra into fancy lingerie.
If you're wearing a lower cut or sheer top, then a lacy bralette peeking underneath will be a lovely touch.
The sizing of the bralette is perfect, and it fits snuggly and tight to the chest without any additional space, unlike bras that have darts stitched to them. It comes with a triple fabric lining to provide nipple coverage.
It comes with a strong elastic band to offer a snug and cozy fit. The bralette has adjustable straps, so you can resize your bralette after some time.
The only issue with the bralette is that it has a rough lacy material, so it is not recommended under a t-shirt or snug top. The Everyday bralette trio pack includes 3 pieces of the Pepper lacy bralette.
It comes in Black, Tuscan, and Sienna Rose colors. It comes in a wide range of sizes, and the pack costs a fair price of $120.
Mesh All You Thong
Pepper underwear includes style and comfortable options not just for your top but also down under. The Mesh All You thong is a sister design to Pepper's All You bra, and you can purchase both items to get a complete underwear set.
Like the bra, the thong is made with mesh panels on the side and soft cotton perfectly that offers comfort.
The thong comes in five different color options Chilli, White smoke, Tuscan, Black, and Sienna Rose. It comes in different sizes, from extra small to extra large, so you get your perfect fit. The thongs cost $16 but purchase 3 pieces at $14 for each pair.
Pepper Bra Reviews From Customers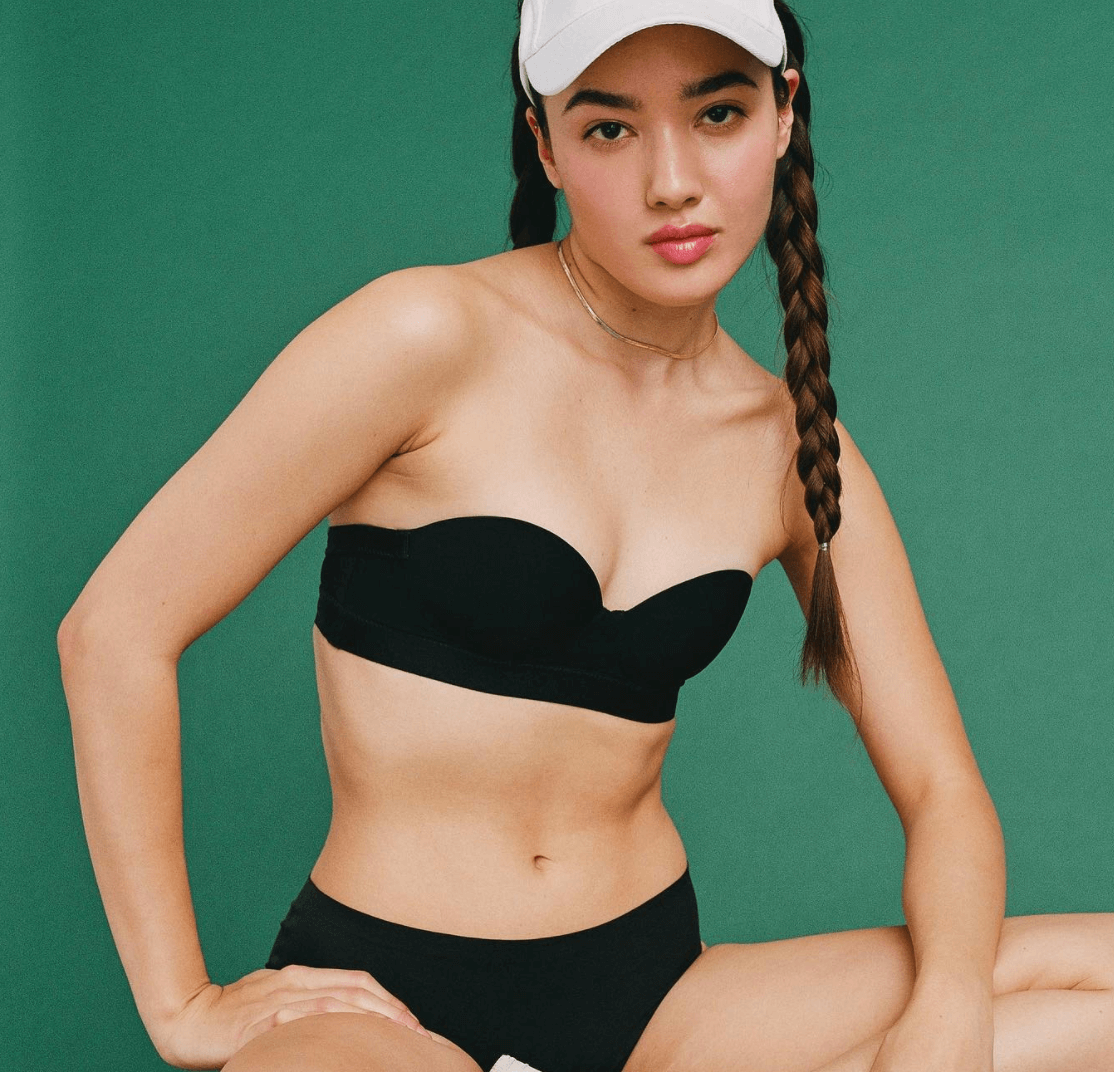 This section of our Pepper bra review focuses on reviews from Buzzfeed, Reddit, and other review sites to see customers' experience with the product. On Pepper's website, there are mainly positive reviews from users.
The brand has an overall of 5 stars from customer ratings. We've found multiple comments that showed that customers were satisfied with their purchases.
One customer comments, "I was about to give up searching for a bra with a cup that actually 'cupped' my breasts. Every time I tried a new bra, it was the same experience… a cup that puckered and gaped. It was disheartening and uncomfortable. At last! My bras fit like a glove and feel great against my skin."
The All You bra has 4.65/5 stars out of 2743 customer ratings on the Pepper website, while the Laidback lace bra got 4.63/5 stars.
They have an above-average performance, and many customers only have positive reviews. If you also check the Instagram page, you'll find thousands of positive comments from customers who love their purchases.
Popular Alternatives to Pepper Bra
On Buzzfeed, the Pepper bra review concluded that the brand has offered the best solution for women with small chests.
Brittany Gibson, a BuzzFeed staff, also commented, "They have a push-up effect without the extra padding (!!!), and the straps never fall down…." Other BuzzFeed staff who also tried the bras appreciated the perfect fit.
In addition, Reddit reviews on Pepper bras are also mostly positive, and there are many Reddit threads on the brand. For the LaidBack Lace Bra, a user stated, "I was able to forget I was wearing it sometimes." Many users also agreed that Pepper bras are flattering but expensive.
TrustPilot reviews also suggest that the sizing chart is confusing, but the quality is unmeasurable.
Sign Up for Pepper Bra
When you sign up for the Pepper newsletter, you qualify for 5% off your first order. You can also create a membership account to improve your shopping experience and easily track your order.
Where to buy Pepper Bra
You can shop and purchase your Pepper bra directly from the brand's website on WearPepper.com.
Pepper Bra Shipping and Return Policy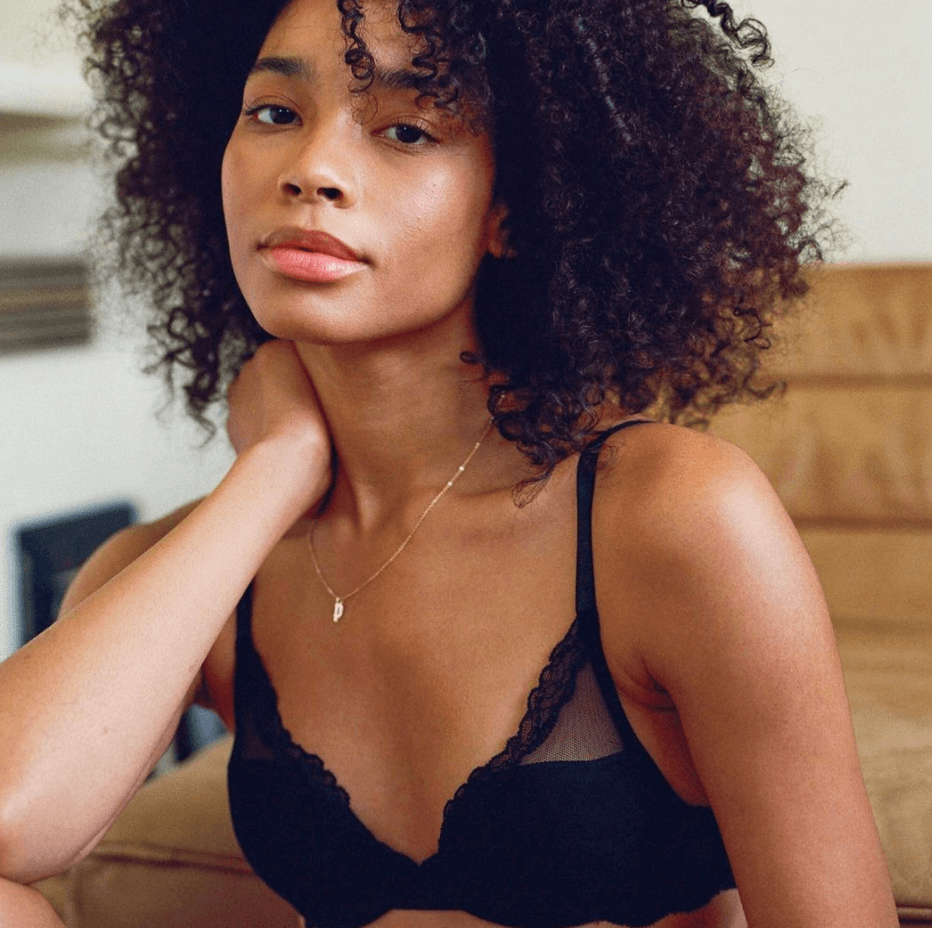 To provide information on the brand's services, we looked at their shipping and return policy. They currently only ship within the United States and APO/FPO C/of addresses and P.O. boxes.
After you place your order, it takes about 1 to 3 business days to ship out. You will get a confirmation email once your order has been shipped.
The shipping confirmation consists of your personal order information and tracking details. You can use the monitor your order through the carrier's tracking system.
The brand offers free shipping for orders over $99, and USPS deliveries usually take 7 to 10 business days. But if you live in distant territories like Alaska, Hawaii, or Puerto Rico, you might have to wait longer.
Wear Pepper returns have different rules and policies set for different items. They offer free returns or exchanges when you process your returns within thirty days of receipt.
For your package to be eligible for returns, it must be unworn, unwashed, and undamaged in the original condition it came in.
In addition, if you used a discount code for your order, your refund will be the total amount you paid with the discount, not the original price. Also, they do not offer free returns for any of the APO/FPO locations.
All you need is to open the Return portal and enter your shipping information to open the returns or exchange page.
Pepper Bra Promotions and Discounts
Pepper offers regular sales and discounts for some select products that may come with conditions. The latest flash sale offers free Pepper seamless undies for every bar you buy.
All you need is to enter the pepper bra discount code 'SETS' on your checkout page. You can also subscribe to the brand's newsletter to get updates on the Wear Pepper promo code.
In addition, Pepper is also committed to building a solid community of women who respect and take pride in their own bodies.
They have an ambassador program that offers many opportunities, including commission on every order you promote with your affiliate code or link. It will also make you a Pepper VIP, with first-hand updates on sales, deals, and new products.
Pepper's referral program is another promotion method that the brand adopts to reach a bigger audience and increase sales. You can give your friends 20% off with your referral code when they purchase Pepper Items.
The company also offers regular seasonal sales and discounts on some products.
Contact Pepper Bra
For further inquiries you can contact Pepper bra on through:
Text: 314-230-9385
Email: [email protected]
Instagram: You can leave a comment on their page or send your feedback or request through direct message.
Pepper Bra Review: Editor's Verdict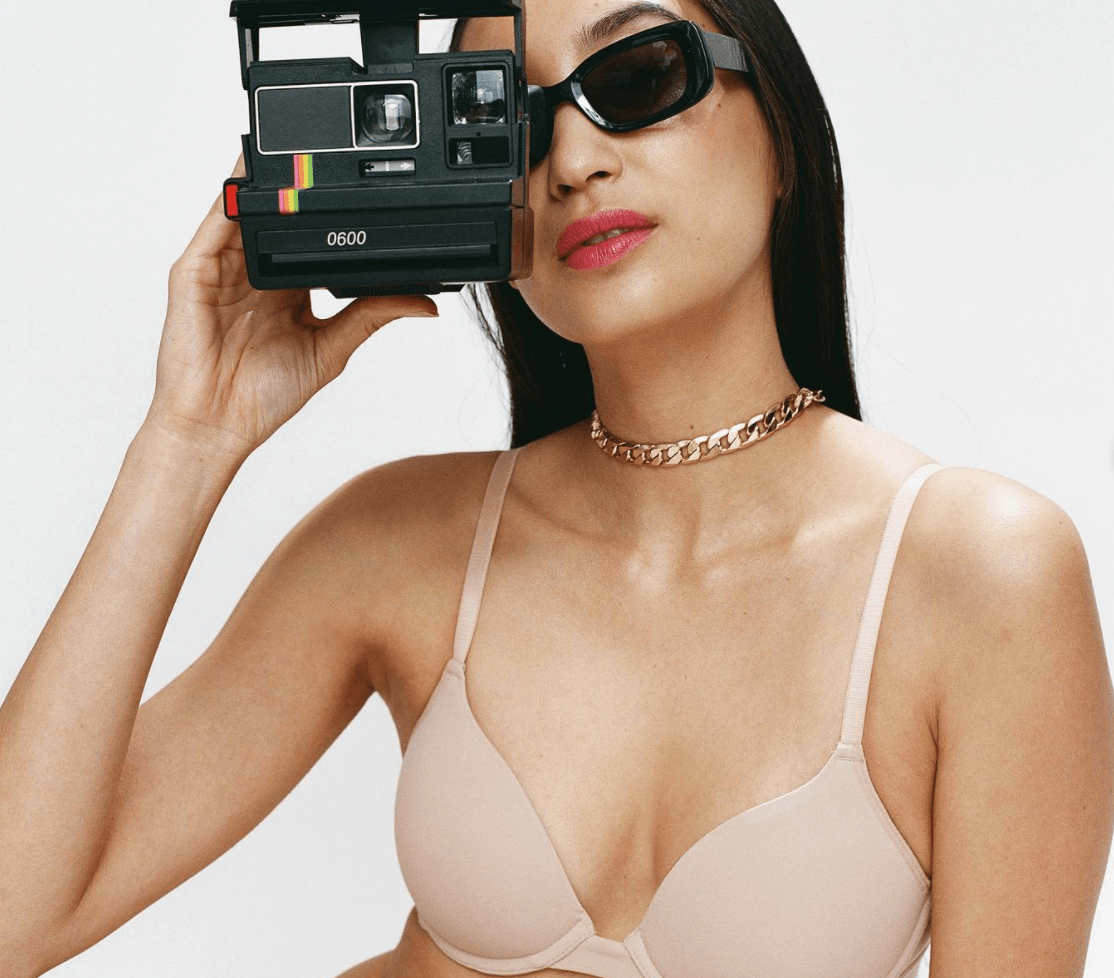 Pepper is a brand that creates bras that fit small-chested women perfectly without compromising comfort or snug. Many wearers confirm that the brand offers bras made with soft fabric and rest flat against the chest, which is helpful for a bra.
From hundreds of Pepper customer reviews, the brand is clearly a game-changer.
It strives to transform the mass perception of tiny breasts. It also seeks to defy beauty standards by providing inclusive options for everyone. They also deserve praise for their commitment to sustainable production and reducing environmental impacts.
Overall, Pepper is a well-established brand, and based on all the various Pepper bra reviews we give it a rating of 4.5/5 stars. But, we recommend that they improve their products and provide more products for small sizes.
The brand can also include more customizable and diverse designs.
Looking for comfortable and elegant underwear to feel attractive? Make sure to take a look at our top underwear brands reviews of Thirdlove Bra, Knix, Chantelle, and Conturve.
Pepper Bra FAQ
What materials and fabrics does Pepper Bra use?
Their bras are produced in Columbia with OEKO-TEK certified polyester and spandex fabrics. It includes:
Mesh All You Bra – 94% Polyamide, 6% Elastane
Classic All You Bra – 82% Polyamide, 18% Elastane
Laidback Lace Bra – 91% Polyamide. 9% Elastane
Everyday Lace Bralette – 84% Polyamide, 15% Elastane, 1% Polypropylene
Limitless Wirefee Bra – 77% Polyamide, 23% Elastane
How should I care for my Pepper bras?
In order to ensure that your underwear remains in the best condition, this pepper bra review recommends the following tips:
Handwash your bras with cold water and mild detergent to retain the shape and quality of the bra
Air dry your wash instead of using washing dryers
If you must use a washing machine, use a laundry bag to protect your clothes from snags and pulls from other clothing
Regular alternate withing bras to help your stack last longer
Pepper also recommends that you remove the pads on the Limitless Wirefree bra before washing
How does the Pepper bra fit to compare with other brands?
Compared to other brands, Pepper bras offer unique features such as shallow cup shapes to eliminate awkward bra gaps. They include light padding to give a more natural appeal, and the invisible underwire is developed to build comfort.
Where is Pepper based?
The company is based in New York, NY, and Denver, CO.