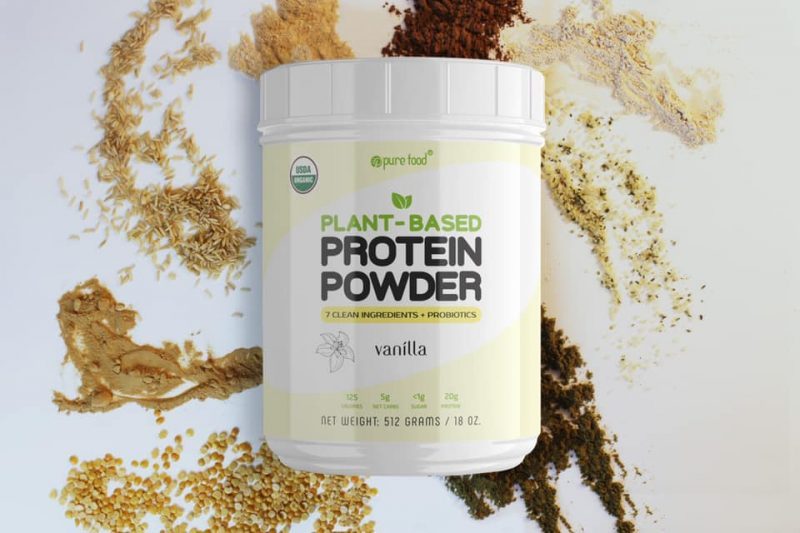 Most protein powders on the market have gut-disrupting, fat-promoting, and inflammation-causing ingredients. Pure Food is a company that sells nutritional supplements, including protein powder, with plant-based, organic real food ingredients and probiotics. We'll examine Pure Food Real Meal reviews from customers and the company's history. We will also answer 15 of the most common questions potential customers ask about this protein powder brand; this will help you determine whether its supplements are worth purchasing or not.
About Pure Food Company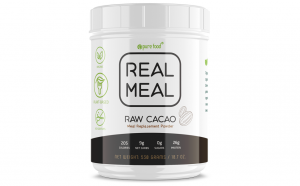 Scott Christ is the founder of Pure Food, and he did not start the company in a flash of light. It started in 2014 when he wanted to share his idea with other home cooks on The Spice of the Month Club, but he decided not to.
After 3 to 4 pivots, he decided to create a protein powder with no sweeteners, natural flavors, fillers, and other junk ingredients that other brands were using. Chris spent the next six months testing different ingredients, analyzing unique blends of real superfood ingredients, and vetting suppliers.
In August 2015, Pure Food launched its first product called Pure Food Cacao Protein Powder. The second product, Pure Food Vanilla Protein Powder, was launched in January 2016. Before we get to Pure Food Real Meal reviews, let's look at the pros and cons of this protein powder brand.
Pros
They offer protein powders with organic and plant-based ingredients

Their products are easily absorbed by the body

The company sells supplements that keep your gut regulated and healthy

They accept returns and exchanges

Their products do not have added sugar or preservatives
Cons
No Live Chat function on its website

Some customers experienced digestive side effects after consuming large amounts of their protein powders

Expensive but worth every penny
Pure Food Real Meal Reviews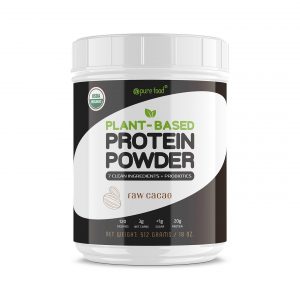 We checked Pure Food Real Meal reviews on the web and found that buyers had good things to say about this protein powder brand. Our team started by visiting the brand's website and then went to Amazon.
Reviews from Pure Food's site show that those who use their products love them. Most buyers stated they prefer their supplements because they have a 2-year shelf life and have an earthy, subtle, natural flavor, and they are not overly sweet. They said Pure Food powder blends perfectly in all smoothie recipes, and that's why they take it daily.
Popular Alternatives to Pure Food Company
Many buyers also stated they love how their protein mixes well with vegetables and fruits. Some praised their products for being allergen-free, gluten-free, and certified organic. Others raved about how their protein is easy on the stomach. Pure Food adds one billion CFUs of probiotics to each serving of their protein, which offers beneficial effects on nutrient absorption, immune function, and gas and digestion.
Reviews from Amazon show were positive, as many users left a rating of 4 or stars. Many reviews spoke of the quality of their ingredients. Customers love how their products undergo third-party testing to monitor glyphosate, BPA, and heavy metal levels. Most buyers have confidence in their ingredients because they meet the levels of heavy metal standards that organizations have set, including the National Science Foundation and US FDA.
Others pointed to the company's practices as praise-worthy, particularly in a market full of shady principles. Customers also stated they like how easy it is to prepare Pure Food protein powder. A high percentage of buyers said they love their supplements because they are dairy-free, keto, soy-free, paleo, and vegan. Lastly, customers praised the brand's fair return policy, which allows them to return a product for a refund or exchange.
Pure Food Company FAQ
1. What is the company's history?
The idea to launch Puer Food came in 2014 after the founder wanted to share his idea on The Spice of the Month Club. Instead, he decided to make his own protein powder, and that is how the company was born.
2. Who founded Pure Food Company?
Based on Pure Food Real Meal reviews, Scott Christ is the founder of this company. He created the brand to produce research-backed, organic real food products that nourish your body and mind.
3. Why is Pure Food protein better/different than other protein powders?
Pure Food protein does not use artificial chemicals, dairy, soy, corn, gluten, GMOs, artificial chemicals, or other animal products like other brands on the market. Instead, they use organic, clean real food ingredients. The brand also makes its protein powders using natural, low-temperature methods, which preserve essential nutrients.
Additionally, Pure Food does not use highly processed "healthy" or artificial sweeteners. Instead, they use sustainable superfood plants with delicious natural sweet flavor profiles like vanilla, a hint of the stevia leaf, and mesquite. Furthermore, Pure Food Protein is among the few protein powders with a plant-based, shelf-stable, FDA-GRAS probiotic backed by more than 25 clinical studies that prove it can help support immune and digestive health.
4. What are the company's core products and services?
Pure Food offers plant-based protein powders, weight loss products, supplements for boosting energy and improving focus, and products that improve your gut health and immunity. They also sell products for reducing stress and joint pain. The company offers bulk and wholesale pricing.
5. How does the Pure Food brand source its ingredients?
The company sources 95% of its ingredients from organic farms in Canada and the United States. They get the rest of the ingredients in their Pure Food Plant Based Protein Powder from organic farms in South America.
6. What are the ingredients in the protein powder?
According to Pure Food Real Meal reviews, their protein powders contain organic, functional, nutritious ingredients and probiotics to support GI health. They also feature sprouted and fermented protein derived from plants.
7. How many servings are in a bag?
The 512-gram pouch of Pure Food Protein Powder contains 28 servings per bag. It also meets all dietary restrictions, including soy-free, dairy-free, paleo, gluten-free, keto, and vegan.
8. How much does Pure Food cost?
The price for Pure Food is $39.99 per bag; you'll pay $8 less if you subscribe to their auto-ship program. You can customize how often they should send you a bag of Pure Food Real Meal. You can also cancel any time you want, and customers enjoy free shipping on both options.
9. Where can their products be purchased?
You can buy Pure Food Plant Based Protein Powder directly from their website PureFoodCompany.com. Their products are also available at Walmart and Amazon.
10. Where do they manufacture their products?
Pure Food Real Meal reviews show that this company produces its products in the United States. They have an ultra-modern manufacturing facility that allows them to create high-quality products.
11. Where is the Pure Food Company located?
Pure Food Company has its headquarters in Rochester, Michigan, United States. This is where they also manufacture their products.
12. Is Pure Food protein gluten-free?
Pure Food Protein Powder is free from gluten, making it suitable for people with celiac disease. Gluten can damage the small intestine of people with this issue. It can also lead to diarrhea, heartburn, gas, bone pain, abdominal pain, cramps, and bloating.
13. Where does Pure Food ship to?
Pure Food ships its Pure Food Plant Based Protein Powder to New Zealand, Australia, Canada, the United States, and most countries in Asia and Europe. They ship orders between 4 and 5 business days.
You will receive an email with a tracking number after they have shipped your order. Use it to know the location of your order. The company offers free shipping to all US orders.
14. What is the return policy of Pure Food Company?
Based on Pure Food Real Meal reviews, the company accepts returns. They offer refunds on up to one opened or unopened product without the need to return it. Their return policy is valid for 30 days from the purchase date. If you bought two or more items, the company will only refund the first opened product and any remaining unopened ones. But you must send the unopened products back to them at your expense.
You can also return any unopened items for an exchange. They cannot offer a refund or exchange if the 30-day period elapses. You can only exchange a product if it's defective, unused, and in its original packaging. The company needs a purchase order, receipt, or other proof of purchase to complete your exchange. Contact the
15. How can I contact the customer service team?
If you have questions about this supplement company or Pure Food Protein Powder, their FAQ page is a good place to start. You can also reach out to their customer service representatives via email at info@purefoodcompany.com, and they will respond as soon as possible.
Alternatively, you can text HELP to this number (669) 333-7309 or call them at (833) 748-7778. Keep in mind that Pure Food does not have a customer service representative to answer calls, but they have a voicemail service.
Looking for other superfood brands? Check out our reviews of Herbaly, Revive Superfoods, Rhythm, and Suncore Foods.