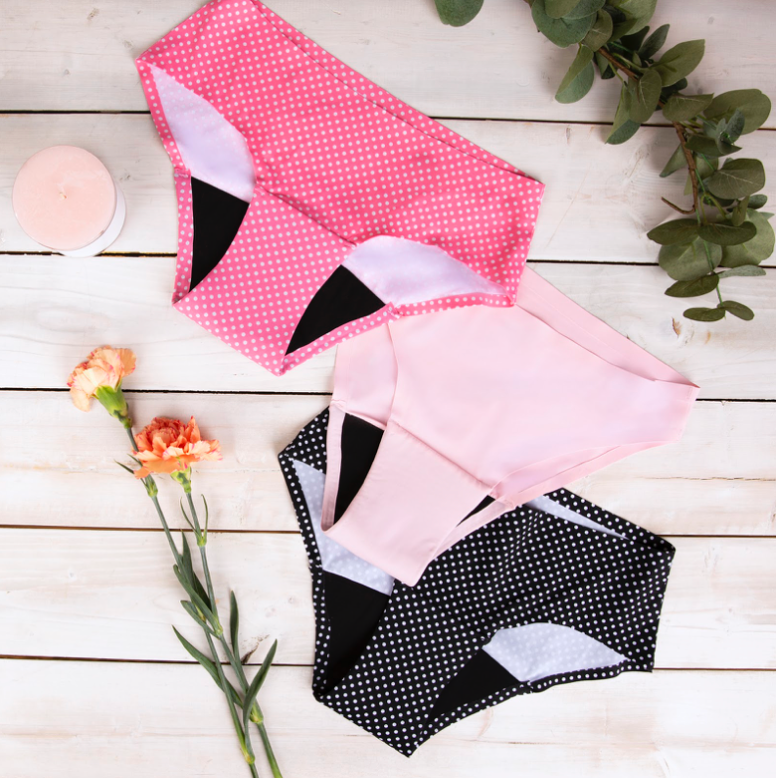 Ruby Love is a women's swimwear and period underwear brand that avoids wasteful and harmful tampons. This company seeks to install confidence by providing an odor-free, secure, and comfortable leak-proof product. They also offer men's boxer briefs to cater to everyone who experiences incontinence. While the brand is still relatively young, it has made headlines and got the attention of leading publications such as Essence, Good Housekeeping, Allure, Cosmopolitan, and others. But is it worth the hype? We will look at Ruby Love reviews, bestsellers, promotions, and discounts to answer this question.
About Ruby Love Period Underwear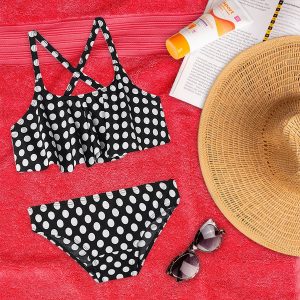 Crystal Etienne is the founder of Ruby Love. She started the company in 2015 and named it PantyProp but rebranded later. As a mum, she was helping her daughter navigate the ups and downs of menstrual flow when she decided enough with sub-par products.
She recognized that the personal hygiene industry needed healthier, easier, and safer options for people of all ages and leaks. She set out to address these decades-long and uncomfortable products. 
This motivation pushed Etienne to develop a smart, intuitive, and organic liner technology that provides maximum absorption. As a perfectionist, she spent years tweaking designs, testing the initial prototypes, and trying on herself to perfect the exact measurements and sizing.
In 2015, she launched PantyProp after successfully designing a unique period and incontinence underwear. The product was ready for sale in January of the following year. After years in operation, the company rebranded to Ruby Love in 2019. 
The brand has seen success and aims to break through the taboo by making it a normalized conversation. The company has managed to secure social media platforms like Instagram with over 66k followers and Facebook with over 94k followers.
More about the brand
They believe that periods should never hinder a woman from being, doing, and going. Its dry-tech mash panty protects against leaks and stains with complete discretion giving you peace of mind all day.
They still offer the same helpful sanitary products currently, but with the addition of sleepwear, swimwear, bundles, activewear, and plus-size options. All its items come with multiple layers of protection and organic cotton padding that is comfortable and absorbent.
In addition to doing business, the company also seeks to enlighten its customers. It has a blog dedicated to feminine wellness and hygiene content, and it provides information to women on the latest trends related to periods, allowing you to always be in the know.
Pros
A variety of products designed for women of all ages, including feminine pads, swimwear, leggings, and period kits

They provide women with period education and tips and tricks for managing their cycles

The period underwear can hold fluid worth 2.5 tampons

The company provides a period kit

All its products are made in the United States, and it provides international shipping

The brand's flagship product, Dry-tech mesh, stops menstrual leaks in all directions
Cons
The company's products are expensive compared to other brands

They do not accept returns

The company doesn't provide 24/7 customer support
Ruby Love Period Underwear Reviews
The company provides some of the best products to reduce the challenges associated with periods. Ruby Love Period Underwear reviews from women love this brand because it offers a variety of products available for all age groups, including feminine pads, swimwear, leggings, and period kits. Here are some of their bestsellers.
Ruby Love First Period Kit Review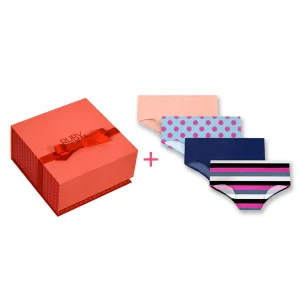 Most girls get their first period between the ages of 10 and 15. While it can be hard to predict, there are signs that your periods are about to start. If your teens start experiencing puberty, it's time to get prepared.
But how do you go about it, especially if it's your first time? Well, you can start by investing in a period kit; this will help you get through the first few days until you get used to a life of periods.
The Ruby Love First Period Kit is perfect for this purpose. It comes with everything you need to get started. These include Hygiene Wipes, Blank Note Card, Hand Sanitizer, Inspiration Diary Notepad, Exfoliating Bath Sponge, Hair Elastics, Ruby Love Stress Ball, Ruby Love Lip Balm, Feminine Hygiene Pads, Warm Cozy Socks (1 Pair), and Warming Gel Pad for Cramps.
The Ruby Love First Period Kit has everything you need to get started. It's a great way to ease yourself into this new phase of your life. For example, the Warming Gel Pad for Cramps is a big help for a first-timer. You can place it on your stomach or lower back for relief. 
The Facial Essence Beauty Mask is also a nice touch. It will help you relax and feel pampered during this time. Additionally, the Keepsake Satin Hygiene Pouch can get used to store your essentials in one place.
This Ruby Love First Period Kit review found that this is an excellent starter kit for any girl about to get their period. It's also a good gift for your granddaughter, daughter, or niece. 
Ruby Love Period Underwear Bikini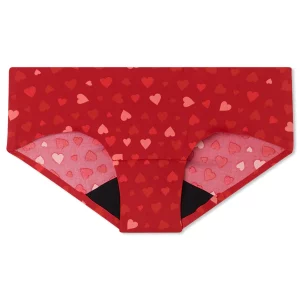 Summertime is the perfect time to wear a bikini. But what do you do if you're on your period? You don't have to miss out on the fun because you have your period. 
With Ruby Love Period Underwear Bikini, you can enjoy the summer without worry. This bikini has a built-in menstrual pad that will absorb a maximum of 2.5 tampons in terms of fluid. It's also leak-resistant, so you don't have to worry about accidents.
The bikini-style underwear comes with less material on the sides, making them the ideal choice regardless of your outfit. Ruby Love reviews show that most women love this underwear bikini because it has an ultra-comfortable and breathable fabric that will make you feel like you're not wearing anything. 
It's also 18 percent spandex and 82 percent  ITY knit blend, meaning that the fabric will stretch and move with you, no matter what you're doing. Whether you're swimming, sunbathing, or just hanging out, you'll be comfortable the whole day.
Since they are 100 percent discreet, you can wear them with any tampon, menstrual cup, pad, or Ruby Love Double-Sided Pad. Thanks to a center panel, the pad does not slide. You rest assured that your underwear guarantees 100-percent leak-proof protection. The best part about this bikini is that it's available in various colors and sizes. 
Ruby Love Swimwear Reviews Black Sea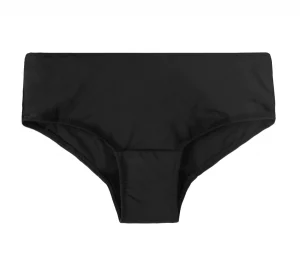 The beach is the perfect place to relax and enjoy the summer sun. But, if you're on your period, it can be a bit of a challenge, especially in shared public spaces like pools. With Ruby Love Swimwear, you don't have to worry anymore.
This swimsuit has a built-in absorbent liner that offers leak-proof protection worth three tampons. When paired with the Double-Sided Liner, it provides protection worth six tampons. That means you can enjoy the water without worry. 
Its design ensures there's no swelling while swimming and no liquid spills in all directions. That way, you can do your water activities without any accidents. Ruby Love Swimwear reviews show that customers love the black color because it is perfect for hiding stains. 
The swimsuit is 20 percent spandex and 80 percent nylon to stretch and move with you. Based on Ruby Love reviews, customers love this swimsuit because it is comfortable and breathable, so they don't have to worry about feeling sweaty or uncomfortable. Additionally, it has a low-rise, hip-hugging, and full-coverage fit that makes it fitting for all body types.
It comes in all sizes for you to find the perfect one. It's also sustainably made, part of Ruby Love's commitment to being eco-friendly.
Period Underwear Teen Candy Polka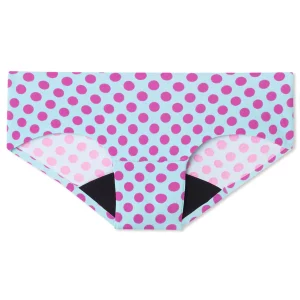 Your teen daughter needs period underwear that's both functional and stylish. Ruby LoveTeen Candy Polka Period Underwear is the perfect solution. These panties have a built-in liner that provides three-tampons worth of leak-proof protection. 
That means she can wear them all day, no matter what she's doing. She'll be comfortable and worry-free, whether she's at school, out with friends, or at home.
Like the rest of Ruby Love products, this is also 100-percent maximum leak-proof protection and discreet. They also have the dry-tech mesh, a three-layered cotton gusset, ensuring there's no moisture buildup. And it comes with a no-show waistband that doesn't dig into the skin.
The fabric is soft and stitch-free, making it gentle on the skin. It's also 77 percent  Nylon and 23 percent Spandex, meaning it moves with the body. Additionally, it's available in many sizes. So, you can find the perfect one for your daughter. For a more secure fit, the company recommends sizing down.
Period Underwear Brief Classic Ruby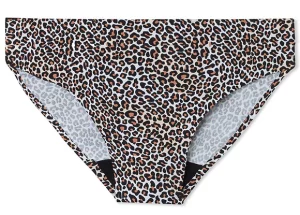 Another popular option for period underwear is the Brief Classic Ruby from Ruby Love. These provide full coverage and come from 100 percent organic cotton. That means they're gentle on the skin and won't irritate.
The fabric is also absorbent and will wick away moisture, keeping you feeling dry all day long. Additionally, it has a leak-proof liner that provides the three-tampons worth of protection. So, you can wear it with or without a pad, menstrual cup, or tampon, depending on your flow.
Like the Teen Candy Polka panties, these are also 100 percent maximum leak-proof and discreet. It's available in many sizes. So, you can find the perfect one for you. For a secure and comfortable fit, the company recommends sizing down.
Ruby Love Period Underwear Reviews from Customers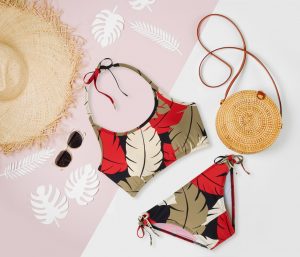 There is no doubt that Ruby Love makes quality products, but what do customers think? We took to the internet to get a clear idea of what people thought about the company and its products. 
The brand does not provide much information on reviews apart from a few slides on their website. However, we manage to find a few customer reviews on other websites such as Trustpilot and Menstrual Cup Reviews.
On Trustpilot, Ruby Love scores 4.1 stars out of more than 6200 reviews. The majority of customers said that they were happy or satisfied with their products. Many people mentioned how comfortable and leak-proof the period underwear is. Some even said it's the best period underwear they've ever tried.
Popular Alternatives to Ruby Love
Further customer reviews
One customer said she now doesn't need panty liners anymore. She added that buying period products has been a great experience and has never worried about leaks. Additionally, she wished she had these products in high school.
Another customer rated the Swimwear Reviews Black Sea as the best. She said that it doesn't leak, it's super comfortable, and it has helped her avoid the horror of pool embarrassment. 
On Menstrual Cup Reviews, there are over 100 reviews for Ruby Love products with an average rating of 4.8/5 stars. Reviewers said that the period underwear is very comfortable, doesn't leak, and is affordable.
We looked at Menstrual Cup Reviews that compared Ruby Love and Thinx. The article said while both brands are good, Ruby Love is the better option. The main reason for this is because Ruby Love products are cheaper and just as good, if not better, than Thinx.
We also found a few negative reviews. They were mostly about sizing issues. One customer said she ordered a kit for her daughter, but the sizes were way off. However, she returned them. 
Overall, it seems that people are happy with Ruby Love products. The company is quick to respond and help customers with any problems they may encounter.
Sign Up for Ruby Love
Ruby Love offers monthly period kit subscriptions. You have to sign up on their website with your shipping address and payment information. 
You can also sign up for their newsletter to stay updated on their latest products, offers, and discounts. Scroll down to the bottom of their website and subscribe with your email address.
Where to Buy Ruby Love Period Underwear
Customers can buy Ruby Love products on their website RubyLove.com.
Ruby Love Shipping and Return Policy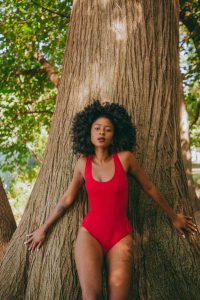 Shipping:
Ruby Love offers free shipping on all domestic orders worth $65 and above. Anything below that attracts a fee, calculated at checkout. 
The brand has four different shipping options. They are:
Guaranteed Next Day: you'll receive the item the next business day

Express: 1-2 business days 

Expedited takes between 3 and 4 business days

Standard takes between 5 and 7 business days 
International shipping is also available with 50 percent off orders worth $65 and above. There are also four delivery options, with a standard taking between 18 and 27 business days and costs $15.
Returns Policy:
Due to the hygiene nature of their products, the Ruby Love return policy does not accept returns for a credit card or cash refund. However, they do replace if the item has fitting and style issues. It must be unworn and unwashed.
If you are not happy with your purchase, you can reach out to their customer service within 30 days. You will be responsible for the shipping cost. 
Ruby Love Promotions & Discounts
Ruby Love is currently running a promotion where wholesale customers can get 35 percent off orders worth $1,500 and above. All you have to do is sign up on their website and create an account.
With a Ruby Love discount code, you can purchase their swimwear at a discounted price.
Contact Ruby Love
For inquiries, you can reach out to their customer service through the following methods: 
Email: [email protected] 

Phone: 516-654-2020

Contact form: fill out a message form on their website
Ruby Love Reviews: Editor's Verdict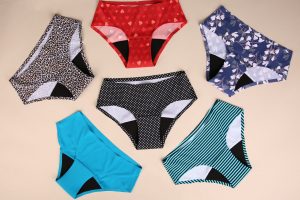 After going through many Ruby Love reviews, we can say this is a great brand. If you are wondering: Does Ruby Love Swimwear work? The customers are mostly happy with their swimwear and say they work well. The company also seems to be responsive to any issues that arise.
The main complaints seem to be about size, so we recommend that you look at the Ruby Love size chart before buying. Other than that, we think that Ruby Love is a great brand, and we would recommend their products to anyone looking for period underwear.
Are you looking for other lingerie and swimwear brands? Check out our reviews of Cupshe Swimsuits, 15 Best Bra Brands, Knix, and Blackbough Swim.
Ruby Love FAQ
How do I use my Ruby Love period underwear?
First, before putting on your clothes, give them a quick stretch. Next, remove the adhesive release paper and firmly press the pad if you have a Ruby Love gusset. Pull up snugly against your body just like you would your regular panties.
How do I wash my ruby Love period underwear?
All Ruby Love products can be machine washable and dried. Wash cold without fabric softener and with like colors. Tumble dry on low heat.
How does Ruby Love technology work?
Yes. The built-in absorbent gusset is an intuitive design that helps contain leaks. It effectively collects any surprises throughout your day.
What is the Ruby Love absorbency level?
All Ruby Love products feature a proprietary woven mixture of absorbent cotton. That gives you an equivalent absorbance level of 2.5-3 tampons, depending on your flow and maintenance.