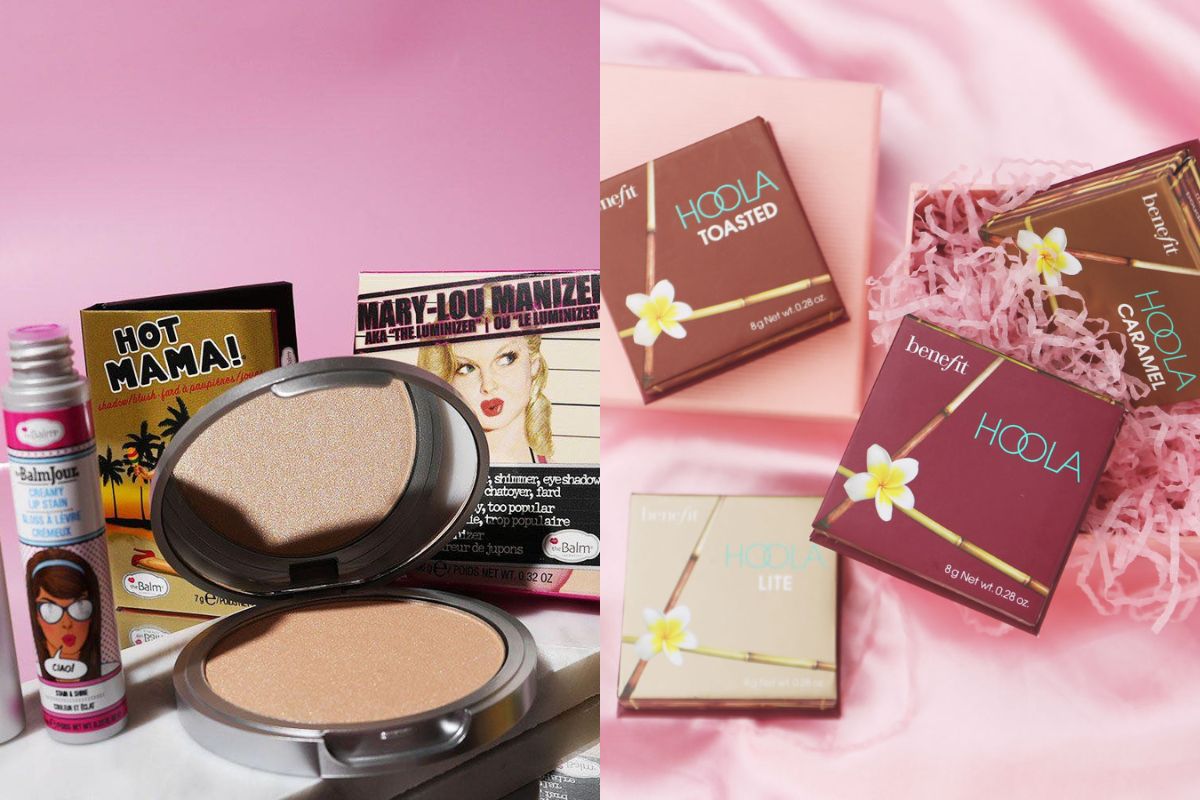 TheBalm vs Benefit Cosmetics: Two well-known vintage-styled cosmetics brands, both set up by women for women, aiming to provide high-quality cosmetics designed to enhance their customers' lives.  
In this review, we take a closer look at these brands to help you make an informed choice when you're shopping for the best beauty products.
The Balm vs Benefit Cosmetics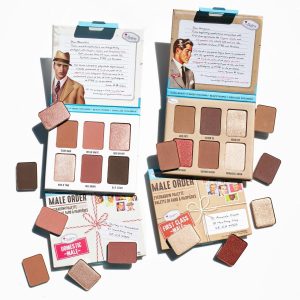 Benefit Cosmetics' brand ethos is that "Laughter is the best cosmetic" and that it's "not only in the makeup business but in the feelgood business."  
As a global brand well known for providing an extensive selection of high-quality cosmetics and skin care products, Benefit has the expertise and experience to bring new and innovative products to its customers, such as its brow plumping Benefits Cosmetics Gimme Brow or innovative Hoola Matte Bronzer. 
TheBalm Cosmetics' stated mission is one of "empowered glamour" and "to be there for you when you want to look good in a matter of minutes."  Its goal is to inspire women to live their lives whilst looking great.  To achieve this, it offers quick-to-use, competitively priced, superior quality, multi-use cosmetics, with firm favorites such as TheBalm Primer frequently receiving 5-star reviews. Its products are also both cruelty-free and eco-friendly!  
We've researched some of the "need to know" questions you might have when considering theBalm vs BenefitCosmetics to help you shop for your next "must-have" product with confidence (and save hours of research). 
TheBalm vs Benefit Cosmetics Pros and Cons
TheBalm
Pros
High-quality, affordable products.
Cruelty-free products and a "clean beauty" philosophy.
Products that smell great and are easy to apply.
A reward program giving you access to discounts and freebies.
Cons
International delivery can be slow.
Not all products are vegan.
No free samples.
No refunds or exchanges on products bought in bundles.
Benefit Cosmetics
Pros
The variety of products.
Experience and expertise gained from over 40 years in the industry.
Great return times - products can be returned up to 60 days from purchase.
Cons
Delivery delays are a regular customer complaint.
Not PETA or Leaping Bunny cruelty-free certified.
Benefit products are not vegan.
TheBalm Makeup vs Benefit Cosmetics Makeup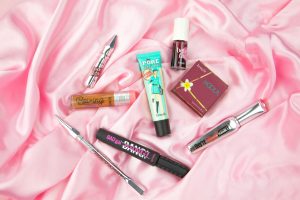 Benefit Cosmetics has around 130 products in total, with 36 dedicated to your brows.  Some of those are minis of your favorites, whilst some are value sizes, saving you from the worry of running out of your favorite essentials!  And to give you an even better experience (and make sure you walk away with the products that will work for you), you can even visit one of many Benefit Cosmetics Brow Bars for an in-person shopping extravaganza. 
TheBalm Cosmetics range is smaller, with around 80 products in total. Its product range is simple but impactful and includes everything you need to look fabulous. 
In the past, Benefit Cosmetics has been criticized for a lack of diversity in its make-up range and for not being inclusive of people of color.  Whilst the brand has now widened the range of color choices in some of its more popular products, such as its Hoola Bronzer, there remain only 12 shades in its Hello Happy powder foundation.  
TheBalm Cosmetics doesn't fare much better and sadly offers only 10 shades of its famous theBalm tinted moisturizer. However, both companies rarely receive negative reviews about a lack of color choice, so perhaps this limited range can work on a wider range of skin tones than it first appears (or they only have a limited customer base).
None of the products in theBalm or Benefit Cosmetics range are hypoallergenic.  Whilst its product descriptions don't discuss suitability for different skin types, reviews of products from both brands indicate customers rarely experience sensitivities. In fact, theBalm primer regularly gets rave reviews about how it feels on your face.
Package and sustainability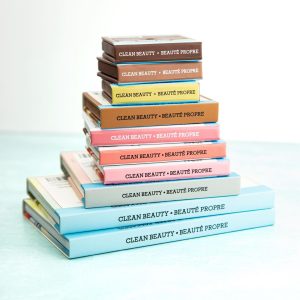 Benefit Cosmetics states that it does not test on animals. However, because it allows some of its products, like the Benefit Cosmetics Brow Pencil, to be tested on animals when required by law, including when selling in stores in mainland China, it does not have PETA or Leaping Bunny certification. On the other hand, TheBalm has both certifications and can rightly claim to be Cruelty-Free.   
Neither theBalm nor Benefit Cosmetics claim to be vegan-friendly; however, TheBalm does offer a collection of vegan products, whereas Benefit doesn't provide any vegan-friendly options.
TheBalm Cosmetics prides itself on being a fully recyclable, clean, green beauty brand.  Not only does its packaging look great, but it's also great for the planet.  The Balm is open about its products' EWG Skin Deep Ingredient hazard score and about when it hasn't achieved this, which is a level of transparency we love to see in beauty brands! 
Benefit Cosmetics gives little to no information about its sustainability or recycling of its packaging, making theBalm Cosmetics clear winners for us in this category.
Product types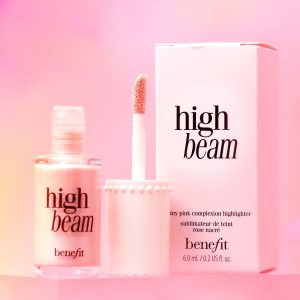 Both theBalm and Benefit Cosmetics offer a full range of make-up products; from primers and tinted moisturizers (such as theBalm's famous tinted moisturizer Anne T.Dotes) to highlighters and mascaras, including theBalm's Mad Lash Mascara and Benefit Cosmetics' mascara, the BADgal BANG. 
When it comes to color choice, Benefit Cosmetics' eye and lip color ranges are slim, and when compared to the choice of colors on offer by theBalm, it's positively limited!
If you're looking for more than a shop full of products, you'll be thrilled to find Benefit Cosmetics offers additional features from in-person treatments offered at the Benefit Cosmetics Brow Bars to the new "Brow Try-On".  TheBalm Cosmetics doesn't offer any such additional extras.
Benefit Cosmetics has a limited skincare range, a range of tools and brushes, its own Benefit Merch, including t-shirts and candles, and also offers gift sets so you can share your favorite products with those you love.  TheBalm Cosmetics has kept its range of products streamlined to make-up only and doesn't offer gift sets… Meaning Benefit might be a better choice for your Christmas shopping, even if TheBalm wins in other areas. 
Quality
Benefit Cosmetics has a global brand built on delivering affordable, high-quality products, and as a result, many people have their one "go-to" Benefit product.  There are rarely negative reviews about the quality of the products; however, some reviews do mention that the mascaras become ineffective or dry out after a period.  As cosmetics do have a shelf life once opened, this is perhaps to be expected.  
For some people, a brand being cruelty-free is synonymous with quality today, so the ongoing question, "is Benefit Cosmetics cruelty-free?" may affect your feelings on the brand's quality, particularly given the lack of information available on Benefit's cruelty-free, sustainability, and ethical practices. 
TheBalm also offers good quality makeup at a reasonable price and features plenty of "must-have" products – theBalm Bahama Mama Bronzer is loved by many! Most negative comments are aimed at their lipsticks for not lasting as long as promised and for inconsistencies across the shades.
Customer review ratings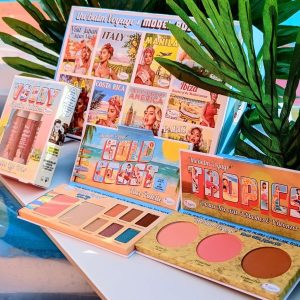 When checking the ratings for our theBalm vs Benefit Cosmetics review, we found two Trustpilot pages for Benefit Cosmetics, each with different scores! The .com page scored a "poor" overall score of just 2.3-stars, while the other (a .uk page) scored much higher with a "great" 3.9-stars. With two pages to leave a review on, we wonder how reliable the scores are on each page. 
Of the complaints made, Benefit Cosmetics products themselves rarely come in for criticism, although some do mention dried-out products, with one reviewer claiming the Benefits Cosmetics "Gimme Brow was dried out and very expensive for what it was."  
That said, most complaints seem to be a result of poor experiences and treatment at Benefit Brow Bars, poor delivery times, or poor customer service in response to complaints made about delivery times.  
Further customer reviews
On Better Business Bureau, Benefit Cosmetics also received poor feedback regarding delivery times and Brow Bar service, alongside several complaints regarding dried-out products and poor packaging leading to damaged products.  There are 12 reviews but only 6 complaints, mainly about delivery delays. However, their business response rate shows as 0%, which is a little concerning for such a large company. 
Trust Pilot Scores for theBalm are also "poor" at 2.7-stars, but this is based on only 5 reviews.  Of these, most were about delivery times or poor customer service in responding to complaints. Again, we found little or no criticism about the products themselves other than one about theBalm Mad Lash Mascara being dried out and clumpy.
On Better Business Bureau, theBalm has only 1 review about poor customer service and no complaints. It's hard to draw a conclusion based on such little information, but, assuming dissatisfied customers are more likely to give feedback than happy ones, it would seem that theBalm is the winner when it comes to customer satisfaction.
TheBalm vs Benefit Cosmetics: Editor's Verdict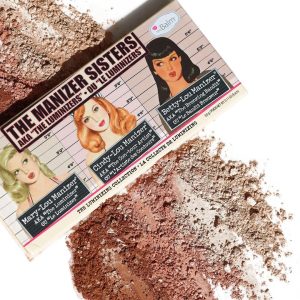 After a closer look at Benefit Cosmetics vs theBalm Cosmetics, we would say that if you're looking for a brand that has a broad range of quality products loved by die-hard fans that covers everything you need to look great to achieve "that look," you can't go wrong with Benefit Cosmetics. Particularly if you're into your eyebrows – the Benefit Cosmetics brow pencil is a must-have, and the Brow Bars are a great addition to make the brand feel more approachable and help every customer find the right products for their needs. 
On the other hand, if you're after a brand with quality "go-to" rave-about products (like theBalm Bahama Mama Bronzer) and a huge choice of colors, that is ethical and strives to maintain and improve its green credentials, then theBalm might be your new bestie.
If you're looking for other popular makeup brands, check out our reviews of Anastasia Beverly Hills, Fenty, Natasha Denona, and Kylie Cosmetics.