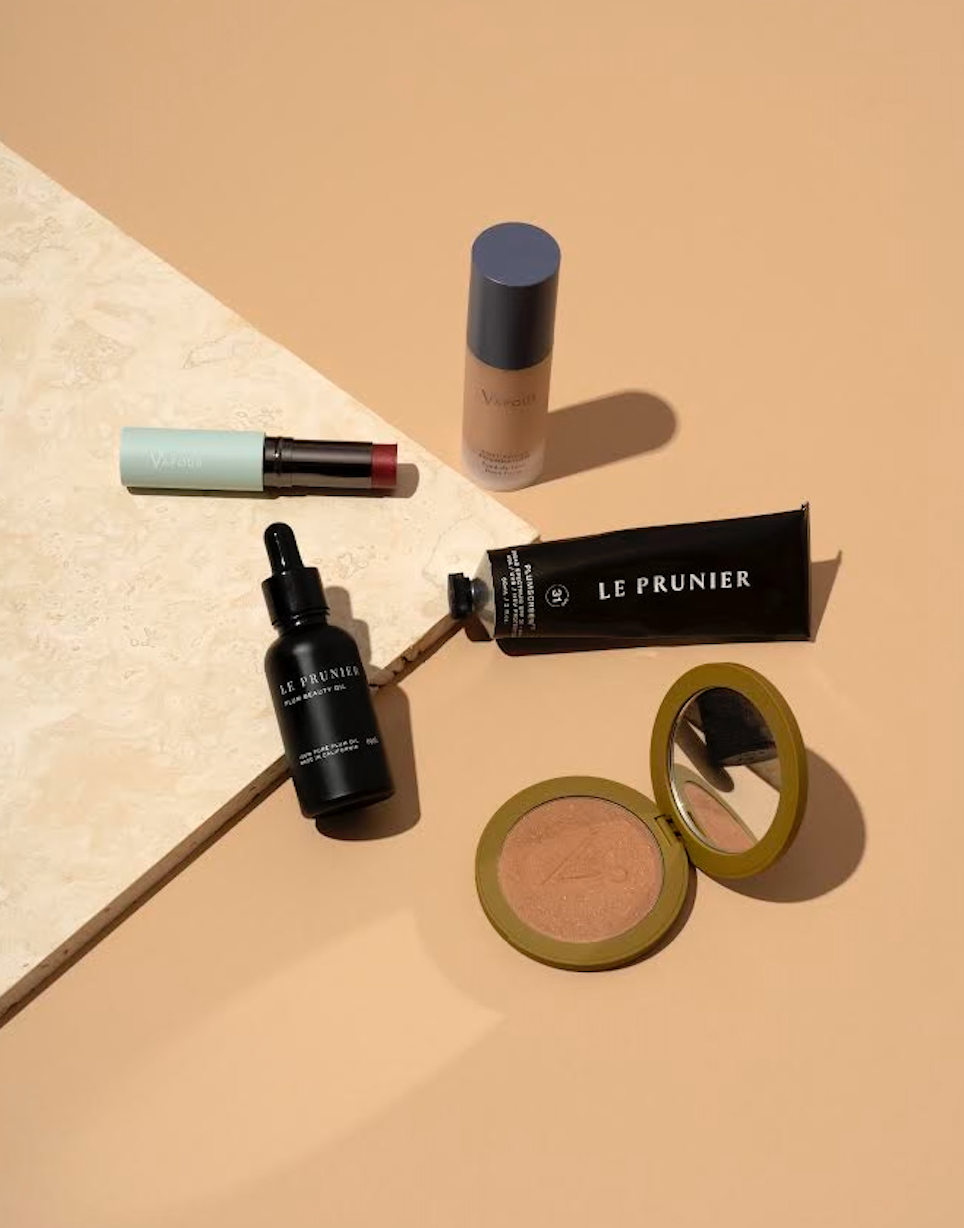 There is a growing concern about the types of ingredients that are used in beauty care products. It has been confirmed that many components used by major cosmetics companies are toxic and harmful to human health. Vapour Beauty offers natural and healthy beauty products that are clean, safe, and help protect the environment. It is regarded as one of the few all-natural beauty brands that create products with organic and ethically-sourced ingredients. More people are considering natural cosmetics, and this Vapour Beauty review will help you know more about this brand. We'll also provide our honest and detailed opinion on whether or not Vapour Beauty is worth your money.
About Vapour Beauty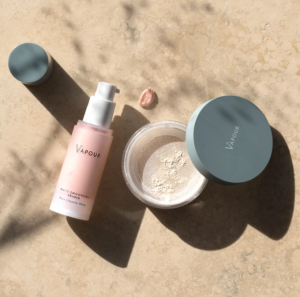 The story of Vapour Beauty begins with two women, Krysia Boinis and Kristine Keheley, who are the company's co-founders. These two women were inspired to create this revolutionary brand of their commitment to green beauty with ingredient purity and sustainability. It launched six years ago with organic skincare and skin-friendly cosmetic products.
The brand offers a wide range of products formulated with clean, natural, and organic ingredients infused with the mystic spirit of Taos. Vapour Beauty's success in the beauty industry comes from the founders' passion, who market skin-honouring beauty products. It also bridges the small gap between skincare and makeup with products that highlight your glowing natural beauty.
They offer a transparent ingredient list that explains precisely what's in the formulas to ensure you know what you're putting in your body. It is rare to find makeup and beauty products that compliment your natural beauty while nourishing your body. The brand's ethos and motto are 'Purity is Transparency.'
It is based in Taos, New Mexico. Some of their products include ingredients that are ethically sourced from Taos land. Vapour Beauty is one of the most original natural beauty brands. It is also committed to sustainable and eco-friendly approaches. In 2020, Vapour switched to 100% Daylight solar power in its manufacturing facility in Taos, New Mexico.
They also offer Terracycle to help customers recycle their plastic packaging. The brand uses eco-friendly and compostable shipping materials. It also has certifications and awards for its service to eco-friendly and sustainable production. And overall, their goal is to consciously help more people switch from conventional makeup to more organic options.
Pros
Extensive selection of effective organic makeup products
Safe, clean ingredients excluding parabens, silicones, and additional 1400+ banned ingredients.
Committed to eco-friendly production with 100% daylight solar power and FSG-certified paper box packaging
Offers @Terracycle recycling service for plastic packaging
10% of your first order when you sign up for the mailing list
Free shipping for orders above $100
Afterpay installment financing is available
Cons
Limited reviews on external and unsponsored sites
High costs compared to other brands
Vapour Organic Beauty Product Review
Vapour Organic Beauty is a well-established makeup and skincare brand that offers natural beauty products as an alternative to conventional products with harmful toxic ingredients. The product line includes items made with the utmost care and concern. They ethically source their ingredients from all over the world to create formulas that genuinely work for your skin.
Instead of your conventional beauty products made with artificial ingredients that harm your skin and health, you can check what Vapour offers. This section of our review will examine the bestseller products in the brand's collection. We'll also report honest customer feedback on whether or not the products will serve your money's worth. Here's more below!
Vapour Beauty Luminous Foundation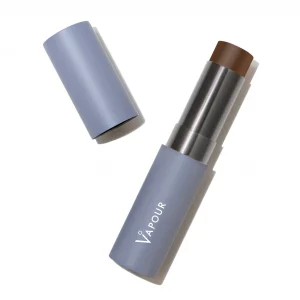 Vapour offers this organic Luminizing foundation that doubles as a concealer and highlighter. It also provides contour benefits and even skin tone to help you create a perfect on-the-go look. It offers breathable and lightweight coverage with a customizable application process. The foundation contains organic sunflower oil, which hydrates the skin.
The formula also contains Frankincense, Myrrh + lotus, which soothes and calms the skin leaving a smoother, more relaxed result. This Vapour luminizing foundation is clean and formulated without silicone, parabens, fillers, as well as 1,400+ banned ingredients. It is effortless to use and offers a time-saving application process.
In addition, it is suitable for all skin types. And if you have balanced or dry skin, you can pair it with a Vapour primer to get a better result. If you also have oily skin, we recommend that you pair the foundation with a matte smoothing primer. You can pick from the 19 available shades and get this foundation for $46.
Blush Powder
Your makeup kit is not complete without this Vapour beauty blush powder. It adds a lovely hue to your face, brightening your look. And the velvety-soft powder ensures it's blendable and easily applied. With this powder, you can create a sensitive gloss that meshes your skin to allow your natural color to shine through.
It also adds a soft flush of color to your cheekbones, and you can build up on the product to get a more dramatic pop. The product also offers skincare benefits to help improve the texture of your skin. Olive squalene nourishes and hydrates, while the blend of amino acids smooths and calms the skin. It also contains healthy, rich mineral pigments.
Vapour also confirms that the blush powder is completely clean and safe and, as always, 100% cruelty-free. It comes in four signature colors: Smitten, Instinct, Obsess, and Mischief. You can create a rich, powerful look with this blush, and you won't have to worry because it is gentle on all skin types. Get this Vapour Beauty Blush for $28.
Vapour Beauty Lip Gloss
Forget diamonds; lip gloss is a girl's best friend. And, you'll never want to leave your home without this organic Vapour Beauty lip gloss. It offers a perfect blend of color and shines without causing any stickiness. The relaxed fluid gives your lips a natural plumper pout, and you can wear it comfortably all day long.
It is formulated with familiar natural ingredients, including Jojoba Oil, a nourishing agent, and hydrates with soothing Iceland Moss. Green Tea is also a powerful antioxidant, and it helps protect the skin from environmental stressors. The lip gloss offers major essential nutrients with the calming lemon balm and organic fruit flavor of lemon, plum, apricot, and fig.
The Vapour elixir gloss is made with only clean and natural ingredients and contains no parabens, silicones, petroleum, including the 1400+ banned substances. It is available in 5 different shades, and the bestselling colors are Amor and Pout. You can get this juicy and hydrating lip gloss from Vapour beauty for $18.
Vapour Beauty Mesmerize Mascara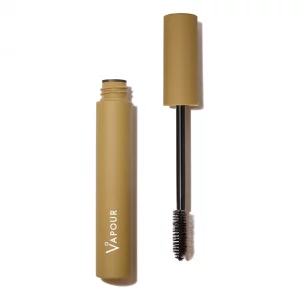 You can get more length and lash definition with the Mesmerize mascara from Vapour beauty. Infused with natural botanicals, the formula contains a blend of clean and safe ingredients that help to protect the skin. It helps adds volume to your lashes and offers bold fluttery black lashes. Also, the super smooth application prevents any flaking, clumps, or irritation.
It also helps to improve the natural texture of your lashes due to the conditioning acacia flower and jojoba oil for adequate moisture. The blend of amino acids is nourishing and soothing for your lids and lashes. This mascara offers the perfect product for a natural beauty lover with the unscented formula and clean vegan-friendly ingredients.
The mascara is also bee-friendly and completely cruelty-free. The jet black substance is contained in a recyclable plastic container and comes in sustainable paper box packaging. It is safe to use, and you can achieve a distinct lush. Add this must-have Vapour Mesmerize Mascara to your makeup collection for $28.
Highlight Stick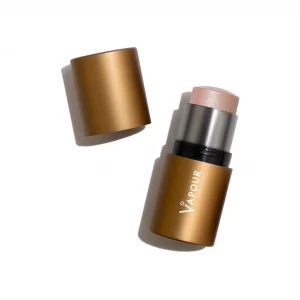 This highlight stick offers a light and glowing luminizing effect. It has a rich, creamy, blendable texture which allows you to layer on depending on what product you want to give. The highlight offers a natural radiance infused with pure natural pigments that helps your living color shine through. You can apply it on your cheeks, brow bones, cupid's bow or shoulders, whatever features you want to pronounce.
It is EFA rich in organic avocado, shea butter, and cocoa butter. This powerful antioxidant helps moisturize and nourish the skin. The formula is also infused with hydrating, skin-conditioning organic sunflower. It is cruelty-free, vegan, waterless, and comes in recyclable packaging for sustainability.
The highlight stick is derived from plant-based ingredients, and it is formulated without any toxic or harmful components. It comes in a single pale shade that blends well with all skin tones. You can mix it with any color stick to add an illuminating pop of color to your cheekbones. This Vapour beauty highlight stick retails at $36.
Vapour Beauty Review From Customers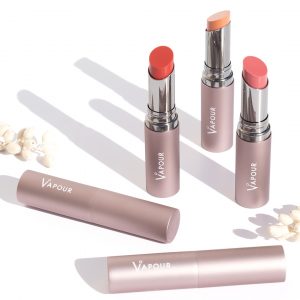 To determine if you will get real value for your money, we looked at Vapour organic beauty reviews from real customers. Customer reviews and ratings show what users have to say about each product on the individual product page. One of the bestseller items in the brand's collection is the Luminous foundation.
It has 4.5/5 stars from 266 reviews. One particular user gave a glowing review stating,
"Wow, so impressed with this Luminous Foundation. The packaging is so chic and stylish. I love the formula; it's beautiful on the skin and long-lasting. Easy to apply and blend. It has medium to full coverage. Also gives a very youthful, luminizing look, and it totally matches my skin tone. The packaging is travel friendly, and overall, it gives my skin a natural glow and I get so many compliments when I wear it."
Popular Alternatives to Vapour Beauty
Further customer reviews
The Mesmerize mascara is another bestseller with a 4.4/5 stars rating from 122 customer reviews. Most customers loved their purchase in the comments, and several users stated that they got the desired volume. Other users also gave rave reviews and appreciated the easy application process that does not involve flakes or clumps.
However, we noticed that a few customers were disappointed in the product. "I heard high hopes for this mascara. While I love that it has great ingredients that are conditioning the lashes, it does little to add volume to length. I couldn't get it to hold the curl for my lashes. It mainly added some color, but I am looking for more out of mascara than that."
We also looked outside the brand's website for more objective and unsponsored reviews. On Makeup Alley, the Atmosphere Soft Focus Foundation has 3.3 stars from 38 user ratings. There is a mixed feeling about the brand's products, but many reviews are positive, and most users loved their purchase. But we noticed some customer complaints that it didn't work for their skin type.
Sign Up for Vapour Beauty
You can create a personal shopping account to buy Vapour organic products and manage your order directly on the site. It also monitors your order delivery and access membership deals and exclusive offers. If you also sign up for Vapour Beauty, you can get 15% off your first order, only available on the website.
Where to Buy
Suppose you're wondering where to buy Vapour Organic beauty products. In that case, you can check the store locator to find available vendors near you. You can also purchase the item directly on the brand's website, and the package will be shipped to your location. Retail outlets that offer Vapour organic beauty products include Allure, Walmart, Dermstore, and Popsugar.
Vapour Beauty Shipping and Return Policy
Shipping
The brand will process your order for shipping within 1-3 business days after you make payment. The brand offers both USPS and FedEx courier services for domestic US shipping. The shipping times and costs depend on the option you choose. First-class mail delivery takes 2-14 business days, while priority mail often delivers within 2-4 days. The shipping cost is calculated at checkout.
Meanwhile, international shipping costs and times depend on your location. All the import duties and taxes will be examined based on the order value. And the brand expressly states that the buyer is responsible for all additional import costs and the shipping fee. Also, the only option for international shipping is via the USPS.
You will get a shipping confirmation email after your order has been shipped and another email containing your tracking information once a shipping label is formed. This will help you monitor the status of your order and know when to expect your package. If you have any problems with your delivery, you can reach out to the customer care center for immediate attention.
Return Policy
While the brand promises happiness for all its products, returns are an available option within 30 days after receiving the product. Returns are accepted on both opened and unused products. It also offers exchanges for a different shades of the same products. However, items such as samples, subscriptions, and gift cards are not eligible for return. And the customer bears the cost of return shipping.
Promotions and Discounts
If you love a good deal, you'll love shopping with Vapour organic beauty company. The brand offers regular discounts and exclusive deals for its customers. It is currently hosting a giveaway open to all customers for earth month. It is in collaboration with Le Prunier. You have to subscribe to Vapour newsletters and follow @vapourbeauty and @leprunier on Instagram.
The winner will get one $150 gift card to shop at Vapour beauty and another $150 gift card to shop at Le Prunier. If you sign up for their newsletters, you'll also get 10% off your order and updates on new deals. Vapour offers free US shipping for orders $100 and above, which is only exclusive to website purchases.
Contact Vapour Beauty
For more inquiries, you can contact the customer care team via mail at [email protected].
Vapour Beauty Review: Editors Verdict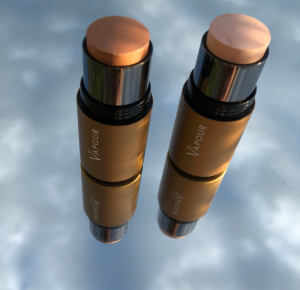 This Vapour Beauty review rates the brand 4.5/5 stars based on the company's history and multiple customer reviews. In terms of natural and organic products, it is a leading brand committed to providing sustainable, eco-friendly makeup. It uses only safe and clean ingredients that are ethically sourced worldwide.
It is a unique brand that serves its customers with effective makeup made with organic ingredients that help to protect your skin. The product line is 100% animal-friendly and cruelty-free, free of parabens, silicone, sulfates, petroleum, and over 1,400+ banned ingredients that are harmful to your health.
Vapour is also an award-winning eco-conscious beauty brand. Its manufacturing facility uses 100% solar daylight power for all its production. It also uses FSG-certified paper box packaging and offers Terracycle recycling service. From the customer reviews, it has high user satisfaction ratings, and we recommend that you try this brand if you're switching to natural makeup.
If you love beauty brands as much as we do, check out our reviews of Cover FX, Cult Beauty, Beauty Bakerie, and Thrive Causmetics.
Vapour Beauty FAQ
Does Vapour Beauty Offer Samples?
Yes, samples are available for purchase.
How are Vapour Beauty ingredients sourced?
The brand mainly uses organically farmed and naturally derived plant-based ingredients.
What is the shelf life of Vapour Beauty products?
All the products come with a 24-month shelf life.
Are Vapour products safe for use while pregnant/nursing?
Yes, pregnant/nursing mothers can also use Vapour products.
Do Vapour products contain SPF?
The brand discloses that its products are not SPF-tested.