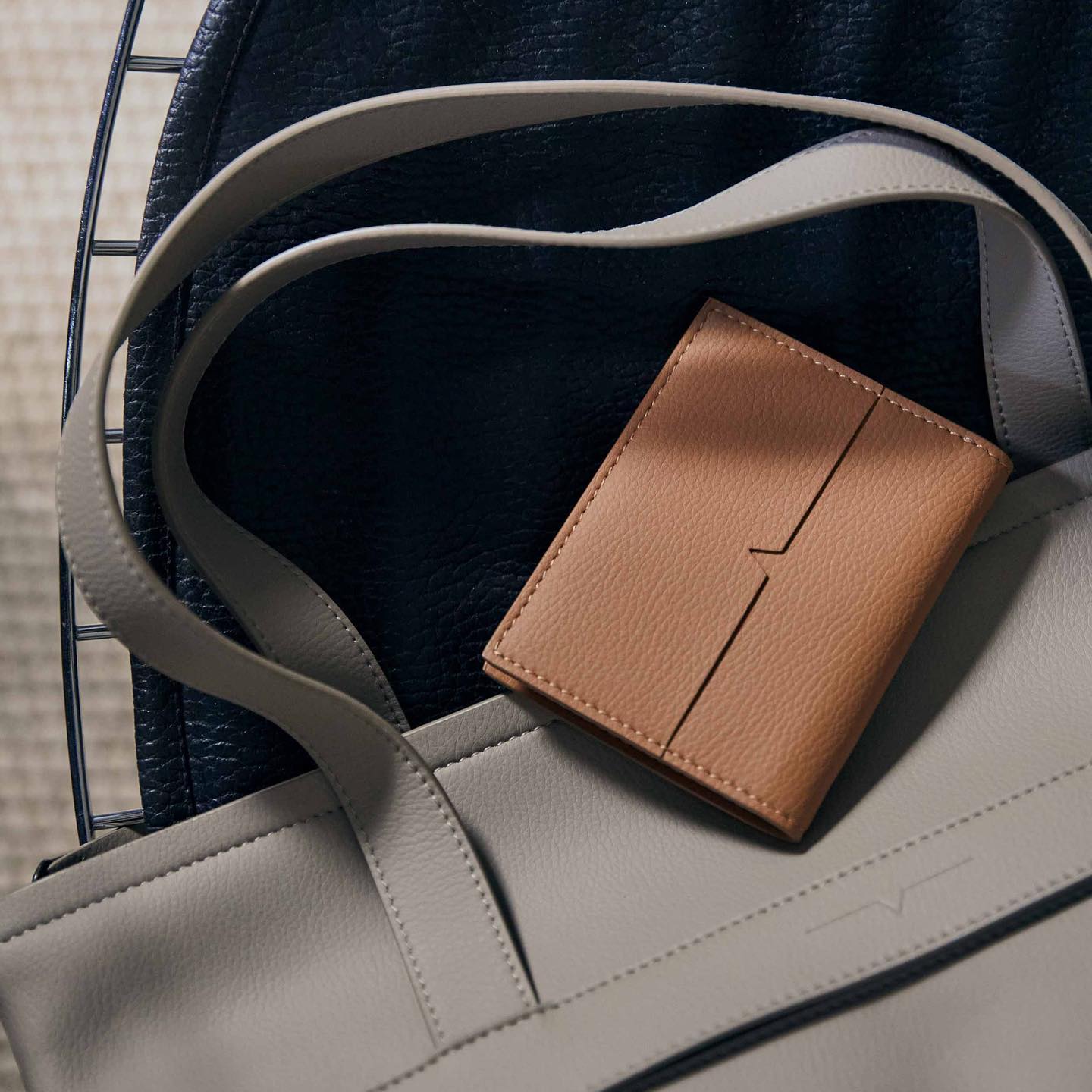 Our von Holzhausen review looks at a vegan handbag and accessories brand taking the fashion world by storm. Founded by former car designer Vicki von Holzhausen, this eco-conscious fashion house is on a mission to make non-animal leather mainstream. And the fact that their bags and accessories are practical and beautiful is undoubtedly helping their cause.
Innovative, sustainable, and cruelty-free, von Holzhausen epitomizes ethical fashion. And unlike some other non-animal leathers, their bags give other high-end designers a real run for their money.
But can this 'faux fashion' brand justify its premium price tag? And does its 'leather re-invented' mission appeal to the everyday shopper? We explore the von Holzhausen bags range, dig a little deeper into the brand, and listen to its customers to help you decide if their vegan bags are for you.
About von Holzhausen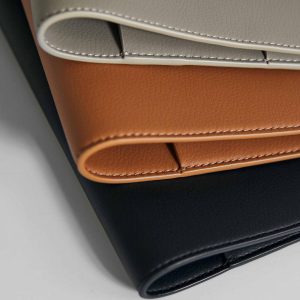 Von Holzhausen was founded by its namesake in 2015 so is still a relatively new company that's made an impact in a short period of time. And the reason behind the von Holzhausen buzz is its innovative approach to vegan fashion.
A former car designer with Audi and Mercedes–Benz, Vicki von Holzhausen took on the task of creating a non-animal leather than could rival the real thing. And she used material science to come up with a fashion-forward solution. The result was a selection of ultra-realistic faux leathers made from sustainable materials, including recycled fibers and plants, such as bamboo.
The core von Holzhausen material is Technik-Leather, which has the grain, suppleness, and durability of animal leather. All without the environmental impact or animal cruelty. However, the company's commitment to sustainable, non-animal materials goes way beyond its faux leather, as all its glues, dyes, and additional materials are vegan too.
Von Holzhausen's first collection of handbags, totes, and crossbody bags made the fashion pack sit up and notice. The company's take on realistic, high-quality vegan leather combined with exceptional design continues to hit the mark. Their expanding range, which includes their signature shopper as well as backpacks and tech accessories, continues to attract media attention, with coverage by the likes of Forbes and Harper's Bazar.
And they don't intend to stop with fashion as, ultimately, von Holzhausen wants to supply its vegan leather to other sectors. This means spreading the word of Technik-Leather to furniture design, aeronautical, and the car industries, as well as changing the fashion world.
Before we dig deeper into the von Holzhausen bags collection, let's compare the highs of this fashion with a conscience brand to perhaps is not working quite so well.
Pros
High quality, cruelty-free products that are sustainable without compromising on design
Their faux-leather formula could be a game-changer
Unlike other 'pleather', the Technik-Leather is super soft and doesn't crack
Durable, stain, and water-resistant materials
Serious eco points as all materials are recyclable and biodegradable
All von Holzhausen bags come with a one-year guarantee
Free delivery on orders over $75
Cons
All this faux leather innovation comes at a cost – von Holzhausen is not the cheapest (although they are well-priced compared to other high-end vegan brands)
You need to pay $10 for a return label and they don't accept returns on international shipping
There could be more color choices on some of their products
von Holzhausen Bags Review
You don't have to be a vegan to appreciate the innovation and quality behind the von Holzhausen bags collection. With stunning designs, a good choice of sizes, and options for accessories too, there's a lot to like about this brand. Our von Holzhausen review puts some of their bestsellers under the spotlight.
The Market von Holzhausen Tote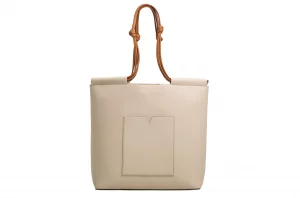 Who doesn't love a tote? And with the von Holzhausen tote selection, you get the perfect combination of size and space. The Market von Holzhausen Tote is a medium-sized bag that is deceptively spacious. And that means it is versatile – from the school run to work and everything in-between. But it doesn't have that awkward, oversized vibe that some other totes seem to have.
It's not cheap – coming in at $295, with an extra $15 if you want a personalized monogram – but this is a tote designed to last. Made from the brand's signature Technik-Leather, you get a choice of eight colorways, including our personal favorite, the super-smart oat with caramel handles. This lightweight design has a recycled liner, structured bottom, and a handy magnetic closure. Sized to hold laptops up to 15 inches, it has a front slip pocket and a stylish knotted handle that sits comfortably on the shoulder. Yes, this tote is pricy, but with its durability and stylish good looks, this is a bag you will be using for a long time.
The Baguette von Holzhausen Handbags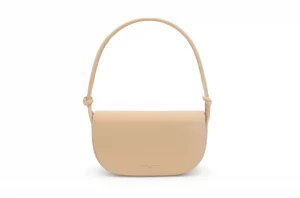 Known for its oversized bags, von Holzhausen can also do restrained. Check out the von Holzhausen handbags, and it is their delicate-looking baguette that stands out. This gorgeous, go-anywhere handbag adds low-key sophistication to any outfit. However, this is von Holzhausen, so do not expect this bag to be a push-over!
Made from durable, water, and scratch-resistant Tecknik-Leather, this handbag has a beautiful faux grain that adds to the lux look. Inside, there is space for a purse, phone, and other essentials, plus you get a neat side zipped pocket across the back. The whole baguette also has an extra feminine touch with its lovely knot handle design.
There is only a choice of three 'go with anything' colors. However, each seems popular as they regularly sell out. At $295, this handbag is an investment piece. However, it will make a staple wardrobe go-to when a little handbag sophistication is the order of the day.
von Holzhausen Shopper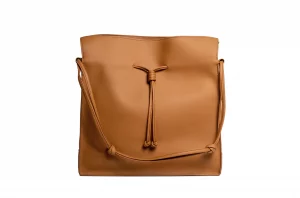 With voluminous inner space, super-soft vegan leather, and a cute design, who knew that everyday shopping could look this good? The von Holzhausen Shopper is one to consider if your budget doesn't run to the top designer bags. And with a quality that can compare to much more expensive models, this just may be the shopper to choose.
OK, it does cost just shy of $500, so it's not a bargain buy. But as a vegan designer alternative you'd be proud to wear, von Holzhausen gives the rest a run for their money. It is super spacious, yet the soft Technik-Leather molds to your body, meaning it doesn't feel stiff or get in the way. And, as it is a third the weight of animal-based leather, you can carry more when a shopping trip calls.
This sizeable shopper is so comfortable to use, that it could double up as a weekend bag if you like to pack light. Add in those lovely von Holzhausen design touches, such as the knotted handles which you can adjust to wear cross-body style, and this is the bag you never knew you needed!
von Holzhausen Sac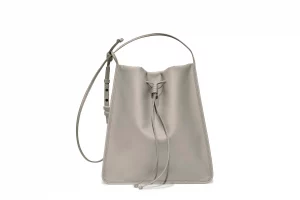 Slim, sophisticated, yet with a practical edge, the von Holzhausen Sac is consistently one of their bestsellers. Available in four stylish colors (we love the stone shade), the Sac is halfway between a handbag and a tote. And it is even more versatile for it.
Described as a 'slouchy messenger bag' on the website, the Sac is more elegant than that. It sits across the body beautifully, with the soft banbu leather (made from sustainable bamboo) adding to its curve appeal.
Inside, you get all the space you need for your essentials, and the signature knotted strap secures everything as it keeps the bag close. The only kicker is that you pay the price for all this gorgeous, practical simplicity as it costs $295.
However, this is an excellent bag for daytime use when you want a roomy bag without overwhelming your outfit. Then you can switch it up for cocktails or an impromptu night on the town.
von Holzhausen Sac MacBook Portfolio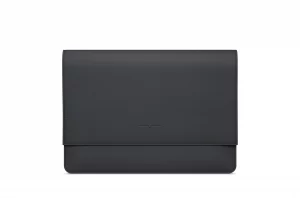 The final product to attract the attention of our von Holzhausen review is its sac for the MacBook portfolio. Sized to work with MacBook Air and the MacBook Pro, this sac has a clever multi-sized design without any unnecessary bulk. And, with its inner folds and hidden slit pockets, you can also use it to store notebooks and other slim essentials.
Retailing at $100, this is an affordable way to sample the von Holzhausen vegan leather way of life while protecting your precious tech. It is envelope style with no handles, but you get a sturdy magnetic fastening to keep everything in place. The only issue is the lack of storage for more bulky items, so if you need to bring your charger and mouse, you will need to carry them separately.
With a choice of four gorgeous colors, including a vivid teal and a warm caramel, the MacBook Portfolio Sac is a class act. Sized to fit in the tote and the shopper, this could be your excuse to add to your von Holzhausen collection!
von Holzhausen Reviews from Customers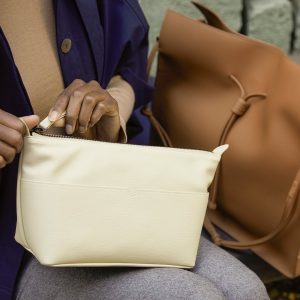 There's no doubting the positivity surrounding the von Holzhausen brand and its drive to take its vegan leather beyond the fashion world. But what do their customers think about their experience with von Holzhausen?
Its website has a good setup when it comes to showcasing its many customer opinions. But it does incentivize feedback with a competition to win a $500 gift card. That aside, it's clear that there is a lot of customer love for this innovative fashion brand. Many of its bestsellers score five stars, while most get 4.5 or above.
The focus of a lot of the commentary is the authenticity of the vegan leather, with the majority seriously impressed. And its durability, softness, and texture are top of the list. However, some customers find that the vegan leather doesn't always convince: 'The material is not as supple as I thought it would be', 'Just ok, wish I didn't spend close to $500 on it.'
Popular Alternatives to von Holzhausen
That aside, a good proportion of reviews highlight the material's durability, quality, vegan credentials, and super-wearable designs. 'I truly love this extraordinary bag!'; 'I get random compliments from people who have no idea it's not leather.'
Away from the von Holzhausen website, it becomes more challenging to locate customer reviews, especially of the more negative kind. Some reviewers highlight the price, but this can be expected for a high-end fashion product. What can be taken away from this review is that von Holzhausen is breaking down the preconceptions of faux leather being an inferior product. And that within the fashion world, vegan products can more than hold their own.
Sign Up for von Holzhausen
There are several ways to sign up for von Holzhausen. For general updates and news on the latest releases, sales, and offers, you can sign up for texts via their website. For a smoother shopping experience, you can also create your own account where your payment details, order history and delivery addresses can be safely stored.
Where to Buy 
The central sales platform for von Holzhausen is its website, where you can buy the full bag range.
They currently don't have their own 'bricks and mortar' stores, although they are known to host pop-up stores and one-off events in LA and New York. For the latest pop-up sale updates, you can subscribe to the von Holzhausen e-newsletter.
And if you do want a taste of the company's in-store experience, you can also try out their virtual showroom online. And this includes the services of a personal shopping assistant.
Shipping and Return Policy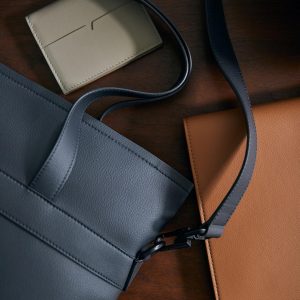 US customers can enjoy complimentary ground shipping on all von Holzhausen orders over $75, delivering in 3-8 days. The only US exceptions for this offer are Hawaii, Alaska, and APO/FPO addresses, where standard shipping will cost $25.
You can also opt to pay for two-day shipping at an extra cost of $25 if you need a speedier delivery. And if that order is extra urgent, $55 will get you overnight delivery if you place your order by midday.
Von Holzhausen also ships internationally, with most countries covered. You can check if they deliver to your international destination at checkout on the website.
If you are not happy with your von Holzhausen, you can get a full refund, although they do charge $10 for the return label. However, the return window is a little mean, as you only get 14 days from receipt to return your von Holzhausen goods. And they currently don't accept international returns, so if you have a fault issue with your product, you need to contact their customer services team.
Promotions & Discounts
The promotions and discounts offered by von Holzhausen are not extensive, but some nice deals are to be had. Google for a von Holzhausen discount code, and you may strike lucky – t the time of writing, we could find several, including a code for up to 30% off.
Go to von Holzhausen direct, and in addition to the free shipping for orders over $75, there are several offers currently live on their website. These include a friend referral scheme that could see you benefit from $50- $200 off if you can refer up to five friends. However, one thing to note about this offer is that there needs to be a minimum spend of $295 by each of your referred friends.
They also run sample sales on their website, saving up to 50% off full-price items.
Contact von Holzhausen
von Holzhausen says the fastest way to reach their customer service team is via the Live Chat function on the website. Just bear in mind that the team is available during office hours only, 9-5 Monday to Friday.
Alternative ways to contact von Holzhausen are via email – [email protected] – or call 833 379 0885, again during office hours. You can also write to them at 528 Palisades Drive, #132, Pacific Palisades, CA 90272.
von Holzhausen Review: Editors Verdict
Our von Holzhausen review predominantly found positivity surrounding this inspiring vegan fashion brand, with negative comments thin on the ground. Yes, this is a premium brand, so their products have a premium price tag. But, compared to similar fashion houses, von Holzhausen seems to be on the right side of expensive.
What does sweeten the cost is its innovative vegan leather product which we have to admit stands up to those real leather comparisons. It's butter-soft, durable, stain and water-resistant, and looks like the real deal. So, if you love your bags and the planet, and want to go cruelty-free, then von Holzhausen has it in the bag.
Still interested in useful accessories brands such as von Holzhausen? Check out our reviews of DeMellier Bag, Cuyana, Hobo Bags, and Away Luggage.
von Holzhausen FAQ
Are von Holzhausen products recyclable?
All von Holzhausen bags are biodegradable, so they can be safely disposed of at landfill at the end of their long life, where they will naturally degrade in under a year. However, if you opt to recycle, the company has partnered with TerraCycle to ensure their bags are recycled effectively.
And as well as their bag range, the shipping material and packaging used by von Holzhausen are also plastic-free, recyclable, and biodegradable.
How does von Holzhausen ensure the quality of the bags?
The vegan leather created by von Holzhausen has been designed not only for looks but for durability. This means all their bags are also water and stain-resistant, scratchproof, and free of imperfections you may find in animal leather. They are easy to care for too, meaning they will look good for longer.
But just in case you have an issue with the quality of your von Holzhausen bag, a one-year warranty covers all their products.
Where are von Holzhausen bags made?
Von Holzhausen bags are made by 'master artisans' in Italy and the USA.
How are von Holzhausen bags sustainable?
With its vegan credentials, von Holzhausen also works hard to ensure all its handbags are as sustainable as possible. All their bags are non-toxic, biodegradable, and made using sustainable methods that reduce overall emissions and water use. They also use recycled materials such as consumer plastic in their vegan leather material, and they only use sustainably sourced natural materials such as bamboo.
What styles does von Holzhausen monogram?
You can personally monogram the following von Holzhausen styles – the Market Tote, the MacBook Portfolio, the MacBook Sleeve, the iPad Portfolio, and The Pouch.