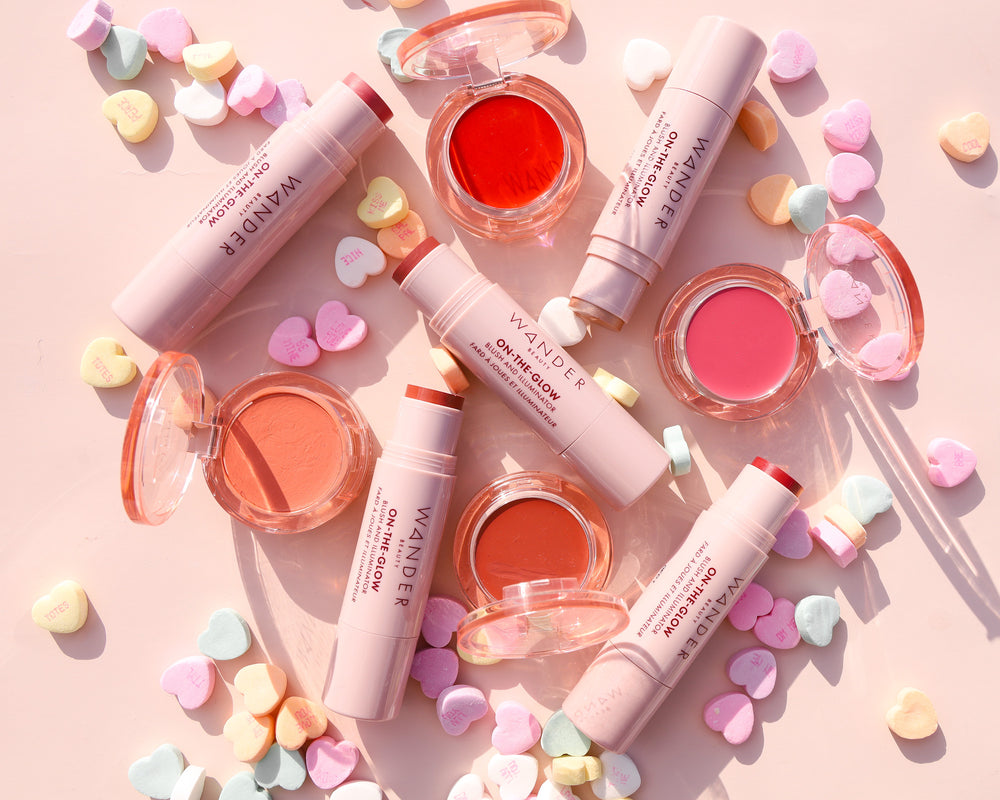 Created by two busy, hardworking moms, Wander Beauty was the answer to the struggle of maintaining a beauty regime with a full schedule. With Wander Beauty, convenience is key! So from packaging to formula, do the products achieve this?
In this Wander Beauty review, we're going to be putting some of the brand's bestsellers in the spotlight. Covering general pros and cons, putting products in the hot seat, and asking the most important customer questions, this review will be comprehensive and full-scale. We will be leaving you with everything you need to know, including where to buy and even how to save your hard-earned cash with the very best deals.
Don't go anywhere… read this brutally honest review of Wander Beauty. Drawing on real-life customer reviews, we can tell you all there is to know about the brand that is famously favored by the likes of Hailey Bieber and Heidi Klum!
About Wander Beauty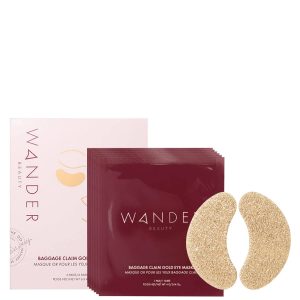 The founders of Wander Beauty, inspired by their own experiences, created Wander Beauty to allow for an effortless beauty routine that was perfect for on-the-go! Lindsay Ellingson is a supermodel and mom with a busy jet-setting lifestyle and Divya Gugnani is a hardworking entrepreneur and mom of two. After discovering a lack of convenient cosmetics on the market, they founded Wander Beauty in 2014.
The range includes cosmetics that are quick and easy to use. A lot of products on the market these days require time, tools, and effort and this is often not an option when life gets in the way. With the 'mess-free' and 'stress-free' philosophy, Wander Beauty means you don't have to sacrifice the glam feeling for your job or lifestyle.
Winning over 30 awards in its short lifespan, celebs such as Sarah Jessica Parker and Emma Roberts are amongst the brand's large fan base. The high-quality formulas and ingredients that are cruelty-free and kind to the skin are just some reasons why Wander Beauty has made waves in the cosmetics industry.
Advertising their travel-friendly products to their 317k Instagram followers, the brand posts many helpful "get ready with me" style videos. With captions providing tips and tricks on how to apply different products, the page also showcases their shade range on models with a wide variety of skin tones. The pretty, pink packaging is eyecatching and sells the appeal of the products that are designed for "wherever you wander".
The brand certainly does an excellent job at marketing its range to everyone.
Pros
A comprehensive range of multi-functioning products that don't take up a lot of space in your makeup bag
Products are safe to use, they are all free from parabens and mineral oils as well as synthetic fragrances that can irritate the skin
All of Wander Beauty's products are cruelty-free
The brand is committed to ensuring a cleaner environment by making sustainable choices, no matter how small
Reward scheme - Wanderess Miles Rewards allows you to earn 'Miles' with each spend, which can then be redeemed for exclusive discounts
Cons
Wander Beauty do not ship internationally from their website
Products can be more pricey than comparable products from different brands
Customer reviews have revealed that not all products in the range are consistent in quality and effectiveness
Wander Beauty Products Review
Now, for perhaps the most important part… the products.
We are putting some of Wander Beauty's most popular products to the ultimate test. We will look at factors such as quality, price and even put them under the microscope with some genuine customer reviews.
Wanderlust Powder Wander Beauty Foundation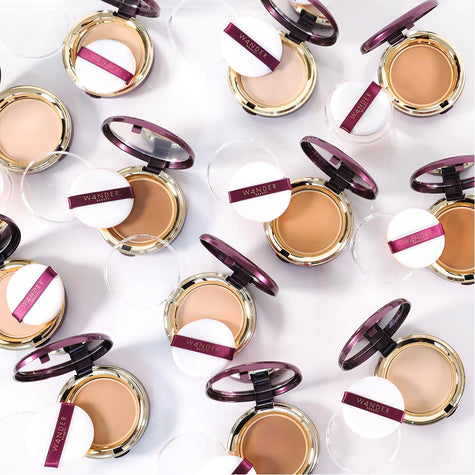 The Wanderlust powder foundation from Wander Beauty is available in 12 shades from fair to deep. Packaged in a stunning, purple compact, it comes with a rubicell applicator.
The price tag is fairly high at $40, so is it worth it?
Claiming to have a buildable coverage that feels lightweight on the skin, this is supported by many customer reviews who feel that the foundation can be tailored to personal preferences.
This product also claims to not settle into fine lines, however, there are several customer reviews that contradict this claim. Many reviews complain that due to the matte finish, it highlights wrinkles and makes them look prominent.
The included applicator is mess-free, which is one of the brand's main aims. It is also perfect for travel purposes and is easy to use in a hurry!
Wander Beauty Nude Illusion Liquid Foundation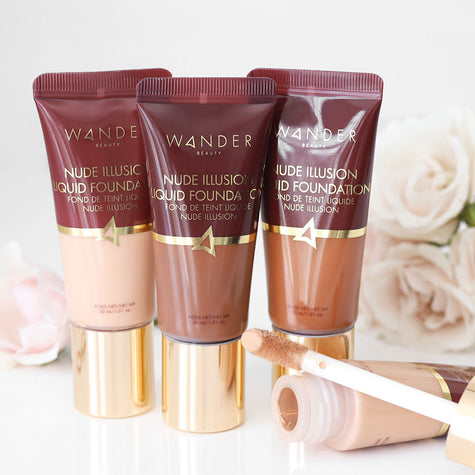 This Wander Beauty foundation is in a liquid form, but similarly to the powder, the shade range consists of 12 colors from 'Fair' to 'Deep'. It is also priced at a respectable $40.
Packaged in a tube with a doe-foot applicator, this product allows users to easily apply while on the go. This means that it can also be adapted to different purposes, such as acting as a concealer for problem areas or as an all-over foundation.
This product claims medium to full coverage, great for those who want a foundation that can hide problems such as blemishes, discoloration, or redness. Containing niacinamide and lotus extract, this product also aims to reduce the appearance of wrinkles and improve elasticity.
Many customer reviews rave about the formula of this product, claiming it blends seamlessly into the skin, providing good coverage whilst also feeling lightweight.
However, several customers also claimed that it is not good for mature skin as it settles into fine lines after initial application.
Wander Beauty Baggage Claim Gold Eye Masks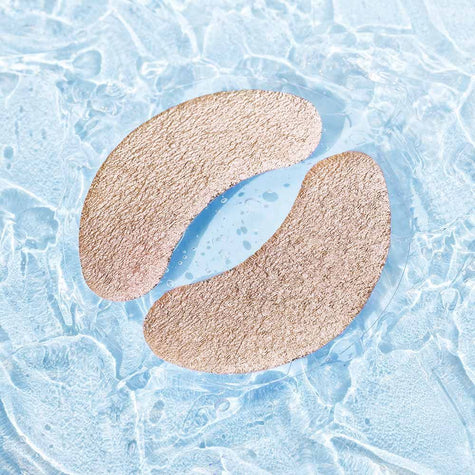 Winner of the 2021 Allure Reader's Choice Award, these eye masks are available in stunning gold and rose gold. Priced at $26, each purchase includes 6 individual pairs of single-use eye patches.
Aiming to brighten dark circles and minimize the appearance of fine lines, over 96% of consumers claimed that they noticed a visible difference in this area. However, many customer reviews claim that this product does not brighten the undereye.
Including skin-loving ingredients that deeply penetrate, such as hyaluronic acid and aloe leaf extract, this product aims to hydrate and reduce puffiness.
100% of consumers that were asked about the soothing and hydration power of this product, claimed that it achieved this. Customer reviews also found that after storing in a refrigerator, the masks were excellent at depuffing too.
These wander beauty gold eye masks are suitable for all skin types and do not seem to cause irritation, they also are great for pre-makeup application.
But… is any of this enough to justify the price tag? We're not so sure.
Wander Beauty Mile High Club Volume Mascara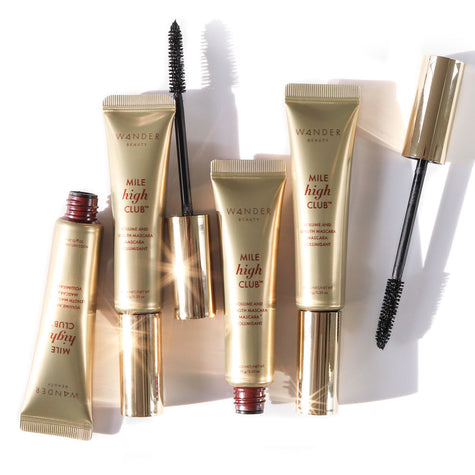 Winner of the 2019 Refinery2019 Beauty Innovator Award, this Wander Beauty mascara includes ingredients that are known to lengthen and strengthen the lashes. This product retails at $26.
The jet-black formula claims to provide a showstopping definition, while the bristles of the applicator allow for a precise application. Peach leaf extract, trehalose, and castor oil are ingredients in this mascara, aiming to strengthen lashes with every wear. Boasting claims of "all-day wear" are backed by customer reviews that describe the smudge-free and waterproof formula!
It also claims to be flake-proof, preventing black dots from ruining your glam. Customers back this claim too, with reviews that describe that there is "not a flake in sight" even after hours of wear in any conditions. However, the argument that there are comparable products at a more reasonable price is definitely valid. Overall though, we give this product a thumbs up!
Wander Beauty Lip Retreat Oil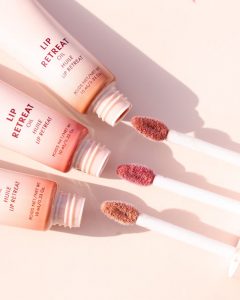 The Wander Beauty Lip Retreat Oil comes in 3 shades from nude to warm rose. Retailing at $22, the applicator has been recently redesigned to maximize simplicity and effectiveness.
Aiming to hydrate and heal lips, creating a beautiful healthy shine – it seems to do exactly that according to customer reviews.
Containing nourishing ingredients such as rosa canina fruit oil, niacinamide, and Vitamin E, this product not only moisturizes lips but also protects them from environmental irritants such as UV damage.
The formula contains ingredients that are essential for lip health by strengthening skin and repairing damage too… what's not to love?
If you take a look at customer reviews, you will struggle to find negative reviews that negate the benefits that this product claims to provide. With many reviews claiming that it looks and feels good, without being too sticky.
You can wear this oil alone or as an extra step over your favorite lip color. Take your makeup routine to the next level with this fan favorite!
Wander Beauty Lift-Off Mask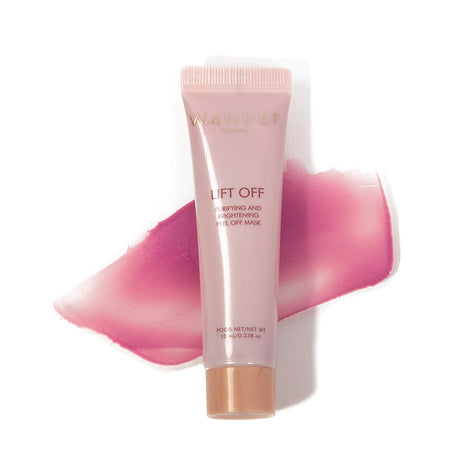 The Wander Beauty mini brightening and purifying mask is a $7 peel-off mask.
Aiming to purify and brighten the complexion, it contains a plethora of hydrating and skin-loving ingredients.
You simply apply the bright, pink formula and leave it to work its 'magic' for no more than 15 minutes. However, some customers have claimed that the mask is quite difficult to remove, so this may be quite inconvenient and lead to unnecessary tugging on the skin.
This product claims to draw out impurities and detoxify, revealing a brighter complexion after use. But not only this, but it also aims to absorb excess oil, protect skin cells from damage, reduce the appearance of wrinkles and even fight acne!
However, the mix and altogether lack of customer reviews on this product makes it difficult to support these claims. But, this is what we did find…
This mask does leave skin feeling amazing. For a 10ml – which amounts to two applications – seems to be a little stingy for price.
It also claims to be suitable for all skin types, but one review did describe redness and sore skin after use. We suggest you do some more research into the ingredients if you have sensitive skin.
Wander Beauty Reviews from Customers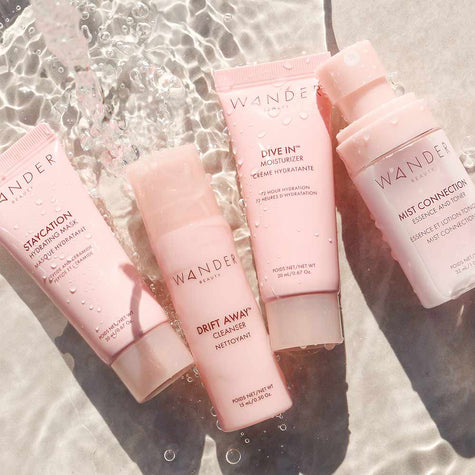 Though the Wander Beauty website itself provides reviews on every one of its products, it is always helpful to check out other review websites. These can differ significantly and may include points that are not mentioned in others. Let's take a look at some of the general reviews of the brand…
Rated an impressive 4.2 stars (or lipsticks?) overall on MakeupAlley, with 72% claiming they would repurchase from the brand. This website gives a good general overview of Wander Beauty, but what about the specifics?
Most reviews on MakeupAlley discuss the incredible formulas and general effectiveness of their products for their purposes.
Interestingly, the packaging of the products, which is one of the main selling points and 'stand-out' features of the brand, is rated fairly poorly. The doe-foot applicator of the liquid foundation is not a popular one, seeming to be more of a problem than a solution to one!
The worst ratings are for the mascara, with customers claiming it to be "clumpy" and the formula and applicator being a flop. This is interesting, as it differs significantly from the reviews of this product on the main website.
Popular Alternatives to Wander Beauty
Moving onto Influenster
There are several new complaints here. Negative reviews claim a lot of bad skin reactions, which is surprising when you consider the brand's claims of using ingredients that are kind-to-skin. One review even addresses the 'clean' beauty claims to simply be a marketing strategy.
High color pay-off does not seem to be a commonality in many of the products either. Depending on who you ask, this could be a positive – especially if you're looking for a more natural look. But if you're someone who is after pigmentation, you probably won't find it here.
Sign Up for Wander Beauty
If you're a fan of Wander Beauty like many others, you would certainly benefit from creating an account. It's quick and hassle-free!
This will allow you to become a member of the Wanderess Miles Rewards scheme, which allows you to earn points with every dollar you spend. These 'miles' can later be redeemed for great offers with Wander Beauty on later purchases.
You can even save 15% on your first order if you sign up!
What are you waiting for?
Where to Buy Wander Beauty

For US customers, you can purchase your products from the W
ander Beauty website itself or Sephora.com.
But if you're international, do not worry. There are many places online where you can get your Wander Beauty fix.
Cosmetic sites such as Cult Beauty and Birchbox stock Wander Beauty for the UK and other international customers. Even Amazon stocks certain Wander Beauty products.
Sephora international can ship to Australia, Canada, Malaysia, New Zealand, Singapore, and the Philippines.
Wander Beauty Shipping and Return Policy
Shipping
It is important to note that Wander Beauty is currently unable to ship to Hawaii and Alaska due to a lack of guaranteed services.
Wander Beauty offers free shipping on all orders over $50 after all discounts. Any orders below this will cost $5.99.
Orders should be expected to arrive 5-7 business days after purchase, while priority shipping takes around 1-3 business days.
Returns
Paperless returns are available from Wander Beauty. However, products that were marked as "Final Sale" cannot be returned.
After receiving the item, Wander Beauty will process your return in 1-5 business days and you will receive an email to confirm this status.
Wander Beauty Promotions and Discounts
Wander Beauty offers a rewards scheme to those who have an account. This allows you to redeem exclusive offers that you won't find anywhere else by earning points with each purchase that you make.
You can even bag 15% off your first order by doing this.
Contact Wander Beauty
If you want to speak to someone from Wander Beauty during business hours, you can simply text SUPPORT to 94098. This makes it easy to address any queries quickly!
You can also email the helpful customer service team at [email protected].
For other general inquiries, you can email [email protected].
Maybe your query has already been addressed, so check out the FAQ page first to get your answer immediately!
Wander Beauty Reviews: Editor's Verdict

Overall, many of Wander Beauty's products seem to have excellent formulas that do exac
tly what they claim to do!
We love that the brand is cruelty-free and this seems to be a great selling point for any brand today.
Although there are plenty of positives, there seem to be an equal amount of negatives when it comes to this brand.
Wander Beauty was first set up to be convenient for those who have busy lifestyles and want to minimize the stress of their beauty regime, fitting it seamlessly into their lifestyle. Although on the surface this aim may seem to have been achieved, we're not so sure.
A common complaint from Wander Beauty customers was not the products themselves, but the packaging. Designed to allow for an effortless application and mess-free experience, it often seemed to achieve the opposite.
The applicators seemed to be inconvenient, messy, and detrimental to the overall performance of each product and though the intention was there, this is not enough.
The high price tag of most of the products also does not seem to be justified in some cases. Despite this, the website reviews proved that most customers were happy with their products and would repurchase the products anyway.
Wander Beauty's products certainly seem to include ingredients that work and provide flawless glam and we think that's what is most important.
If you are still searching for other high-quality or natural beauty brands, consider reading our reviews such as Charlotte Tilbury, Beauty Counter, Clinique, and CAP Beauty.
Wander Beauty FAQ
Is Wander Beauty cruelty-free?
Yes. All Wander Beauty products are cruelty-free.
Where is Wander Beauty manufactured?
Wander Beauty products are made in the United States and Korea.
Why was I charged sales tax?
In particular states, WB is required by law to charge sales tax. The rates will be calculated based on your local rates and also the products that you are purchasing.
Who is Wander Beauty owned by?
Owned by Divya Gugnani and Lindsay Ellingson, WB was inspired by their own busy lifestyles.