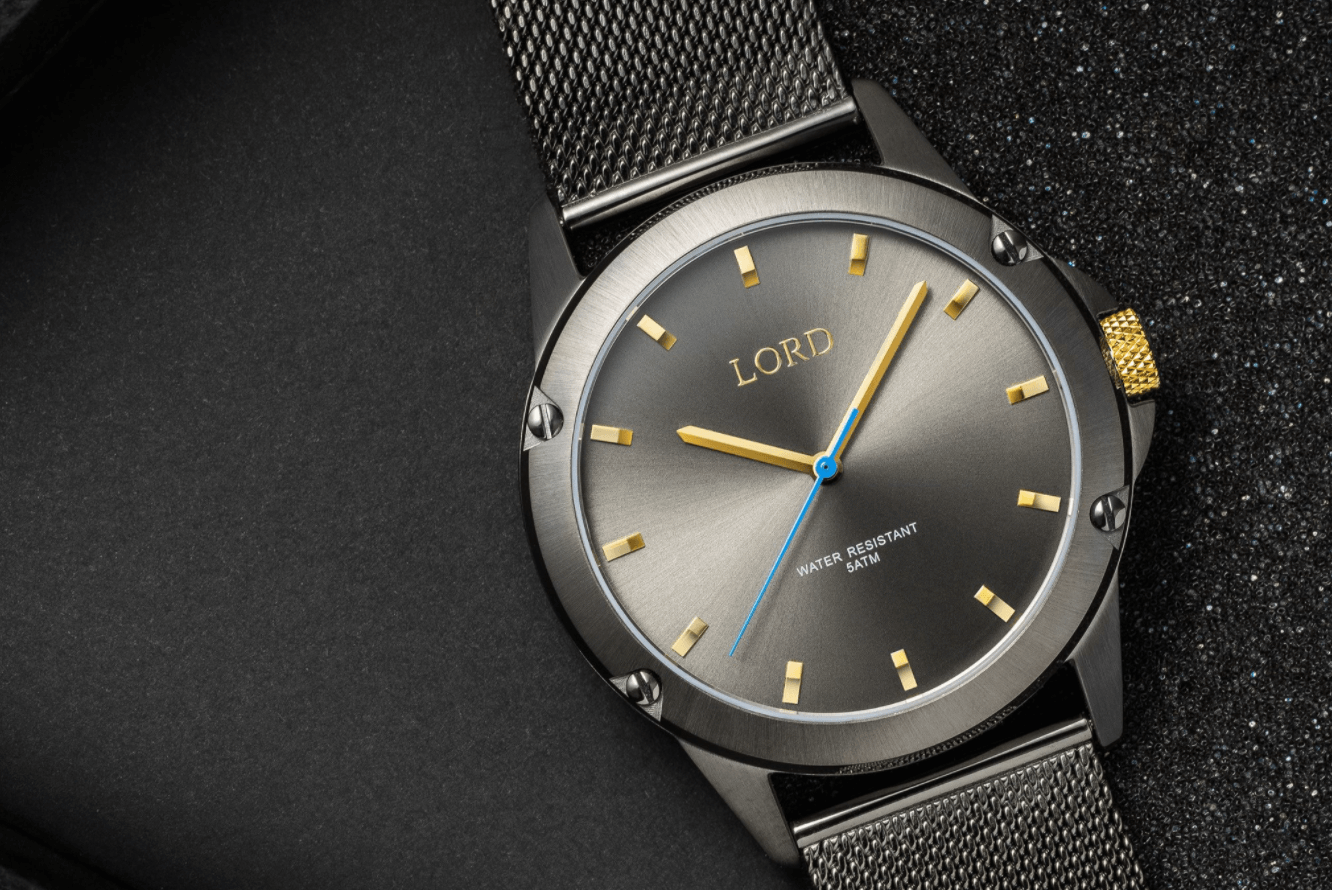 The Lord Timepieces is not your average e-commerce watch selling company but one that delivers to your heart's delight. For many, a watch might be their best friend when it comes to reminding them of the time; to others, it forms part of their attire, outshines their character, and generally blends well with their everyday wear. The watches that this company offers can do this and much more without leaving your bank account mouth agape. Our in-depth Lord Timepieces review will give you a low-down on this company to help you decide if it will be your go-to place when it comes to purchasing exuberant watches.
About Lord Timepieces
Since the birth of the brand in 2015, the goal of Lord Timepieces has been to inspire customers to boldly make a run after their dreams and take charge of time.
More than anything else, they ensure customers can get their products at accessible prices. The brand has achieved this objective by cutting out the middleman, bypassing wholesalers, marketing costs, and sales agents to bring quality products directly to you.
Most of their customers who have bought and worn their products state that the company has utilized modern and minimalist designs that bring out the feel and look of designer masterpieces.
Furthermore, all their handcrafted, innovative designs fit both men and women and are tailored in the age of fitness trackers and smartwatches. Their luxurious collection includes all sorts of watches geared from the normal task of looking at the time.
At Lord Timepieces, you must achieve your aspirations. The brand goes a step further into reminding their customers of their desired goals, encouraging them to use their time productively and stay focused.
Lord Timepieces was featured in Forbes, Watchebandit, and AskMen, and currently has 307k Instagram followers and 150 Facebook followers.
Lord Timepieces Review
Dressing well will automatically make you feel good and raise your self-esteem; what better way to improve your moods other than having the right watch to go with your style? Lord Timepieces makes sure you get that outcome.
The brand does not compromise on quality even though they offer their products at affordable prices and ensure you purchase your goods from a customer-friendly support team. What good is a quality product that you cannot access from sheer high prices?
Lord Timepieces team also makes a point of crafting watch designs that will make you stand out from the crowd, add a unique twist to your style, and suit your everyday wear and needs.
But before we dig deeper into the kinds of watches they have at your disposal, let's take a look at a few key points below.
Pros
Modern designed watches from quality materials and standards
They offer free shipping of products worldwide
They incur return costs within 100 days of delivery
Their products have a 2-year warranty
They tag their products with affordable prices
Numerous 5-star customer ratings across multiple sites
Cons
International customers might experience shipping delays
They have limited designs on their women watches
The e-Commerce site doesn't have a live chat function
Their warranty does not cover strap and glass
Lord Timepieces Watch Review
While doing this Lord Timepieces review, we found out that the watch collection at Lord Timepieces consists of high-quality pieces that feature attractive designs. Below are some of the best-selling watch pieces.
Lord Timepieces Astro Gunmetal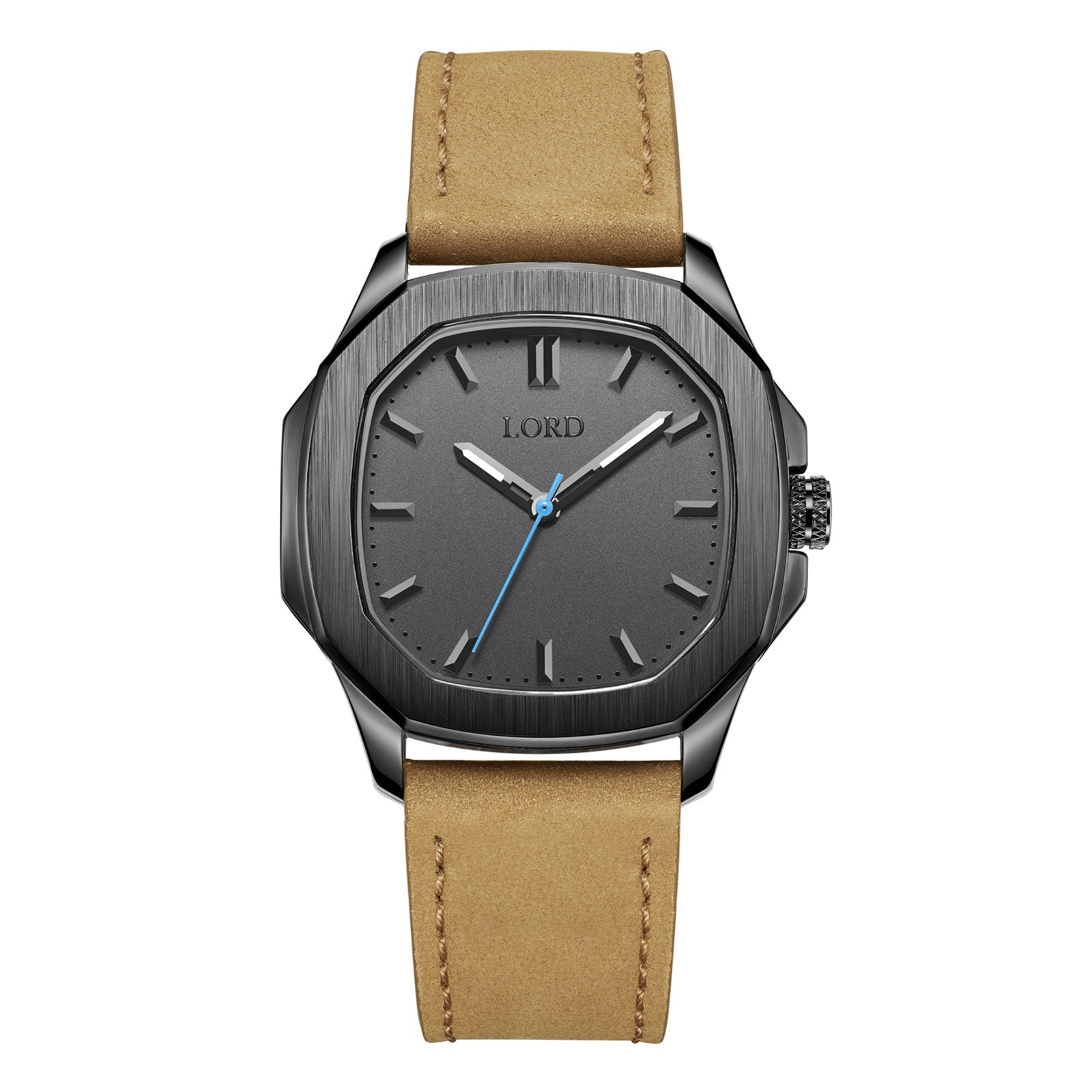 The Lord Timepieces Astro Gunmetal collection comprises five magnificent watches that will enhance your look and make you stand out from the rest while reminding you of the time.
You can go for the Lord Timepieces Astro Gunmetal Tan Leather, which costs only £89.00 and comes paired with blue accents, genuine suede leather, and a stainless-steel case.
You will never have to worry about damaging your watch when caught in the rain again; its water resistance of 5ATM has got you covered. The Sapphire Coated Crystal is designed to provide a protective layer that protects the face of the timepiece and is resistant to scratches.
Lord Timepieces Chrono
Glam up your look with the 5 ATM water-resistant Lord Timepieces Chrono collection of Chrono Gunmetal, Chrono Midnight Tan, Chrono Gunmetal Tan, and more.
The 45mm Lord Timepieces Chrono White Black Leather comes featured with a black durable leather band, white case, and white dial. The strap width of this watch is 22mm, while its case thickness is 11.5mm.
The 6-hand chronograph movement and the date window make the watch functionally reliable.
The watch blends sporty sophistication with a powerful head-trining look. Whether you wear this watch on a casual date or executive meetings, you'll collect tons of compliments.
The Chrono White Back Leather undoubtedly has an unmatched striking appeal, and it will cost £149.00.
Lord Timepieces Infinity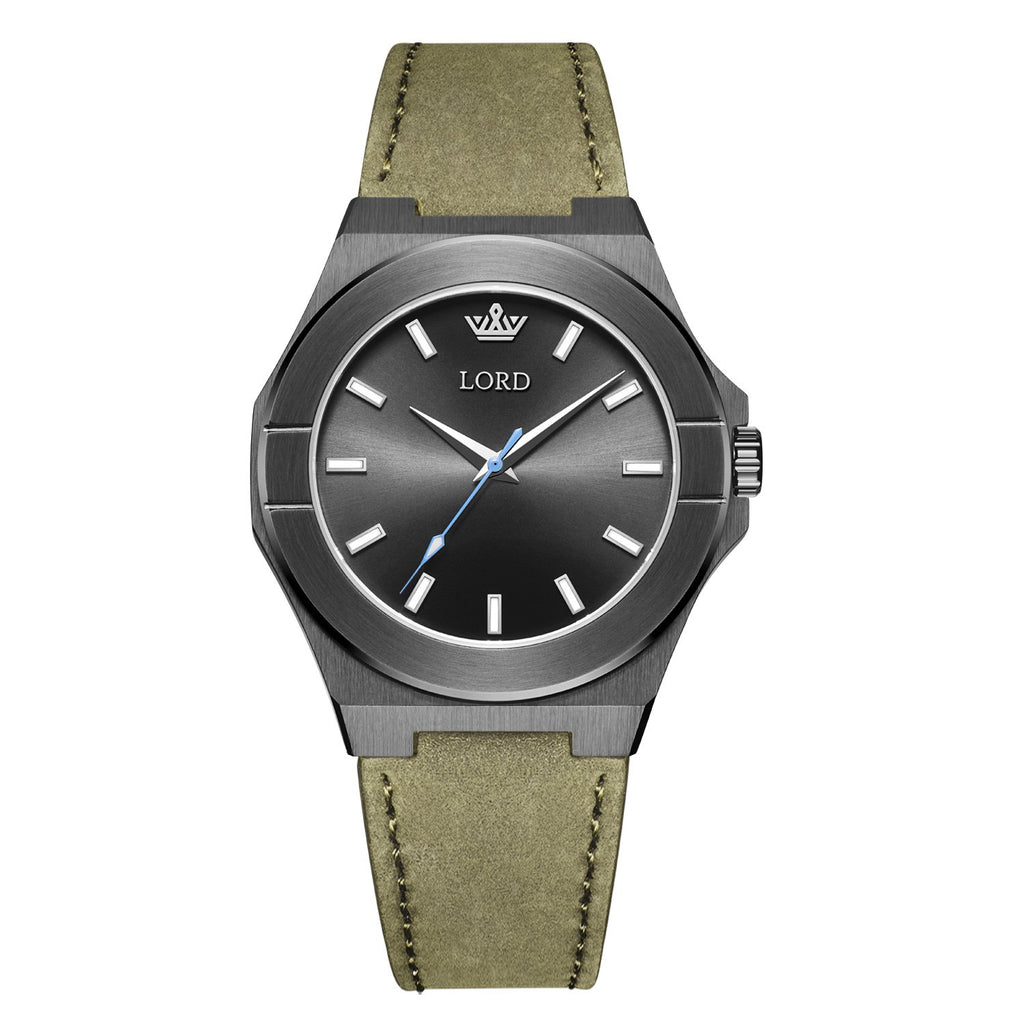 Don't worry about your daily wear because the Lord Timepieces Infinity collection blends perfectly with any look, professional or casual. The Lord Timepieces Infinity Khaki, at only £89.00, is a bold and eye-catching ensemble.
The watch comes featured with a gunmetal stainless-steel casing, daring bezel details, and a high-quality leather strap.
The case thickness of this 42mm watch is 7.85mm, and it comes with a
Sapphire coated mineral glass. The watch has a dynamic look that will draw attention from afar.
Lord Timepieces Bolt Review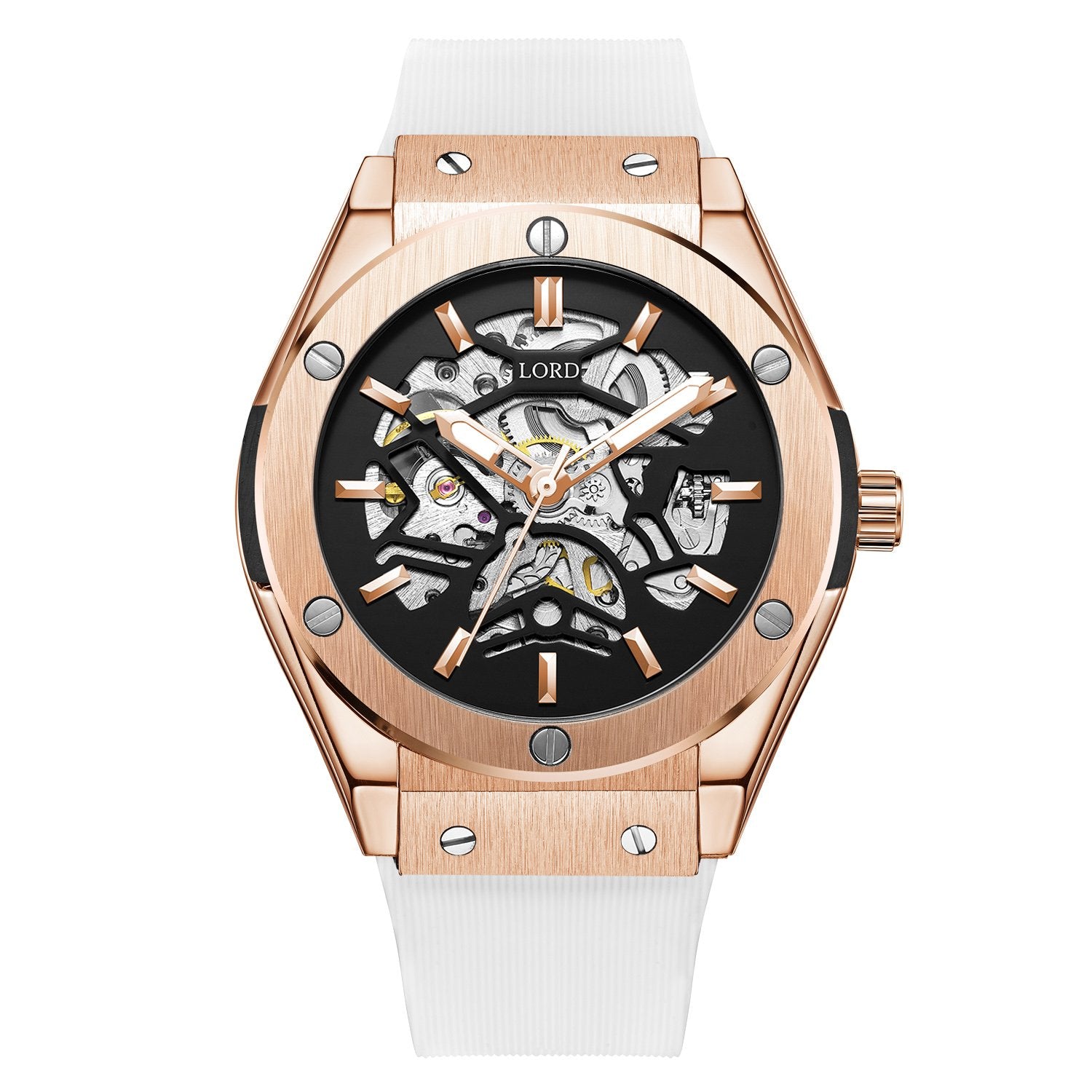 At only £79.00, the Lord Timepieces Bolt White Rose Gold is a premium men's watch that compliments your look and forms a part of the bolt collection.
Our Lord Timepieces Bolt reviewThe collection comprises Bolt Jet Black, Bolt Rose Gold, Bolt Midnight Black watches, and more.
Like any other watch at Lord Timepiece; the Bolt White Rose Gold strives to live up to the expectations of its owners by carrying forward the brand's mission and vision in the 21st century.
The watch is styled akin to a revolutionary timepiece, with a sleek stainless-steel case and topped up with a durable silicone strap. Apart from style and elegance, the Bolt White Rose Gold is a stunning piece to add to your jewelry.
Lord Timepieces Legacy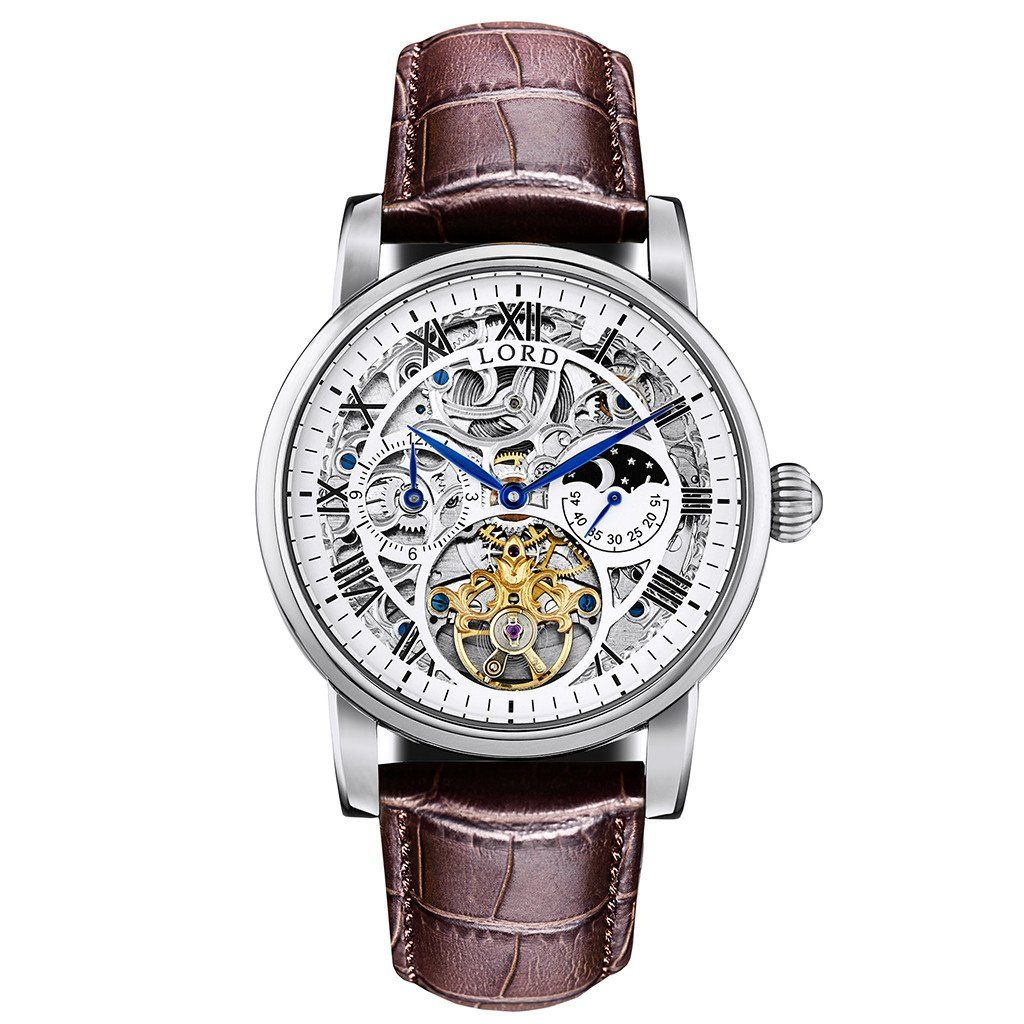 Go bold, extravagant, and classy with the 3ATM water-resistant Lord Timepieces Legacy collection comprising Legacy Silver, Legacy Black, and Legacy Rose Gold.
The Lord Timepiece Legacy Silver is a man's premium watch that features a brown genuine leather strap, offers a sleek blue look, and a high-quality stainless-steel case. Its sapphire coat protects its face from damages and scratches with an automatic winding crown.
The Italian leather strap is genuine, hand-stitched leather that offers durability without compromising your desired style. You can add this elegantly styled watch to your collection for only £139.
Lord Timepieces Sport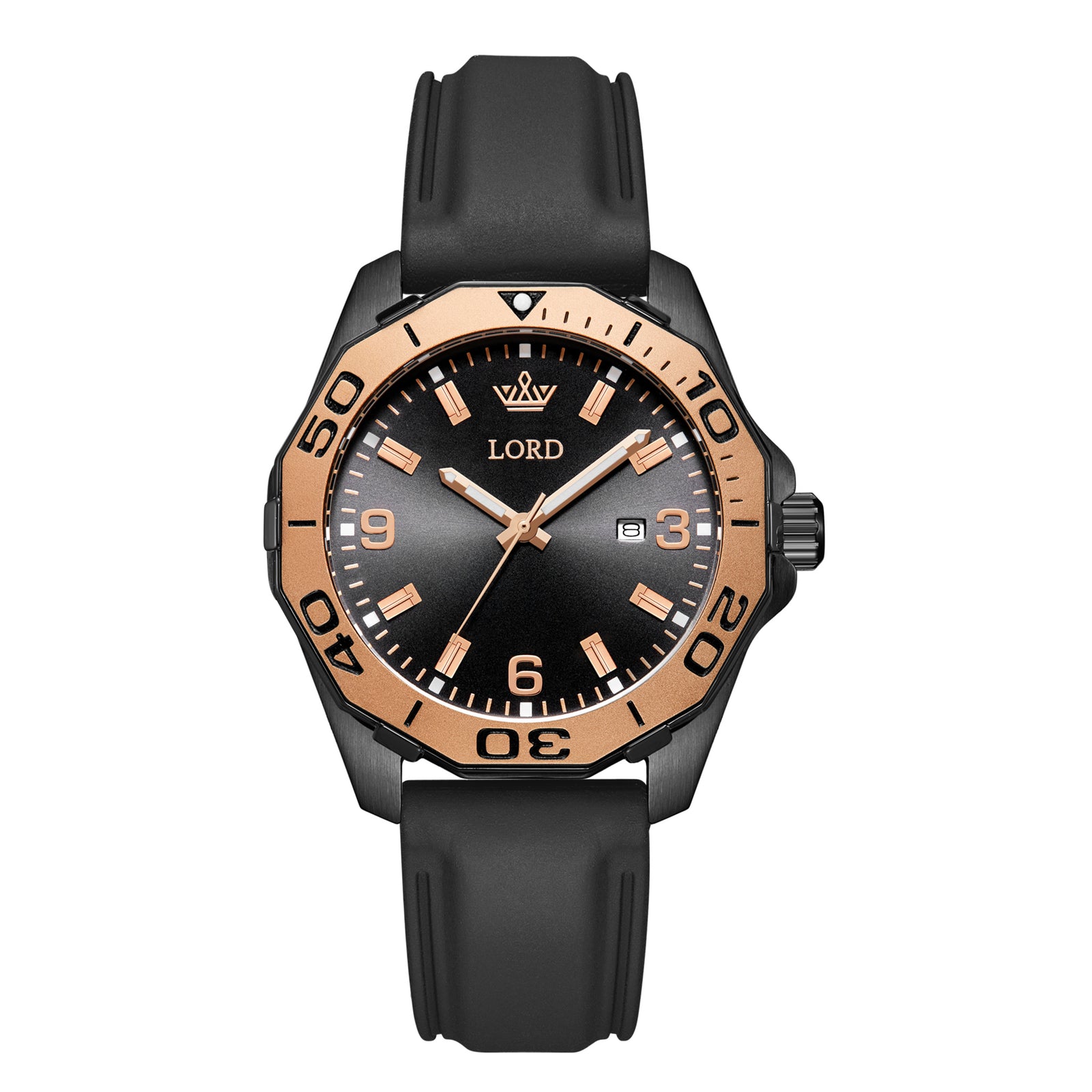 Try out the ultimate look without compromising function with the water-resistant Lord Timepieces Sport collection.
The Lord Timepieces Sport Rose Silicone is a premium men's watch featuring a black silicone band, rose gold dial, and high-quality surgical-grade stainless steel case. It's truly a great watch for anyone wanting to add more edge to their outfit.
With a case thickness of 11.5mm, the watch designers coat the watch with Sapphire crystal that offers a protective layer against scratches and protects the face of the watch.
At only £89.00, you can get the 45mm Lord Timepieces Sport Rose Silicone to complement your professional or casual look.
Lord Timepieces Reviews from Customers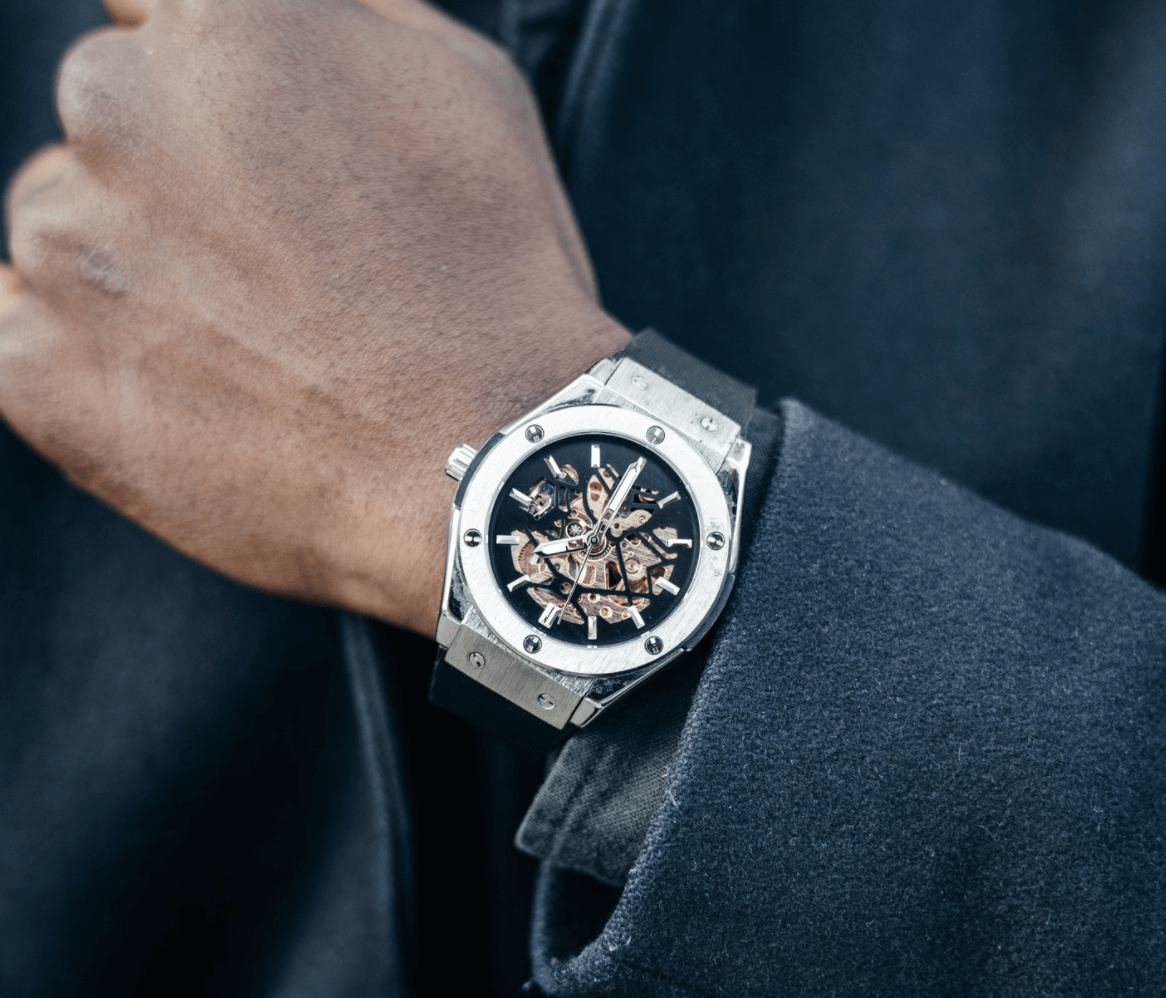 Our Lord Timepieces review took a keen look at what customers had to say about the company. We checked the reviews on their site and found out that customers interacting with the brand's service team can't help but state how friendly, insightful and quick they are.
They resolve issues in a timely and generous manner, not to mention how they handle returned goods- whether damaged from accidents or manufacturing defects. Most customers left 5-stars and had great things to say about Lord Timepieces and its watches.
Trustpilot gave this brand an average rating of 4.2 /5 out of 83 reviews, with most customers praising their water-resistant watches, automatic wiring watches, and handcrafted, minimalistic designs.
Some international customers form part of the 1% that gives the brand below 3-star rating due to delayed international deliveries. However, the customer support team at Lord Timepieces usually amends these issues leaving the customers satisfied and changing their reviews to 5-stars.
Sign Up for Lord Timepieces
Provided you have a legitimate and functioning email, signing up for Lord Timepieces proves to be easy, quick, and comes laced with 10% off from your first order.
Click the sign-up button on their official website, provide the necessary personal information and browse the available products.
Where to Buy Lord Watches
This UK-based watch-selling company only caters to the needs of internet customers and sells online. You can buy Lord watches on LordTimepieces.com. You can also get their products on Amazon and eBay.
Lord Timepieces Shipping and Return Policy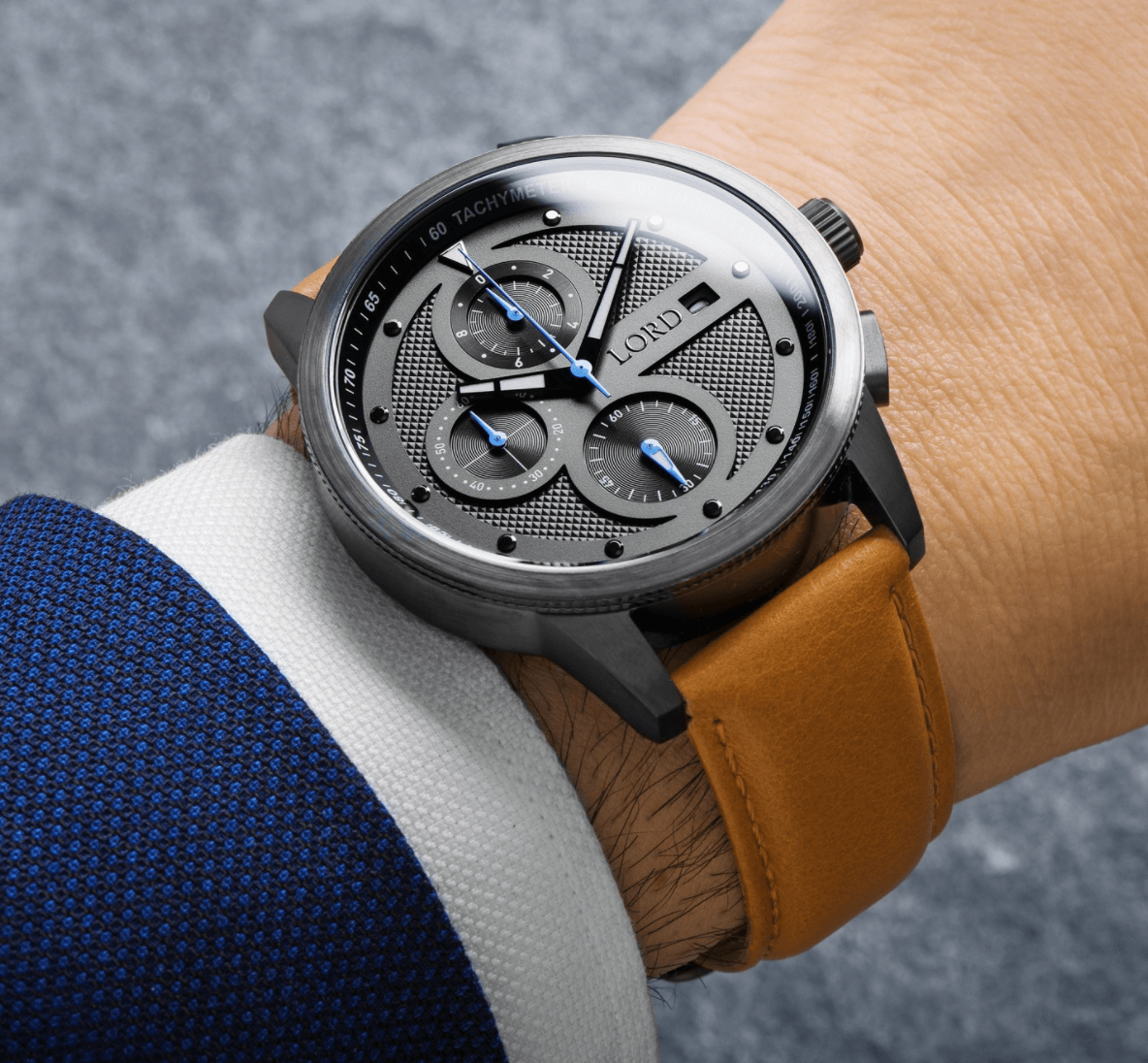 Shipping
The headquarters of Lord Timepieces in London, UK, offers free standard tracked shipping worldwide. Local and domestic shipping deliveries happen between 2-3 business days, while standard international shipping occurs between 3-15 days.
They also offer international express shipping starting from £15 with a premium next-day delivery option for the UK starting at £4.99.
Do not worry about timely and secure shipping because Lord Timepieces ships with well-known carriers and ensures your package arrives intact and safe at its intended destination.
The brand ships standard royal mail for free within 2-3 business days in the UK. For the premium next day or royal mail, the brand ships for £4.99 within the next day order by 3 pm (Mon- Fri) for UK deliveries.
The standard royal mail is free for European orders within 3-5 business days. The amount applies to Belgium, Spain, Sweden, Germany, France, Denmark, Ireland, Italy, and the Netherlands. The brand charges express shipping for European orders at a fee of £15 within 1-4 business days.
Standard royal mail is free for international orders and is delivered within 7-15 business days. For international express shipping Aramex, the company charges £15 and delivers goods within 2-5 days.
Return Policy
Lord Timepieces has a 100-day free return policy for any brand-new product that isn't damaged and offers a full refund or store credit within these days. They also have hassle-free, quick, and easy returns for all international and domestic orders.
When you purchase a watch with a manufacturing problem, the company will give you a full refund within 100 days. It caters for the return shipping costs; but only refers to the case and movement outlined in their two-year warranty.
However, when this period has elapsed, you will cover the return postage and if the damage is not caused by default in manufacturing.
Once the company receives your watch, they will verify its unworn status, process it, and then give you a full refund. The warranty becomes null and void when you lack a valid proof of purchase, unauthorized service damaged the product, or other factors contrary to artistry, etc.
Keep in mind that the return policy warranty does not cover the following:
Any water damages; unless the watch is marked water-resistant (3ATM or above)
Glass or strap
Damaged goods resulting from accidents, improper care, accidents you caused, or normal wear and tear
Indirect damages resulting from defects, inaccuracies, or watch inoperativeness
When replacing watches, Lord Timepieces (UK)Ltd gives you a different watch of similar worth and style when a similar model is out of stock. But when the same model is available, the brand guarantees to replace your watch.
Lord Timepieces Promotions & Discounts
Promotions and discounts at Lord Timepieces ensure you get even more high-quality products at even lesser prices. The brand has several promotional coupons that do not come off easily, but you can get up to 50% off your purchase when they do.
However, the brand offers a 10% student discount with beans.
Be on the lookout for sales, as they allow you to save money. Sign up for their newsletter to get the latest updates on the available discounts and promotions.
Lord Timepieces Review: Editors Verdict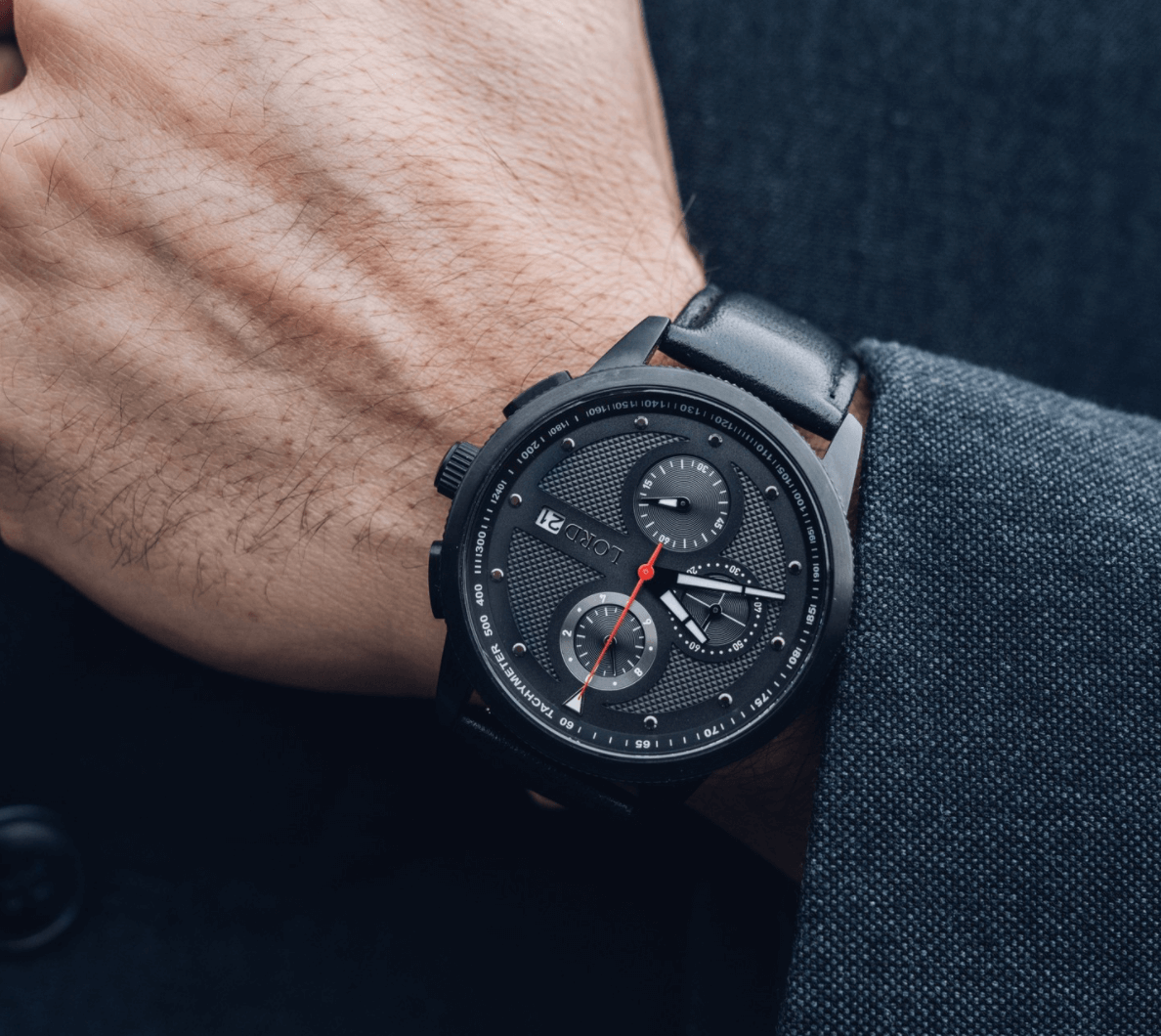 To conclude this Lord Timepieces review, we found this brand as one that puts value for money, as they offer high-end quality watches with the promise of adding that unique final touch to your look.
Their customer support team adds a touch of dependability and reliability to the company's image.
Customers also love how they take time to follow up on return orders, offer meaningful replies even when the customer is angry, and ensure they cater to your needs.
The Lord Timepieces has more than 500K dedicated followers across all social media platforms. The company has managed to get the undivided attention of its customers and online followers who vouch for the promise of delivering quality, elegance, and style.
We investigated their website customer reviews and found 5-star ratings on almost all of their products, with buyers praising the brand for the quality and designs they offer consumers.
Overall, customers can not stop talking about Lord Timepieces' affordability in prices, designs, and functionality, going ahead even to refer to their family and friends. So, it is safe to say that you will be making the best choice if you decide to invest in their products.
If you agree that every successful man compliments his look with an expensive watch, check out our popular watch brand reviews of Filippo Loreti, MVMT Watches and Original Grain.
Lord Timepieces FAQ
Are Lord pieces water-resistant?
Water-resistance is a qualifying matter to a watch-lover; what with getting caught in the rain without an umbrella? If you are wondering whether Lord Timepieces watches are water-resistant, they are.
Since the watches have 3ATM water-resistant and above, they can sustain splashes, getting caught in the rain, or brief immersion in water.
How do I wind my Lord Timepieces properly?
If you have bought a self-winding timepiece at Lord Timepieces, you probably have noticed that you do not need to wind it every day or buy a battery.
The brand designs these watches to gain power from the wrist's natural movements when you move. The only time you can wind the watch is when it has low power when not used for some time.
With that said, turn the crown enough to jump-start the power source, and it requires your wrist's movements to work.
How are Lord Timepieces designed?
Lord Timepieces are extremely careful when selecting their products, designing, and branding. That is why they only source their compelling and sophisticated timepieces from watchmakers across the globe.
Not only do they select them, but these watchmakers also have to pass a strict aesthetics criterion, design, class, and go with an appealing price tag.
How are Lord Timepieces so affordable?
The brand does not overlook quality, design, and aesthetics in providing irresistibly sophisticated, stylish timepieces that do not discriminate on disposal income.
Often, a brand might put more effort and skill into engraving tiny logos on timepieces and forget the intricate details and aesthetics that make a watch.
Lord Timepieces' designs ensure that they put value, quality, and style in their watches, presenting their pieces at affordable prices and providing class.
What to do if my Lord Timepieces watch has stopped working?
If your watch has stopped working, it does not necessarily mean it is damaged. But if you have purchased a self-winding watch, you will first have to wind it manually before it can run automatically.
This process is an initiation process and ensures that the mainstream builds enough power reserve for the watch to function properly.
All you need to do is turn the winding crown in a clockwise direction at the 3 o'clock position for 20 revolutions.