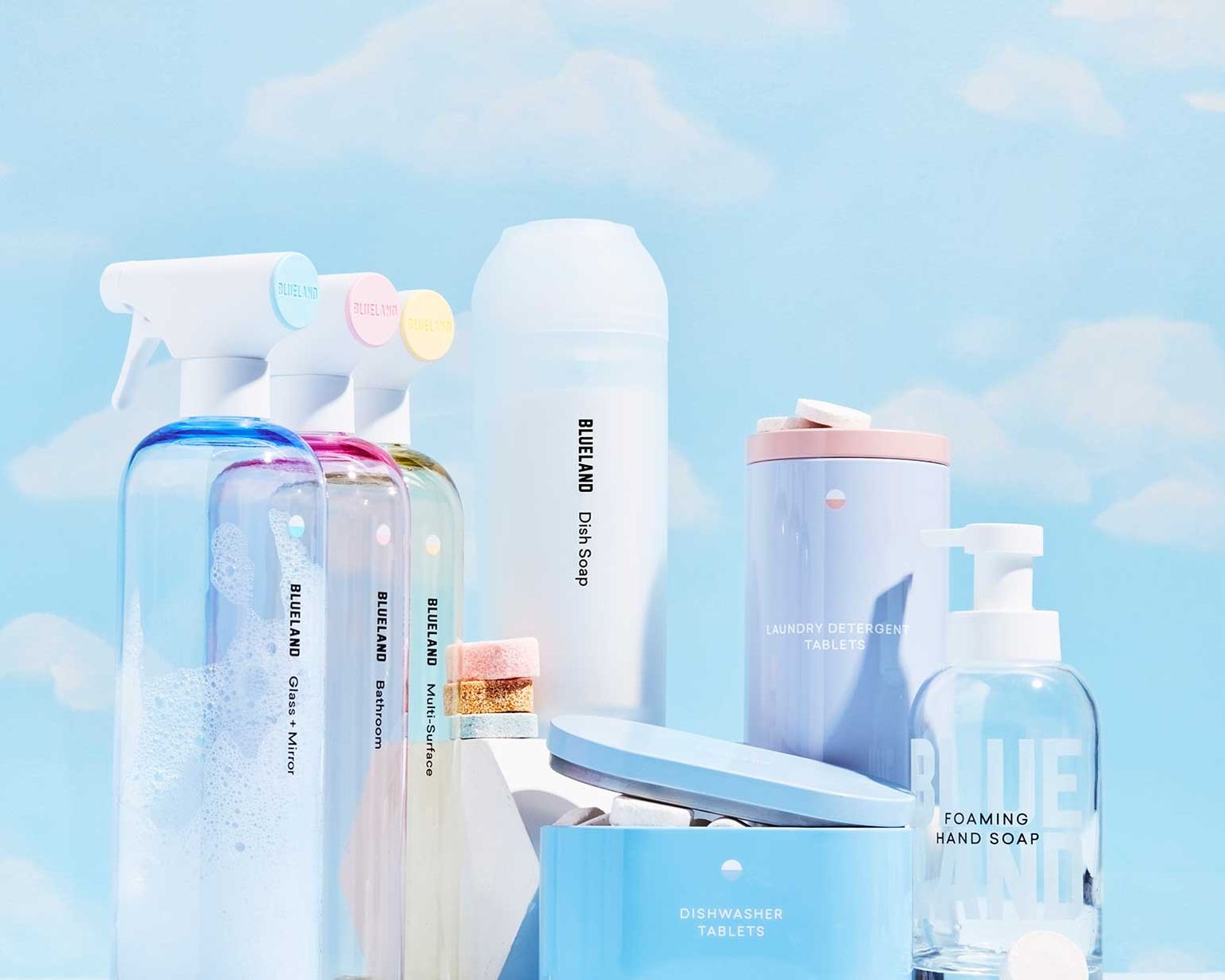 Aside from clothing and personal beauty products, one of the important areas in your sustainable lifestyle is de-plasticizing your home. However, there weren't many options until Blueland, which offers an eco-friendly way to clean your home and reduce plastic in your household. Blueland's mission is to reduce the amount of plastic we use every day. There are several Blueland reviews all over the internet.
Ever since it entered the market, it has created quite a buzz. If you admire the brand's goals and you're thinking of making a purchase, this review will tell you all you need to know. Keep reading to learn more about Blueland's products and service and whether or not it's worth a purchase.
About Blueland Soap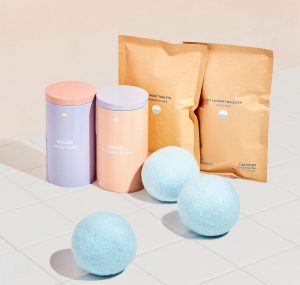 Blueland was founded by Sarah Paiji Yoo, who realized she needed to be eco-friendly in her home shortly after becoming a mother. Sarah has mentioned that it was until she discovered that plastics are more harmful to the environment and pollute the whole planet that she became conscious. Blueland is a low-waste company that offers household items in plastic-free alternatives.
According to the owner, the brand's mission is to "make it easy to be eco with innovative products in reusable packaging that are convenient, effective, and affordable." It is strongly dedicated to its course. The record shows that since 2019, Blueland products have helped remove more than 1 billion single-use plastics from landfills and oceans.
For people who wish to help make the world a better place, Blueland soap offers eco-friendly and refillable cleaning solutions. They sell refillable BPA-free cleaning bottles, powdered home cleansers, and tablets ranging from laundry detergent to hand soap. Overall, the brand is a well-loved startup that supplies sustainable, reusable cleaning products proven to work.
In 2019, Blueland appeared on Shark Tank, where its creators got endorsed by Kevin O'Leary and other investors. Blueland is currently based in New York City, where it works with a team of 12 to create products that are free of ammonia, phosphates, and VOCs. The startup also has a strong presence on the internet, with about 218k followers on Instagram. It was featured in famous publications such as Forbes, NBC news, and Green Hive among all. And the brand's official motto is to "Save money and space, without the plastic waste."
Pros
Forever lasting refillable bottles
Free of soy, gluten, and nut
Vegan & Cruelty-free with multiple certifications
Cost-efficient prices
10% discount for a subscription plan
Free shipping for orders above $45
Now shipping to CAN, UK, AUS & NZ
Cons
It is not 100% natural
No antibacterial or disinfectant properties
Poor customer service
Blueland Products Review
If you care about the planet and seek plastic-free alternatives in your home, then you'll appreciate Blueland products. The brand offers cleaning and home personal care products such as window cleaners, lotions, and even toothpaste in non-plastic containers. The brain behind the company has a personal interest in all their products and ensures that they are safe to use.
The company offers refillable cleaning containers, cleaning soap, and other eco-friendly household items to make your home fully sustainable. This product review will take you through Blueland's products and examine how they impact the environment. Keep reading to see some products in Blueland's bestseller list to show you what to expect from the company.
Blueland Dish Soap & Tablets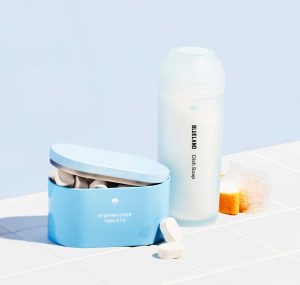 According to a report by Minderoo, the average American uses roughly 50 kilograms of single-use plastics every year. While switching from plastic grocery bags to paper bags is a great start, it doesn't really impact the plastic waste caused by American households annually. However, Blueland has created a solution with their dish soap and tablets.
The brand offers the dishing duo, including a reusable detergent shaker and a tin with dishwasher tablets. So whether you're washing by hand or using the machine, the brand offers a sustainable way to clean your kitchen. The kit includes a powdered dish soap that can remove any tough stains on your pots and dishes. It also contains dishwasher tablets that can remove grease from any surface.
In addition, the dish duo soap skin kit is free of parabens, petroleums, phosphates, phthalates, artificial dye or fragrances, and VOCs. It is also vegan, gluten-free, nut & soy-free. Blueland also labels the dishwater tablets as EWG verified, and the Dish soap is hypoallergenic. You can get the dishing duo for $34, but if you subscribe to the duo kit, you get 10% off the original price to save some money.
Blueland Dishwasher Tablets
After the Dish Duo set, Blueland supplies these refill dishwasher tablets packaged in a compostable paper pack. A single tablet is strong enough to clean a full load, and a pack comes with 40 tablets. The naked tablets are a plastic-free alternative to synthetic products in nylon packs. They're also small and lightweight, making them easy to carry around, and they won't cause clutter.
Blueland's products are Cradle to Cradle certified; they do not have any petroleum, phthalates, parabens, artificial dyes, or fragrances. Even though they're fragrance-free, they eliminate odor from food packs and leave your dishes clean and refreshed. A bulk order of three Blueland Dishwasher Tablets refills pack costs $34. Meanwhile, a single pack costs $14, meaning that you can save 20% of your money with a bulk order.
Blueland Hand Soap Duo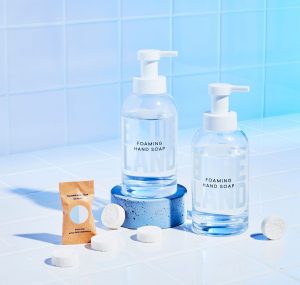 The brand explains that the average American household goes through 25 bottles of hand soap every year. This number accounts for a percentage of the single-use plastic waste in the country. Meanwhile, Blueland offers this Hand Soap starter set consisting of 1 signature glass bottle and 3 foaming soap tablets. Unlike other products, the soap comes with a refillable container which the brand claims can be used forever.
Pour enough water into the refillable bottle and put the tablet inside to use the kit. A single tablet will provide 9oz of liquid soap that provides a thick foam and is highly effective. The soap comes in three signature scents: Iris Agave, Perrine Lemon, and Lavender Eucalyptus. The scents do not include any artificial fragrance, and it is free of triclosan, paraben, phthalates, and the kit costs $16.
A Blueland soap review on the website confirms that it is a great way to reduce plastic waste, stating, "The scents with these are so lovely, and it is so nice to be able to stop buying plastic bladder refills and plastic bottles of hand soap. It took me a little bit to adjust to the foam because it is a little thinner than the regular commercial soaps, but I'm a forever fan now."
Blueland Laundry Starter Set
If you're actively trying to minimize your use of single-use plastics, then you can start with the Bluelamd Laundry Starter Set. The problem with regular laundry clean packets is that they are formulated with plastics such as PVA/PVOH or polyvinyl alcohol that break down into microplastics in your water supply. Hence, the consumption of these microplastic is harmful to your health.
As a clean and healthy alternative, Blueland discards the plastic film and offers this naked laundry tablet. They're just as effective as regular laundry packs and clean your clothes perfectly without causing any damage. It also helps break down stains and restore your clothing without the need for chlorine bleach, petroleum, and other similar allergens.
Blueland Clean Essentials Kit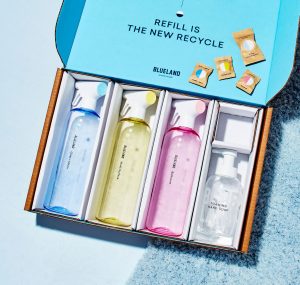 The Clean Essentials Kit first appeared on the hit TV show Shark Tank, where the brand got a major deal from investors. It consists of, Foaming hand soap, multi-surface cleaner, bathroom cleaner, and a glass + mirror cleaner. Blueland offers this set to serve all your cleaning needs while you're doing your chores. The soap is made with clean formulas in refillable containers, which can last forever.
On the brand's website, this product has an average 5-star rating from customers. As a customer testimonial states, "I love everything about Blueland and tell all my friends about it. The bottles are great, and the tablets are super to use. The window and multi-surface cleaners work great!"
Blueland Reviews From Customers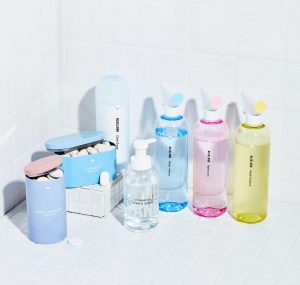 If you practice a sustainable and conscious lifestyle, you may know by now you will be tempted to make a purchase from Blueland. However, we must look at customer reviews to see if you're getting your money's worth. On the Blueland website, there are thousands of customer reviews on particular items and the brand's services in general.
The Blueland review page has whooping 5/5 star ratings from 46,637 customer reviews. There are also hundreds of reviews from pleased customers who mostly have positive feedback from the products. For instance, on the Dish Duo page, the brand has ⅘ stars from 861 ratings. Several customers confirm that the product works great and is very easy to use. A customer who admits they were skeptical comments,
"I wasn't sure this would work like my beloved Dawn, but it does! I like that it's in powder form. The dishwasher soap is good too. I will be buying laundry detergent and bathroom cleaner in the future. Thank you for helping me rid my home of plastic!"
However, the brand's high ratings surprisingly drop on external review sites. One thing testing, Blueland has a 4-star rating from only 27 customer ratings. Many customers love their products; however, some were not as pleased. A customer complained that the hand soap was too watery and "Soap tablets could be smaller/narrower to fit different kinds of bottles. Also, feel like the soap doesn't properly clean my hands."
More reviews from customers
Another customer with mixed feelings also stated, "I love Blueland! But some of it… The laundry pods, dish hand soap, and multi-purpose cleaner are one-hundred and are very clear winners for me. I think the dishwasher pods and glass cleaner could prove both for the same reason. It leaves a white cast and residue on both mirrors and glassware."
Meanwhile, the reviews on Trustpilot include more negative reviews about the brand. It has 3.6/5 stars showing that several customers are disappointed in the product. There were also several negative reviews on the poor customer service they got from the brand. For instance, one feedback comment,
"Ordered on 23/11/2021, and it is still not shipped yet. What's the purpose of the promised working day if you couldn't be really able to achieve it? Emailed twice to customer service and not helpful at all."
However, we noticed that Blueland promptly responded to some complaints and addressed the issues pointed out. They also update their products based on the customer's feedback which is a positive sign.
Sign Up For Blueland
You can sign up for a personal shopping account on the Blueland website to manage and track your order after shipping.
Where To Buy Blueland
Blueland products are sold exclusively on the brand's official website blueland.com.
Blueland Shipping and Return Policy
Shipping is available in the USA (including Puerto Rico), Canada, UK, New Zealand and Australia. Blueland no longer ships to Alaska, or Hawaii.
Shipping is free for all US orders above $45.
Internationally:
Canada is $8.99
UK is £7.00
New Zealand is $12.00
Australia is $12.00
The shipping policies on other orders include:
The shipping for cleaning tablet and soap refill packs orders cost $2.99
Dish soap or dishwasher refill packets order ships for $3.99
Starter set or kit shipping cost is $4.99
Blueland typically ships orders within 2-4 working days of receiving them. Your order will take 7-10 business days to arrive based on when you reside. If you want your order delivered immediately, Blueland offers expedited delivery for $15-20, depending on the size of your order. When your order ships, Blueland will send a confirmation mail including your tracking information so you can track your order.
Returns
Blueland offers a 60-day free returns policy on US orders after you have received your package. So if you're not happy with the product or received the wrong order, you can send a mail to [email protected]. To get a prompt response, you must include the subject line "Return Label for Order (insert order number here)." Then, you may begin to process your returns.
Meanwhile, you have to be eligible for returns, and Blueland will inspect the product to ensure it meets their standards. If your return is accepted, you will receive a confirmation mail. Your refund will be processed with credit in the original form of payment. All refunds are processed within 5 – 7 business days.
Blueland Promotions and Discounts
If you subscribe to Blueland products, you can save 10% off each purchase. However, there is no Blueland discount code on the brand's website. You can sign up for their newsletters to get updates on deals, new offers, and promo codes.
Contact Blueland
If you have more questions outside this review, you can contact the brand's customer service through:
The customer care service responds to messages at least 1 business day outside the review.
Blueland Reviews: Editors' Verdict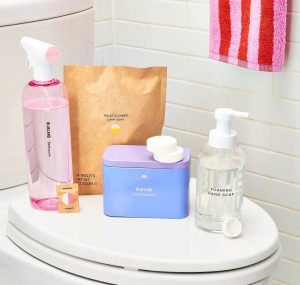 Blueland is a startup that promises to save money, save space and save the planet by ensuring low plastic waste. They offer dissolvable cleaning tablets and refillable containers to offer a cost-effective and sustainable system to clean your home. The brand first came into the limelight following a Shark Tank hit TV show.
The team persuaded investors to support their mission to offer non-toxic pills and environmentally friendly packaging that would revolutionize how people clean. Unlike other brands, they do not cover their cleaning tablets with plastic films to prevent microplastic contamination in the water supply.
If you're passionate about sustainable living and keeping the earth clean and free of plastic waste, you would be very interested in what Blueland has to offer. The brand aims to reduce the amount of single-use plastic in circulation, and it prides itself on its environmental impacts. Blueland has gained worldwide recognition for its activities.
The brand has been featured on CNN, Business Insider, Financial Post, and other media publications. Based on the Blueland reviews all over the internet, the brand has great support from fans and longtime customers who appreciate their services. We rate the brand 4/5 stars for its noble goals and environmental impacts.
Meanwhile, we cannot ignore the negative comments from customers who were not satisfied with their purchase. Most customer reviews state that the refillable containers are too fragile, and the hand soap container breaks easily. Other negative reviews state that the customer service is poor. Their complaints were not attended to even after several months.
If you are looking for more home improvement options, consider reading our reviews of Aera Home Diffuser, AirDoctor, and Albany Furniture.
Blueland FAQ
Is Blueland soap antibacterial?
Many people ask, Is Blueland soap antibacterial? The answer is no; the brand expressly states that they do not make their products with biocides since they do not align with their standards and values.
Are Blueland products safe to use while pregnant?
Since Blueland products are made without Volatile Organic Compounds (VOCs), they are safe for children and pregnant women.
Are Blueland products cruelty-free?
Yes, they are. Blueland is also Leaping Bunny certified.
What certifications does Blueland have on your products?
Blueland certifications include:
Platinum Material Health Certificate from Cradle to Cradle
USDA BioPreferred
EPA Safer Choice
Leaping Bunny certifications
EWG Verified
How do I create my Blueland cleaner or soap?
You can make your Blueland soap in these quick and easy steps;
Fill the reusable bottle with warm water until it reaches the mark
Place the tablet in the bottle
Wait a few minutes for the tablet to dissolve without stirring or shaking before you start using the product.