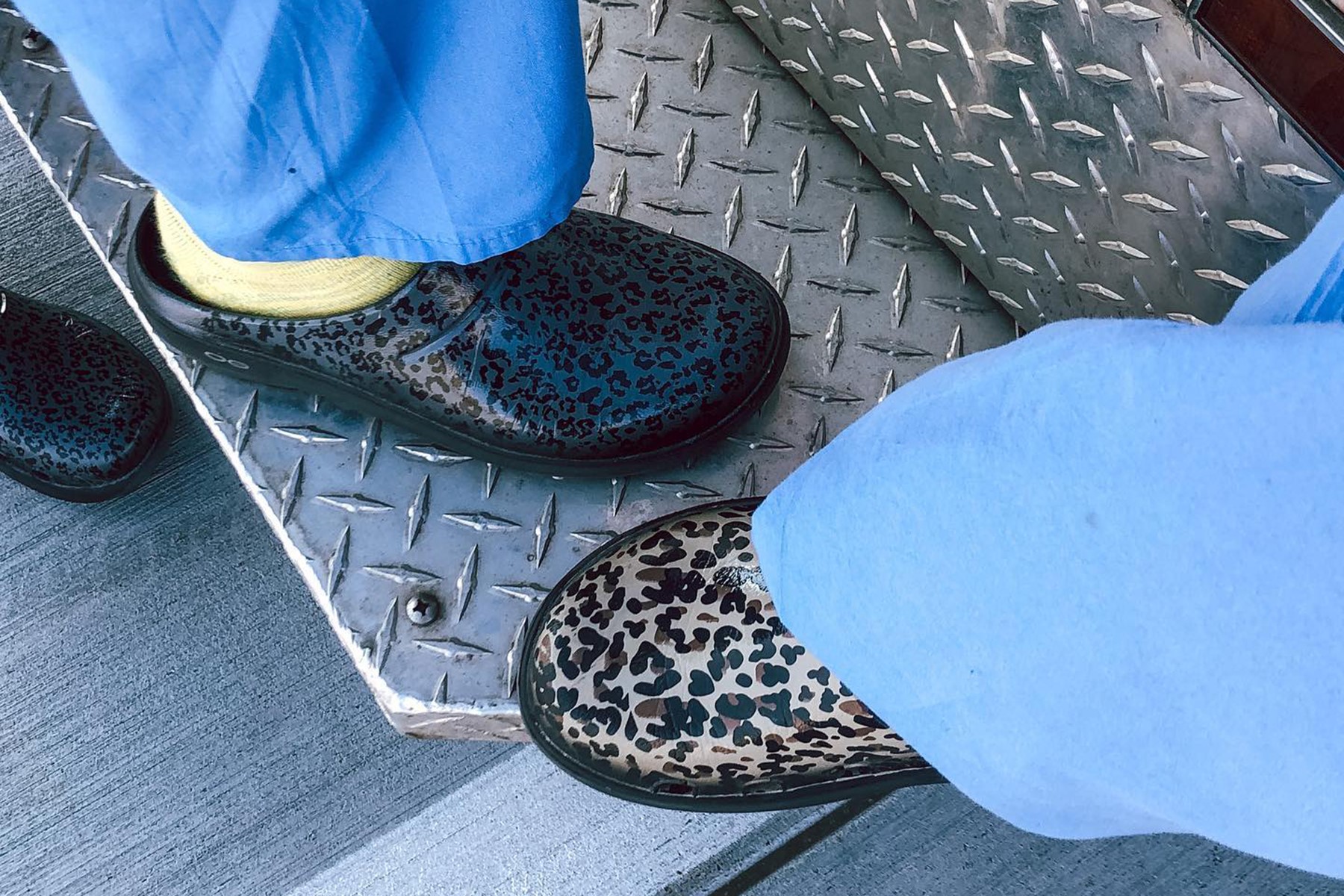 If you're someone leading an active lifestyle or work-out frequently, you know the importance of good, comfortable shoes. Without the right amount of springiness, comfort, and stability, working out can be a nightmare. However, something we all notice is how much our home footwear hurts more after an active day. This is because the foam is too soft to reduce the shock impact of walking with sore feet which makes your feet, your hips, and your back hurt more. However, what if there was a way to change that? Not only to reduce the shock impact and make recovery faster but to actually make you feel better while you're in recovery mode? Oofos sandals do just that. Let's get into an Oofos Sandals review for a deeper insight, but first, what is Oofos, and what is their game? 
About Oofos Sandals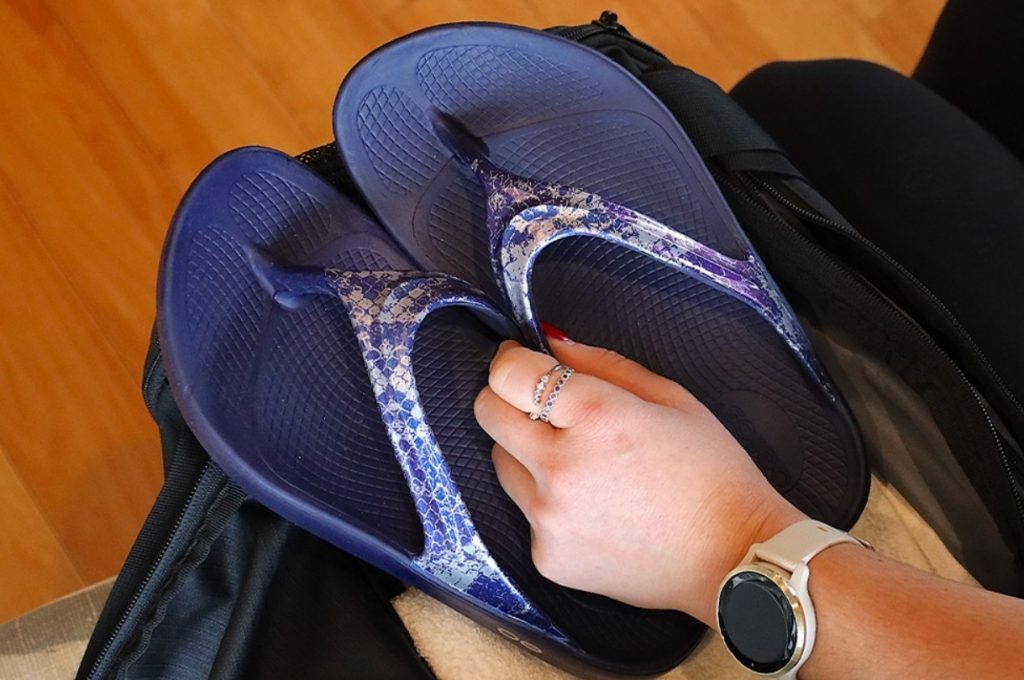 Oofos was founded back in 2011 by CEO Lou Panaccione with Brand Director, Duncan Finigan, a biker and marathon runner. As being part of the athletic scene, she knew the impact of good footwear on athletics, making the creation process as productive as could be.
 While comfort is an essential part of all footwear, it is the very essence of Oofos with the OOfoam Technology that absorbs up to 37% more shock than regular footwear and arches feet in a way that reduces exertion up to 47%. These figures were taken from a 2018 study by the University of Virginia on the impact of Oofos shoes which shows that they're not all talk. 
Oofos is also a passionate brand with a percentage of their profits going to breast cancer research every year. By 2019, Oofos had raised up to half a million dollars for research. This particular donation is due to Brand Director Duncan Finigan's passing after a four-year battle with breast cancer. Compassion, honesty, and dedication to helping are what make Oofos stand out so much.
Pros
Wide variety of footwear available for both men and women

Style is not compromised for comfort and vice versa

A percentage of sales goes to funding breast cancer research

Sandals are lightweight and easily washable

Sandals are resistant to odor, water, and bacteria

Points reward system

Free priority shipping in the US

Verified medical professional positive review
Cons
Much more expensive than regular sandals

Some reports of Sandals wearing out quicker and/or breaking
Oofos Women's Sandals
Oofos women's sandals are some of the most stylish, yet comfortable ones. With a variety of different colors and patterns, Oofos makes sure that these sandals can go with all types of both workout and casual outfits. Whether you want to sport a sleek OOlala sandal with a casual workout outfit on a day out, or a brightly colored thong sandal, they have it all. 
Oofos Oolala Sandal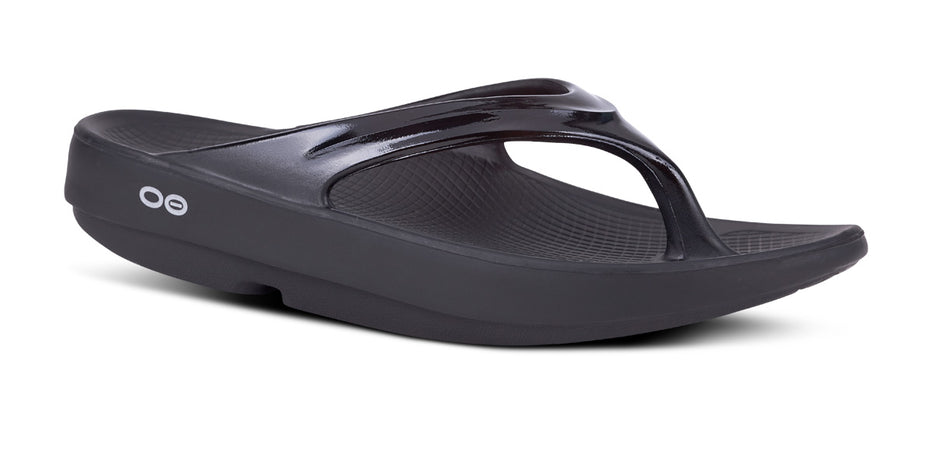 Whether it be at the beach or the park, walking long distances can seem exhausting with your feet getting more sore by the second. Or maybe you've come home from a long walk or workout session from the gym. Slipping into the usual flip-flops at that point might make your feet and back hurt more due to the lack of shock absorption or support. Instead, try the Oofos Oolala Sandal in black.
The sleek design due to the narrow footbed makes it stylish while the revolutionary OOfoam technology makes it incredibly comfortable. These Oofos are functional, comfortable, and stylish all in one. If black isn't your color, you can even try them in taupe, white, navy blue, and gray. 
What The Customers Love About It 
The Oolala sandals truly make the customers go "Oo la la!" in delight. Nicole says, "They are extremely lightweight and feel like you are walking on clouds. I got the white color and loved them! They wiped clean very easily, keeping them looking new! These will be my new go-to sandals! They are incredible and I could go on forever saying how amazing they are." Rita adds on saying, "Super comfortable, you'll never want to wear any other flip flop!"
Oofos Original Sandals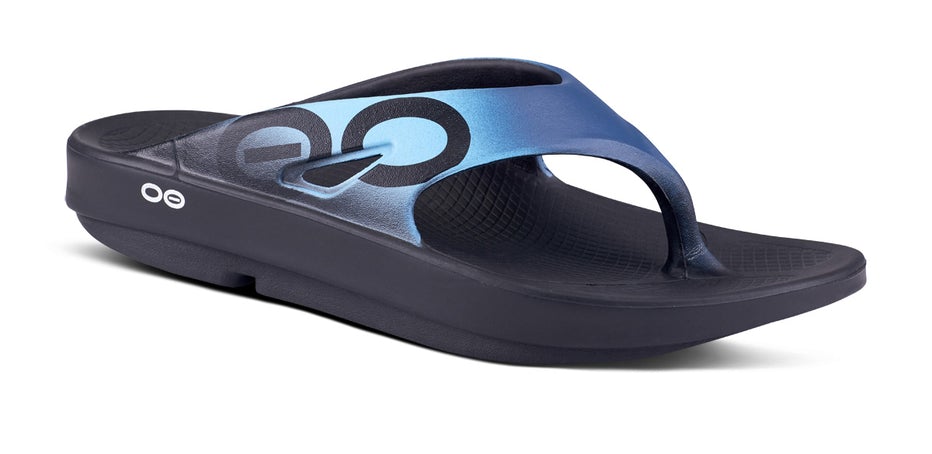 Perfect for a camping trip or a walk on the beach, the Oofos Original Sandals are perfect for a day out in nature. Its sleek design, stylish graphics on the straps, and incredibly comfortable OOfoam base make sure that you strike just the right balance between stylish and casual while your feet experience the epitome of comfort. You can get the Oofos Original Sandals in Azul, Graphite, White, and Woodland Camo.
What The Customers Love About It 
Susan adores her original Oofos and comments, '' love these ones!! These shoes are the most comfortable with no rubbing, nice fit and support for my feet! I have a pair for inside my house only so I can have comfortable and clean shoes all the time! Love Oofos!" Tiffany, in a similar vein, comments, "The best purchase! My feet are grateful! My Oofos have not left my feet since I received them well over a month ago! This is one purchase you will most definitely not regret!"
Luxe Oofos Slide Sandals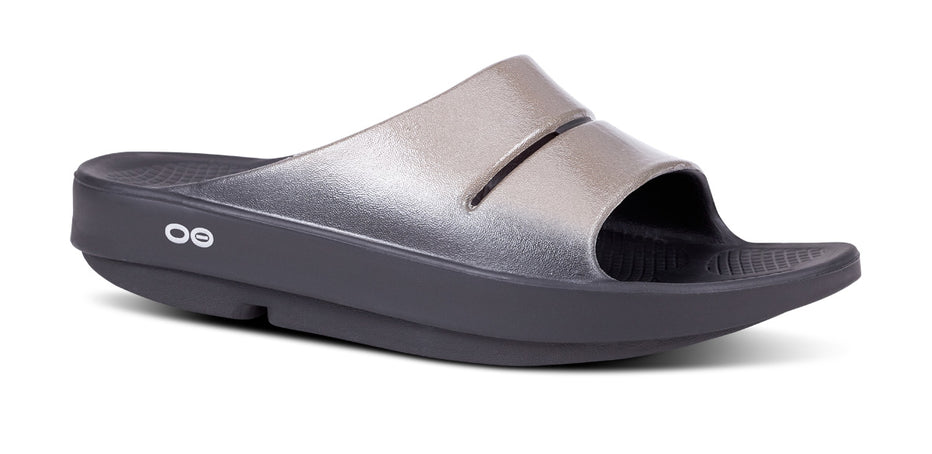 The Luxe Oofos Slide Sandals are the perfect combination of style and comfort. Featuring its signature OOfoam footbed to ensure comfort with its narrow design, this slide sandal is an upgrade from the original Oofos sandals. The hand-printed designs ensure that they don't stay bland while the additional OOfoam strap ensures that your foot is fully resting and comfortable. Whether you're wearing them inside the house, after the gym, or anywhere outside, these sandals are going to make you feel and look amazing. 
What The Customers Love About It 
Patsy talks about the comfort they offer and says, "Most comfortable slides I've ever worn. Tennis shoes are also very comfortable. No pain in my feet." Valerie reaffirms this and says, "These are the most comfortable shoes I have ever put on my feet! Seriously! Everyone I have recommended them to, or given them to as gifts, agrees that OOfos are the most comfortable shoes they have ever worn."
Madeline says, "I got these for my mom as a Christmas present and she loves them! She loves coffee so I figured the mocha color would be a good choice and perfect for her to wear after a long day of nursing in the PACU. She loves the squishy padding to soothe her tired feet."
Oofos Men's Sandals
Oofos men's sandals combine similar style and comfort for you to enjoy a day out with the boys or at the gyms. Sporting a variety of subtle hues from army green to jet black, these sandals are bound to get you compliments and a surprisingly not painful day after working out. 
Oofos Ooahh Slide Sandals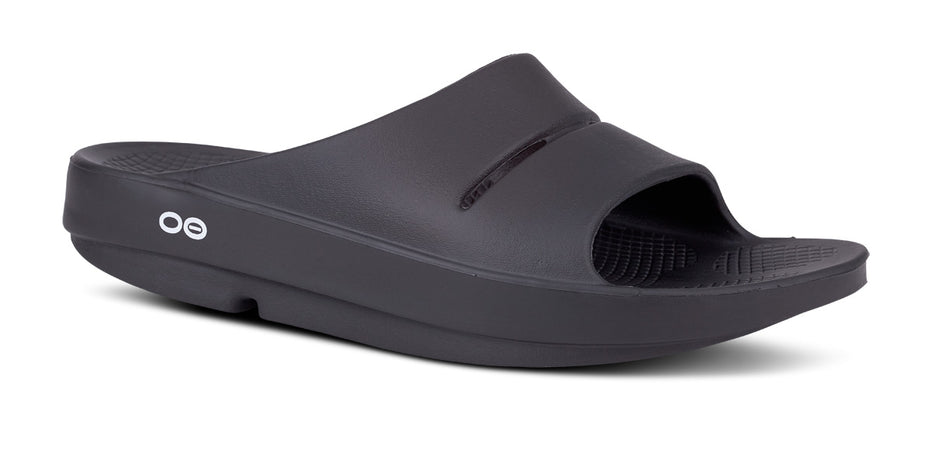 The Oofos Ooahh Slide Sandals are their signature Ooriginal sandals adapted into slides. Featuring their OOfoam in the footbed to ensure maximum comfort, these are the shoes for lazy days. Whether you're wearing them around the house, on a short trip to the grocery store, or on a casual park trip, these shoes are perfect: plain, stylish, and immensely comfortable. The springy heel ensures your feet feel the best they can and give you an extra inch or two too. You can get these sandals in navy blue, black, cabernet, and slate.
What The Customers Love About It 
John loves his new slides and says, "They are what they say they are! Amazing sandals! When I first put them on it was as if I was on a cloud. Foot pain and pressure went away. 10/10 recommend these!" Phyllis got them as a gift for her husband and says, "Purchased these for my husband for Christmas – he's been wearing them every day in the house since then!! Just asked him; his exact words were; they're wonderful!"
Joe comments, "Most comfortable slides I've ever owned!! I run almost every morning. And these slides are something I truly look forward to when I get in from work. Try a pair. You won't be disappointed!"
Oofos Oocloog Clog Sandals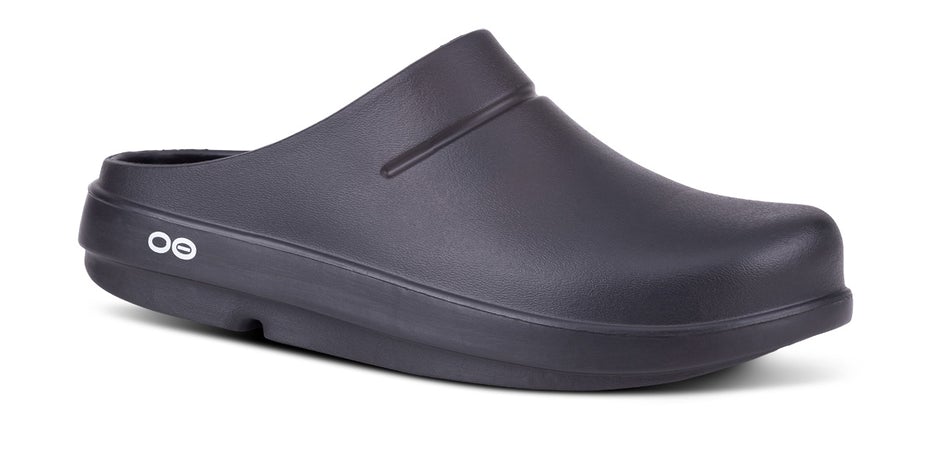 Coming home after a long day with immensely sore feet? Slip your feet into the Oofos Oocloog Clog Sandals for instant relief. These shoes cradle your foot, taking comfort to an entirely new dimension combining the style of the shoe and the OOfoam. Instantly add comfort to any activity by putting on a pair of these clog sandals. While the footbed adds comfort to the sole, the OOfoam foot cover is designed to add comfort from all over. You can get them in signature black, blue, and white to go with any outfit.
What The Customers Love About It
Jeremy is relieved to have found these shoes and says, "Paid over $400.00 Hundred on orthopedic insets. Bought every possible insole there is. Went to buy another pair of work shoes at the Good Feet Store and Bought a pair of the "Recovery Footwear" OOFOS Men's Oocloog clog sandals! I wear these everywhere I go To Work, To walking around the house, even Camping and hiking!!" Jervis says, "Very comfortable & warm, it's definitely a must-buy!"
Oomg Eezee Mid Shoe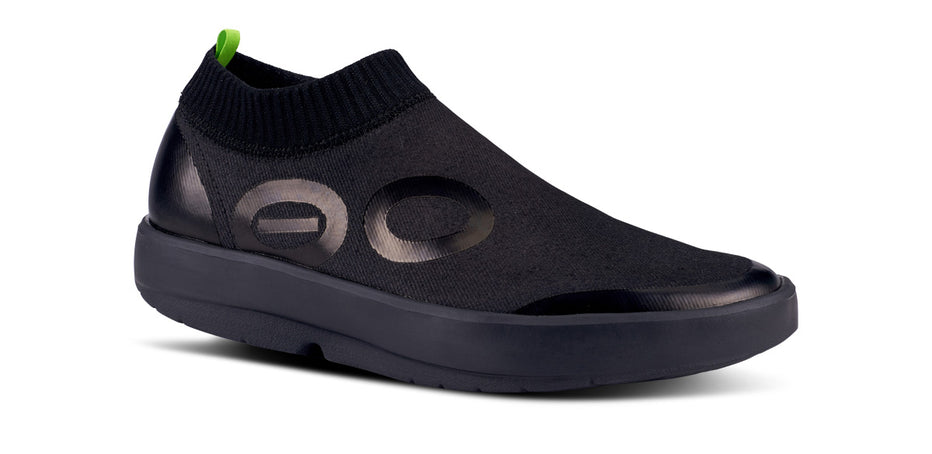 As if Oofos couldn't get any better, they also offer shoes. The Oomg Eezee Mid Shoe is the absolute perfect shoe for every occasion. Whether you're going to the gym, on a run, running errands, camping, these shoes are going to make your journey feel like an absolute breeze.
With a design that contours the whole foot and their signature OOfoam, these shoes guarantee that foot pain is not something you'll ever experience once you switch over to these shoes. Available in black and forest green with a graphic print on the side, these shoes don't just make you feel good, but also look good. 
What The Customers Love About It 
Ernest comments, "These shoes are a snug fit, providing good support for my feet. The sole bed is so comfortable, it's like walking on a cloud. This is my second pair. My first pair I received as a gift. After wearing them for a day, I ordered a second pair. Love these shoes." William says the same and comments, "These shoes are very comfortable, great arch support, lightweight, and stylish! I also have a pair of the Navy Blue Sandals too! I would recommend these shoes to anyone!"
Mark also says, "Super comfort, great fit, and very cool looking! Everything you want from a shoe. Oofos really take care to help for the best walking experience you can have on old sore and tired feet. I highly recommend… These are my third pair and from slip-ons, to shoes they are a great value."
Oofos Sandals Reviews from Customers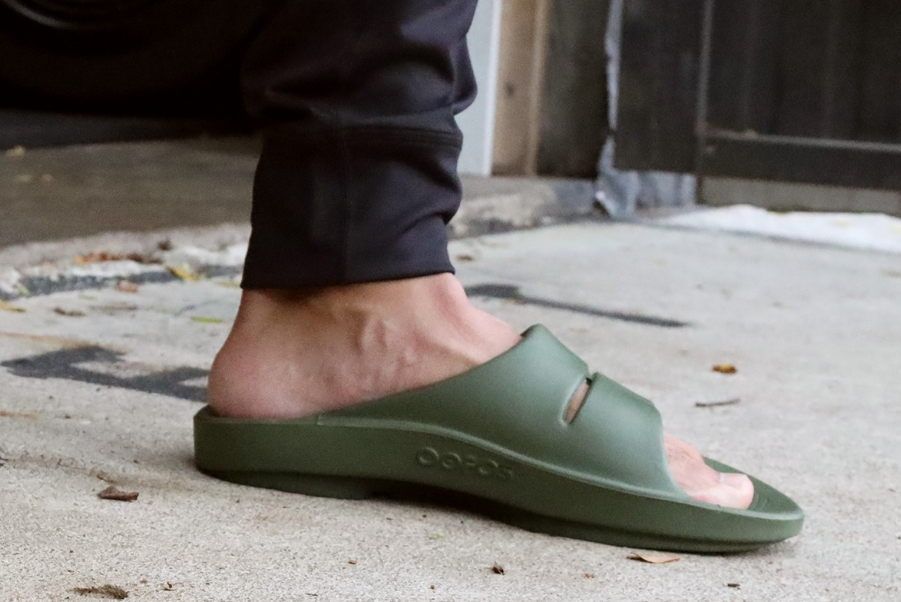 Overall, Oofos reviews are overwhelmingly positive and ranging across a variety of people. From medical professionals recommending it to nurses on the go and people with joint issues, everyone has something good to say about it. 
Adam Miller, a chiropractor, says, "The majority of my patients that try OOFOS have reported that their hips, low back, and of course their feet have felt better. … Since OOFOS have been shown to reduce shock impact on the body by 37%, it becomes easy to explain to my athletes that their lower extremity, and most specifically their knees and feet, can work that much less … Having that much of a reduction of normal forces allows the body to recover faster." 
Mackey, a nurse, comments, "I wear the tennis shoe, mesh style. I work 12-hour shifts in a busy ICU on my feet – walking close to 4-6 miles or more in a typical workday. They definitely help with fatigue, foot soreness, calf & lower back pain. I no longer get nighttime calf charlie horses after my shifts."
Maria also comments, "After purchasing a pair of oofo unisex clogs, and finding them to be the most supportive, back aligning, foot pain relieving, and super cushioning footbed shoe, I decided to go ahead and purchase a pair of their oomg low women's shoes. I tried them on at the end of a tough day on my feet, where my back was hurting. As soon as I stood up and started walking in them, no more back pain! Instant relief."
Sign Up for Oofos Sandals
You can sign up for the Oofos website by simply entering your name, email address, and creating a password. 
Where to Buy Oofos Sandals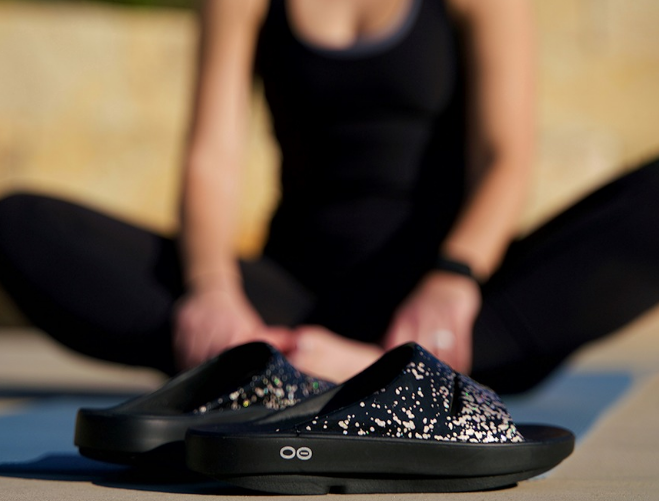 Oofos sandals can be purchased online through their website or by one of their stores. You can find a store near you via the store locator. 
Oofos Sandals Shipping and Return Policy
Oofos offers free standard and priority shipping within the US. Standard shipping takes up to ten days while priority shipping time depends on your location. Express shipping is also offered for delivery within 2 days ($24) and 1 day ($38). 
Oofos also offers free returns and exchanges for all orders through the website. Returns and exchanges are also available for products purchased at their retail store in which case, they must be returned in original sellable condition with the receipt to the store. 
Oofos Sandals Promotions & Discounts
Oofos currently does not offer any promotional or discount offers. 
Contact Oofos Sandals
You can contact Oofos by submitting a request or by calling them at 1-888-820-7797 on Mondays through Fridays from 9 am to 7 pm EST. 
Oofos Sandals Review: Editors Verdict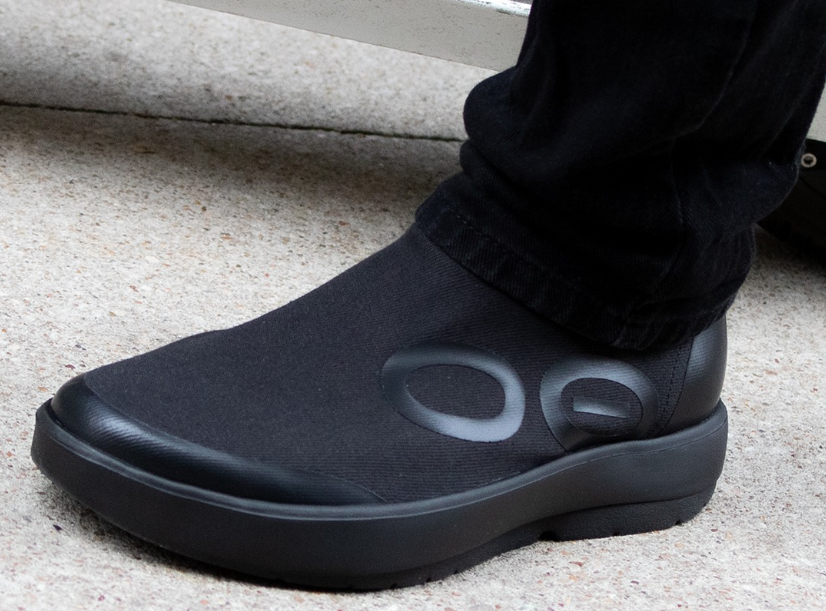 Oofos sandals are some of the best recovery sandals out there. They offer ultimate comfort, come in a variety of styles, are durable, long-lasting, and a percentage of the cost goes to a very respectable cause. However, something that changes most people's minds even after a plethora of amazing Oofos sandals reviews is the price.
We would say that the price is justified with the verified benefits and design for it. While regular sandals often worsen activity pains, Oofos doesn't just keep it constant but helps in removing it. It's pretty much magic to avoid all the walking pain! 
Still looking for other seriously comfortable footwear brands? Check out our reviews of Orthofeet, Birdies Shoes and Atoms.
Oofos Sandals FAQ
Do Oofos contain harsh chemicals, dyes, or latex?
Oofos footwear is made from closed cell foam with nontoxic properties. All Oofos shoes are also painted with non-toxic paints. Overall, no Oofos sandals contain any latex, harsh chemicals, or dyes.
Are Oofos slip-resistant?
Oofos are not certified to be slip-resistant.
Do I need to break in my Oofos?
Oofos recovery sandals do not need to be broken in. The most you might feel is a newer feeling owing to the different foam underfoot, and that's a good thing!
How do I clean and care for my Oofos?
You can clean all Oofos shoes with cold water and mild soap or toss them in the washing machine on a gentle cycle with cold water! The enclosed foam prevents them from absorbing too much bacteria or dirt so you can also wear them pretty much anywhere.
Why do OOFOS have a unique scent?
The unique Oofos scent comes from the OOfoam used. To dissipate the scent, simply place them near fresh air or wash with cold water and mild soap or a washing machine on a gentle cycle.